Making homemade red enchilada sauce at home might be easier than you think, well at least when you use this method!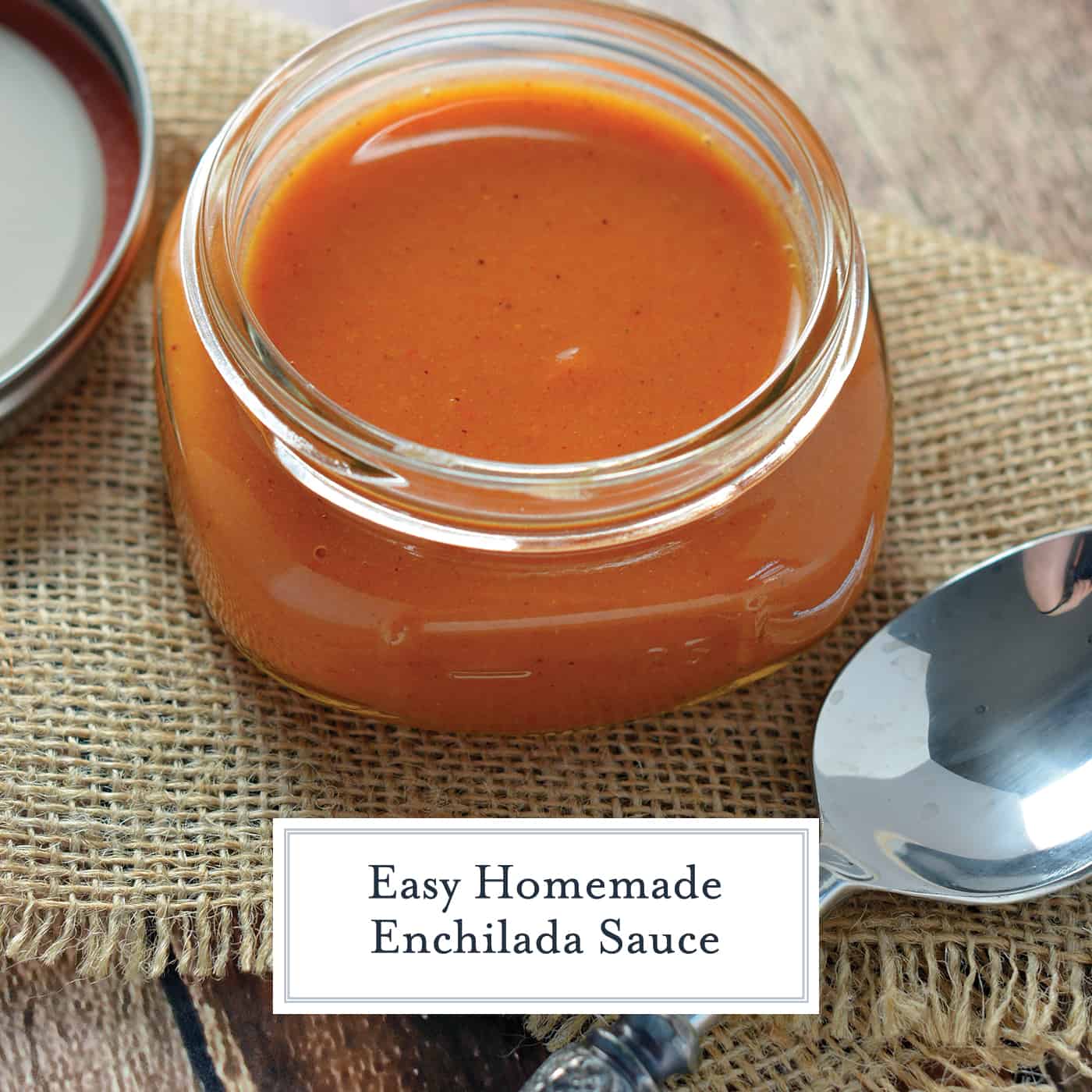 Easy Homemade Enchilada Sauce takes only 3 main ingredients a handful of spices you already have in the pantry. Ten minutes later, you have a spicy enchilada sauce!
My Easy Homemade Enchilada Sauce recipe has two major benefits.
The first, you control the heat to keep it cool for kids or spicy and sweat inducing for adults who like it hot, hot, hot! Secondly, it only takes 10 minutes…. 10 MINUTES!
Laura S.: "I love this recipe! It's been my go-to for a couple years now, since I first found it. Thanks for sharing this recipe!!!"
There are some that would tell me that since I used canned tomato paste (not tomato sauce), that this isn't homemade or authentic Mexican. So maybe we can call it semi-homemade or Tex-Mex.
Whatever, it is still more homemade than a can and I can guarantee you that most Mexican restaurants use the canned stuff.
Quite frankly, I don't have time for tomato paste from scratch. I can tell you from experience, making tomato paste is time consuming. So here is how to make enchilada sauce… using tomato paste.
Maria V.: "This sauce was the best enchilada sauce I have ever made. It had a great taste and flavor all those spices together were so delicious."
Look at the ingredients and make sure it says TOMATOES and use that one. You can even go organic if you it makes you feel better about the whole thing.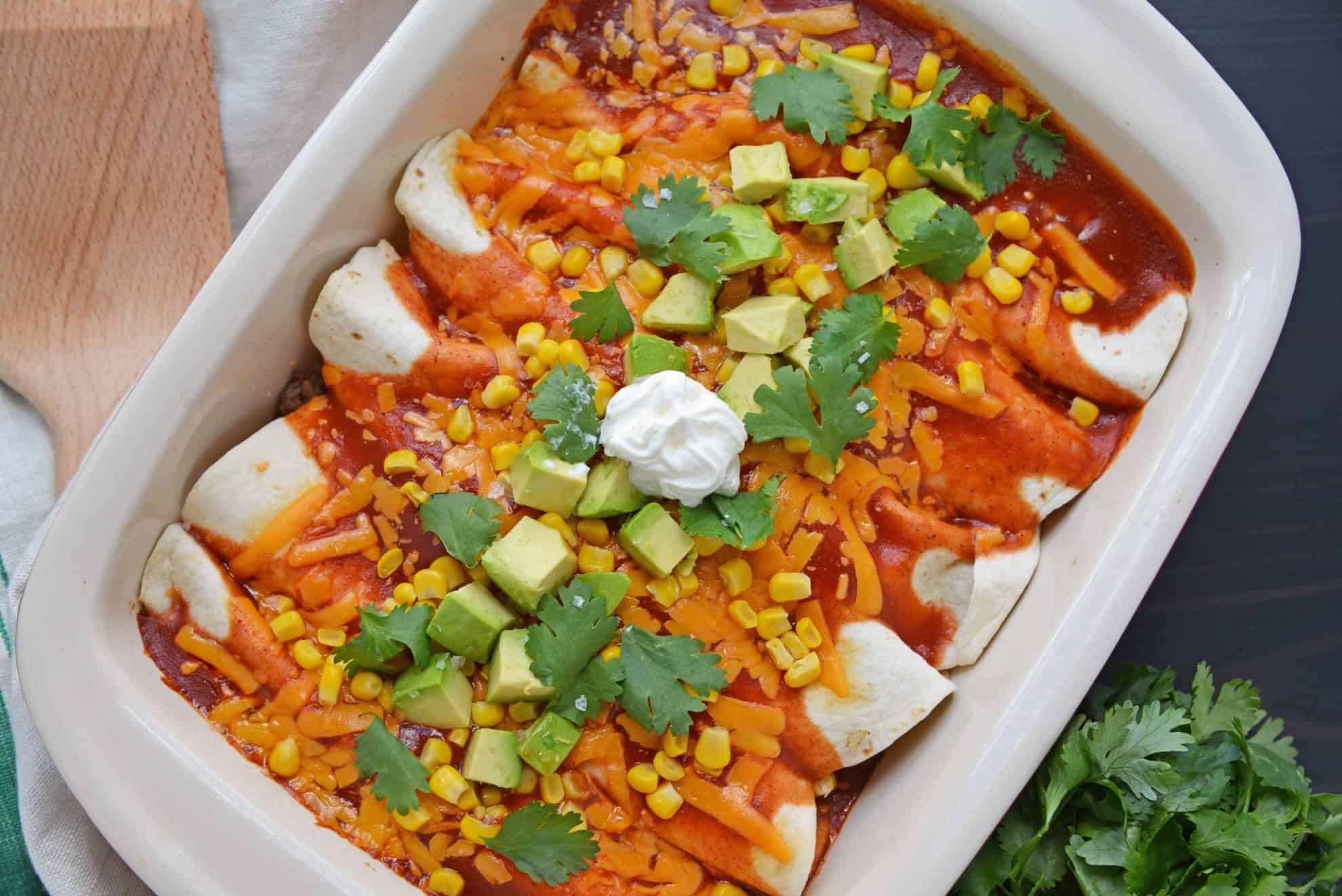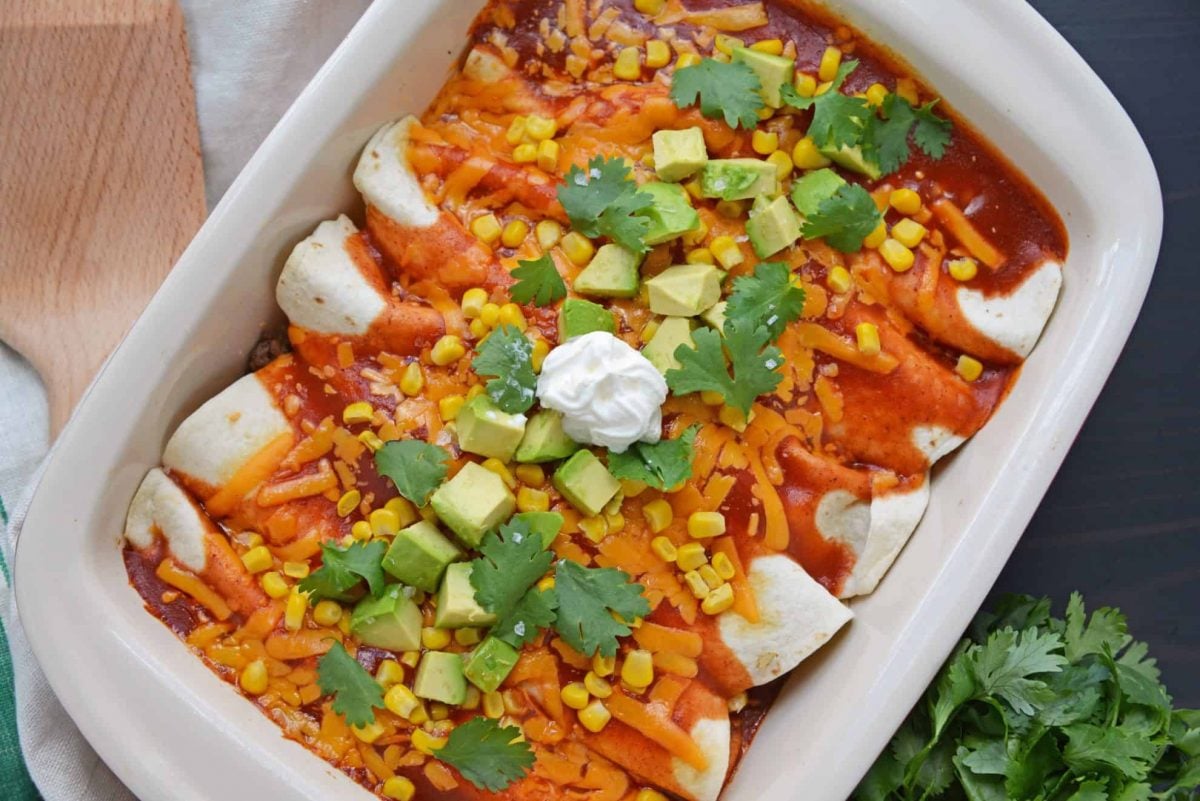 After the base of tomato paste, vegetable or chicken broth and flour to thicken it up a little, then comes the seasoning.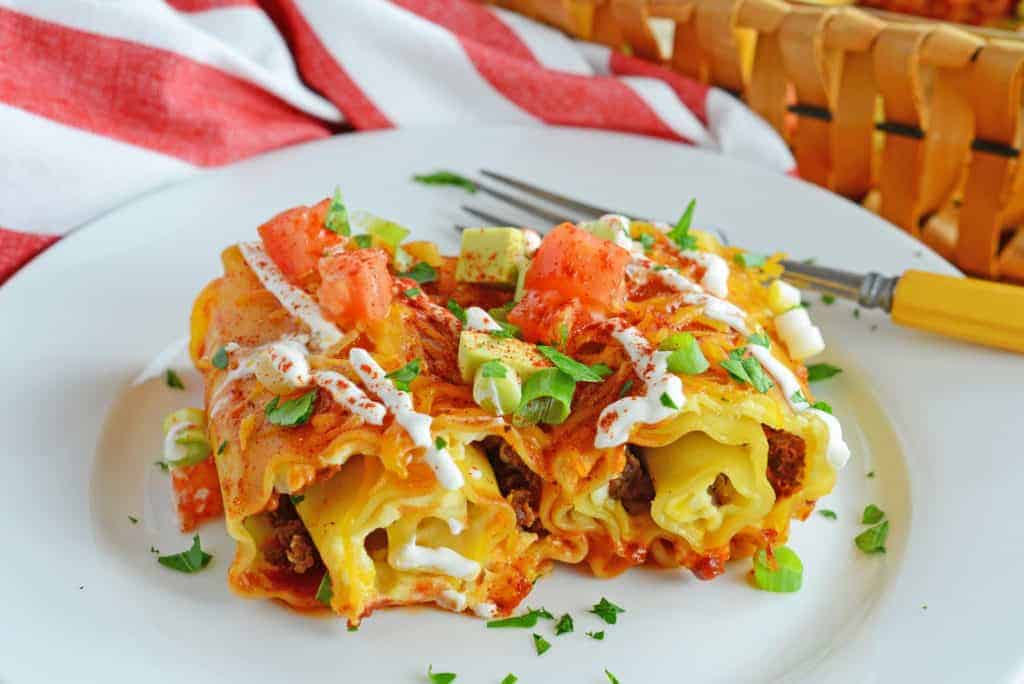 Four spices you should already have in your pantry: cumin, chile powder, onion powder and garlic powder.
If you want to get all technical on the "homemade front" (haters), I did not make my own spices either. But I guarantee you can find some pretty delicious ones at the grocery store.
*Please note sarcasm*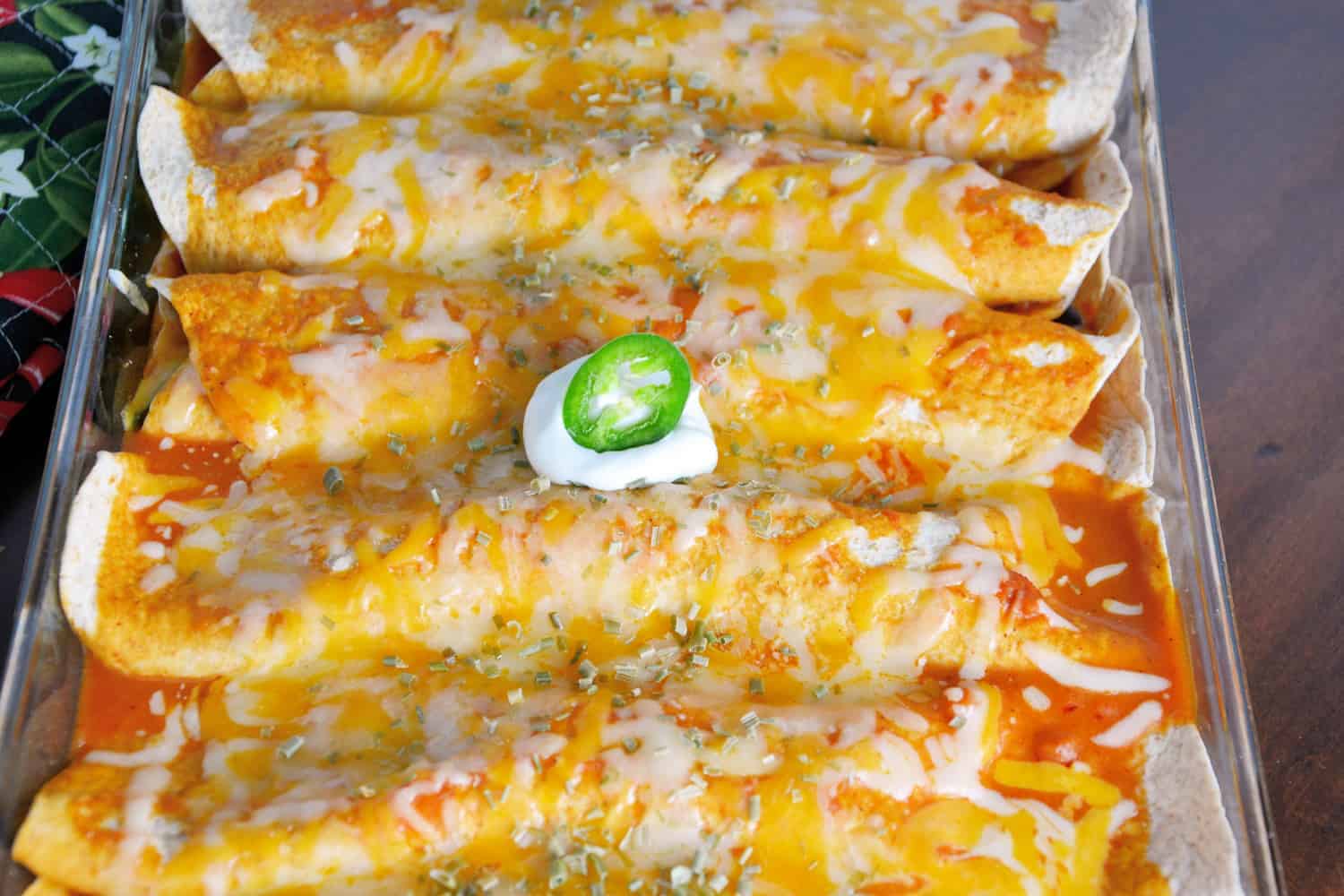 If you like your spicy enchilada sauce, add more chili powder or even a dash of cayenne.
If you prefer a milder version, cut it in half. The other seasonings won't impact heat as much.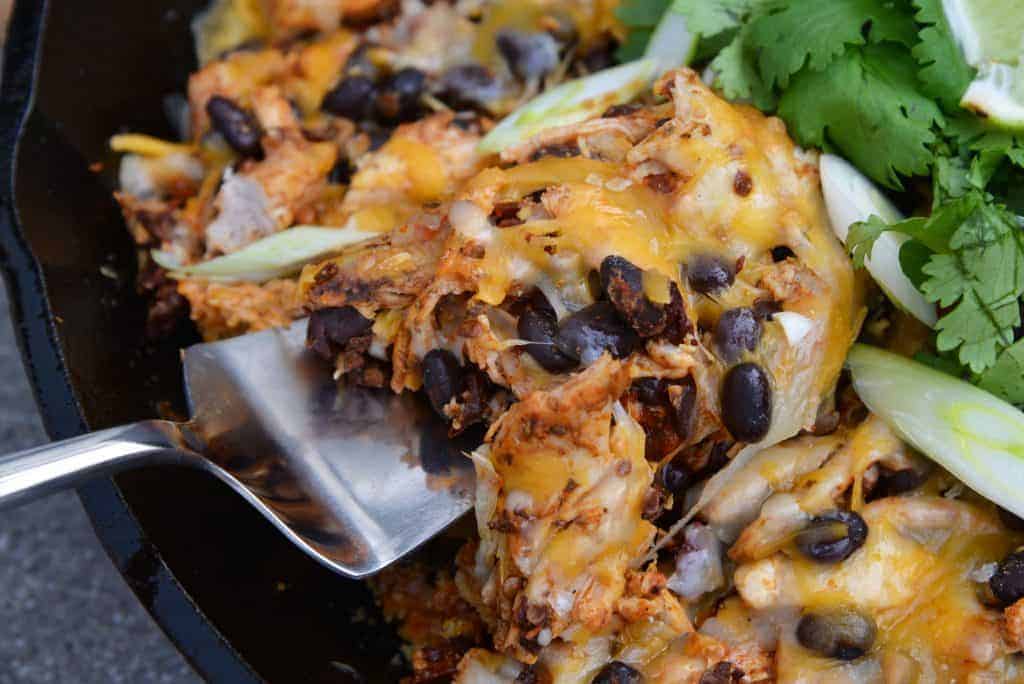 If you want super smoky homemade enchilada sauce, try blending it in the food processor with one or two ancho chiles in adobo sauce or using ancho chile powder.
Also try our Green Enchilada Sauce!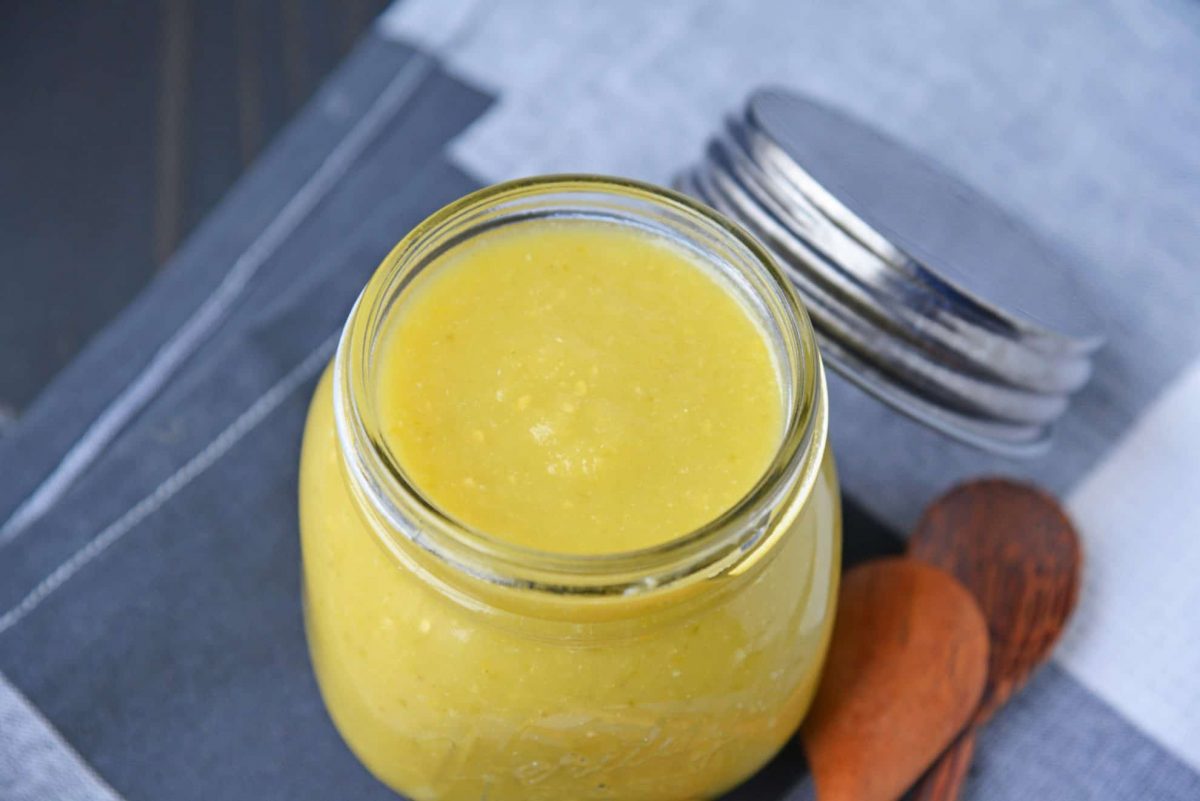 Enchilada sauce will stay fresh in an airtight container, refrigerated for up to one week. Use it on enchiladas, tacos, burritos, nachos and more.
I've even used it in a pinch for chips and salsa. You can even make homemade chips (no, I didn't make the tortillas)!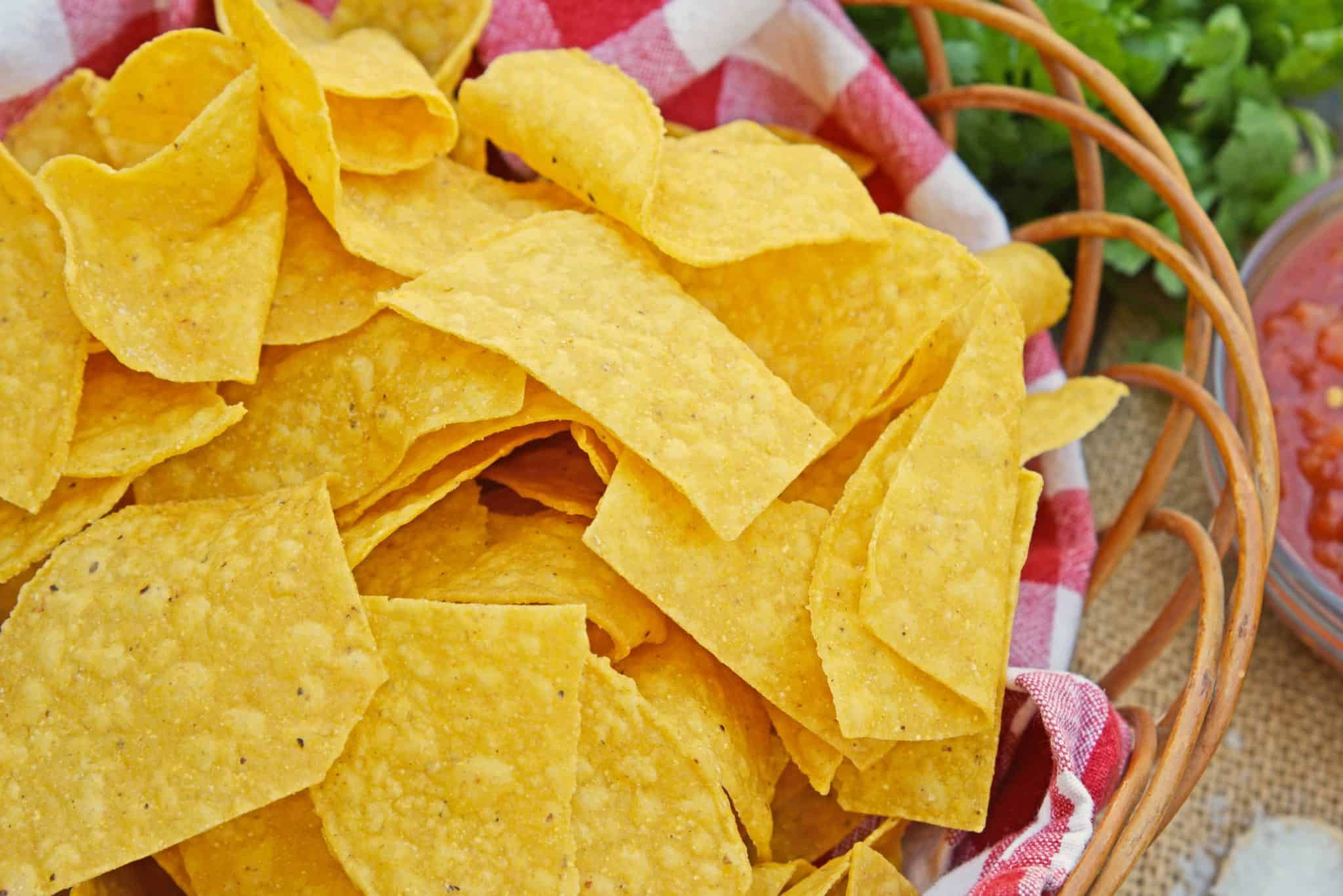 After you are done, make one of these fabulous recipes to pair with your homemade enchilada sauce!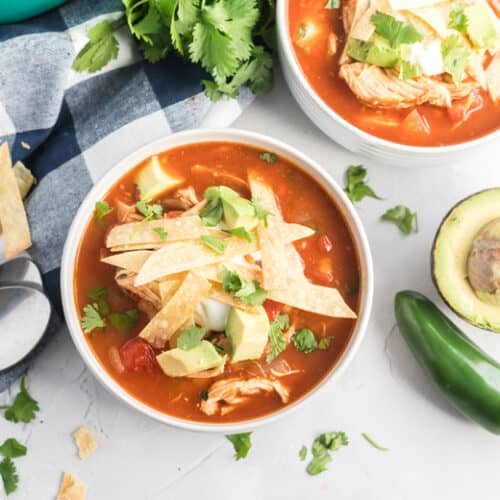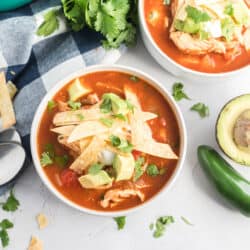 Easy Chicken Tortilla Soup
This is an easy chicken tortilla soup that can be on your table in less than an hour. A rich tomato broth with a bit of spice and large chunks of chicken make this a hearty and comforting meal!
View this recipe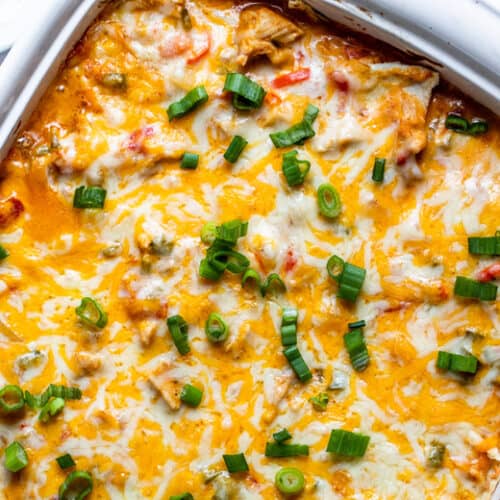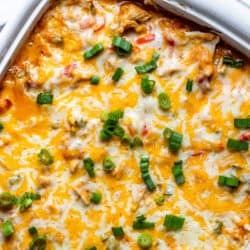 King Ranch Chicken Casserole
This King Ranch Chicken Casserole is packed with incredible Tex-Mex flavors and of course loads of cheesy goodness. This simple recipe is perfect for a family dinner and can be made ahead of time.
View this recipe
Tools for making homemade red enchilada sauce:
Whisks– I buy whisks in multiple sizes. You never know which one you will need.
Heavy Bottom Sauce Pan– this will be one of your most used kitchen tools. Having something that is heavy bottom will distribute heat better and prevent burning whether you are using an electric or gas range.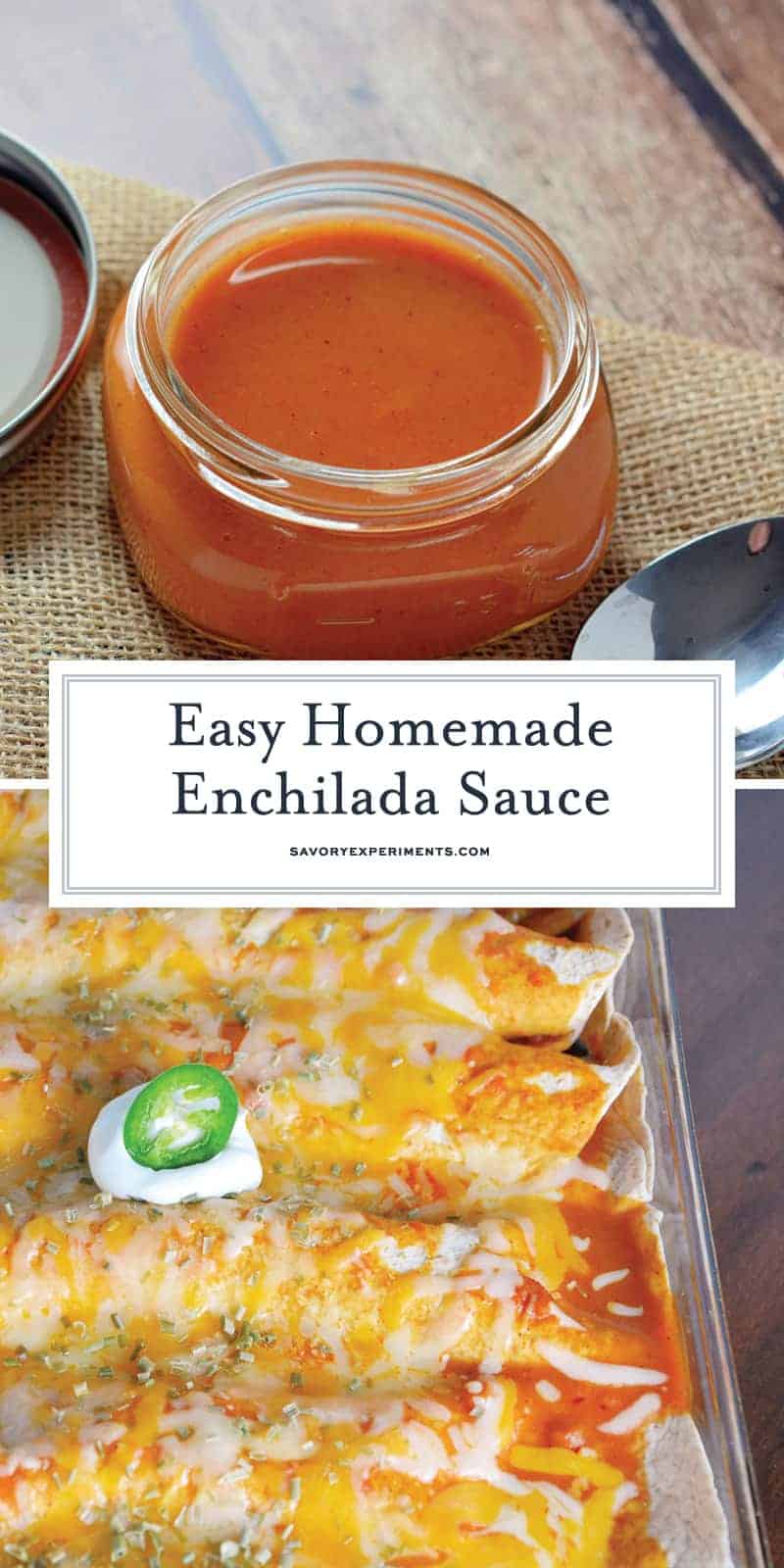 Questions you might have about how to make enchilada sauce:
Are enchilada sauce and taco sauce the same? Yes and no. Taco sauce is typically a bit thicker and spicer, resulting in not needing as much quantity. You can easily thin it by adding a little chicken or vegetable stock.
Is enchilada sauce gluten-free? My recipe for enchilada sauce is not gluten free because it uses flour. You can substitute flour for cornstarch or arrowroot, although you'll need less than 1/4 cup.
Start by using 2 tablespoons and add as needed. I do not recommend using almond flour for this recipe.
Is homemade enchilada sauce vegan? This particular enchilada sauce is vegan if you use vegetable broth instead of chicken broth.
Is enchilada sauce dairy free? My recipe for enchilada sauce is dairy free.
Can enchilada sauce be frozen? It sure can! Use an airtight container or plastic bag and freeze for up to 3-4 months.
Can enchilada sauce go bad? Yes! It contains vegetables, which can go rancid.
Canned enchilada sauce contains preservatives and additives to keep it good on the shelf, but my version doesn't have those, so it is only good refrigerated for up to one week.
How do you get enchilada sauce out of clothes? It is a tomato based stain, so use a pre-treatment or Oxyclean before putting it through the wash cycle.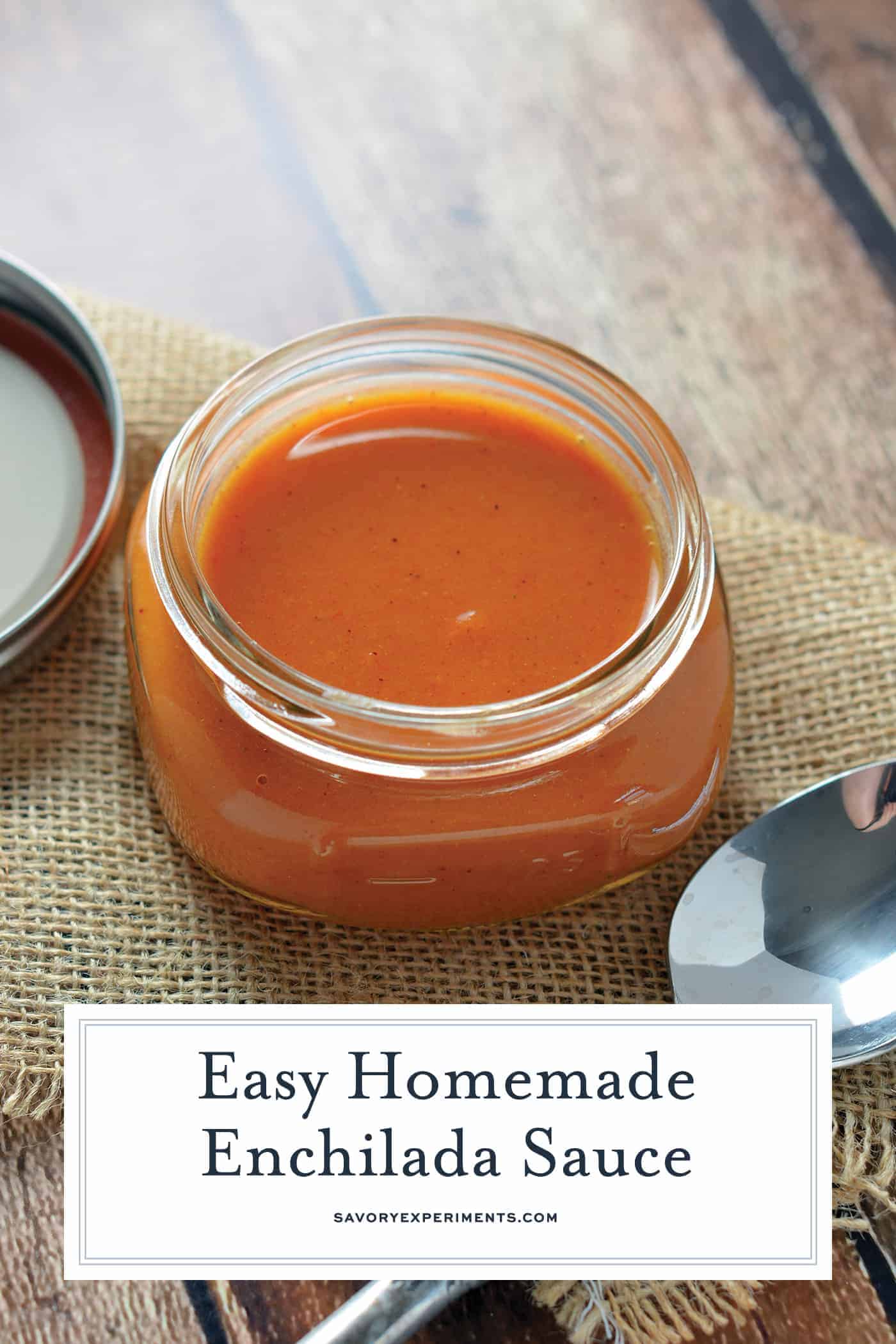 Why is enchilada sauce bitter? Not all enchilada sauces are bitter and certianly not this recipe. But everyone's taste buds are different.
You can counteract bitterness with something sweet like honey, sugar or brown sugar and salt, like adding a small amount of Kosher salt.
What can I substitute for enchilada sauce? It really depends on the recipe and how it is being used. Here are some common substitutions, use your best judgement for the recipe you are creating.
Salsa
Taco sauce
Hot Sauce
Plain tomato sauce (canned, not marinara sauce)
Ketchup (in rare cases….)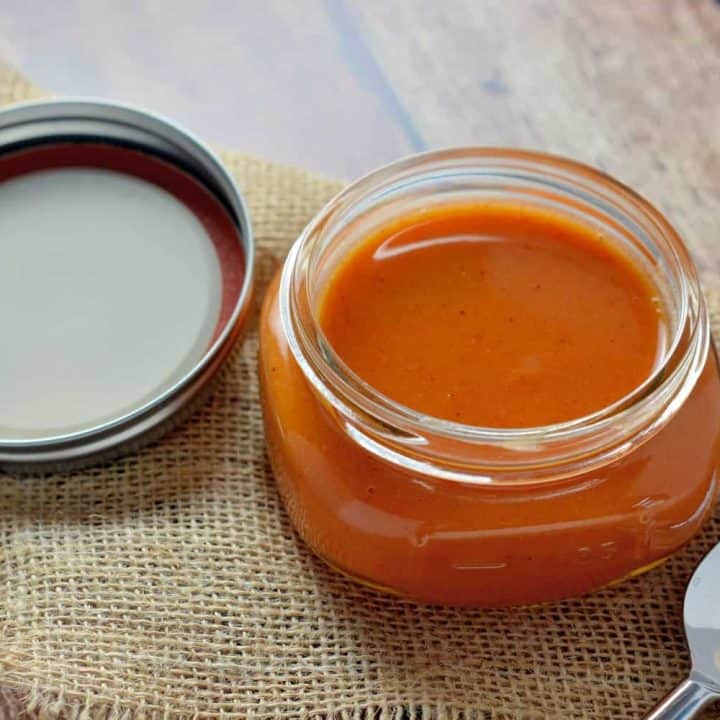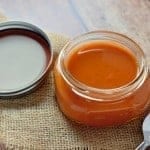 Homemade Enchilada Sauce Recipe
Easy Homemade Enchilada Sauce takes only 3 main ingredients a handful of spices you already have in the pantry. Ten minutes later, you have a custom enchilada sauce!
Instructions
Start by making the sauce. Heat olive oil over medium heat in a medium sauce pan. When hot, add tomato paste, flour, 2 teaspoons cumin, garlic powder, onion powder and chili powder. Whisk together until a paste forms.

Pour vegetable or chicken broth to paste and whisk until smooth. Increase heat and continue to whisk until sauce starts to thicken and provide a little bit of resistance. Season with salt and pepper, bring to a boil.

Reduce heat as soon as you see bubbles and you are ready to go!

If you've tried this recipe, come back and let us know how it was!
Notes
If you are looking for a little more kick, try adding more chili powder, a dash of cayenne pepper or a few dashes of hot sauce. Typically enchilada sauce isn't terribly spicy, but I also like mine hot!
Nutrition
Calories:
176
kcal
,
Carbohydrates:
13
g
,
Protein:
3
g
,
Fat:
12
g
,
Saturated Fat:
1
g
,
Sodium:
1022
mg
,
Potassium:
434
mg
,
Fiber:
1
g
,
Sugar:
3
g
,
Vitamin A:
440
IU
,
Vitamin C:
19.6
mg
,
Calcium:
32
mg
,
Iron:
2.4
mg