This easy Blackened Chicken recipe is perfect for busy weeknight dinners, and ready in 30 minutes. It can be paired on its own with your favorite sauce, or added to a variety of dishes ranging from salads to tacos.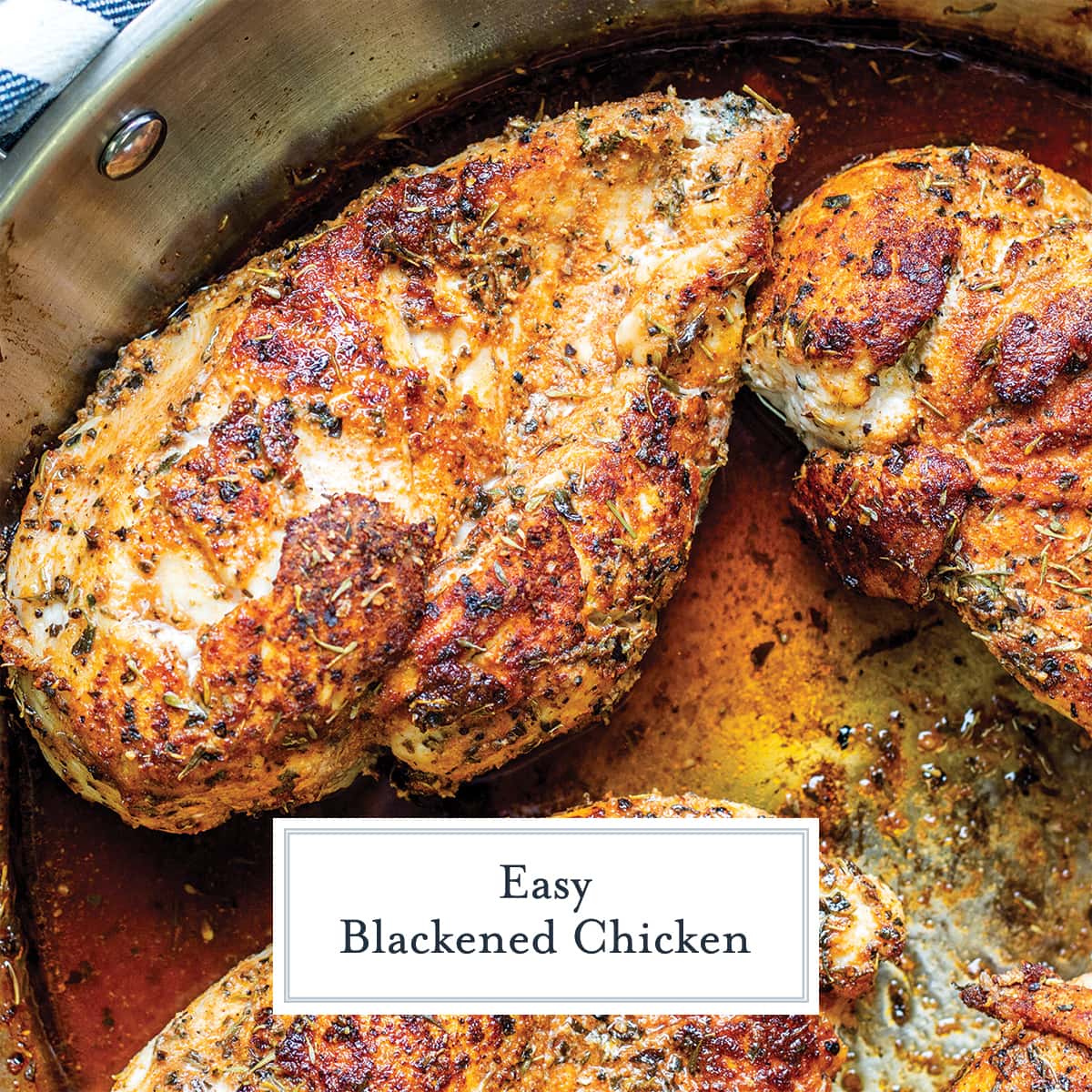 What is Blackened?
Blackened refers to a type of cooking method associated with Cajun cuisine. The method consists of dipping the chicken in butter then coating it with blackened seasoning.
Next, you add the chicken to a skillet and "blacken" giving it a similar effect to charring meat on a grill. The end result is a crisp outside that appears golden-brown to almost black in color.
Blackened Seasoning combines a number of different herbs, pepper and spices and is a cross between Cajun and Creole Seasoning.
While bold in flavor I consider the spice level more of a mild to medium, but can be made more spicy with the addition of more cayenne pepper.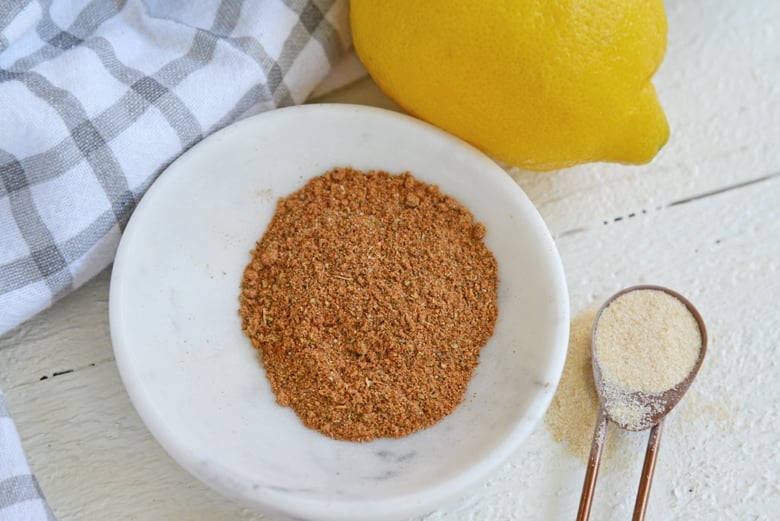 How to Blacken Chicken
To blacken chicken breasts start with your seasoning. Combine all the spices into a small bowl and stir to combine. Set aside. Place your butter in a microwavable safe bowl and warm until melted, about 1 minute.
Dip each chicken breast in melted butter, then pat all sides of your chicken with your blackened seasoning until evenly coated.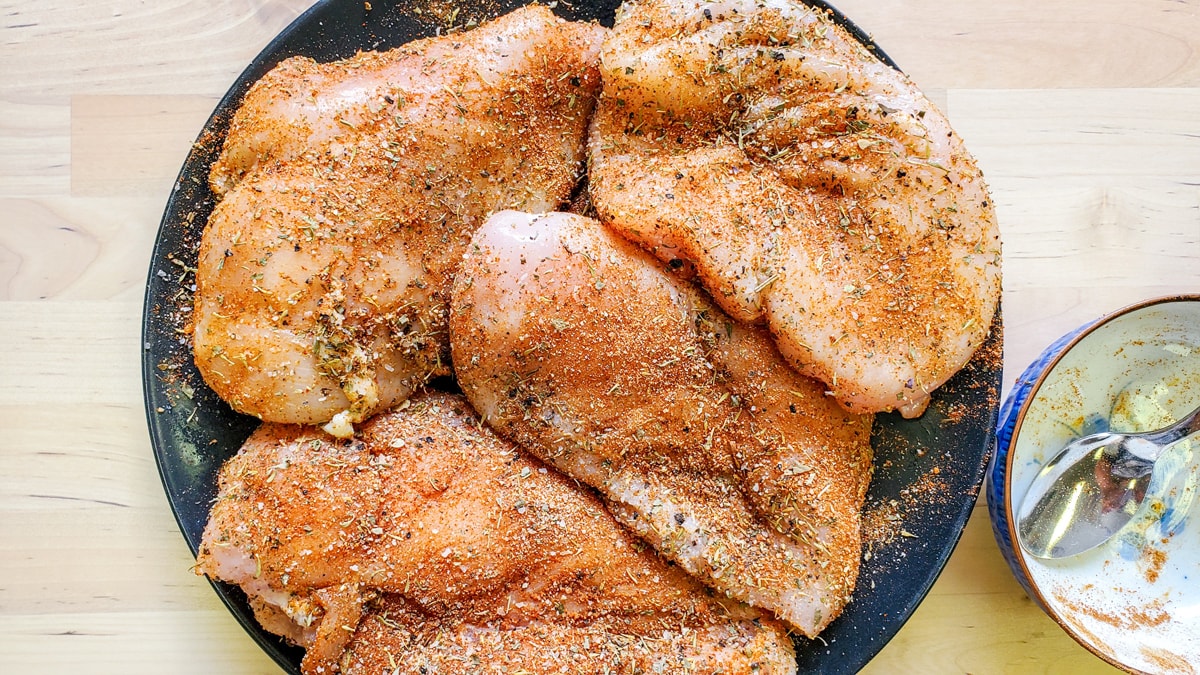 After your chicken is seasoned, heat a large skillet over medium heat. Add olive oil (or oil of choice) to the pan once warm. Let the oil warm up until it is shimmering. This will help all the seasoning crisp on the chicken.
Once your oil is warm add your chicken breasts to the skillet and cook 3 minutes per side until they are crisp and develop a nice golden brown color.
Brown both sides of the chicken, place the chicken on an oven safe baking pan and bake in a preheated oven at 400 degrees F for 15-20 minutes. You want the chicken to reach an internal temperature of 165 degrees F.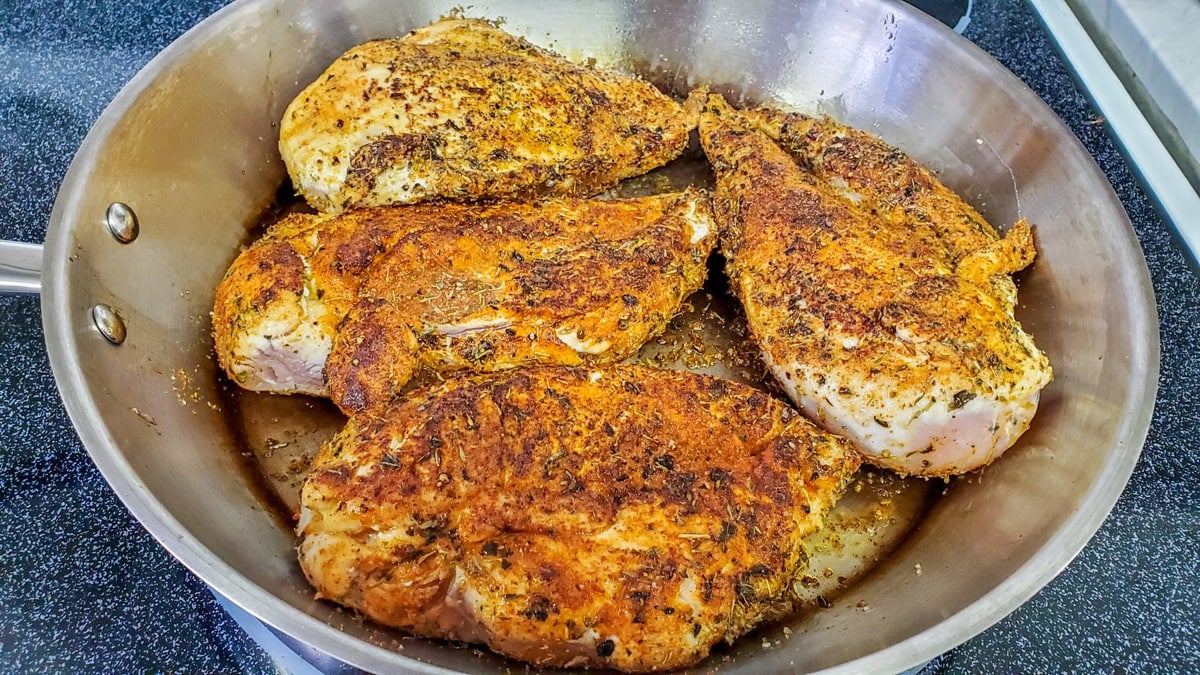 Once the chicken has cooked through remove from the pan and serve warm with desired recipe, sauce or garnish.

Pro Tip: If you have an oven safe skillet, use that for this blackened chicken recipe. This allows you to put the skillet directly into the oven after browning the chicken, instead of transferring the chicken to a different pan. Saves you a dish and less mess.
Chicken Cut Options
Personally, I prefer using boneless skinless chicken breasts for this easy blackened chicken recipe. I feel like it is the most versatile and can be added to a number of different recipes.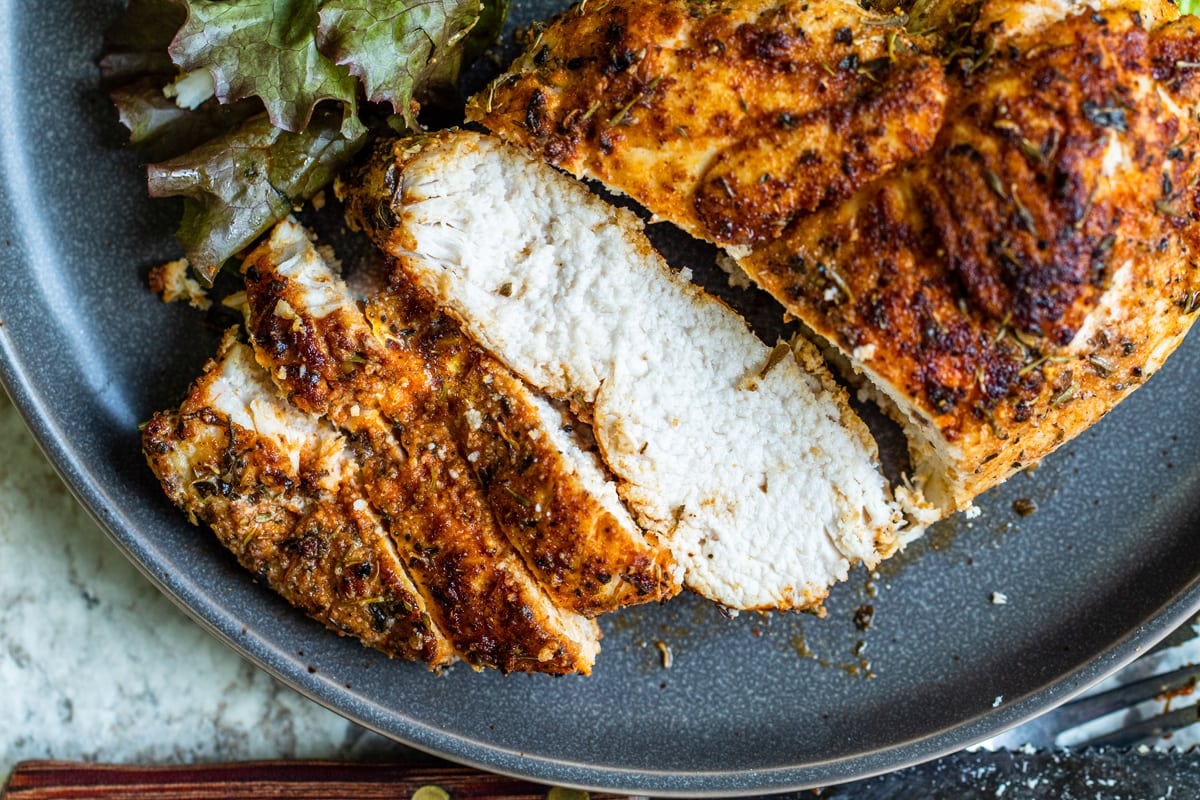 If you prefer, you can use virtually any cut of chicken and blacken it. But be aware the cook time and method will vary on the cut.

Some additional cuts of chicken to try and blacken are:
Chicken Wings
A Whole Chicken
Chicken Legs
Blackened Chicken Serving Suggestions
Blackened Chicken is perfect on its own with your favorite sauce and side of choice. That being said, it makes a wonderful addition to a number of dishes making it versatile and great for meal prep.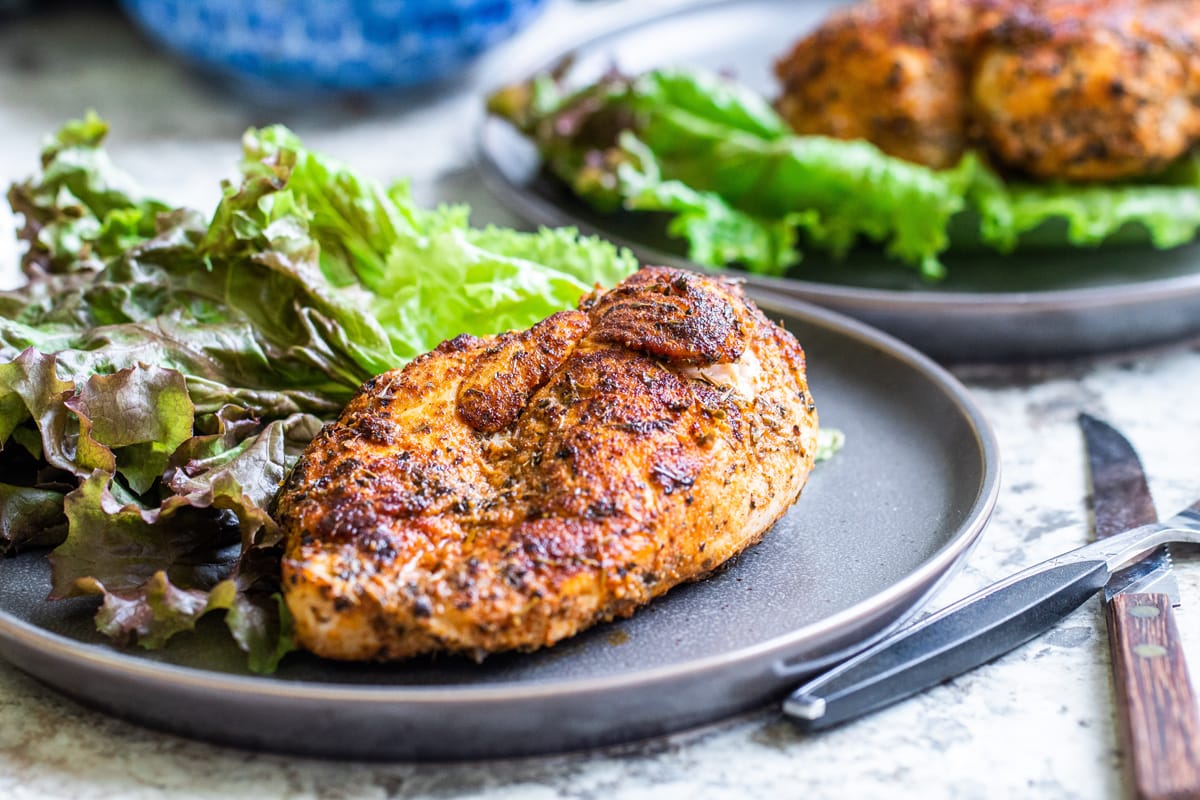 Some great ways to use blackened chicken include:
In Pasta: Personally, I like to stick with a creamy garlic, white or alfredo sauce flavor profile. This compliments the spices on the chicken and lets it shine.
In a Salad: This is one of my favorite ways to incorporate leftover blackened chicken. I add it over some fresh greens (romaine, green leaf lettuce or some spinach work) and add things like fresh tomatoes, red onion, and shredded cheese. Some dressings to try with your salad could be an avocado ranch dressing, a spicy mustard based dressing or some creamy balsamic dressing.
In Tacos: I mean, come on you can never go wrong with a tasty chicken taco. Add the cooked blacked chicken into some warm tortillas and top with a fresh fruit salsa, or spicy red salsa for a tasty combo.
As a Sandwich: Another simple way to incorporate this blackened chicken recipe into a full meal is making it into a sandwich. I like to slice my chicken breasts in half then add each half to a warm bun and top with sliced avocado, lettuce, tomato and my favorite sauce. Garlic aioli is a nice addition.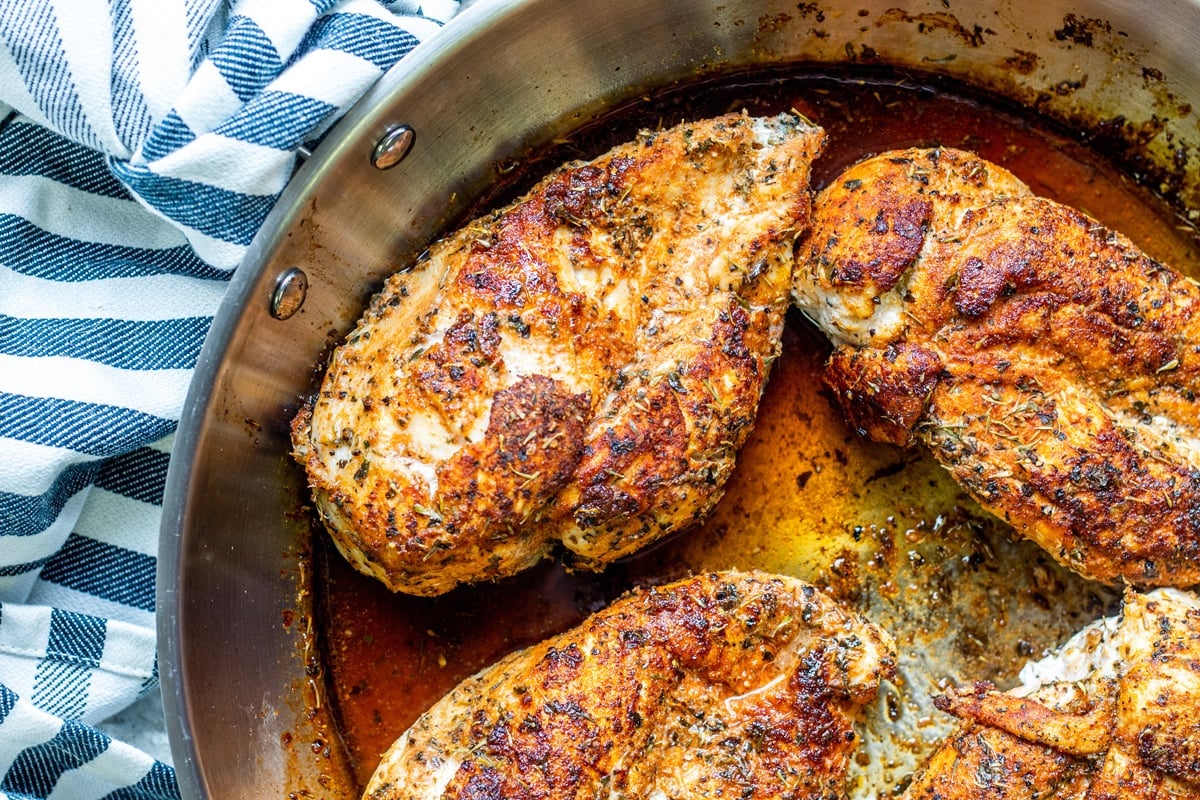 Sauces to Serve Blackened Chicken With
If enjoying this chicken on its own I definitely recommend you pair it with some of your favorite sauce. Some great sauces to try with blackened chicken that will compliment the flavor include: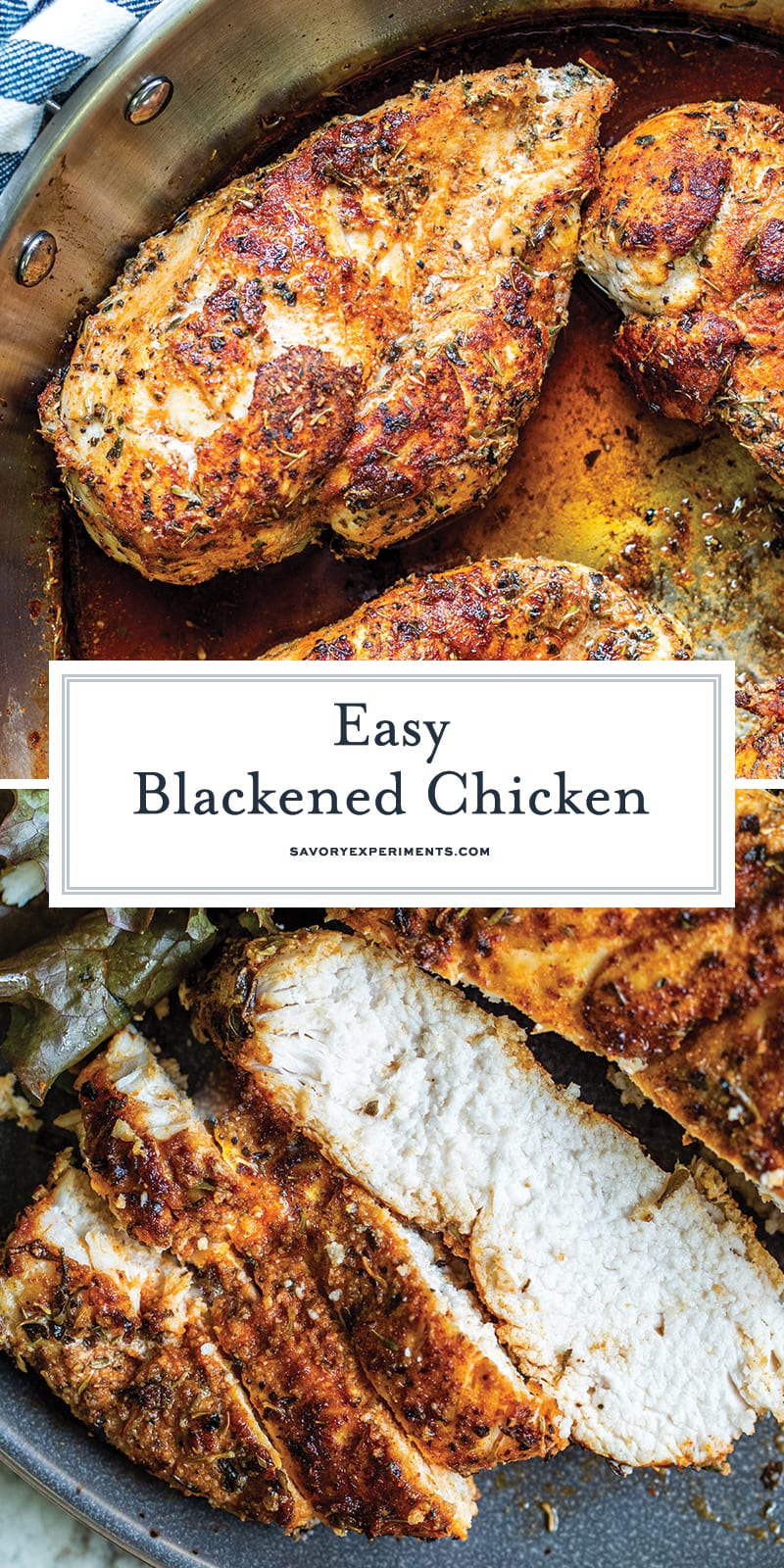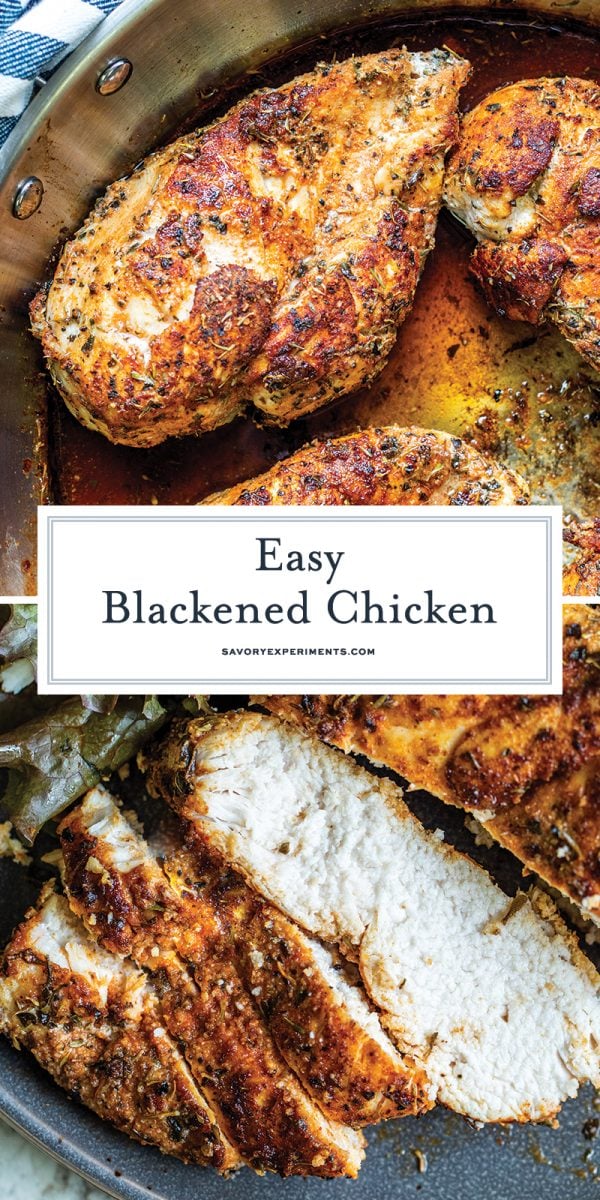 Chicken Cacciatore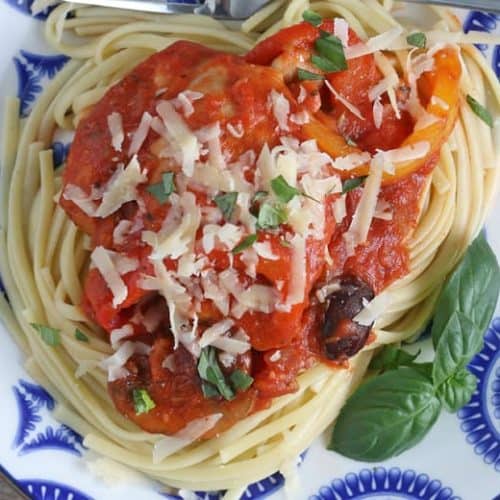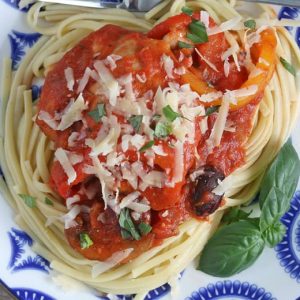 Easy Chicken Cacciatore uses tender chicken in a tomato sauce with mushrooms, bell peppers, olives and herbs. Only takes 30 minutes from stove to plate!
Best Grilled Chicken Marinade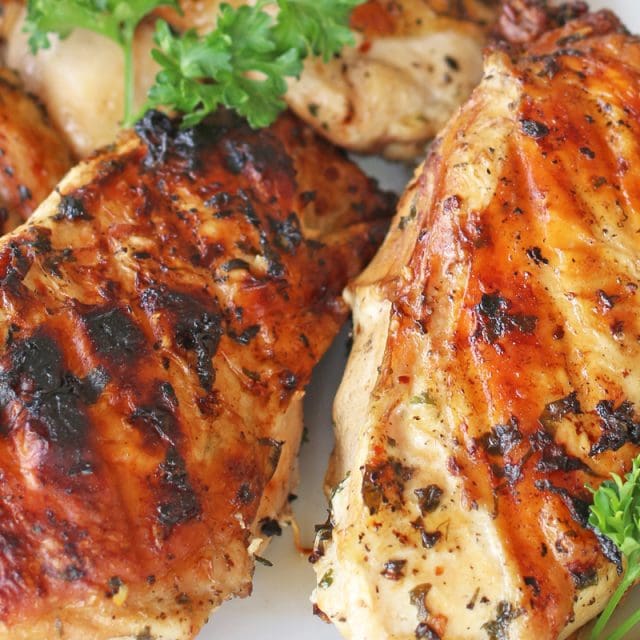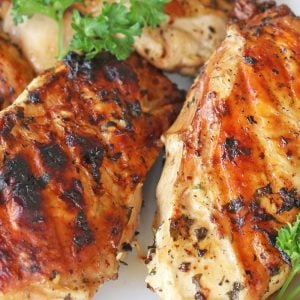 This simple marinade hands down makes the best chicken I have ever had on the grill. And versatile enough to be used on both vegetables and other meats.
Loaded Chicken Nachos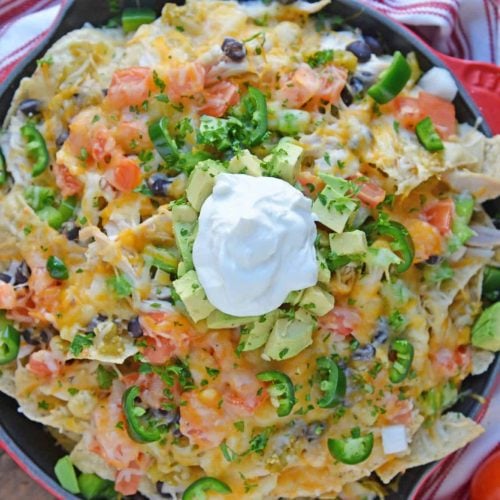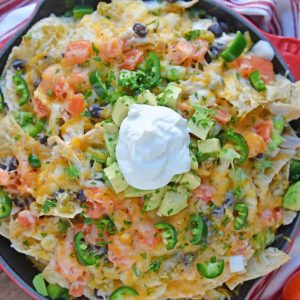 These Loaded Chicken Nachos are the ultimate nacho recipe! Topped with chicken, cheese and lots of veggies, you could make an entire meal out of these loaded nachos.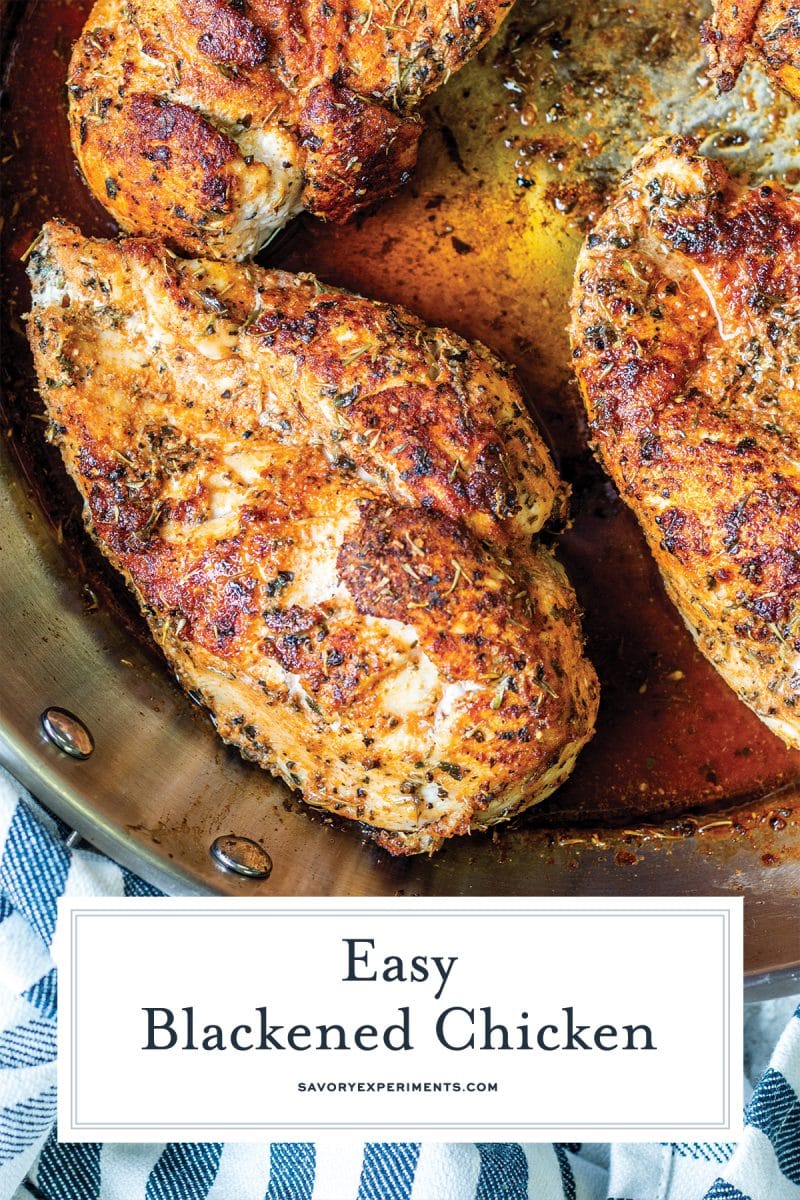 CONNECT WITH SAVORY EXPERIMENTS!

Be sure to follow me on social media, so you never miss a post!

Facebook | Twitter | Youtube
Pinterest | Instagram
Get our FREE 8 Day E-Course on How to Be a Better Home Cook. Sign up HERE!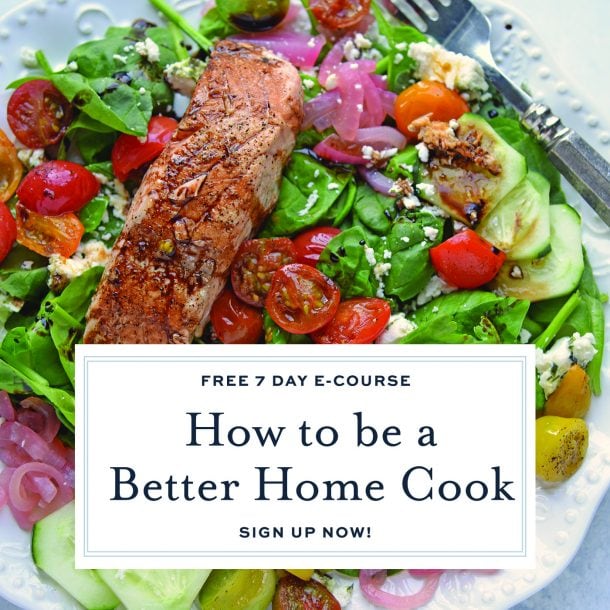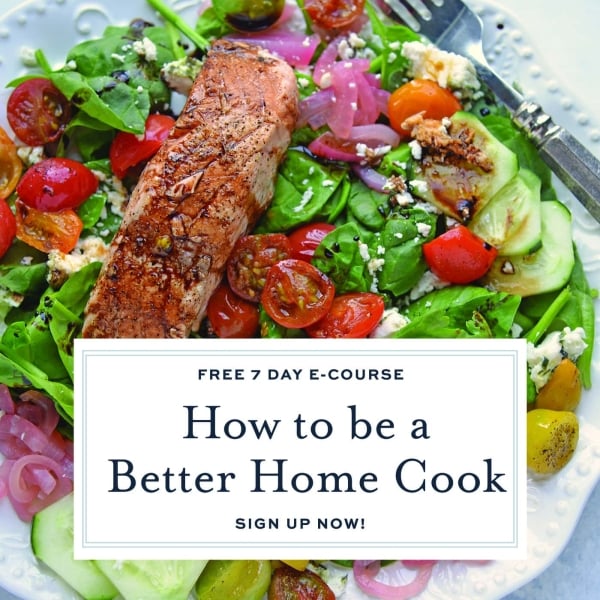 Blackened Chicken
This EASY Blackened Chicken recipe is perfect for busy weeknight dinners, and ready in 30 minutes. It can be paired on its own with your favorite sauce, or added to a variety of dishes ranging from salads to tacos.
Instructions
Preheat your oven to 400 degrees F. While the oven is preheating, combine all of the blackened seasoning ingredients into a small prep bowl and stir to combine. Set aside.

Next, add your butter to a microwavable safe bowl and warm for 30-60 seconds or until melted.

Dredge each chicken breast into the melted butter, then coat all sides with the prepared blackened seasoning. Repeat until all the chicken is dredged and coated.

Heat a large skillet (cast iron or stainless steel work best) over medium heat. Once the skillet is warm add in your oil. Once your oil is warm and shimming add in each chicken breast and cook for 3-5 minutes per side, or until the outside develops a golden-brown blackened color.

Once both sides are blacked, place your skillet directly into the oven (only if it is oven safe, see notes) and cook the chicken for 15-20 minutes, or until the internal temperature reads 165 degrees F.

Once the chicken is cooked through remove from the skillet and enjoy warm on its own with your favorite sauce, or added into your recipe of choice.

If you've tried this recipe, come back and let us know how it was in the comments or ratings!
Notes
Skillet Note: I prefer to use a cast iron or stainless steel skillet so I can put it directly into the oven without having to transfer the chicken. If you do not have a skillet that is oven safe, you will need to transfer the chicken to a baking pan after blackening it in the skillet.
Nutrition
Calories:
432
kcal
|
Carbohydrates:
2
g
|
Protein:
24
g
|
Fat:
37
g
|
Saturated Fat:
17
g
|
Cholesterol:
133
mg
|
Sodium:
571
mg
|
Potassium:
418
mg
|
Fiber:
1
g
|
Sugar:
1
g
|
Vitamin A:
980
IU
|
Vitamin C:
1
mg
|
Calcium:
20
mg
|
Iron:
1
mg