Chinese Almond Chicken is a local dish served at every Chinese food restaurant in Detroit, Michigan. It comes as several names including Detroit Almond Chicken, ABC Chicken (which is redundant because the C stands for "chicken" and Almond Boneless Chicken.
Whatever you call it, it is certianly a Chinese-American dish.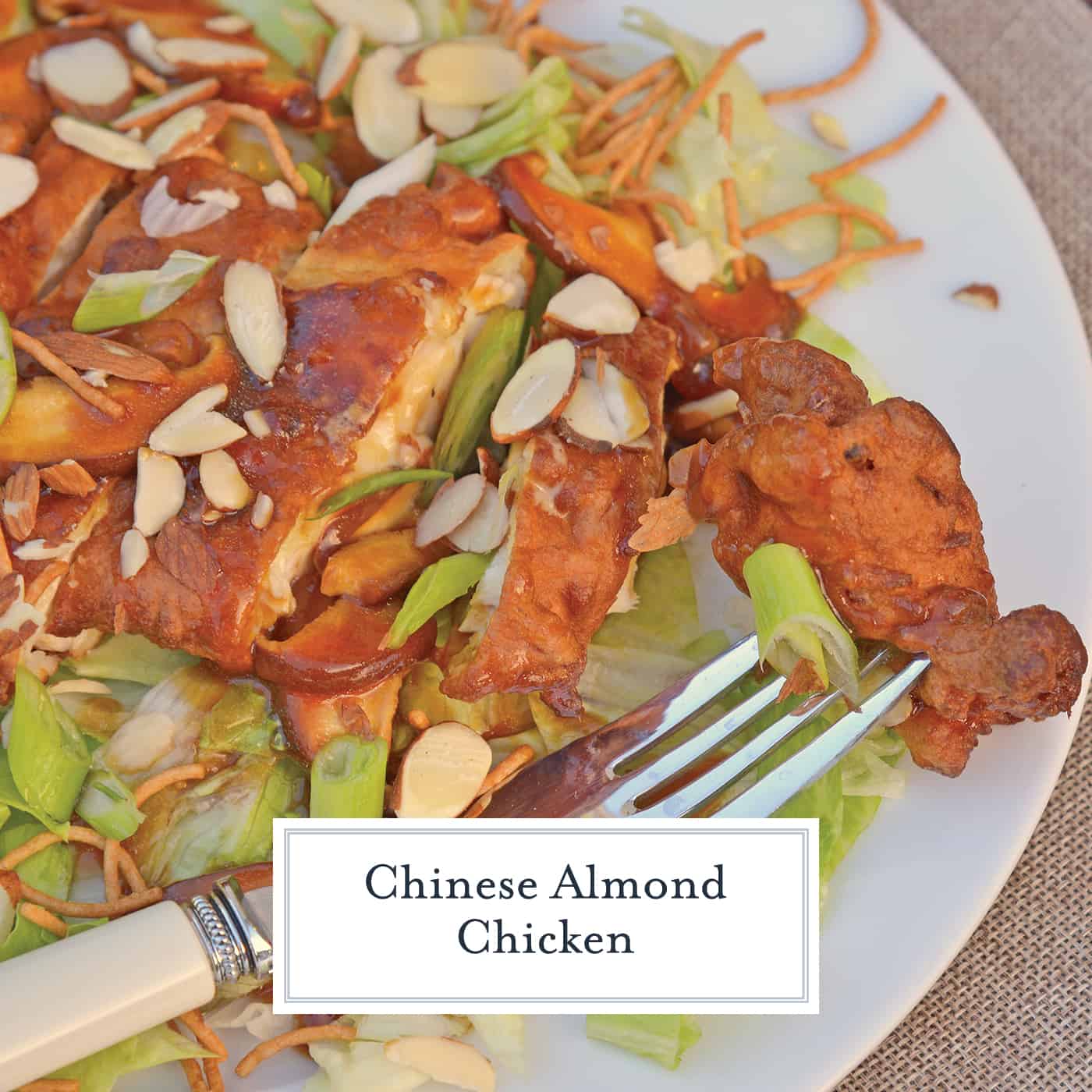 What is Almond Chicken?
Chinese Almond Chicken, aka Detroit Almond Chicken, ABC and Almond Boneless Chicken, is a dish with fried chicken and mushroom gravy served over iceberg lettuce.
The request for Detroit Almond Chicken was from my dear friend Nathalie. Born and raised in a suburb of Detroit, she raves about Detroit Style Almond Chicken. Although served year round, this dish is also a Christmas Eve tradition in the region.
Nathalie has been trying to get our two friends, who also hail from the Detroit area and happen to own a Chinese food restaurant, to fess up the coveted recipe for Detroit Style Almond Chicken.
ABC Chicken and apparently there is a secret recipe for Egg Rolls that includes peanut butter, but that is another story for another time.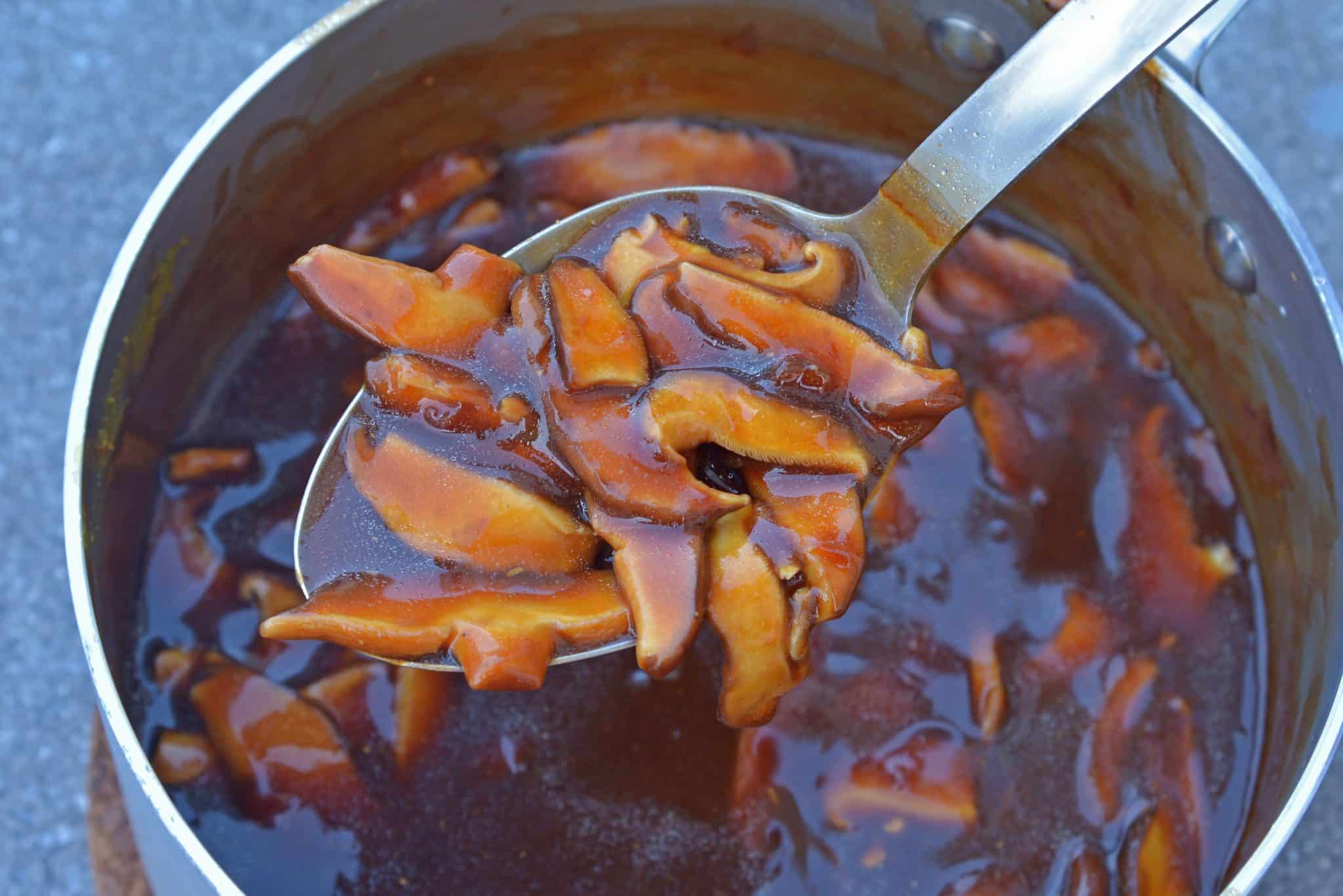 But It Isn't Really Chinese At All…
As the story goes there is a man from the "old country" (China) who gave the secret recipe to the owners of the local Chinese Restaurants. He completes weekly rounds collecting a fee for this mystery recipe.
If ever leaked, they could face a penalty… or death. Sounds like a Detroit Almond Chicken mafia to me and I am not sure I believe it!
Unfortunately, she has not won the battle for the recipe to be leaked, nor would she like to see our good friends, Willis and Jimbo, be penalized, so one Friday night we decided it was "game on" for Chinese Almond Chicken.
Nathalie and I did our homework and relied on her eyes and tastes buds to recreate the famous Detroit Almond Chicken dish and then test it against our Chinese restaurant owning friends.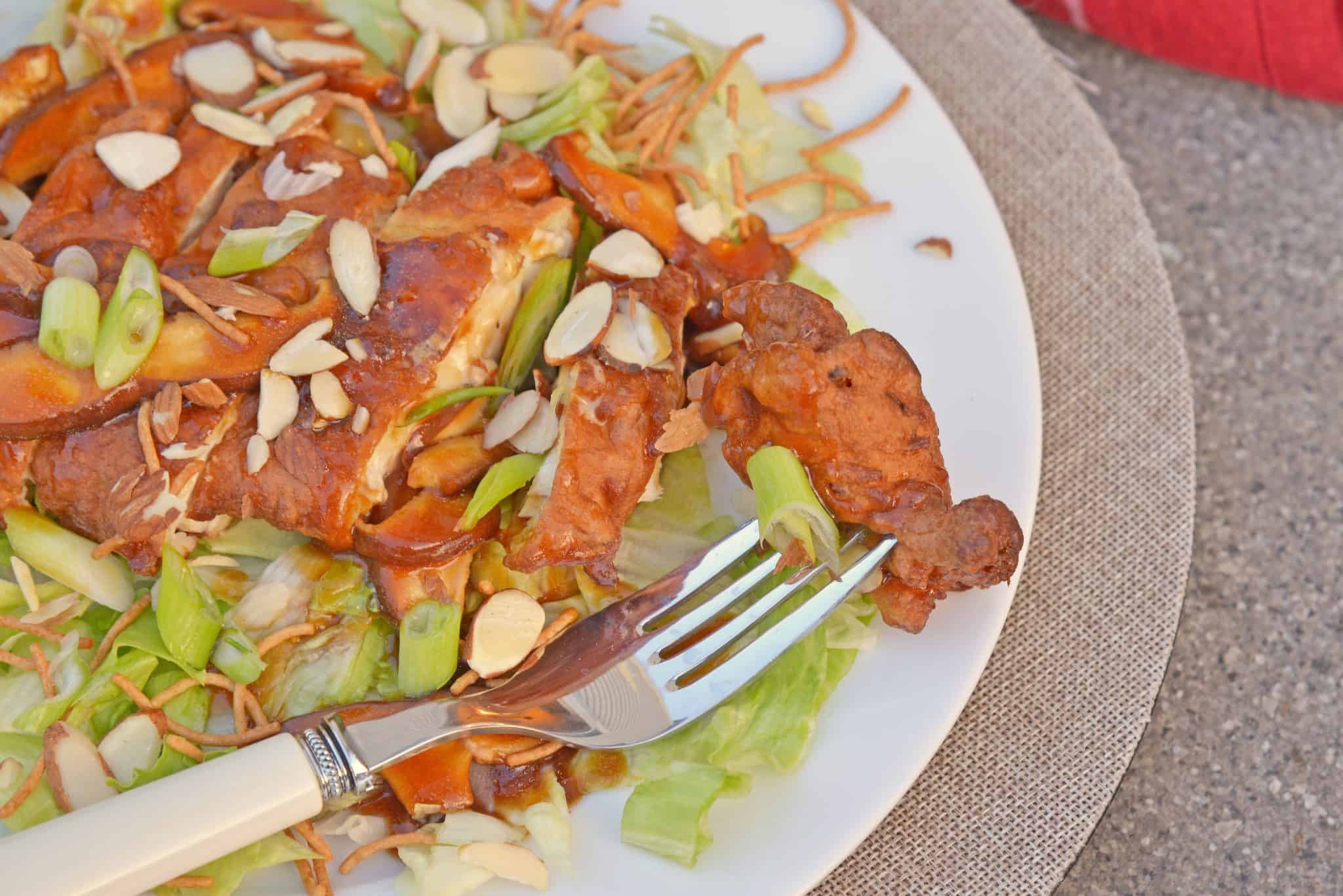 The Chicken & The Gravy
For all of those not from Detroit, you are probably expecting something like I was; similar to cashew chicken, but with almonds, served over fried rice. Detroit Almond Chicken actually doesn't taste much like Chinese food at all. It is American all they way.
Instead of chicken pieces, it is served as a sliced chicken breast, battered and fried like southern style fried chicken. It is considered good luck to remove one of the center slices prior to serving.
The mushroom gravy tastes like brown gravy. And the big kicker? No fried rice! Although I made some as a side dish, Detroit Style Almond Chicken is served over iceberg lettuce!
I now see why Nathalie was so excited to recreate this dish. It was amazingly good. The chicken is crispy on the outside, but moist on the inside. Pure comfort food.
Seasoned perfectly with a little sherry, salt and pepper, it allows for the mushroom gravy to take center stage. Crisp, cold, fresh lettuce is the base and complements the other hot flavors.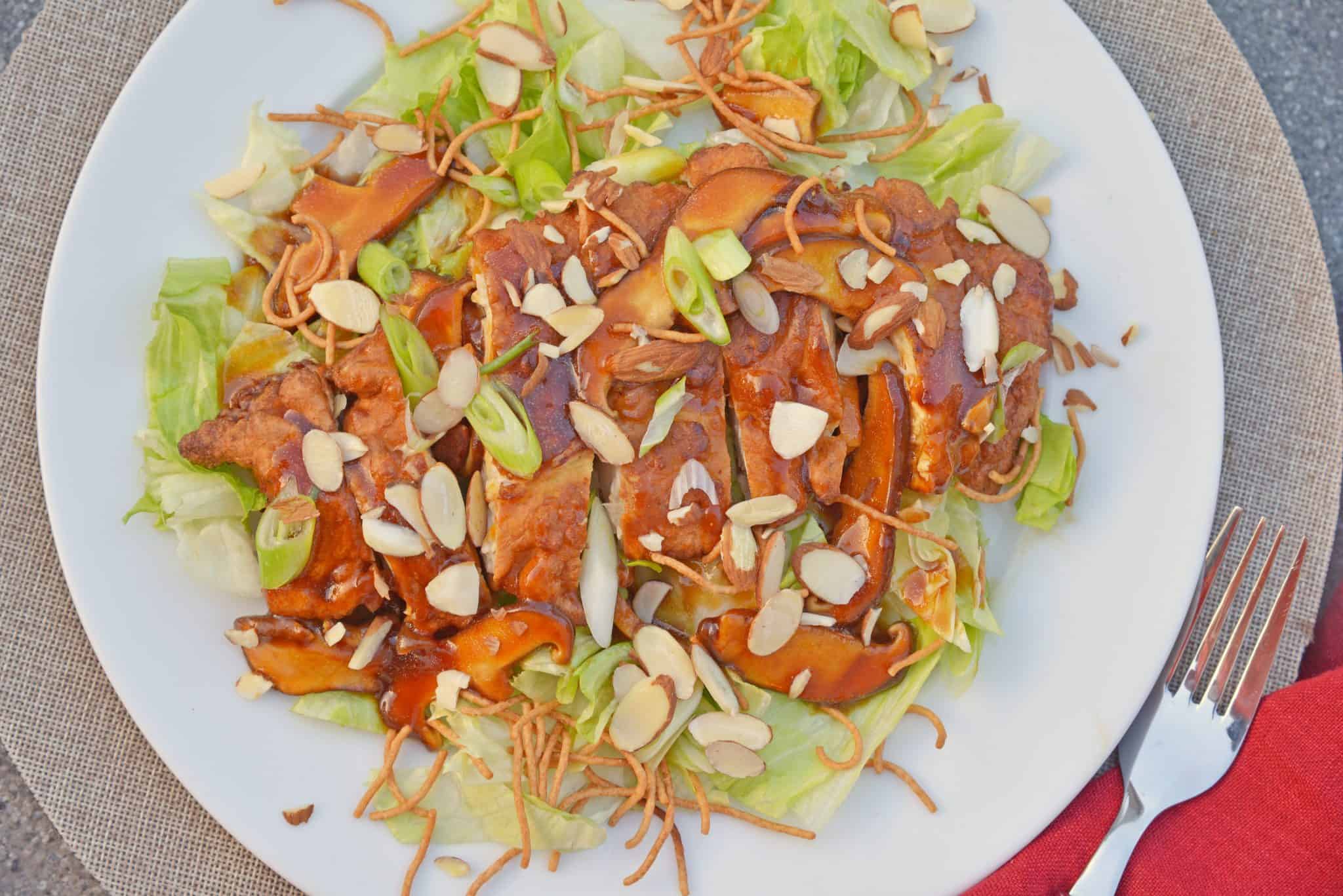 Iceberg Lettuce Instead of Rice
I'm told it started as a way to soak up extra oil from the fried chicken when plated, but since customers have started to devour it along with the chicken, it has become a staple. Topped with crunchy goodies, the textures are well balanced and palate pleasing.
If you don't cook with alcohol, just omit the sherry and season well with salt and pepper. I used a dark mushroom soy sauce, which is actually my "go-to" for all things soy, but you can also use a low sodium light soy sauce.
I used shiitake mushrooms, but any type will do, you can even use dehydrated if you want, just compensate by adding additional broth or water.
You might like these other easy Chinese recipes:
Slow Cooker Beef and Broccoli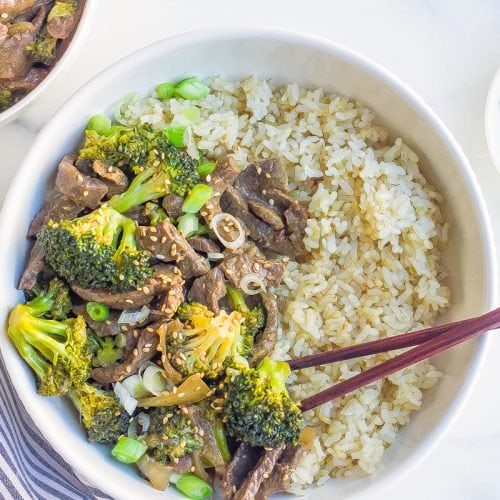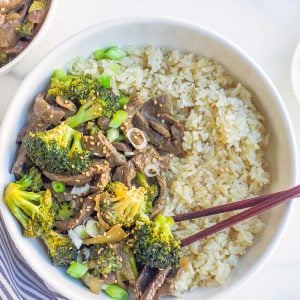 Slow Cooker Beef and Broccoli- better than take-out, beef and broccoli only takes 10 minutes from fridge to slow cooker.
PF Chang's Spicy Green Beans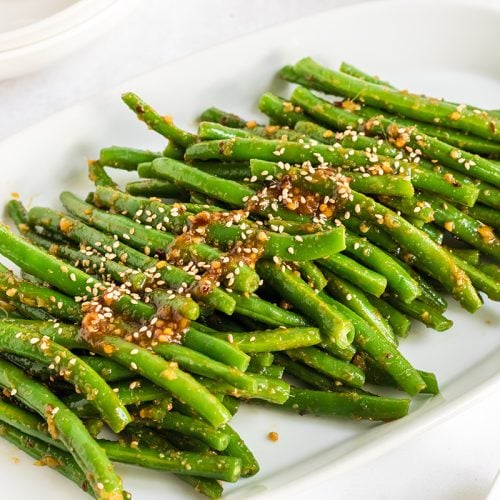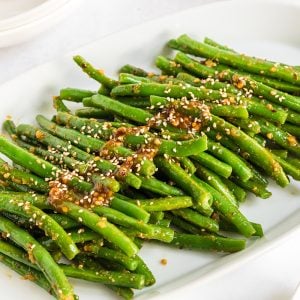 PF Chang's Spicy Green Beans are an easy and flavorful side dish recipe. Just 6 ingredients for the best green bean recipe!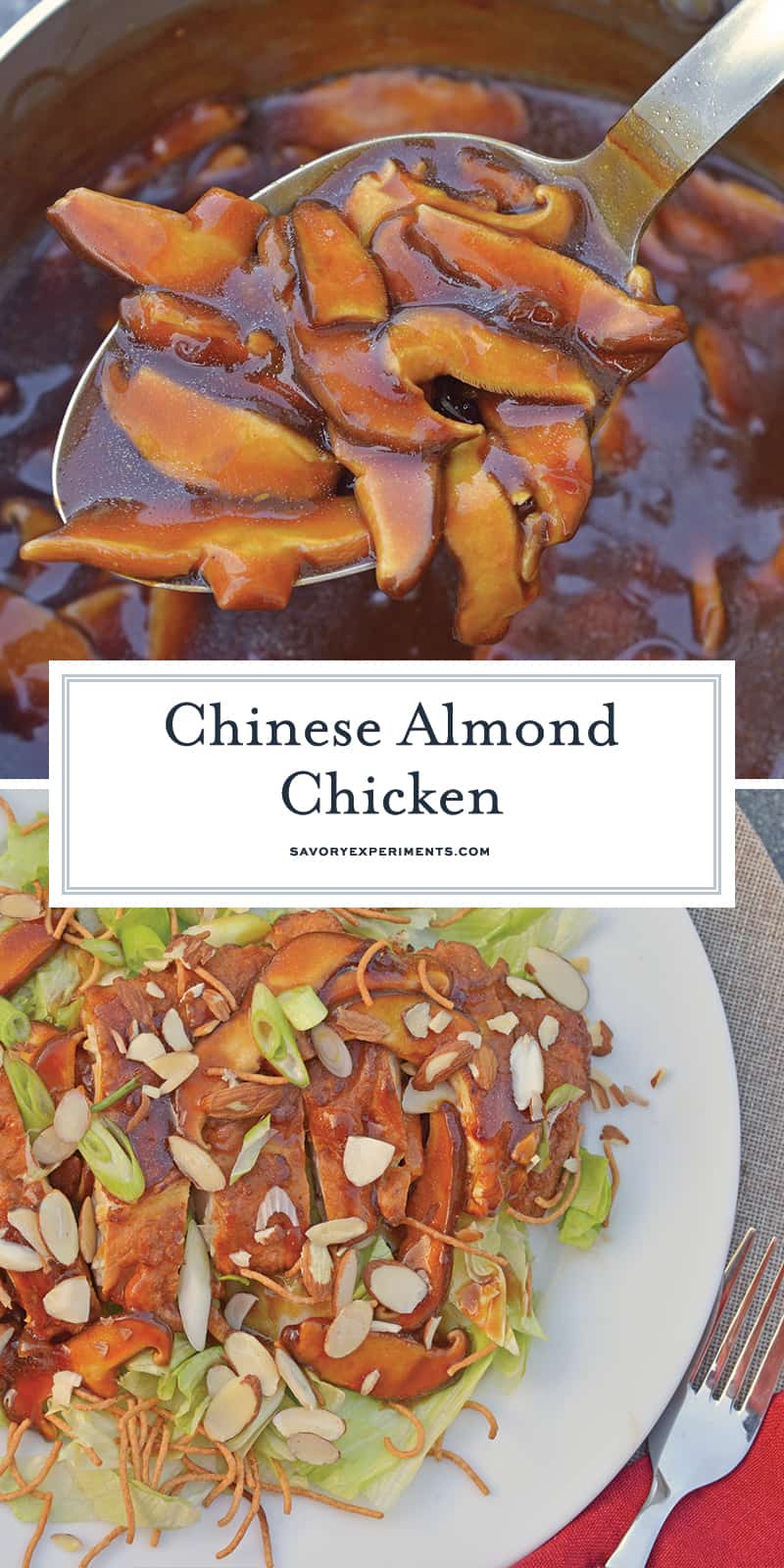 ---
---
Chinese Almond Chicken
Chinese Almond Chicken, aka Detroit Almond Chicken, ABC Chicken or Almond Boneless Chicken, is a dish with fried chicken and mushroom gravy served over iceberg lettuce.
Instructions
Place chicken breasts between two sheets of wax paper or plastic wrap. Using the flat side of a meat tenderizer, pound breasts to approximately 1/2 inch uniform thickness. Pieces may be very large, in this case, cut in half.

Place in a baking dish large enough for them to fit in a single layer. Season to taste with salt and pepper and cover with cooking sherry. Set aside until ready to cook, a minimum of 30 minutes.

In bowl, whisk together 4 tablespoons cornstarch with 4 tablespoons water until smooth.

In a heavy bottom sauce pan, heat chicken broth, shiitake mushrooms, dark soy sauce, unsalted butter and cornstarch mixture over low heat. Whisk until smooth. Sauce should start to thicken and mushrooms will cook down. Do not bring to a boil, whisk every 2-3 minutes while making the chicken. When it reaches a gravy consistency, remove from heat or place on a "warm" setting.

In a shallow bowl or pie plate, whisk 6 tablespoons flour, baking powder and eggs. This mixture will be very thick. If it is so think you won't be able to dredge chicken through it, add a small amount of milk or water, but make sure it isn't too watery, you want it to stick to the chicken.

In a shallow dish or bowl place the remaining 6 tablespoons all purpose flour and lightly season with salt and pepper.

Preheat oven to 350 degrees. Heat 1 inch of vegetable oil in a large heavy bottom skillet over medium-high heat.

Lightly coat each chicken breast in flour and then dredge in egg batter. Carefully lower into hot oil. Depending on size, chicken will take from 5-7 minutes per side. Remove to a baking sheet and place in the oven to keep warm. Continue with remaining chicken breasts. The cooking time can vary considerably depending on the heat of the oil and size of the chicken. Chicken needs to be an internal temperture of 165 degrees. If the outside is cooking faster than the inside, remove and place into the oven to continue cooking.

For plating, create a bed of iceberg lettuce, top with a piece of chicken, mushroom gravy, scallions and Chinese rice noodles.

If you've tried this recipe, come back and let us know how it was!
Nutrition
Calories:
435
kcal
|
Carbohydrates:
29
g
|
Protein:
33
g
|
Fat:
20
g
|
Saturated Fat:
7
g
|
Cholesterol:
176
mg
|
Sodium:
1315
mg
|
Potassium:
800
mg
|
Fiber:
2
g
|
Sugar:
1
g
|
Vitamin A:
535
IU
|
Vitamin C:
15.9
mg
|
Calcium:
96
mg
|
Iron:
3
mg