These amazing apple spiced stuffed sweet potatoes are the most amazing tasty side dish you will wish you had come across sooner! Rich and delicious sweet potatoes are piled high with a luscious cinnamon apple filling that's dotted with pecans and brightened by citrusy lemon juice.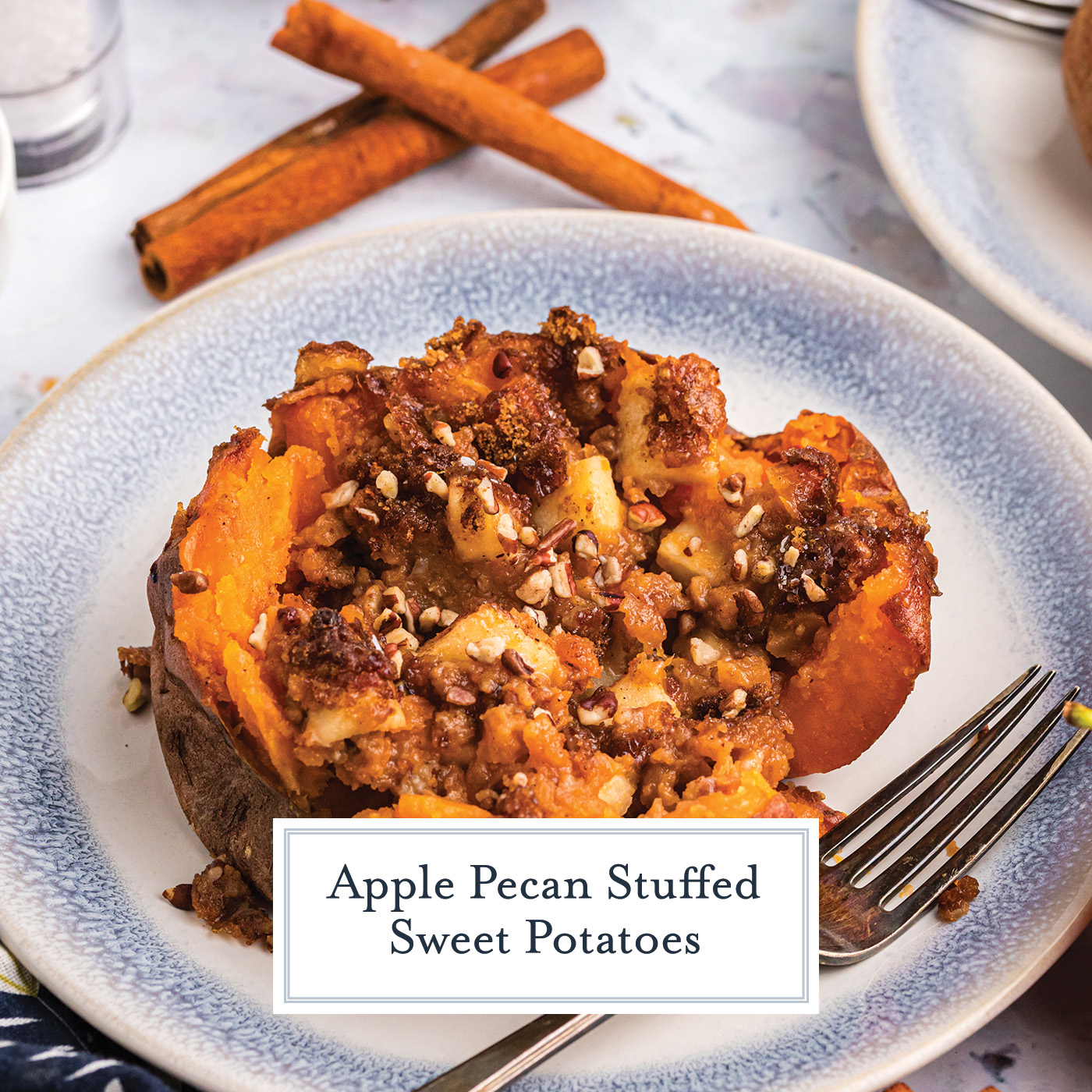 This delicious recipe is fit for any holiday but it can also be a sweet and savory meal all on its own on a weeknight. It's one of my favorite ways to indulge in a sweet and savory dish any time of the year — but it's obviously perfect for fall.
If you're looking for a side dish that will knock the fuzzy socks off of your autumn-loving friends or family, this stuffed sweet potatoes recipe is sure to do the trick!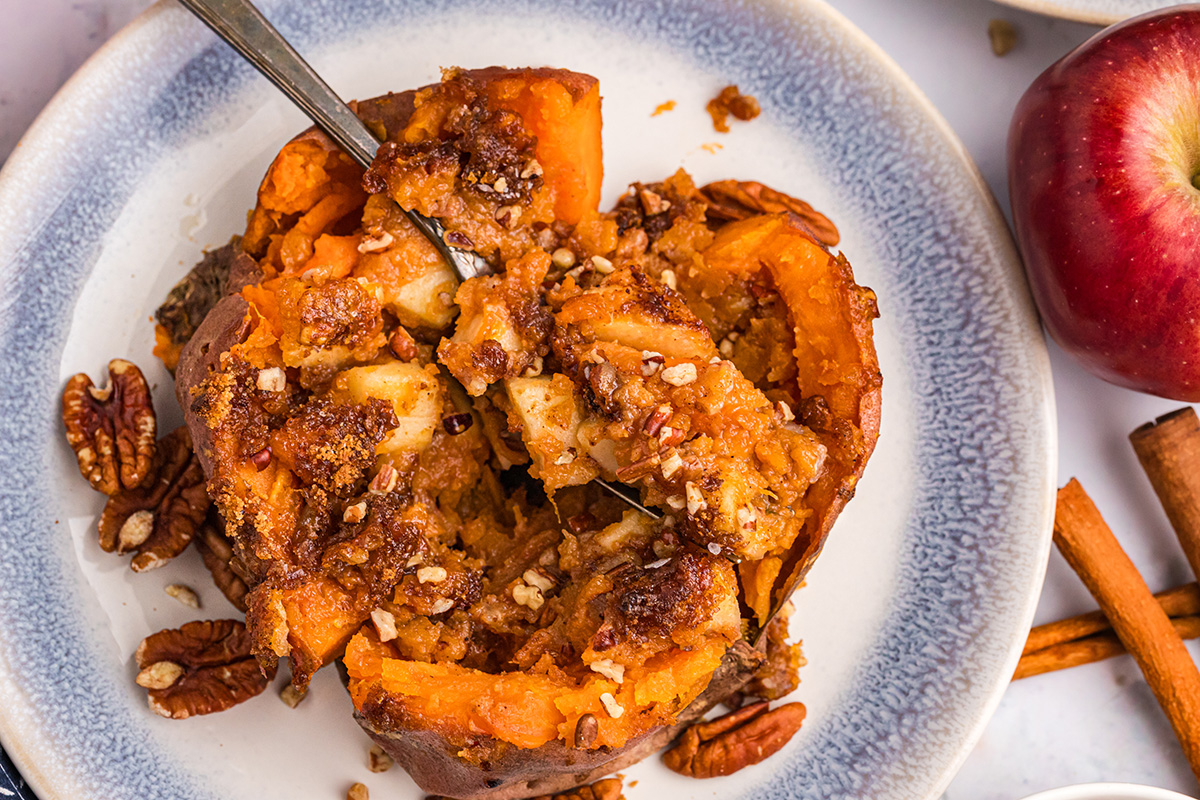 Why You'll Love Apple Spiced Stuffed Sweet Potatoes
There's no reason not to love these sweet stuff potatoes!
Different – Sure, everyone spreads butter and sprinkles brown sugar over a baked sweet potato or makes sweet potato casserole, but have you tried this sweet and citrusy filling for a creamy sweet potato? This recipe is a game-changer.
Flavorful – From the crunchy nuts to the sweet apples and the creamy sweet potato, this recipe hits it out of the park when it comes to both flavor and texture.
Simple – There are not fancy gadgets or techniques needed for this easy recipe. Just simple ingredients and basic prep are all it takes to get this recipe together.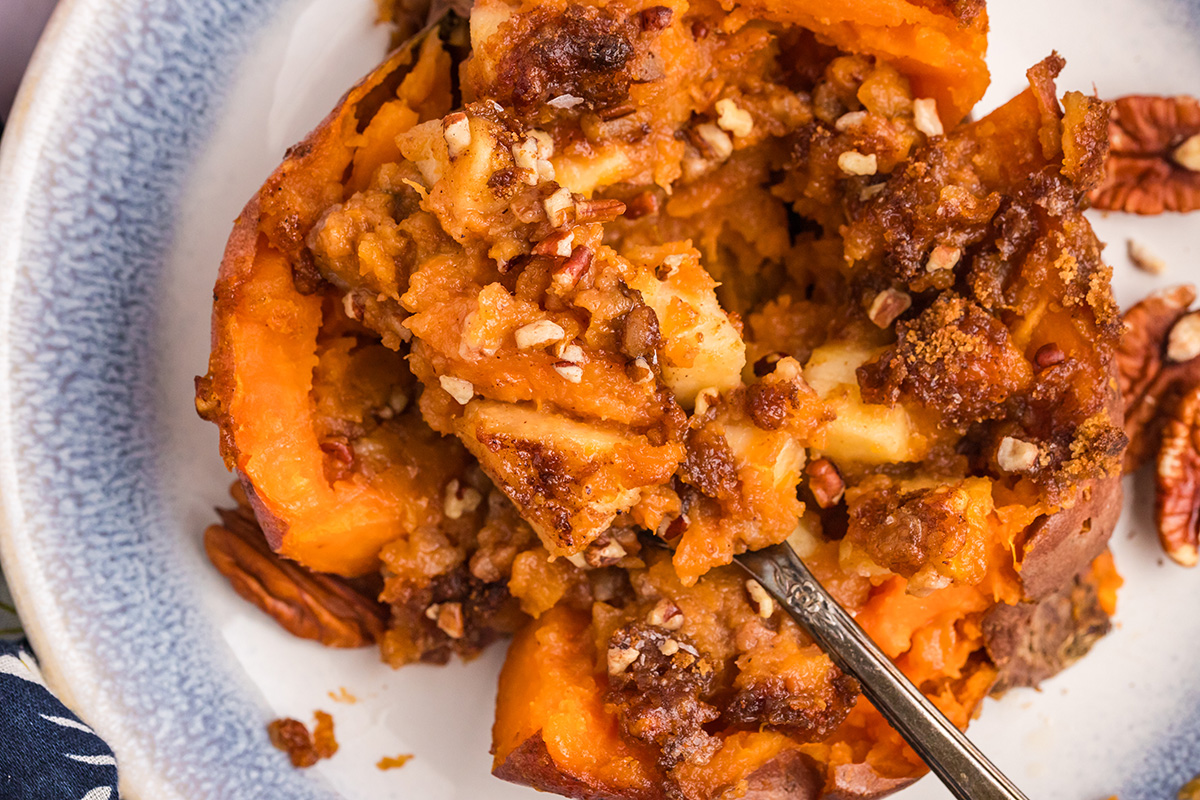 Ingredients
You can find these easy ingredients for this stuffed sweet potato recipe at pretty much any grocery store.
Sweet Potatoes: These are the star of the show — choose a variety that is wide and fat for the best base and flavor.
Apples: Diced apples bring a burst of freshness and a slight tartness that pairs perfectly with the potatoes. Use any kind of apples that you like from pink lady or honeycrisp to a Fuji apple or granny smith.
Lemon Juice: The lemon juice serves a dual purpose — it not only adds a touch of citrusy brightness to the apples but also prevents them from browning.
Unsalted Butter: Butter brings richness to the dish. If you prefer, you can also use melted coconut oil or olive oil.
Dark Brown Sugar: This ingredient provides a rich molasses flavor. It caramelizes beautifully with the apples and creates a decadent glaze.
Pecans: Chopped pecans impart crunchiness and a nutty, buttery flavor to the dish.
Coarse Kosher Salt: A small amount of salt enhances the overall flavor by balancing the sweetness and enhancing the flavors of the sweet potatoes and apples. If you prefer, you can use sea salt or your own favorite salt.
Ground Cinnamon: Cinnamon is a perfect pairing for both apples, and sweet potatoes, infusing warm, aromatic notes.
Ground Nutmeg: Nutmeg complements the cinnamon, and the potatoes, with its warm and slightly nutty flavor.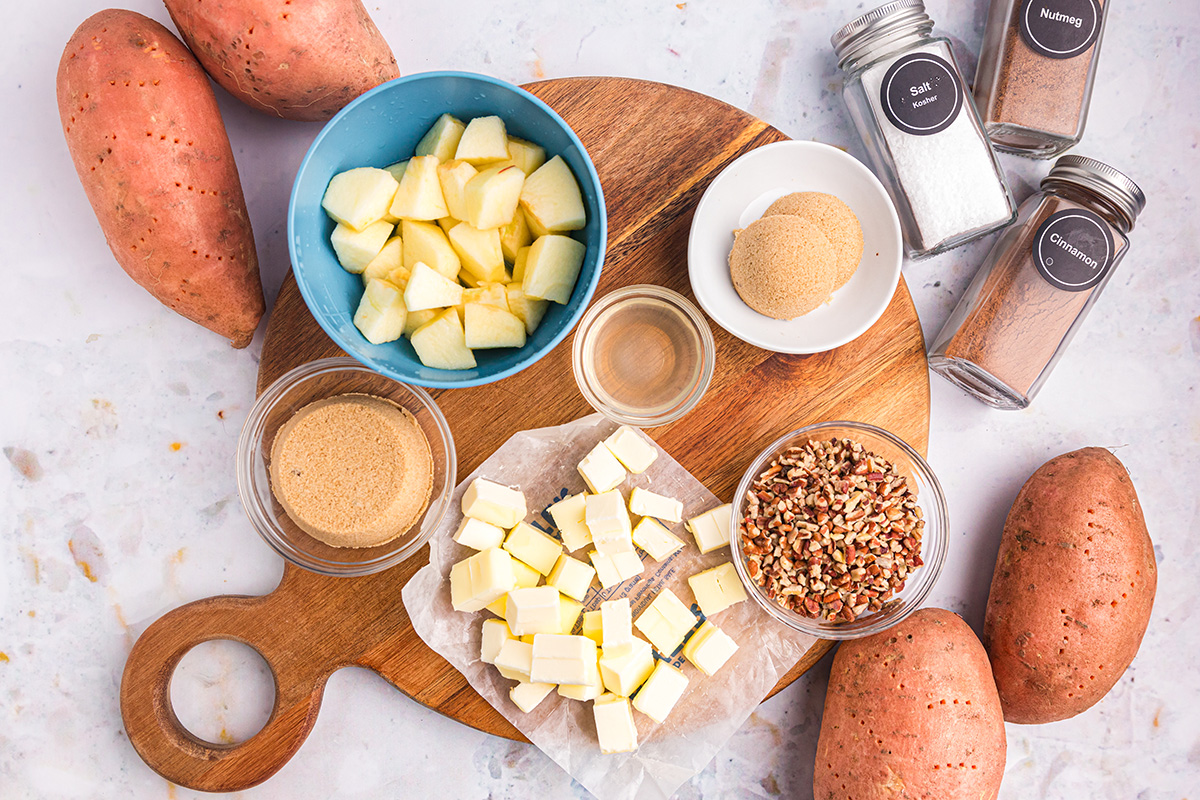 How to Make Apple Spiced Stuffed Sweet Potatoes
You are going to love how easy it is to make this sophisticated side dish.
Bake. Once you've cleaned the potatoes, pierce them with a fork, place on baking sheet lined with parchment paper, and bake until fork-tender.
Toss apples with lemon juice. While the potatoes are baking, add the diced apples to a large bowl and toss them with lemon juice.
Cut slit in potatoes. After removing the cooked sweet potatoes from the oven, use a sharp knife to slit the top open.
Remove most of flesh. Use a spoon to remove most of the flesh of the potato and place the flesh in a large mixing bowl.
Toss apples with flesh and remaining ingredients. Place drained apple pieces in the bowl with the sweet potatoes and add the butter, a portion of the brown sugar, pecans, salt, and a bit of the cinnamon and nutmeg. Stir to combine.
Spoon back into potato shells. Use a spoon to put the mixture into the sweet potato shells.
Top with cinnamon sugar. Place the rest of the brown sugar and cinnamon in a bowl and whisk them together. Add the brown sugar mixture over top of the filling of the potatoes.
Bake again. Place the potatoes back in the oven and bake for the recommended time. Once cooked, remove the potatoes and let them rest briefly before serving.
What to Serve With Apple Spiced Sweet Potatoes
These amazing stuffed sweet potatoes are a perfect pairing for pork chops but you can also serve them with baked chicken or lamb. Or make them part of a party spread with appetizers like chicken wings or zucchini fries.
And of course, they are great for special occassions and holiday. Serve with a beef tenderloin or brined turkey.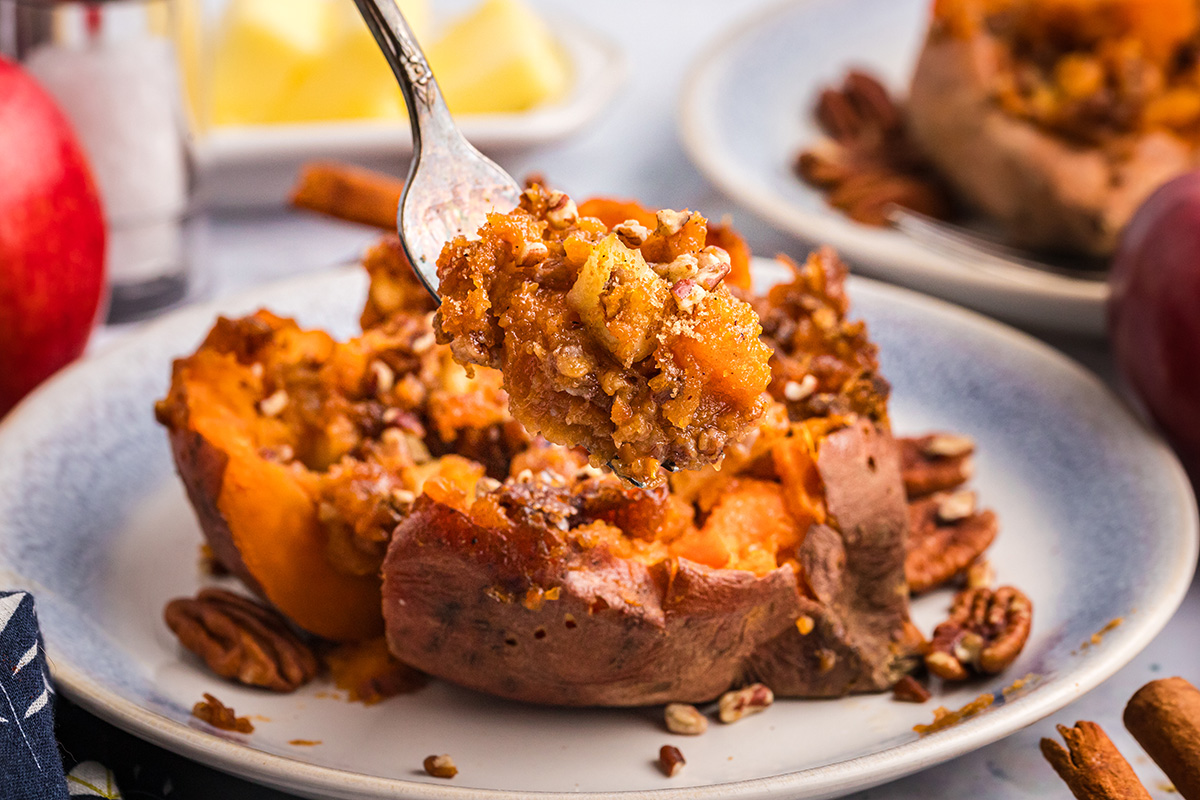 Variations
You can switch up this recipe in so many ways!
Apples – Use any variety of apple that you prefer, but firmer apples work best.
Potatoes – Instead of sweet potatoes, use a variety of white potato and add more sugar for seasoning.
Nuts – While crunchy pecans are perfect, you can use any type of nut that you prefer.
Seasoning – Add other seasonal spices — choose any that you love!
Onion – Try addition caramelized onion to the mixture for a sweet and savory twist.
Meat – Add turkey sausage, pork sausage, or other ground meats.
Add-Ins – Try adding golden raisins, crispy bacon, sesame seeds, or even black beans for flavor and texture.
Cheese – The saltiness of cheese pairs well with with the sweetness of the potatoes and other ingredients. Try adding shredded Swiss cheese or grated Parmesan cheese.
Garnish – Try topping these sweet potatoes with goat cheese, pumpkin seeds, or more crisp apple chunks. You can also drizzle the stuffed potato with pure maple syrup or melted almond butter, sunflower seed butter, or peanut butter.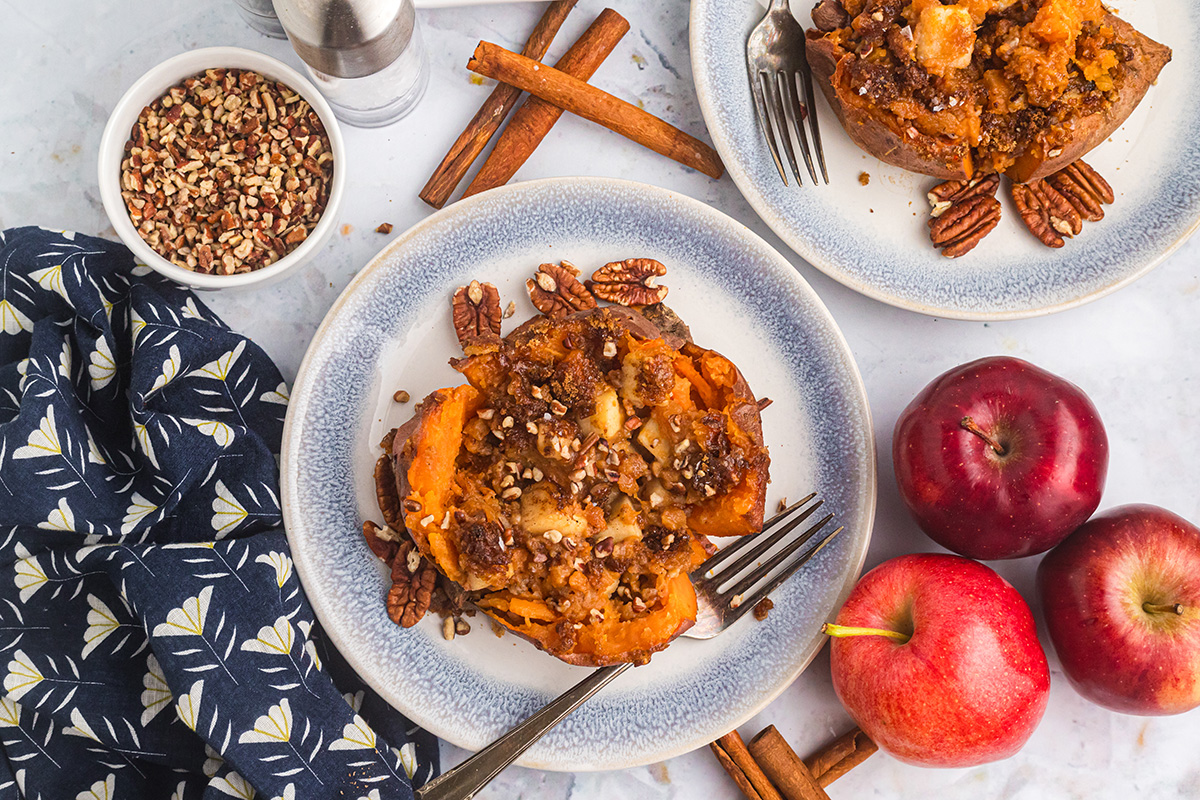 Storage and Freezing
Store these easy stuffed sweet potatoes easily in the fridge or freezer.
Refrigerator: Store leftover apple spiced stuffed sweet potatoes in the refrigerator for 3-4 days in an airtight container.
Freezer: Place the potatoes in freezer bags and store for up to 3 months.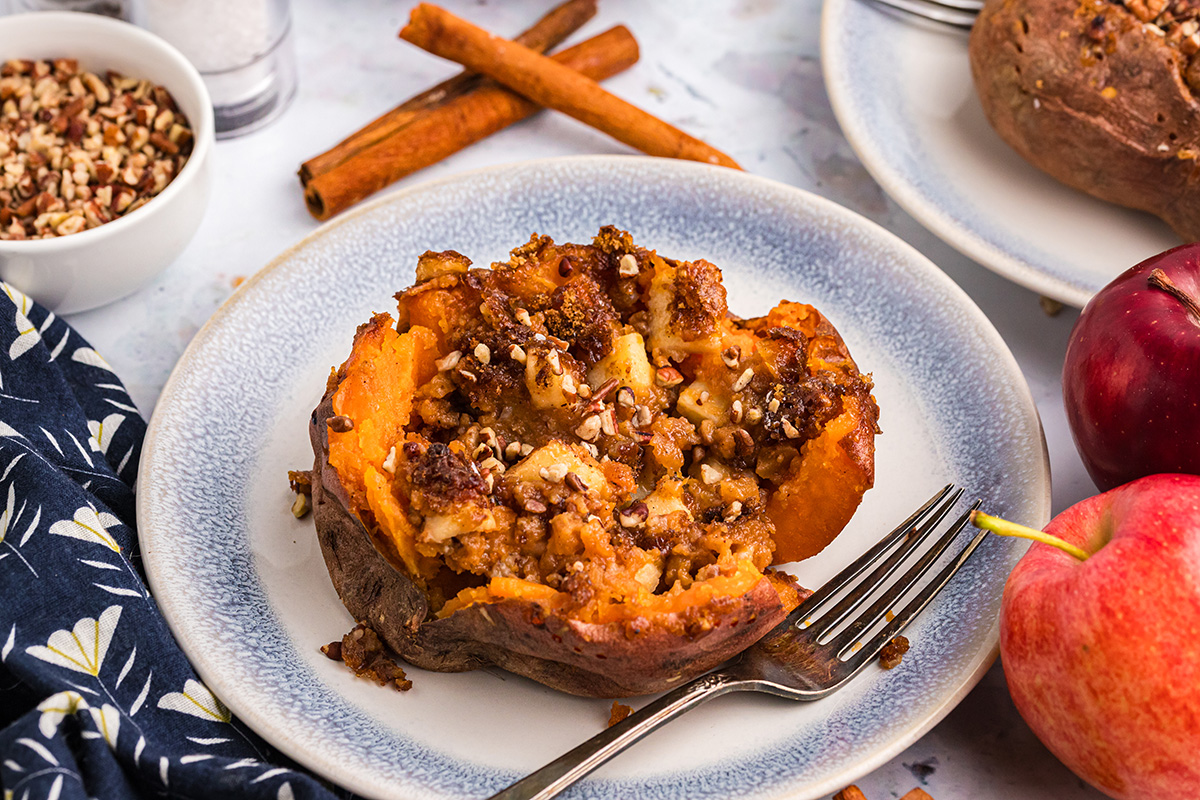 Common Questions
What enhances the flavor of sweet potato?
If you want to bring out the flavor of sweet potatoes, brush them with butter or olive oil. You can also use herbs like rosemary or add some salt or garlic.
How do you dress up sweet potatoes?
There are tons of ways to jazz up your sweet potatoes. Add fresh herbs, oil, and seasoning or add some umami with Worcestershire, capers, or fish sauce.
What tastes good on a sweet potato?
There are few things that don't taste good on a sweet potato! Top it with proteins like chicken, ham, or pork, drizzle it with sauces made with sour cream or creme fraiche, or add more sweetness with sugars or syrups.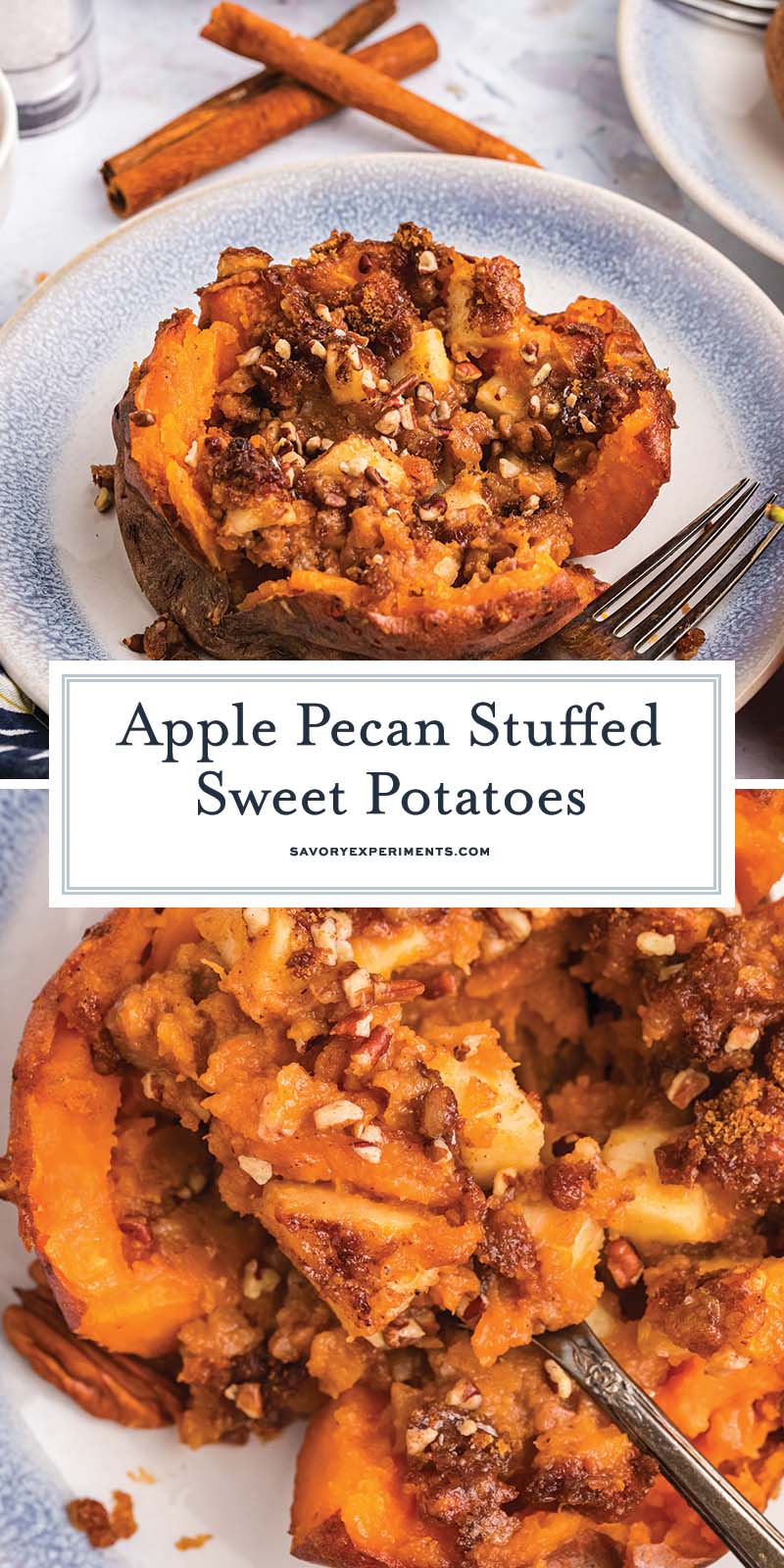 Other Amazing Side Dishes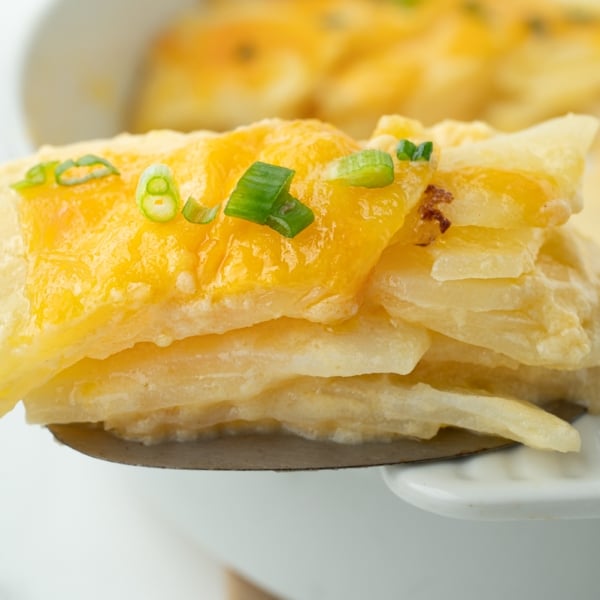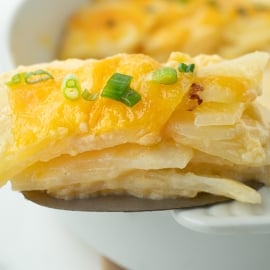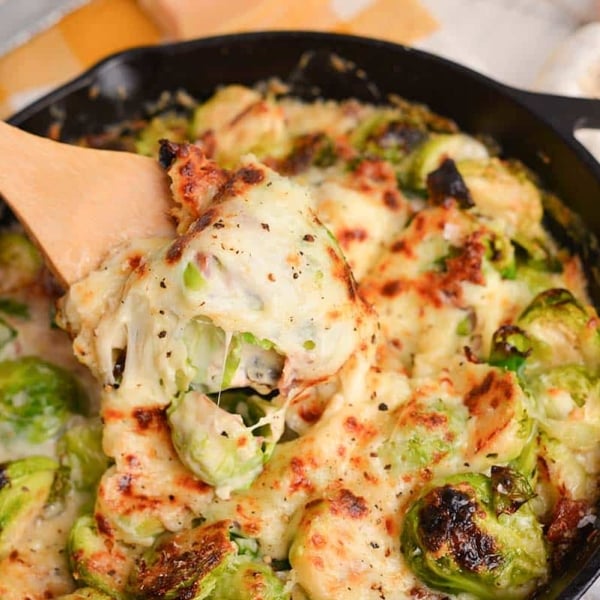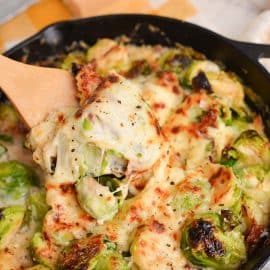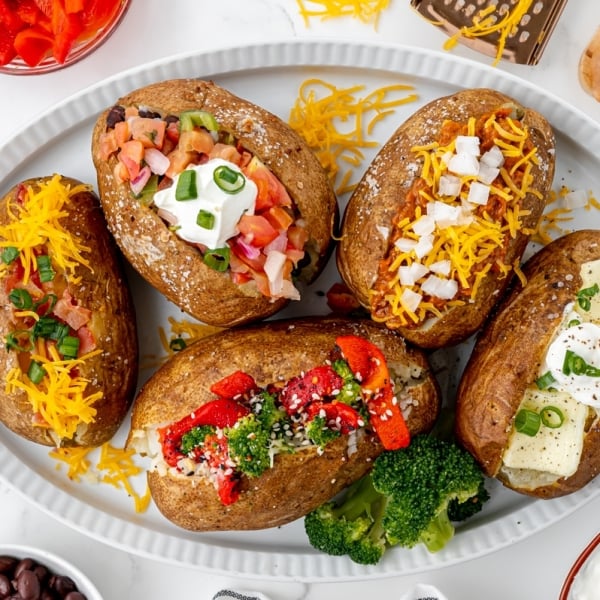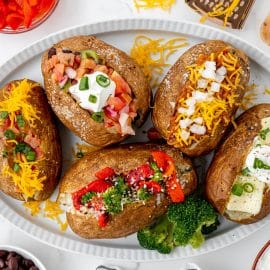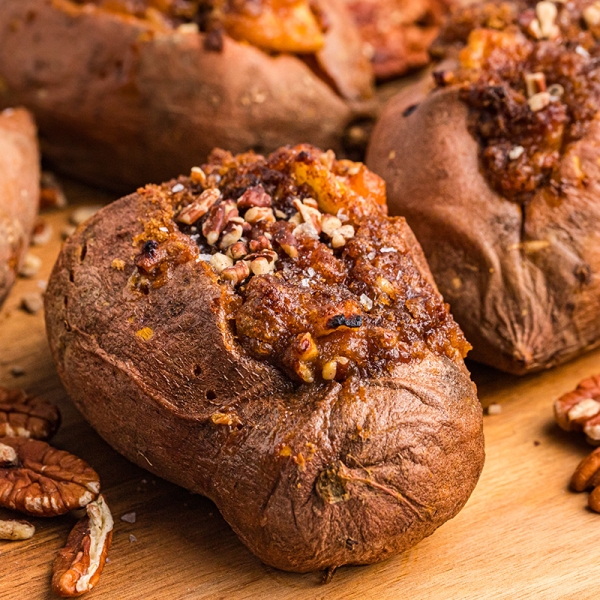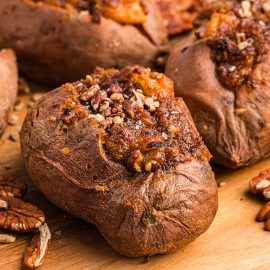 Apple Spiced Stuffed Sweet Potato Recipe
These Apple Spiced Stuffed Sweet Potatoes are are piled high with a luscious cinnamon apple filling that has crunchy pecans and bright lemon!
Instructions
Preheat the oven to 400°F.

Pierce and scrub the potatoes then place on a rimmed baking sheet. Bake for 45-60 minutes, or until easily pierced with a fork or knife. Cooking times vary depending on the size of potato, try to pick them similar in size so they cook at the same rate.

Meanwhile, toss the apple pieces in lemon juice and set aside.

Remove from the oven and carefully make a slit in the top of the potato. Keep the oven on.

Using a spoon, scoop out as much potato pulp as you can, leaving a good 1/4 inch around the skin so it holds its shape.

Place the pulp into a large mixing bowl. Drain the apple pieces from the lemon juice and add to the sweet potato bow. Stir in the butter, 1/4 cup of the brown sugar, pecans, salt, 1/4 teaspoon of the cinnamon and nutmeg. After combined, spoon back into the potato skins, heaping on the top.

In another small bowl, combine the remaining 2 tablespoons of brown sugar with the 1/4 teaspoon of remaining cinnamon. Sprinkle this mixture over the tops of the potato filling, gently packing down so it sticks.

Return to the hot oven for 20 minutes, remove and allow to sit for 5 minutes before serving.

If you've tried this recipe, come back and let us know if how it was in the comments or star ratings!