If you've been looking for the perfect mashed potato recipe, these creamy ranch mashed potatoes are it. With simple ingredients and minimal prep time, these are sure to become a favorite.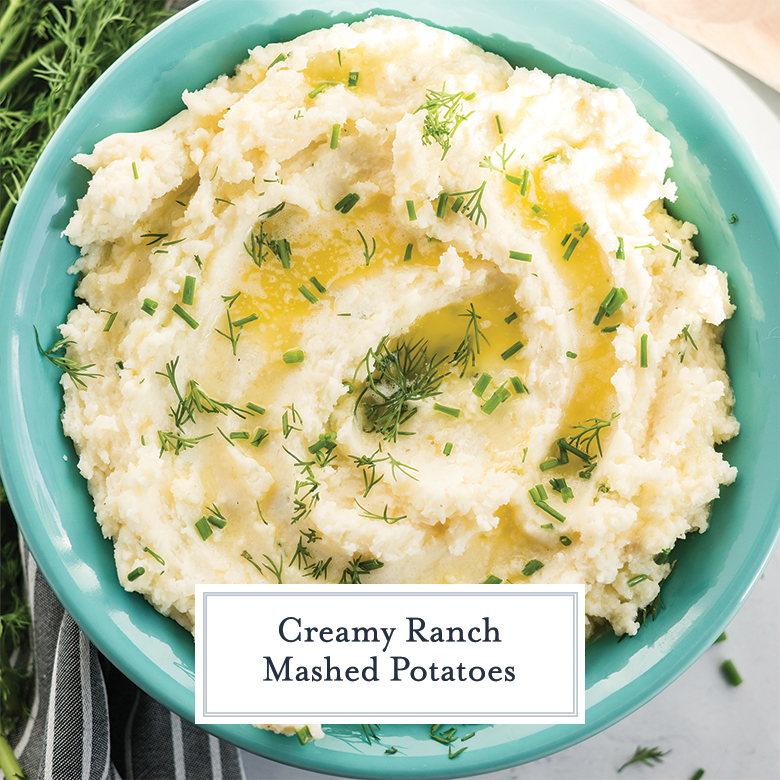 These creamy ranch mashed potatoes, with sour cream and fresh herbs, will quickly become your new favorite side dish.
Mashed potatoes are a staple dish that are often served with meals like roast beef or turkey. They seem to be the one dish that is on the table at any family gathering, at least they always have been at mine.
The problem with mashed potatoes is that unless you have a rich, savory gravy to top them with they can be boring.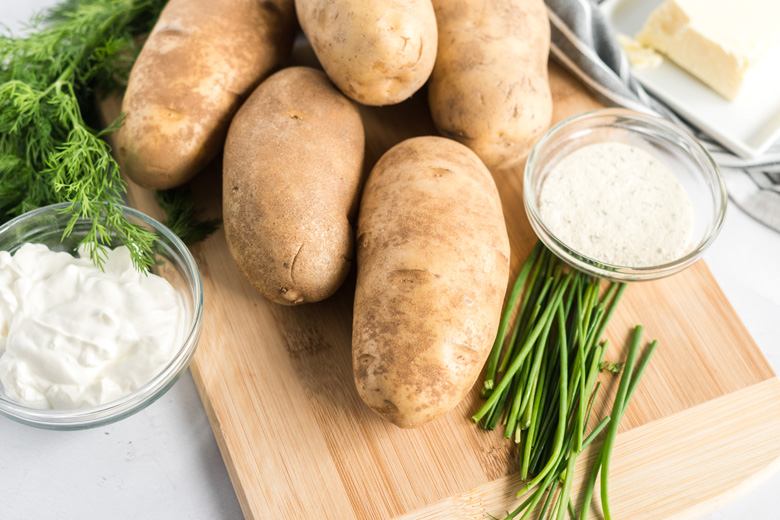 These creamy ranch mashed potatoes, however, have so much flavour that they are fantastic just the way they are. There is no need for extra gravy or sauce, making them a great side dish for any meal.
Honestly, I love these mashed potatoes so much that I could eat them as a meal all on their own. I haven't, but thought has crossed my mind.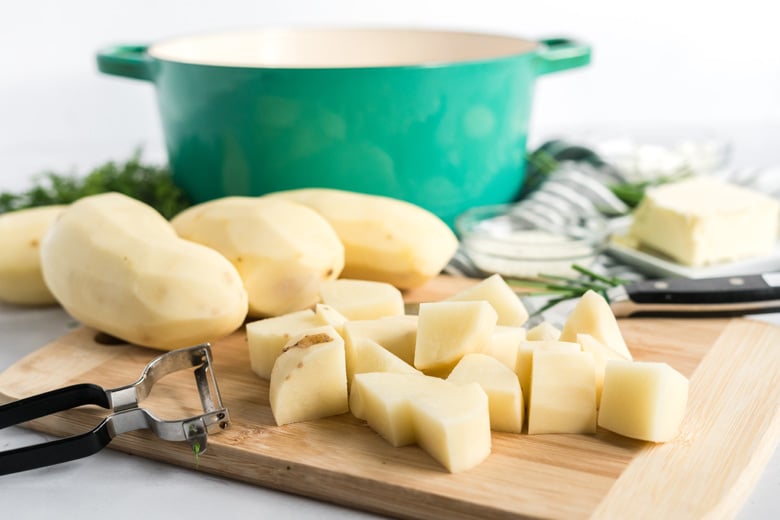 The secret to these homemade creamy ranch mashed potatoes is in the ingredients. The potatoes are made extra creamy by using real butter and sour cream.
Not only does the sour cream make these potatoes extra fluffy, but it adds a tangy flavor that helps balance the richness of the butter and ranch.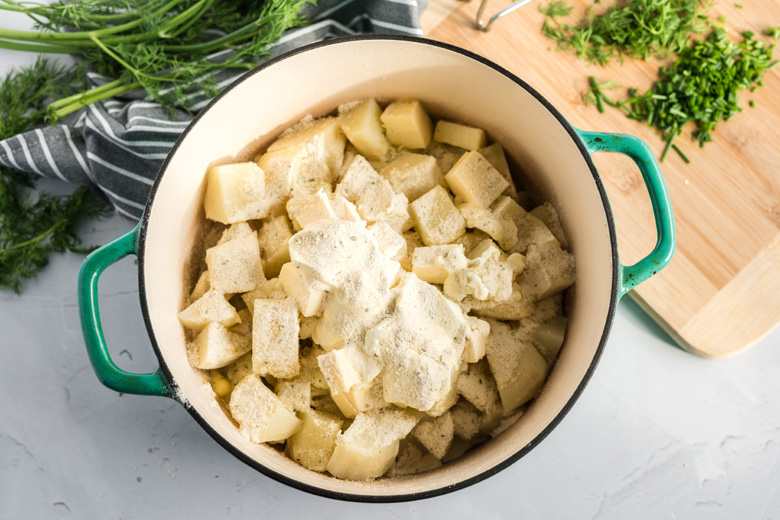 Then, to finish these potatoes off, we add fresh dill and chives which help bring out the flavors of the ranch dressing mix. A generous drizzle of melted butter doesn't hurt either.
PRO TIP: Rinsing your potatoes before you boil them will make them creamier.
Potatoes contain starch, a lot of it. This starch is what causes mashed potatoes to become gummy and sticky. By rinsing the potatoes before you boil them you are washing away some of the starch which will help the mashed potatoes retain their fluffy texture.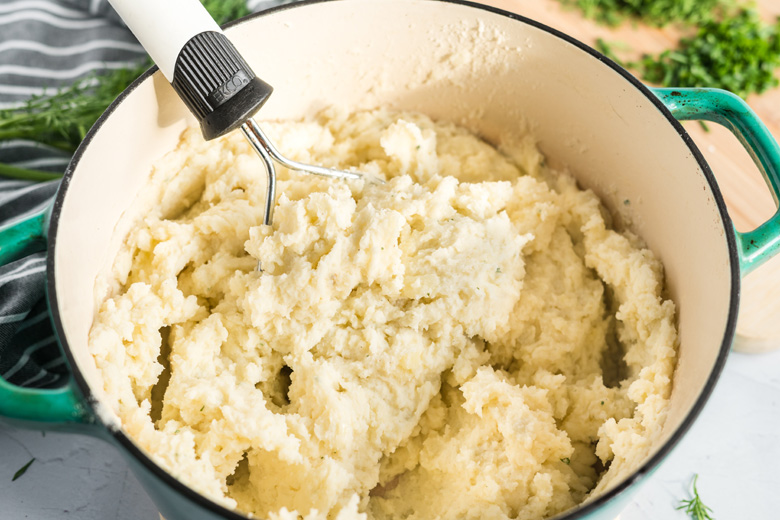 Simply cut your potatoes into 1 inch cubes and place them in a pot of cold water, then drain that water and fill with fresh water before boiling.
PRO TIP: Don't over mash your potatoes.
You may wonder if it's possible to over mash potatoes, and the answer is yes. When you mash potatoes the starches are released.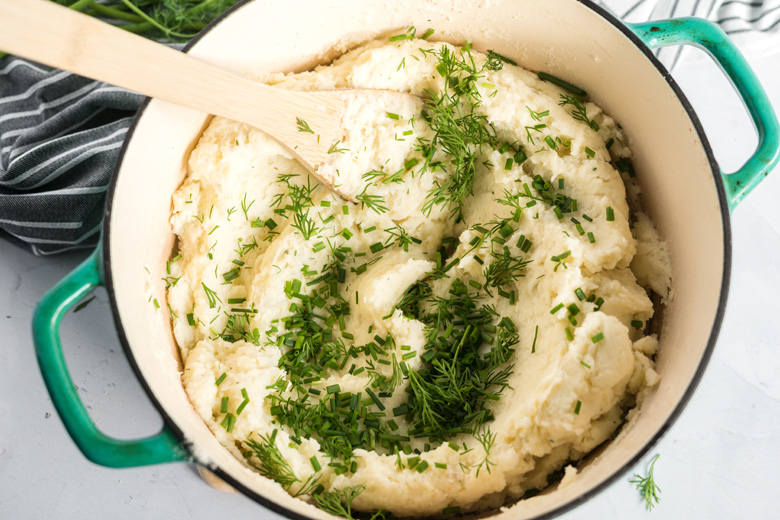 As you mix the potatoes the starch molecules start to bond. The more you work them, the stronger that bond becomes.
This results in sticky, grey potatoes, and nobody wants to eat those. Mash your potatoes just until they are soft and fluffy and then put the masher down.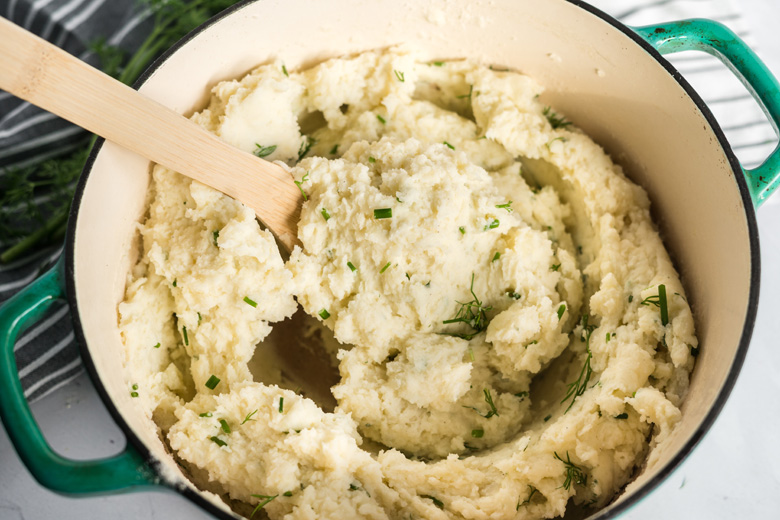 Questions you might have about creamy ranch mashed potatoes.
Can I reheat mashed potatoes?
Yes! My favourite way to reheat these ranch mashed potatoes is in the oven. Place them in an oven safe dish, dot the top with some fresh butter, and bake at 350 degrees for 25-30 minutes until heated through.
What type of potatoes should I use for mashed potatoes?
My favourite potato for mashing is the russet potato. When cooked, russet potatoes have soft texture that breaks apart easily and makes them perfect for mashing without having to overwork them.
My second choice would be Yukon gold potatoes. Sometimes I will use a 50/50 mixture of the two for a richer flavor.
Russet – Russets are probably the potato that 90% of mash is made from due to a higher starch content.
Yukon Gold– Also high in starch, these come in second.
Red Potatoes– Lower starch content and therefore higher risk of pasty potatoes.
Plain White – Also low in starch.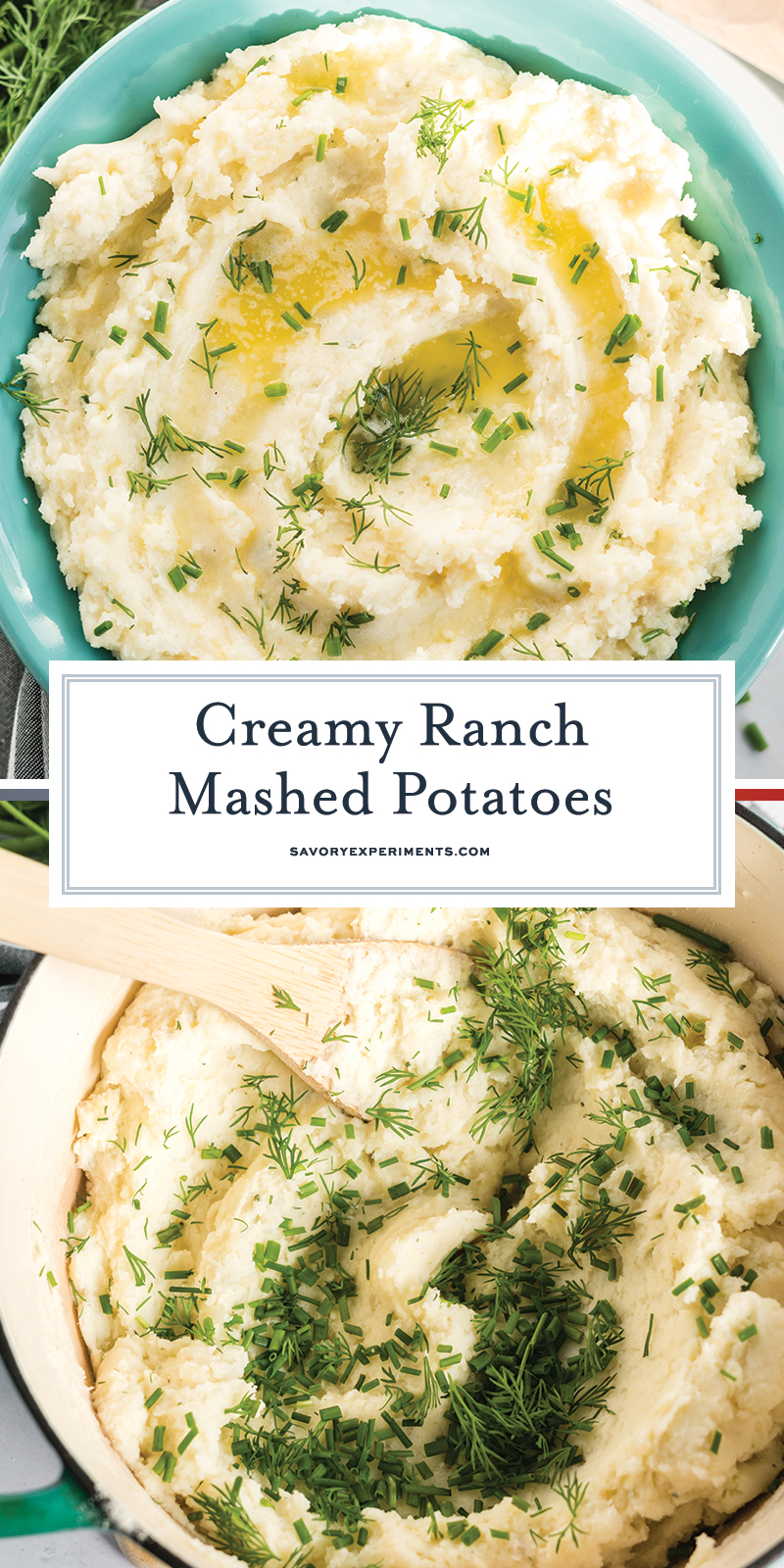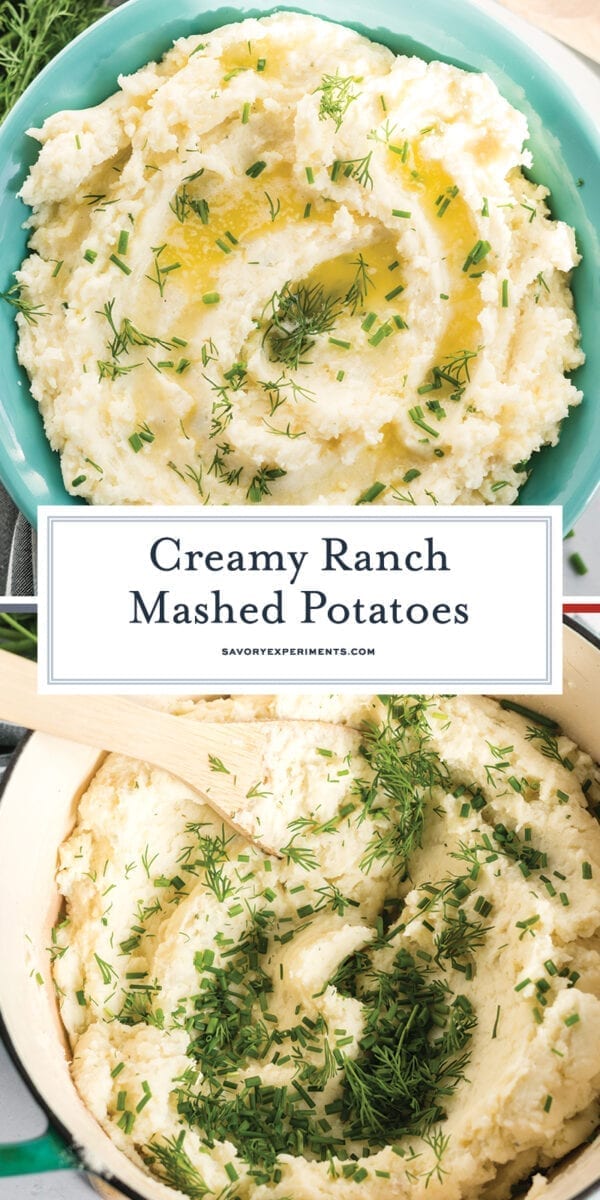 How long does it take to boil potatoes for mashing?
If you cut the potatoes into 1 inch cubes it will generally take about 10 minutes, once the pot comes to a boil, to reach the desired tenderness. You will know the potatoes are done when you can pierce them with a fork. They should be tender, but not so soft that they fall apart.
Tips for the best mashed potatoes
Be sure to cut the potatoes into uniformly sized pieces to ensure even cooking.
Rinse the potatoes before boiling to wash away excess starch.
Do not over boil the potatoes. This will cause them to become waterlogged and soggy. You want them to just be fork tender, not fall apart when pierced.
Add all of your ingredients such as butter, sour cream and seasonings before you begin mashing to avoid overworking the potatoes
Tools for making mashed potatoes:
Classic potato ricer– stimulates the least starch, medium texture, manually operated can be challenging.
Crank ricer- Larger and therefore harder to store, but the benefits of a classic ricer with less work.
Hand potato masher– requires the most work, stimulates minimally starch, slightly larger texture
Blender/Food Processor– Easiest and fastest, but can easily over mix and creates more dishes, least texture, most fluff
Handheld Electric Mixer– Can use right in the pot, easy and creates smooth potatoes
Two forks- go old school for chunkier mashed potatoes and just use two forks
Immersion blender– in theory this should work great, but doesn't for such a thick mixture.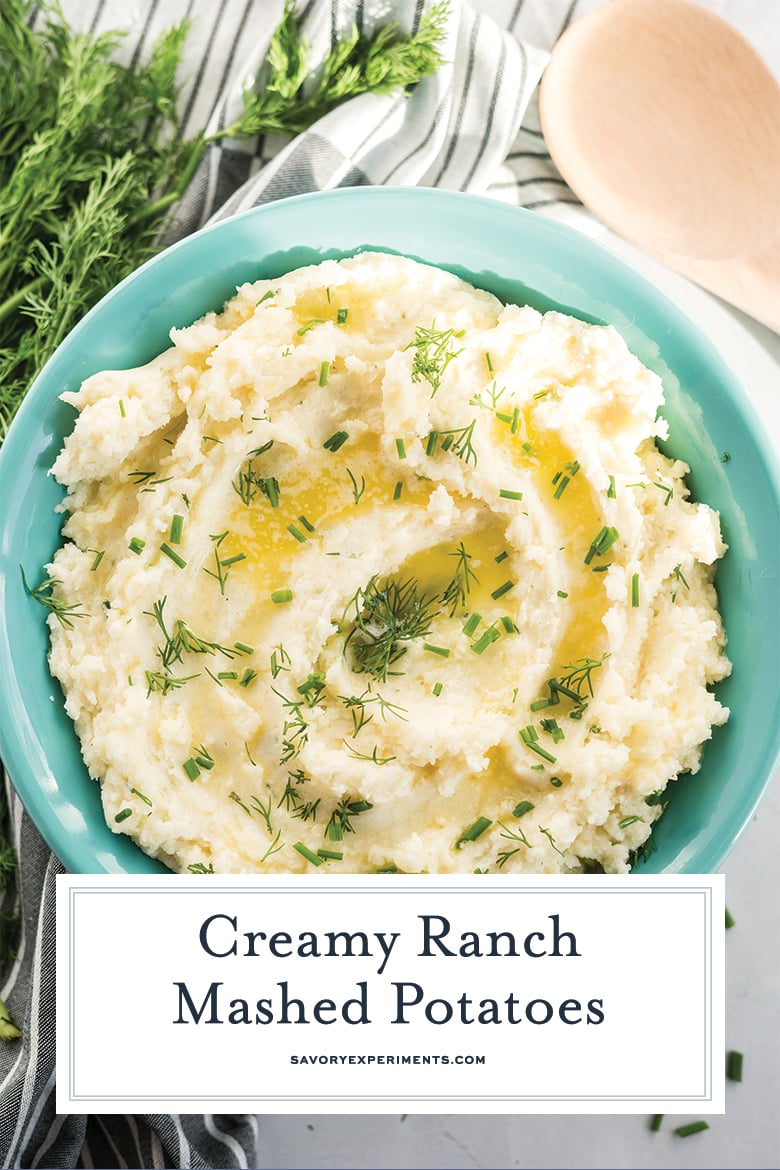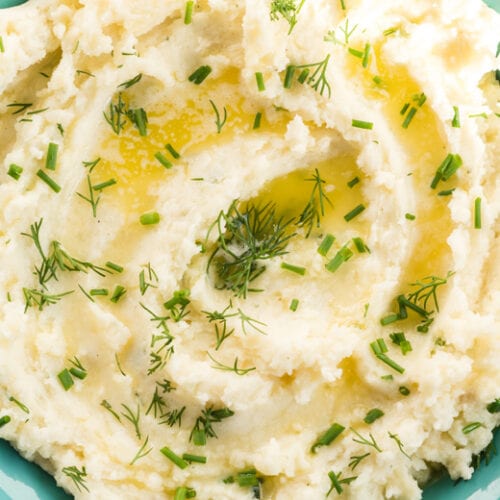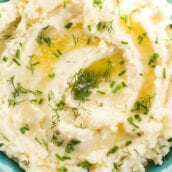 Creamy Ranch Potatoes
These creamy ranch mashed potatoes, with sour cream and fresh herbs, will quickly become your new favorite side dish.
Instructions
Peel the potatoes and cut them into 1 inch cubes.

Place the potatoes in a large pot, cover with cold water and drain. Next add fresh

water to approximately 2 inches above the potatoes.

Place the pot on high heat and bring to a boil. Boil for approximately 10 minutes

or until potatoes are easily pierced with a fork.

Drain the potatoes and return them to the pot.

Add 10 tablespoons of the butter, sour cream and ranch seasoning.

With a potato masher, mash the potatoes just until they are creamy and smooth.

Stir in the fresh dill and chives.

Melt the remaining 2 tablespoons of butter in a microwave safe dish or in a small

pot on the stove.

Transfer the potatoes to a serving dish and drizzle with melted butter and garnish

with additional herbs, if desired.
Nutrition
Calories:
747
kcal
,
Carbohydrates:
78
g
,
Protein:
10
g
,
Fat:
46
g
,
Saturated Fat:
28
g
,
Cholesterol:
120
mg
,
Sodium:
928
mg
,
Potassium:
1746
mg
,
Fiber:
5
g
,
Sugar:
4
g
,
Vitamin A:
1489
IU
,
Vitamin C:
24
mg
,
Calcium:
125
mg
,
Iron:
4
mg