This recipe originally appeared on Real Housemoms, where I am a contributor.
Sometimes I crave a Southern comfort food, but I just don't have the time to go through the whole process of a lengthy recipe. That's where this easy fried Hush Puppies recipe comes in!
Hush Puppies are gently fried cornbread with a crunchy outside and soft, doughy inside. Serve with fish fry, fried shrimp or any BBQ!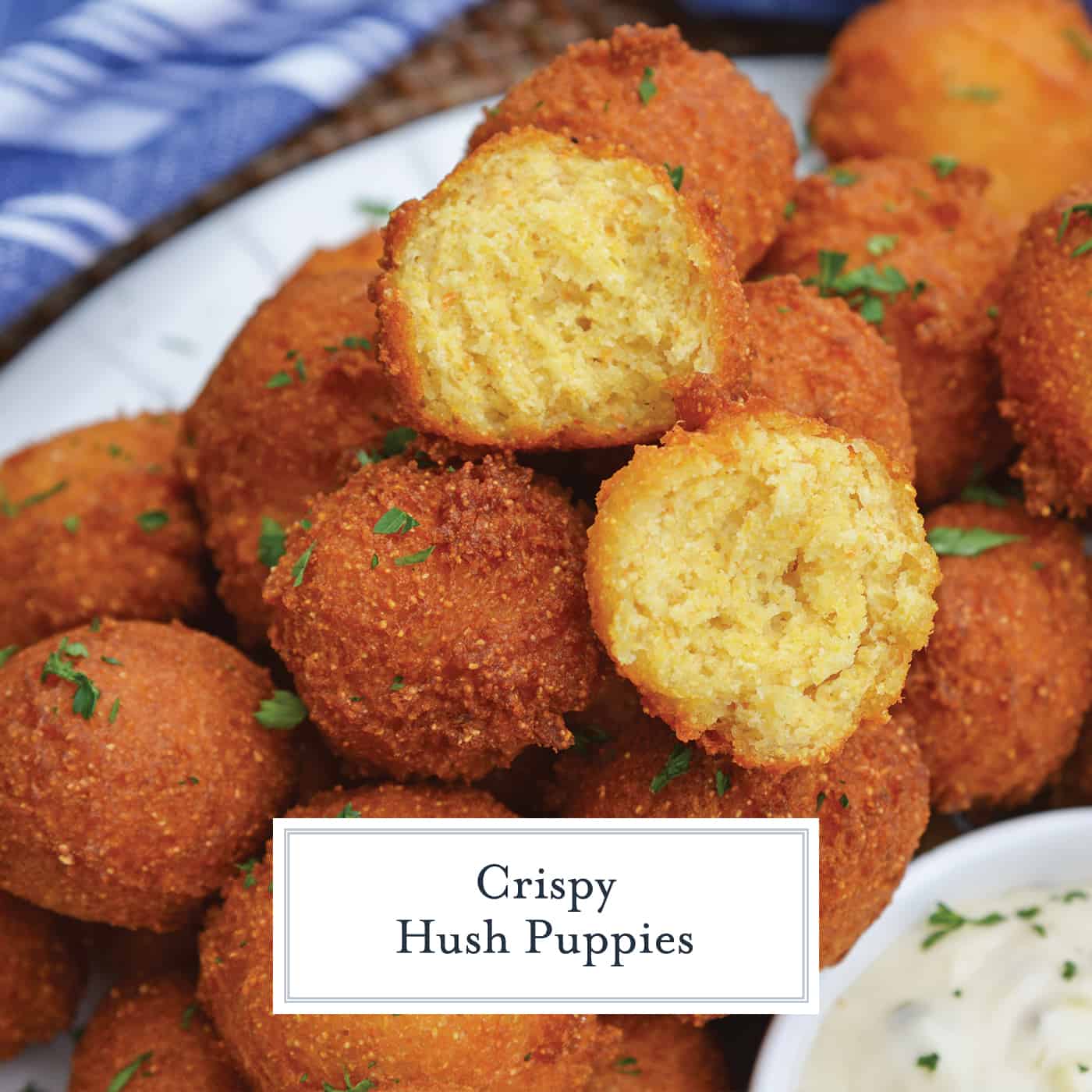 What are hush puppies?
Hush Puppies are basically fried cornbread. So why are they called hush puppies and not fried cornbread?
Legend goes that hush puppy batter was seen as leftovers from the rest of the meal while on cattle drives, hunts or working the ranch and fried up to feed to the dogs or "hush the puppies".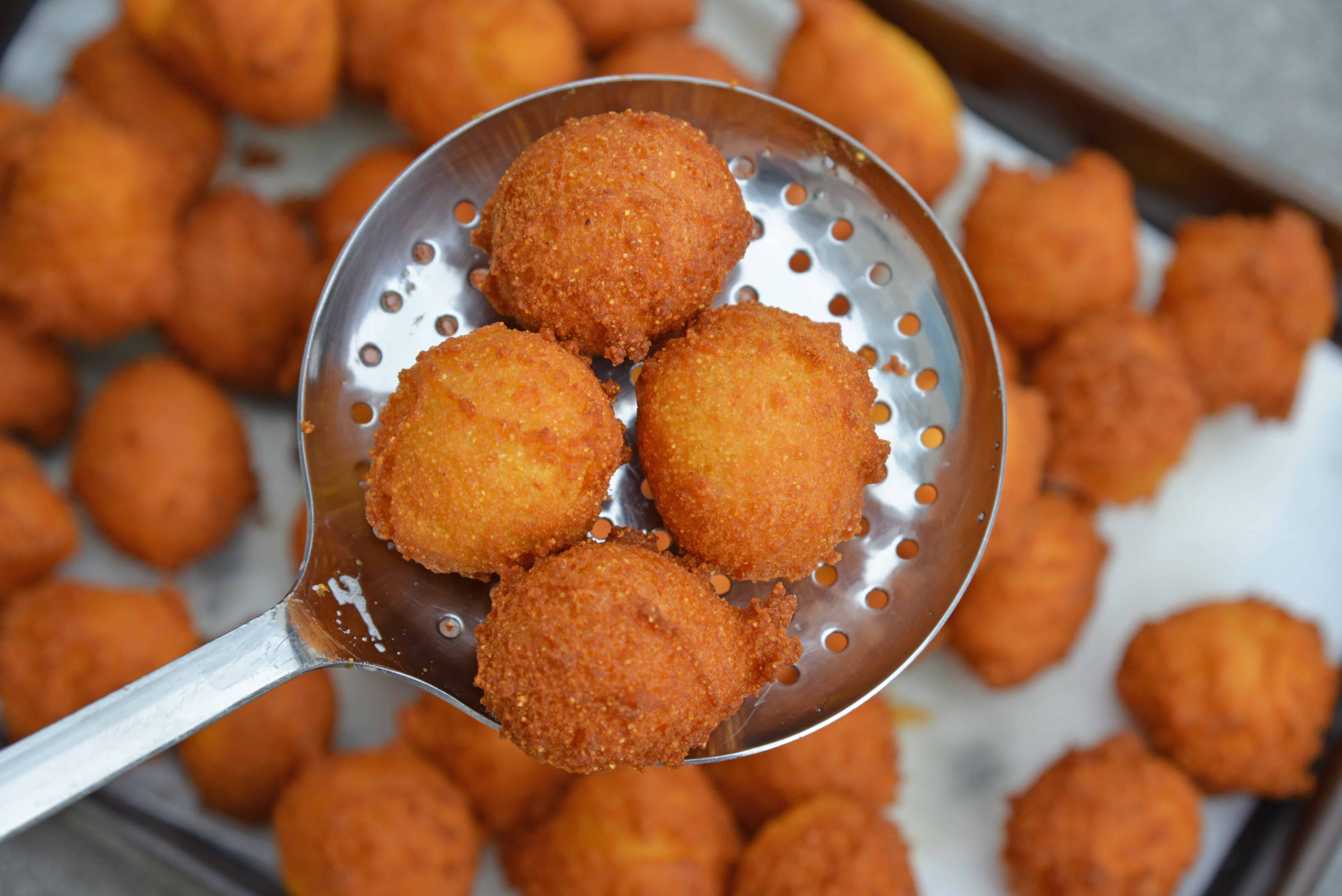 So, how do you make hush puppies? Many recipes use finely minced or grated onion or bell pepper. Generally speaking, I prefer to use onion powder. This is for two reasons.
The first is, let's be honest, I am lazy and grating an onion when it is literally the only ingredient that is going to require a little TLC just isn't in my cards.
Those few minutes can be spent elsewhere. (Like playing with my daughter or snuggling my baby!)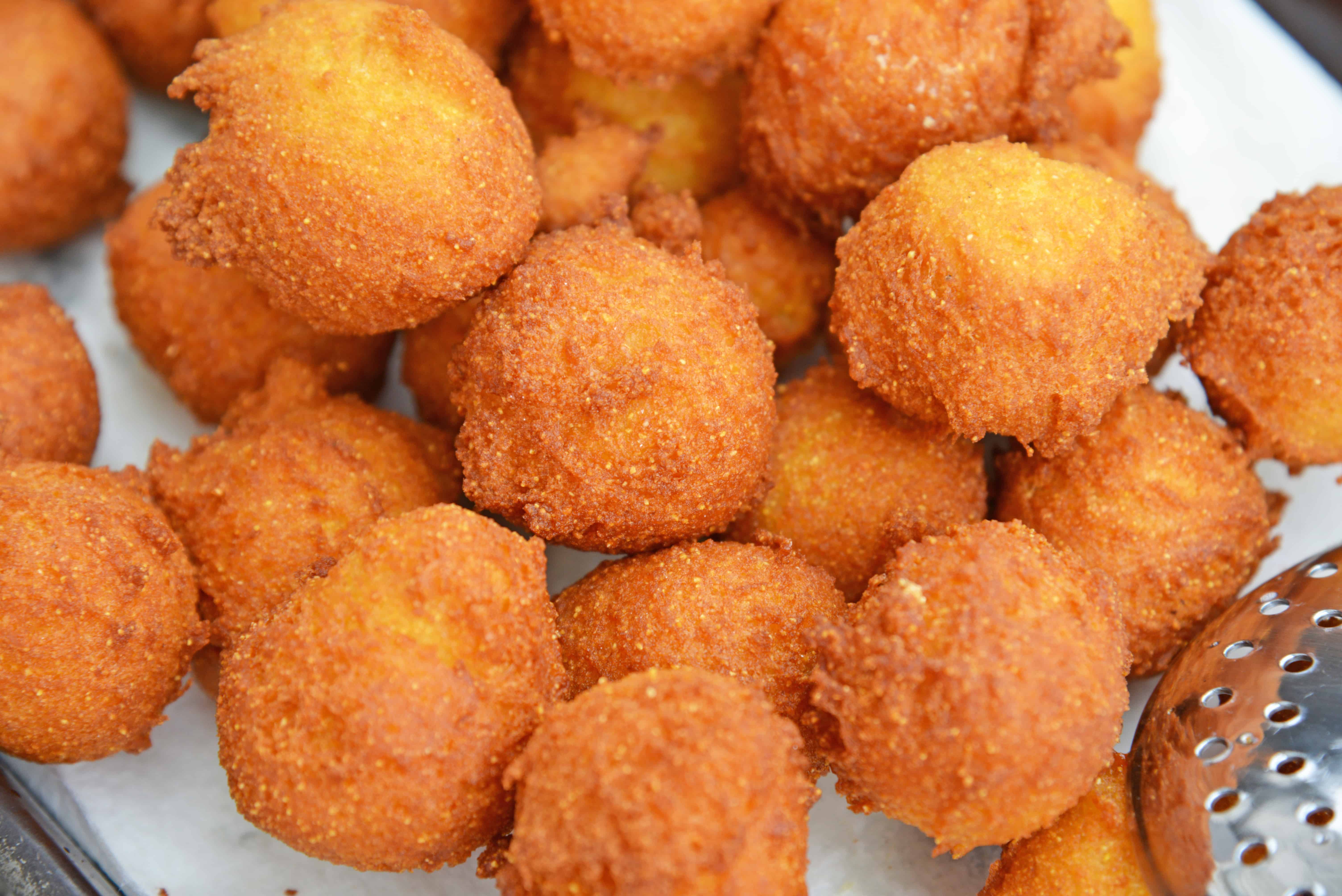 The second is that I don't like little bits in my hush puppies. I want them to be smooth, pillowy balls of gently fried dough. A crispy exterior with a soft interior.
I also don't use paprika, cayenne or pepper. I like my hush puppies to be slightly sweet to balance out the rest of my savory dish, usually a fish fry or battered shrimp.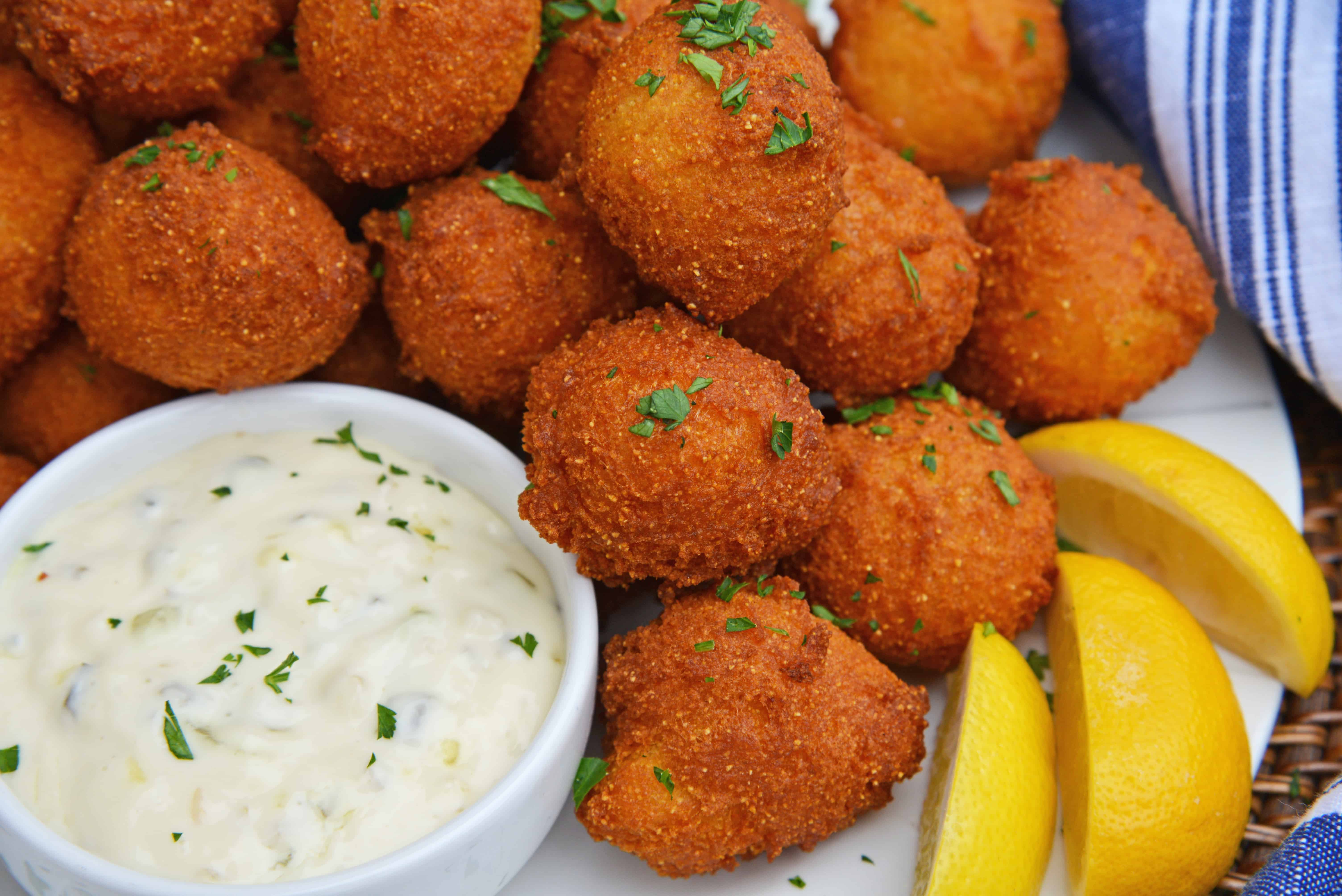 Dipping sauces are also controversial. Hush puppy enthusiasts would argue that a good hush puppy needs no sauce and while they are correct, I am a woman who loves sauce!
My favorite dipping sauces for jiffy corn muffin mix hush puppies: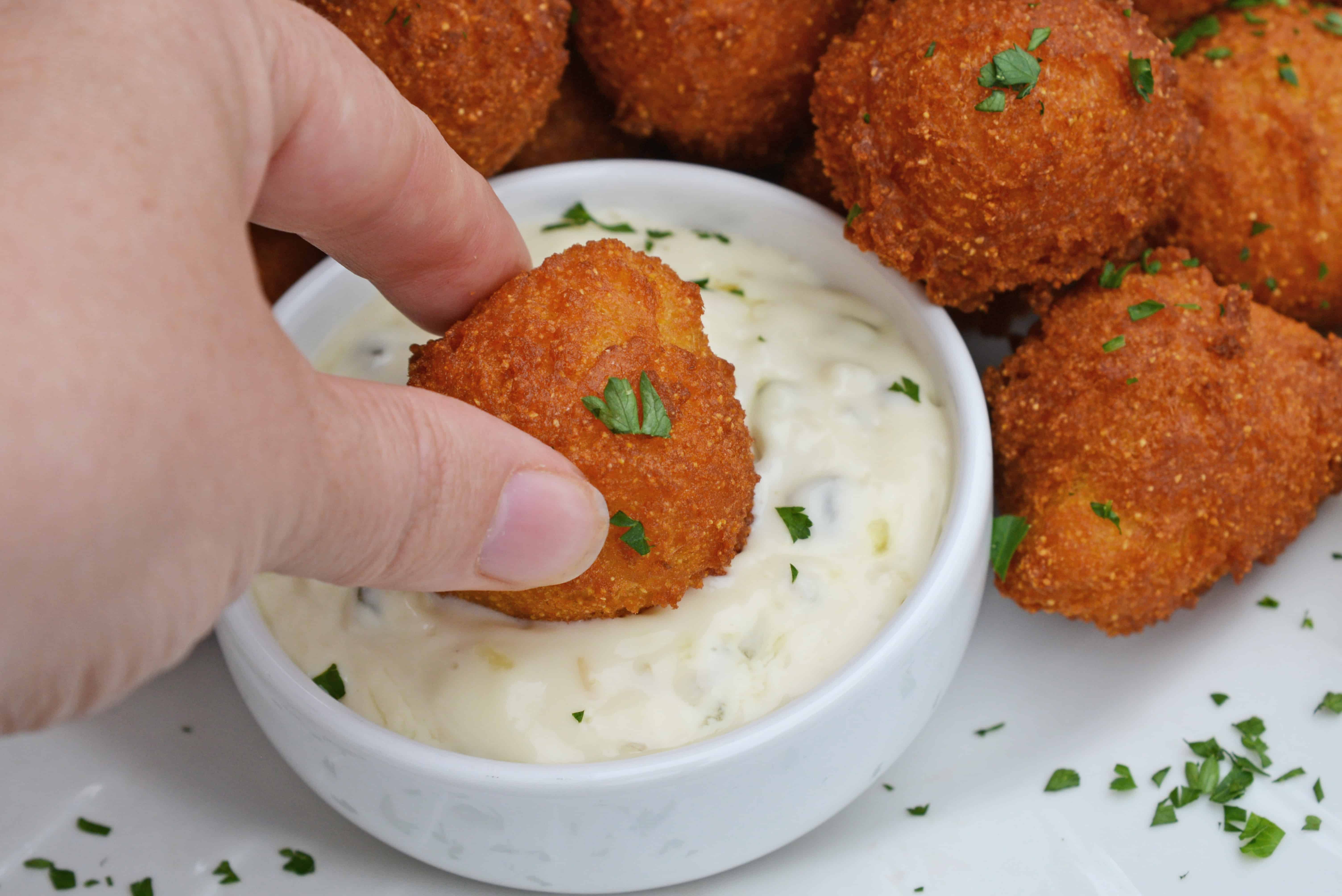 Refrigerating the dough is imperative, so don't skip this step! It won't hold its shape well if you drop it into the oil at room temperature.
One hour is the minimum, but I have made my batter up to 24 hours ahead and kept it chilled until ready to make.
Timmy R. says: "I was intimidated to make hush puppies, but this recipe was easy to follow and turned out great. Especially the tips on size, I would have totally messed it up without that knowledge."
Pan frying without using an actual fryer can be tricky. I do recommend using a thermometer to make sure you have the correct temperature, but even beyond that, using the right oil.
If you're confused about which oil to use for frying, you're not alone! Oils have different smoke points, or points at which they begin to burn. F
or frying, you want to use an oil that has a high smoke point. For hush puppies, I like to use peanut or canola oil.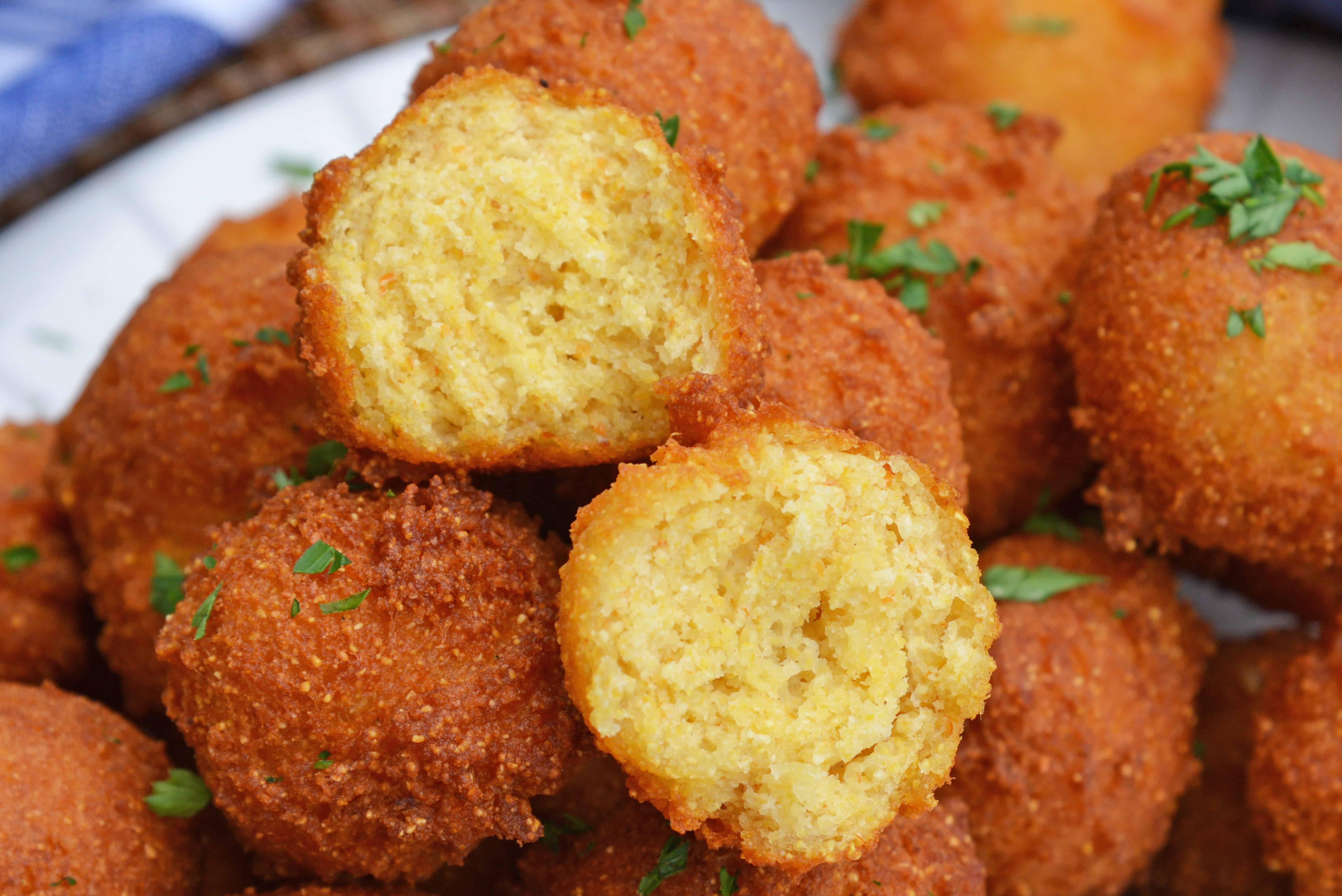 Frying at the right temperature is also important, but can be improvised easier. Too hot will cook the outside, but not the inside. Too cool and it starts to lose its shape.
Oil temperatures will also change radically when you put cold dough in, much like putting ice cubes in boiling water, it takes a minute or so to bounce back to the original temperature.
PRO TIP: The oils with the highest smoke points (over 400 degrees) are avocado oil, almond oil, corn oil, canola oil, grapeseed oil, peanut oil, safflower oil, sesame oil and sunflower oil.
Here are some of my other favorite fried recipes:
I use a cookie dough scoop for the batter to make sure I have nice, little balls. Making sure you only use 1 tablespoon is also important because anything larger won't cook all the way through.
I've made this mistake before. Ugh, wasted hush puppy batter.
While I like my hush puppies smooth and sweet, you can also put countless variations on them. Try putting a fun spin by adding ½ cup of diced okra or jalapeno, corn kernels or even squash.
If you want to stick with dry ingredients, 1 ½ teaspoons of cayenne, smoked paprika, garlic powder or even seasoned salt can be added.
If you like cornbread like I do, check these out:
Tools for making hush puppies:
Cookie Dough Scoop– as previously mentioned, make your hush puppies a uniform size. If they are too big, they won't fry correctly. Use a scoop and thank me later.
Heavy Bottom Sauce Pan– this will be one of your most used kitchen tools. Having something that is heavy bottom will distribute heat better and prevent burning whether you are using an electric or gas range.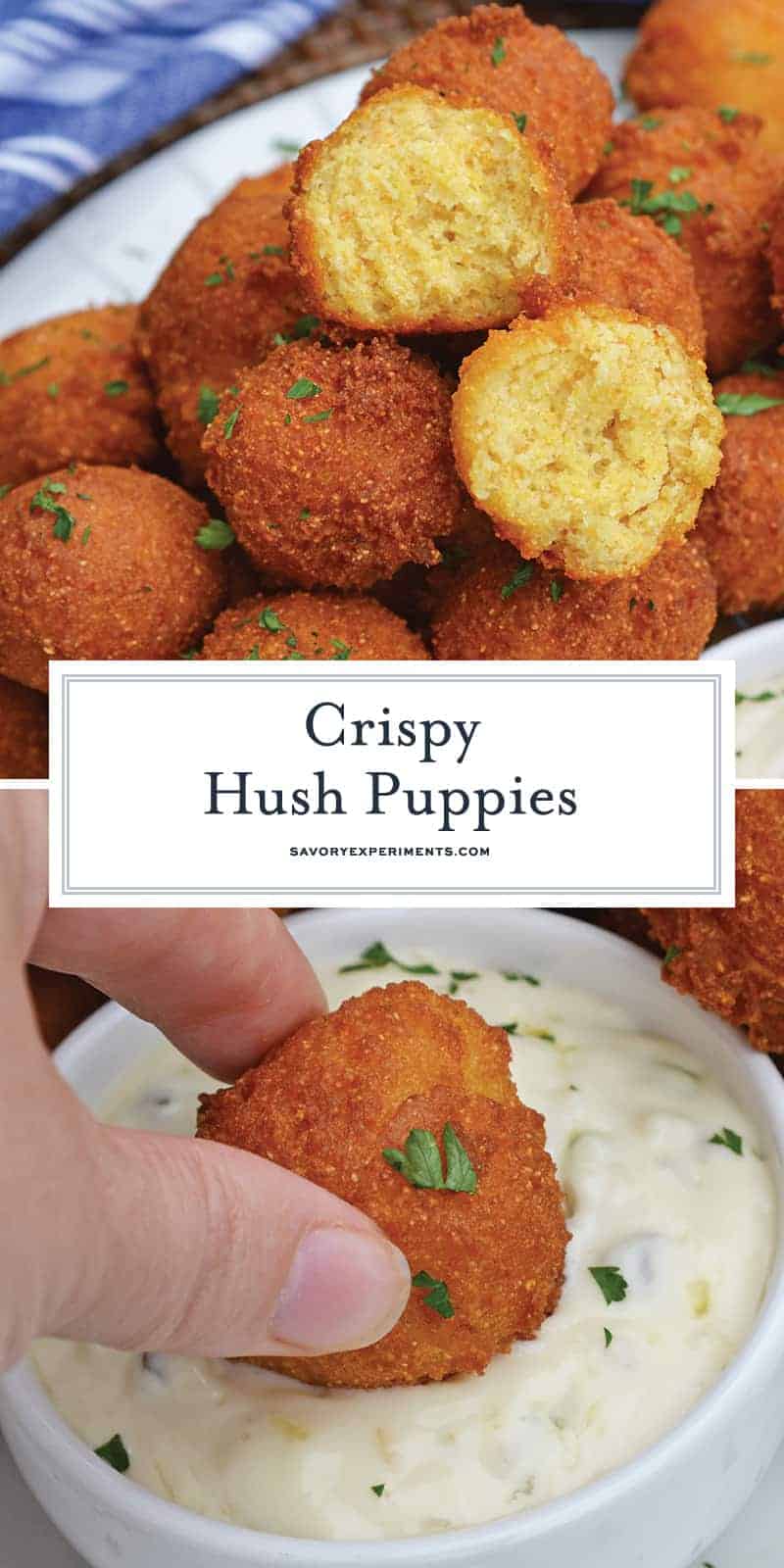 Questions you might have:
Can I make them ahead of time? I would advise making the batter in advance, but not actually frying them until you are ready to eat. Fried foods and bread always taste best fresh.
How to reheat hush puppies? Bread reheated in the microwave is usually gummy and chewy. Your best bet when reheating hush puppies is to wrap them in aluminum foil and reheat them at 350 degrees for 10 minutes.
Are hush puppies gluten-free? If they were only made with cornmeal, then yes, but there is flour, so no. You can probably use a gluten-free flour, but I haven't personally tried it. If you do, let us know!
Can you freeze hush puppies? Yes! Place cooked hush puppies in an airtight plastic bag, releasing as much air as possible, and then freeze for up to 6 months.
Can you make paleo hush puppies? Chances are, if you're searching for a pan fried hush puppies recipe, you aren't too concerned about how healthy they are. These ones certainly aren't paleo, but I'm sure there are others out there!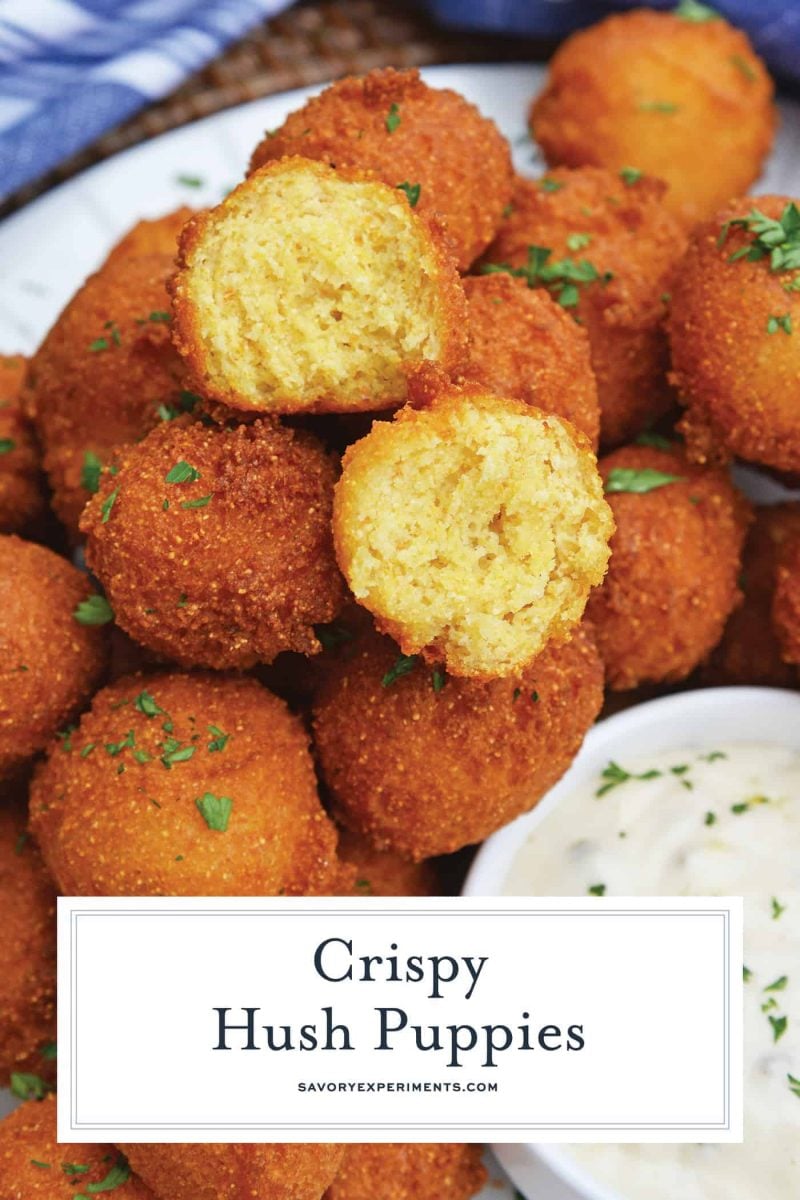 CONNECT WITH SAVORY EXPERIMENTS!

Be sure to follow me on social media, so you never miss a post!

Facebook | Twitter | Youtube
Pinterest | Instagram

Get our FREE 8 Day E-Course on How to Be a Better Home Cook. Sign up HERE!
Hush puppies are an excellent side dish for so many meals. They are super verstile and can accompany any sauce.