Chile Relleno Quiche is soon to become one of your family favorites. A quiche recipe filled with jack cheese, a zesty egg mixture chiles and cheeses in a flakey pie crust.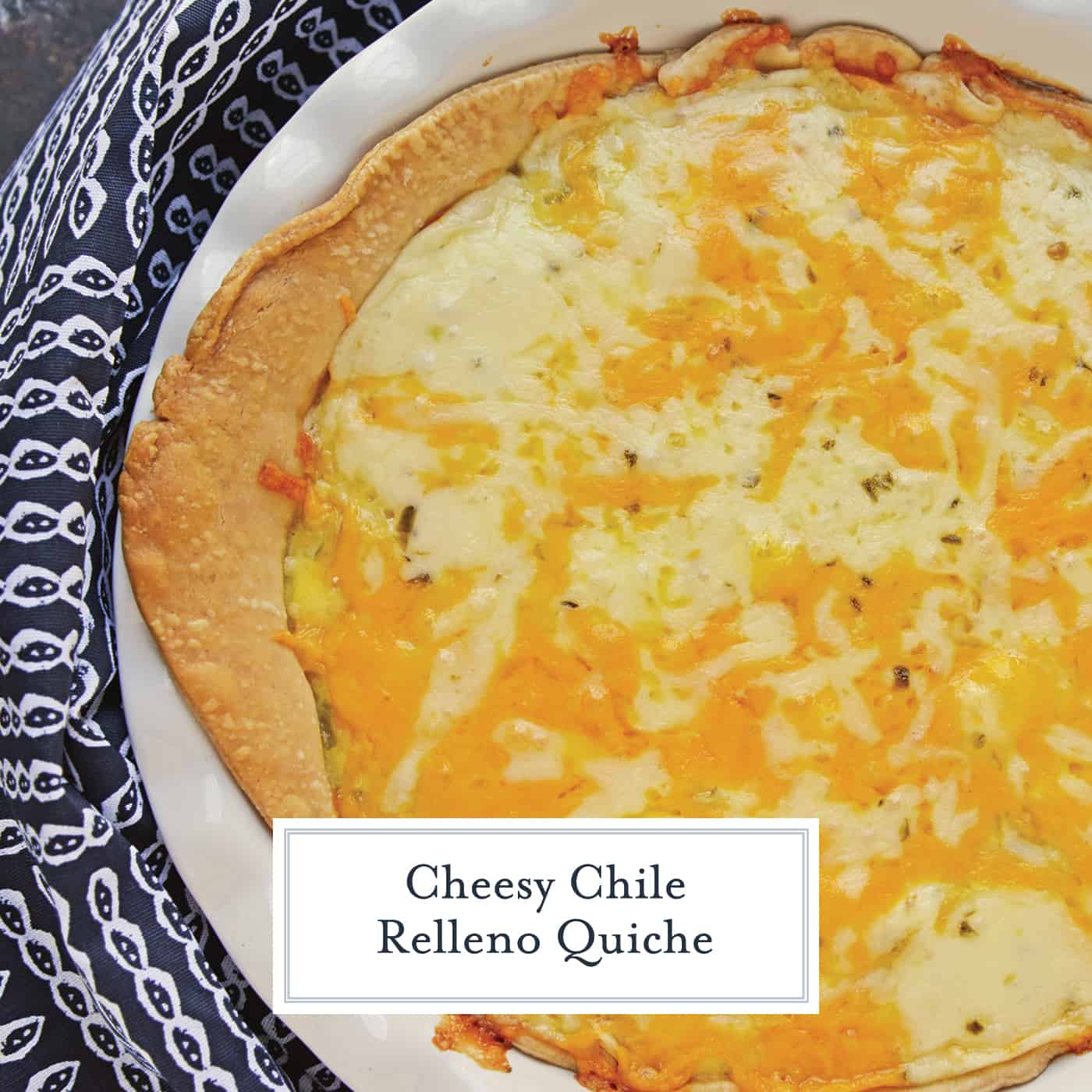 Chile Relleno Quiche is the perfect brunch recipe. Loaded with flavor from green chiles, two kinds of cheese and spices!
One of my favorite pastimes is visiting my aunt in Grand Lake, Colorado. Without fail, at least one morning while visiting, she would prepare a Chile Relleno Breakfast Casserole.
Not only one of the most popular posts on my blog, but also a big hit within my family so I decided to expand my repertoire of chile relleno recipes.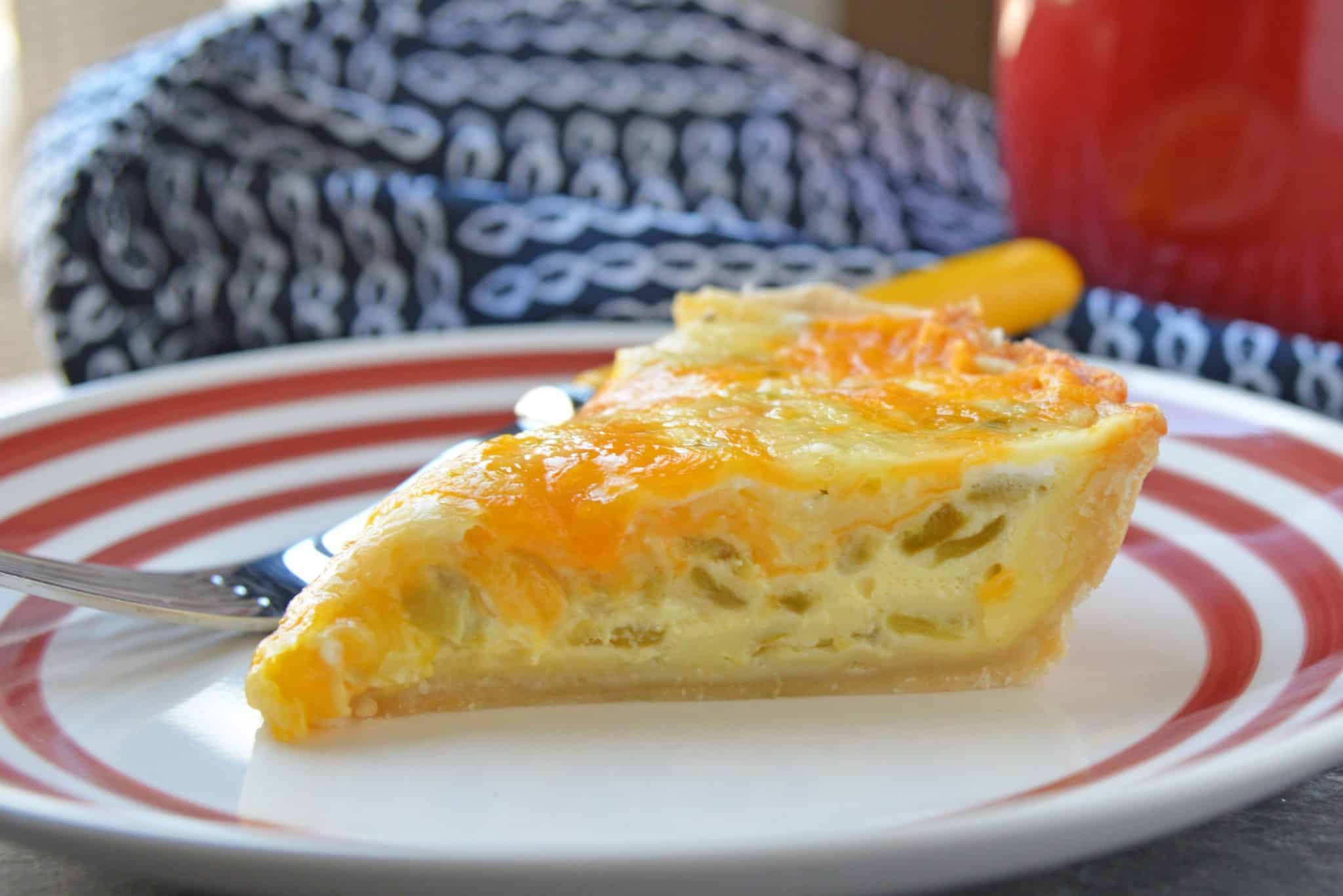 Instead of making the traditional chile relleno casserole, I decided to adapt the recipe into a quiche, resulting in (drum roll please) a Chile Relleno Quiche (extra points for creativity, right?)!
Oh, it was so good. So good that I ate this relleno quiche for breakfast, lunch and another little slice for a snack. I went back for fourths the next morning… but the quiche was missing.
Gone. Eaten. Hubby. I did what any self-respecting Coloradoan would do, I made another one!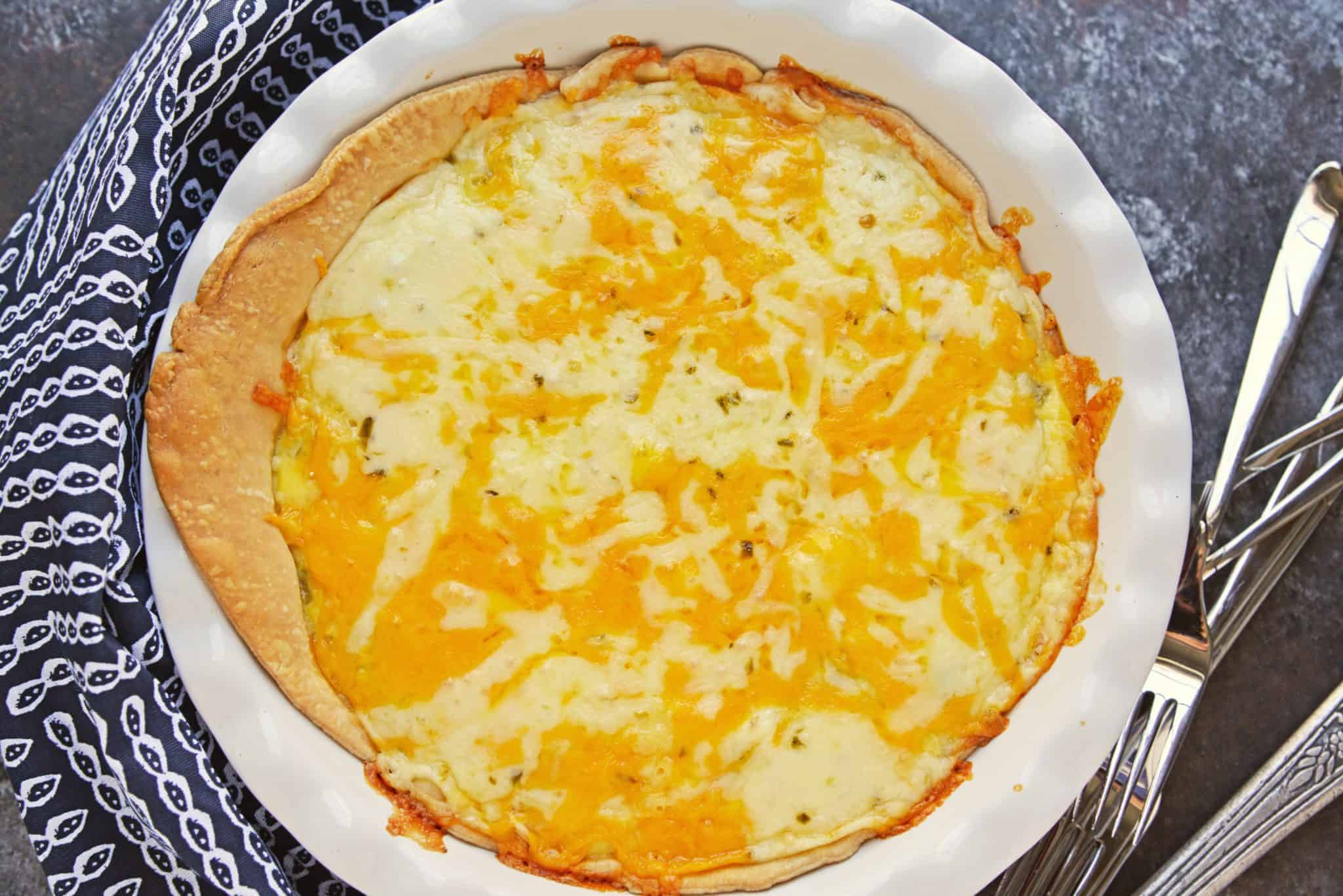 I'm telling you, you just won't be able to get enough of this Chile Relleno Quiche recipe once you've had it one time. You'll suddenly find yourself making this recipe all the time, just like me.

The quiche itself is easy to make. Simply use one large mixing bowl for all of the ingredients and a refrigerated pie crust. Bake until the center comes clean when a knife is inserted and voila, a delicious cheesy recipe.
You can even top your chile relleno quiche with sour cream or salsa before serving.
If you enjoyed this cheesy quiche recipe, check out these other easy chile inspired recipes:
Tools for making Chile Relleno Quiche:
Pie Weights
– while I don't use these often, I am thankful to have them stored in the back of the cabinet when I need them!
Crust Saver
– For years I made my own cruster saver from aluminum foil every time I made a pie or quiche. Then I finally bought a silicon one that fits on all sizes of pie dishes. So much easier and guaranteed to fit and super cheap.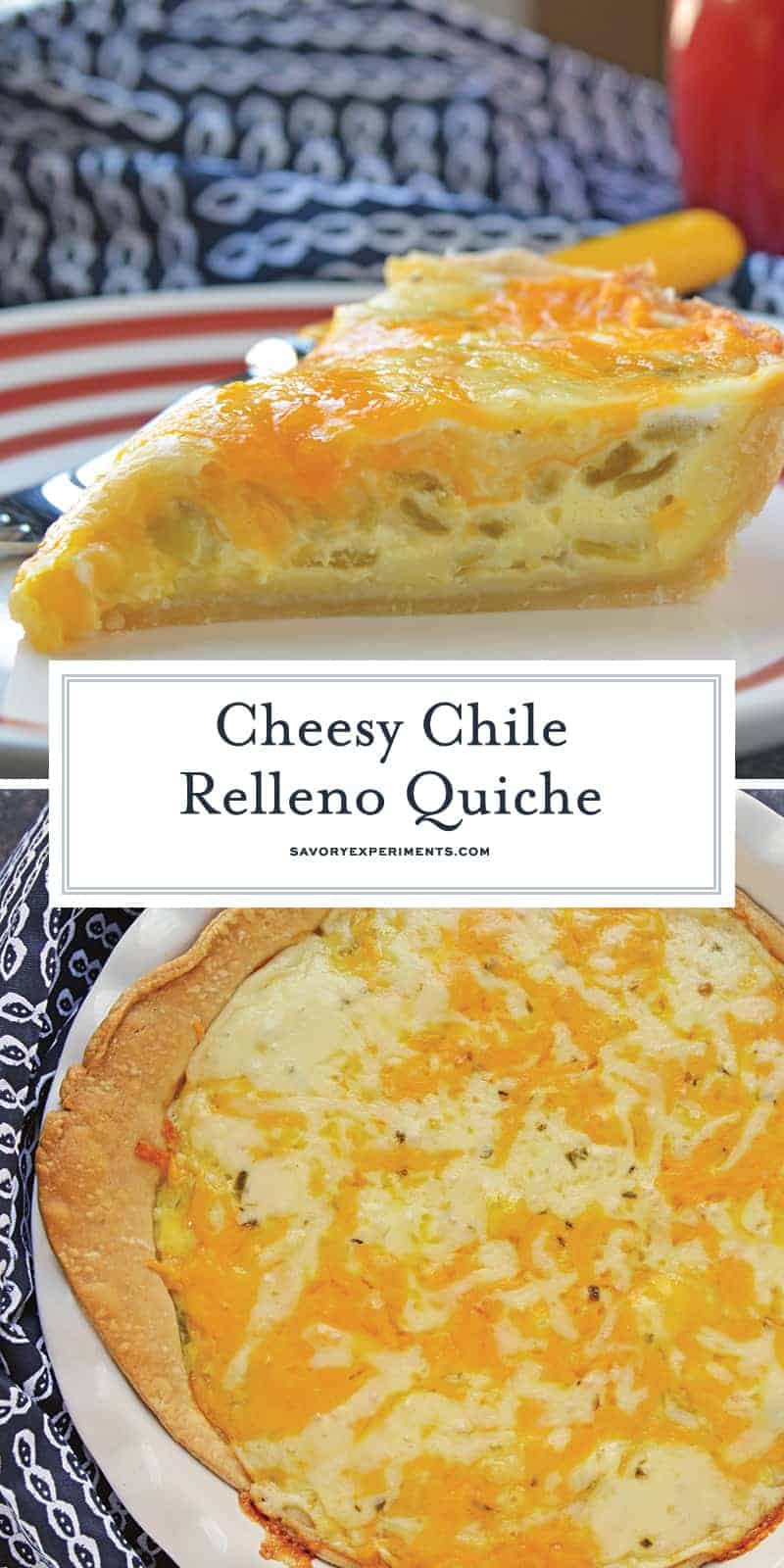 Questions you might have about how to make a quiche:
Can I make this quiche recipe into a quiche without crust? Yes, you can make this into a crustless quiche recipe! Simply spray the baking dish with cooking spray and omit the pie crust.
Is this a vegetarian quiche recipe? Chile relleno quiche is surely vegetarian, but if you are craving some extra meat, you can add crumbled bacon or breakfast sausage to the mix and bake it just the same.
Are quiche and frittata the same thing? Kind of! Quiche is French and frittata is Italian.
Can I make chile relleno quiche into cups? You can! Use a muffin tin and bake for about 15 minutes.
Chile Relleno Quiche is the perfect brunch recipe! It's loaded with flavor from hatch chiles, two kinds of cheese, and spices! #quicherecipe #bestquicherecipe #cheesyquiche www.savoryexperiments.com
Can I freeze quiche? You can freeze quiche as a whole quiche or cupcakes for 3-4 months.
Can quiche be eaten at room temperture? You can. Most cooked egg recipes are good at room temperture for about 2 hours before they need to be chilled again.
Can you make quiche in the microwave? You can, as eggs will cook in the microwave, but they come out a little rubbery. I highly recommend using a baking dish and the oven.
Can I make this quiche recipe with half & half? You can! You can even use cream. I do suggest using whole milk and not skim.
What does quiche mean? The formal definition of quiche is "a baked flan or tart with a savory filling thickened with eggs".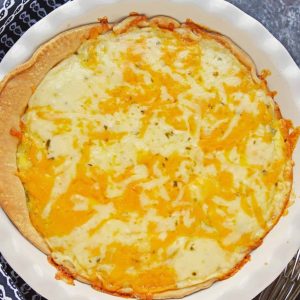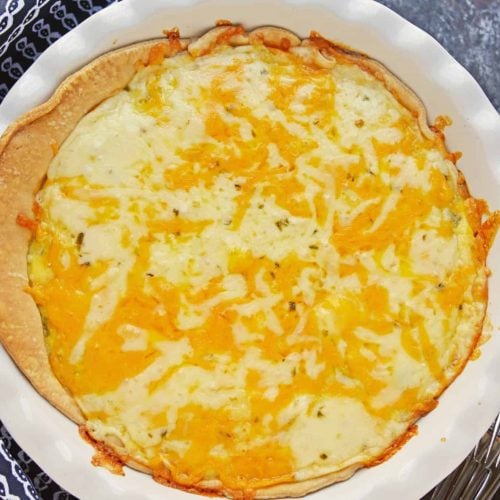 Chile Relleno Quiche
Chile Relleno Quiche uses green chiles, loads of cheese and spices in a flaky pie crust. An easy brunch recipe and perfect for holiday entertaining!

Keyword:
chile relleno quiche, quiche recipe
Ingredients
1

refrigerated pie crust

8

ounces

diced green chiles

, drained

1 1/4

cup

pepper jack cheese

, shredded and divided

1 1/4

cup

cheddar cheese

, shredded and divided

4

large eggs

, lightly beaten

1/4

cup

flour

1/4

cup

milk

1

teaspoon

fine sea salt

1

teaspoon

dry mustard
Instructions
Preheat oven to 350 degrees.

Unroll pie crust in in a 8 or 9 inch pie plate. Generously pierce uncooked crust to allow steam to rise and the crust to bake evenly. Bake for 12-15 minutes or until crust is light brown. You can use pie weights to ensure it stays down.

In a large mixing bowl whisk together diced green chiles, 1 cup shredded pepper jack cheese, 1 cup shredded cheddar cheese, eggs, flour, fin sea salt, milk and dry mustard.

Pour filling in baked crust. Bake for 45 minutes or until eggs have set.

Remove and top with remaining cheeses (1/4 cup pepper jack and 1/4 cup cheddar.) Return to the oven for 5 minutes or until cheese is melted and bubbly.

Remove and allow to sit for 10 minutes before serving.
Recipe Video
Recipe Notes
You can purchase canned Hatch Chiles (8 ounces) or use fresh (approximately 2 large chiles.) Order Hatch Green Chiles and other varieties from ChileMonster.com. It is the only site I trust for fresh and flavorful chiles.
Nutrition Facts
Chile Relleno Quiche
Amount Per Serving
Calories 289
Calories from Fat 171
% Daily Value*
Total Fat 19g 29%
Cholesterol 116mg 39%
Sodium 619mg 26%
Potassium 145mg 4%
Total Carbohydrates 15g 5%
Protein 13g 26%
* Percent Daily Values are based on a 2000 calorie diet.