This post is sponsored by the Certified Angus Beef® brand in conjunction with a social media campaign through Sunday Supper LLC. All opinions are my own.
Southwest Meatloaf is a classic meatloaf recipe with a southwestern spin. Crushed tortilla chips and bottled salsa give this easy meatloaf a zesty edge.
When I didn't like meatloaf…
For years I didn't eat meatloaf. There was just something about it that I disliked. It was basically a brick of meat. Meatloaf like Southwest Meatloaf has changed my ways!
But like many things (like mayonnaise, sour cream and chili) when I started to make it myself, from scratch, I developed a liking for the dish. And then realized, I really like meatloaf!
I just had to reframe my thinking. Instead of thinking of it as a brick of meat being served by a pearled housewife in petticoats, I started to think of it as a giant gourmet meatball being served by a modern day woman in her active wear (read yoga pants even though I didn't go to the gym today.)
BEST Meatloaf Recipes
The best meatloaf has two elements:
meat mix
meatloaf glaze
The mix can be any ground meat, but I prefer just beef or primarily beef mixed with veal and pork.
For healthy meatloaf, try ground turkey, which can be substituted in nearly any meatloaf recipe. Ground chicken works too, but I recommend mixing it with ground beef. You'll need a little fat to prevent drying and give it flavor.
Meatloaf Topping
Traditional meatloaf glaze is nothing but ketchup, baked sweetened tomato. I like to have fun with my meatloaf glaze.
For my traditional meatloaf recipe (even though I stuff it with shredded veggies) I use the same glaze as my famous Grape Jelly Meatballs.
You can also go without, but then the top might get a little dry.
My Italian Meatloaf uses marinara sauce. And now, my Southwest Meatloaf uses a zesty lime laced ketchup. Deliciousness!
Southwest Meatloaf Ingredients
Ground Beef- lean is fine for this recipe
Tortilla chip crumbs – these are used in lieu of breadcrumbs as binding agent
Smoked paprika– or regular
Ground cumin
Garlic powder
White pepper– a little more mild than black, which you can also use
Kosher salt– less salty than other salts
Chunky salsa- instead of doing all that chopping, let the salsa do it for you!
Pepper jack cheese– I like spicy cheese, but you can also use cheddar or plain monterrey jack.
Eggs– a binder for all this deliciousness.
Ketchup, lime juice and onion powder– for the glaze.
Ground Beef
But the real highlight of this easy dinner idea is the meat itself. I use Certified Angus Beef® brand. You heard it before and you'll hear it again, it is my brand of choice for all my beef.
By looking for this logo, I am guaranteeing quality meat, passing 10 specifications in three areas: marbling and maturity, consistent sizing and tenderness and quality appearance. Nor more comparing packages to pick the best looking and taking a chance on flavor.
Meatloaf Temperature
Some feel that cooking meatloaf can be tricky to get just right. Check to make sure your meatloaf internal temperature should be 160 degrees. Use a meat thermometer
to check instead of cutting into your precious loaf.
I also like using a meatloaf pan
instead of a loaf pan or molding on a rimmed baking sheet. A meatloaf pan has drip pan, allowing fat to drain while cooking.
The insert can be removed to use the loaf pan for all other breads. You can also free form a loaf on a rimmed baking sheet.

Check out some of my other favorite ground beef recipes using Certified Angus Beef® brand.
Italian Beef Braciole without Egg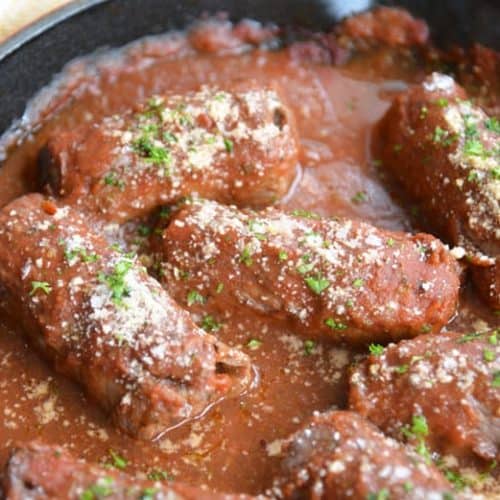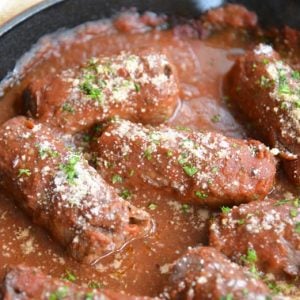 This EASY Beef Braciole recipe is the best Italian comfort food! Juicy flank steak, tomato sauce, herbs and cheese make up this delicious Italian rolled steak!
Reverse Sear Beef Tenderloin with Blueberry Sauce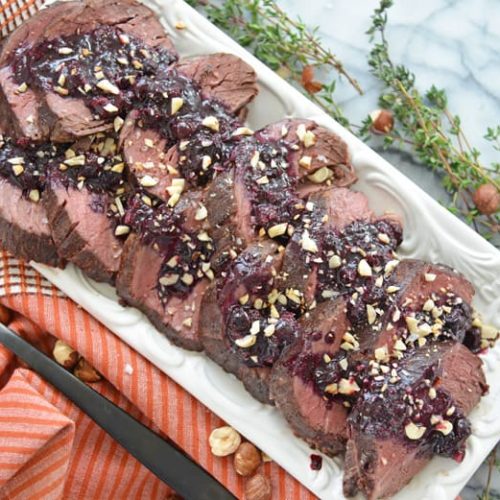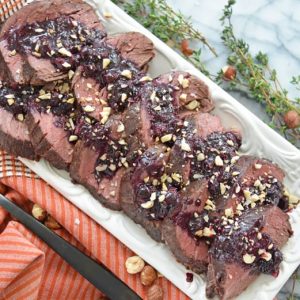 Stunning Reverse Sear Beef Tenderloin recipe with a savory Blueberry Sauce and toasted Hazelnuts is the perfect celebratory roast for your holiday table!
Beef Goulash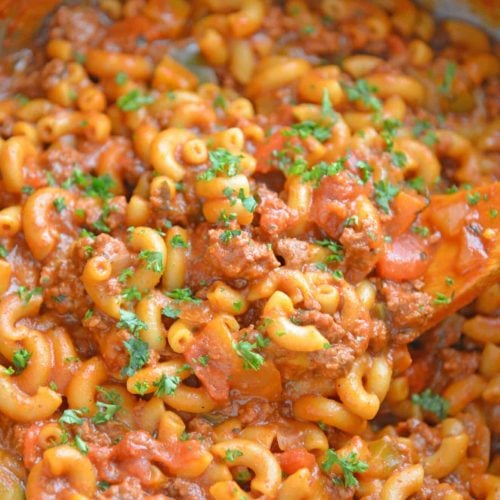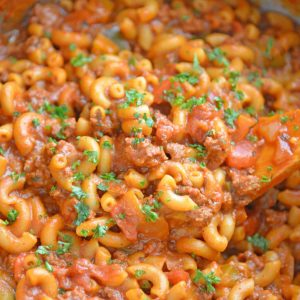 Classic goulash doesn't get any better than this Beef Goulash recipe! The perfect comforting meal for any weeknight!
CONNECT WITH SAVORY EXPERIMENTS!

Be sure to follow me on social media, so you never miss a post!

Facebook | Twitter | Youtube
Pinterest | Instagram
Get our FREE 8 Day E-Course on How to Be a Better Home Cook. Sign up HERE!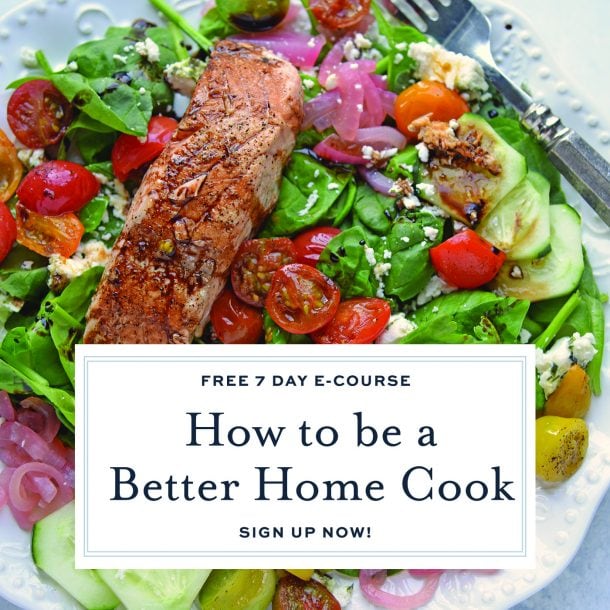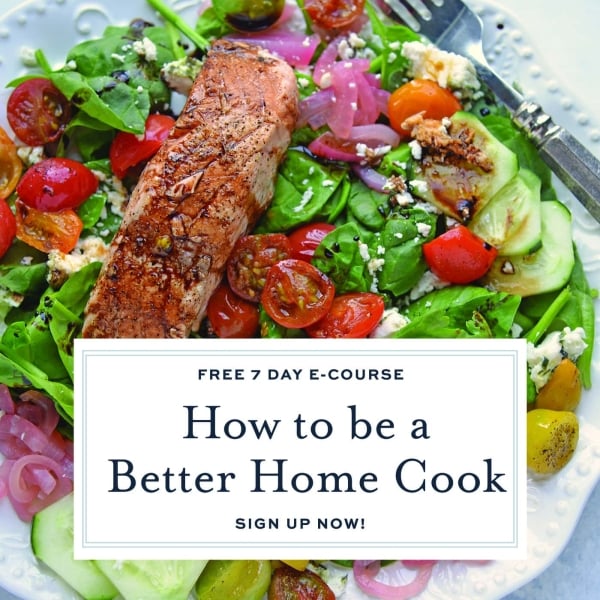 Southwestern Meatloaf
Southwestern Meatloaf is a classic meatloaf recipe with a southwestern spin. Crushed tortilla chips and bottled salsa give this easy meatloaf a zesty edge.
Instructions
Preheat oven to 350 degrees. Spray a meatloaf pan with cooking spray.

In a large mixing bowl, stir together tortilla chip crumbs, smoked paprika, cumin, garlic powder, Kosher salt and white pepper. Add salsa, stir to moisten and allow to sit for 10 minutes.

Add ground beef, breaking apart as you go. Top with beat eggs and shredded pepper jack cheese.

Using clean hands, lightly toss. Do not over mix. Overmixing will result in tough meatloaf.

Gently pack into meatloaf pan. If you don't have a meatloaf pan, you can form it into a rectangle on an aluminum foil lined rimmed baking sheet.

Cover with aluminum foil and bake at 350 degrees for 50 minutes.

Meanwhile, stir together ketchup, lime juice, onion powder and salt. Set aside.

In a medium skillet, heat melt butter over medium heat. Add corn, onion, fine sea salt and smoked paprika. Cook until onions are soft and corn is a bright yellow. Remove and set aside until ready to serve.

Remove meatloaf and brush ketchup mixture over top of meatloaf. Bake for an additional 10-15 minutes uncovered or until a meat thermometer registers at 160 degrees.

Let stand for 5-10 minutes before slicing.

Serve with a serving of corn relish.

If you've tried this recipe, come back and let us know how it was!
Nutrition
Calories:
679
kcal
|
Carbohydrates:
28
g
|
Protein:
65
g
|
Fat:
33
g
|
Saturated Fat:
16
g
|
Cholesterol:
267
mg
|
Sodium:
1499
mg
|
Potassium:
1262
mg
|
Fiber:
3
g
|
Sugar:
9
g
|
Vitamin A:
1295
IU
|
Vitamin C:
6.9
mg
|
Calcium:
401
mg
|
Iron:
7.4
mg