This honey jalapeno cornbread recipe is a dream come true for anyone who loves a combination of sweet and heat. Honey-infused butter and rings of spicy jalapenos grace the top of the bread, and it's dotted with fresh corn throughout.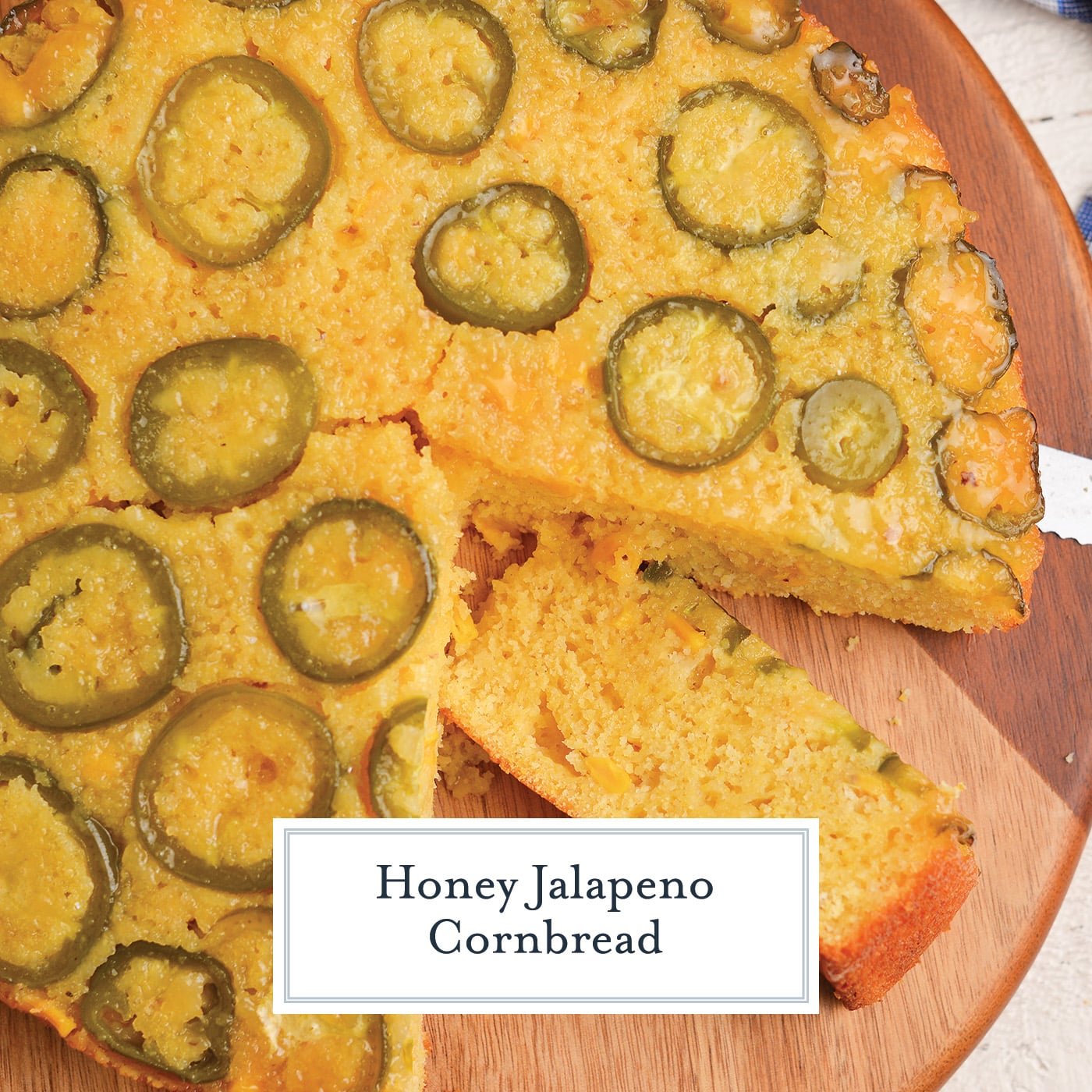 One of my favorite ways to eat this flavorful cornbread is with a simple pat of butter on top. But it pairs well with so many dishes, from smoked meats and egg-based breakfasts to chili, soups, and stews.
If you're a fan of cornbread and like a little spice, you are going to love this honey jalapeno cornbread recipe.
Check Your Springform Pan
Before you begin the recipe, check to make sure that it is closing properly. Try placing the pan in a dish of water to ensure it is completely sealed.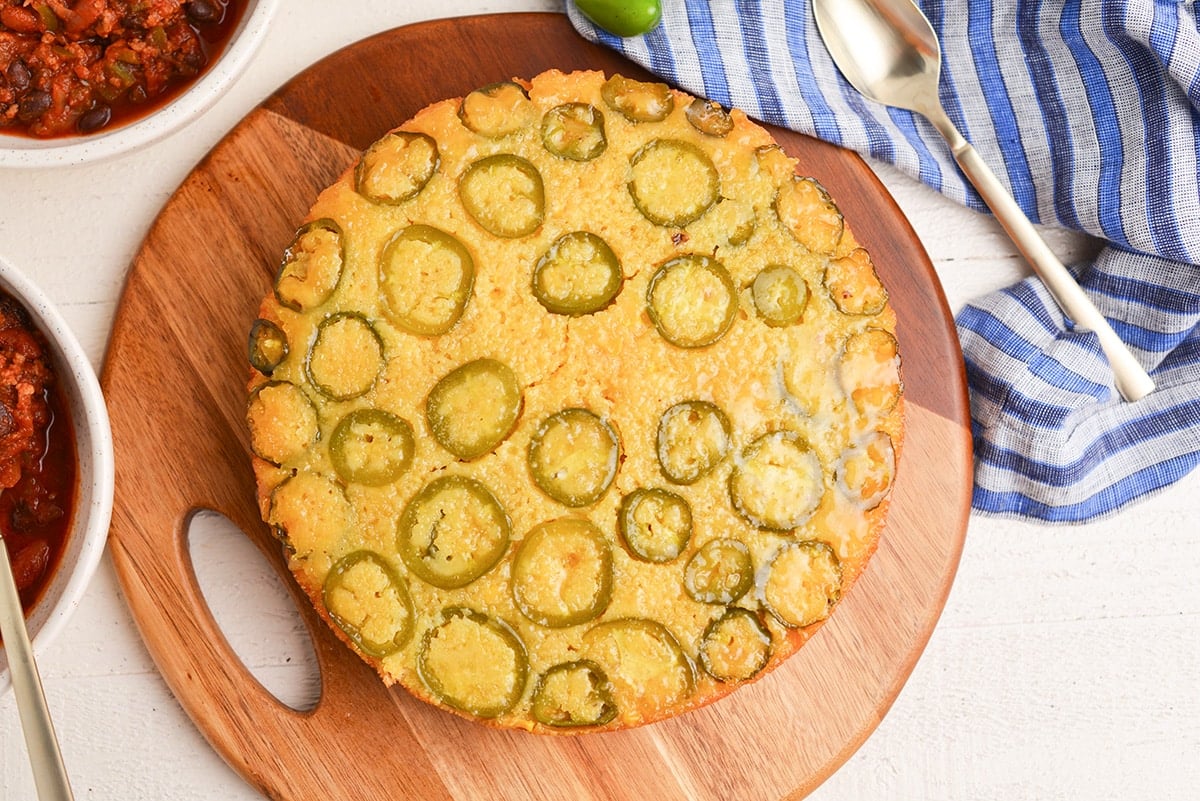 What To Do If Honey Butter Drips
For an extra layer of security to avoid a messy oven, place a sheet pan on a rack below the springform pan to catch any potential drips. If this happens, you can also add an extra drizzle of honey to the top once you've removed it from the pan.
Why Cook The Bread Upside Down?
Cooking the bread upside down allows the honey butter to caramelize slightly as the bread is cooking, creating a delectable texture and extra sweetness. It also allows the jalapenos to cook into the top of the bread, making for a pretty presentation.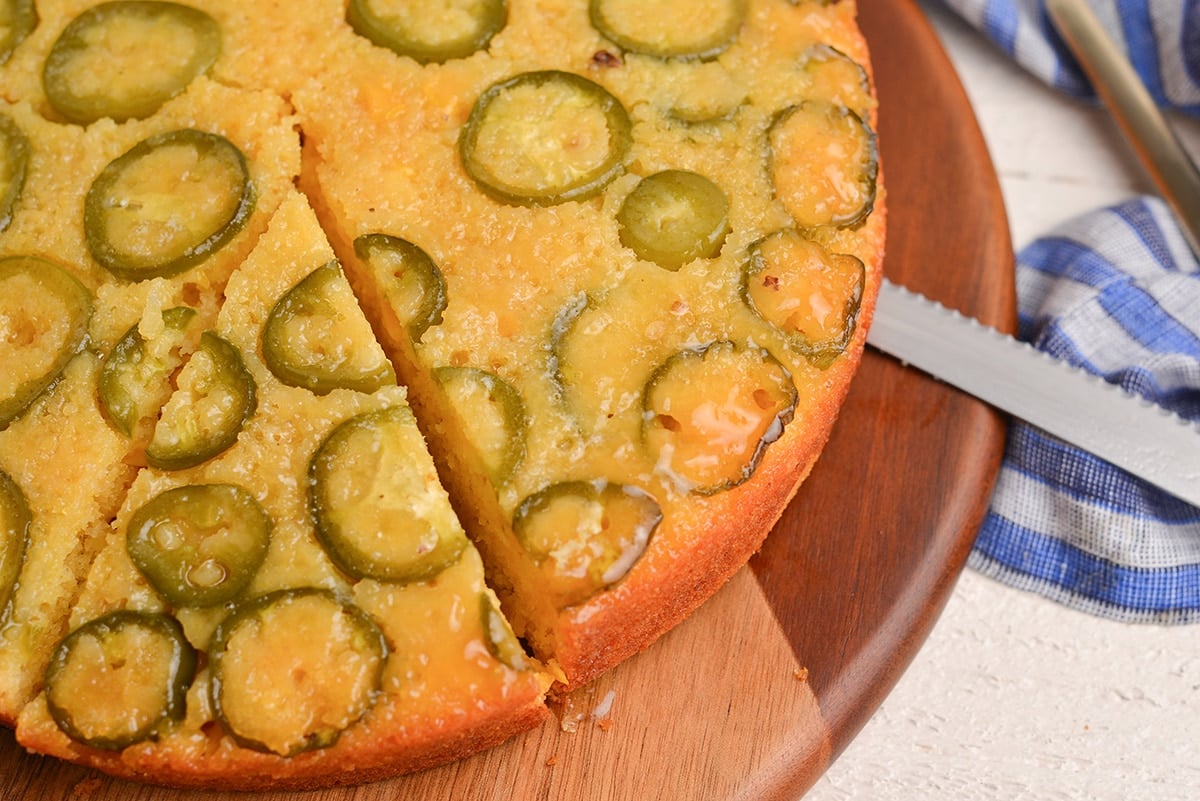 How to Prevent Springform Pans From Leaking
There are a couple of ways to prevent a springform pan from leaking. One is to line it with parchment paper, though I don't prefer using that method for this recipe since it is more challenging to spread the honey butter evenly. Also, the butter mixture may not have the same reaction when baking as it does when exposed to the metal pan.
A strategy that I prefer is to wrap the outside of the pan tightly with aluminum foil. This will help to keep the pan together, but also catch any drips should it leak slightly.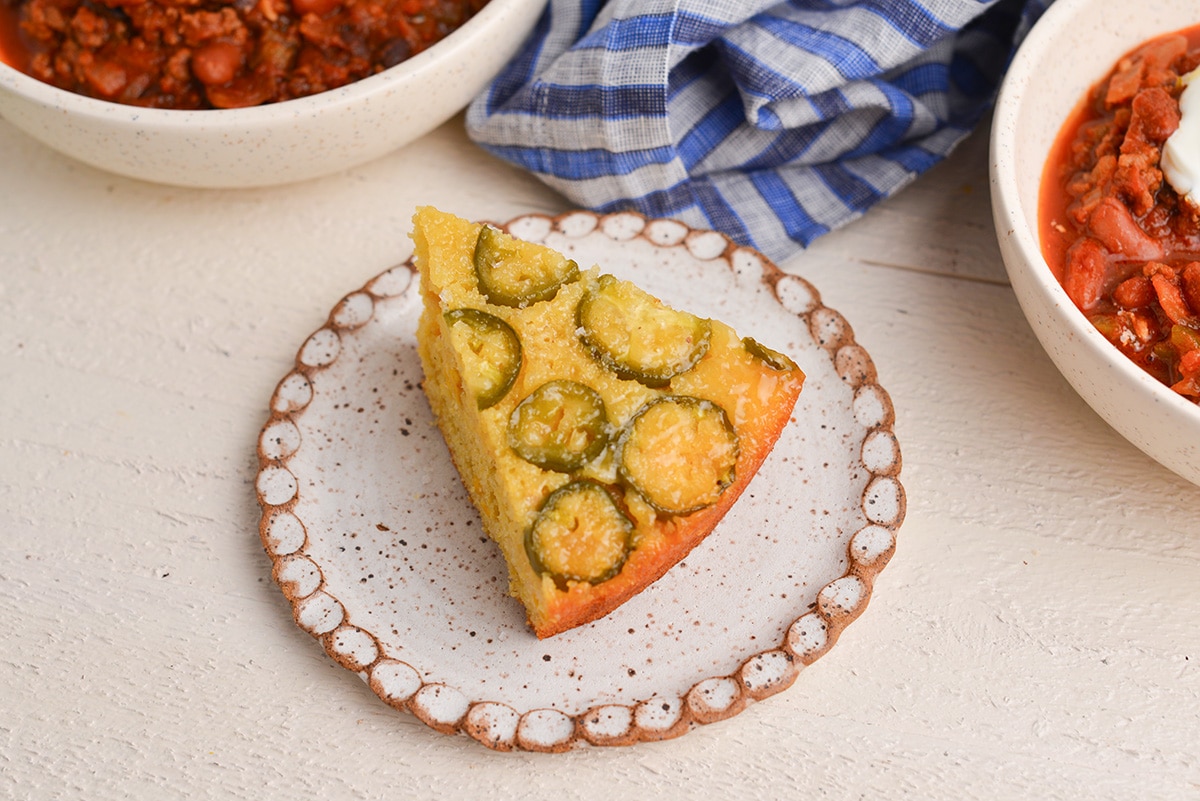 Why You'll Love Honey Jalapeno Cornbread
A moist cornbread that's both sweet and spicy- what's not to love!
Delicious – The sweetness of the honey butter and the bread itself mingles perfectly with the slight spice that the jalapenos bring to the table.
Showstopper – It's not often you see a cornbread as pretty as this one — everyone will be lining up to grab a slice.
Customizable – There are tons of ways to get creative with this easy cornbread recipe.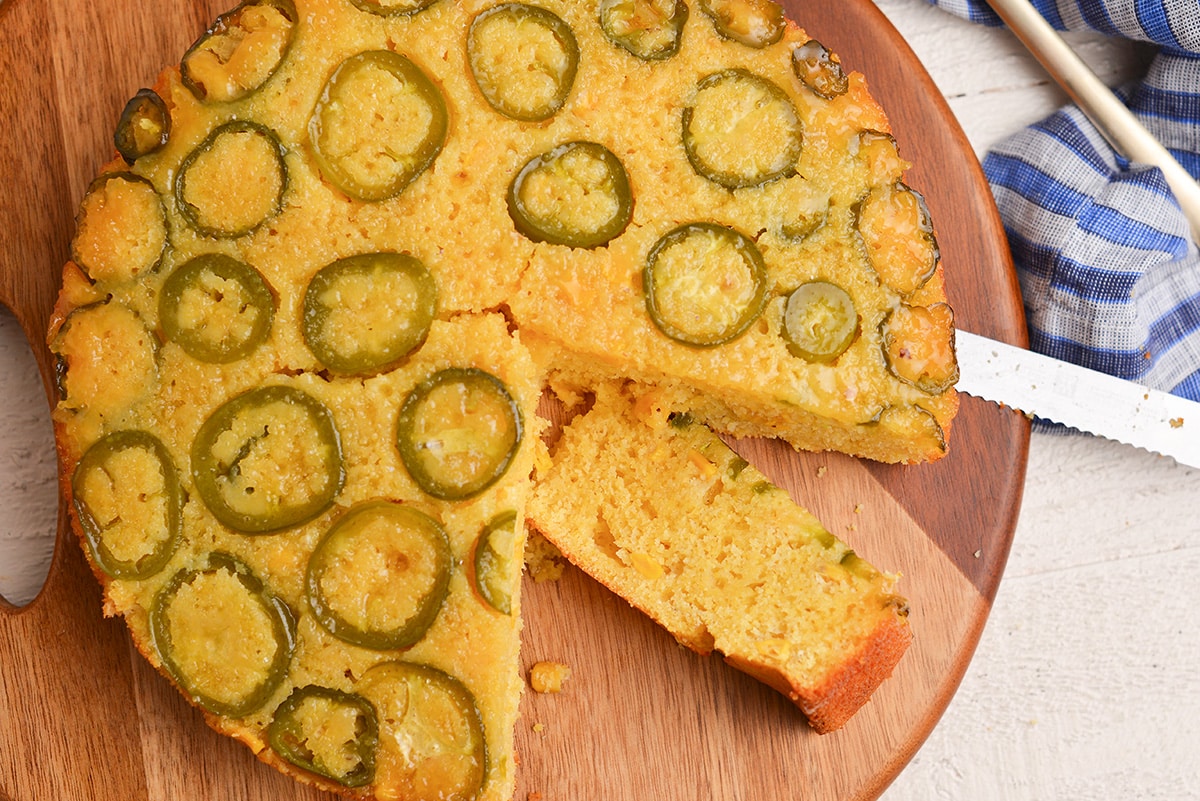 Honey Jalapeno Ingredients
It doesn't take a lot of ingredients to whip up this moist cornbread.
Unsalted butter – To control the amount of salt in the bread, use unsalted butter — coarse kosher salt will be added.
Honey – Be sure to divide the honey before starting so that your ingredients are already measured. This will make the preparation go more quickly and smoothly.
Fresh jalapenos – Be sure to protect your hands by wearing gloves when you seed and slice the peppers.
Yellow cornmeal – While you can use white cornmeal, yellow is preferable for both flavor and appearance.
Flour – All-purpose flour is ideal for this cornbread recipe.
Sugar – White sugar works well.
Baking powder – This leavening agent helps the bread to rise and develop the perfect texture.
Coarse kosher salt – Salt enhances the flavor of the honey, jalapenos, and sugar.
Buttermilk – Buttermilk helps to create a moist crumb and rich flavor.
Eggs – Use large eggs and beat them before adding to the rest of the wet ingredients.
Corn kernels – Sweet corn gives the bread flavor and adds another layer of texture.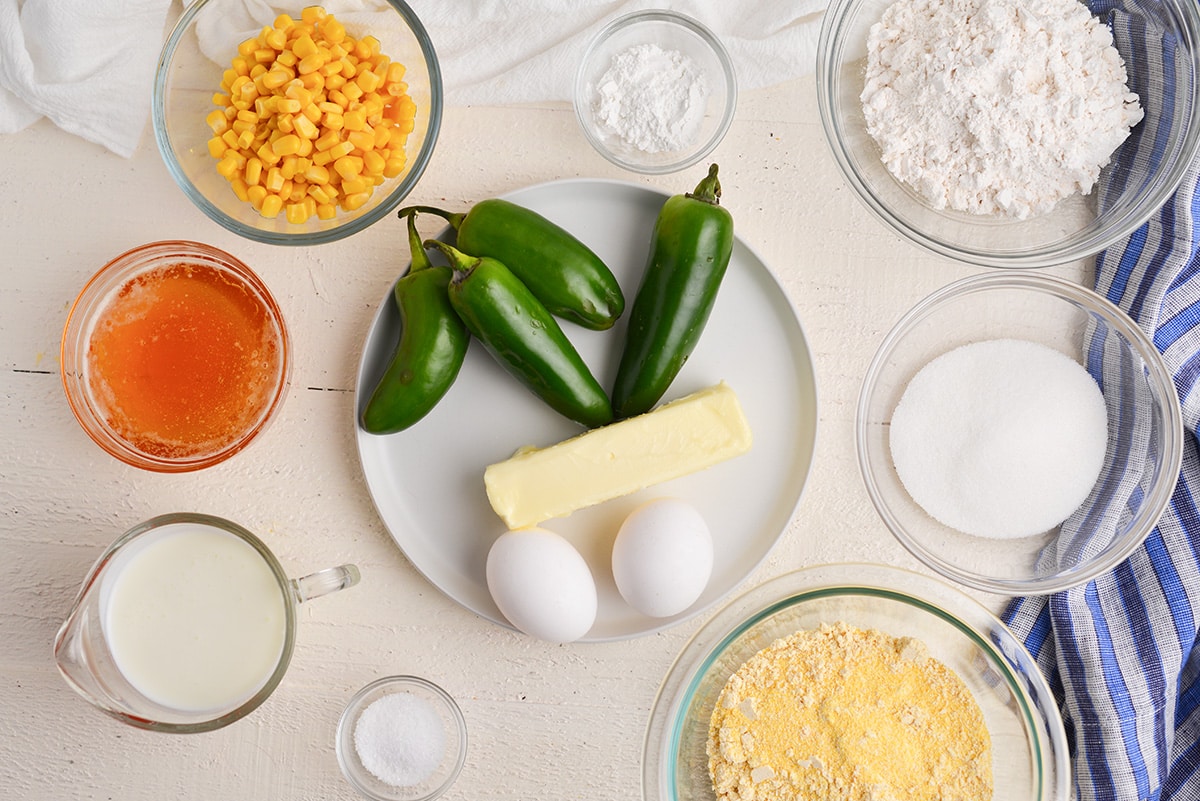 How to Make Honey Jalapeno Cornbread
You are going to love how easy it is to make this cornbread!
Melt butter. Melt the butter and honey in intervals in the microwave, stirring after each one.
Add honey and jalapenos to pan. Add the honey to the prepared springform pan. Carefully add the sliced jalapenos to the bottom of the pan in a single layer.
Add dry ingredients to bowl. Add the cornmeal, flour, sugar, baking powder, and salt to a large bowl and stir together until all ingredients are evenly dispersed.
Wet ingredients. Mix together the remaining wet ingredients, including the melted butter, in a separate medium bowl.
Combine. Pour the wet ingredient mixture into the flour mixture and stir together until the dry ingredients are just moistened.
Fold in corn. Add the kernels of corn to the bread batter and gently fold them in.
Add to pan and bake. Transfer the cornbread batter to the springform pan, using a spatula to even out the mixture. Place in the preheated oven and bake for the recommended time. Remove from the oven when the bread passes the toothpick test.
Allow to cool. Place the pan on a wire rack to cool briefly before inverting onto a serving platter.
What to Serve with Homemade Cornbread
Honey jalapeno cornbread pairs well with nearly any meal of the day. In the morning, serve it alongside a cheesy vegetable breakfast casserole, a chile relleno casserole, or easy huevos rancheros.
Throughout the rest of the day try pairing the cornbread with chili, chicken taco soup, or black bean green chile soup. It's also the perfect side dish for mains like pulled pork, BBQ ribs, and hickory smoked chicken wings.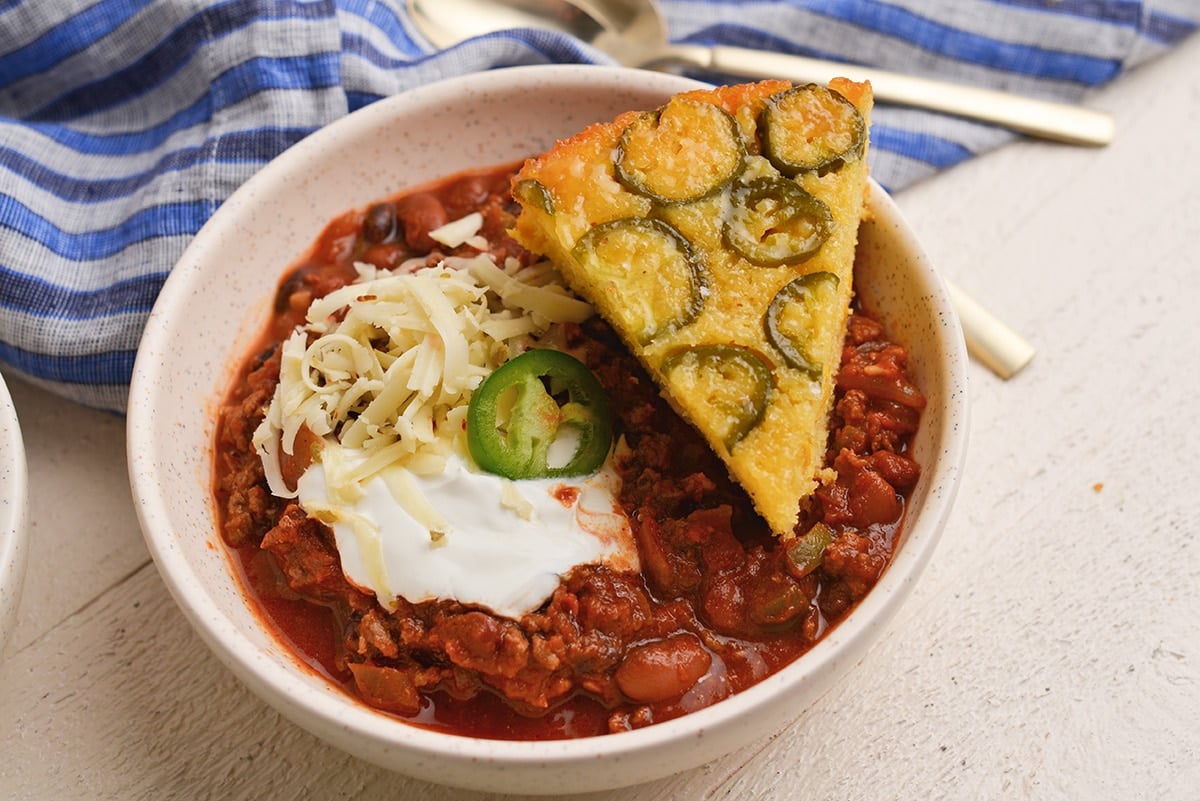 Variations on Honey Jalapeno Cornbread
Create your own version of this cornbread with a few additions or substitutions.
Honey – For an even more spicy flavor, try using hot honey in place of some or all of the plain honey.
Flour – Experiment with alternative flours in place of the all-purpose flour.
Jalapenos – For more jalapeno flavor, add diced jalapenos to the batter. Or if you want to lower the heat level, use fewer jalapenos.
Cheese – Make jalapeno cheese cornbread by folding grated cheddar cheese into the batter before baking.
Green onions – Add a pop of color and oniony flavor by folding in sliced green onions.
Muffins – Use a muffin tin to make sweet jalapeño corn muffins
Milk – Replace the buttermilk with one of your favorite non-dairy milks.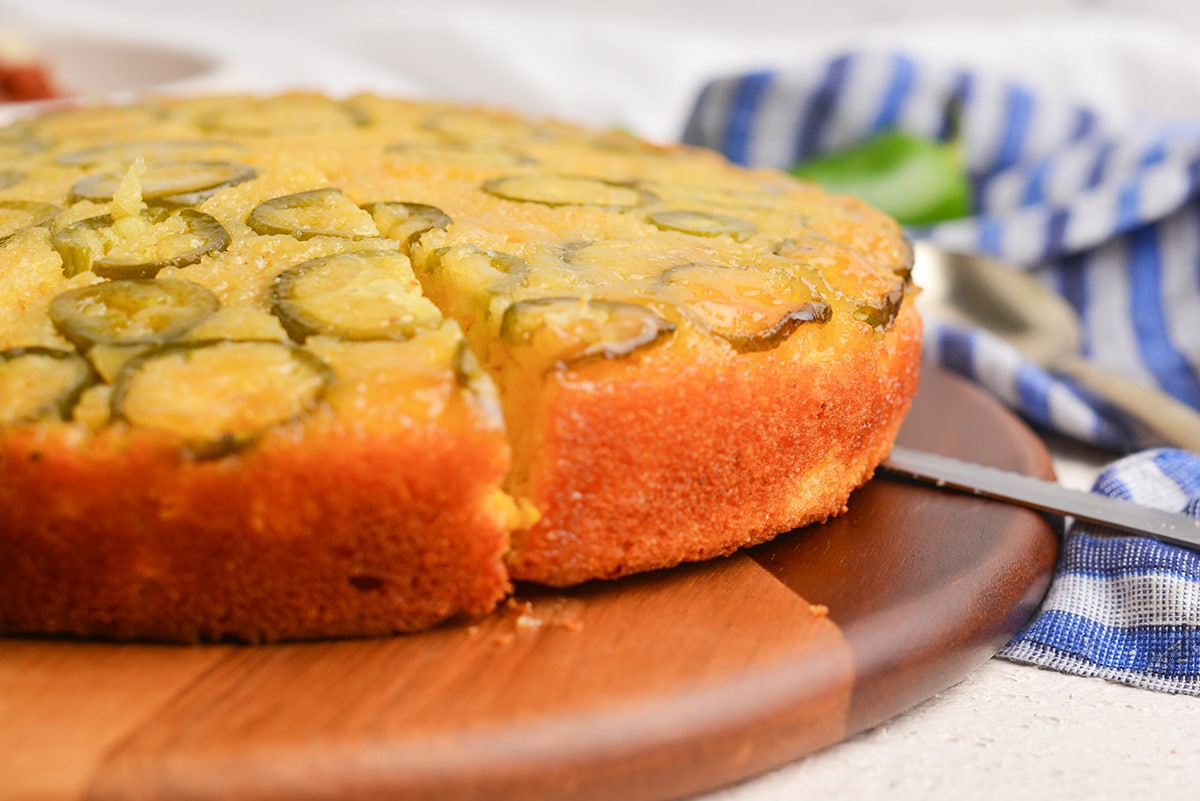 Storage and Freezing
You can store leftover honey jalapeno cornbread at room temperature in a bread box or an airtight container.
Refrigerator: Let the cornbread cool before wrapping it tightly with plastic wrap or placing it in a recloseable plastic storage bag. Store it in the fridge for up to 1 week.
Freezer: Freeze cornbread for up to 3 months, wrapped tightly in plastic wrap and aluminum foil.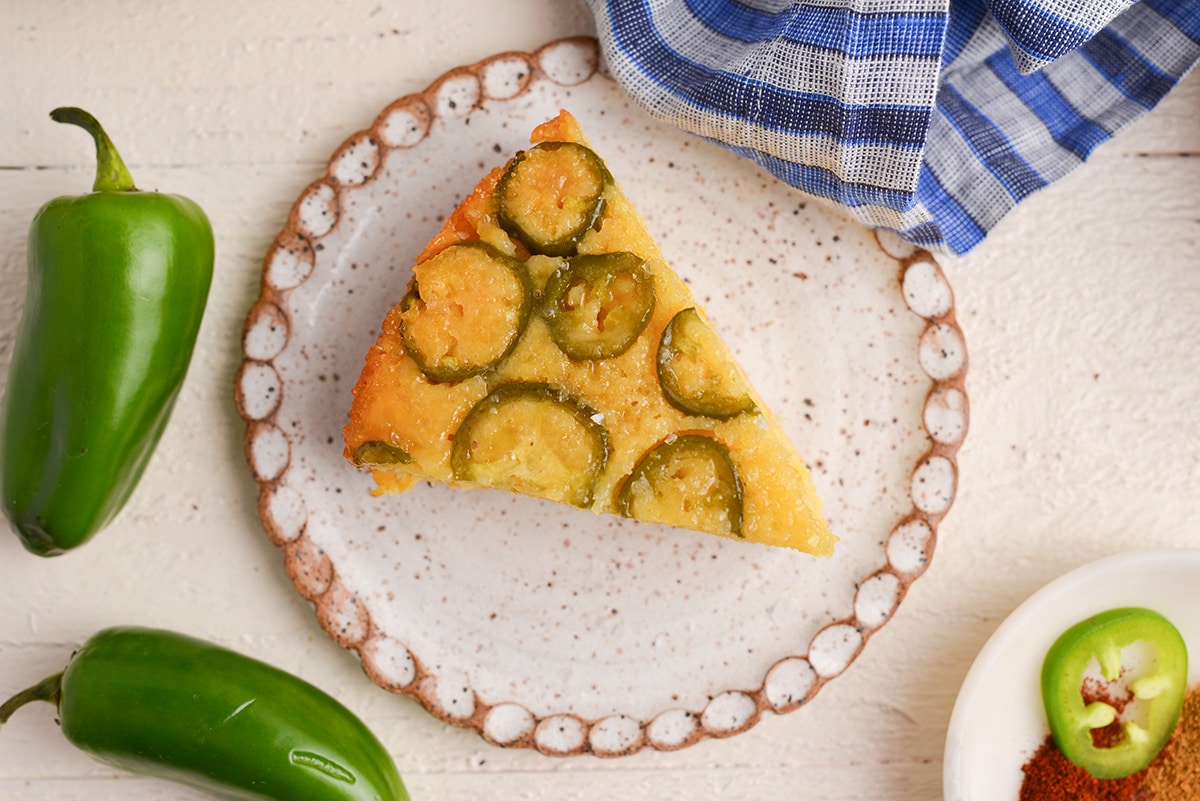 Common Questions About Sweet Jalapeno Cornbread
What is the difference between southern cornbread and sweet cornbread?
Southern cornbread rarely incorporates sugar (or other sweeteners) in the recipe. Sweet cornbread is a version more common in the northern United States than in the south and may use sugar, honey, or other preferred sweeteners.
Is white or yellow cornmeal better for cornbread?
Cornbread is best made with yellow cornmeal, which imparts its signature color.
Why is my cornbread gummy?
Cornbread that turns out gummy is usually the result of underbaking. Be sure to cook it for the recommended time and test it before removing it from the oven.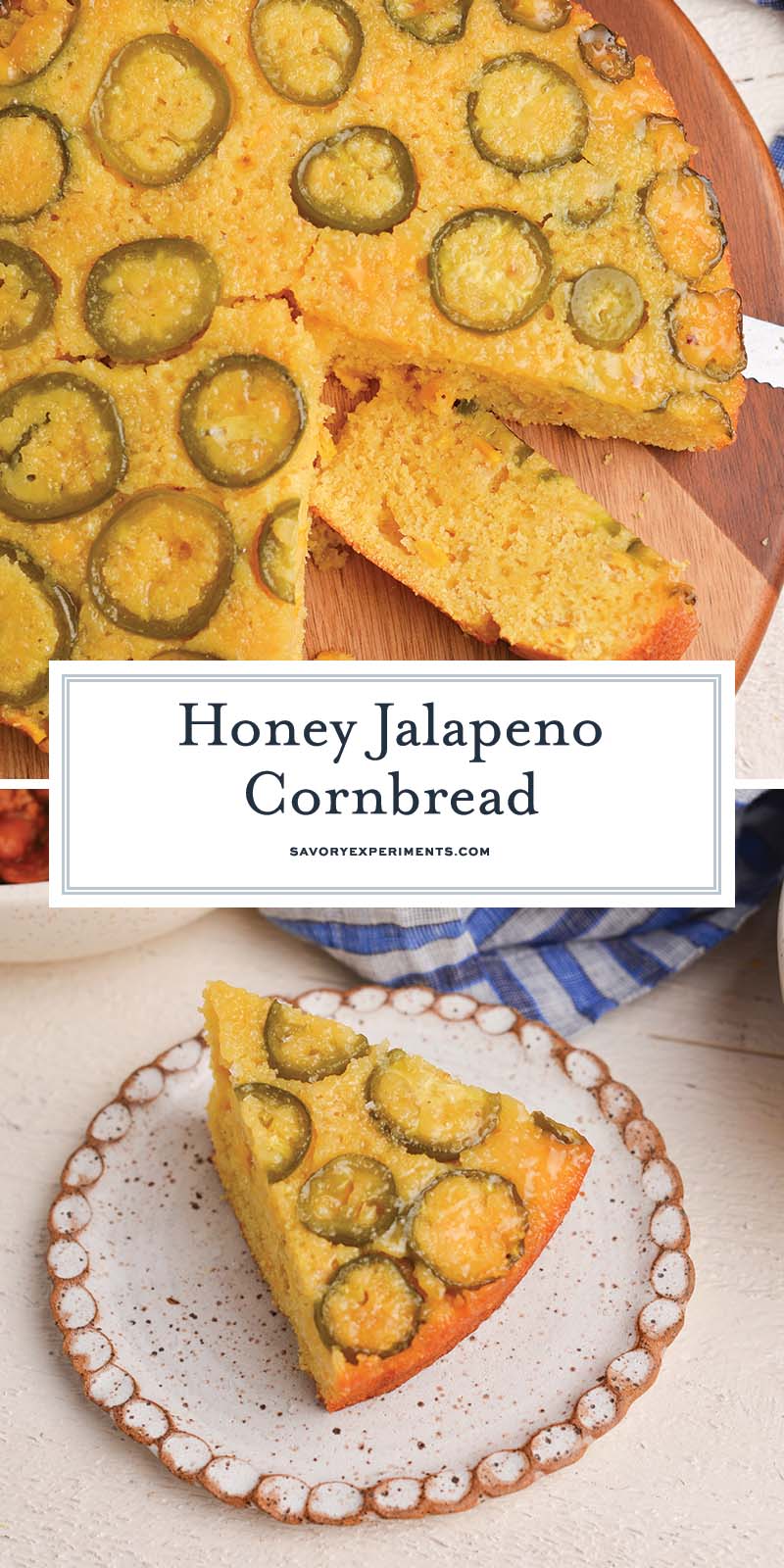 Other Easy Bread Recipes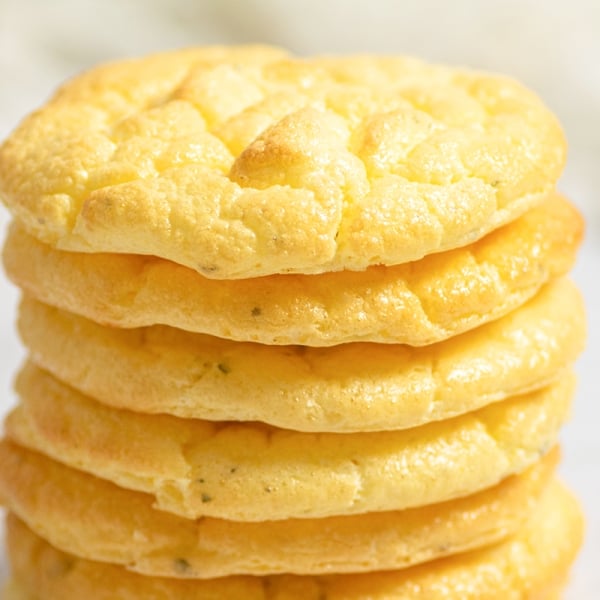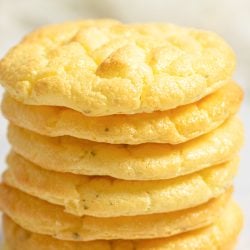 Cloud Bread
Soft & fluffy Cloud Bread made with cream cheese & herbs is easy to make and takes minutes to make. Wheat-free, gluten-free, and low carb!
See The Recipe!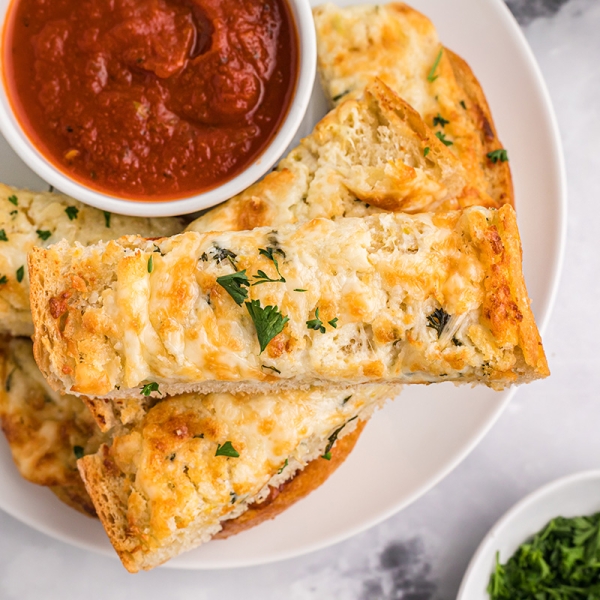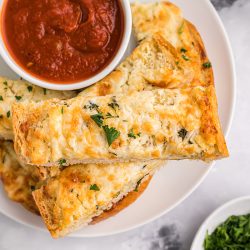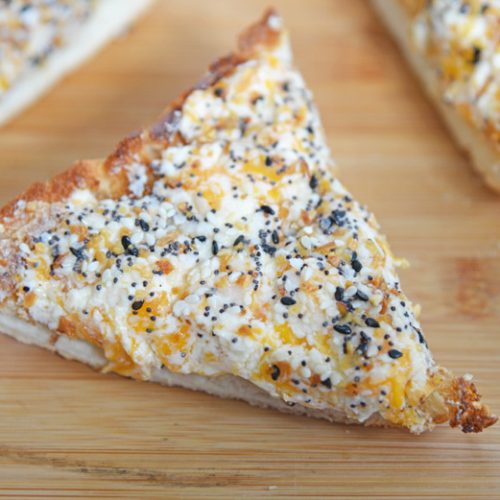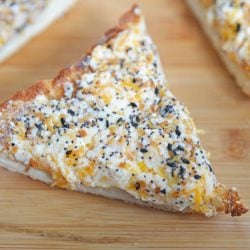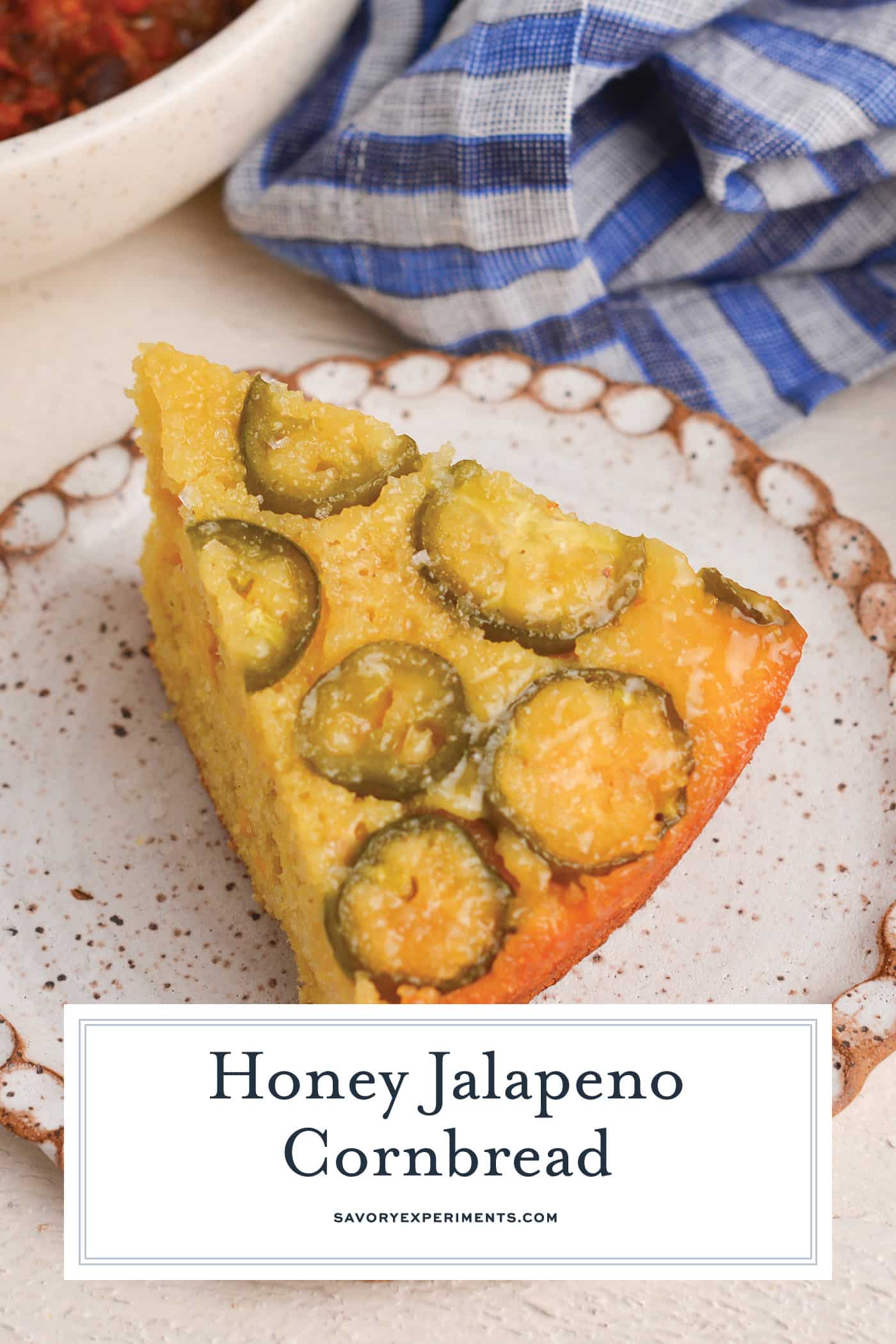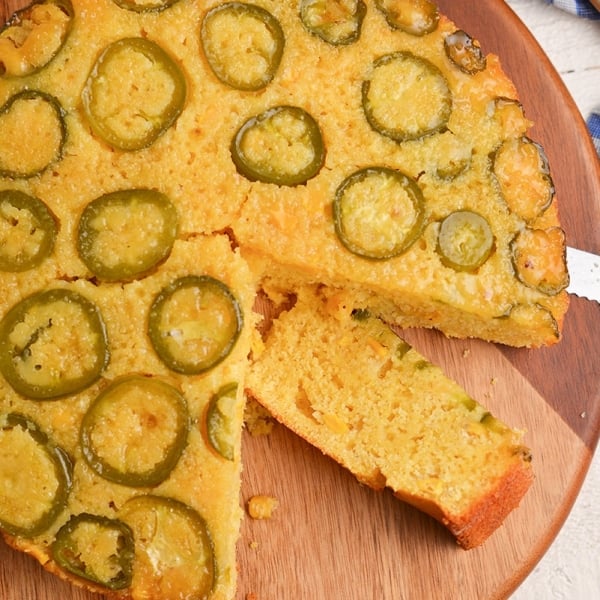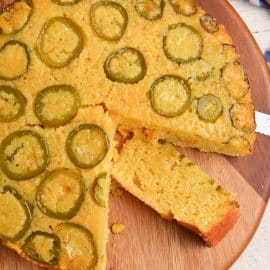 Honey Jalapeno Cornbread
This Honey Jalapeno Cornbread is a showstopper with honey-infused butter and rings of spicy jalapenos on top and fresh corn throughout!
Equipment
Heat Resistant Rubber Spatula
Instructions
Preheat the oven to 375°F and coat a 9-inch cake pan or springform pan with cooking spray. Set aside.

Add 1/4 cup of the butter and 1/4 cup of the honey to a small microwave-safe bowl and heat at 30 second increments, stirring between each, until butter is fully melted.

Pour the melted honey butter into the bottom of the prepared pan.

Wearing gloves, place the jalapenos in the honey butter in a single layer. Set aside.

In a large mixing bowl, whisk together the cornmeal, flour, sugar, baking powder and salt.

Melt the remaining 1/4 cup of the butter in a small microwave-safe bowl.

In a separate medium mixing bowl, whisk together the buttermilk, melted butter, eggs and the remaining 1/4 cup of the honey.

Add the wet ingredients to the dry ingredients, stirring until no dry spots remain, but do not overmix.

Fold in the corn.

Pour over the jalapenos in the prepared pan, spreading flat with a spatula. Tap several times on the counter to released bubbles.

Bake for 25-30 minutes or until the top is golden brown and it passes the toothpick test.

Allow the pan to cool for 5 minutes before topping with a plate or serving platter and carefully (and quickly) inverting.

Slice and serve.

If you've tried this recipe, come back and let us know how it was in the comments or star ratings.
Notes
Recipe adapted from Mezzetta.
Nutrition
Calories:
379
kcal
,
Carbohydrates:
57
g
,
Protein:
7
g
,
Fat:
15
g
,
Saturated Fat:
8
g
,
Polyunsaturated Fat:
1
g
,
Monounsaturated Fat:
4
g
,
Trans Fat:
0.5
g
,
Cholesterol:
75
mg
,
Sodium:
374
mg
,
Potassium:
336
mg
,
Fiber:
3
g
,
Sugar:
28
g
,
Vitamin A:
527
IU
,
Vitamin C:
7
mg
,
Calcium:
115
mg
,
Iron:
2
mg