Did it happen to you? It happened to me. I went to the store and I panic shopped.
This easy 15 Bean Soup Recipe can be made in the Instant Pot or on the Stove using only pantry staples!
Everyone else was buying up canned items and dry beans, so I did it too. Surely they must knew something I didn't. I'd get what I could get my hands on and figure out what to make with it later.
Now I've got a bag of dry 15 bean soup. Lots of beans in all colors of the rainbow.
PRO TIP: Don't skip the step of sorting and rinsing your beans. It is very common to find small pebbles in the mix.
I'll you in on a little secret. Beans are a great, shelf stable ingredient. They will stay good for not months, but years. The provide protein and dietary fiber, help you feel full and keep you regular. An abundance of goodness.
But they are also time consuming- like it can take over 24 hours to prepare the suckers. And the trouble with 15 bean soup is that the beans are all different shapes and sizes which just throws another monkey wrench into the situation because they are all going to soften and cook at different rates.
PRO TIP: Add 1 tablespoon of acid right before serving to brighten any soup. Vinegar and citrus juice are the best and easiest!
I also like my bean soup to be a little less soup and a little more stew like. You can add more broth if you'd like, but even though it looks like a lot, keep in mind that those dry beans are going to soak up most of the liquid.
How to Make 15 Bean Soup
You have three options: old school overnight soaking, quick stove top method and the quicker pressure cooker option.
Overnight Soaking: To do this, you'll rinse and sort your beans. Cover them with water in a large bowl and let them sit overnight to soften. Drain, rinse and then make your soup, simmering for an additional hour or more.
Quick Stovetop Method: Still rinse and sort your beans. Place in a large pot and cover with water, bring to a low simmer and cook for 1-2 hours on low heat, or until beans are soft. Drain, rinse and then proceed to make your soup for another 1-2 hours of simmering.
Quicker Instant Pot Method- Really any electric pressure cooker will do. Rinse and sort your beans, then follow the instructions below. This softens and cooks at the same time which essentially skips a whole step and only takes a little over 1 hour from start to finish.
What Goes in 15 Beans Soup?
Well, beans of course, but the other ingredients are very versatile. Most versions include onion, carrot, celery and garlic. Any of these can be omitted based on what you have left are far as fresh produce.
From there, these are my favorite things to add:
Ham
Bacon
Sausage
Shredded Chicken
Tomatoes
Corn
Peas
Diced Potatoes
Smoked Paprika
Green Beans
People typically add ham and cook it in the soup while it simmers, but since we are using an Instant Pot, the cooked meat has the tendency to just fall apart, so I add it after the beans have cooked. Same reasoning for the tomatoes.
PRO TIP: The trick is not cooking your beans too long so they make a paste and not cooking them too little so they are hard. Taste test along the way just like you would with pasta!
I use chicken stock, but you can also use vegetable stock if you are keeping it vegetarian. And I DO NOT use the little packet that comes with the beans.
What is in the seasoning packet for 15 bean soup?
That little package is technically called "Soy Protein Ham Flavoring Packet". Not very appetizing, huh? I toss this salty bomb of soy and instead make my own seasoning. You can use the packet, if you wish.
It is basically salt and smoky flavor. I use Kosher salt, a dab of liquid smoke, celery salt and oregano. Any of these can be left out with the exception of the salt. YOU NEED THE SALT.
Next most commonly asked question…
What beans are in 15 bean soup?
It really depends on what brand you are buying. The standard bag generally contains:
Northern
Pinto
Large lima
Yelloweye
Garbanzo
Baby lima
Green split peas
Kidney
Cranberry
Small white
Pink
Small red
Yellow split peas
Lentils
Navy
White kidney
Black bean
The bag is 20 ounces or 2 ½ cups. You can use any blend of dried beans and lentils you like.
Can I freeze bean soup?
Sure! After making it, store in a plastic bag or plastic container for up to 6 months. Beans do defrost a little mushier than they went in.
Bean soup stays good in the fridge, chilled, for up to 1 week.
What do I serve with my bean soup?
I like to serve my soup with a piece of crusty bread. If you are using your pantry staples, my Cheddar Beer Bread or 2-Ingredient Bread are perfect choices.
A nice green salad is also a good choice.
I also like to top mine with sour cream or plain Greek yogurt.
Looking for more hearty soups and stews?
Black Bean Green Chile Soup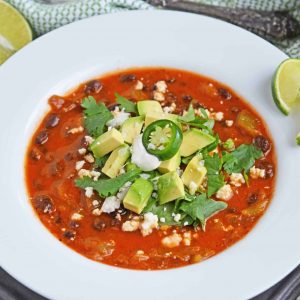 Black bean Green Chile Soup is a tomato based soup with smoky chipotle peppers and robust flavors. Top with avocado, cilantro and queso fresco! Hearty enough for an entree, but can also be an appetizer!
Instant Pot Chicken Noodle Soup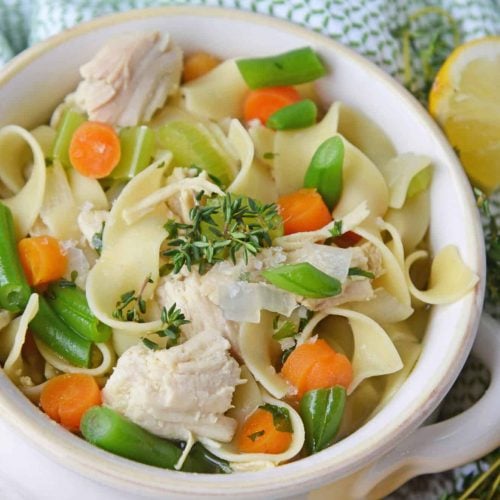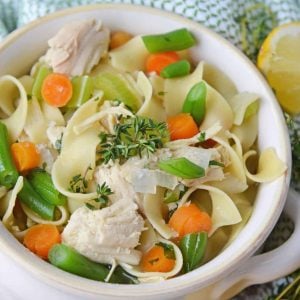 Looking for a homemade chicken noodle soup recipe that you can enjoy all year round? This Instant Pot Chicken Noodle Soup is flavorful and SO easy to make!
CONNECT WITH SAVORY EXPERIMENTS!

Be sure to follow me on social media, so you never miss a post!

Facebook | Twitter | Youtube
Pinterest | Instagram
Get our FREE 8 Day E-Course on How to Be a Better Home Cook. Sign up HERE!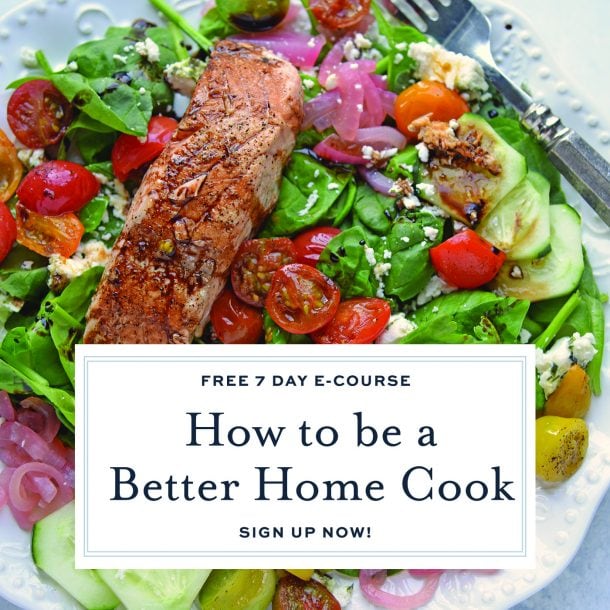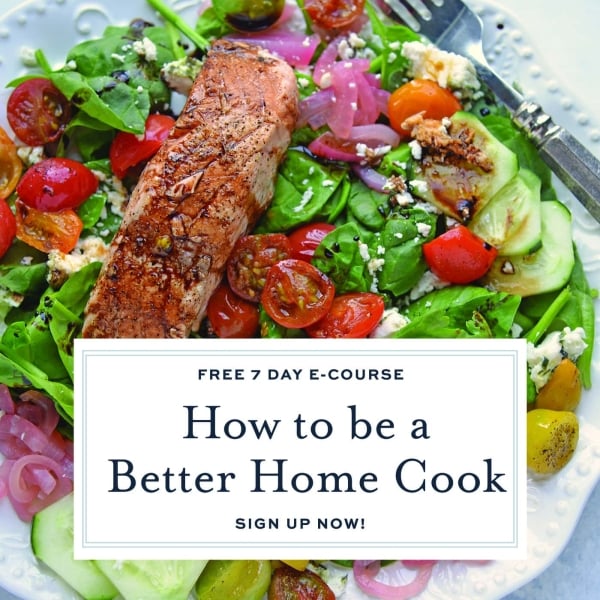 Before you get started, check out my Instant Pot for Beginners and Pressure Cooker Altitude Cooking Calculator, should you need it! We have even more simple recipes using minimal ingredients and pantry staples!
15 Bean Soup
This easy 15 Bean Soup Recipe can be made in the Instant Pot or on the Stove using only pantry staples!
Ingredients
Topping:
Sour cream or plain Greek yogurt
Instructions
Set your Instant Pot to the sauté function and heat olive oil or butter. Add onions, carrots, celery and garlic. Sauté for 2-3 minutes or until they start to soften.

Add dry bean mix, broth and ay leaves. Stir in all Bean Soup Seasonings or the little packet that came with your bean mix.

Put on the lid and seal the vent. Set to manual pressure HIGH for 45 minutes.

Do a quick release and then add drained tomatoes and cooked meat. Return the lid and turn to "keep warm" for 10 minutes.

Stir in apple cider vinegar and taste for salt and pepper. Serve immediately with sour cream, plain Greek yogurt or Parmesan cheese.

If you've tried this recipe, come back and let us know how it was!
Notes
*You can use any type of cooked meat you like. My favorites are chopped ham, crumbled bacon (only use ½ cup), sliced sausage, shredded chicken or ground beef. You can use more or less meat as desired.
**If you want to use the bean seasoning packet instead of the homemade seasoning mix, be my guest!
***If you are going to add other vegetables like corn, peas or green beans, add them with tomatoes and sausage. You can add frozen vegetables directly to the soup, no need to thaw. If using potatoes, add with carrots, onion and garlic in the beginning. Spices and herbs can be cooked with the beans too.
Nutrition
Calories:
313
kcal
|
Carbohydrates:
32
g
|
Protein:
17
g
|
Fat:
14
g
|
Saturated Fat:
5
g
|
Cholesterol:
33
mg
|
Sodium:
2263
mg
|
Potassium:
936
mg
|
Fiber:
10
g
|
Sugar:
3
g
|
Vitamin A:
1985
IU
|
Vitamin C:
29
mg
|
Calcium:
102
mg
|
Iron:
4
mg