If you're like me, you love trying out new recipes, but hate spending hours in the kitchen. That's where the Instant Pot comes in handy – it can help you whip up a delicious meal in no time! This 15 bean soup was one I was weary of- but it surprised me and I bet it will surprise you too!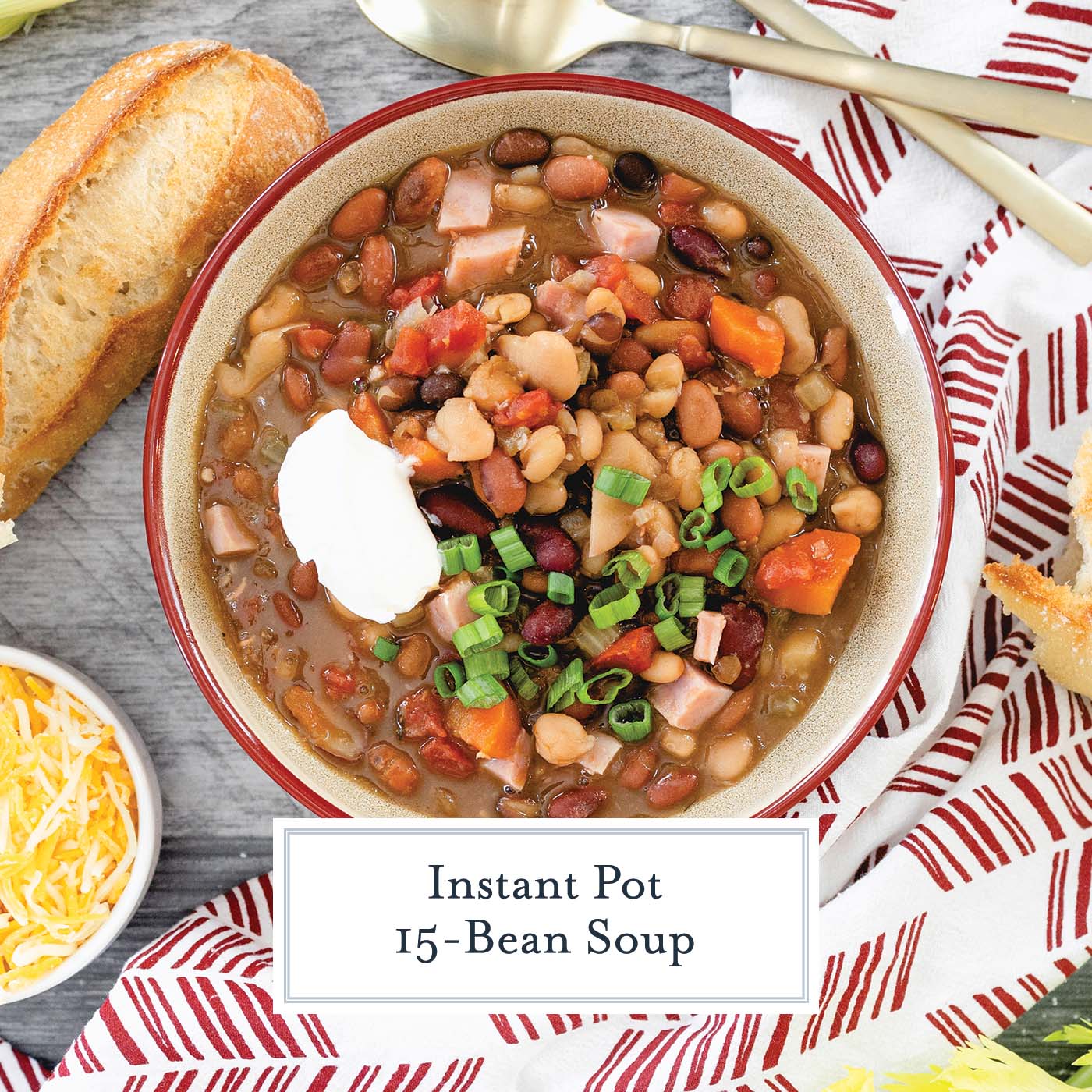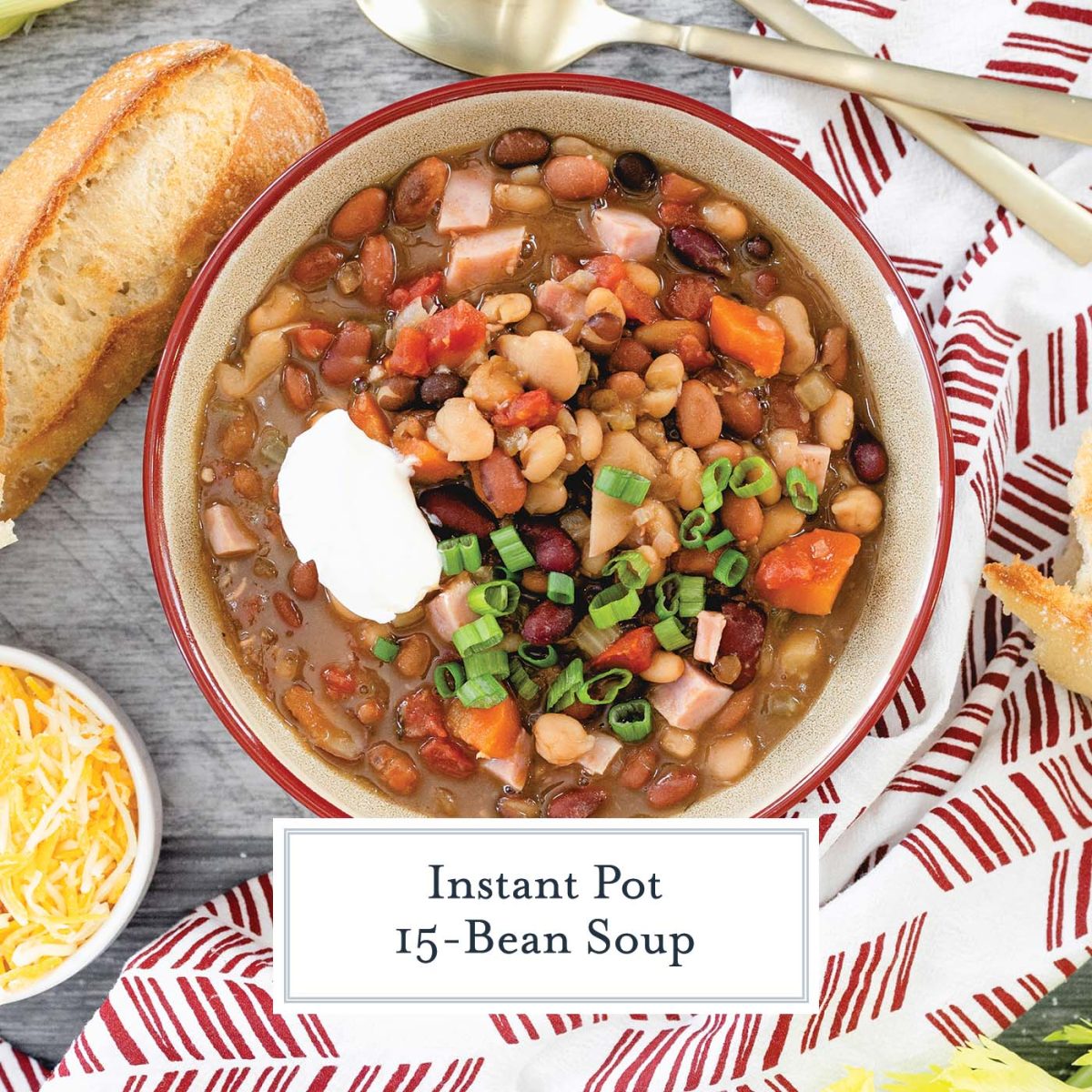 This delicious soup is healthy, hearty, and perfect for chilly winter days. Plus, it only takes about an hour to make from start to finish. So if you're looking for an easy weeknight dinner idea, this soup is definitely worth checking out.
Why you'll love this Bean Soup Instant Pot recipe
I'll you in on a little secret. Beans are a great, shelf stable ingredient. They will stay good for not months, but years. The provide protein and dietary fiber, help you feel full and keep you regular. An abundance of goodness.
I didn't experiment with them until the dreaded pandemic started and dried beans were one of the only things left at the grocery store. I found myself with a bag of dry 15 bean soup, lots of beans in the color of the rainbow, but no clue how to prepare them.
PRO TIP: Don't skip the step of sorting and rinsing your beans. It is very common to find small pebbles and unwanted debris in the mix.
Dry beans can be time consuming- like it can take over 24 hours to prepare the suckers. And the trouble with 15 bean soup is that the beans are all different shapes and sizes which just throws another monkey wrench into the situation because they are all going to soften and cook at different rates. They used to be a staple in a slow cooker, but now…
Incomes the Instant Pot- sure you can cook your beans ahead of time, but what if you can just throw them all in the pot and hit a button?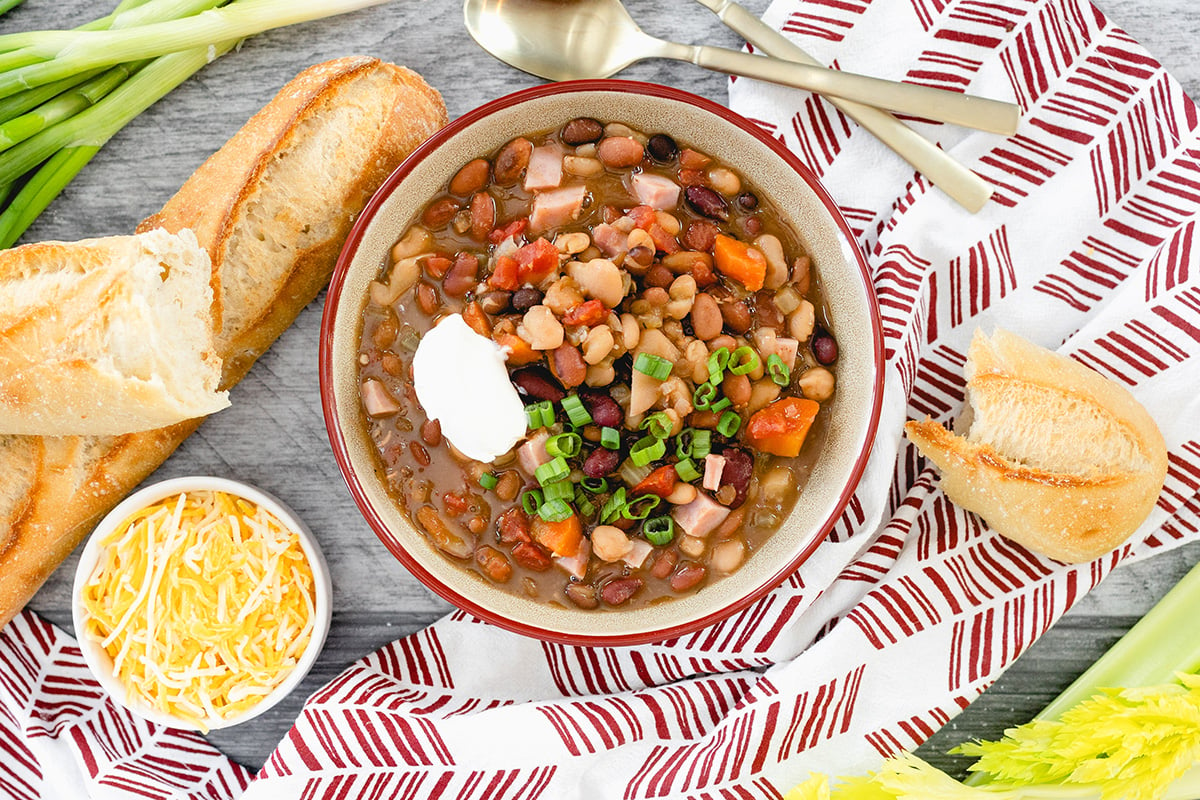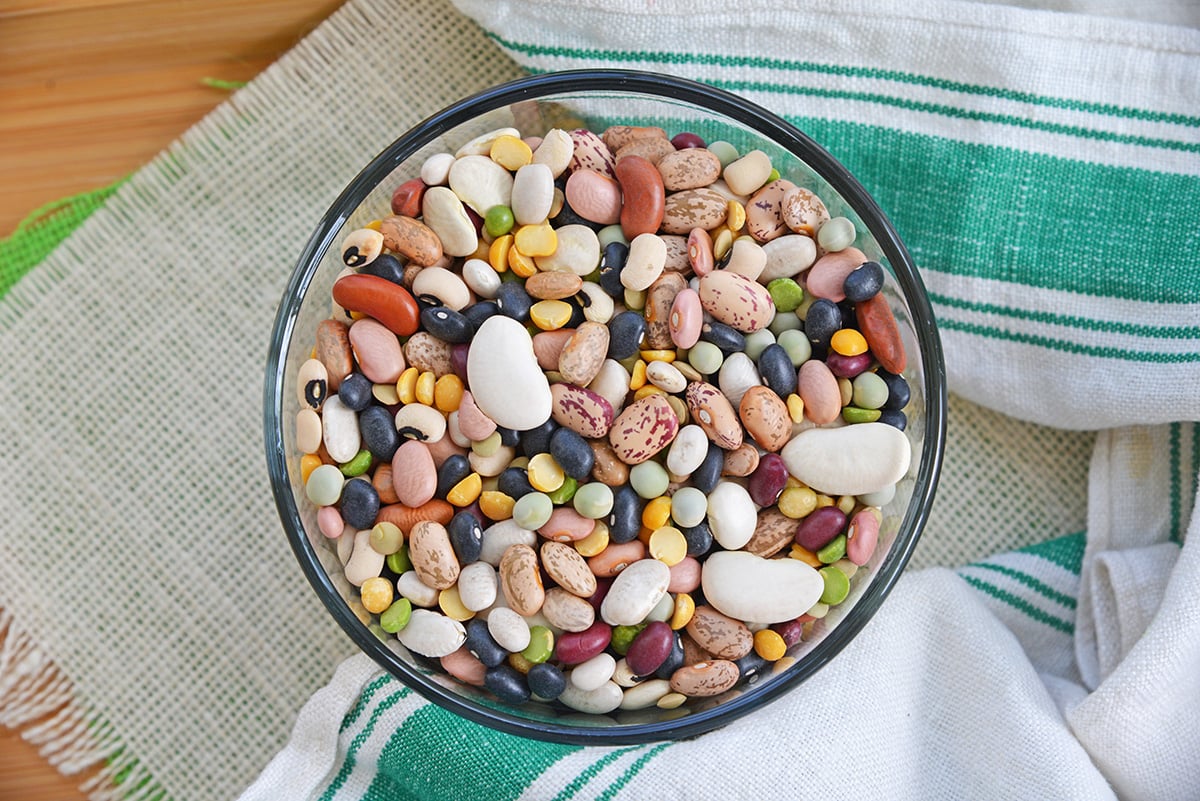 Instant Pot Bean Soup ingredients
Most versions include onion, carrot, celery and garlic. Any of these can be omitted based on what you have left are far as fresh produce. This is really a soup you can't mess up if you tried.
Dry bean mix – the backbone of your soup. Each bag varies slightly, which makes each batch unique.
Butter or Olive Oil – fat is needed to soften the veggies. Really any neutral like vegetable oil will do.
Onion, Carrot & Celery – the trinity of soups!
Fresh Garlic – if garlic is your jam, like it is mine, use more, otherwise cut back. I prefer to use fresh garlic as it produces the best REAL garlic taste, but if you have jarred, it is better than nothing.
Low Sodium Chicken Broth or Vegetable Broth – Reduced sodium gives me more control on the saltiness. Add more at the end for a soupier consistency.
Dried Bay Leaves – Did you know that a fresh bay leaf is super bitter? Yep, it's one of the few ingredients best dried and adds a warm and has a unique flavor of pepper and pine.
Diced Tomatoes – I opt for plain and petite, but Italian seasoning can't hurt.
Protein – Protein is optional, but encouraged for texture and flavor. Cubed ham, ham hocks, bacon, sausage and shredded chicken are my top picks. Just make sure the meat is cooked and drained before adding.
Apple Cider Vinegar – My secret to soups comes from a professional chef who swears that adding a dash of acidity at the very end will brighten the whole profile of any soup. He is right- for this one I used apple cider vinegar, but plain white vinegar. white wine vinegar or lemon juice will also do the trick.
Other popular additions include corn, peas, green beans, diced potatoes and smoked paprika. Have fun with it!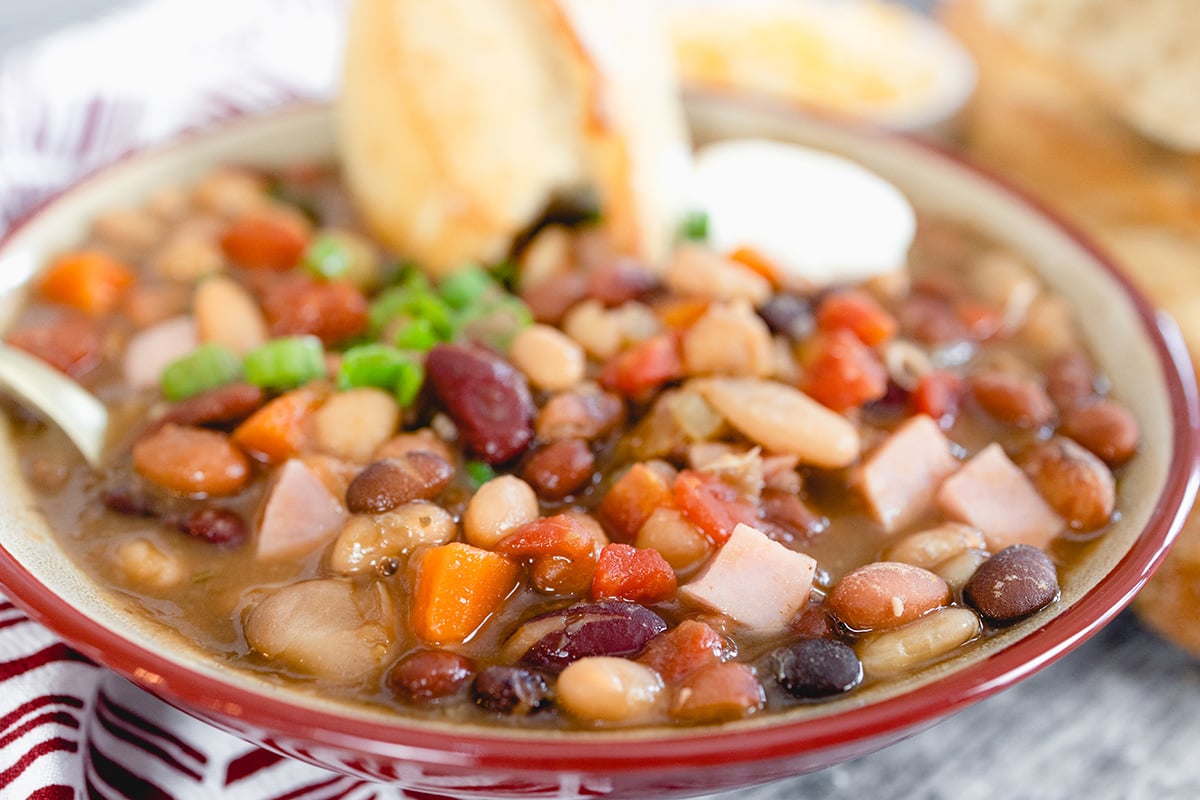 Bean Soup Seasoning
Bean Soup Seasoning sometimes comes in a little packet inside the bean bag and is mainly salt. If you opt to use it, that is fine, BUT it will not have the same smoky flavor as this version. Homemade allows you to modify the salt as well. I would highly recommend using some salt, as it helps to soften the beans and enhance natural flavors, so don't omit it altogether.
Cajun seasoning can also be used for great flavor, about 2 teaspoons.
Coarse Kosher Salt– If using a finer grain, please reduce the salt by at least half, if not more. You can add more, but it's hard to reduce.
Celery Salt– another commonly used form of soup salt, it is very fine, but adds a little celery essence. It can be omitted if you like.
Dried Oregano– Peppery and floral at the same time, we used dried because fresh wasn't available. The general ratio is 1 tablespoon fresh to 1 teaspoon dried. Make sure your dried version is still fragrant before adding, if not, buy a new jar or increase the volume. Most dried herbs tend to start losing potency around 6 months.
Black Pepper- A little goes a long way, feel free to use more before serving as it mutes while cooking.
Liquid Smoke- if you've never used this stuff, your mind will be blown! We use it for our pulled pork too. It adds all the elements of aroma and flavor from long smoked foods without actually smoking. Great to use in anything BBQ related, especially BBQ sauce. It (and the vinegar) are my secret ingredients for outstanding soup.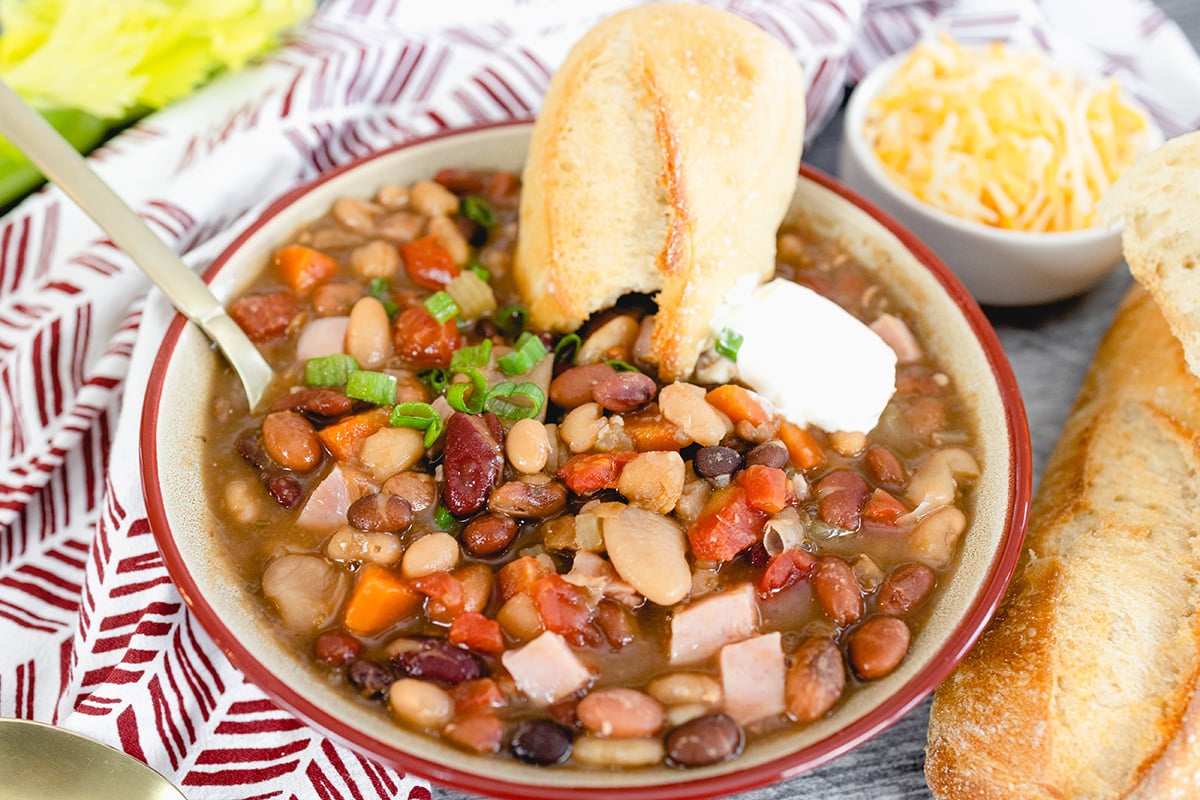 How to make this 15 Bean Soup Recipe
Clearly we making this one in an electric pressure cooker, so pull it out and dust it off.
Use the saute function of your pressure cooker or Instant Pot to saute the veggies until they start to soften. Sweating them release excess water and leaves behind little flavor bombs.
Add the dry bean mix along with the rest of the ingredients up to tomatoes. Do not add the tomatoes and protein here- this is too long of a cook time and they will literally disintegrate.
Cook on manual high pressure for 45 minutes and then give it a quick release. Most folks use a natural release, but I found that cooking longer on the front end resulted in more tender beans and less sticking to the bottom of the pot.
Add the tomatoes and cooked meat and set to "keep warm" for 10 minutes so they can heat through.
Before serving, stir in the apple cider vinegar and taste for salt and pepper.
Serve immediately with sour cream, plain Greek yogurt or cheese and crackers.
How long does it take for beans to cook in a pressure cooker?
The soup takes about 45 minutes, but if you include saute time and the time it takes to build pressure, you are looking at closer to an hour. While this still seems like a long time, softening and soaking dry beans from scratch can take 12-24 hours, so there is some time saved.
How to serve Instant Pot 15 Bean Soup
I like to serve my soup with a piece of crusty bread. If you are using your pantry staples, my Cheddar Beer Bread or 2-Ingredient Bread are perfect choices.
A nice green salad is also a good choice. I also like to top mine with sour cream or plain Greek yogurt.
Instant Pot soup can be served alone, but it pairs wonderfully with a side salad or crusty bread to mop up the savory soup base after the larger bits are done. It can be served as an entree or appetizer to nearly any meal.
Toppings
This hearty soup is so tasty, it doesn't need toppings, but if you insist, we like using sour cream or plain Greek yogurt, Parmesan cheese or any other shredded cheese is also a great touch. Something green like scallions or chives is welcome for fresh crunch and flavor.
And of course crackers- oyster crackers or saltines are traditional. I also just like a crusty piece of bread for dipping and sopping up the sides of the bowl when I am through.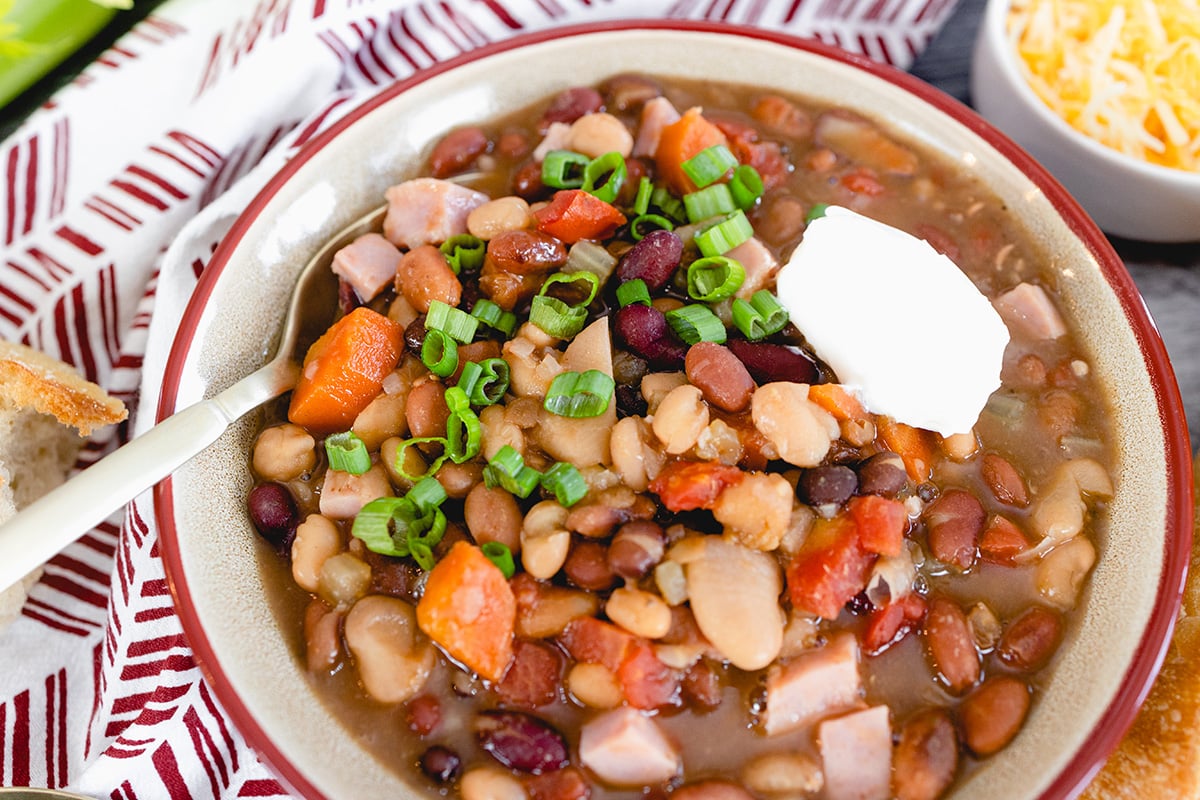 15 Bean Soup Instant Pot storage
Storage: Bean soup stays good in the fridge, chilled, for up to 1 week. Note that soups tend to become muted when chilled, so correct seasoning with salt and pepper before serving again.
Freezing: After making it, store in a plastic bag or plastic container for up to 6 months. Beans do defrost a little mushier than they went in.
FAQs
What beans are in 15 bean soup?
The different types of beans depend on what brand you are buying, there are many bean varieties, but they all generally contain pinto beans and navy beans. The standard bag major grocery stores carry generally contains:
Northern
Pinto
Large lima beans
Yelloweye beans
Garbanzo beans
Baby lima
Green split pea
White kidney beans
Cranberry beans
Small white beans
Pink beans
Small red beans
Yellow split peas
Lentils
Navy
White kidney
Black beans
The bag is 20 ounces or 2 ½ cups. You can use any blend of dried beans and lentils you like.
Do you have to soak 15 beans before cooking?
Since you are cooking the raw, dry beans in the instant pot, they do not need to be soaked before adding.
How do you thicken 15 bean soup?
The best way to thicken any bean soup is to spoon out a few tablespoons of beans and mash them, adding them back to the pot and stirring. This mixture will add flavor and also thicken.
Alternatively, you can also add 1 tablespoon of cornstarch or arrowroot blended with 1/4 cup water or butter beads mixed with flour until it reaches the desired consistency.
How healthy is 15 bean soup?
This is a loaded question and one that truly depends on your definition of "healthy". Overall, beans are high in protein and fiber and bean soup is generally pretty low in calories and fat.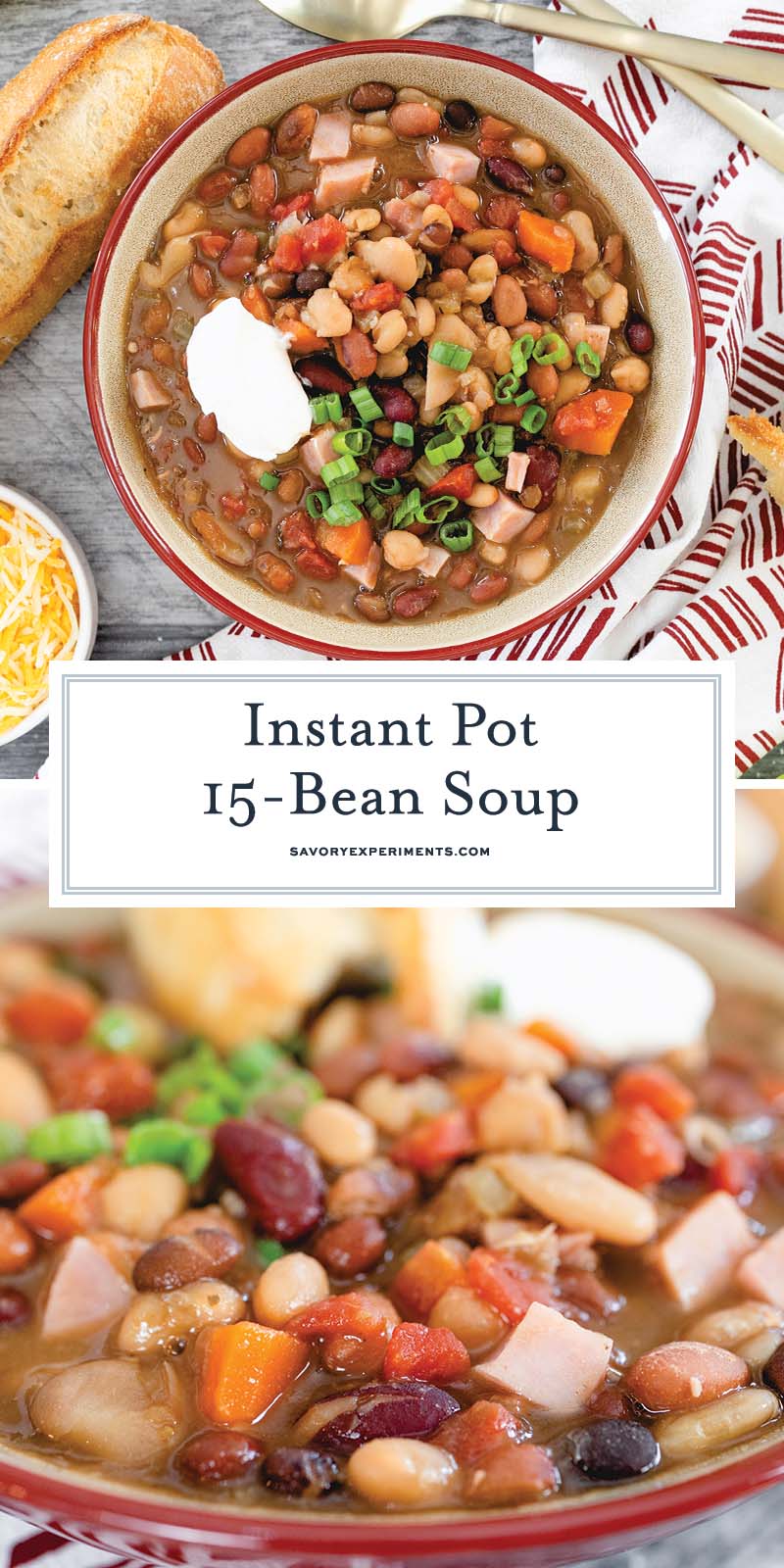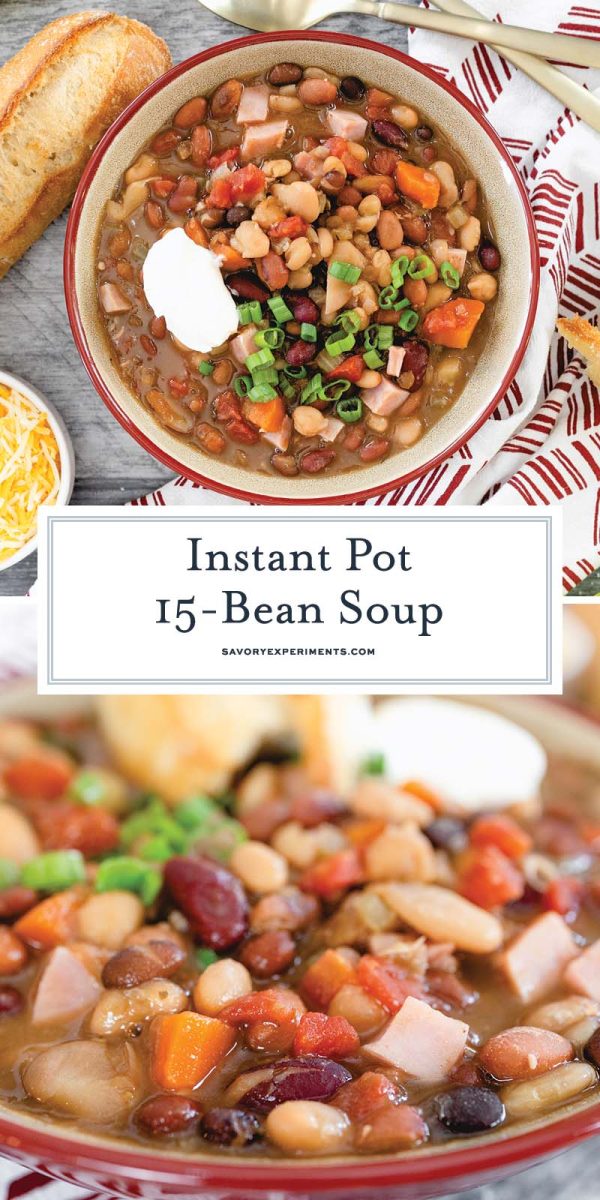 More Hearty Soups and Stews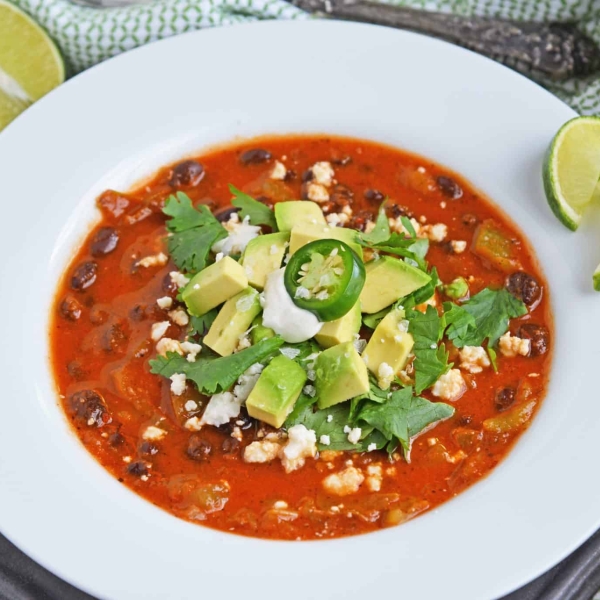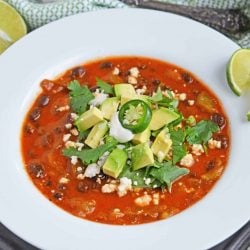 Black Bean Green Chile Soup Recipe
Black bean Green Chile Soup is a tomato based soup with smoky chipotle peppers and robust flavors. Top with avocado, cilantro and queso fresco! Hearty enough for an entree, but can also be an appetizer!
See The Recipe!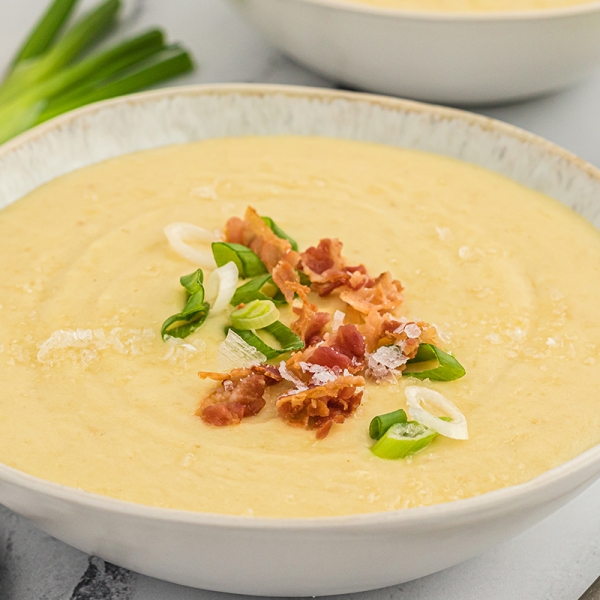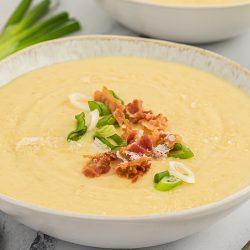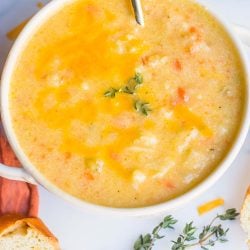 Cauliflower Soup
When you're craving something warm and comforting but need to add some veggies to your diet, a bowl of this Cauliflower Soup is perfect!
See The Recipe!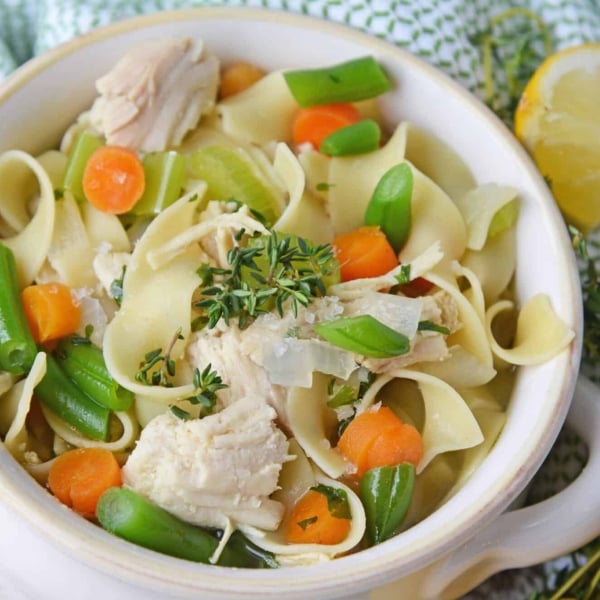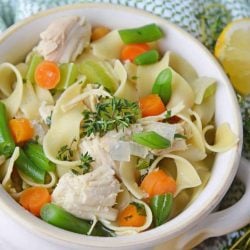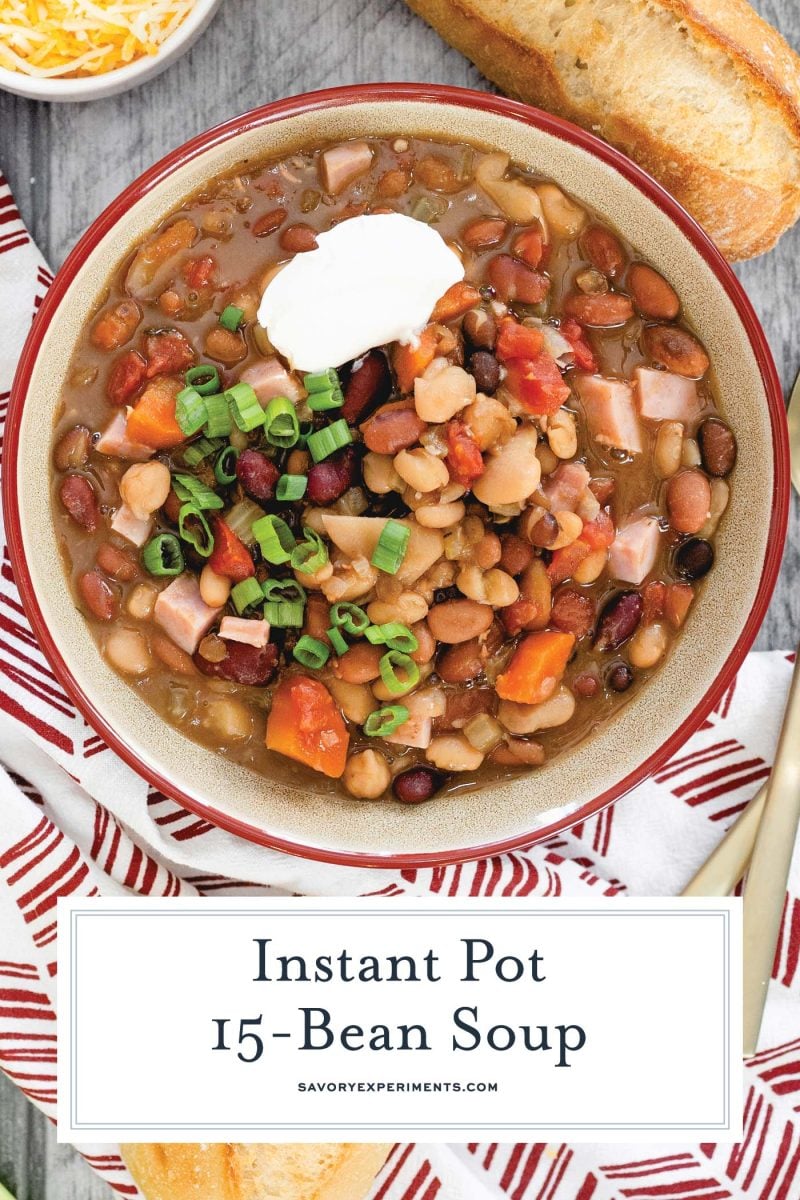 Before you get started, check out my Instant Pot for Beginners and Pressure Cooker Altitude Cooking Calculator, should you need it! We have even more simple recipes using minimal ingredients and pantry staples!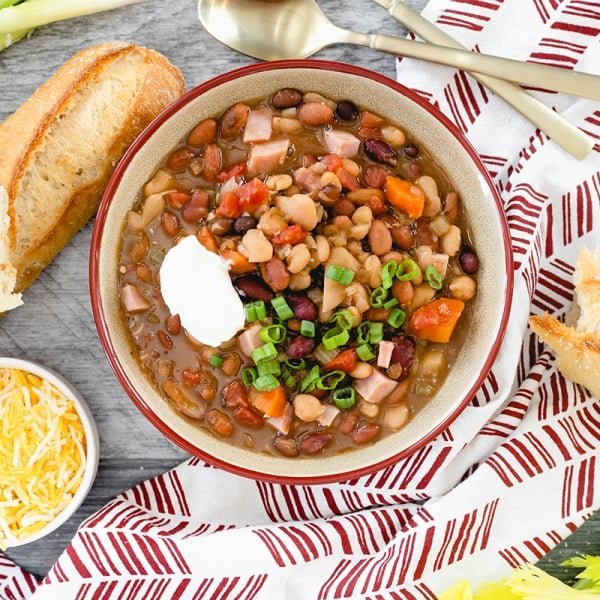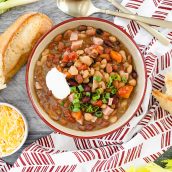 Instant Pot 15 Bean Soup
This easy 15 Bean Soup Recipe goes from dry beans to deliciously magnificent in just an hour using out two chef-approved secret ingredients.
Ingredients
Topping:
Sour cream or plain Greek yogurt
Instructions
Set the Instant Pot to the sauté function and heat olive oil or butter. Add the onions, carrots, celery and garlic. Sauté for 2-3 minutes or until they start to soften.

Add the dry bean mix, broth and bay leaves. Stir in the salt, oregano, celery salt, black pepper and Liquid Smoke and give it a good stir so none of the beans are sticking together.

Put on the lid and seal the vent. Set to manual pressure HIGH for 45 minutes.

Do a quick release and then add the tomatoes and cooked meat. Return the lid and turn to "keep warm" for 10 minutes.

Stir in the apple cider vinegar and taste for salt and pepper. Serve immediately with sour cream, plain Greek yogurt or Parmesan cheese.

If you've tried this recipe, come back and let us know how it was in the comments or ratings!
Notes
*You can use any type of cooked meat you like. My favorites are chopped ham, crumbled bacon (only use ½ cup), sliced sausage, shredded chicken or ground beef. You can use more or less meat as desired.
**If you want to use the bean seasoning packet instead of the homemade seasoning mix, be my guest, but don't add both, it will be way too salty.
***If you are going to add other vegetables like corn, peas or green beans, add them with tomatoes and sausage. You can add frozen vegetables directly to the soup, no need to thaw. If using potatoes, add with carrots, onion and garlic in the beginning. Spices and herbs can be cooked with the beans too.
Nutrition
Calories:
313
kcal
,
Carbohydrates:
32
g
,
Protein:
17
g
,
Fat:
14
g
,
Saturated Fat:
5
g
,
Cholesterol:
33
mg
,
Sodium:
2263
mg
,
Potassium:
936
mg
,
Fiber:
10
g
,
Sugar:
3
g
,
Vitamin A:
1985
IU
,
Vitamin C:
29
mg
,
Calcium:
102
mg
,
Iron:
4
mg