It seems when I order fish tacos there is always something missing, something that would make them just a tad more interesting.
I finally started to put together my own recipe after ordering some very disappointing, extremely expensive poolside soft tacos from a very famous restaurant in Las Vegas.
These Best Fish Tacos are full of flavor with pico de gallo, shredded cabbage, avocado, queso fresco and a special homemade hot sauce!
These easy fish tacos are what I believe to be the best fish tacos. Fresh ingredients, tons of flavor and let's face it- they are pretty to look at!
The two factors that set these apart from the rest are a vinegar based hot sauce and unique citrus fish marinade. Most fish tacos don't use a marinade at all for the fish. I see that as just another way to add another layer of sophistication and flavor.
In fact, in Mexico, seafood marinades are made using sour oranges instead of any vinegar. Both acidic, sour orange is hard to find in the states, so vinegar is a nice substitute.
Citrus can tenderize fish, but it can also make it tough if left too long, which is why this quick marinade is perfect!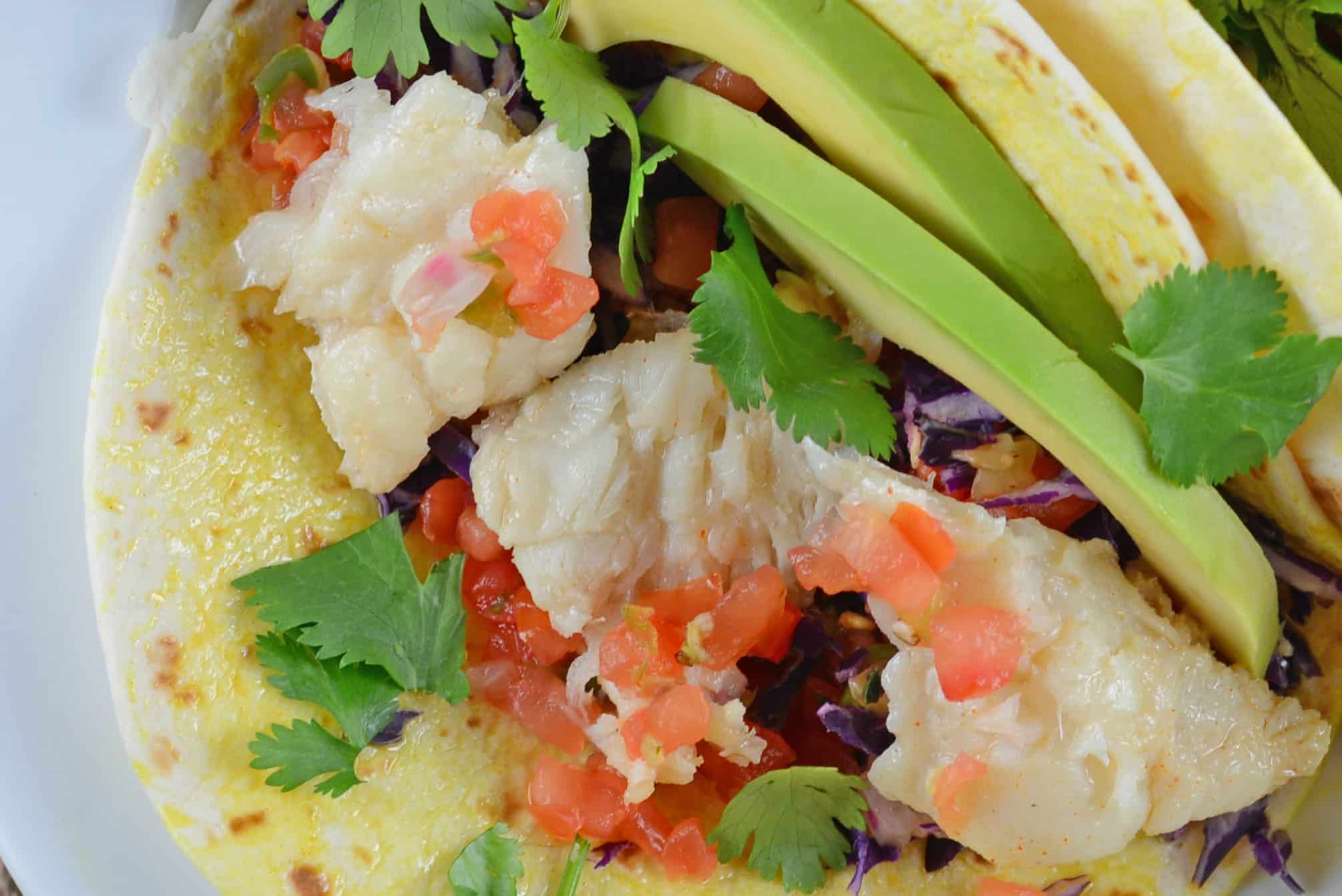 As for the hot sauce, use a little, or use a lot. Spicy hot sauce with slightly sweet with cilantro undertones and fish taco slaw make for one delicious taco. You can omit the cilantro if you are one of the 50% of the population that has the "cilantro tastes like dirt" gene.
Traditional fish tacos (any soft taco really) are made with corn tortillas, which can be chewy. Heating them in the oven or charring them on the grill will make them softer.
You can also opt for a flour tortilla and no one will judge, I promise. If you do use corn tortillas, use any leftovers to make homemade tortilla chips.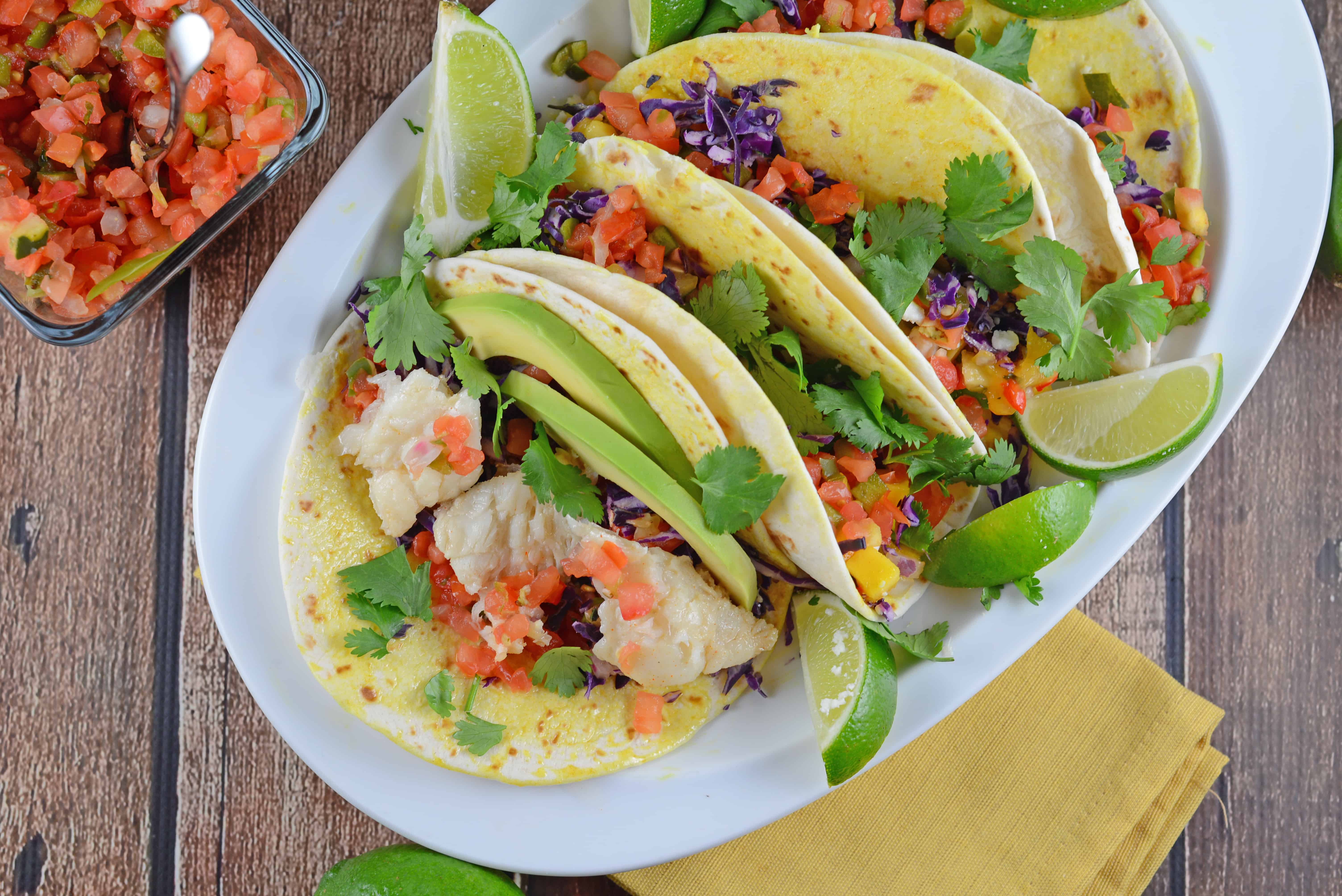 I'm also going to share a little tortilla secret. Mix spices with extra virgin olive oil or canola oil and baste directly onto the tortilla before assembling your soft taco.
This softens and adds flavor! Fish does not take long to marinate, especially when it is thin. Do not marinate fish for as long as you would other meats.

Tools for making Fish Tacos:
Pie Plates– I think every kitchen should have at least three shallow dishes or pie plates for the process of breading or marinating. You can also bake pies in them! Hehe.
Wood cutting board – wood won't dull your knives like plastic and if treated properly, has natural antimicrobial properties.
Good knife – Global is my favorite! They are worth the price, I promise. I am kind of obsessed with them and store them tucked away so no one else can use them. Including hubby. Hands off my good stuff!
If you like my Fish Tacos, check out some other tasty Mexican inspired dishes:
BOMB Shrimp Tacos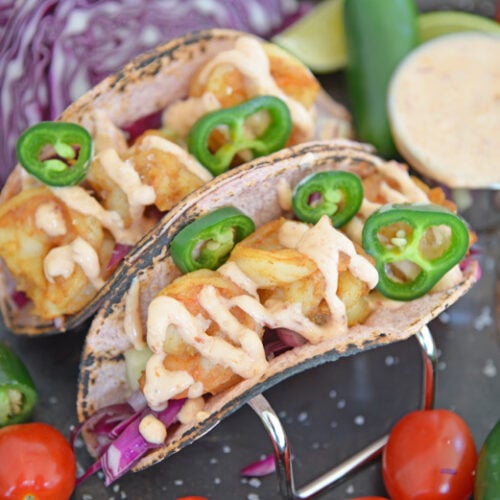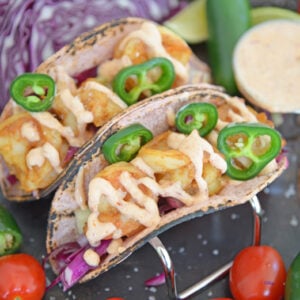 Easy shrimp tacos don't get any better than these Shrimp Tacos with Cabbage Slaw! Taco Tuesday will never be the same! Full of fresh flavor and seasoning!
Queso Fundido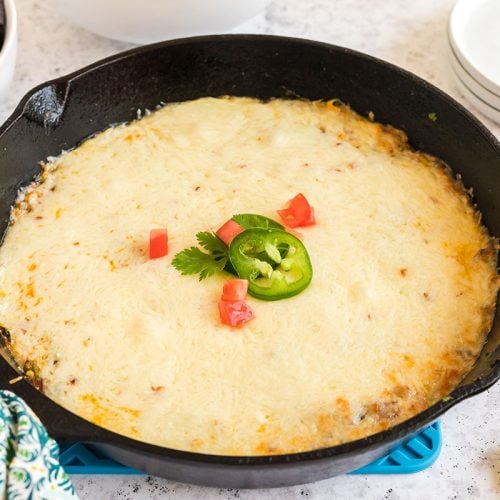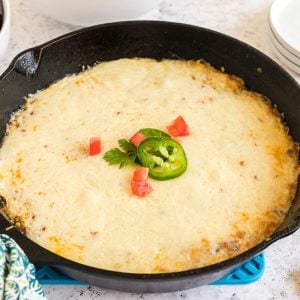 Queso Fundido is an easy Mexican appetizer made of chopped vegetables, cilantro, chile powder and shredded cheddar and pepper jack cheese.
Tater Tot Nachos (Totchos)
Loaded Tater Tot Nachos, also known as Totchos, are the ultimate game day snack. Smothered with cheese, chicken, pico and green chiles, they are sure to make your guests happy!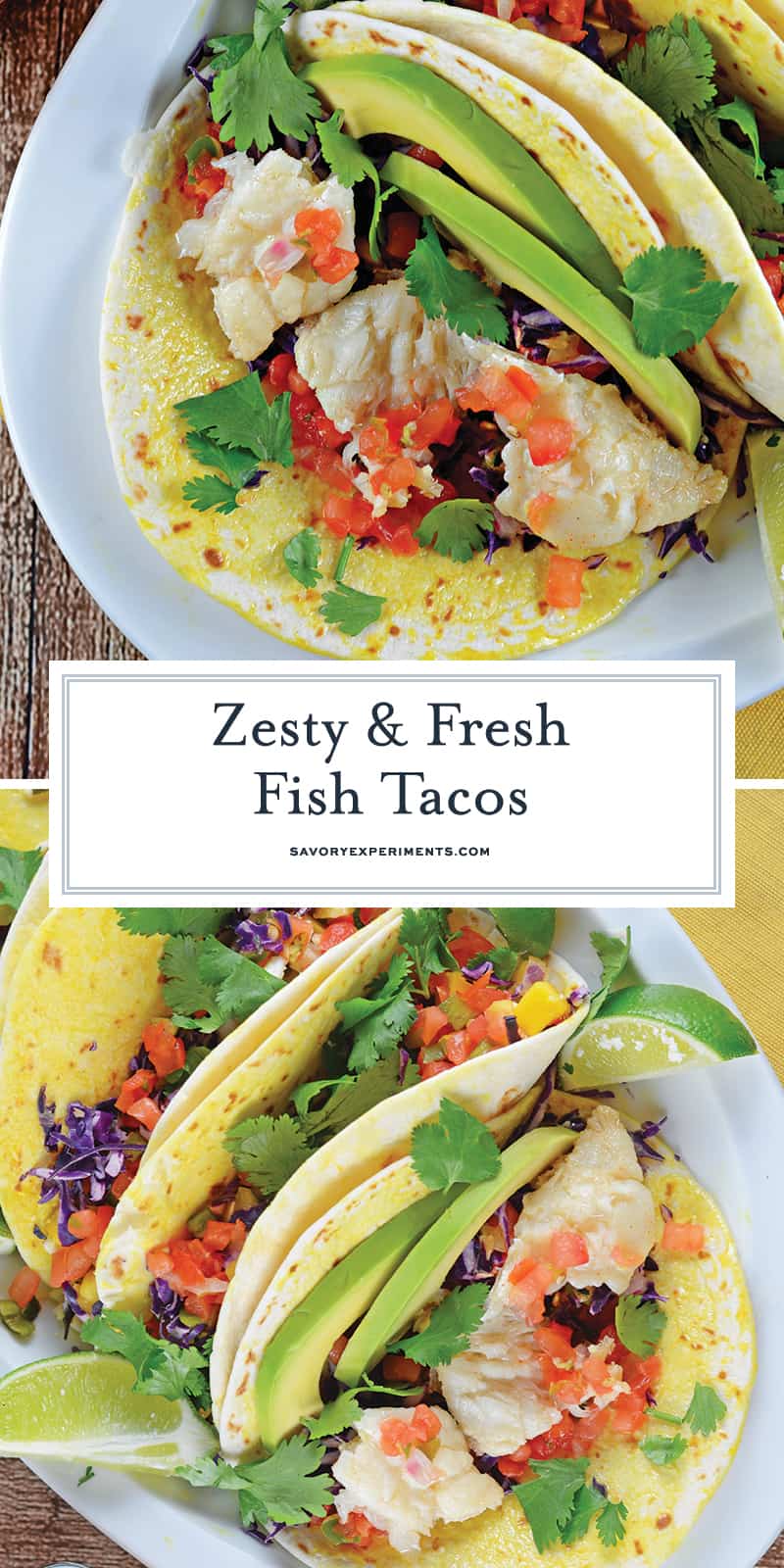 ---
---
Fish Tacos
Easy fish tacos full of flavor with pico de gallo, shredded cabbage, avocado, queso fresco and a special homemade hot sauce.
Ingredients
Instructions
Wash and pat dry fish.

Combine canola oil, lime juice, ancho chili powder, water and honey in a shallow baking dish or pie plate. Add cod, place in refrigerator for 15 minutes.

Flip to other side and return to refrigerate for additional 15 minutes. Meanwhile, prepare other items.

Make the signature fish taco sauce by combining hot sauce, white vinegar, cider vinegar, brown sugar, cayenne peppers, ancho chili powder, salt and pepper. Whisk well.

Wrap tortillas in aluminum foil and place in oven on low heat to warm. Room temperature corn tortillas are rubbery. You can also heat up a small amount of oil in a large frying pan and heat them on either side for 20 seconds. Don't go too long or else they will crisp and then you will be having fish tostada (worse things can happen!)

In medium frying pan, spray cooking spray and heat over medium heat. Place cod fillets in the pan, 3 minutes on each side or until they flake easily with a spoon. Remove from pan and slice in ½ thin strips.

Combine extra virgin olive oil in a small bowl and whisk with cumin and fine sea salt. Baste onto corn or flour tortillas before assembling.

To serve you can place in an assembly line along a counter for guests to make their own or you can place a strip or two of fish, shredded cabbage and a slice of avocado in each tortilla and then place the other fixings on the side. Drizzle hot sauce in the taco or place a small bowl on each plate for dipping. These can get messy- you'll be tempted, but don't put too much in one taco! Garnish with lime wedges, squeeze on top of tacos. You can also make a miniature assembly line on individual plates as seen above. Enjoy!

If you liked this recipe, make sure to come back and let us know in the comments!
Nutrition
Calories:
647
kcal
|
Carbohydrates:
70
g
|
Protein:
29
g
|
Fat:
28
g
|
Saturated Fat:
7
g
|
Cholesterol:
57
mg
|
Sodium:
1915
mg
|
Potassium:
842
mg
|
Fiber:
6
g
|
Sugar:
17
g
|
Vitamin A:
890
IU
|
Vitamin C:
22.9
mg
|
Calcium:
307
mg
|
Iron:
4.2
mg