Ya, ya, ya. I know what you are thinking… you have always known how to boil corn on the cob. You boil some water, throw the corn ears in and wait until it turns a bright yellow.
How hard can that be?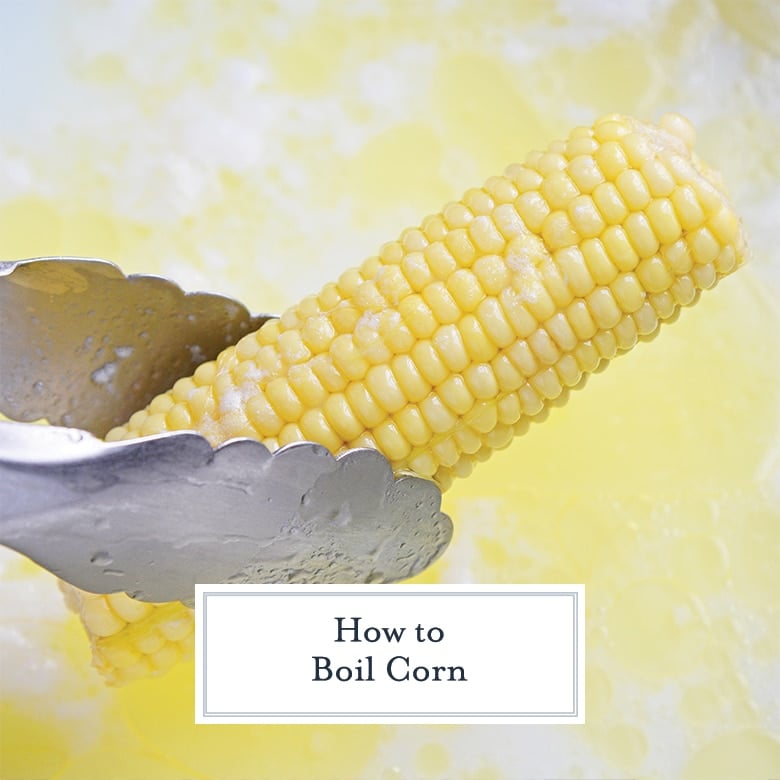 You will love this Boiling Corn on the Cob technique
Corn is a miraculous vegetable. It can be cooked eaten so many different ways. From grilling, to boiling, baking, frying, popping or even steaming, it is sweet and delicious.
It can be eaten on its own, in a salad, topped on pizza, baked into bread, fried into pancakes, paired with cheese lumped into soups and stews. It is truly a verstile ingredient.
Boil Corn on the Cob
Forget what you think you know about how long to boil corn and in what liquid. This method is simple, yet makes the corn super flavorful!
Well, you are also here reading this which suggests you think I know something about boiling corn that you don't. Maybe you know my trick, maybe you don't. Keep reading…
Some people have theories about starting with cold water vs. hot water. But I sincerely think my method yields the best corn, no matter the temperature of the water.
The BEST recipe for Cooking Corn on the Cob
Before I give away the secret technique, I do understand that a really good ear of corn doesn't need anything special. I totally agree with that statement.
When you hit the sweet spot at the end of the summer when all the roadside stands are selling corn for super cheap, buy it. Buy it and eat it every night for dinner just plain.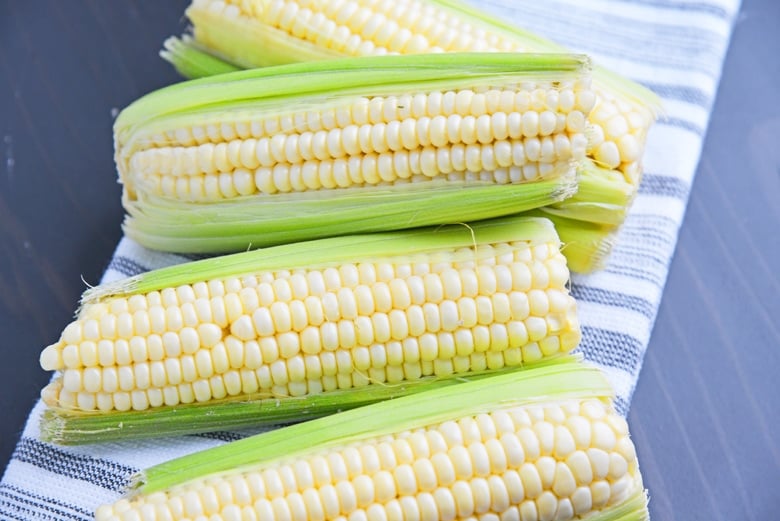 It doesn't need anything else. No butter, no salt and no pepper. The perfect side dish.
I could honestly eat corn with every meal. It's so incredibly easy to make, and it is delicious! You couldn't ask for anything better.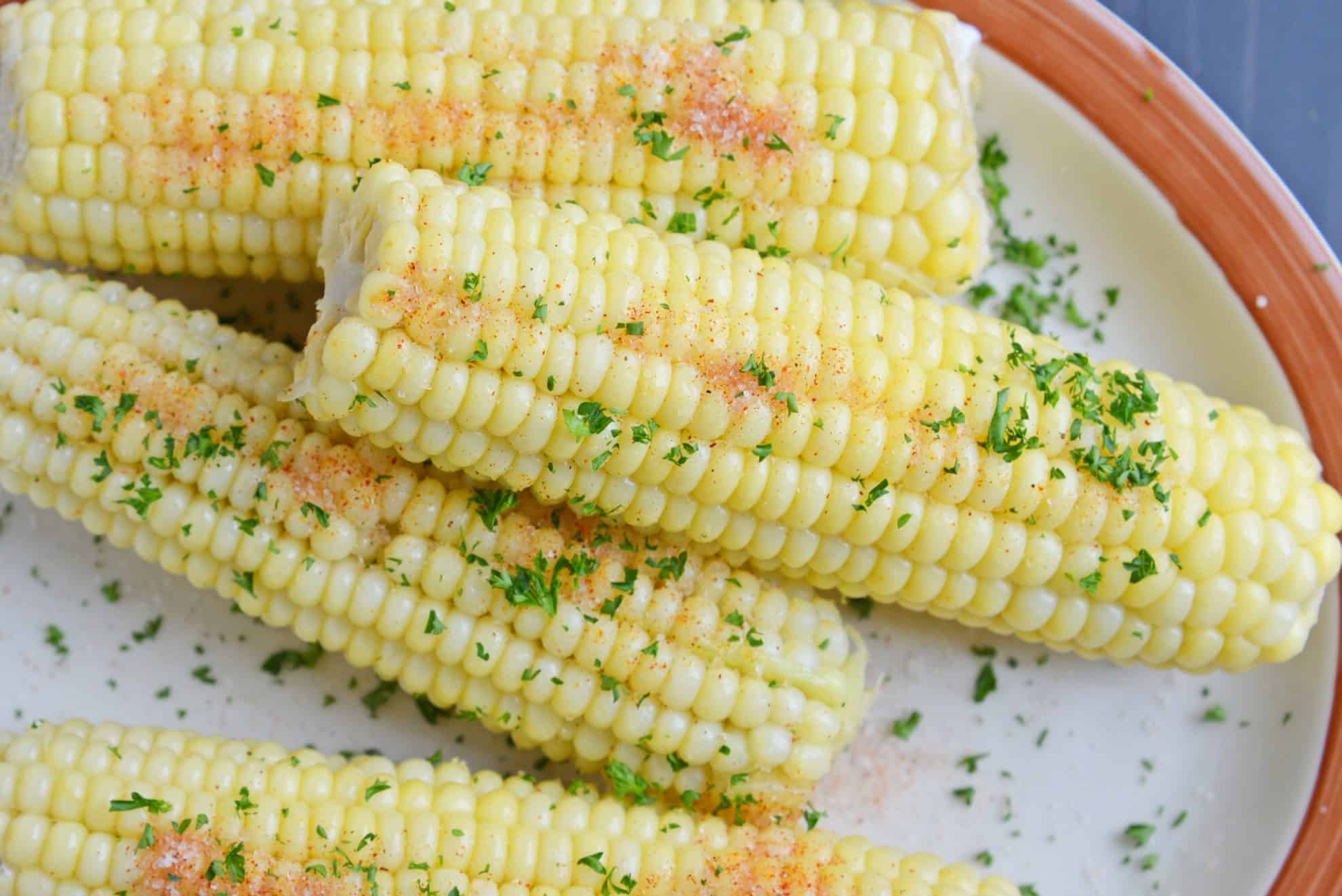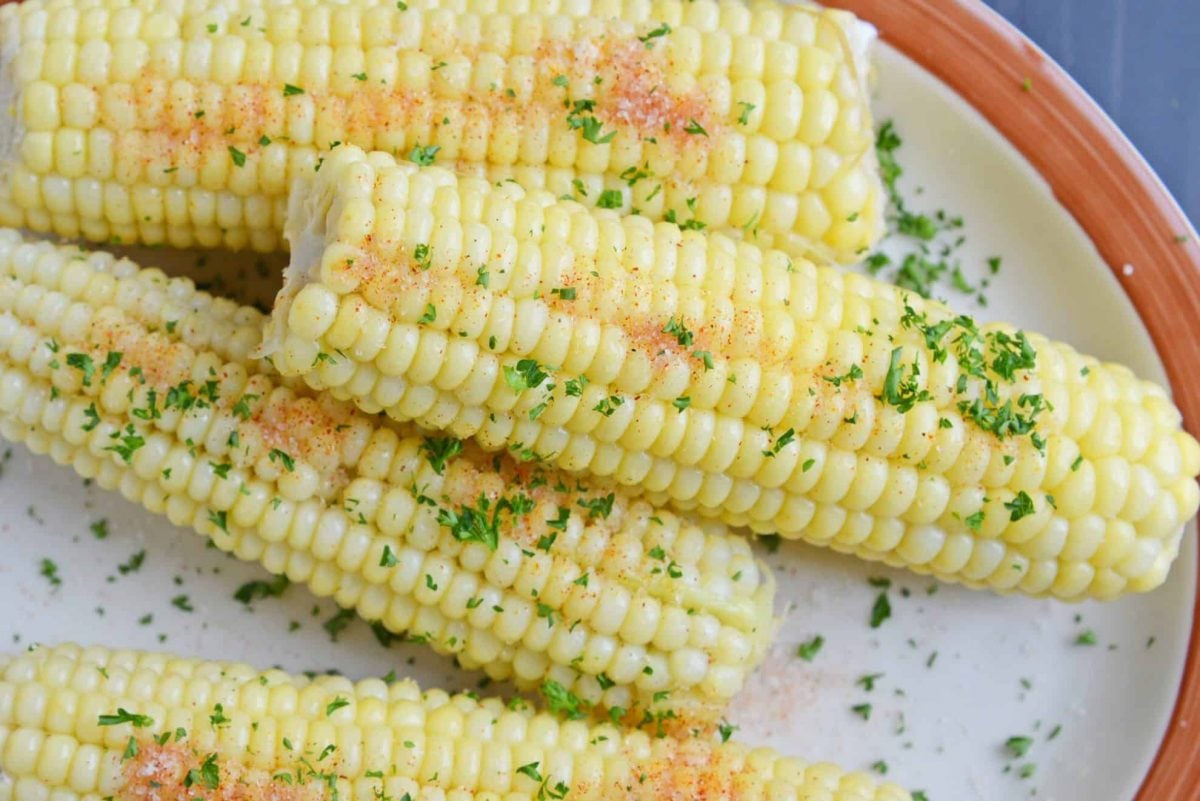 I also love watching my Facebook feed flood with folks claiming their state has the best corn. People get very territorial and emotional over corn on the cob.
Boil Corn Seasoning
But when you aren't in that few week period, or in the middle of the winter, you aren't going to get that succulent, sweet-on-its-own perfect corn. You are going to need to doctor it up a bit.
There are lots of ways to season sweet corn outside of butter and salt that I love, but I also see the importance of having a basic corn recipe. One that complements the masses instead of the few. And this How to Boil Corn is the base for that recipe.
The trick? Not just water. Water + milk + butter. And boil.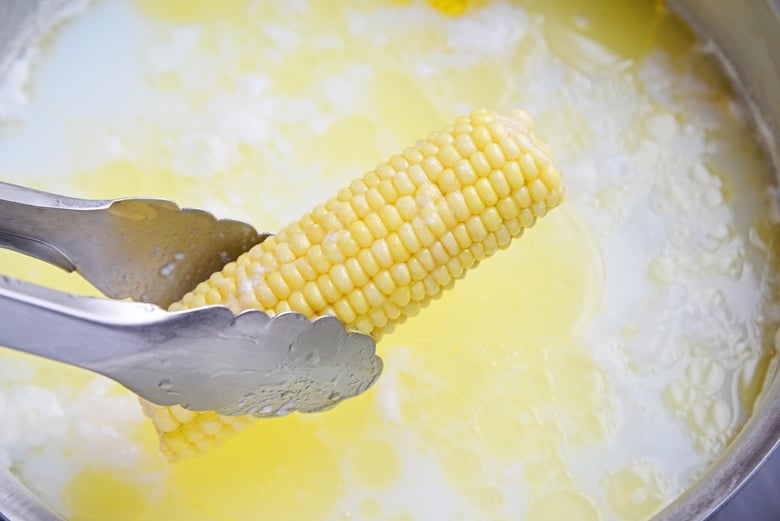 Milk helps to sweeten the lack luster kernels while butter cooks its way into every nook and cranny. Nothing makes me more sad than slathering my corn cob with a pad of butter, only to find most of it pooling on the plate. You know how much I love and respect butter!
Here we are essentially poaching fresh corn in butter, much like you would a lobster tail. It will come out not needing any further buttering, although I have been known to still try and get a little more on.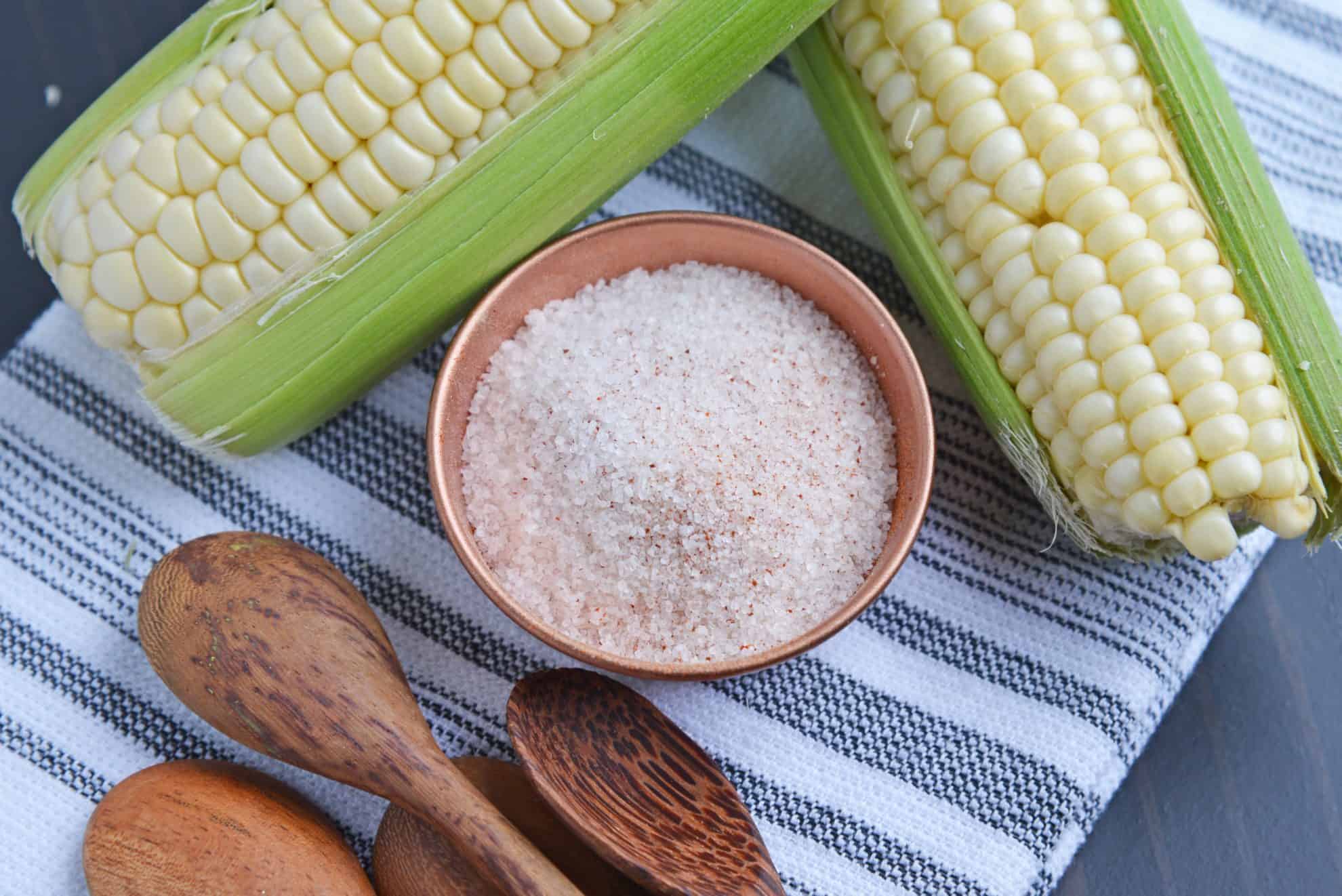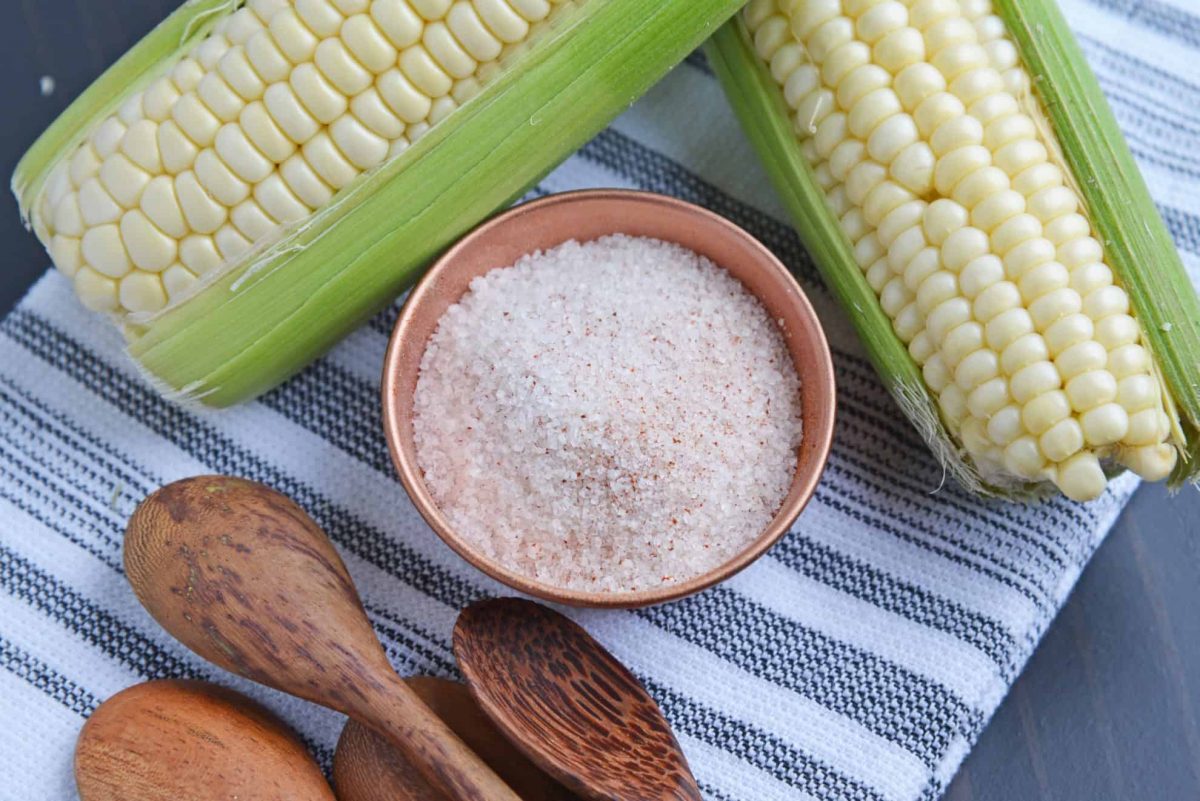 How to Boil Corn on the Cob
Start by filling a stock pot or Dutch oven with water. Add in the salted butter and milk and bring to a boil. Add the husked corn, cover the pot and boil for 10 minutes (or a little longer if you need.)
After you remove your corn from boiling, then a little sprinkle of all-purpose best corn on the cob seasoning will give it the finishing touch it needs before gracing the table. It makes the best side dish for literally any meal!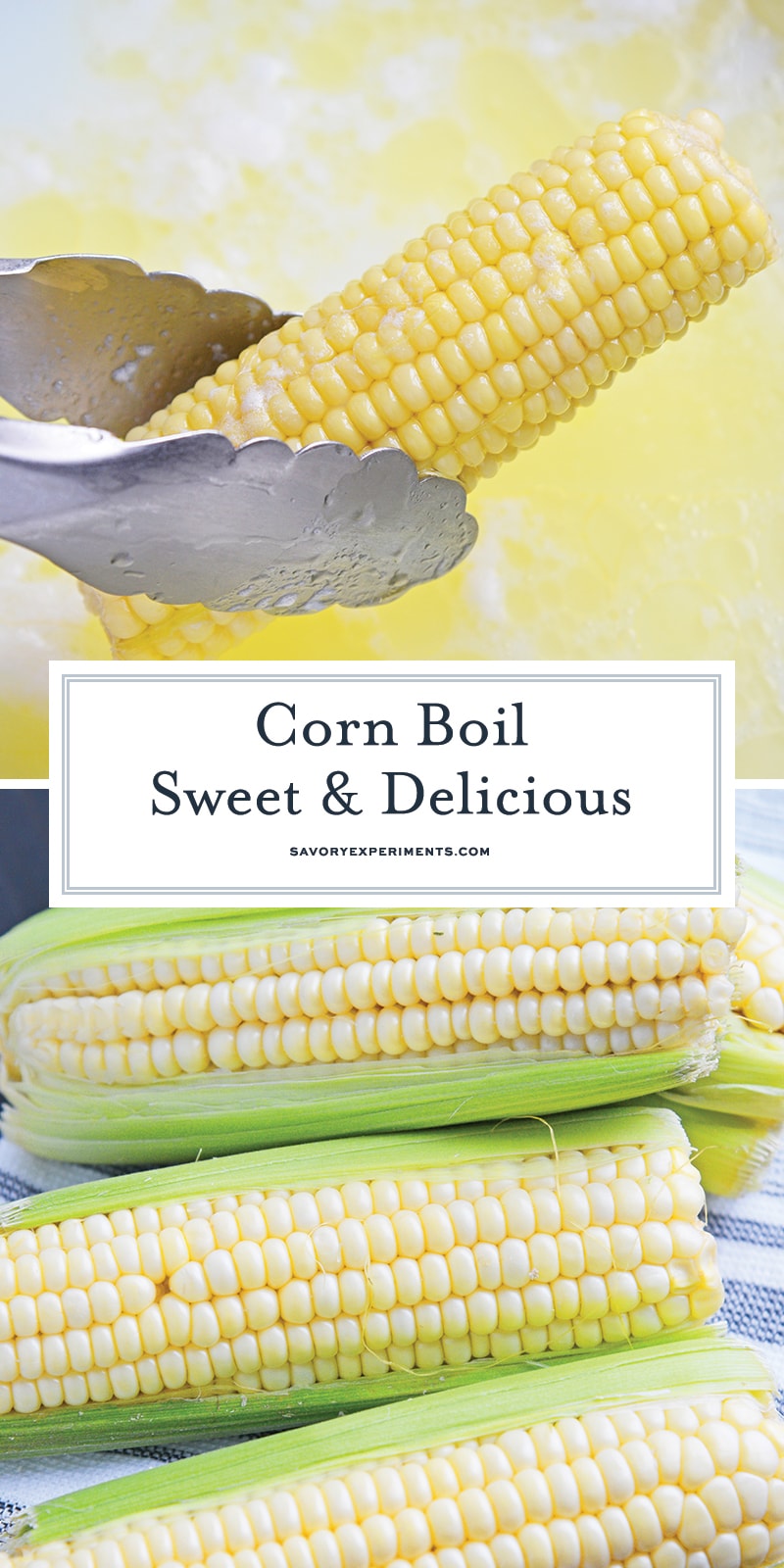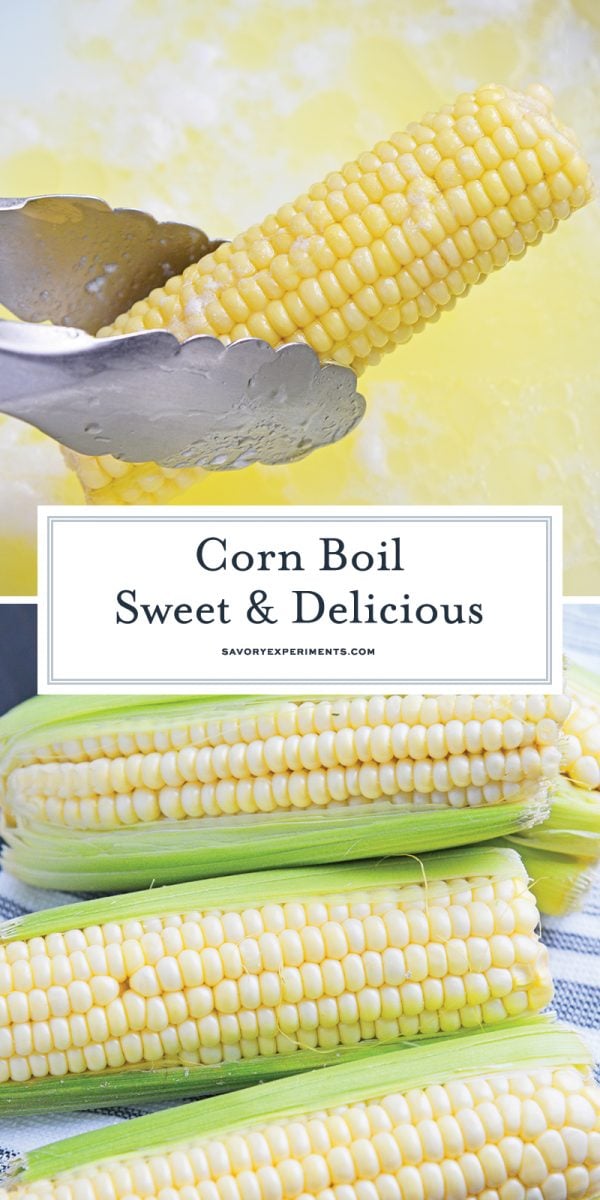 How long to boil corn on the cob?
The general rule is to boil corn for 10 minutes, however cooking time does vary based on altitude and also the size of your corn.
You might need to boil a large ear it a little longer at 15 minutes or small ones shorter for 8 minutes. The good news is that it is hard to hurt it and it won't dry out because the boiling liquid keeps it subtle.
How to cook corn on the cob for a crowd?
When I'm making it for a crowd, I like to cut each ear of corn in half. If you're anything like me, there will be plenty of food for your guests to choose from, so smaller portions help to ensure they get to try everything.
I also use a large stock pot to fit the maximum number of ears.
If you need to boil the corn in multiple batches, just cover the corn in foil to keep the heat in.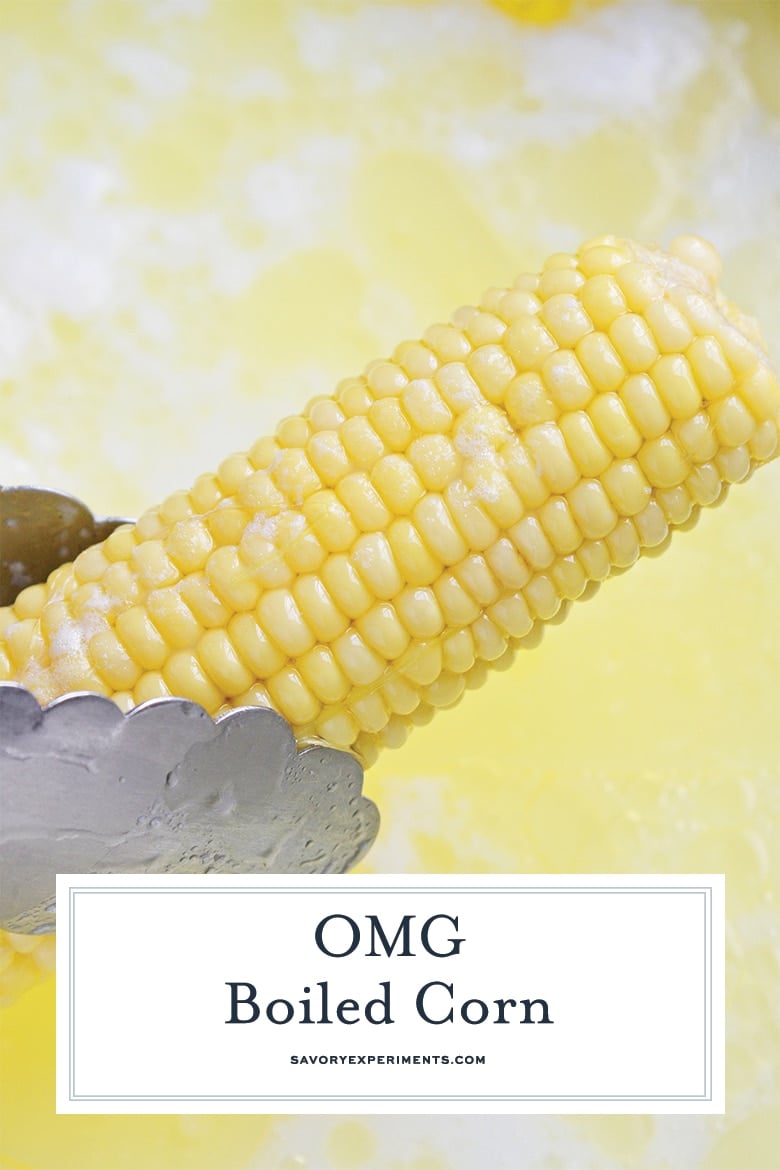 Tools for Boiling Corn:
Dutch Oven– every kitchen should have one! They are heavy. They are expensive. They are worth it!
Corn Husk Silker Remover Tool– It is easy to get the husks off, but getting the silks off is another story! Use this easy tool, just pass it through!
How to Boil Corn on the Cob FAQs
Do you put corn in before or after the water boils?
You can add the corn before or after the water boils. It is fairly hearty. I like to add mine after the water boils so it doesn't get overcooked.
How do I know when my corn on the cob is done boiling?
The corn will be a vibrant color of yellow. The kernels will be plumper and tender to the touch (but don't burn yourself!)
Other delicious ways to make corn: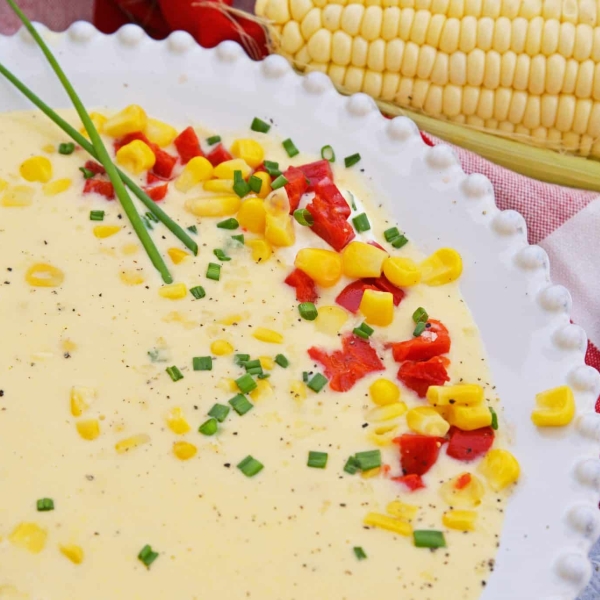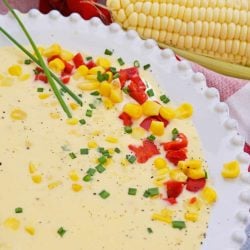 Instant Pot Corn Chowder
This Instant Pot Corn Chowder is a potato corn chowder that's packed with flavor! Using an instant pot makes this already easy soup even easier! You'll never want to make another corn chowder recipe again.
See The Recipe!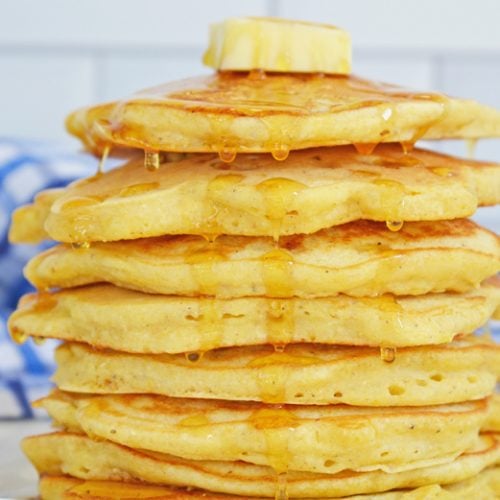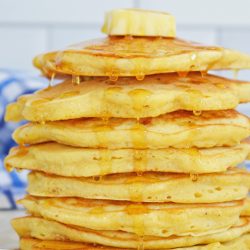 Griddle Corn Cakes
Fresh and fluffy- these griddle corn cakes can be served for breakfast, lunch or dinner with 10+ east variations to make them southwestern, cheesy, bacon-lover and more!
See The Recipe!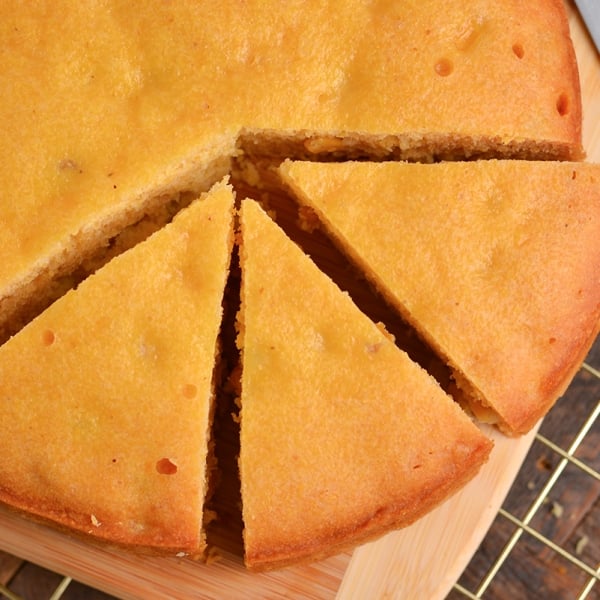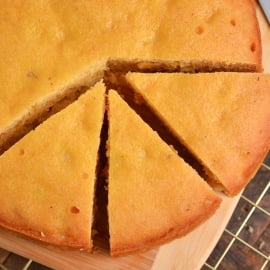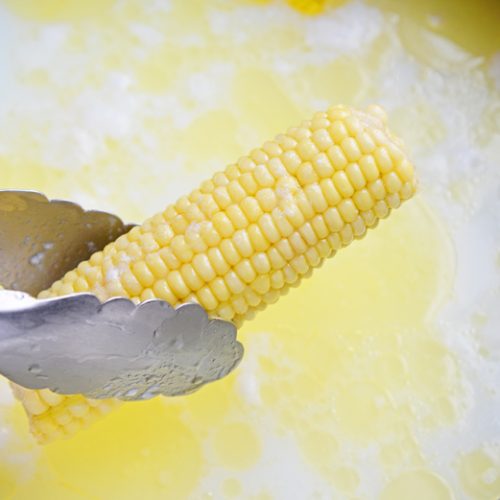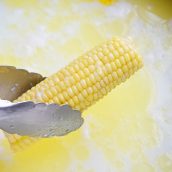 Boil Corn on the Cob
Forget what you think you know about how to boil corn on the cob. This method for boiled corn is simple, yet makes the corn super flavorful!
Instructions
Fill a large stock pot or Dutch oven 3/4 of the way with water. Bring to a low boil.

Add salted butter and whole milk and bring to a low boil.

Add corn and boil for 10 minutes.

Remove, tapping to get off excess water, and place on a serving tray.

Add desired corn seasoning or butter and serve immediately.

If you've tried this recipe, come back and let us know how it was!
Notes
If you are using unsalted butter, add 1/2 teaspoon Kosher salt to boiling water.
Nutrition
Calories:
198
kcal
,
Carbohydrates:
18
g
,
Protein:
4
g
,
Fat:
14
g
,
Saturated Fat:
8
g
,
Cholesterol:
34
mg
,
Sodium:
128
mg
,
Potassium:
283
mg
,
Fiber:
2
g
,
Sugar:
7
g
,
Vitamin A:
570
IU
,
Vitamin C:
6.1
mg
,
Calcium:
40
mg
,
Iron:
0.5
mg