Homemade chili is one of my all time favorite cool weather comfort foods. This easy vegetarian sweet potato chili features sweet potatoes and squash as the stars and packs all the same classic chili flavors, minus the meat.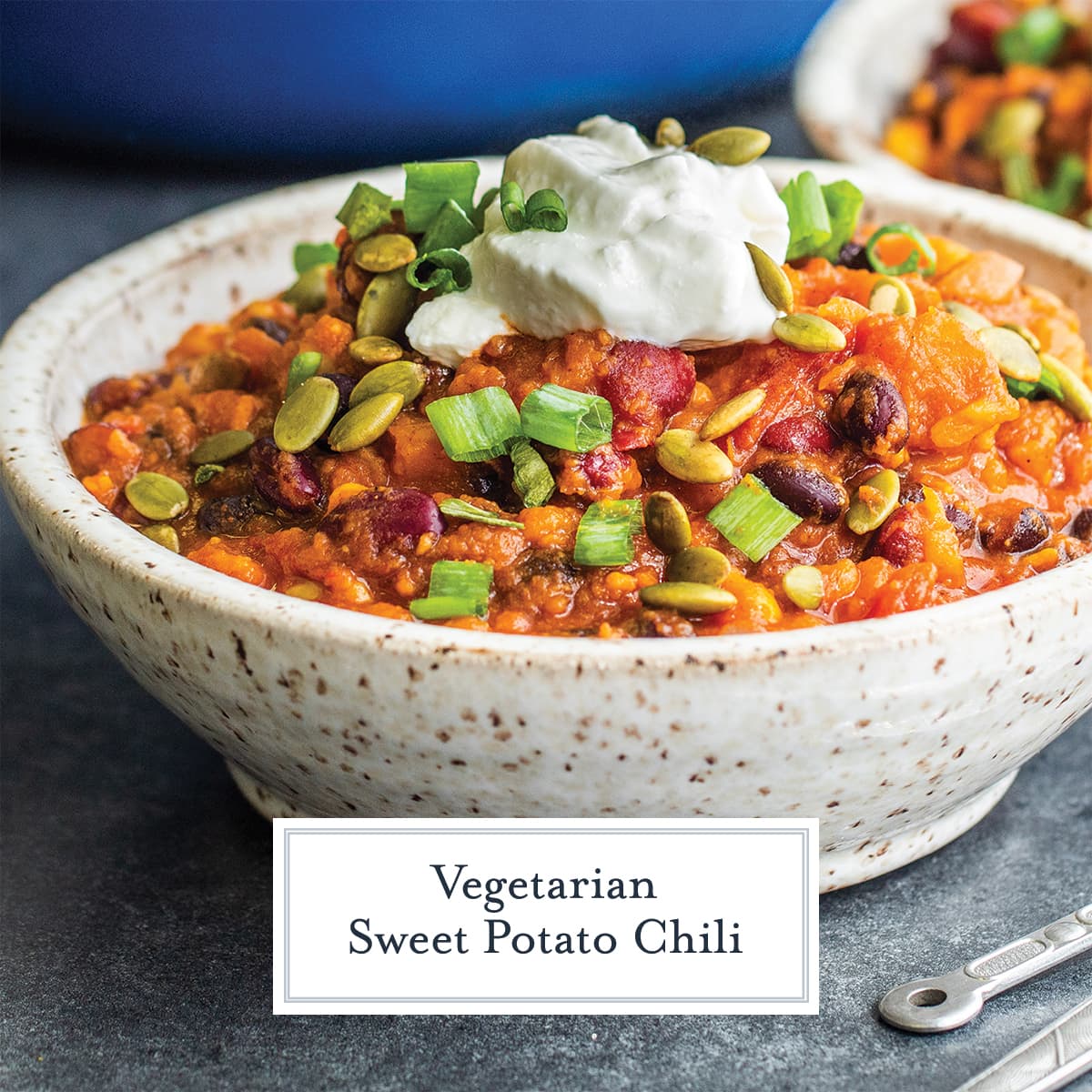 Vegetarian Chili
Cool weather has finally arrived (can I get an amen) and I am breaking out my boots, cardigans, and of course my big pots for all my favorite soups and stews.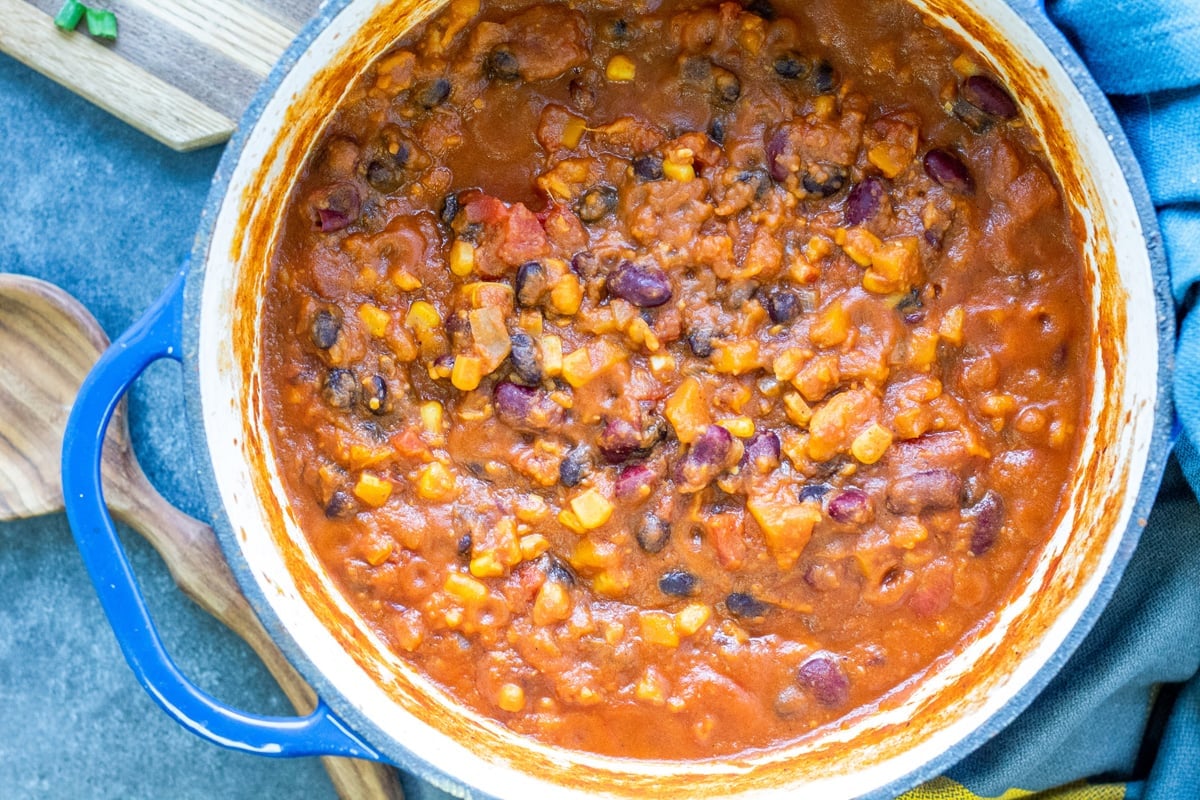 This Vegetarian Sweet Potato Chili is a go-to for crazy weeknight dinners during Fall and Winter. This vegetarian chili is packed with sweet potatoes, squash, tomatoes, and array of spices to achieve a sweet classic chili taste.
If I didn't already love this homemade chili recipe enough, it can also be made ahead of time and frozen. This makes Mama super happy, and I love whipping up a large batch and freezing some or using it for meal prep.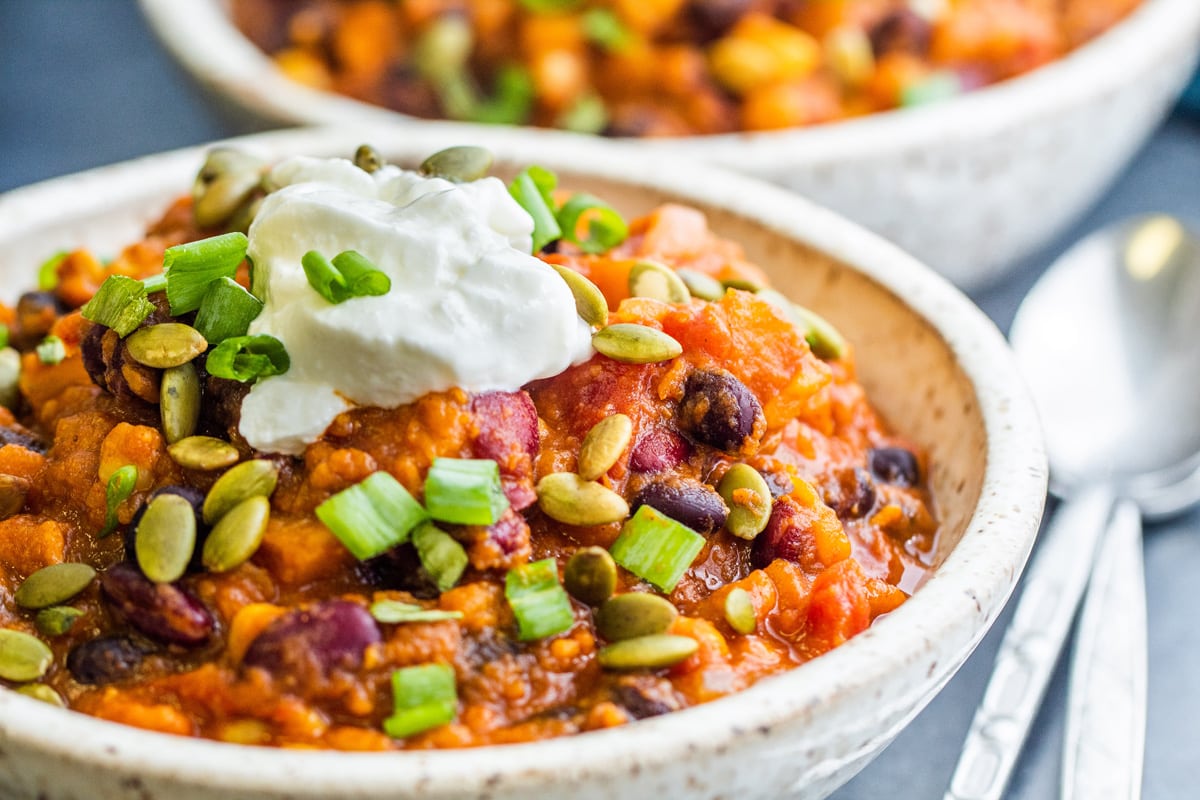 Pair with all the classic chili toppers (and a few not so traditional) for the perfect tasty finish.
Veggie Options
I love how versatile this chili is and a lot of different vegetables can be substituted in to fit different diets and taste preferences.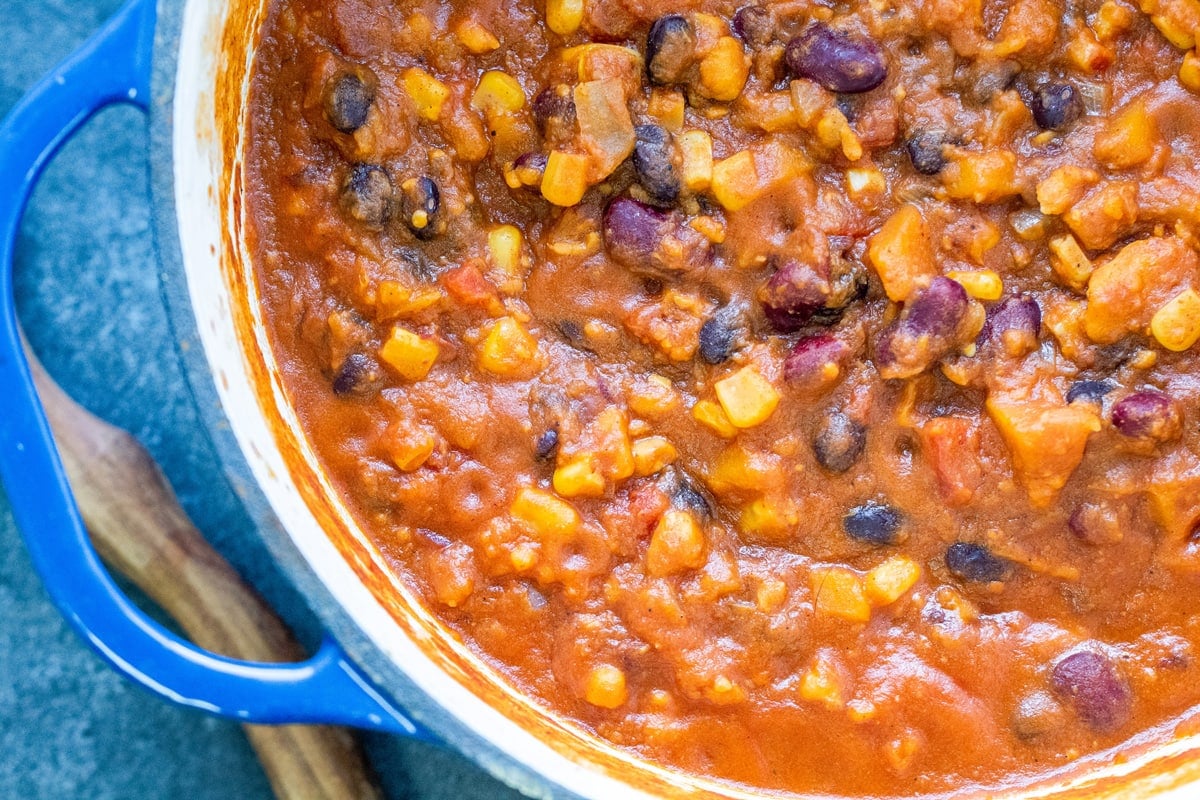 Sweet Potatoes: If you cannot find sweet potatoes (yams) in your local grocery store you can substitute in a 28 oz can of yams instead. Make sure to drain the excess juices from the can before adding them in. Using canned yams will result in a creamy, smooth texture to your vegetarian chili and will be less chunky compared to using fresh sweet potatoes.
Squash: When it comes to squash, there are a lot of varieties. Personally, my favorite type of squash to use in this homemade chili recipe is an acorn squash. Other squash options are butternut squash or yellow squash. If you use a variety of squash with a tough outer layer remove it before adding it into your chili.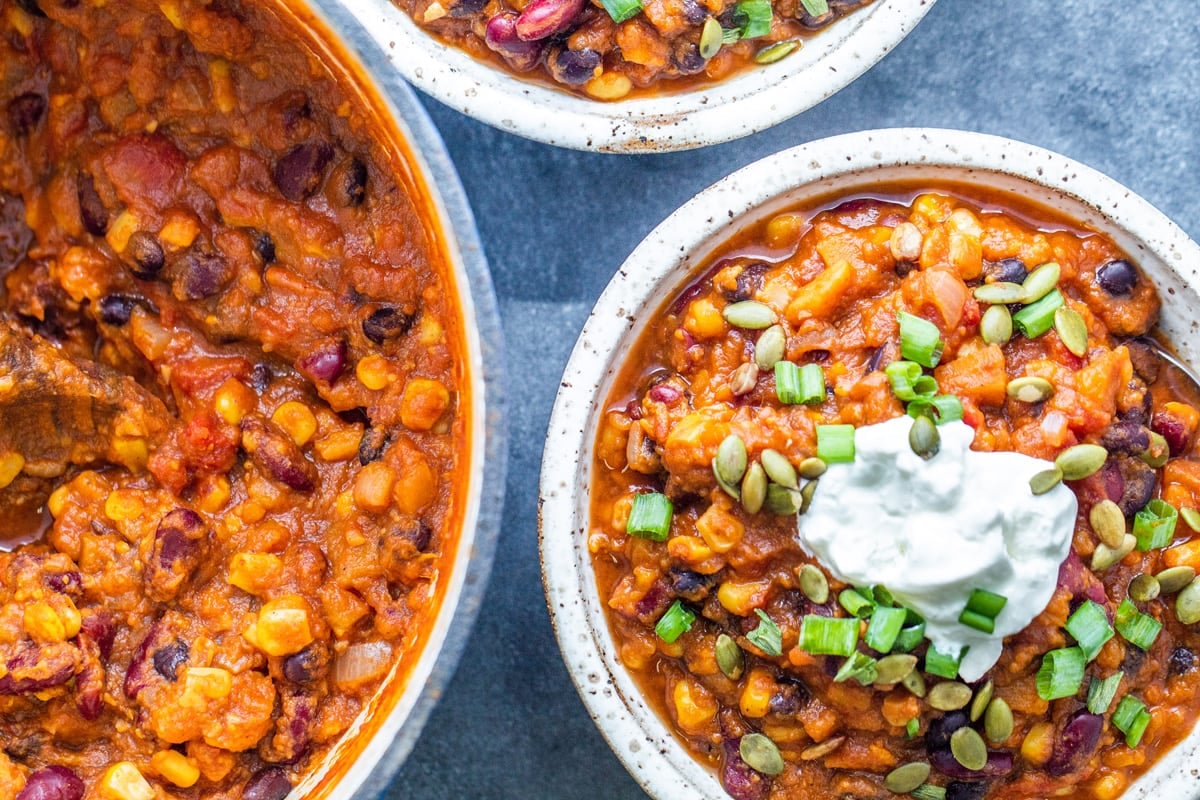 Additional Veggie Ideas: If you want some additional veggie ideas to try in your chili you could add in some zucchini or pumpkin in place of the squash. If you are wanting to add some spice to your life finely diced jalapeno or serrano pepper will add a nice kick. Other veggies to consider trying are mushrooms, carrots of bell peppers.
Sweet Potato Chili Topper Suggestions
Sweet Potato Chili is excellent on its own, but you can mix it up and build more flavor by adding on some optional additional toppers. Some great toppers to add to homemade chili are:
Shredded Cheese (My fave is Pepper Jack cheese)
Scallions
Sour Cream
Pumpkin Seeds (This is perfect for Fall)
Diced Avocado
Cornbread
Cooked Noodles (Great for making chili mac)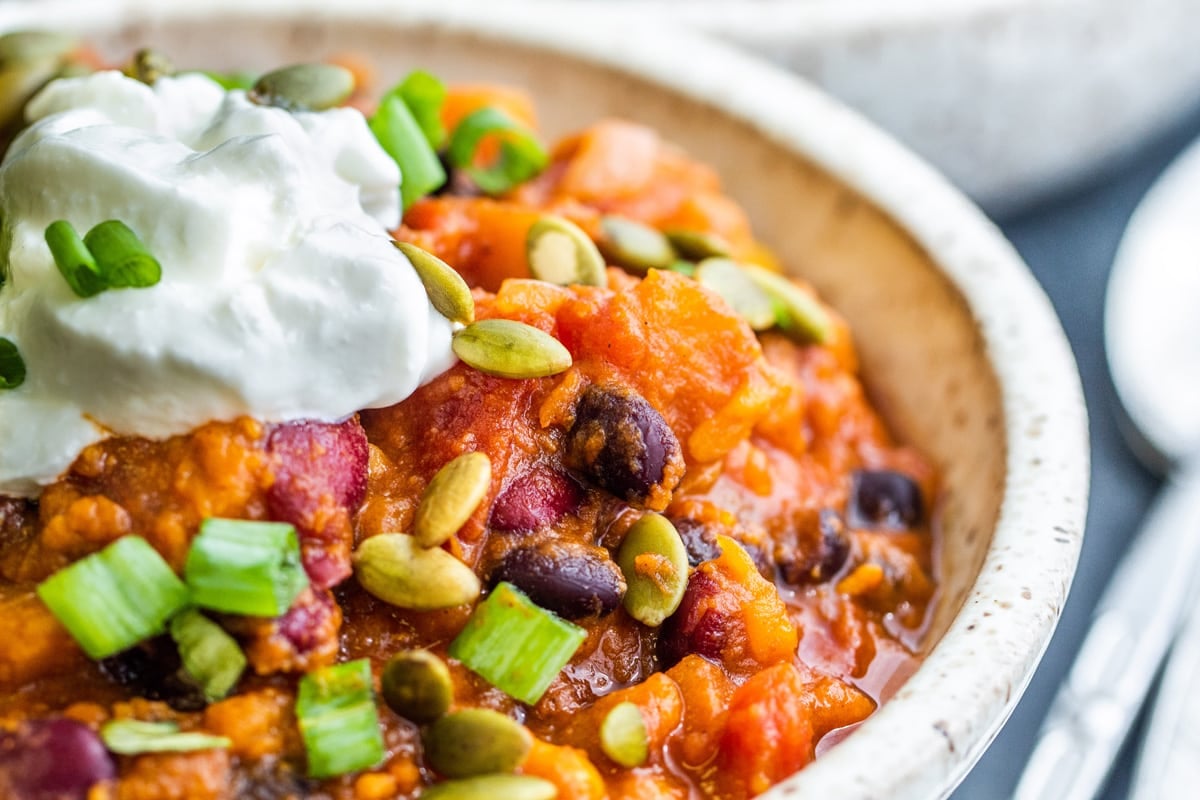 Pro-Tips for the BEST Chili
 
Let it Simmer: This vegetarian chili is full of flavor, and gets even better the longer you let it simmer.
At minimum you should cook the chili for an hour so all the vegetables get soft. Ideally, the chili can go for 2-3 hours so all the ingredients can get to know each other.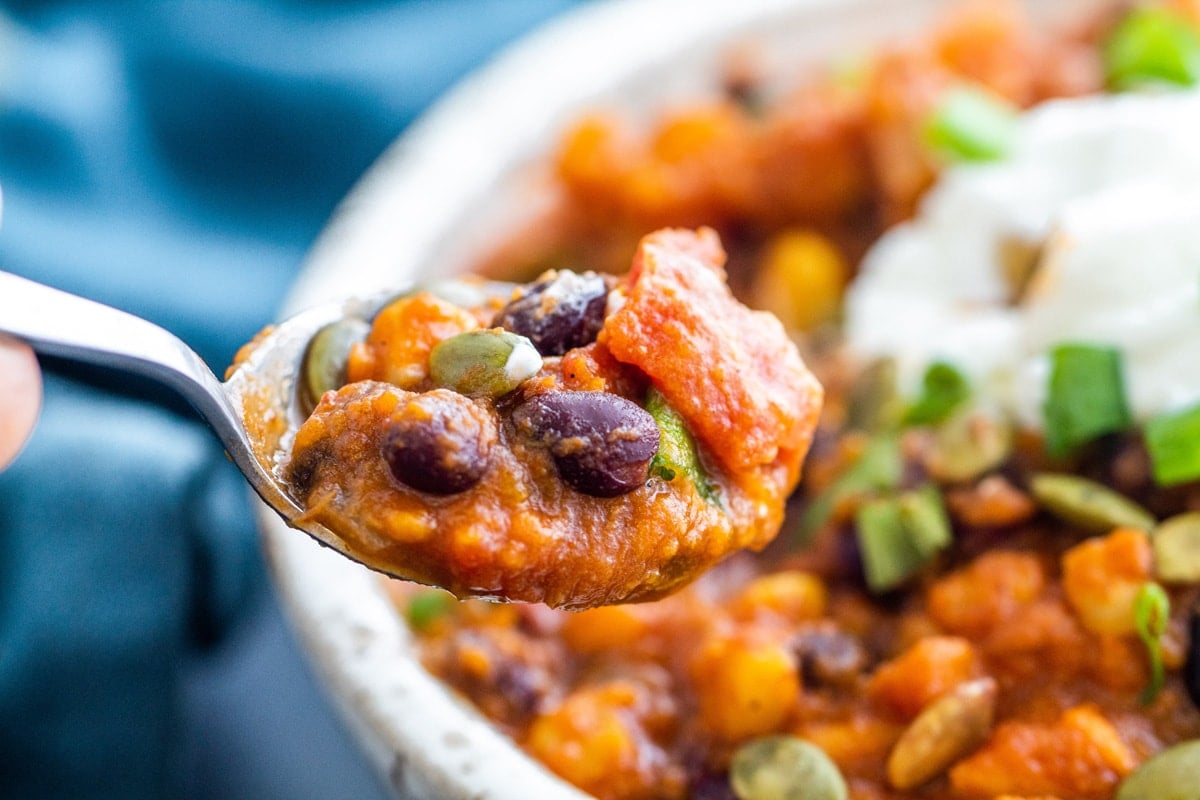 Blend It: Since this chili is meatless you will not get the same texture as a traditional homemade chili recipe. To mimic the texture you can blend some of the chili up using a stand or immersion blender.
You will want to remove 1-2 cups of the chili once it is finished cooking and pulse until only small chunks remain. Next, return it to the pot with the rest of the chili and stir.
Of course, if you like big chunks of veggies then this step is not for you, and just stick with the recipe as it is written.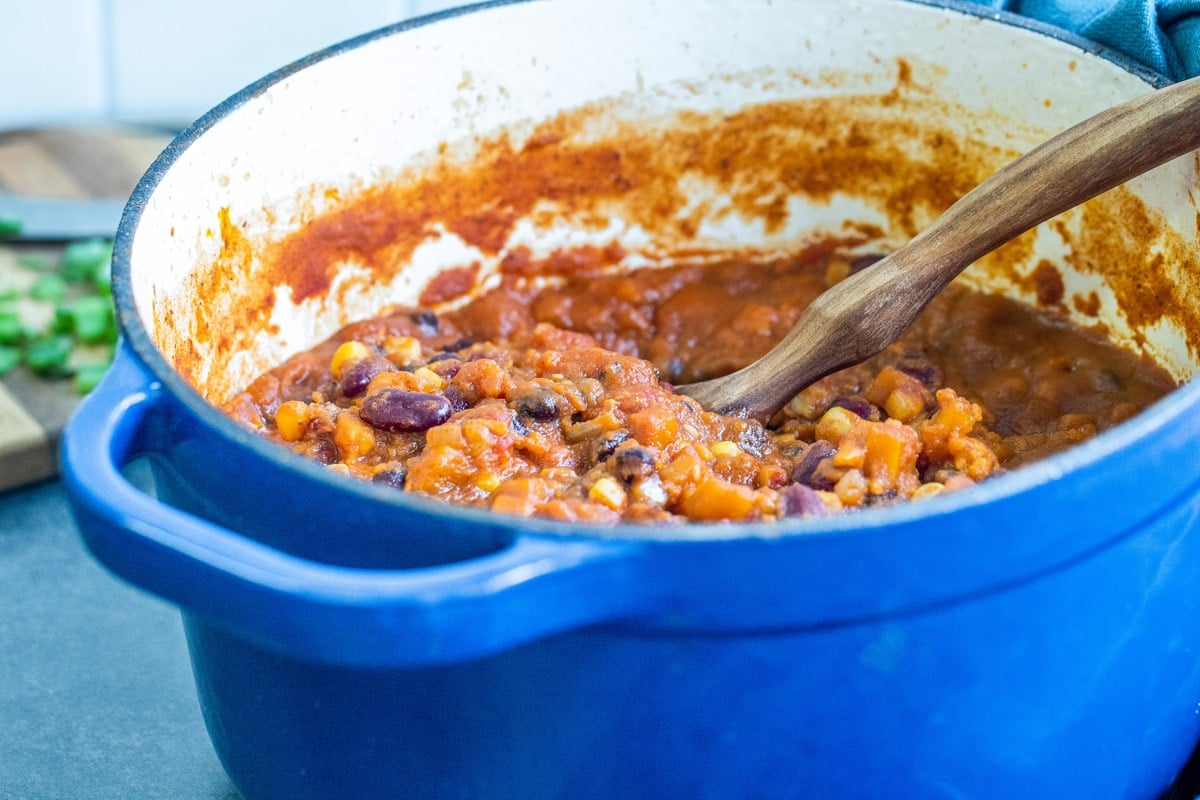 Make it Ahead- Chili flavors continue to develop as they sit, even when cold. Make your chili a day or two ahead for the most robust flavors.
Freezing and Storage of Sweet Potato Chili
Store leftover vegetarian chili in an airtight container in the fridge for up to 4 days. Re-heat in a microwave safe bowl 1-2 minutes until warmed through. Be sure to stir the chili, so the heat gets distributed and there are no cold spots.

Homemade chili can be frozen for up to 3 months. To freeze chili, place in a large heavy duty freezer safe container or bag and store flat. When ready to enjoy, let thaw then re-warm in the microwave, stove-top or in a crockpot.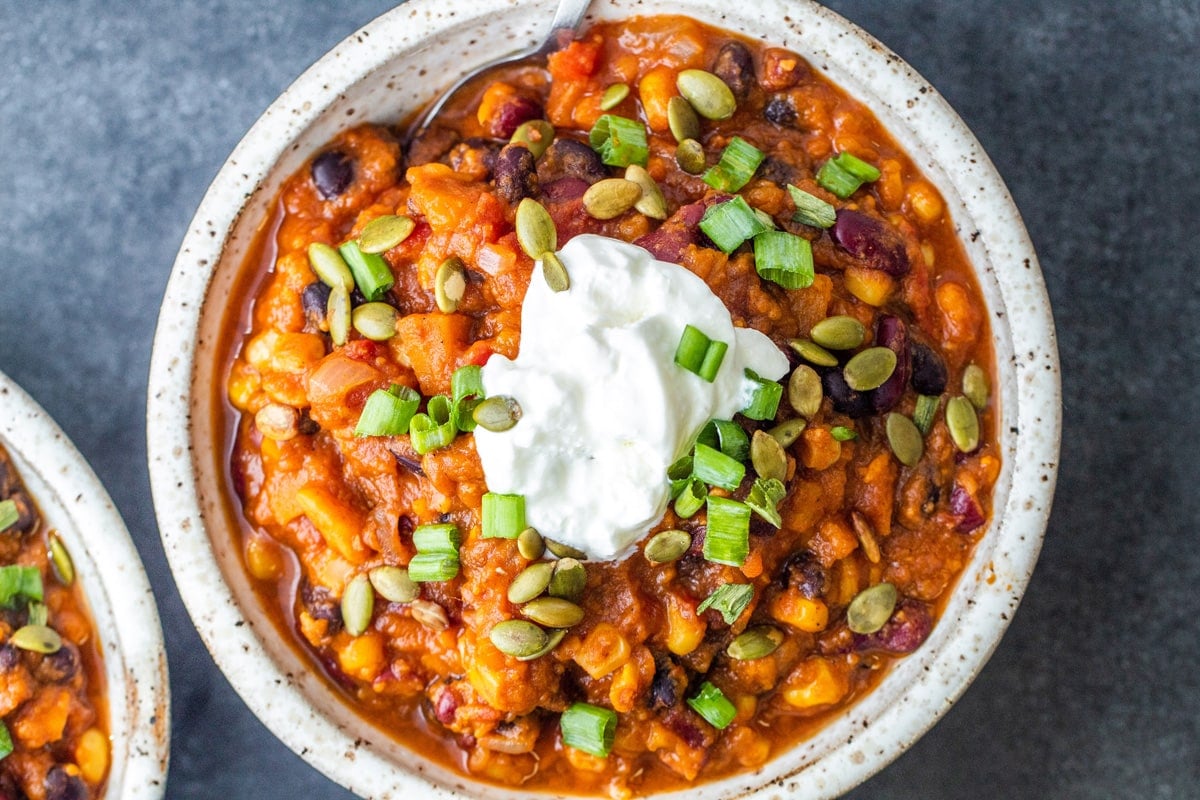 Crock Pot and Making Ahead
You can make the chili ahead of time and store it in the fridge in an airtight container. When heating all of the chili at once I recommend warming it back up on the stove-top or in a crockpot instead of a microwave.
This option is great for meal prep and bonus, the chili develops even more flavor sitting in the fridge overnight.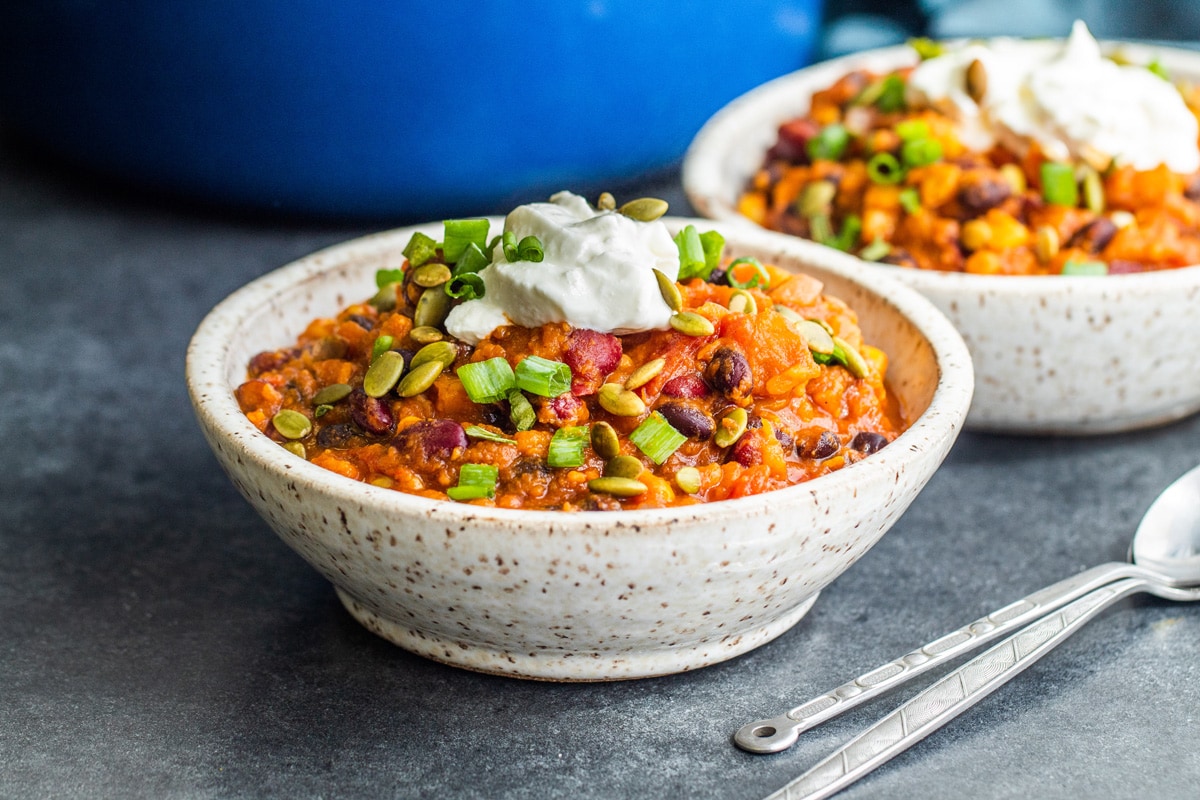 If you are wanting to prep this sweet potato chili in the morning and let it simmer all day it can be made in a slow cooker. You do not have to saute the onion for this cooking method.
Instead you can prep the veggies and add all the ingredients to your crockpot. Cook on low for 6 hours or high for 4 hours, or until veggies are soft.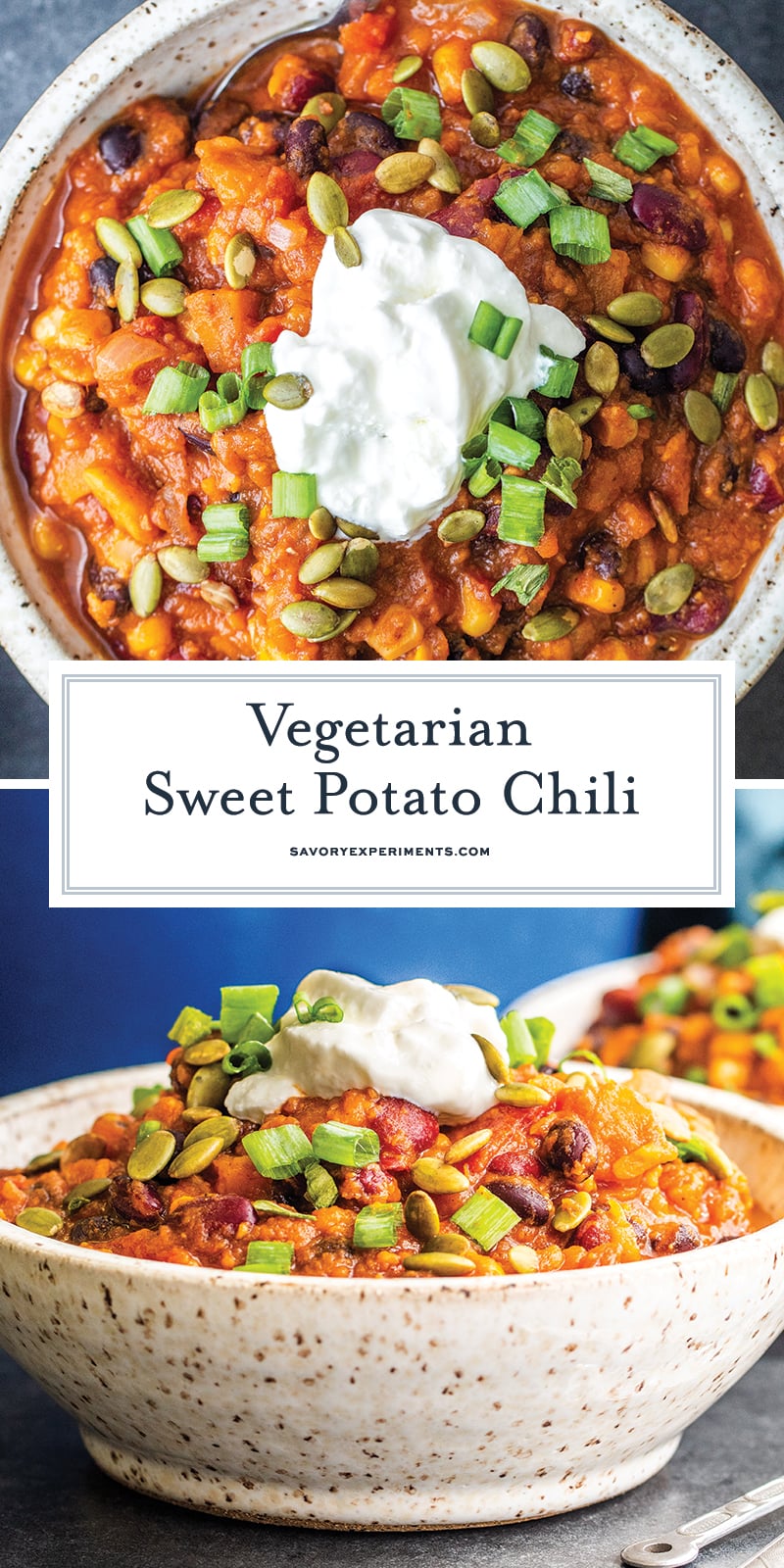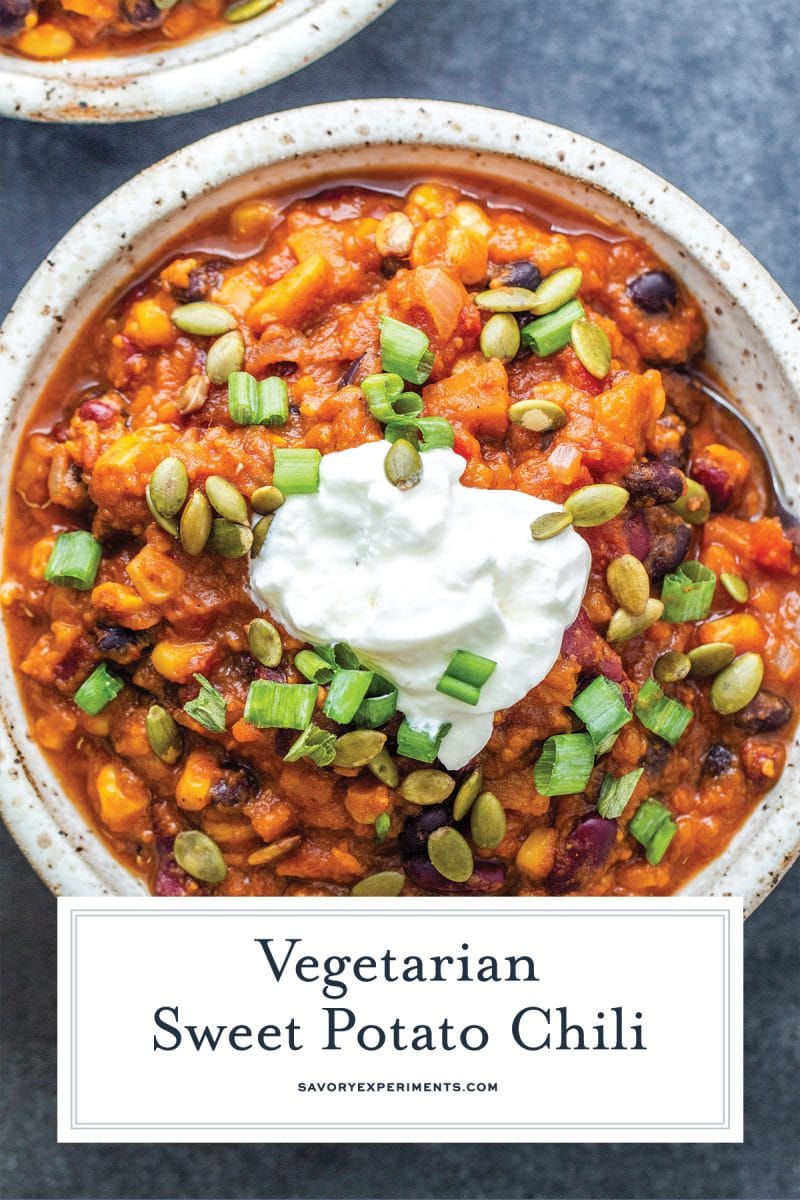 CONNECT WITH SAVORY EXPERIMENTS!

Be sure to follow me on social media, so you never miss a post!

Facebook | Twitter | Youtube
Pinterest | Instagram

Get our FREE 8 Day E-Course on How to Be a Better Home Cook. Sign up HERE!