I'm a suck for sweet potato recipes and homemade chili is one of my all time favorite cool weather comfort foods. This easy vegetarian sweet potato chili features sweet potatoes and squash as the stars and packs all the same classic chili flavors, minus the meat.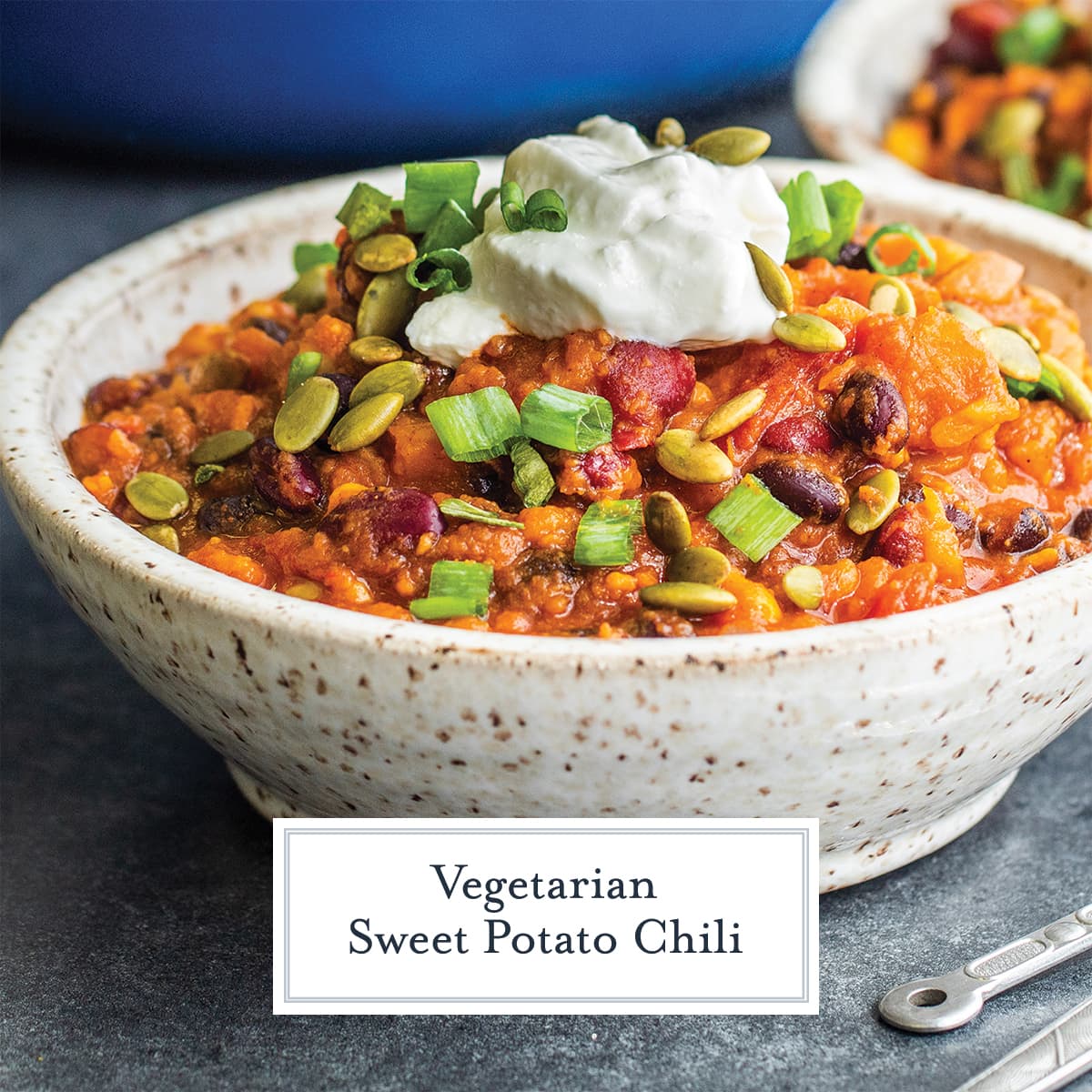 Vegetarian Chili
Cool weather has finally arrived (can I get an amen) and I am breaking out my boots, cardigans, and of course my big pots for all my favorite soups and stews.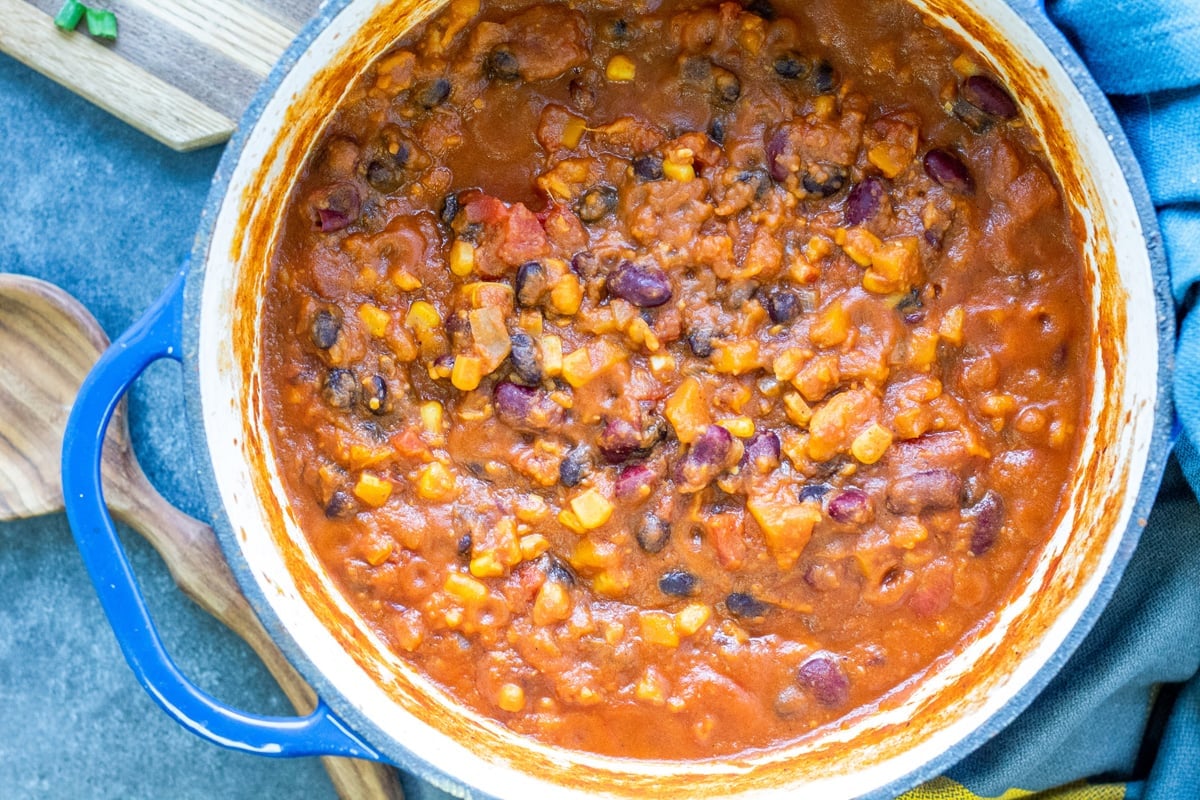 This Vegetarian Chili recipe is a go-to for crazy weeknight dinners during Fall and Winter. This vegetarian chili is packed with sweet potatoes, squash, diced tomatoes, black beans and array of spices to achieve a sweet classic chili taste.
If I didn't already love this homemade chili recipe enough, it can also be made ahead of time and frozen. This makes Mama super happy, and I love whipping up a large batch and freezing some or using it for meal prep.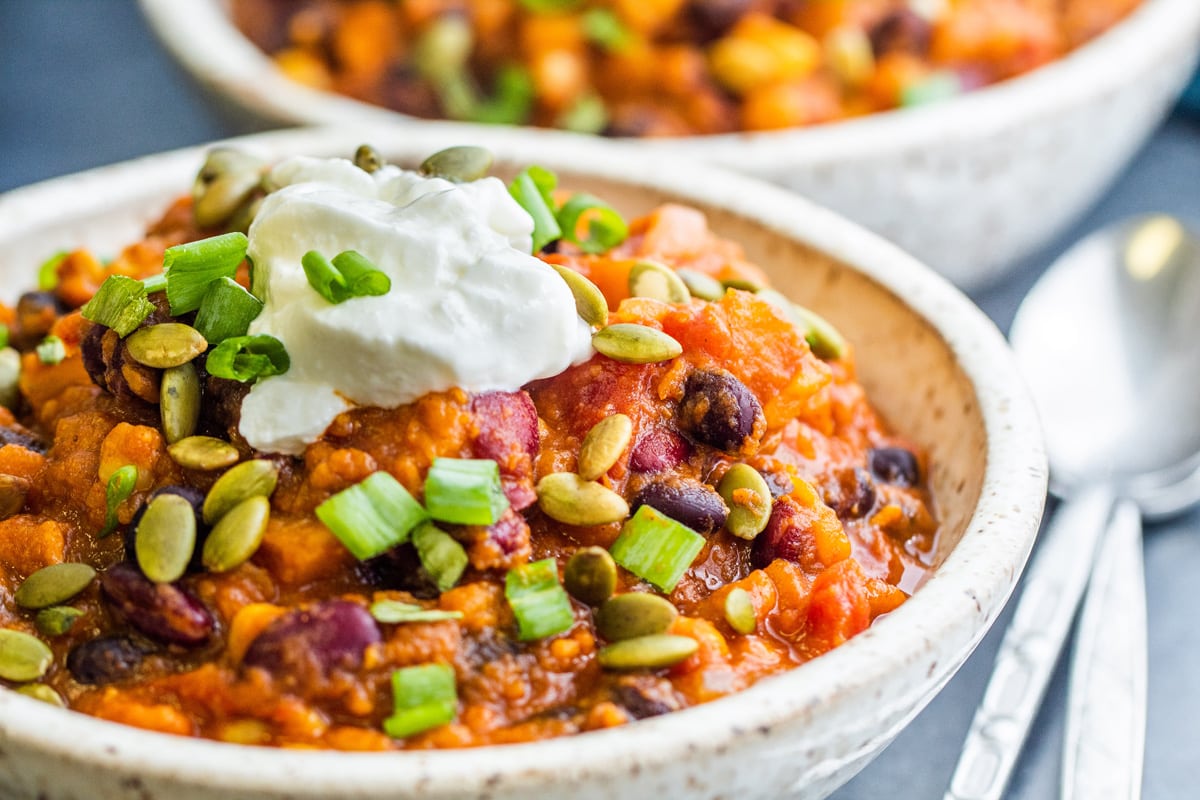 Pair with all the classic chili toppers (and a few not so traditional) for the perfect tasty finish.
Veggie Options
I love how versatile this veggie chili is and a lot of different vegetables can be substituted in to fit different diets and taste preferences. Or just to clean out your vegetable crisper.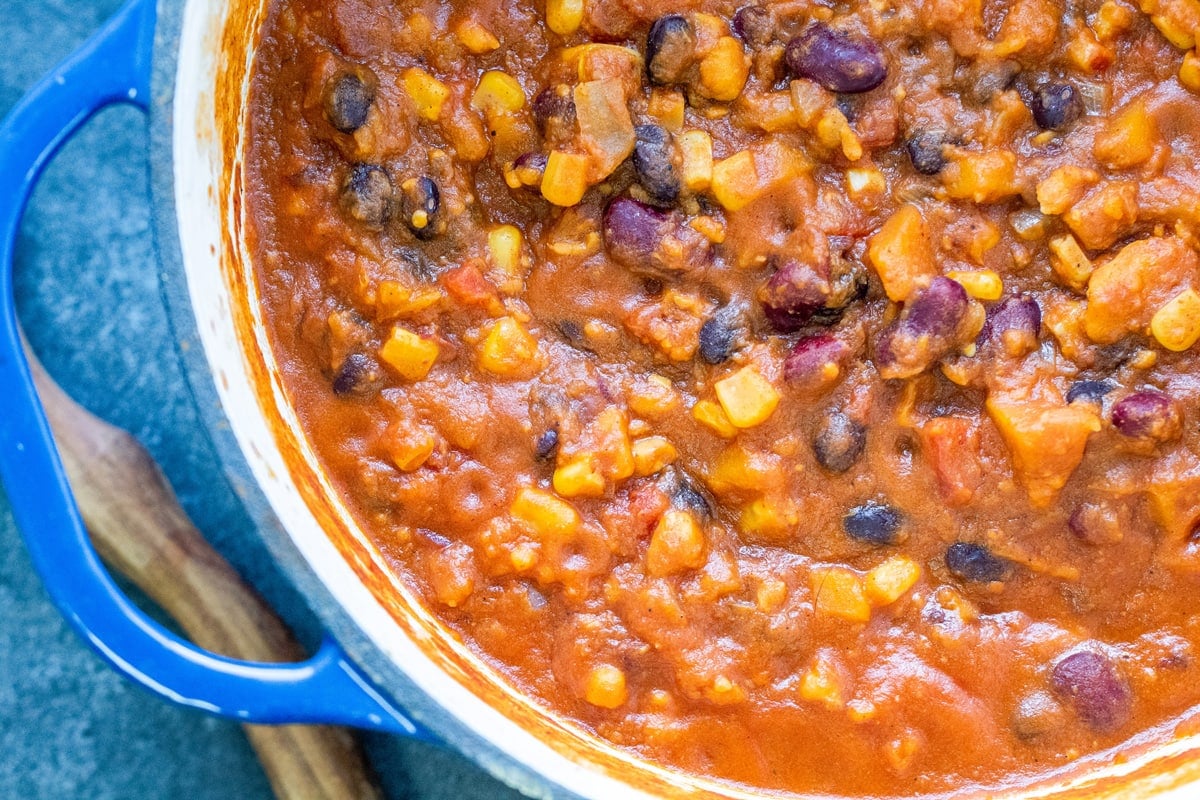 Sweet Potatoes: This ia a sweet potato chili recipe, but if you cannot find sweet potatoes (yams) in your local grocery store you can substitute in a 28 oz can of yams instead.
Make sure to drain the excess juices from the can before adding them in. Using canned yams will result in a creamy, smooth texture to your vegetarian chili and will be less chunky compared to using fresh sweet potatoes.
Squash: When it comes to squash, there are a lot of varieties. Personally, my favorite type of squash to use in this homemade chili recipe is an acorn squash.
Other squash options are butternut squash or yellow squash. If you use a variety of squash with a tough outer layer remove it before adding it into your chili.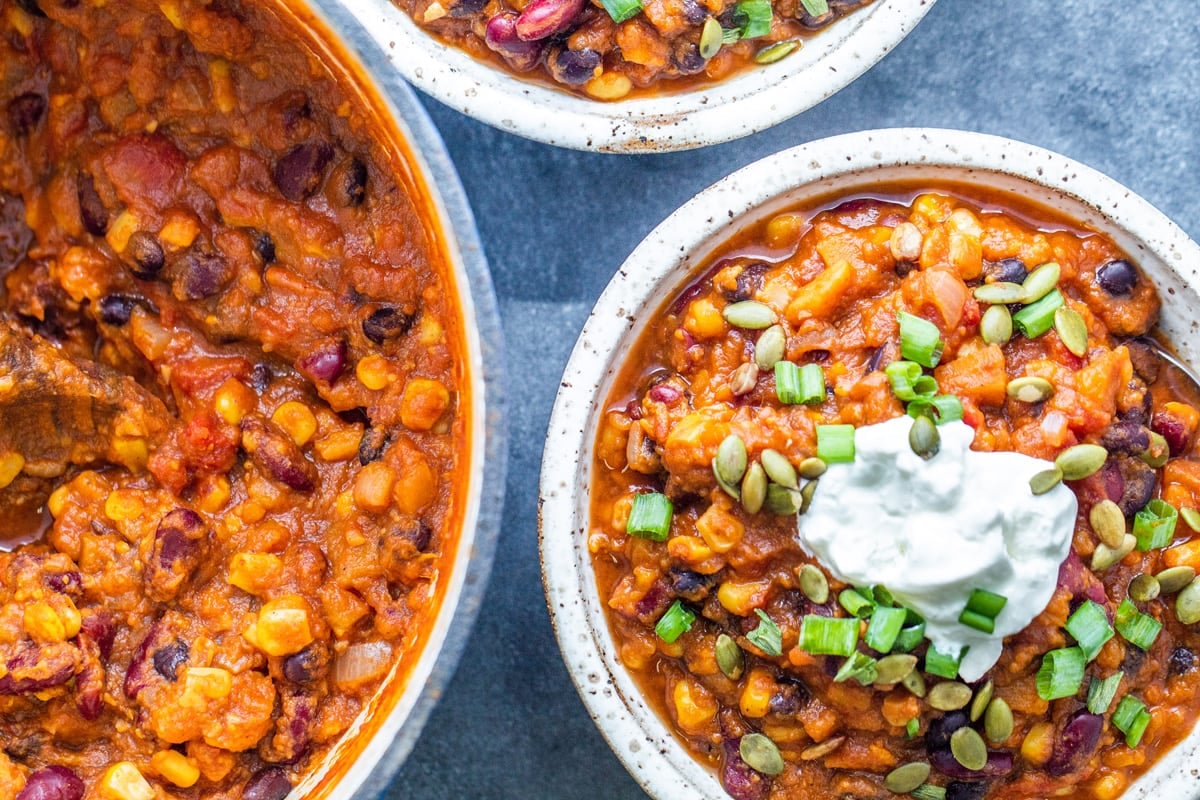 Additional Veggie Ideas: If you want some additional veggie ideas to try in your chili you could add in some zucchini or pumpkin in place of the squash.
If you are wanting to add some spice to your life finely diced jalapeno or serrano pepper will add a nice kick. Other veggies to consider trying are mushrooms, carrots of bell peppers.
Meat: I know, I know… this is a vegetarian recipe, but some people need meat! Simply add 1-2 cups of cooked and drained ground beef, ground turkey or ground chicken to the mix while simmering.
Sweet Potato Chili Topper Suggestions
Sweet Potato Chili is excellent on its own, but you can mix it up and build more flavor by adding on some optional additional toppers. Some great toppers to add to homemade chili are:
Shredded Cheese (My fave is Pepper Jack cheese)
Scallions
Sour Cream
Pumpkin Seeds (This is perfect for Fall)
Diced Avocado
Cornbread
Cooked Noodles (Great for making chili mac)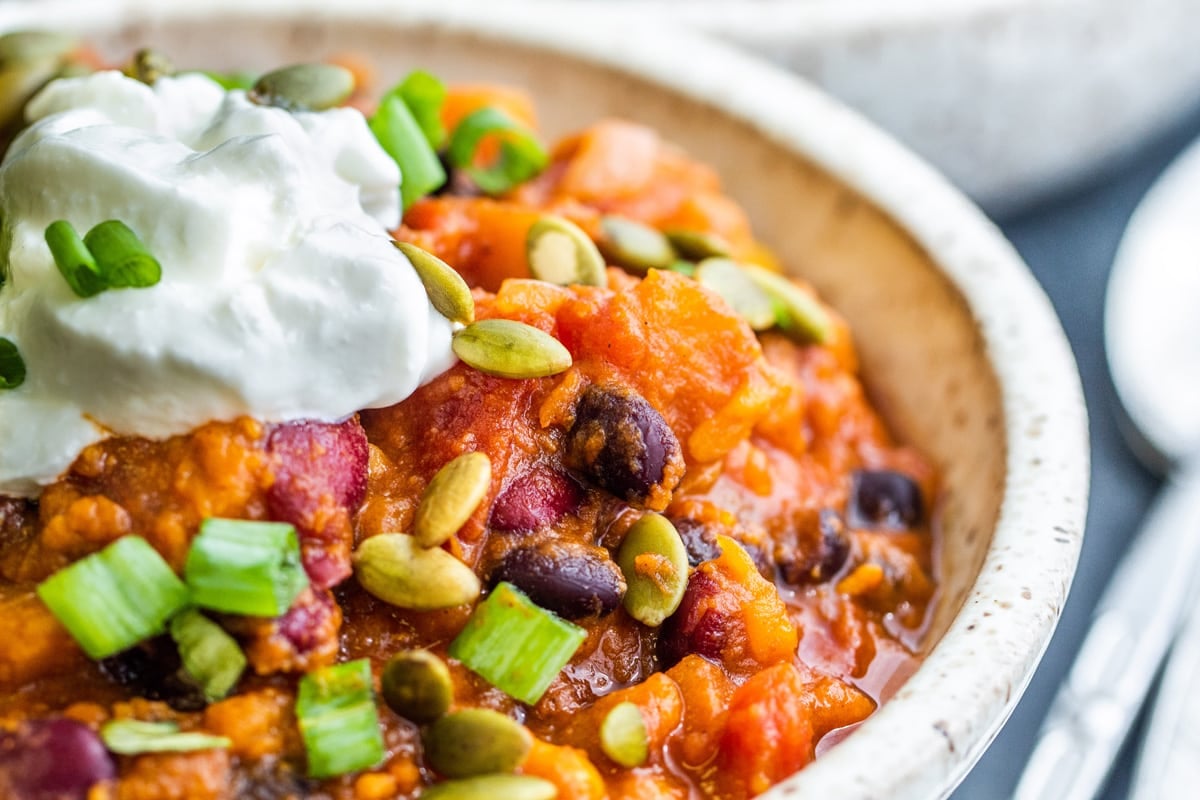 Pro-Tips for the BEST Chili
Let it Simmer: This vegetarian chili is full of flavor, and gets even better the longer you let it simmer.
At minimum you should cook the chili for an hour so all the vegetables get soft. Ideally, the chili can go for 2-3 hours so all the ingredients can get to know each other.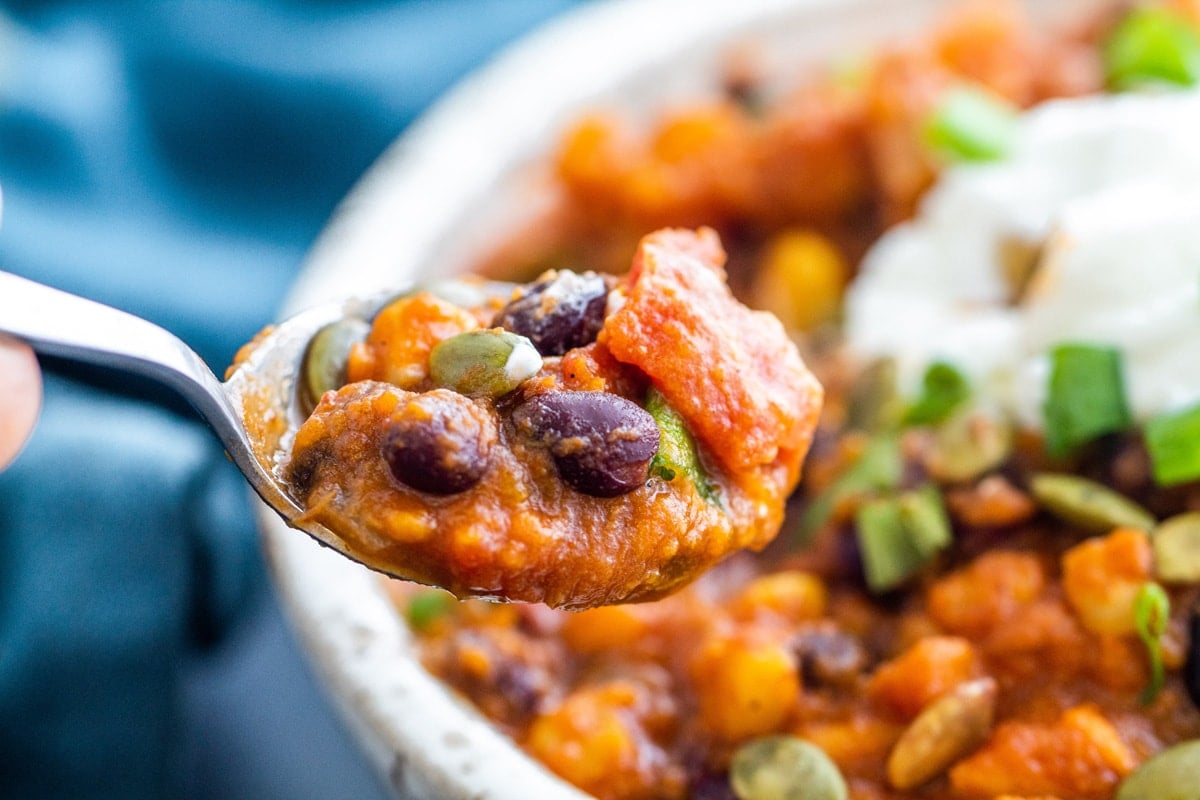 Blend It: Since this chili is meatless you will not get the same texture as a traditional homemade chili recipe. To mimic the texture you can blend some of the chili up using a stand or immersion blender.
You will want to remove 1-2 cups of the chili once it is finished cooking and pulse until only small chunks remain. Next, return it to the pot with the rest of the chili and stir.
Of course, if you like big chunks of veggies then this step is not for you, and just stick with the recipe as it is written.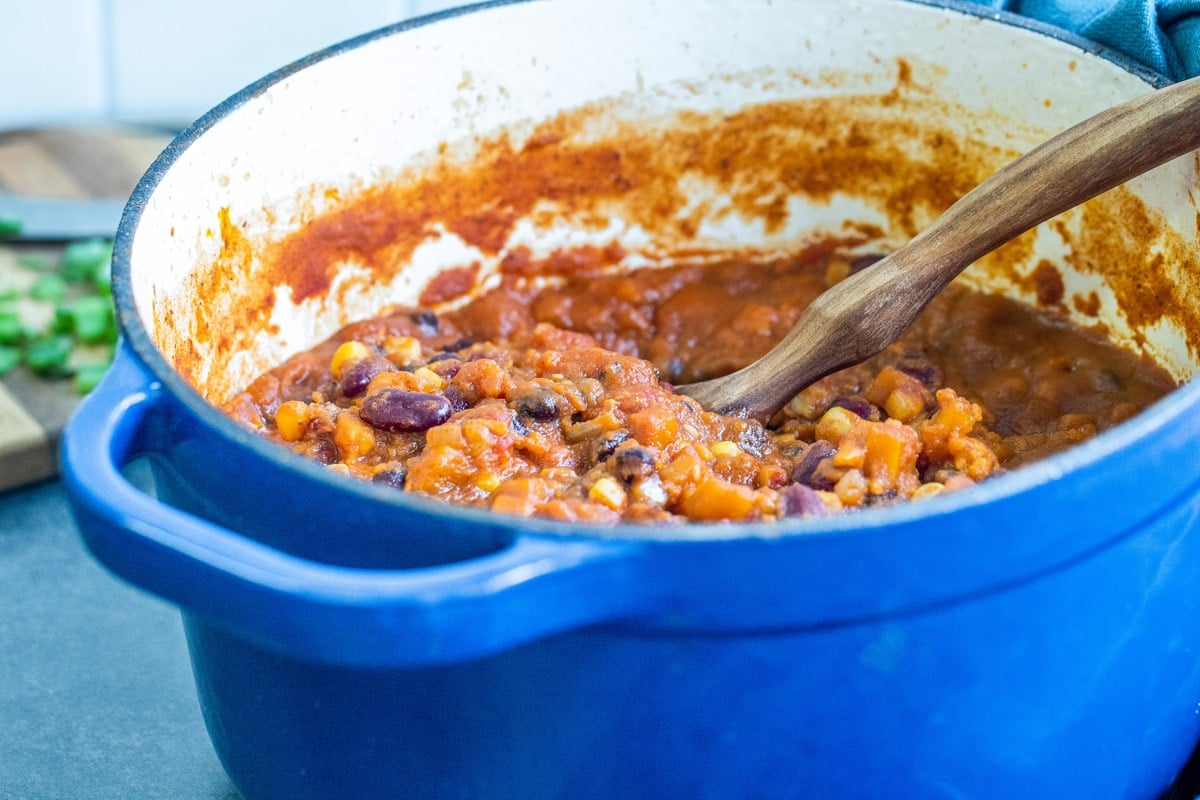 Make it Ahead- Chili flavors continue to develop as they sit, even when cold. Make your chili a day or two ahead for the most robust flavors.
Add Heat: And if it isn't hot enough to make your forehead sweat, add a few dabs of hot sauce, cayenne pepper, crushed red pepper, aleppo pepper or more chili powder.
Freezing and Storage of Sweet Potato Chili
Store leftover vegetarian chili in an airtight container in the fridge for up to 4 days. Re-heat in a microwave safe bowl 1-2 minutes until warmed through. Be sure to stir the chili, so the heat gets distributed and there are no cold spots.

Homemade chili can be frozen for up to 3 months. To freeze chili, place in a large heavy duty freezer safe container or bag and store flat. When ready to enjoy, let thaw then re-warm in the microwave, stove-top or in a crockpot.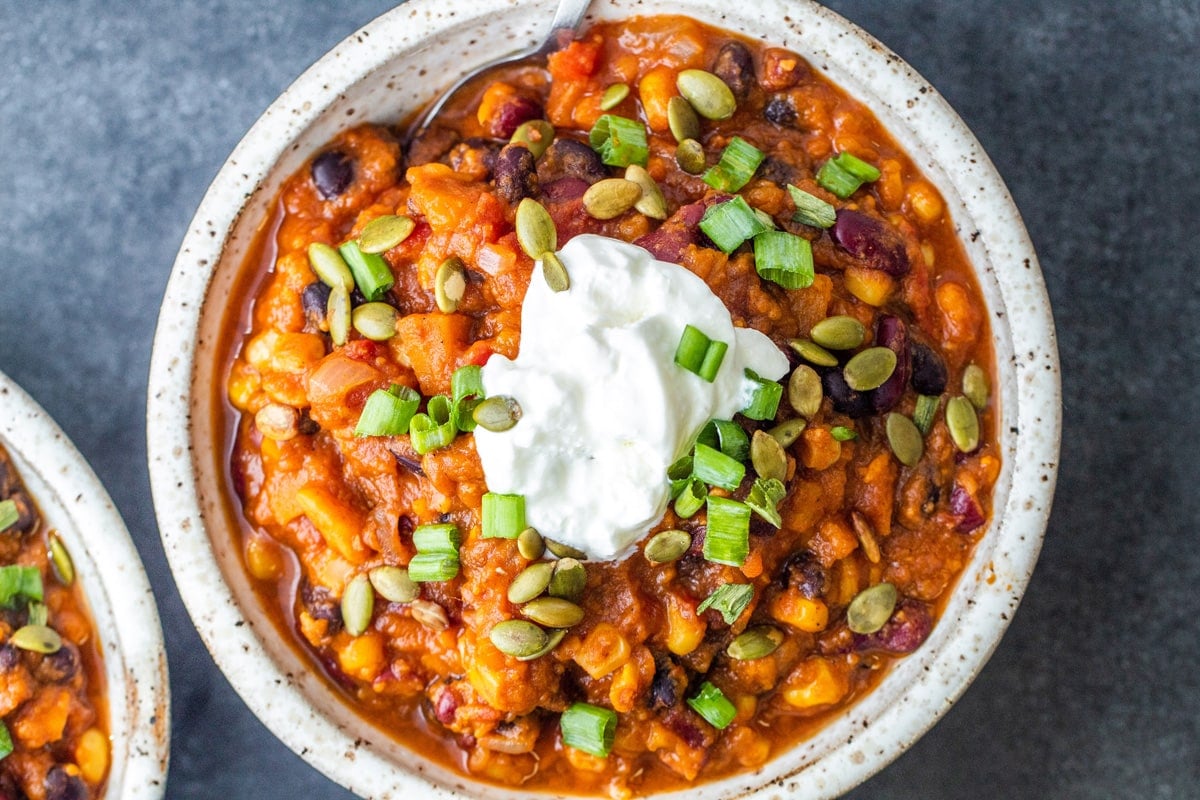 Did You Know SweetPotato is One Word?
Did you know that sweetpotato is actually one word? Most people still use two, so we do as well, but in 1989 this nun (not an adjective) was officially changed to one word to help standout against it's very commonly confused cousin the yam.
And as we know, sweet potatoes are not yams! You've likely never even had a yam in your lifetime because they aren't grown in the US. So bring up this little bit of trivia at your table tonight.
Crock Pot and Making Ahead
You can make the chili ahead of time and store it in the fridge in an airtight container. When heating all of the chili at once I recommend warming it back up on the stove-top or in a crockpot instead of a microwave.
This option is great for meal prep and bonus, the chili develops even more flavor sitting in the fridge overnight.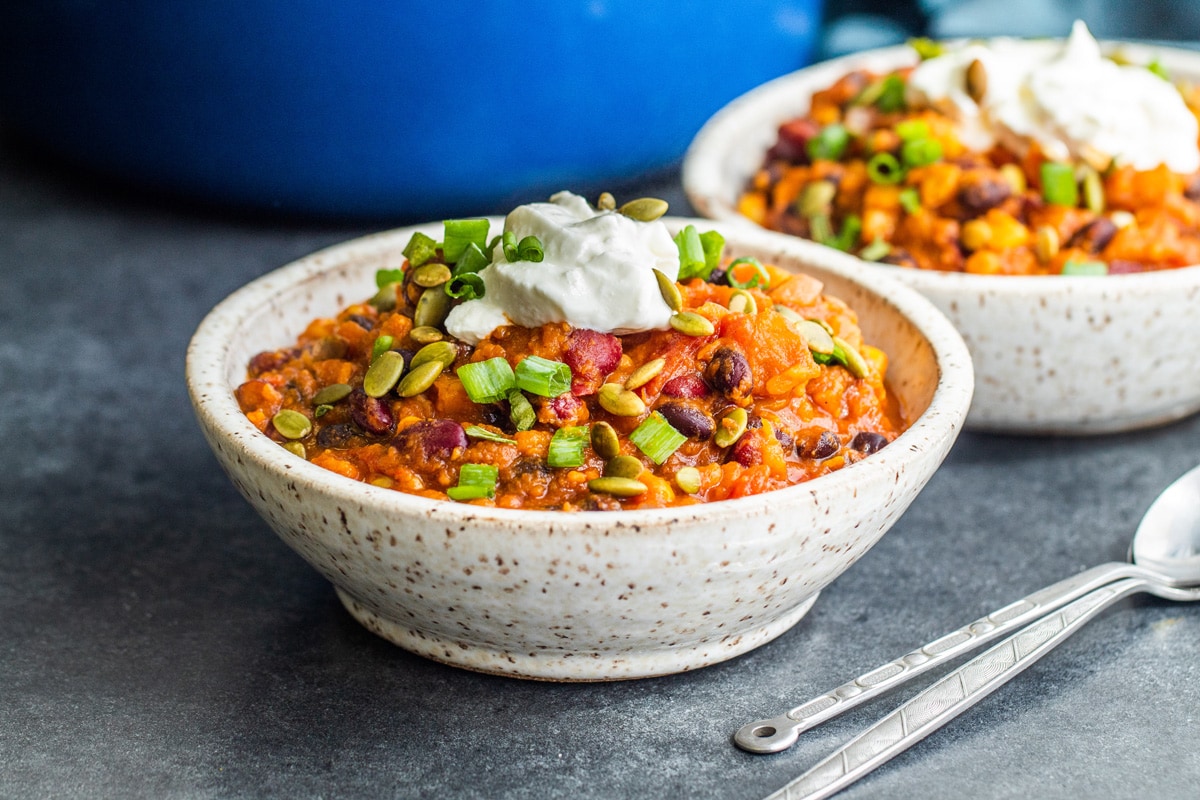 If you are wanting to prep this chili in the morning and let it simmer all day it can be made in a slow cooker. You do not have to saute the onion for this cooking method.
Instead you can prep the veggies and add all the ingredients to your crockpot. Cook on low for 6 hours or high for 4 hours, or until veggies are soft.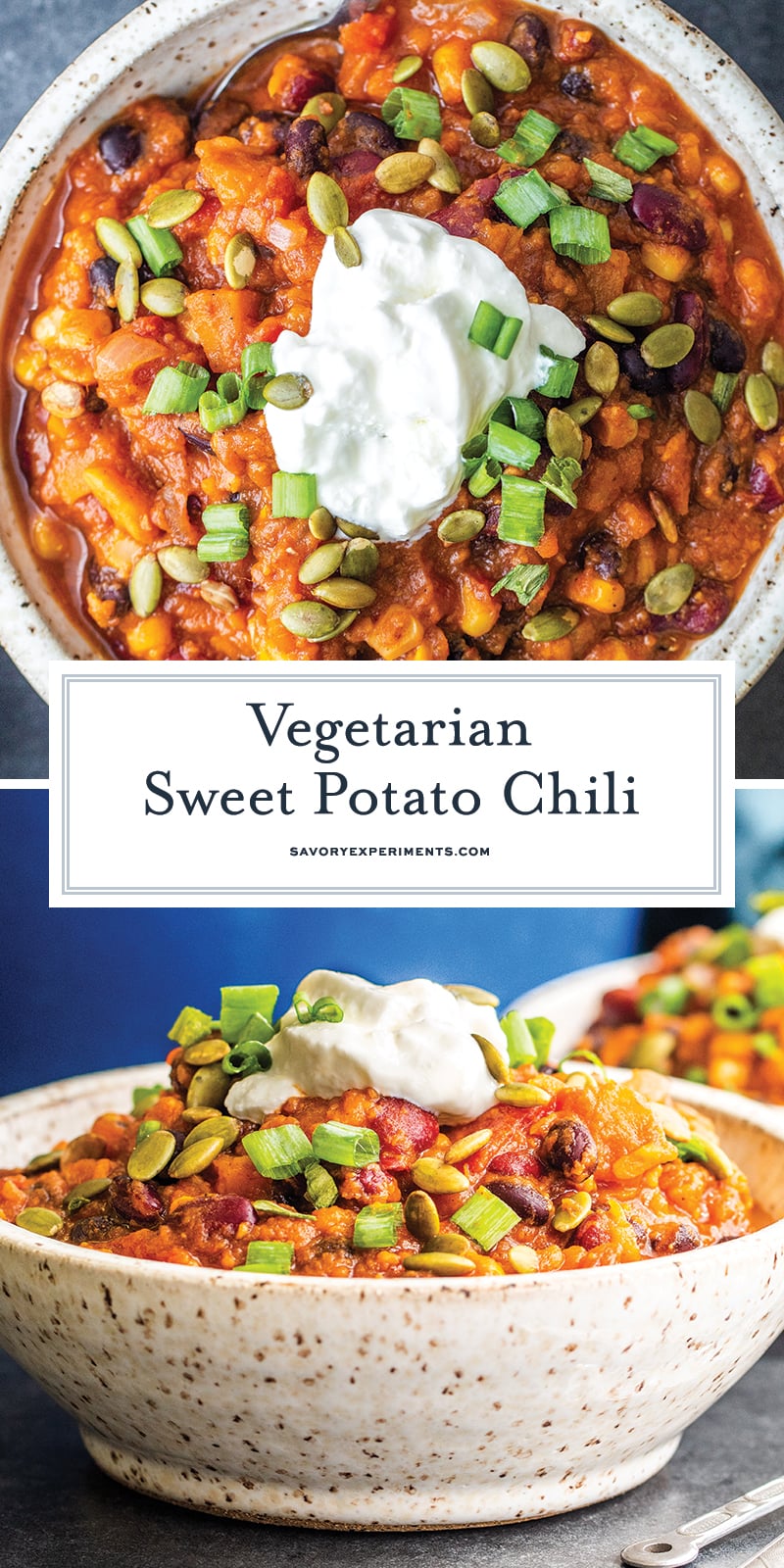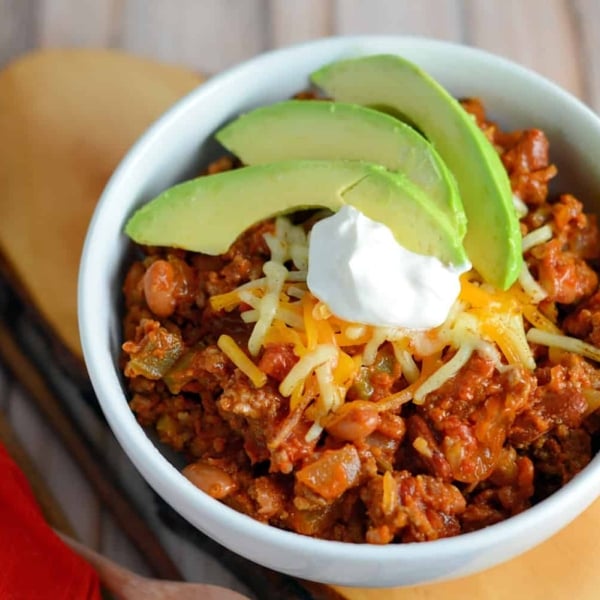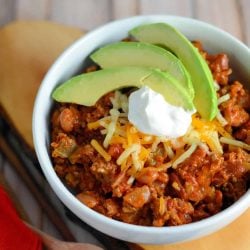 Simple Chili
Simple Chili Recipe- this easy chili recipe is one of the best chili recipes around! Only 30 minutes to make, this healthy recipe doesn't even need a crockpot!
View this recipe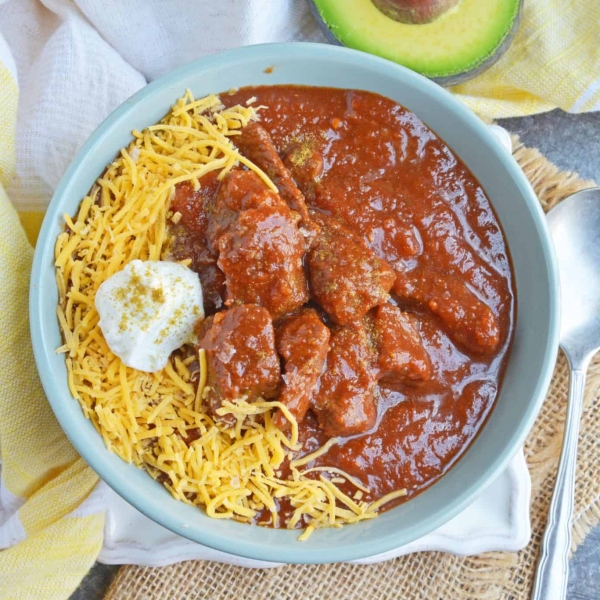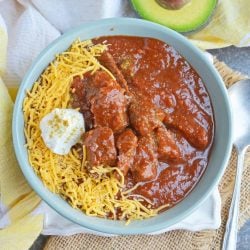 Steak Chili
Red Beef Chili uses chunks of steak and simmers them to tender perfection in a chili tomato sauce. Serve over rice, noodles or as a stew.
View this recipe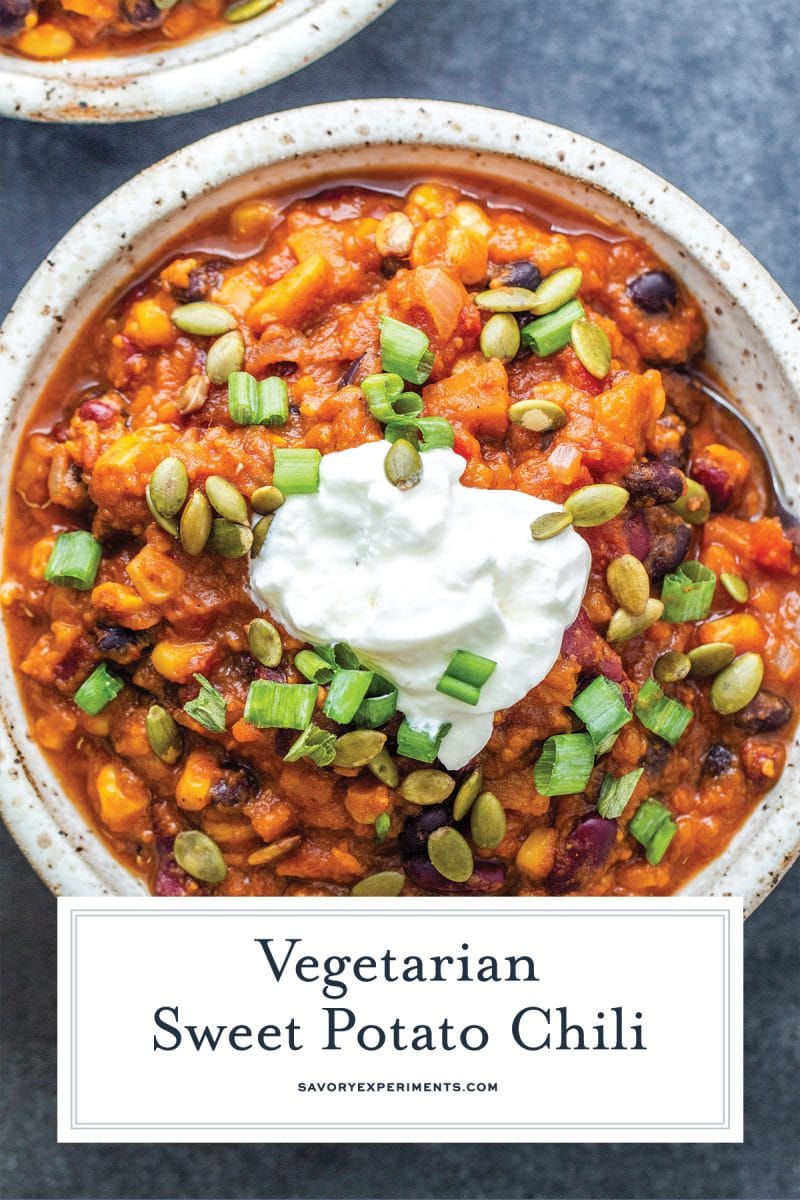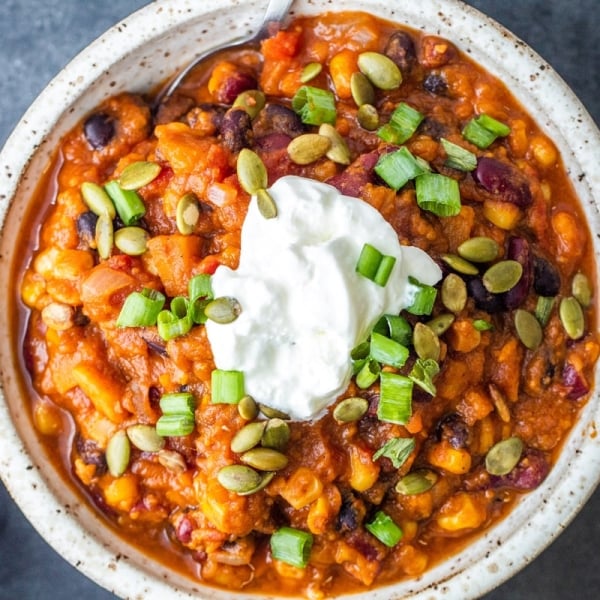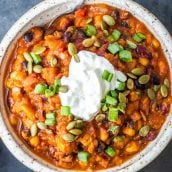 Vegetarian Sweet Potato Chili
This EASY Sweet Potato Chili is the perfect Meatless Monday weeknight dinner! It's simple to make plus freezer and meal prep friendly.
Instructions
Heat olive oil over medium heat in a large Dutch oven, add onion. Saute on low-medium heat until the onion is fragrant and translucent, stir occasionally. While the onion is sauteing, chop the remaining squash and sweet potatoes into ½ inch cubes and remove the skin. Set aside when finished.

Next, add the minced garlic and saute for an additional 1 minute until fragrant.

Add all of the remaining ingredients to the pot and stir to combine. Bring the chili to a boil, then reduce heat to low. Cover and let simmer for at least 1 hour, or until the sweet potatoes and squash are soft.

Once the chili has simmered, remove the lid and taste and adjust seasoning as needed. (See notes for blender option).

Once you are happy with the chili, serve warm with additional toppers of choice and enjoy!

If you've tried this recipe, come back and let us know how it was in the comments or ratings!
Notes
*Canned Yams (Sweet Potatoes): Canned yams can be used in place of fresh sweet potatoes. I recommend using a 28 oz can and draining the excess liquid. Using canned yams will yield a more creamy chili instead of one with large chunks.
**Squash Options: I like to use an acorn squash, but butternut squash or yellow squash are also good options. Whatever option you go with aim for about 2 cups of chopped squash. If using a variety of squash with seeds and a hard outside, be sure to remove them.
***Liquid Note: I like my chili on the thicker side, so I usually use 1 cup of vegetable broth. If you prefer your chili more liquidy go with 2 cups. If you are unsure, start with one and you can always thin it out a bit after the chili has simmered.
Blender Option: If using fresh sweet potatoes I find that the chili can be very vegetable soup like instead of having that traditional chili texture. To achieve this you can add 1-2 cups of the finished chili to a blender or food processor and pulse until only large chunks remain. Add the blended chili back in the pot and stir. The result should be a thick smooth yet chunky vegetarian chili! This is not required and you can absolutely leave this step out if you wish.
Nutrition
Calories:
247
kcal
,
Carbohydrates:
51
g
,
Protein:
10
g
,
Fat:
2
g
,
Saturated Fat:
1
g
,
Sodium:
1088
mg
,
Potassium:
1069
mg
,
Fiber:
12
g
,
Sugar:
13
g
,
Vitamin A:
13214
IU
,
Vitamin C:
20
mg
,
Calcium:
103
mg
,
Iron:
4
mg