This southern recipe is so easy to make and finger-licking good! They only take 15 minutes to make and are perfect paired with Herb Lemon Aioli dipping sauce for some extra flavor!
Fried Green Tomatoes are a Southern tradition! This Fried Green Tomatoes Recipe is made up of juicy tomatoes coated with cornmeal, and fried to a golden brown perfection!
Fried Green Tomatoes has to be one of my favorite movies of all time. Evelyn Couch, the Threadgoode family, Ms. Ruth and my personal favorite, Evelyn's alter personality TOWANDA!
It put the Whistle Stop Cafe and fried green tomatoes on the map, many of which had never heard of either. The cafe does actually exists down in Georgia.
Fried Green Tomatoes are yummy, crunchy discs and actually relatively easy to make. They only take a handful of ingredients to make, and barely anytime to fry up! Tasting wonderful on their own, they taste even better with a dipping sauce!
PRO TIP: Always use a firm green tomato. Cooking it will soften it up a bit.
Yellow cornmeal and tempura-like batter seem to be the most popular breading options for fried green tomatoes. I prefer to use the cornmeal and pan fry.
TOMATO FACT: Red tomatoes start green before they are ripe. Green tomatoes are a variety of heirloom tomato that is green even when ripe and ready to eat.
If you use a batter, it requires a deep fat fry and that just takes more time, mess and still has the potential to turn out a little soggy.
With cornmeal, even if they sit for a bit, they will still be crunchy. You can even warm up leftovers with a quick flip in the pan and they will be just as good as the day you made them.
Herb Lemon Aioli is an all-purpose sauce used for dipping onion rings, fries, vegetables and tomatoes! Fried green tomatoes also taste good with a spicier mix of Chipotle Aioli. Some people also call it a remoulade sauce. Other just like a flat out hot sauce.
PRO TIP: Low on time? Buy bottled Thousand Island, Ranch or Bleu Cheese.
So here is the quick and dirty version of how to make fried green tomatoes. Pick nice, firm tomatoes. Using shallow bowls or pie plates, dredge green tomato slices in egg mixture and then cornmeal mixture.
Heat the oil (or bacon grease) in a skillet and fry until golden brown. Allow to drain on paper towels. Serve immediately!
Just love fried green tomatoes or have left overs? Please… by all means try the Whistle Stop Sandwich. Modeled after a local Southern eatery, this sandwich has just the right ratios of salty, cheesy, crunchy and cool. What seems like an odd combination will be heaven in your mouth. I promise.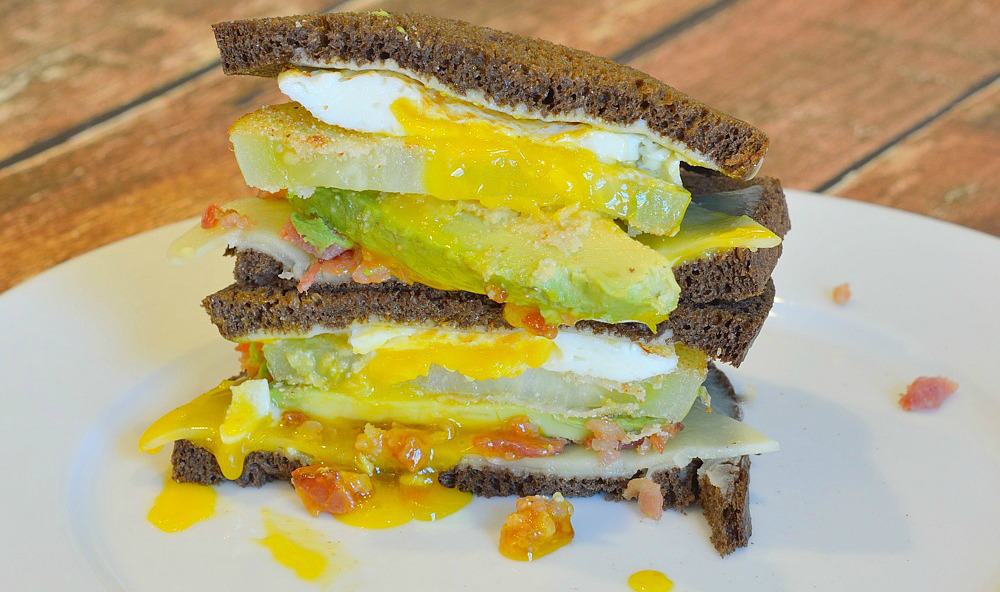 Questions you might have about how to make fried green tomatoes:
Can you use red tomatoes instead of green tomatoes? Sure! Green tomatoes can be difficult to find in some markets. Just like with green tomatoes, you don't want a super ripe, squishy tomato.
You want it to be nice and firm, what you would typically think of as too firm for a salad. It will soften up while cooking.
Can I freeze fried green tomatoes? Tomatoes, in general, don't freeze well because of their high water content.
Can I make them ahead of time? This is one of those recipes I really recommend making right before you serve. Anything fried has the tendency to get a little soggy if you try to make it too far in advance.
Can I bake fried green tomatoes? Technically these would be baked green tomatoes. Hahaha!
The answer is, yes, but they won't have the same crunch as the fried version. Nothing baked will ever be the same as fried.
Can I use bread crumbs? I prefer cornmeal for this traditionally southern recipe, but you can substitute bread crumbs or panko if you wish.
Can I make this recipe in an Air Fryer? I am 100% certain you can, but I don't own an Air Fryer and therefore have no clue about the conversion. If you try it, email me or leave the instructions in the comments and I'll stick it in the recipe notes.
Check out these dipping sauces:
Creamy Horseradish Sauce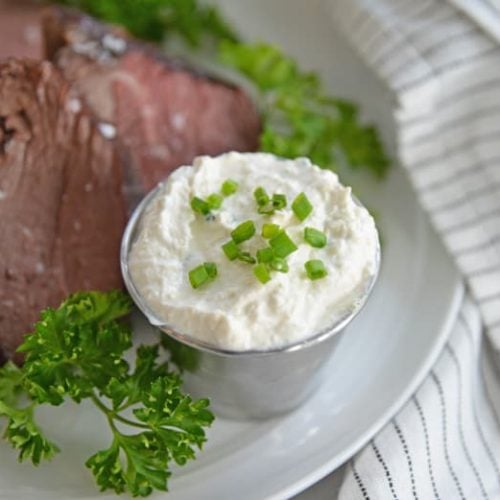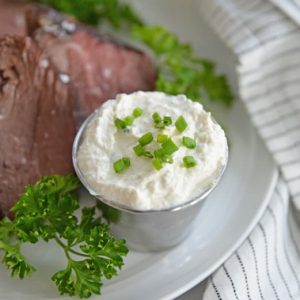 Creamy Horseradish Sauce comes together in less than 5 minutes with a sour cream base, tangy horseradish, this is a winner that will rival any steak sauce!
Homemade Tartar Sauce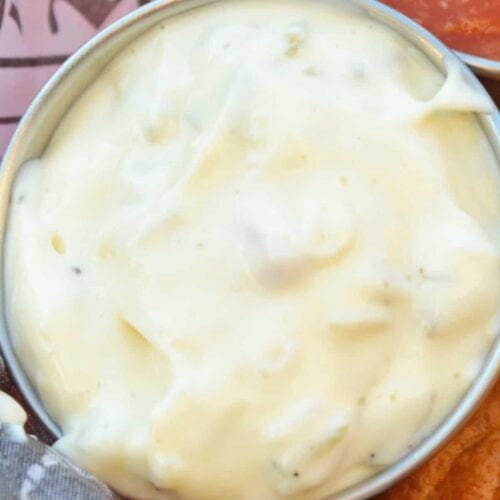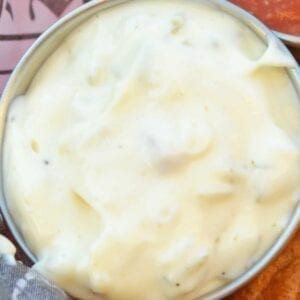 Tartar sauce is a must-have for nearly any dish with seafood or fish. Why buy it from the store when you can make this tasty homemade tartar sauce in seconds with just a handful of ingredients?
Tools for making fried green tomatoes:
Serrated knife- the best way to slice a tomato without it totally collapsing is with a serrated knife. A bread knife works fine.
Pie Plates– I think every kitchen should have at least three shallow dishes or pie plates for the process of breading and frying. You can also bake pies in them! Hehe.
Heavy Bottom Frying Pan– this will be one of your most used kitchen tools. Having something that is heavy bottom will distribute heat better and prevent burning whether you are using an electric or gas range.
Cast Iron Skillet– Yes they are heavy, yes they take a little extra TLC. Are using cast iron pans worth it? YES!!! Just buy one and you'll thank me later! I have both pre-seasoned and unseasoned. I like them both for different reasons.
CONNECT WITH SAVORY EXPERIMENTS!

Be sure to follow me on social media, so you never miss a post!

Facebook | Twitter | Youtube
Pinterest | Instagram
Get our FREE 8 Day E-Course on How to Be a Better Home Cook. Sign up HERE!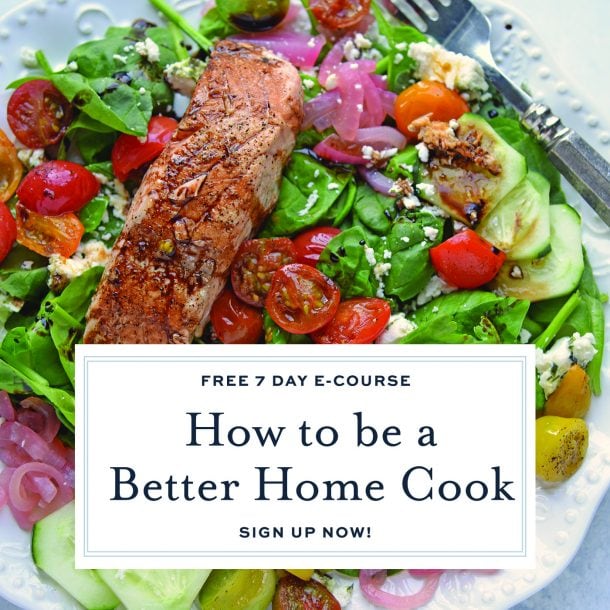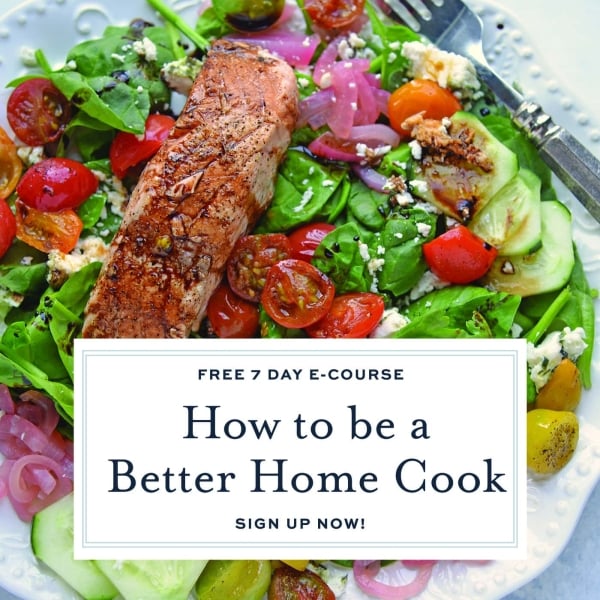 Fried Green Tomatoes
Fried Green Tomatoes are a Southern tradition. Juicy tomatoes coated with cornmeal and fried to a golden brown.
Instructions
Make the aioli first, giving it time to chill slightly before serving. In a small food processor combine garlic and mayonnaise. Grind until smooth and creamy.

Add the remaining ingredients and grind again until combined.

Transfer to a serving dish, cover and refrigerate until ready to serve. Aioli will stay good in the fridge for 2-3 days.

Place two beaten egg whites in one bowl and combine cornmeal with salt in another bowl. Heat 2 TBS oil in a large skillet.

Dredge a tomato slice in egg white and then cornmeal mixture and place directly into the hot oil. Fry on each side for about 2 minutes, or until cornmeal is lightly browned and formed a crispy crust. Pay close attention, tomatoes will stay taunt and cornmeal will only brown slightly. If the tomato get mushy you have overcooked.

Remove completed tomato slices to a paper towel lined plate to drain. If you plan to make a large batch (larger than 2 tomatoes), I recommend putting them on a baking sheet at 200 degrees to keep them warm until serving time.

When finished frying, remove aioli from the fridge and serve tomatoes hot! Enjoy!

If you tried this recipe, make sure to come back and let us know how you liked it!
Nutrition
Calories:
560
kcal
|
Carbohydrates:
39
g
|
Protein:
6
g
|
Fat:
38
g
|
Saturated Fat:
6
g
|
Cholesterol:
18
mg
|
Sodium:
840
mg
|
Potassium:
161
mg
|
Fiber:
3
g
|
Iron:
1.3
mg