These classic Southern Fried Green Tomatoes are so easy to prepare and finger-licking good! They only take 15 minutes to make and are perfect paired with Herb Lemon Aioli dipping sauce for some extra flavor.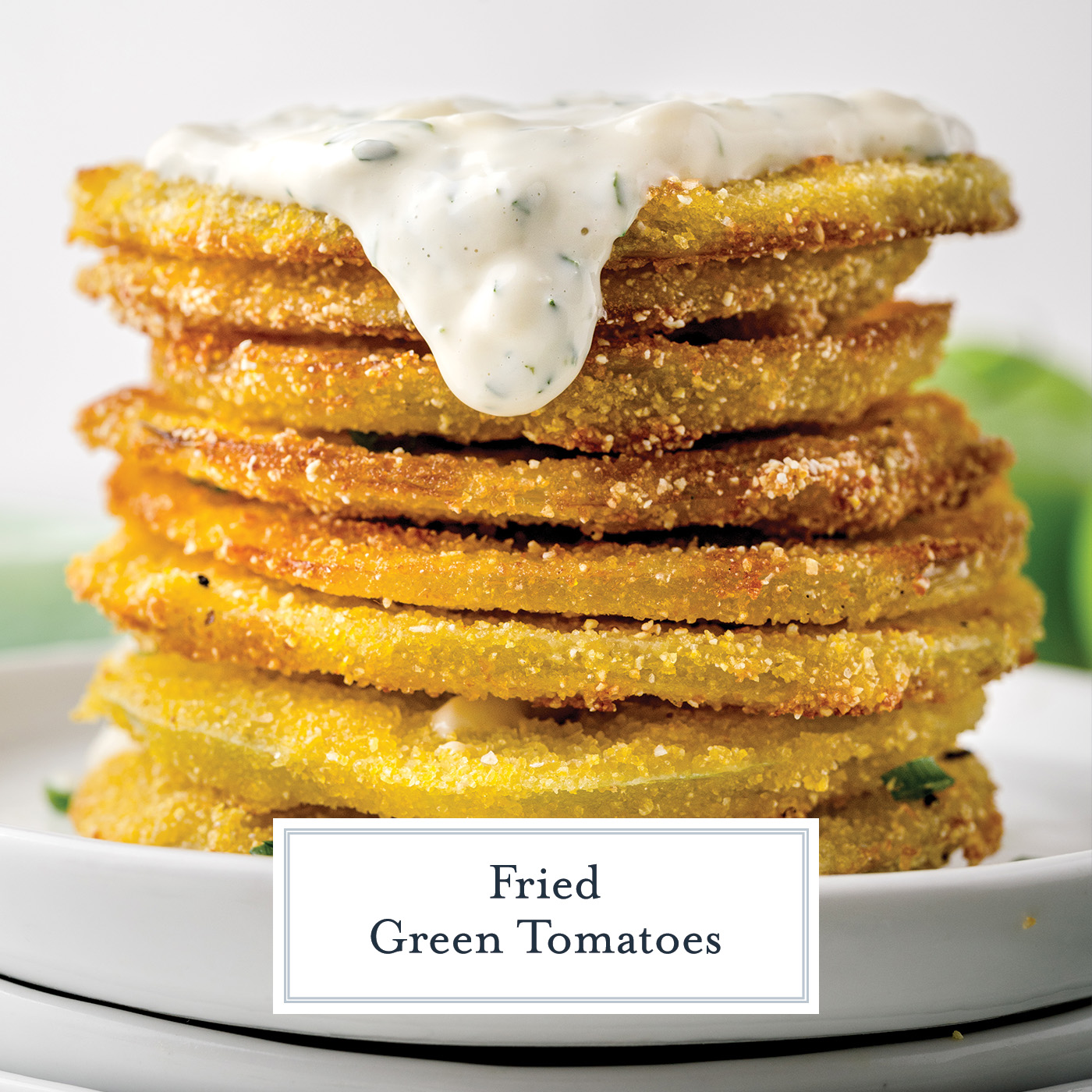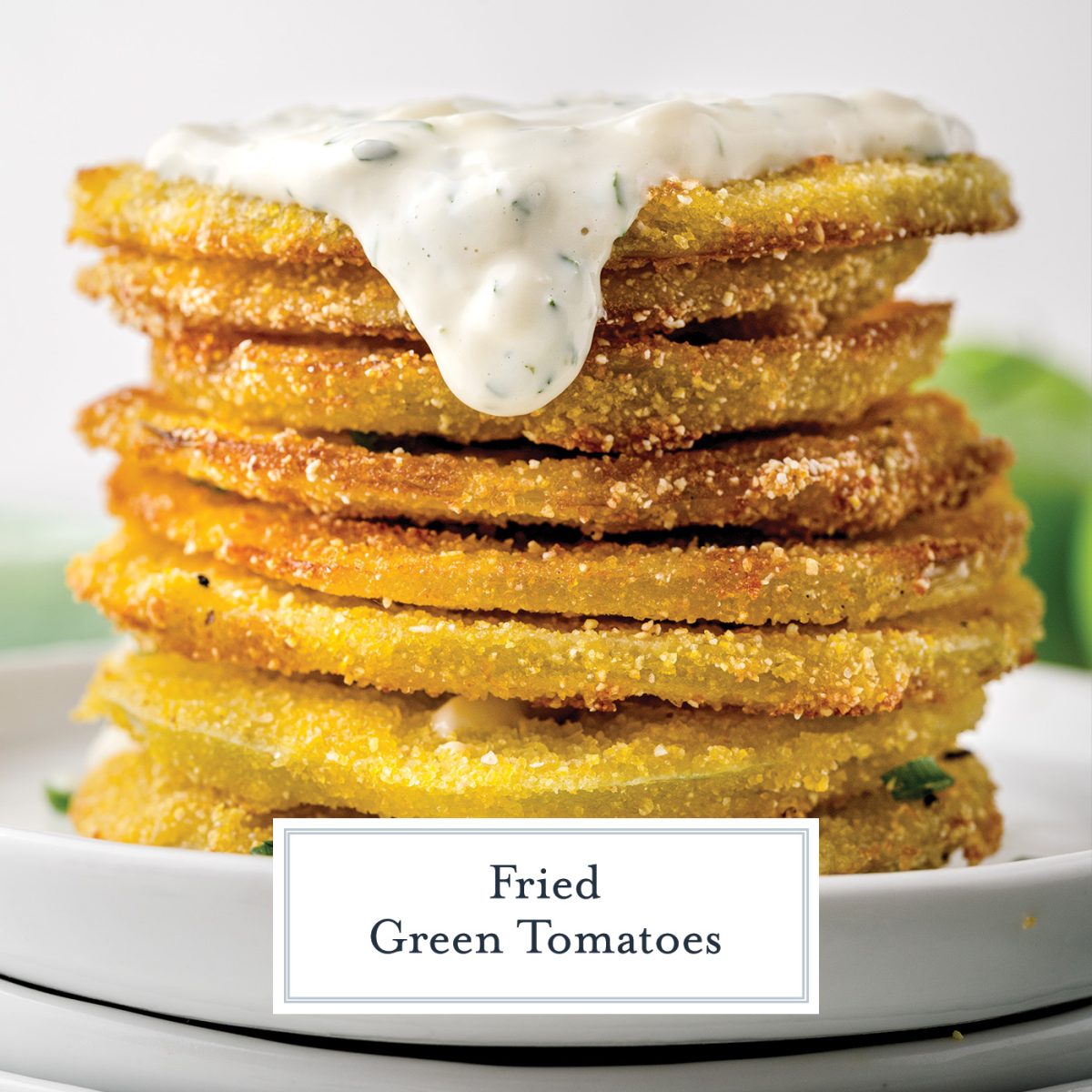 Juicy green tomatoes coated with a light cornmeal crust and pan fried to golden brown might be one of the best creations ever. While some folks prefer battered fried green tomatoes, I like the cornmeal because it stays crisper longer and makes the perfect filler for my Fried Green Tomato Sandwich.
They are also great as a light lunch, side dish or appetizer.
Fried Green Tomatoes Recipe
Fried Green Tomatoes has to be one of my favorite movies of all time, you know the one with Jessica Tandy and Kathy Bates? Evelyn Couch, the Threadgoode family, Ms. Ruth and my personal favorite, Evelyn's alter personality TOWANDA!
It put the Whistle Stop Cafe and fried green tomatoes on the map, many of which had never heard of either. The cafe does actually exists down in Georgia.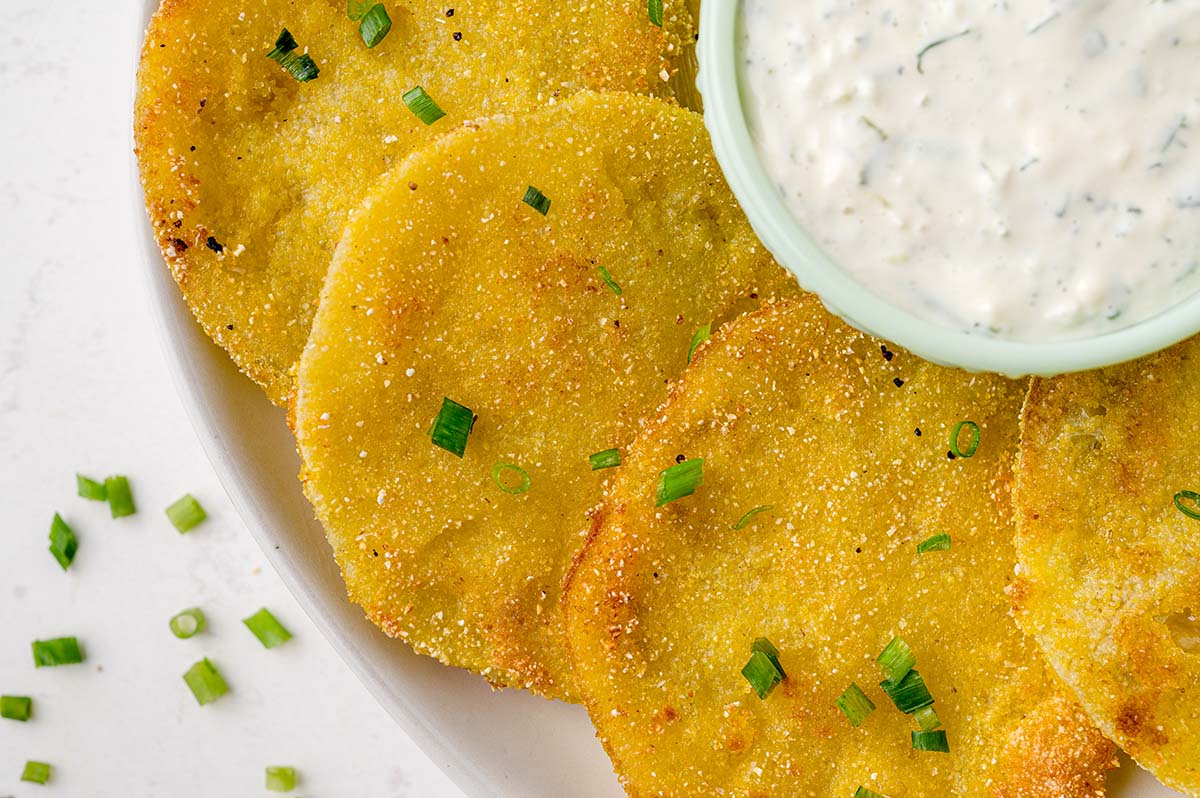 These crunchy discs and actually relatively easy to make. They only take a handful of ingredients to make, and barely anytime to fry up. They are wonderful on their own, but even better with a dipping sauce. You know I like to get saucy even though the southern recipe doesn't includes anything by maybe a spritz of lemon juice.
PRO TIP: Always use a firm green tomato. Cooking it will soften it up a bit.
TOMATO FACT: Red tomatoes start green before they are ripe. Green tomatoes are a variety of heirloom tomato that is green even when ripe and ready to eat.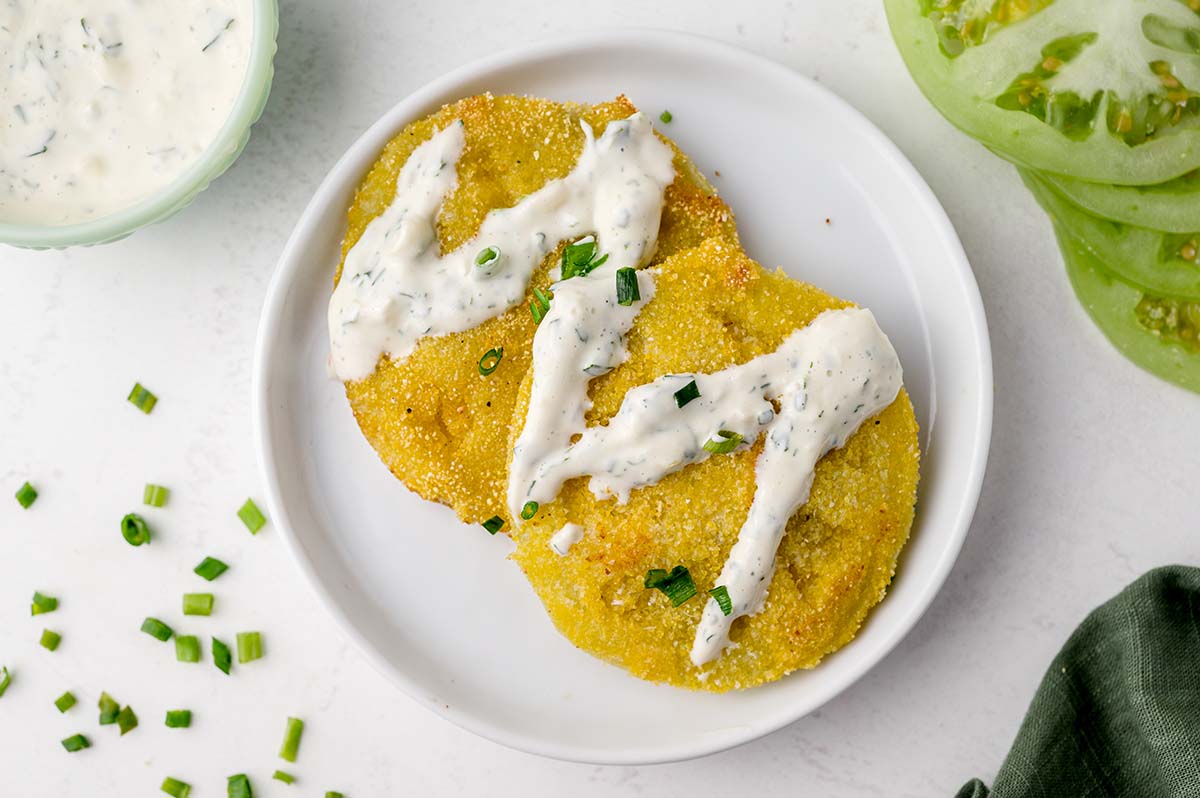 Ingredients
Egg whites– Whole eggs are fine too, I just like the clear aspect of the whites without a yolky flavor. A blank slate, if you will.
Yellow Cornmeal- Aim for a coarser blend, not cornflour. Yellow is the most traditional, but white cornmeal can also work. This also keeps this recipe gluten-free. If you don't have cornmeal, traditional bread crumbs (seasoned or not), panko bread crumbs and cracker crumbs are good alternatives.
Fine Sea Salt- Sea salt provides the cleanest salt flavor without metallic aftertastes and also distributes evenly into the blend. If you are using other seasonings, omit the salt as they likely have high sodium.
Green Tomatoes– Mostly heirloom tomatoes, green tomatoes are quite the find and generally stocked siloed from the other varieties. Look for a nice, taunt and firm tomato (some might even call these unripe tomatoes) for best results, otherwise they tend to get soggy while cooking. For the cleanest tomato cuts, use a serrated knife or even a bread knife.
Vegetable Oil– or any other neutral cooking oil (canola oil) with a higher smoke point is fine. Olive oil can also be used, but the temp will need to be a little lower and cooking time will increase. This also increases the likelihood that the tomato itself will overcook.
Dipping sauces- we love the freshness of lemon and herb aioli, but down towards the bottom are a slew of other fried green tomato dipping sauce options. If serving at a party, set out several dipping options and make sure to label them.
Garnish– Chives give a fresh crunch, as do scallions (green onions), but parsley is also a fun topping.
How to Make Fried Green Tomatoes
Preheat the oven so you can keep the tomatoes warm. You'll want to work in batches so they don't crowd in the frying pan. Arrange a wire cooling rack over a baking sheet lined with paper towels. This allow hot air to continue circulating around the tomato slice and any excess oil drip down instead of letting it sit in a pool of oil.
Place the egg whites in one shallow dish and the cornmeal and salt in another. Some folks have written asking about an all-purpose flour layer, but I've never had an issue with just egg and cornmeal. You are more than welcome to add a layer. There are my favorite dredging bowls– the perfect size and they link together.
Heat the vegetable oil in a large skillet over medium-high heat. The trick is getting the oil hot enough to fry fast, but not burn and not too slow, otherwise the tomato will start to cook and get soggy, release liquids that will make the crust wet. A heavy bottom or cast iron skillet is ideal for frying so it heats evenly.
Working in batches to avoid crowding the pan, dip tomato slices in the egg mixture and then cornmeal mixture and place directly into the hot oil. Fry on each side for about 2 minutes, or until cornmeal is lightly browned and formed a crispy crust. Tomatoes will should still be firm.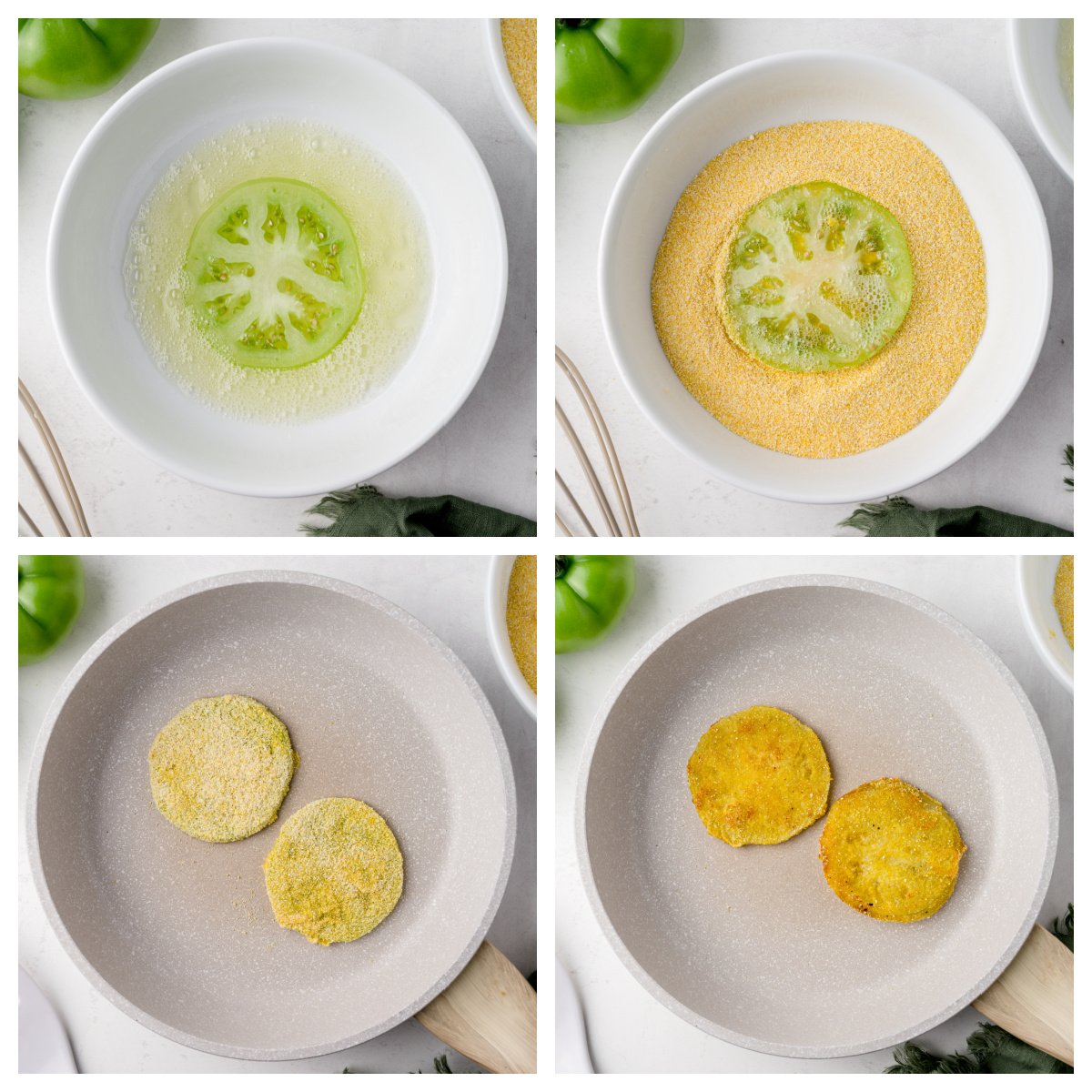 Place the completed slices in a single layer on the prepared pan and keep warm while you continue the rest.
Garnish these slices of gold with chives, scallions or parsley or leave them plain and serving with your favorite dipping sauce(s).
Variations
If you come up with other variations or have fun family traditions, make sure to tell us in the comments!
Can you use red tomatoes instead of green tomatoes? Sure! Green tomatoes can be difficult to find in some markets. Just like with green tomatoes, you don't want a super ripe, squishy tomato. Heirloom tend to work best.
Spice– Variety is the spice of life, so feel free to add spice blends to the cornmeal mixture while dredging. Most will contain salt, so omit the additional salt if you do this. Blackened seasoning and taco seasoning are winners in my house. Creole seasoning is also popular.
Parsley– If raw onions isn't your jam, swap out with chopped curly or flat leaf parsley.
Air Fryer- If you are cutting back on pan-frying, this recipe is ideal for an Air Fryer. Heat to 340°-350°F and cook for 2 minutes on each side.
Baked Fried Green Tomatoes– You can, but they won't have the same crunch. Bake at 400°F for 5 minutes on each side.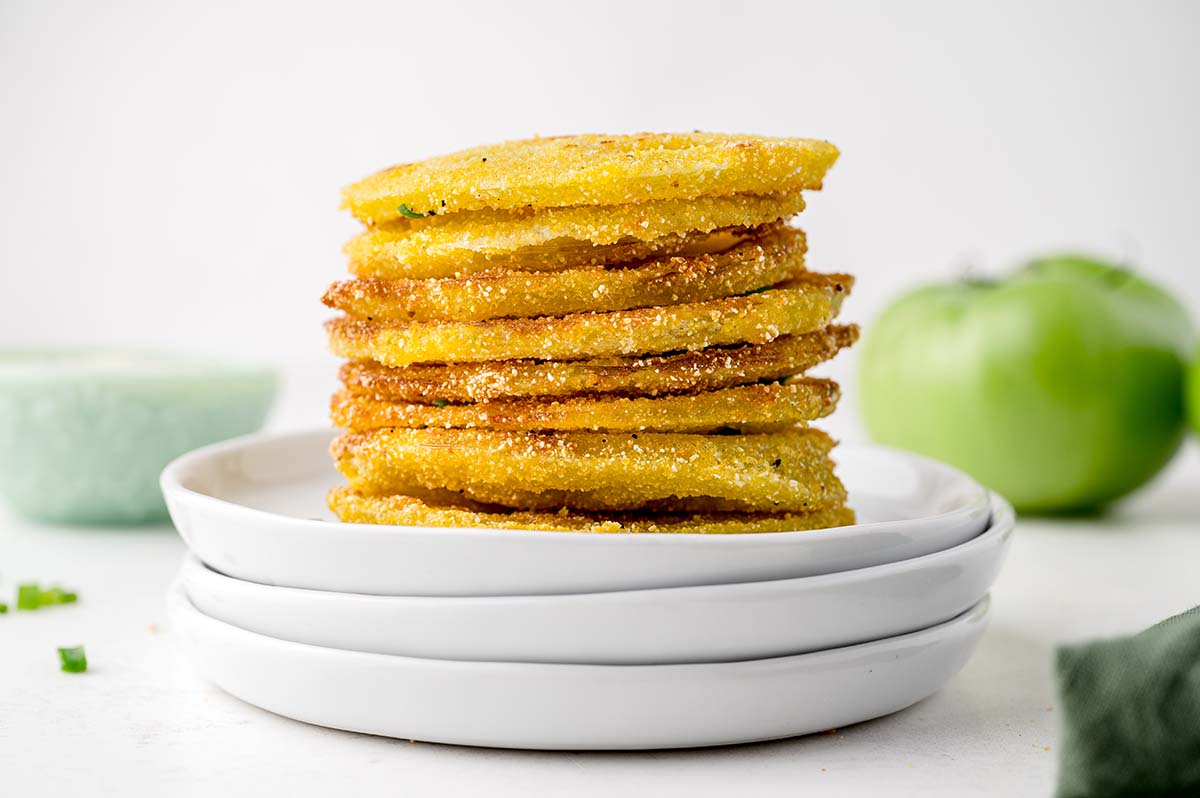 Fried Green Tomatoes Sauce
Aioli is an all-purpose sauce used for dipping onion rings, fries, vegetables and tomatoes! Fried green tomatoes also taste good with a spicier mix of Chipotle Aioli or classic Tartar Sauce. Some people also call it a remoulade sauce. Other just like a flat out hot sauce or marinara, dip your tomatoes in tomato!
PRO TIP: Low on time? Buy bottled Thousand Island, Ranch or Blue Cheese.
You can also make your own ranch or blue cheese.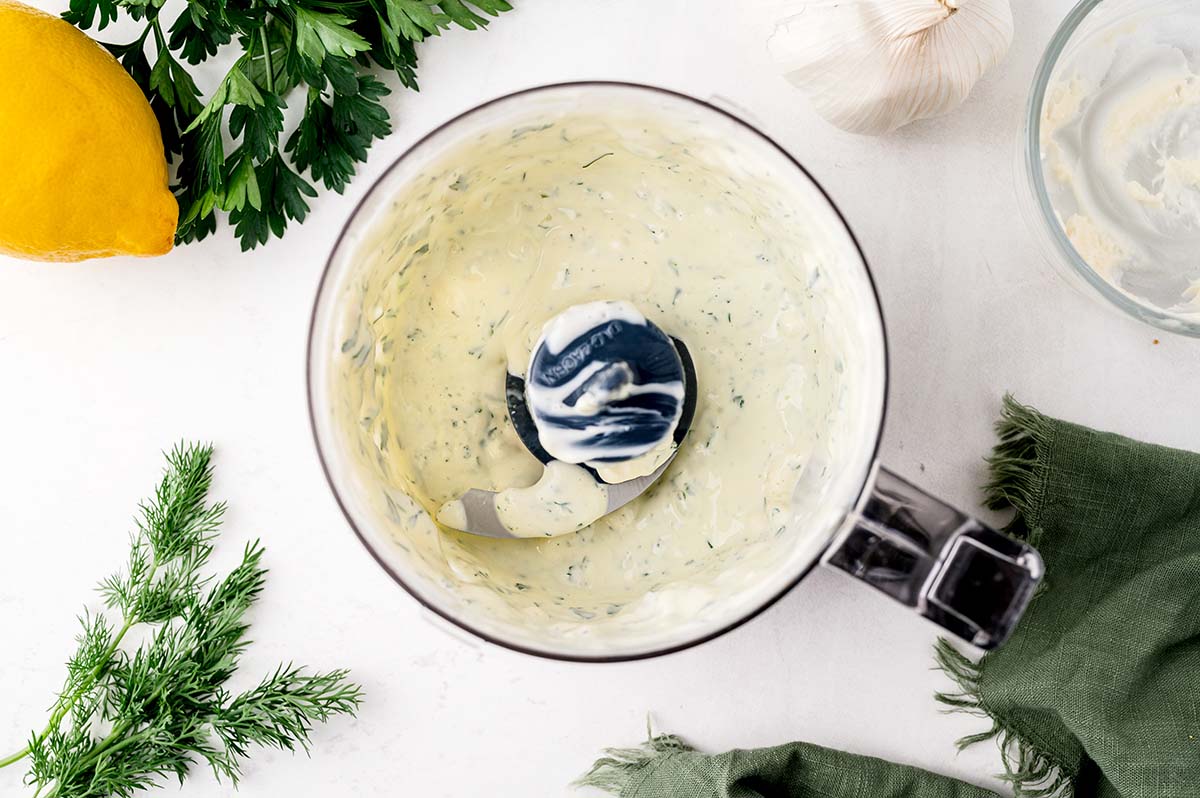 Storage, Make Ahead & Reheating
Store leftovers in an airtight container in the refrigerator for up to 5 days. Reheat on a hot skillet with a tiny bit of oil or in a 350°F oven for 5 minutes.
Can I freeze fried green tomatoes? Tomatoes, in general, don't freeze well because of their high water content.
Can I make them ahead of time? This is one of those recipes I really recommend making right before you serve. Anything fried has the tendency to get a little soggy if you try to make it too far in advance.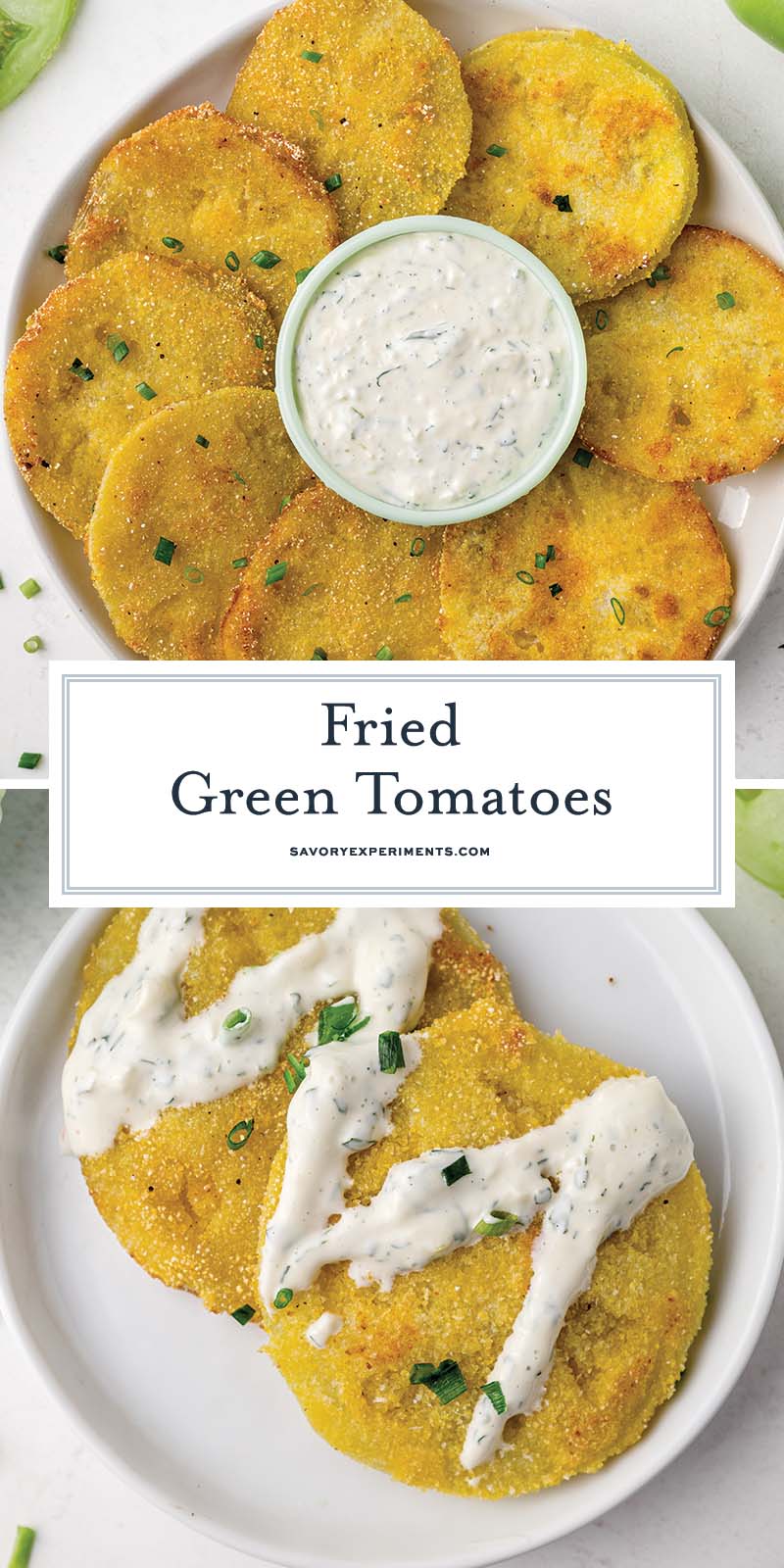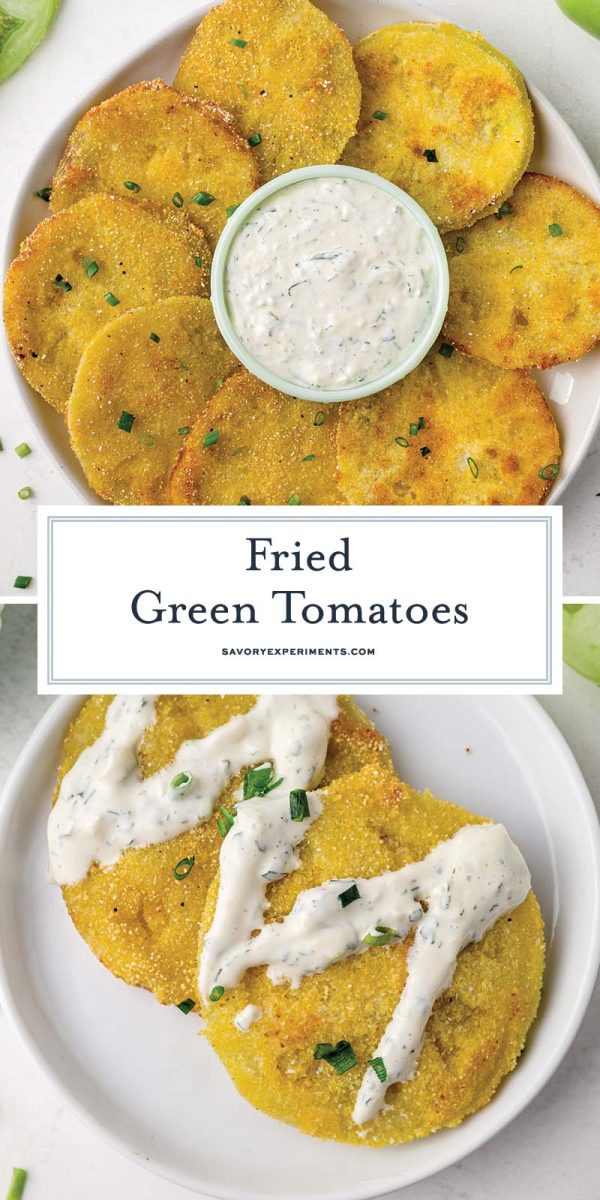 More Tomato Recipes: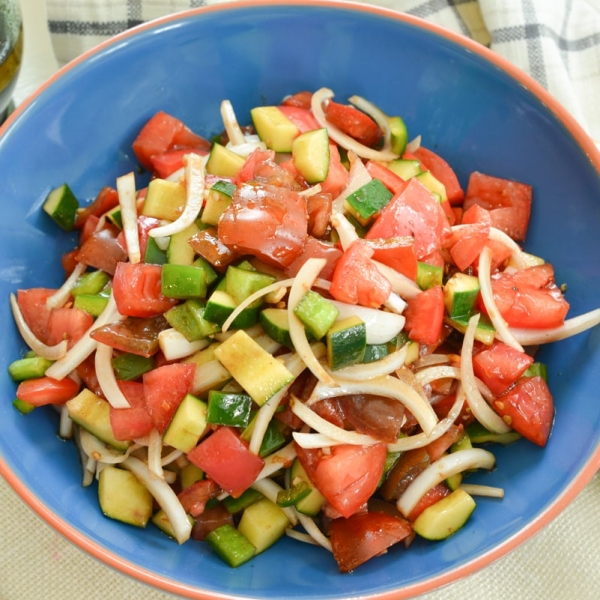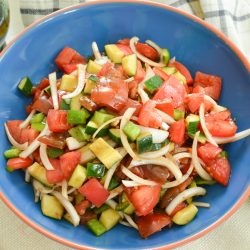 Cucumber Tomato Salad
Fresh tomatoes, cucumbers, onion, bell pepper and garlic all in a tangy and slightly sweet easy dressing. The perfect easy salad recipe for summer.
See The Recipe!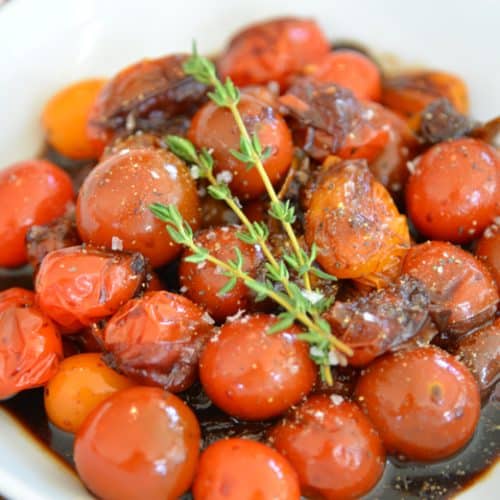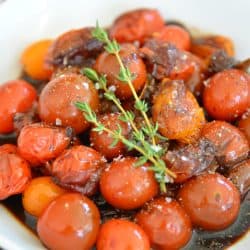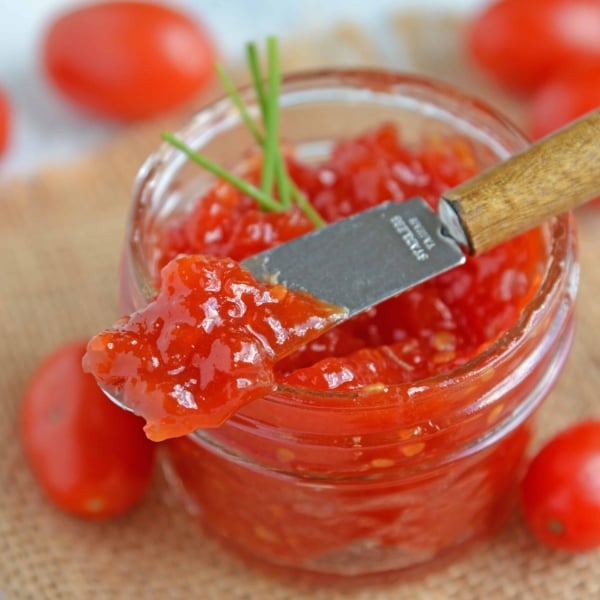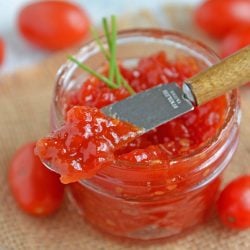 Tomato Jam Recipe
Tangy and sweet, tomato jam is excellent on everything from grilled cheese to deviled eggs, adding a balanced acidity that will complement a wide variety of other foods.
See The Recipe!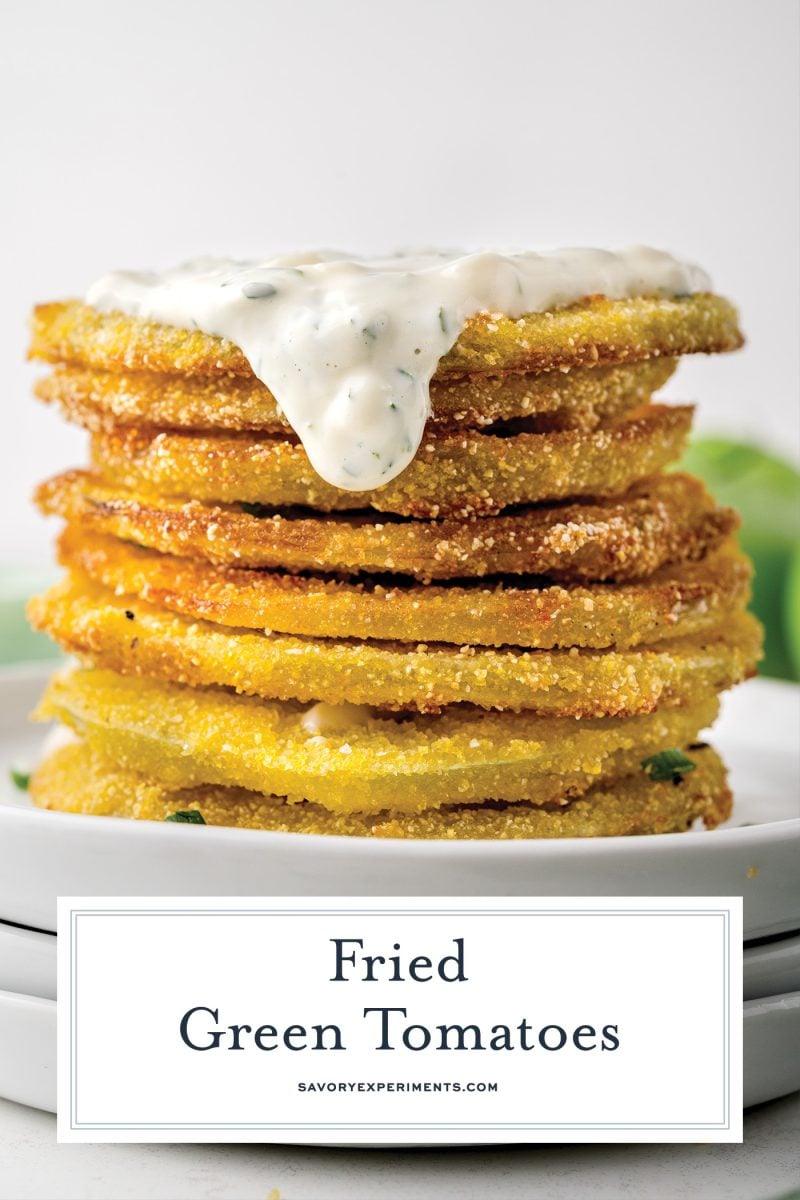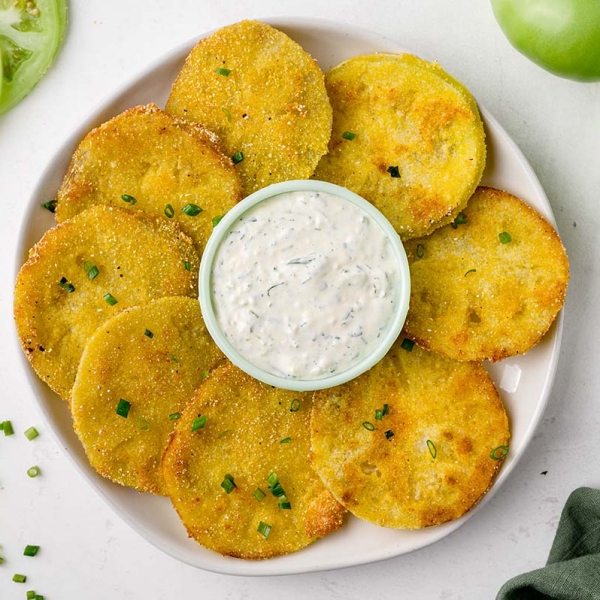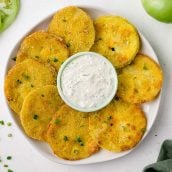 Fried Green Tomato Recipe
Fried Green Tomatoes are a Southern tradition. Juicy tomatoes coated with cornmeal and fried to a golden brown serve with Lemon Aioli Dipping Sauce.
Instructions
Preheat the oven to 200°F or the "keep warm" setting, if you have it.

Place the egg whites in a shallow bowl for dredging. Combine the cornmeal and salt in another shallow bowl for dredging. *

Heat the vegetable oil in a medium skillet over medium-high heat.

Working in batches to avoid crowding the pan, dredge a tomato slice in egg white and then cornmeal mixture and place directly into the hot oil. Fry on each side for about 2 minutes, or until cornmeal is lightly browned and formed a crispy crust. Tomatoes will should still be firm.

Remove fried tomato slices to a wire rack over a baking sheet lined with papertowels and place them in the oven to stay warm.

Serve hot with lemon herb aioli (or other sauce of choice) for dipping.

If you tried this recipe, make sure to come back and let us know how you liked it!
Notes
I've never had any issues with the cornmeal sticking without a flour coating, but some folks have reported that they prefered to do flour-egg-cornmeal.
Nutrition
Calories:
560
kcal
,
Carbohydrates:
39
g
,
Protein:
6
g
,
Fat:
38
g
,
Saturated Fat:
6
g
,
Cholesterol:
18
mg
,
Sodium:
840
mg
,
Potassium:
161
mg
,
Fiber:
3
g
,
Iron:
1.3
mg