This Oven Roasted Corn with chive butter sauce is a quick, easy and hands-off way to serve up a classic side dish all year long.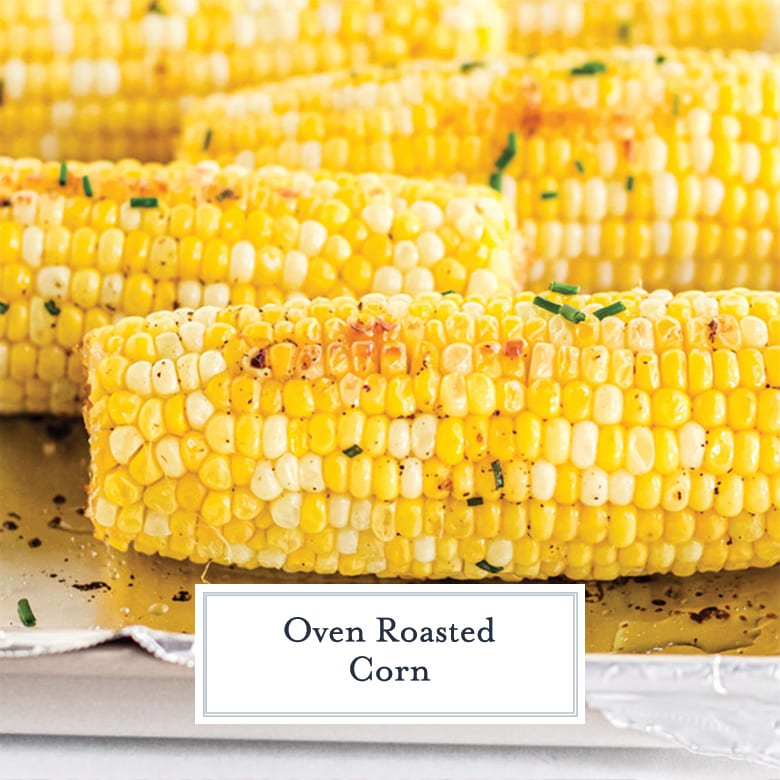 Put it in the oven, prepare the rest of your meal and in 30 minutes you will have perfectly seasoned golden corn roasted to perfection.
Why Roast Corn?
If you haven't had oven roasted corn before, you are missing out! When it comes to serving up corn on the cob for dinner, most people boil or steam it.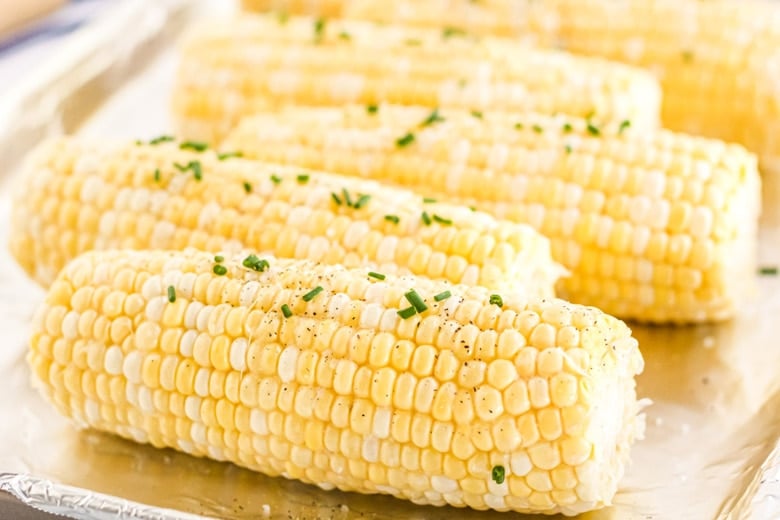 But, roasting corn on the cob in the oven condenses the starches and sugars, giving unparalleled sweetness and flavor. Adding a simple chive butter sauce takes it to the next level.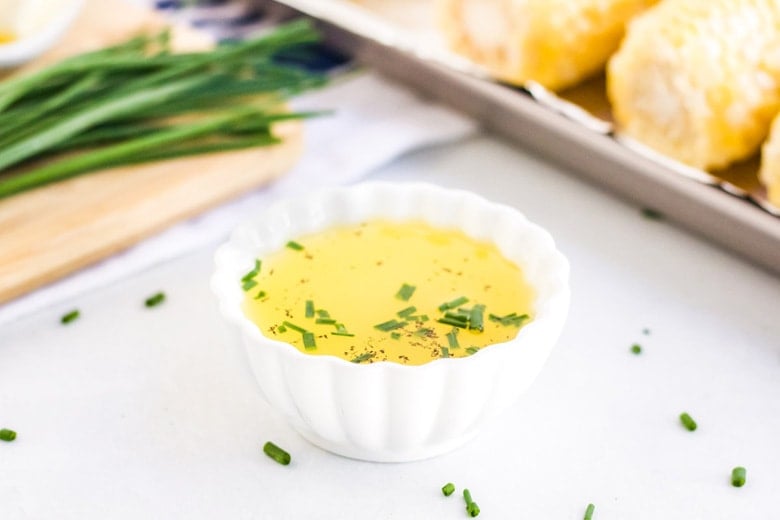 How to make Oven Roasted Corn On the Cob
To make oven roasted corn, you will need just a few simple ingredients: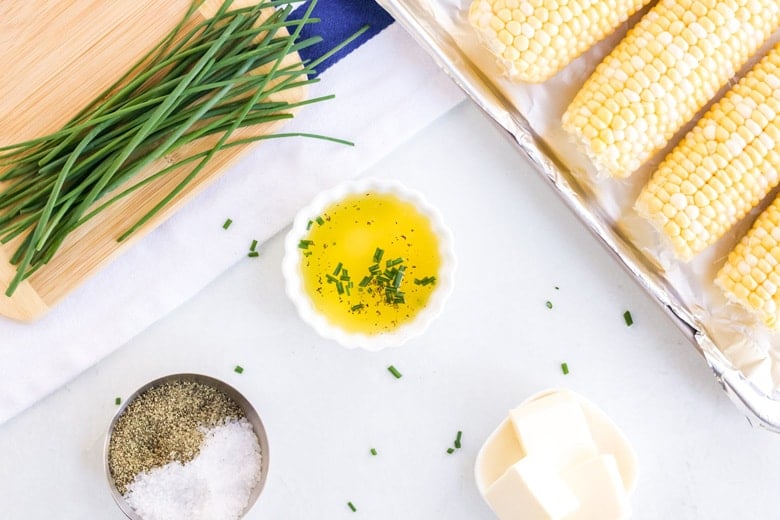 6 ears of fresh sweet corn, husks and silks removed
Butter
Chives
Salt and Pepper
Pro-Tip – Fresh is best! You can use frozen corn cobs for this recipe, but be sure to thaw and remove as much moisture as possible before roasting.
How to Roast Corn in the Oven
Roast the corn at 350 degrees for 30 minutes. Halfway through cooking time, you will want to flip the corn. This will ensure it is perfectly golden brown on both sides, and cooked evenly through.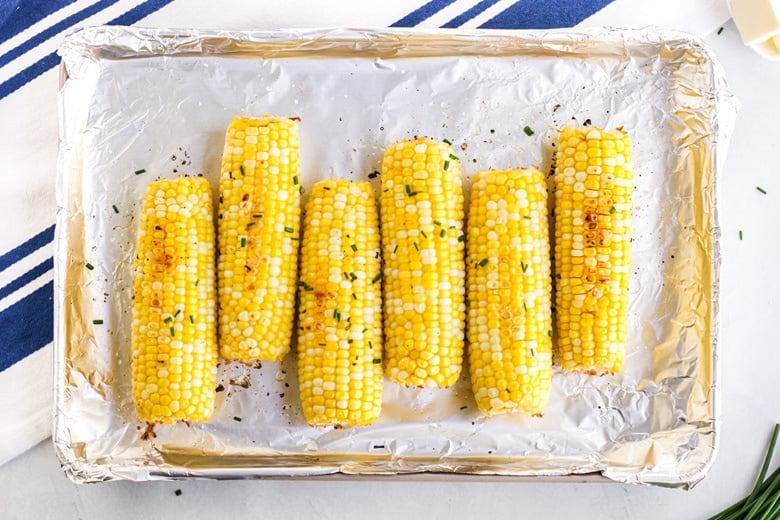 To check your down for doneness, you can use a fork and press into the ear of corn. When cooked through, the kernels will easily burst and the cob will lightly give into the fork.
When in doubt, take a bite!
How to Serve Corn in the Oven
One of my favorite things about this recipe is it can be served as a side dish or a main dish. One of my favorite summer meals is oven roasted corn, baked potatoes and a fresh salad.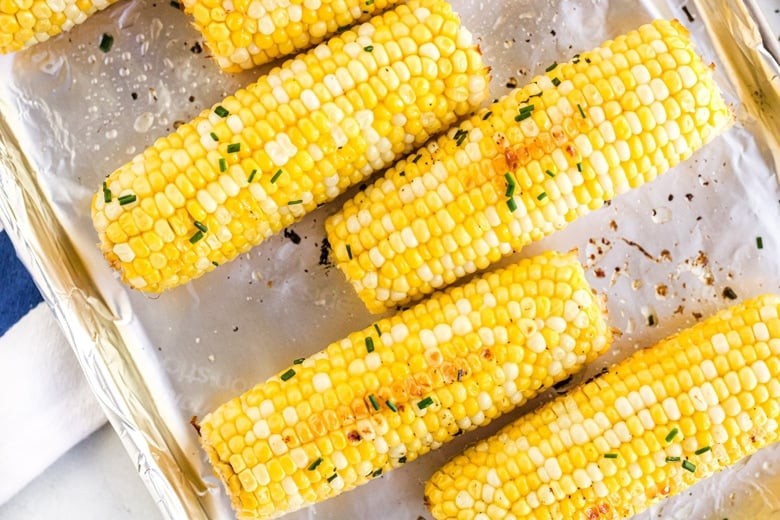 When plating the corn, I like to add some extra fresh chives for a burst of freshness and flavor.
How to select Sweet Corn
Whenever you are making a simple recipe, it is important to choose quality ingredients. When selecting your corn, be sure to pay attention to these qualities: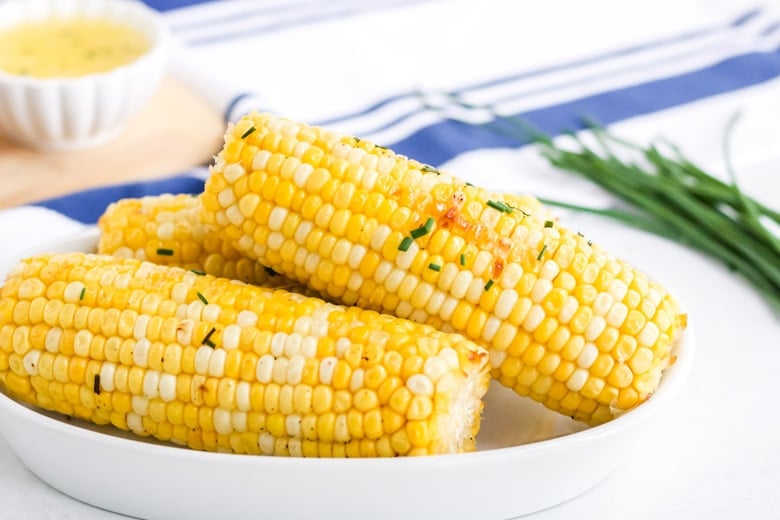 Feel the husk – the corn kernels should be plump and there should be no holes where kernels should be.
Look at the silk – the silk should be brown and slightly sticky. Dead silks are a sign of old corn.
Observe the color of the husk – The husk should be a fresh bright green color and often feels damp or cool to the touch.
Storage Tips
There is nothing like enjoying baked corn fresh out of the oven, but if you happen to have leftovers it does store well! Store in the fridge in an airtight container for up to 5 days. To warm, heat in the microwave.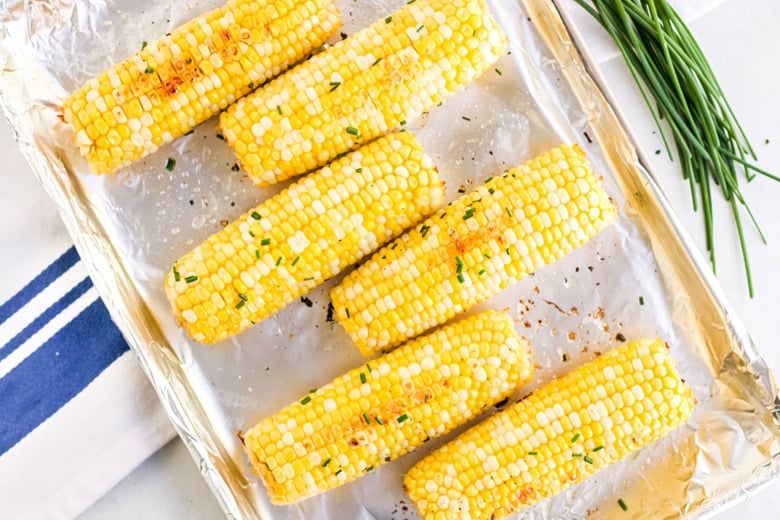 Flavor Variations
I love the classic combination of fresh summer corn with butter and herbs but if you are looking for something a little different, you can try these options:
Mexican Style– top with a squeeze of lime, cotija cheese, mayo and chilli powder or even spicy aioli.
Cilantro Lime – squeeze kernels with fresh lime juice and top with fresh cilantro, similar to street corn.
Spicy Corn – when making the chive butter sauce, add paprika, cayenne, aleppo or chilli powder to the mix.
Alternative Methods
You can easily adjust this recipe to make it vegan by swapping out the butter for your favorite vegan alternative. You can also roast the corn with no butter, or use your favorite cooking oil instead.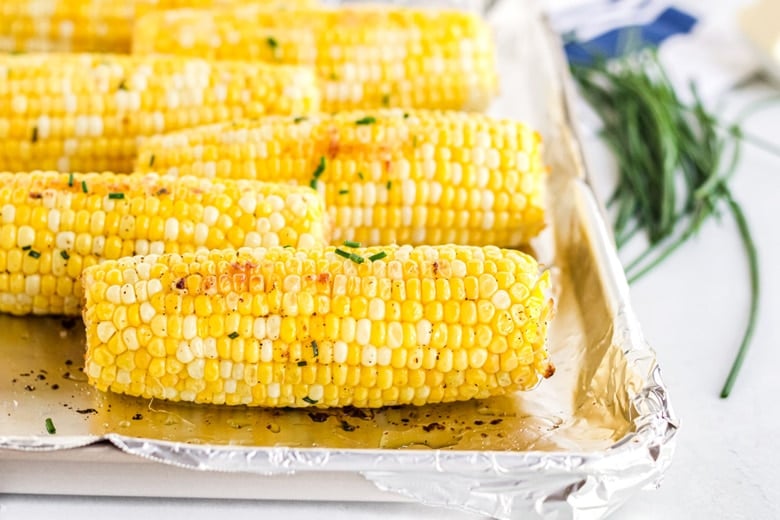 I love making oven roasted corn using foil because it makes cleaning up a breeze! However, you can make this recipe without foil. Just be sure to use a light coating of cooking spray on the baking sheet.
Some people prefer to roast corn in the husk. To do this, place the corns in the husk directly onto a baking sheet. Check for doneness by pulling back a husk and piercing with a fork. Prepare the chive butter as directed and apply to the corn cobs after they are cooked.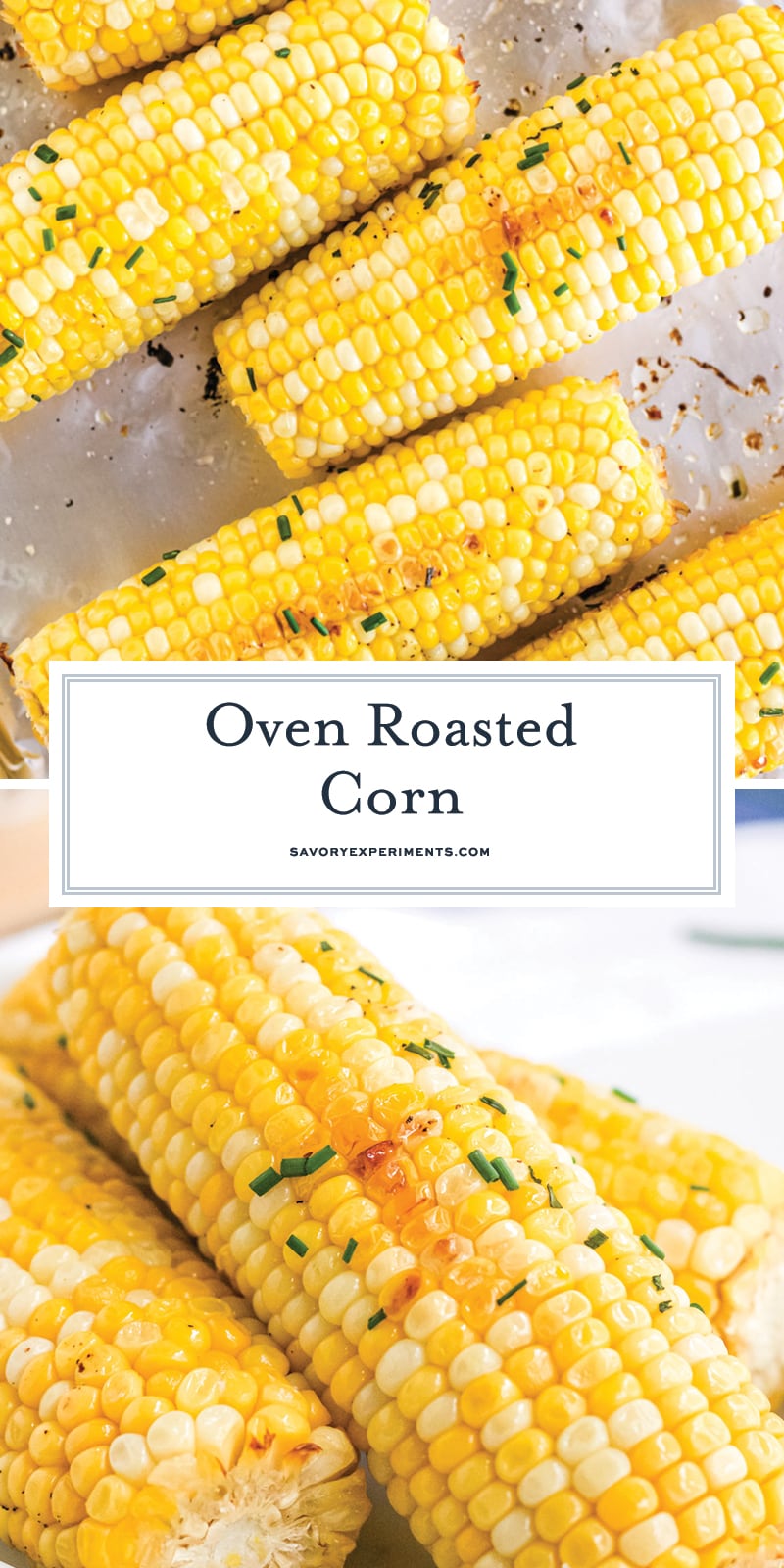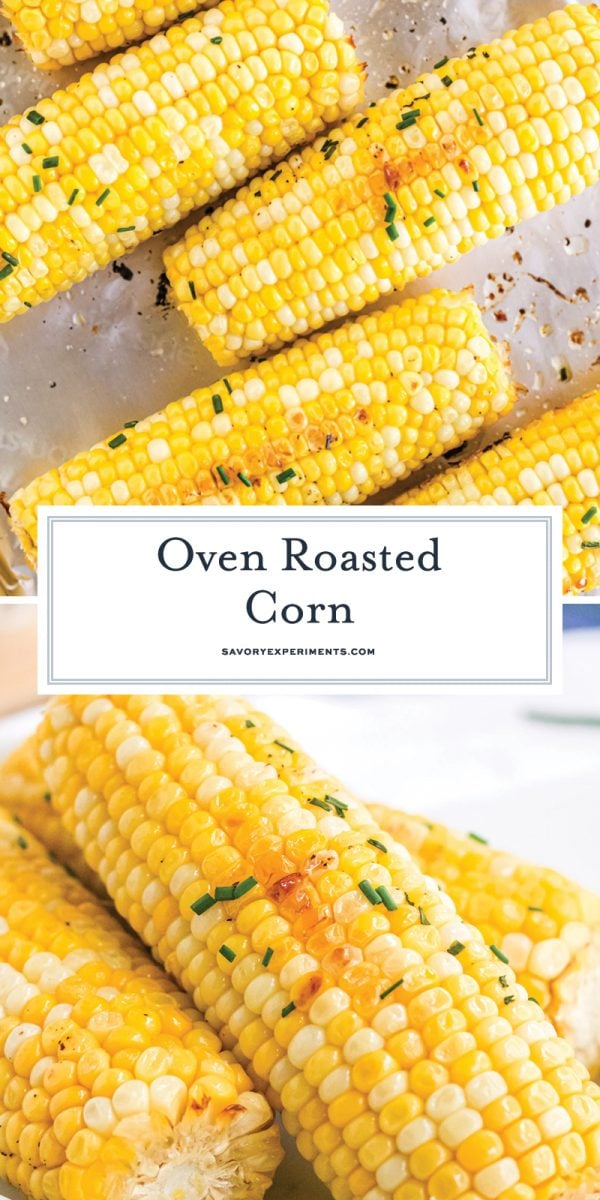 More corn recipes to try: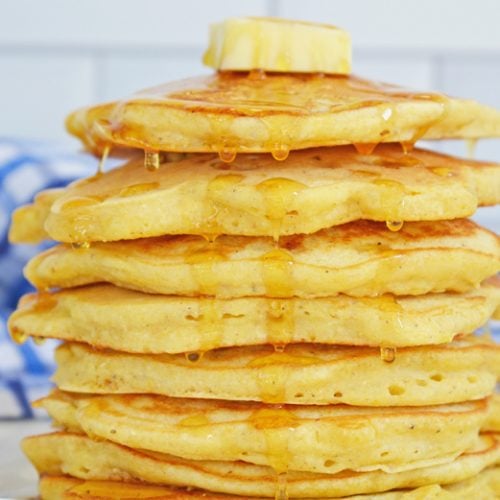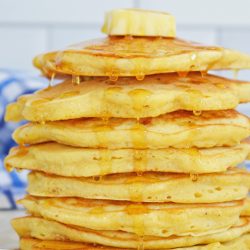 Griddle Corn Cakes
Fresh and fluffy- these griddle corn cakes can be served for breakfast, lunch or dinner with 10+ east variations to make them southwestern, cheesy, bacon-lover and more!
View this recipe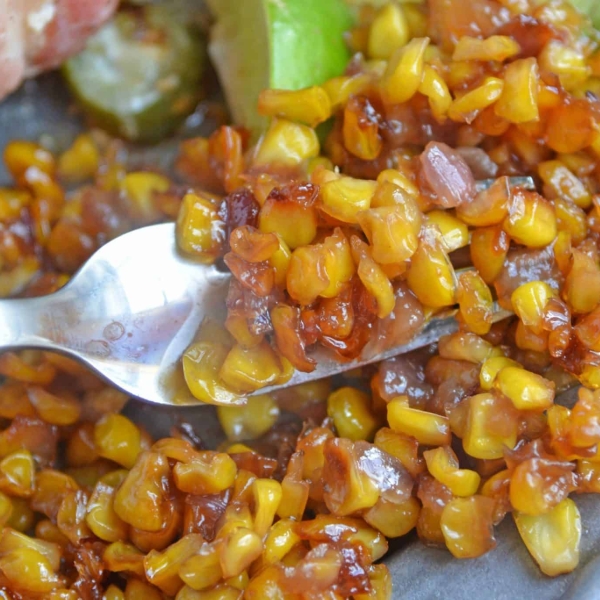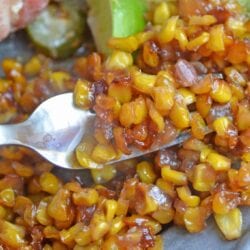 Southern Fried Corn
Southern Fried Corn is a simple southern recipe caramelizing corn and onions for a sweet side dish or taco filling!
View this recipe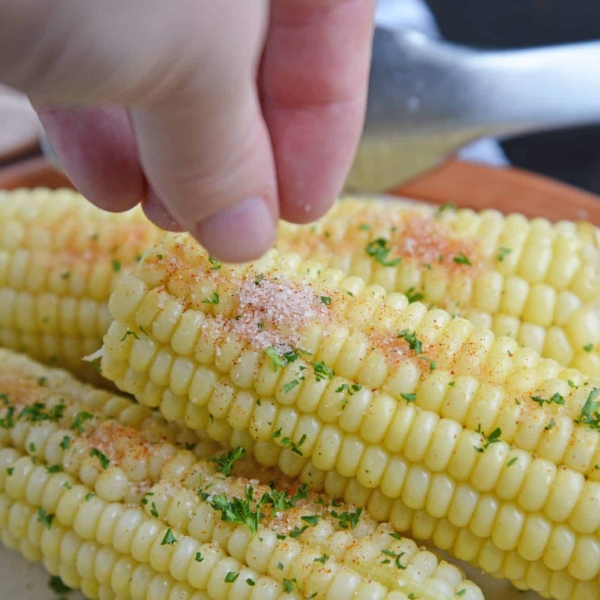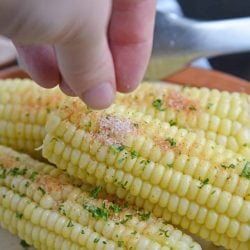 Best Corn on the Cob Seasoning
Corn recipes have never been more delicious than with this simple Corn on the Cob Seasoning! It's the best way to upgrade your summer corn.
View this recipe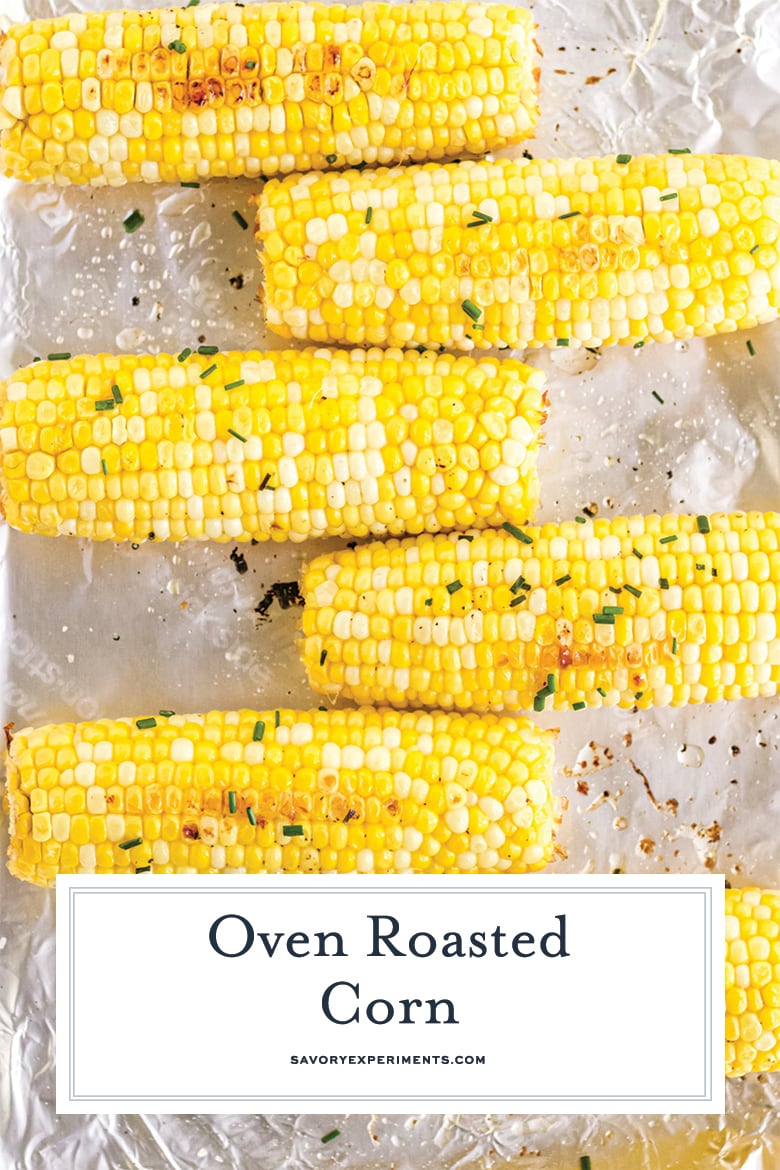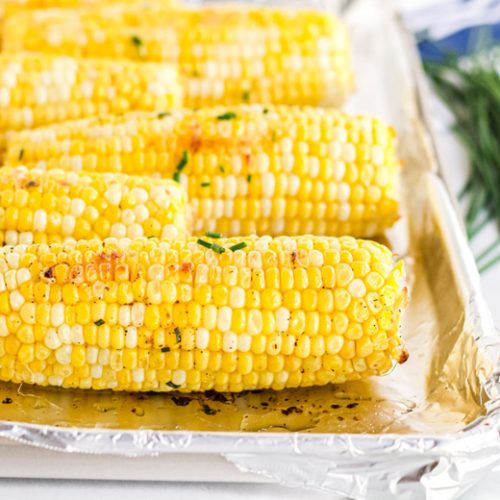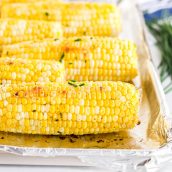 Oven Roasted Corn
This EASY Oven Roasted Corn with chive butter sauce is a quick way to serve a classic side dish all year long. Ready in only 30 minutes!
Instructions
Preheat the oven to 350 degrees and prepare a baking sheet with nonstick aluminum foil.

Remove the husks and silk from the corn.

Bake for 30 minutes, turning halfway through cooking time.

Remove and serve, adding more chive butter, if desired.

If you've tried this recipe, come back and let us know in the comments or ratings.
Notes
Be sure to saturate the corn with the butter. When cooking corn in the oven, this will help keep it moist and evenly cooked.
You can control the salt content of this recipe by omitting salt and using salt free butter.
Corn is done when the kernels begin to turn a golden brown and it is fork tender.
Nutrition
Calories:
102
kcal
,
Carbohydrates:
1
g
,
Protein:
1
g
,
Fat:
11
g
,
Saturated Fat:
7
g
,
Cholesterol:
30
mg
,
Sodium:
195
mg
,
Sugar:
1
g
,
Vitamin A:
415
IU
,
Vitamin C:
1
mg
,
Calcium:
3
mg