Do you love things hot and spicy? If there are chilies on something, are you bound to order it? Have you opted into one of those "finish this dish and you win a T-shirt" type challenges?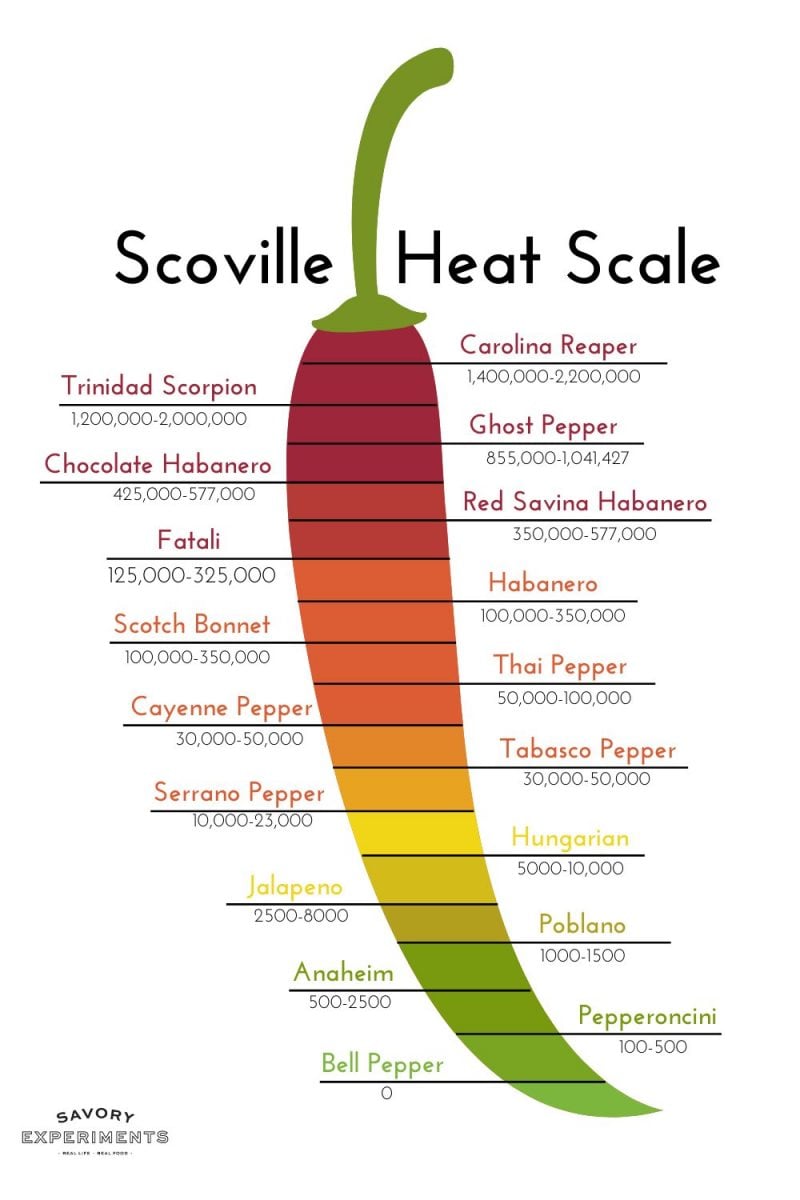 If so, you probably already have a good idea of what the Scoville Scale is. If not, don't worry! We are going to go into it right now. Knowing how to use it and what peppers to select is an imperative part of our 4S philosophy!
What is Capiscum?
Before you can even talk about the Scoville scale, you need to know what kind of food we are discussing in the first place. Capsicum is a genus of flowering plants that belong in to the nightshade family. In layman's terms, we are talking chilies.
And that includes everything from the not at all spicy bell pepper (yes, it is a chile) to the jalapeno pepper and all the way up to the varieties that make you regret your decision to eat them.
What Is the Scoville Scale?
The Scoville Scale is what measures how hot a pepper is or will be. They sometimes call this "pungency." It is measured in Scoville Heat Units or SHU and sometimes purely called the scoville ratings.
These determine the density or concentration of capascioids the family of compounds that includes capsaicin. It was created by a scientist named Wilbur Scoville in 1912.
These ratings are applied to fresh peppers, dried peppers and even hot sauce.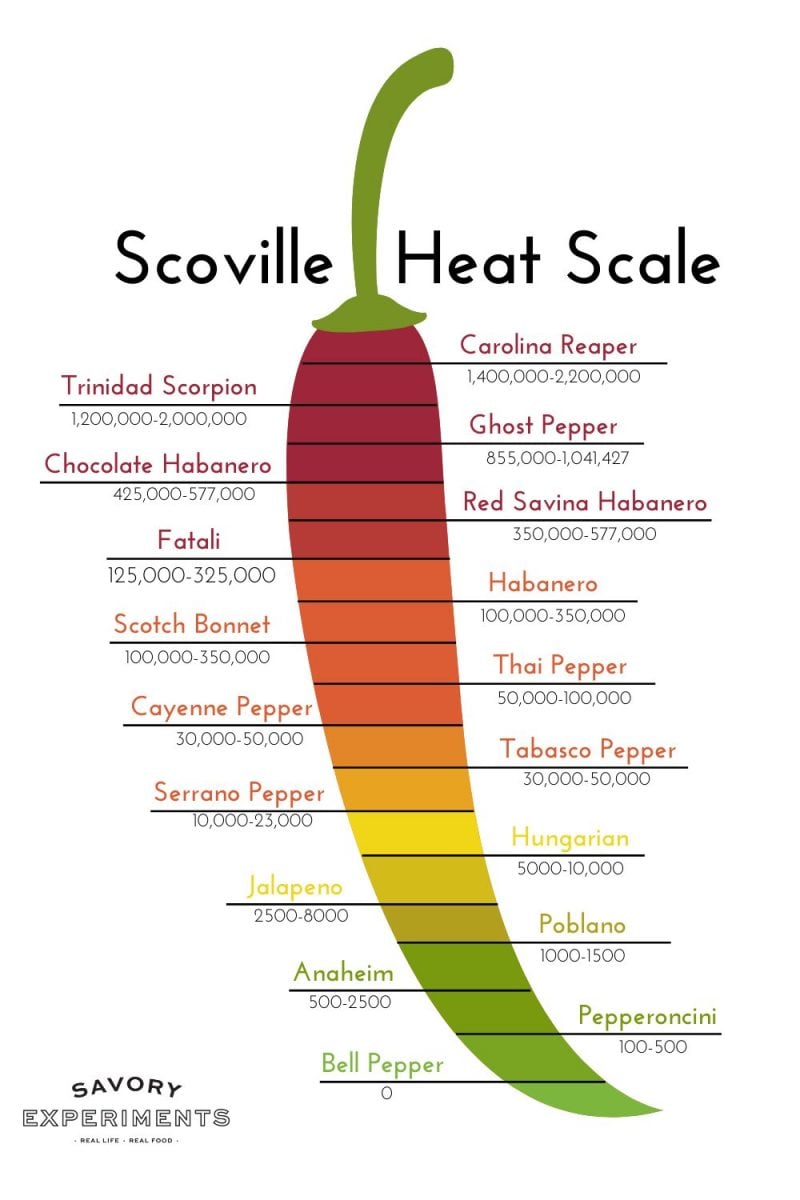 What is Capsaicin?
Similarly sounding, pure capsaicin is the active component in chili peppers. Scientifically speaking, it is a chemical found naturally in these plants and it should come as no surprise that it is an irritant to mammals – yes, that includes us – if it comes in contact with skin or tissues.
Fun fact: Ointments like that have a warming sensation on the skin to soothe sore muscles and other aches and pains often contain capsaicin to give that effect.
So when you are playing roulette with shishito peppers at dinner, and you get a particularly super hot one, it means that the pepper you consumed had a higher level of capsaicin in it.
Side note: This applies for almost all chilies. Some have levels so low, it is practically undetectable while others are "burn your mouth hot." Generally speaking, a certain type of chile will fall into a range of SHUs.
Where do Certain Peppers Rate?
Now, the part you have all likely been waiting for:
Bell Peppers – This may come as no surprise but this member of the capsicum family rates in at a whopping 0 on the SHU scale. Not spicy in the least.
Shishito Peppers – This wrinkly green favorite is so much fun because you never really know if you are going to eat one with a bit of kick. They range from 50-200 SHU.
Poblanos – We are starting to get into the hotter range, but still nothing too crazy. Poblanos which are great for roasting and adding to sauces or even stuffing and baking come in at 1000-2000 SHU.
Jalapenos – These little babies are where things start to get interesting. They have a decent range in terms of their SHU rating which starts at 2,500 and goes all the way up to 8,000. When a recipe says "this will depend on your chiles," this is what they are referring to. Always check early so you don't accidentally burn your guests up.
Serranos – As you probably guessed, the serranos are no joke in terms of their heat levels. They can range from 10,000 – 23,000 SHU.
Cayenne – Powdered or fresh, these pack a whopping amount of heat with an their SHUs ranging from 30,000 to 50,000.
Thai Chiles – Brace yourself and grab the antacids, because we are getting into some spicy territory. Thai Chilies range from 50,000 – 100,000 SHU.
Habanero – Boldly burning tastebuds since, well, a very long time, habaneros come in at 100,000 – 350,000 SHU.
Scotch Bonnet – Oddly enough, this beloved chile falls into the same range as the habanero.
Ghost Pepper – Doing taste tests of these and filming yourself were all the rage because of their outrageous SHU rating: 1,000,000,000.
Carolina Reaper – Well Ghost Chiles were, until this beast came along. The Carolina Reaper is currently the hottest chile on the planet and is searing tastebuds at 2.2 million SHU and more.
If you are unsure of a pepper's heat level, give it a quick internet search before you go throwing it in a pot and whatever you do, remember that capsaicin is in the form of an oil.
This oil affixes itself to everything it touches from your fingertips to you cutting board to your pan. Be careful, wash your hands with soap, or wear gloves!
How to Reduce Heat in A Chile Pepper
Even if you pick up a pepper that ends up being super hot, there are a few quick ways to reduce the heat before using it.
Rinse it well. Not just the outside, but also the inside. This will get rid of some of the oils, but also flavor.
Remove the pith and seeds.
Soak it in vinegar. Think of pickled jalapenos, they are spicy, but not as spicy as biting into a fresh jalapeno. Soak cut pieces for 15 minutes to an hour.
Pair it with cool ingredients like lime juice, crema mexicana or guacamole.
What To Do If you Eat a Hot Chile Pepper
There is only one cure and it is dairy! Grab a tall glass of milk that contains casein, which helps to break down capsaicin. Don't just drink it, swish it around in your mouth. You can even soak burnt fingers in a bowl of milk or cream.
Other than that, just time.
Some of Our Favorite Spicy Recipes: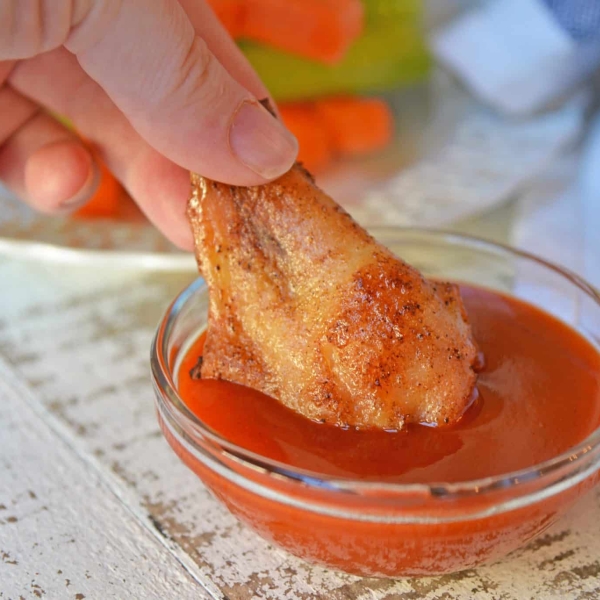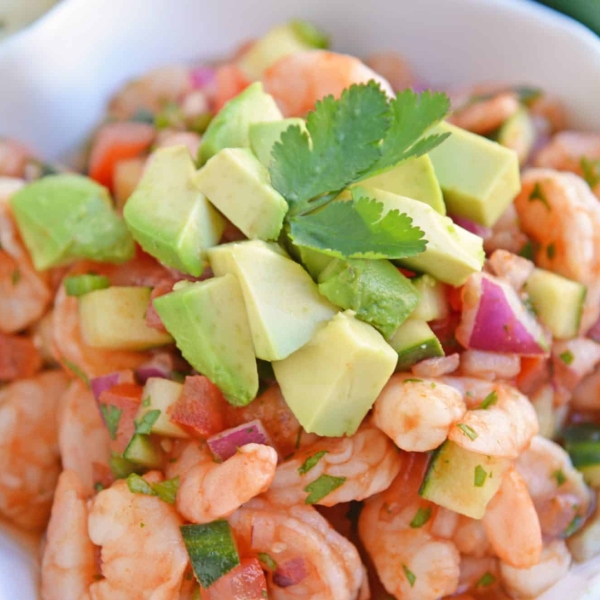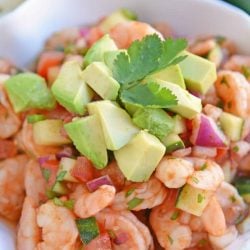 Mexican Shrimp Cocktail
Mexican Shrimp Cocktail is an easy recipe made with shrimp, fresh vegetables, tomato juice and hot sauce for a spicy version of your favorite classic. Top with avocado and serve with tortillas chips or saltine crackers.
See The Recipe!