Slow Cooker Ribs, the new normal way you need to cook ribs at home! The best part, this Slow Cooker Rib recipe is fall off the bone perfection in every way.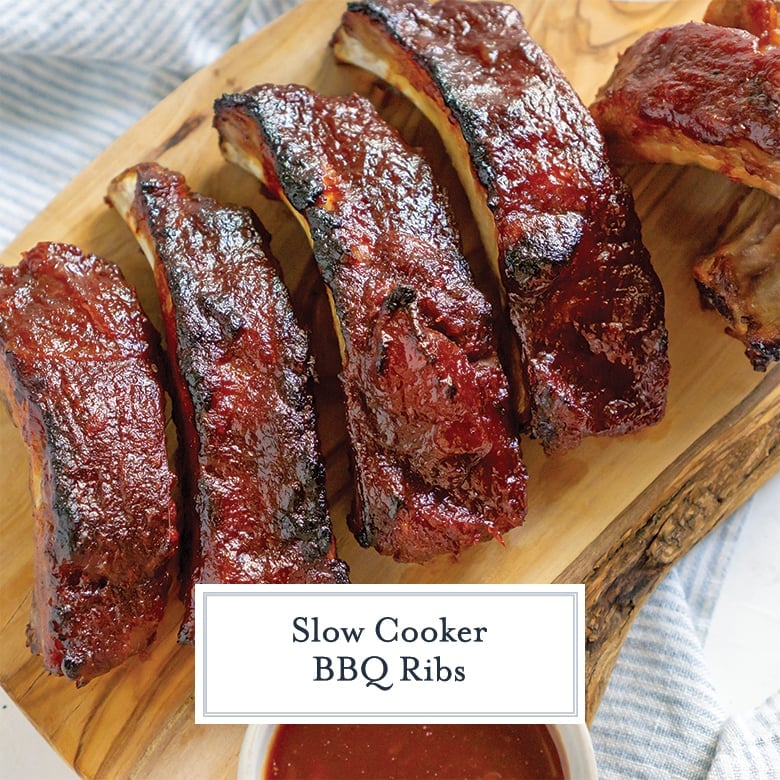 Slow Cooker Ribs Recipe
With everything going on in the world right now, I like most, need a vacation.
Since a vacation is unlikely to happen in the near future, I have had to get creative with ways to give myself a break…and honestly, what better way to do that than letting your dinner cook itself?!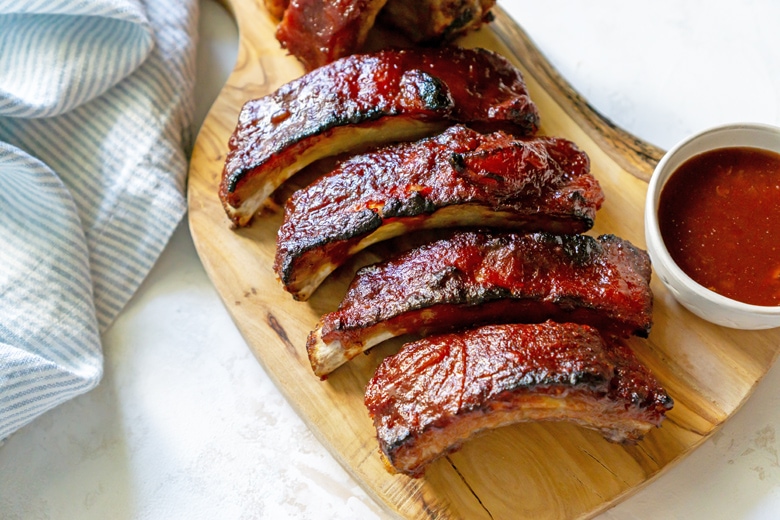 This easy barbecue ribs recipe is the perfect set-it and forget-it until dinner time recipe.
If you are looking for bone tender ribs, smothered in bbq sauce, that has the perfect glaze then this is going to be a great recipe for you!
Slow Cooker Ribs Ingredients
The ingredient list for crockpot ribs is fairly standard with the exception of baby back ribs and apricot preserves.
Baby back ribs- pork ribs that are generally pretty meaty and the perfect choice for crock pot ribs.
Paprika– smoked paprika or regular, depending on taste.
Brown sugar– light or dark, depending on how deep you like your molasses flavor.
Garlic powder
Onion powder
Chili powder– use a chipotle or ancho for a fun flavor variation!
Kosher salt and freshly ground pepper– use a coarse salt, if not Kosher. These are less salty and have less sodium. If you do use a table salt, reduce to 1/4 teaspoon. Freshly ground pepper packs a lot more punch.
Barbecue sauce– Use your favorite! I like my cran-blueberry, but my mom's recipe, cola and chipotle honey are also good bets.
Apricot preserves– Balances the sweet with spicy. Use any leftovers to make my favorite asparagus recipe. Other sweet fruit jams can also be used, even my cherry jam.
How to Cook Ribs in the Slow Cooker
ONE. Remove membrane from ribs and discard. Refer to the "how-to" section in this post for tips on removing the membrane.
TWO. Season the ribs. In a small bowl, combine the paprika, brown sugar, garlic powder, onion powder, chili powder, salt, and pepper.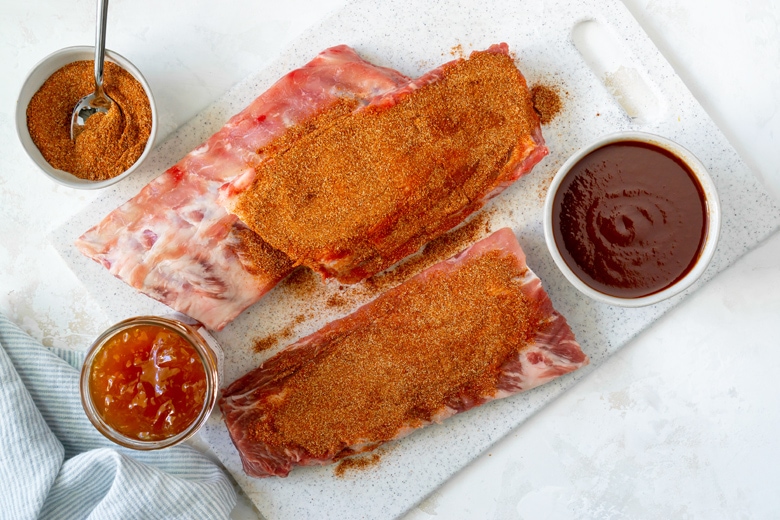 Generously season the ribs and rub the seasoning in using your fingers. Place the ribs in the slow cooker.
THREE. Cook the slow cooker ribs. In another small bowl, combine the BBQ sauce with the peach preserves and cover the ribs with half the sauce. Cook the ribs on low for 7 hours or high for 3 hours. For those perfect "fall off the bone" ribs, cook on low for 9 hours or high for 4-5 hours.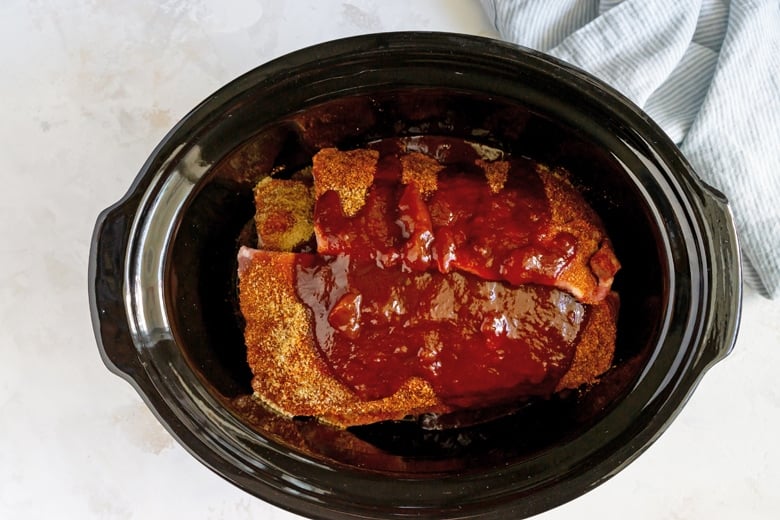 FOUR. Broil the ribs. When the ribs are finished, preheat the oven broiler on high. Carefully transfer the ribs from the slow cooker to a tin foil-lined baking sheet.
FIVE. Pour half the juices from the slow cooker into the bowl with the remaining sauce, mix, and baste the ribs with half the sauce.
SIX. Place the baking sheet on the top rack and broil for 5-10 minutes, or until they begin to char around the edges. Serve with the remaining sauce.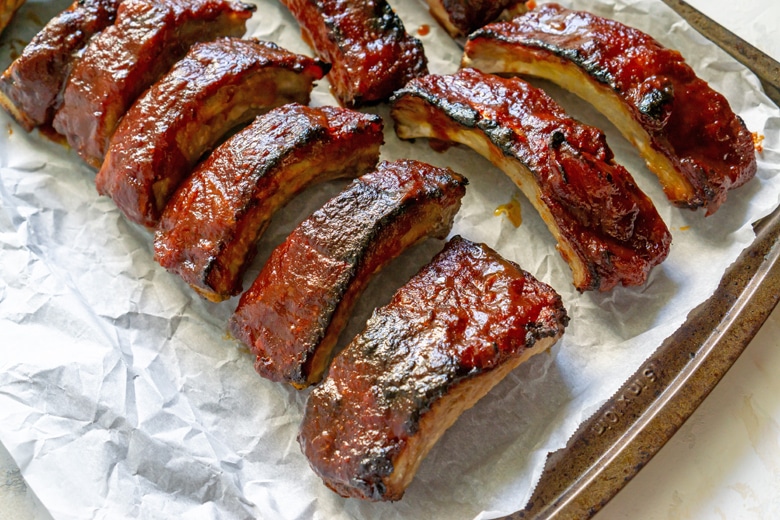 Pro Tip: If you don't have apricot preserves, you can sub with peach and your slow cooker ribs will be just as tasty!
How to Remove the Rib Membrane
Removing the membrane of ribs is an essential step to rib making, but especially if you are looking for that perfect fall off the bone, can't stop eating them ribs!
When you leave the membrane on, it keeps the seasonings and smoke from penetrating the meat.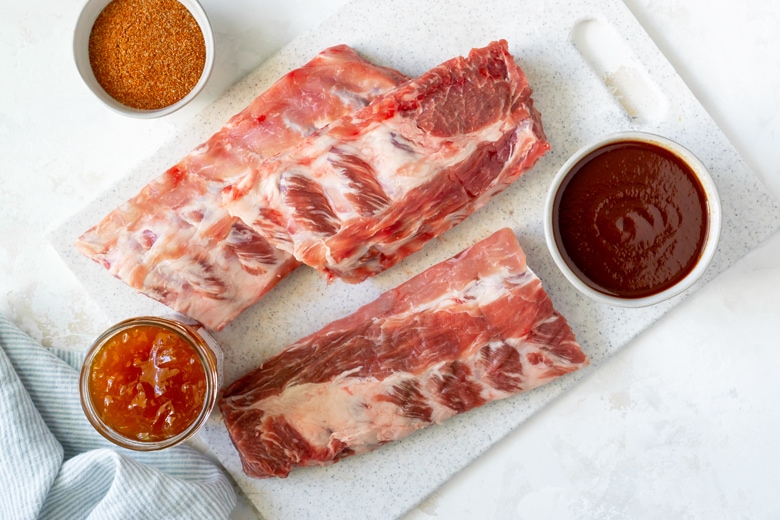 When you take the membrane off it has a very unpleasant leathery skin texture to the ribs.
You may be able to buy a rack of ribs with the skin already removed, but you probably won't know this if they are packaged until you open the packaging.
Start on one end of the rack of ribs, slide a knife under the membrane and over a bone.
Lift and/or loosen the membrane until it tears.
Grab the edge of the membrane and pull it off. It helps to hold the membrane with a paper towel.
The membrane may come off in one whole piece or you may need to remove and pull it off in smaller pieces.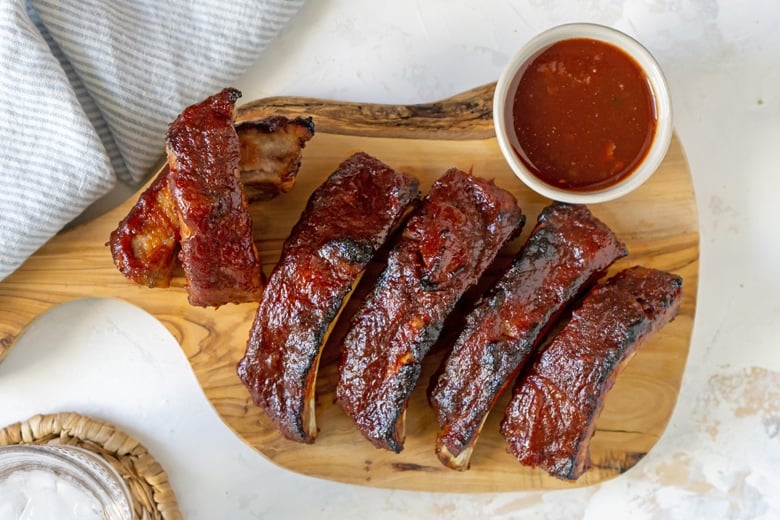 Slow Cooker Ribs Cook Time
If you are in a time crunch that does not allow you to cook the recipe for as long as required, the slow cooker can be turned up to the high setting and cooked at a reduced time.
However, it's best to cook less tender cuts of meat on low for a long period of time. This gives you that tender fall off the bone dinner you are looking for!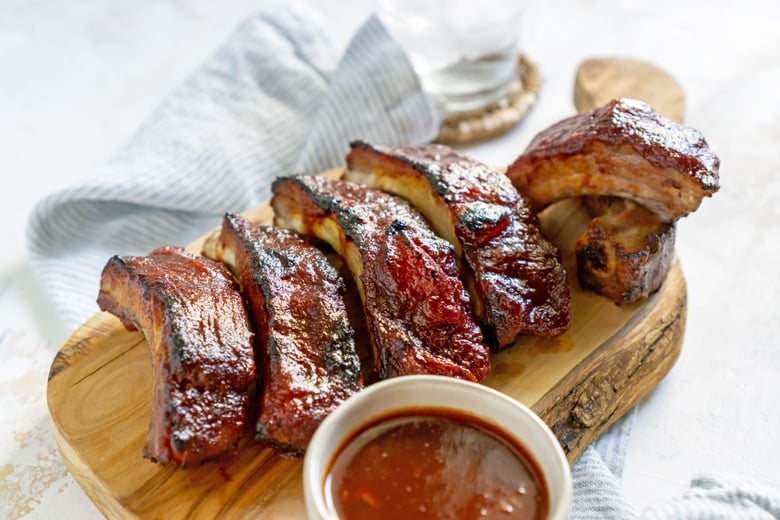 If you're short on time, you can cook them on high for three hours.
Healthier Alternatives
When you are cooking slow cooker ribs "slow and low" in a sealed chamber, it keeps in the moisture and the nutrients that can be removed when cooking at high temperatures.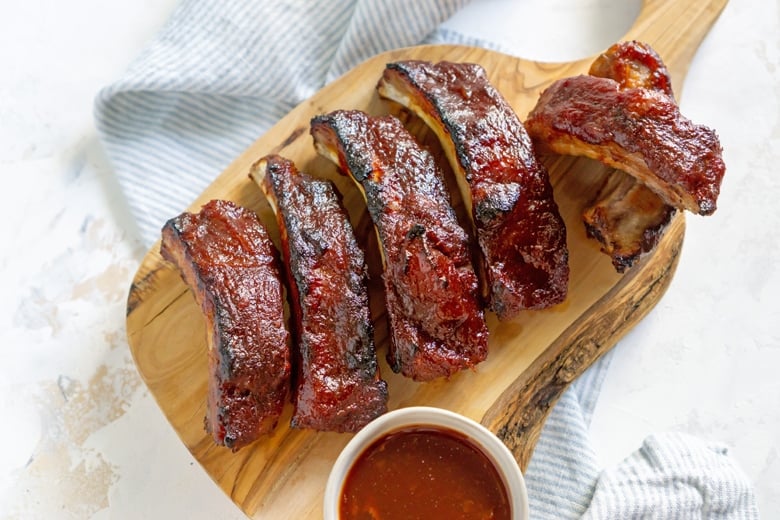 If you are looking to make this recipe healthier, you can sub the following: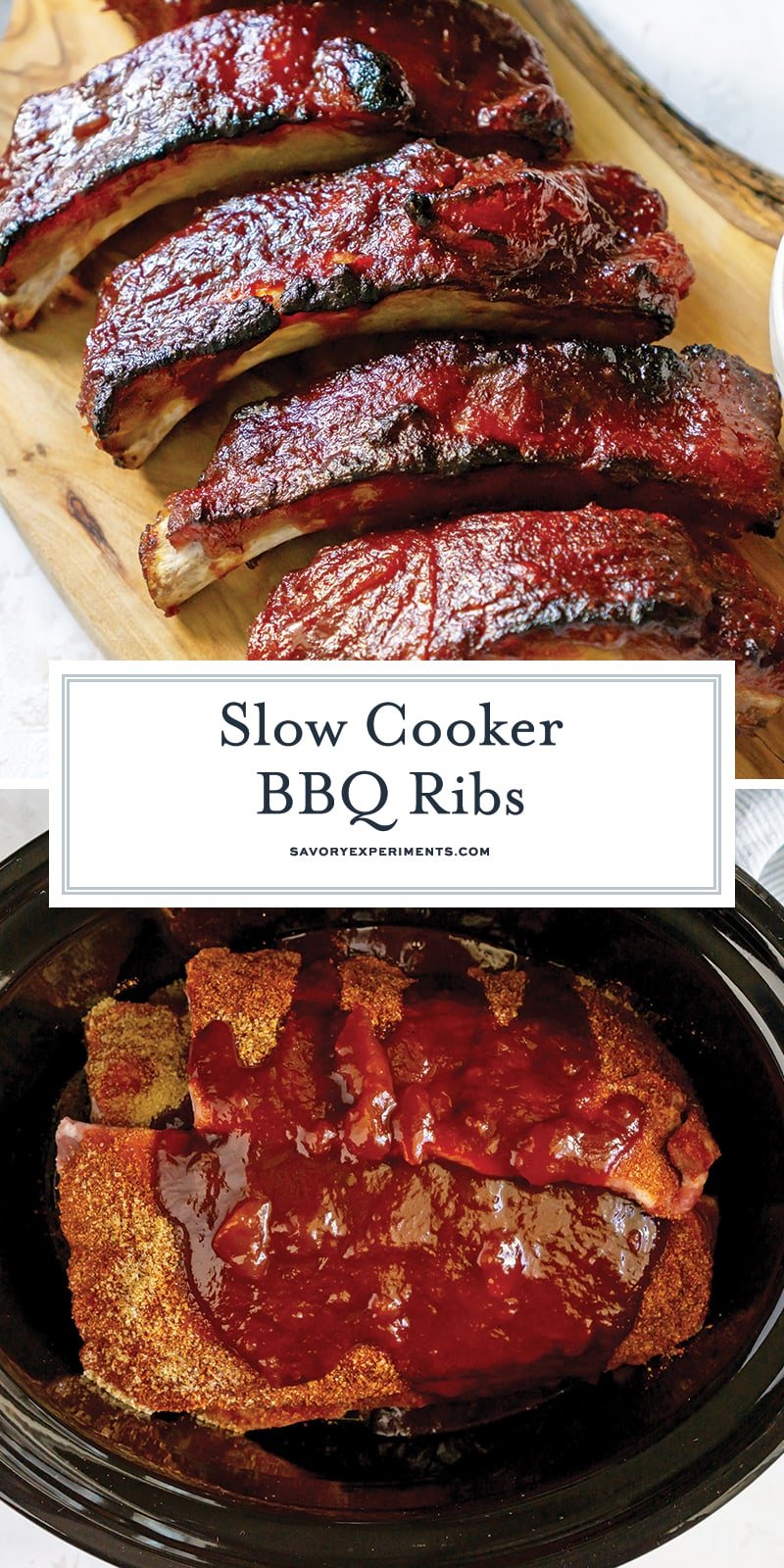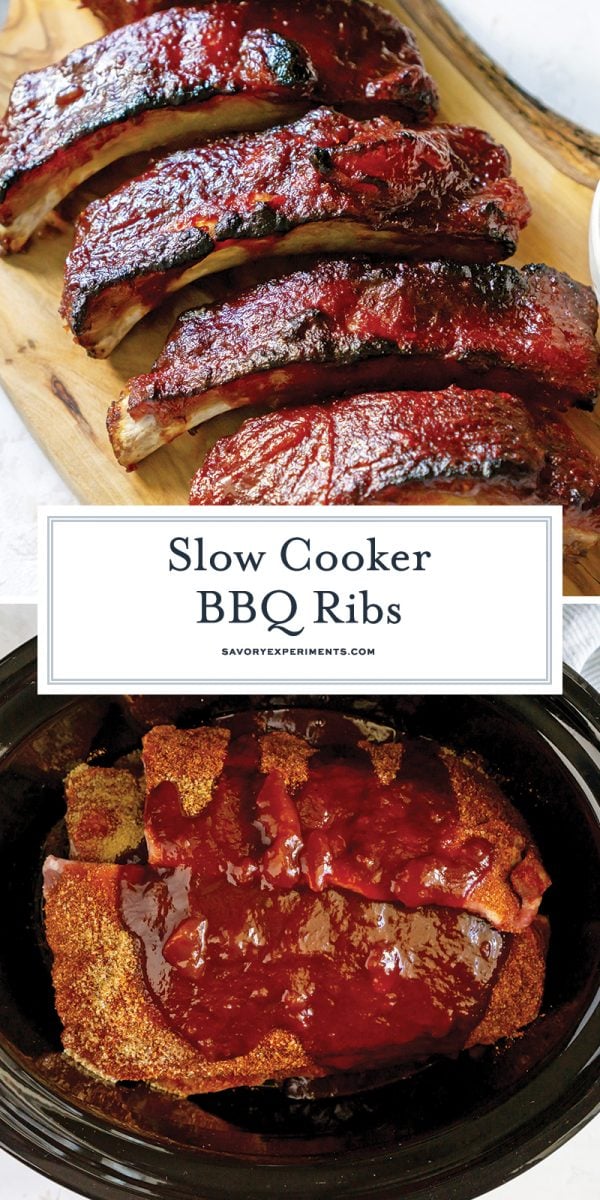 More finger-licking BBQ recipes: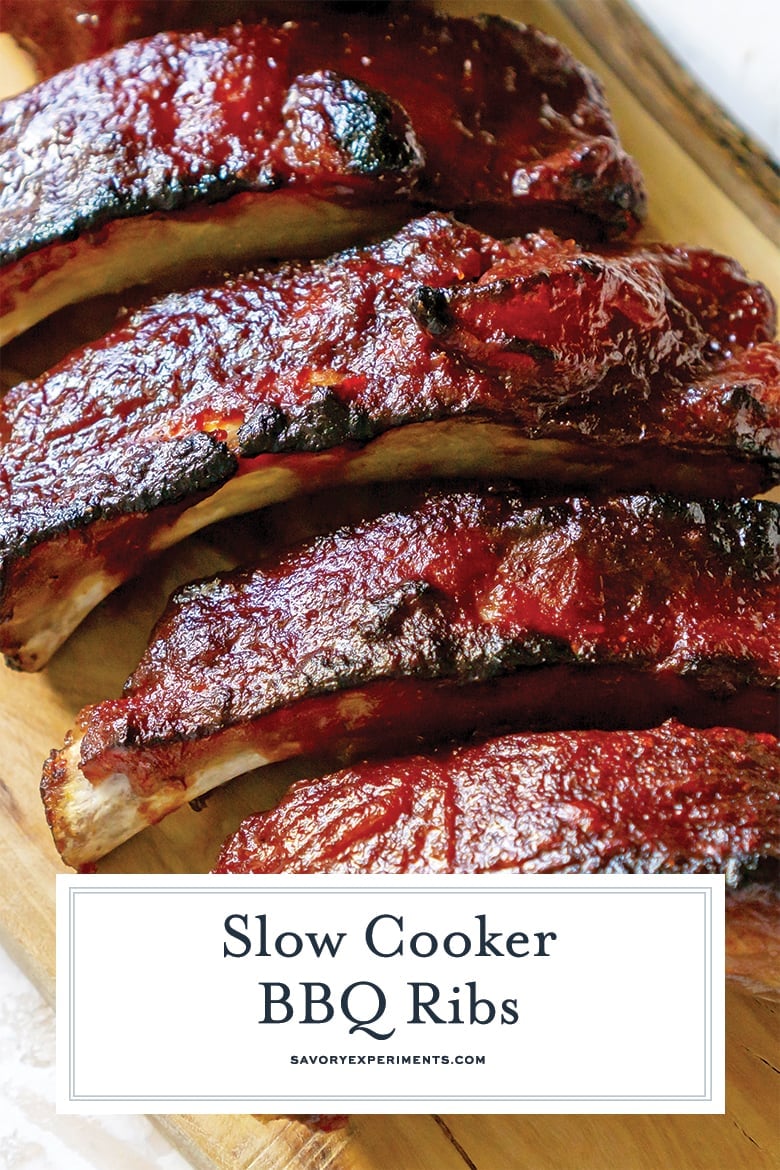 CONNECT WITH SAVORY EXPERIMENTS!

Be sure to follow me on social media, so you never miss a post!

Facebook | Twitter | Youtube
Pinterest | Instagram

Get our FREE 8 Day E-Course on How to Be a Better Home Cook. Sign up HERE!