Black Bean and Green Chile Soup is hearty enough to be a vegetarian entree, but also easy enough to make as an appetizer.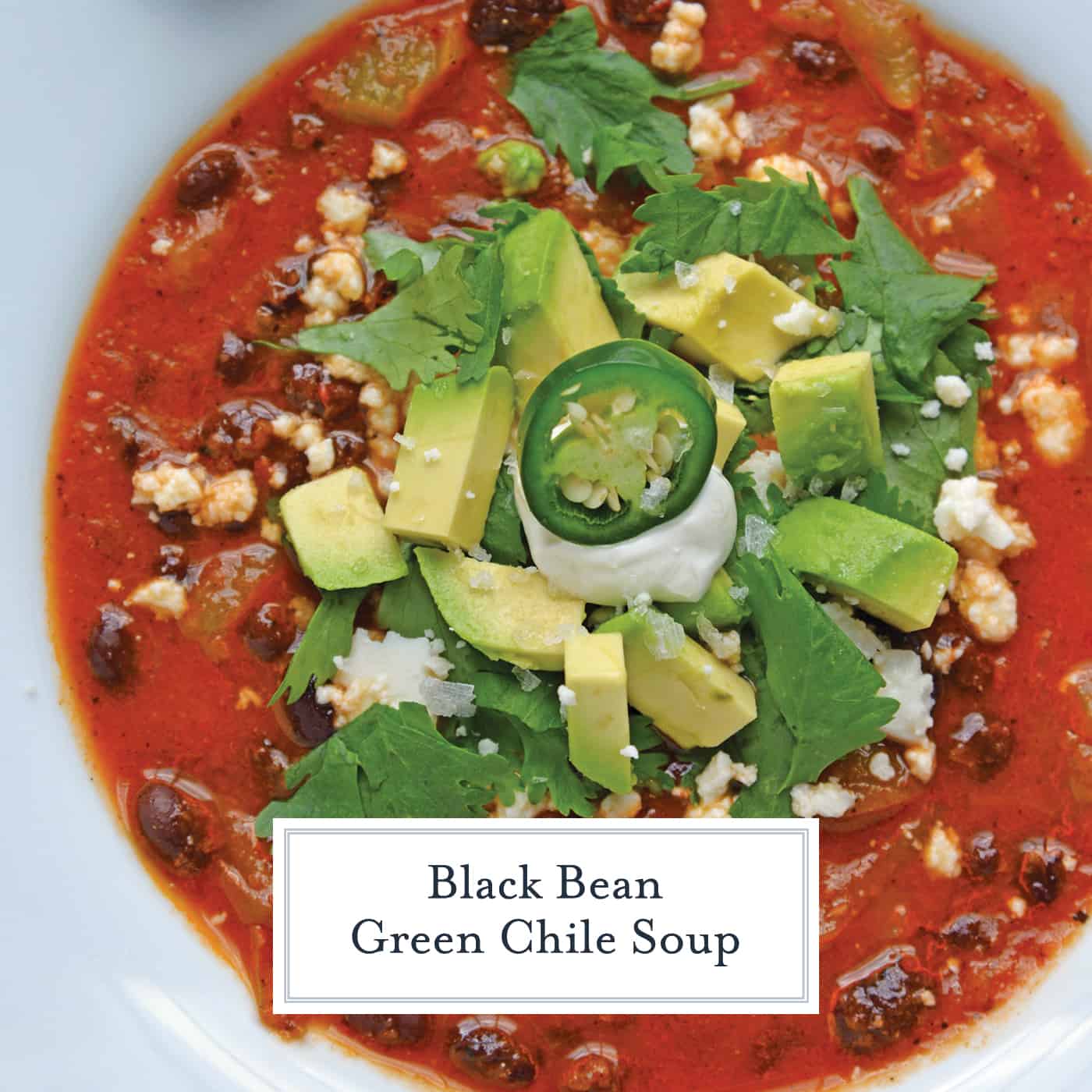 Black Bean Green Chile soup is a tomato based soup with smoky chipotle peppers and robust flavors. Top with avocado, cilantro and queso fresco!
I love soup season, but it is rare that I find a soup that has enough body to fill me up as an entree. Let alone a vegetarian soup. Black Bean Green Chile Soup was my answer to this issue.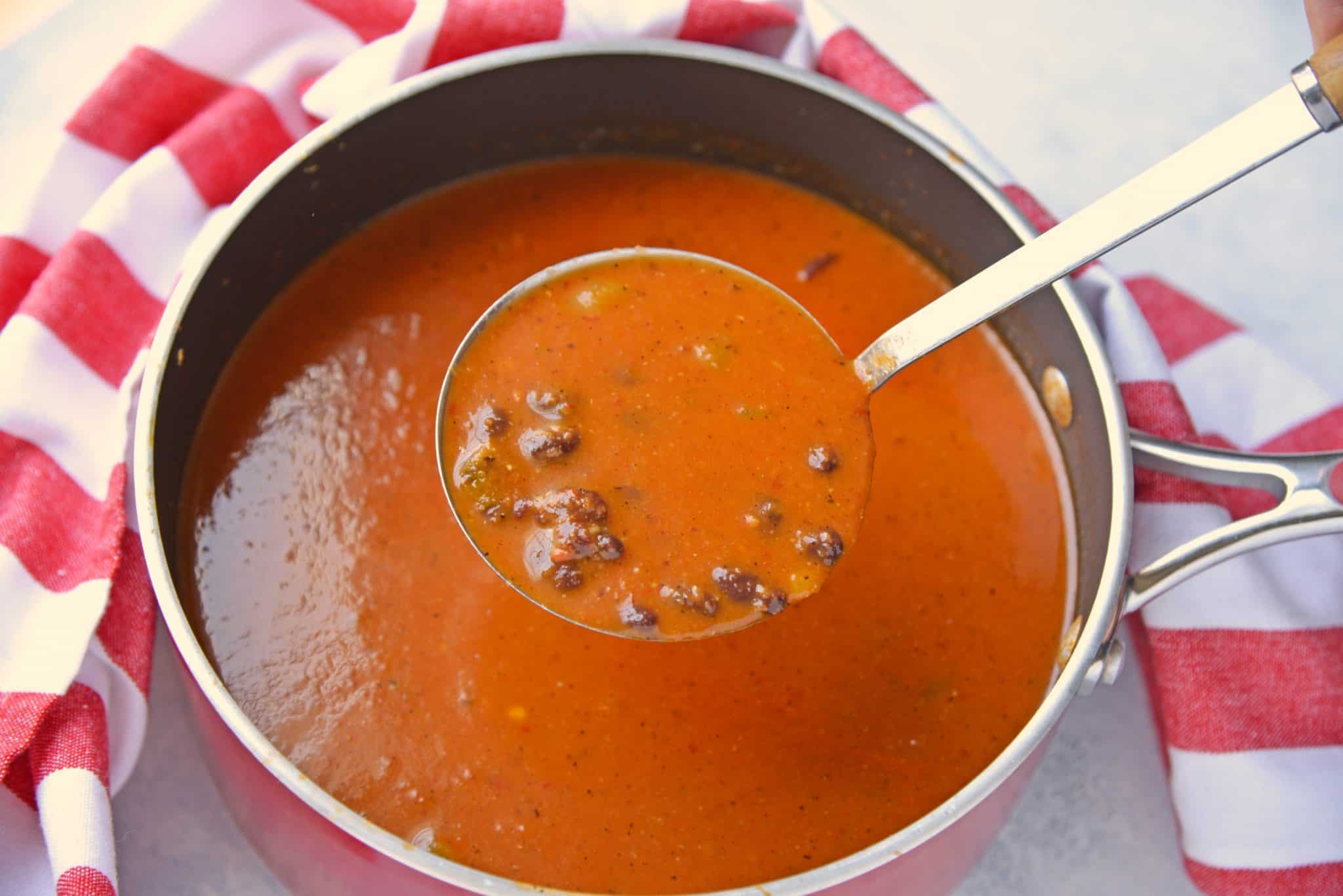 Instead of a meaty protein, I used black beans and created a spicy tomato based broth spiked with Hatch green chiles.
Top it off with queso fresco, avocado, Maldon salt and fresh lime juice. And cilantro… if you are into cilantro. I see you, cilantro hater turning up your nose.
I use Hatch green chiles for my Black Bean Green Chile Soup, mostly because they are my favorite chile and during the season I roast, peel and freeze pounds so I can enjoy them all year round.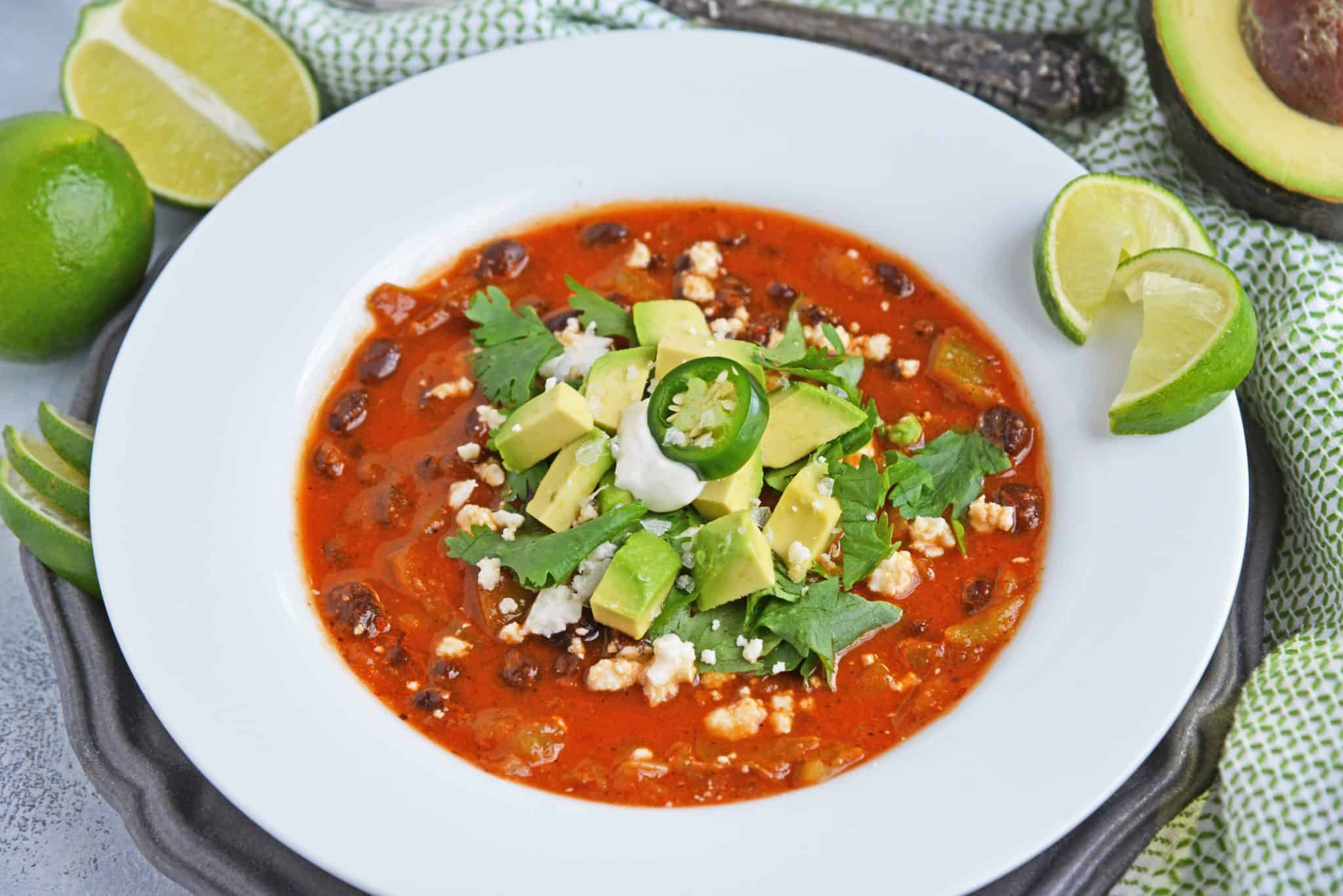 If you wish, you can even add shredded chicken or drained ground beef to your soup. I top mine with a pile of fresh veggies, cilantro, a spritz of lime and Maldon sea salt.
Tools for making Soup:
Heavy Bottom Sauce Pan– this will be one of your most used kitchen tools. Having something that is heavy bottom will distribute heat better and prevent burning whether you are using an electric or gas range.
Immersion Blender– I used to transfers anything that needed to be blended to a food processor and then back again. It was an unnecessary amount of the work for the cheap cost of an immersion blender. They are also super easy to clean.
Soup Bowls– I love soup crocks! They are just so much more fun than a dreary regular bowl and perfect for making French Onion Soup too! I like the little handles, they prevent you from burning yourself while transporting a steaming bowl of deliciousness.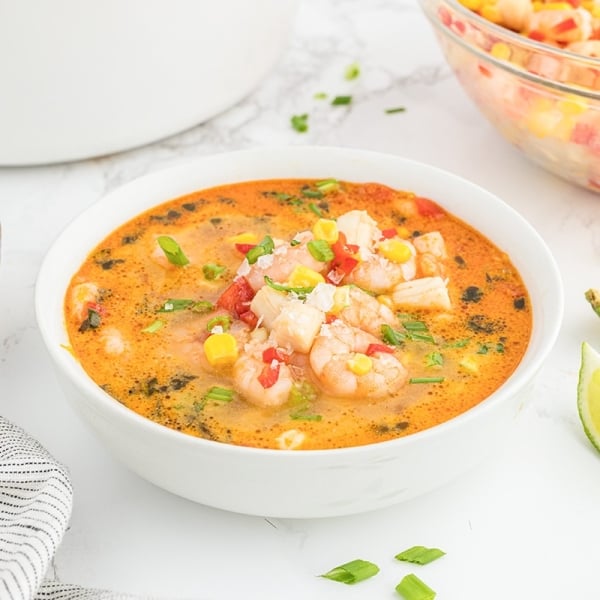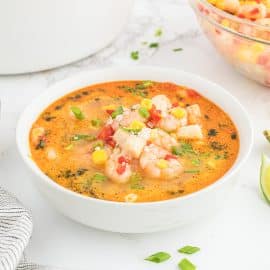 Thai Coconut Soup
Seafood Thai Coconut Soup is an easy and healthy appetizer or entree using scallops, shrimp, vegetables and a red curry coconut broth.
View this recipe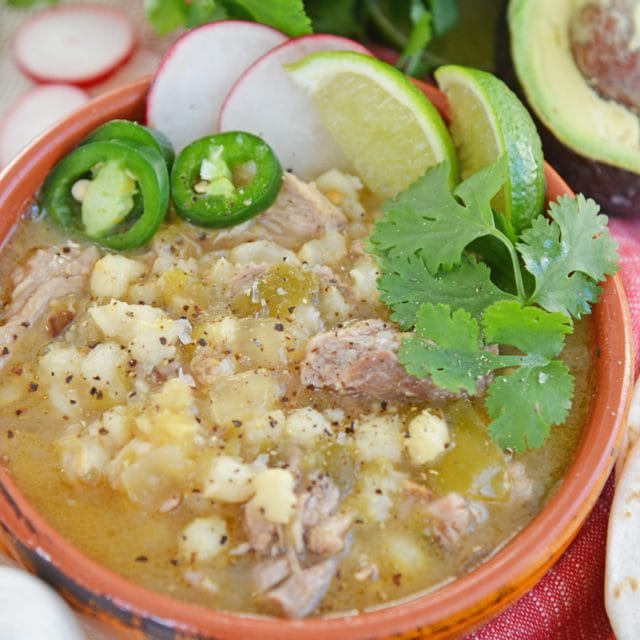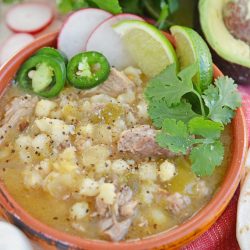 Instant Pot Pork Pozole
With tomatillos and green chiles, this Instant Pot Pork Pozole recipe is a traditional Mexican stew full of flavor and spices!
View this recipe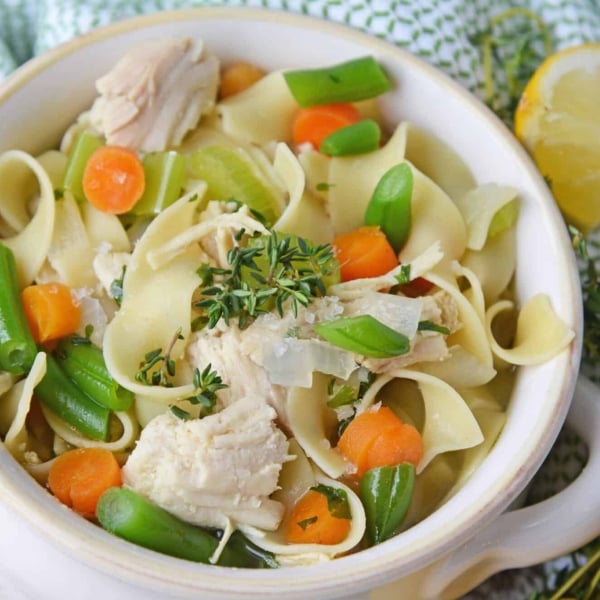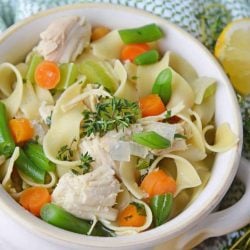 Instant Pot Chicken Noodle Soup
Looking for a homemade chicken noodle soup recipe that you can enjoy all year round? This Instant Pot Chicken Noodle Soup is flavorful and SO easy to make!
View this recipe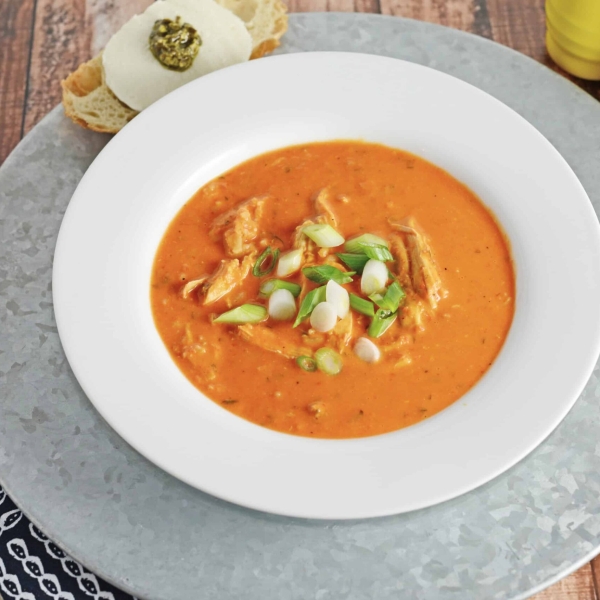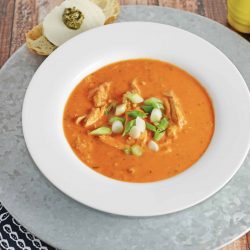 10-Minute Roasted Red Pepper and Hummus Soup
Gluten and dairy free soup made from pre-cooked items, only takes 10 minutes. Sub tofu for vegan version.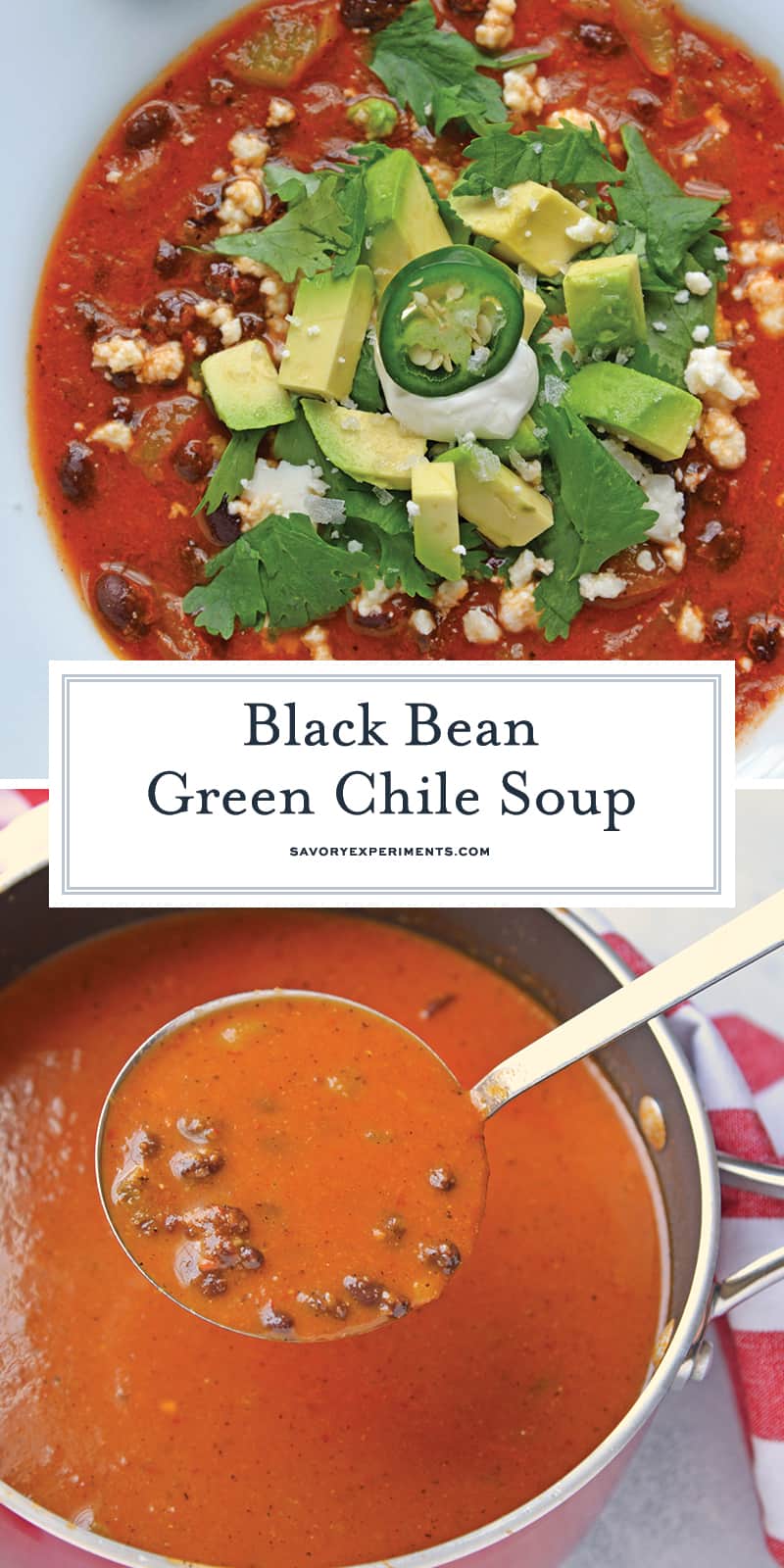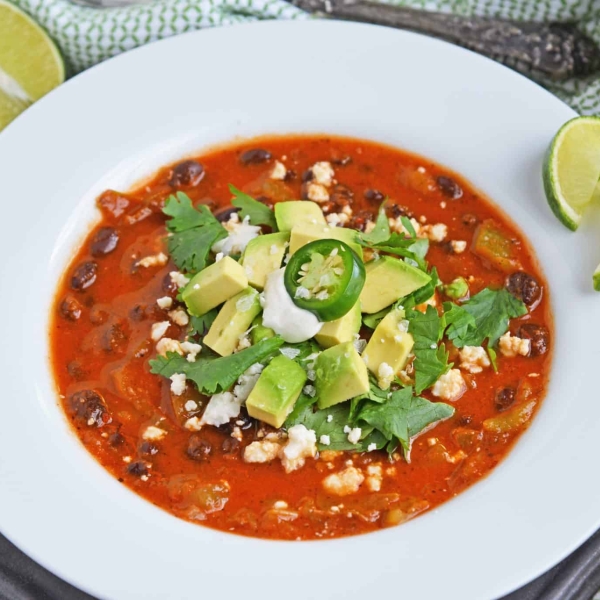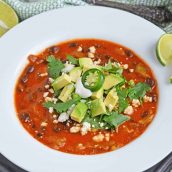 Black Bean Green Chile Soup Recipe
Black bean Green Chile Soup is a tomato based soup with smoky chipotle peppers and robust flavors. Top with avocado, cilantro and queso fresco! Hearty enough for an entree, but can also be an appetizer!
Ingredients
Black Bean Green Chile Soup
Instructions
In a large saucepan or Dutch oven, heat oil over medium heat. Add onions, saute for approximately 5 minutes, or until they are soft and translucent, but not browned. Add garlic, continue to saute and stir for 1 minute. Add chipotle chili through seas salt. Stir and bring to a simmer.

Simmer for 15 minutes. Remove from heat. Using an immersion/stick blender or food processor, blend mixture until smooth. Return to stove on medium heat.

Stir in green chilies and black beans. Continue to heat for 5 minutes.

Ladle soup into serving bowls and top with crumbled queso fresco. Enjoy your Black Bean Soup and Green Chile!
Notes
If you are using fresh Hatch chile, use two whole roasted and peeled chiles, finely chopped.
Nutrition
Calories:
358
kcal
,
Carbohydrates:
42
g
,
Protein:
15
g
,
Fat:
15
g
,
Saturated Fat:
6
g
,
Cholesterol:
10
mg
,
Sodium:
1990
mg
,
Potassium:
1059
mg
,
Fiber:
16
g
,
Sugar:
6
g
,
Vitamin A:
390
IU
,
Vitamin C:
46.1
mg
,
Calcium:
176
mg
,
Iron:
4.2
mg