Wait… you have this beautiful piece of meat and you are going to cook it HOW? Meet Butter Sage Pork Chops, foodie friends.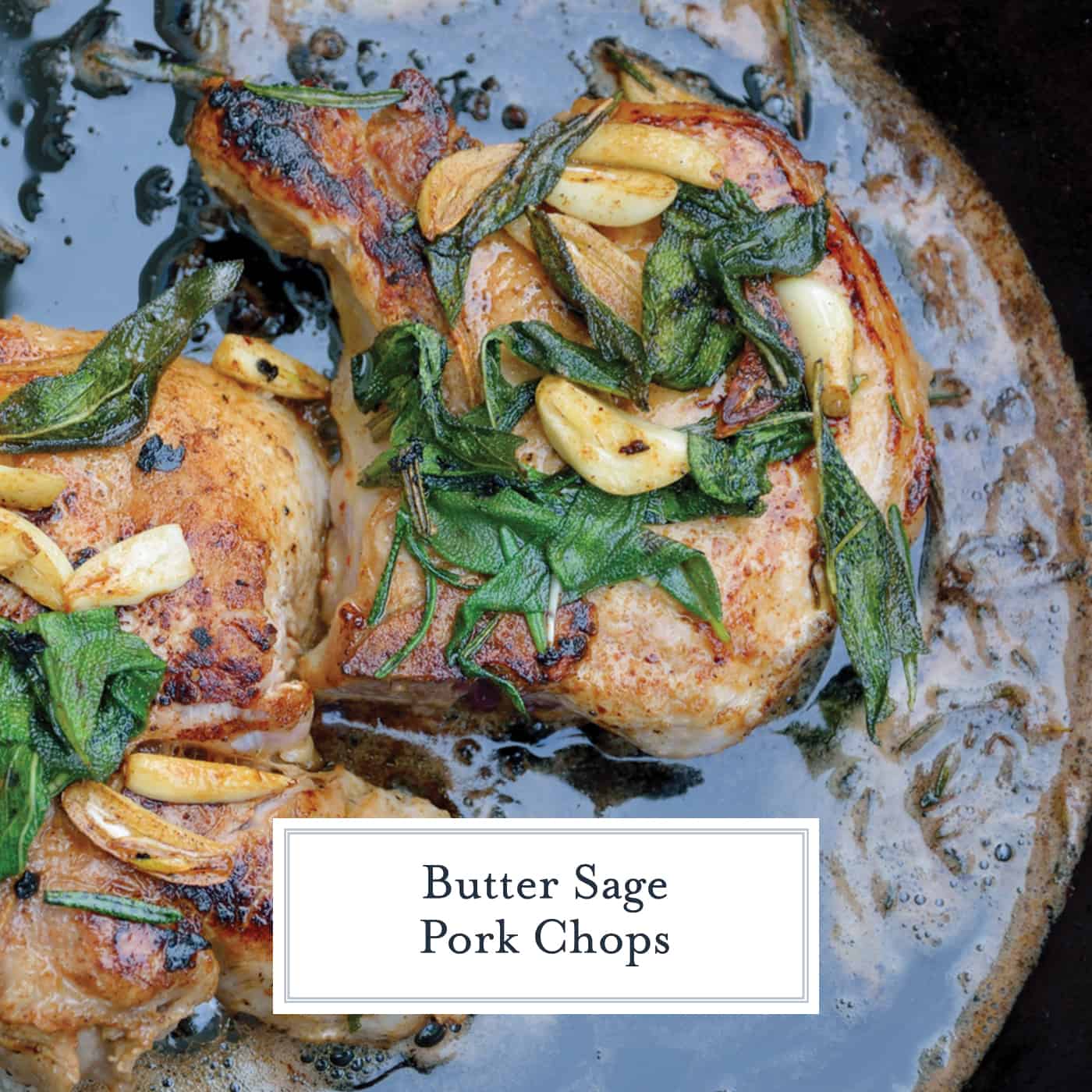 Butter Sage Pork Chops are pan seared pork chops in a simple butter, garlic and sage sauce. Sear in cast iron and then finish in the oven for the best pork chop recipe ever!
A simple technique that I use on pork, chicken and beef! Really any cut of meat and any fresh herbs I have lying around will do, but sage happens to be my favorite.
Yep- I'm throwing that bad boy in the cast iron! Butter Sage Pork Chops combine only 6 ingredients- two being salt and pepper- with the TLC of a well-seasoned cast iron for a crispy crust and succulent interior.
Cast iron really is the way to go (even when the grill is calling your name) for a thick chop like this.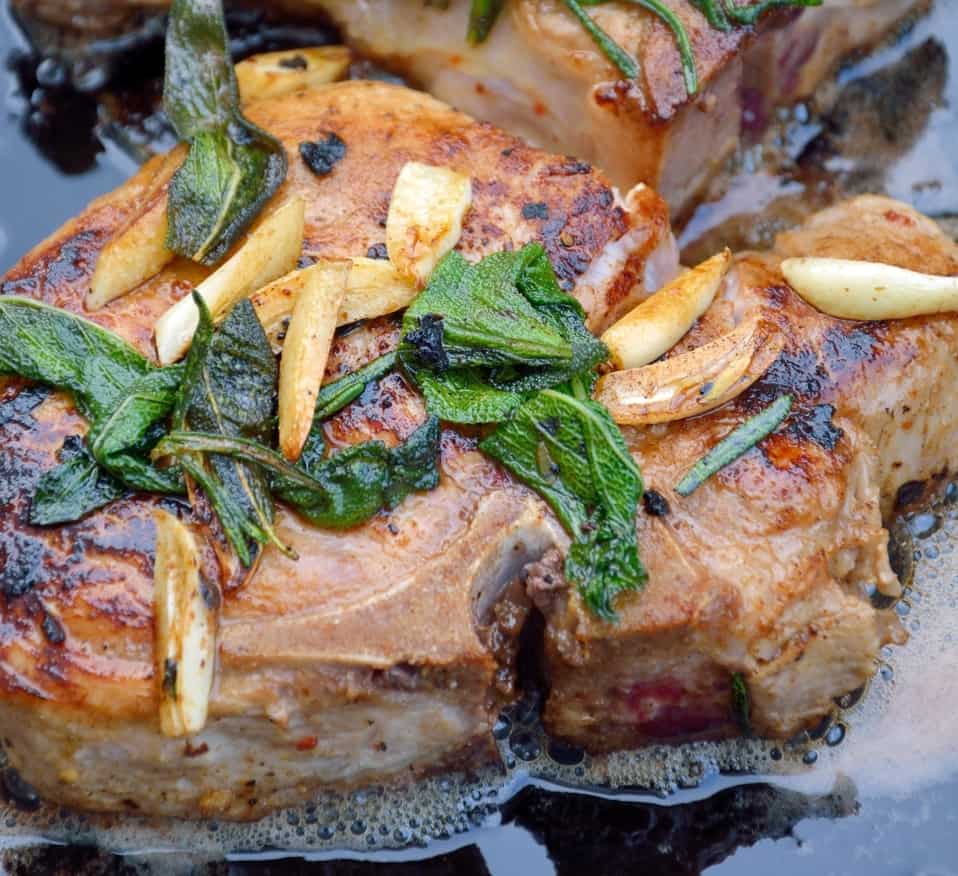 It can take a long time to get pork cooked thoroughly on the grill and by the time the center is done, the outside is dry and chewy. No marinade will penetrate through a 1 1/2 inch thick cut of meat to keep it moist.
And no marinade is one of the best parts of this recipe. No prep work. NONE! You get all the flavor you need from browning it.
You can literally come home and throw it in the pan with just a few chops of garlic. For someone that doesn't always plan ahead (pointing at me), this is a dream come true!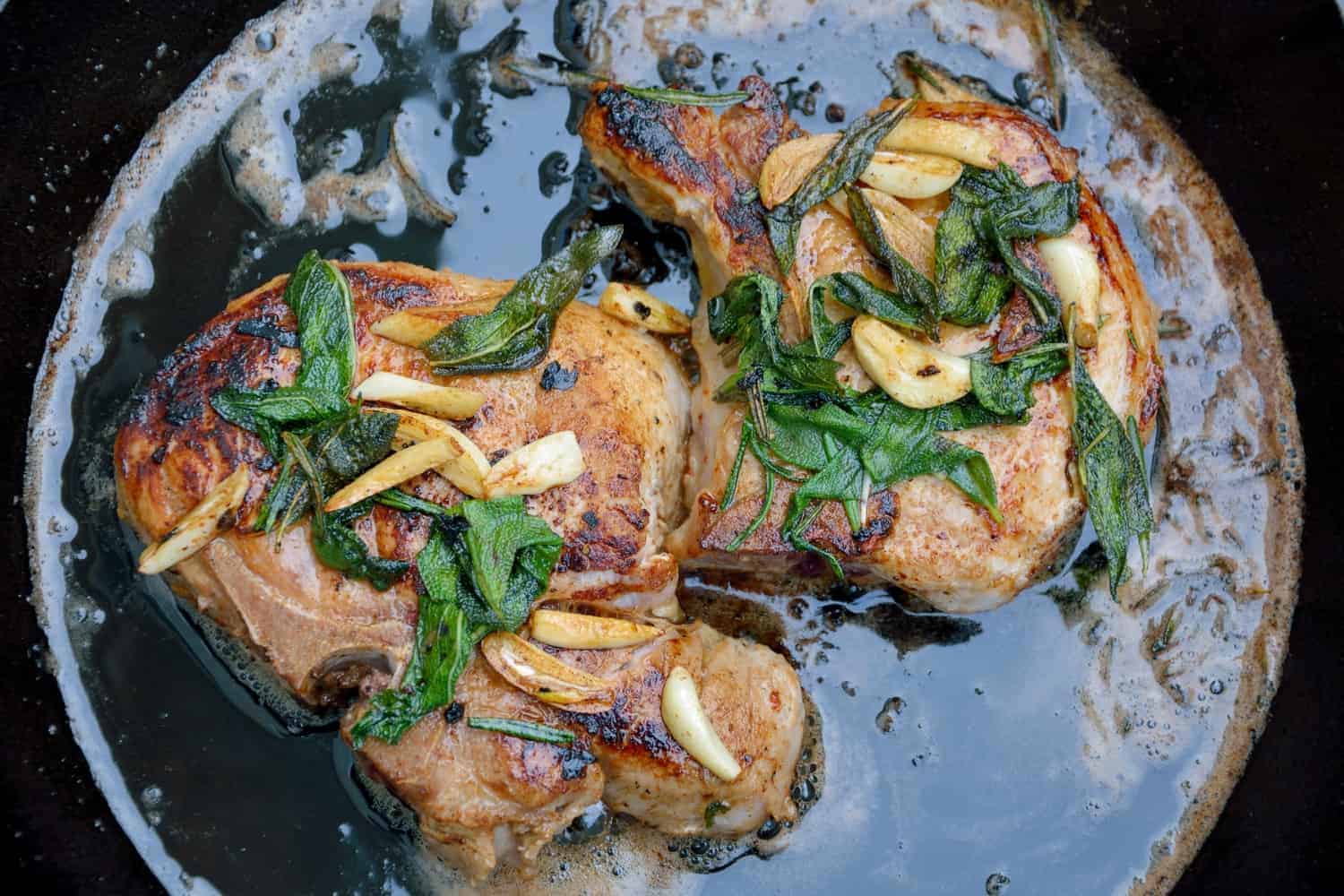 This is one recipe where quality ingredients are paramount. I highly suggest using fresh garlic and not the bottled kind. When choosing an herb, especially safe, sniff it to make sure it is fragrant.
And lastly, the butter. Butters are not created equal. Use a high quality, grass-fed beef butter, preferably one of the European brands. Or make your own butter.
Pair these skillet pork chops with: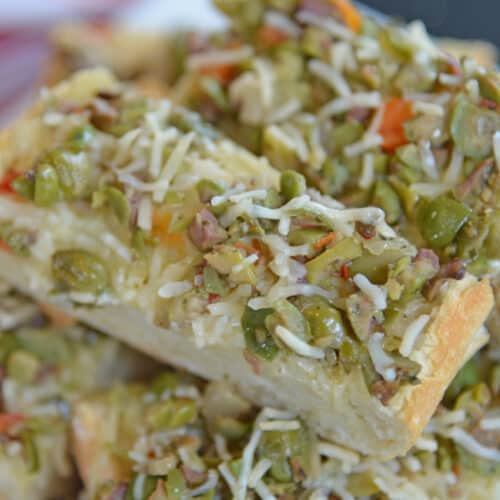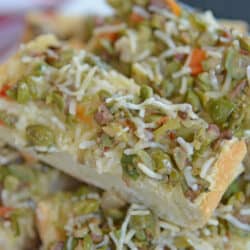 Olive Cheese Bread
Don't have time to make homemade olive bread? Check out my hack for making this easy Olive Cheese Bread recipe. It takes no more than 15 minutes from start to finish!
View this recipe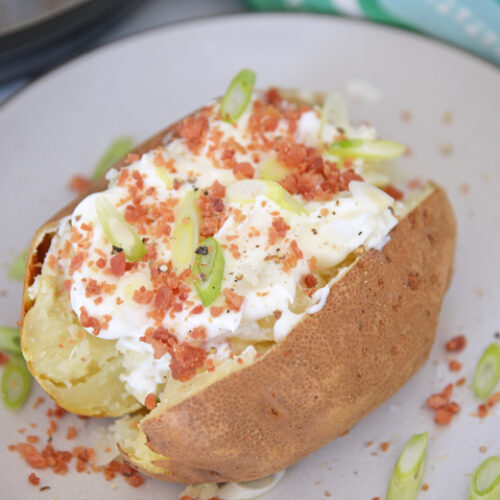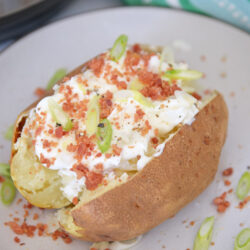 Instant Pot Baked Potatoes
Instant Pot Baked Potatoes for perfectly fluffy potatoes cooked in a digital pressure cooker. No foil, olive oil or salt needed!
View this recipe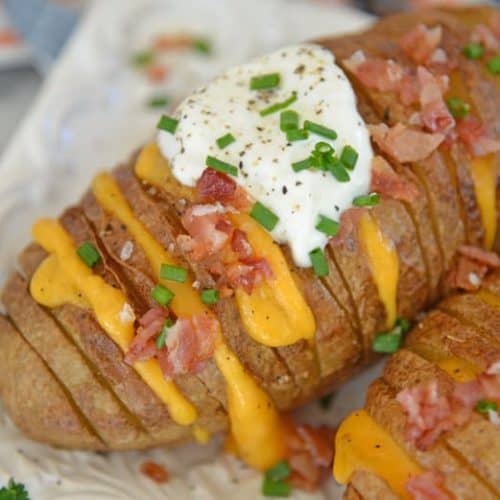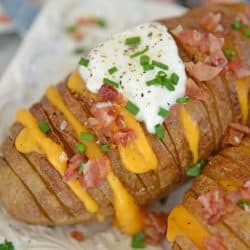 Hasselback Baked Potatoes
Calling all potato lovers! These crispy Hasselback Baked Potatoes are going to be your new favorite easy side dish!
View this recipe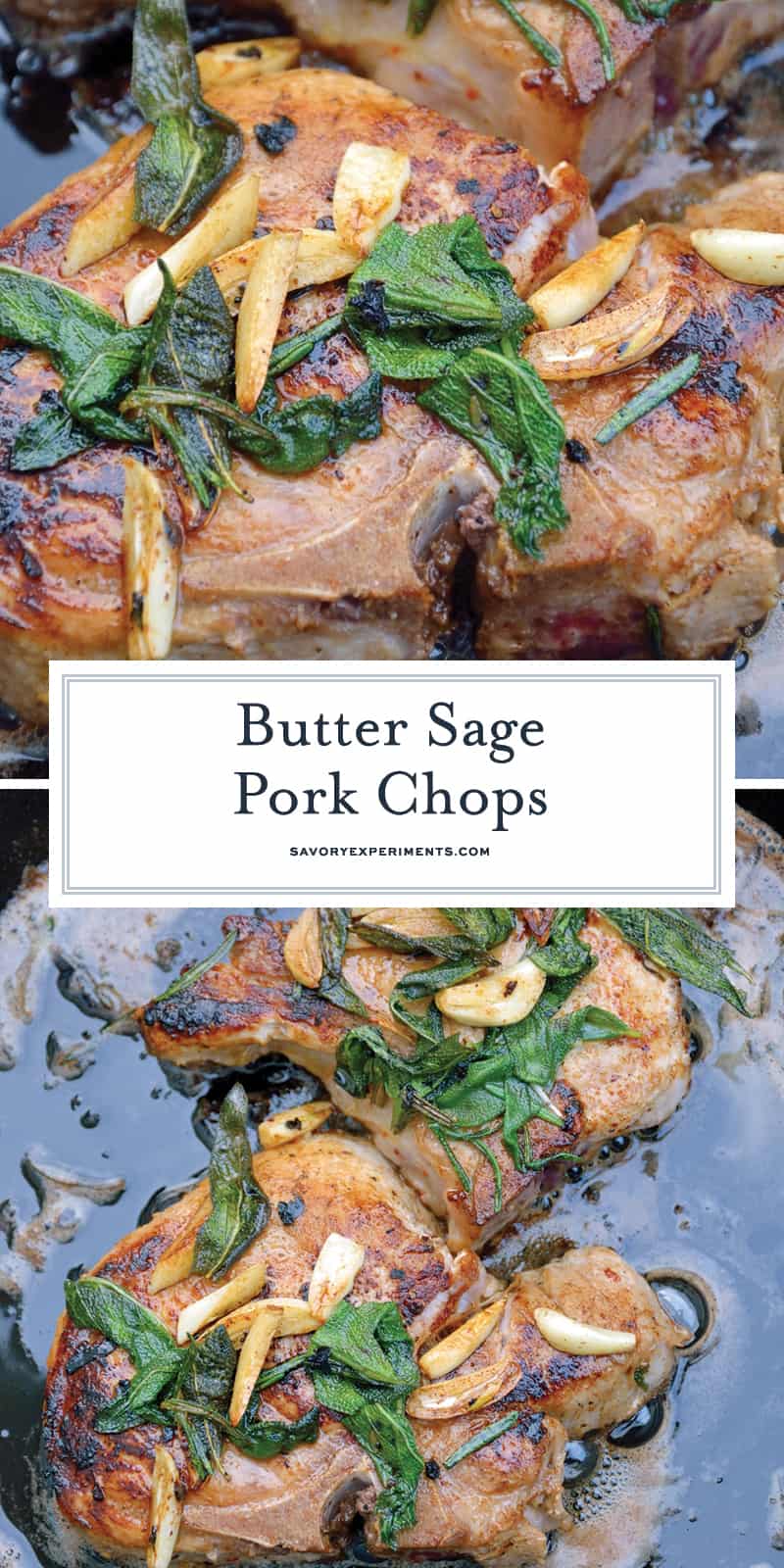 Before you get started, make sure you know how to properly season your cast iron and how to clean your cast iron!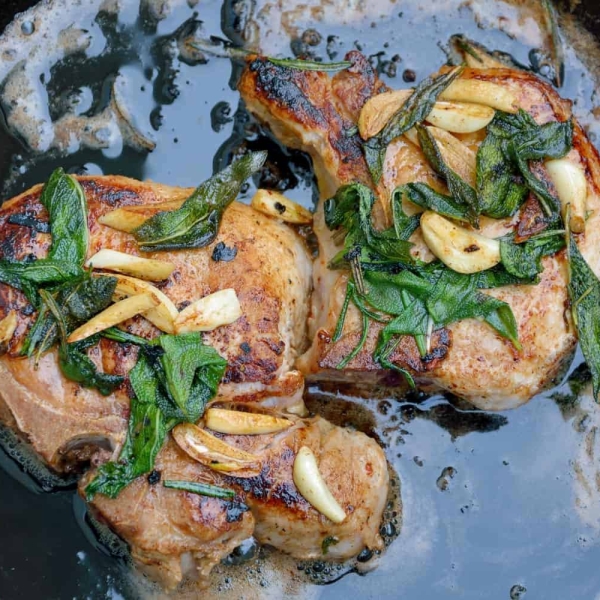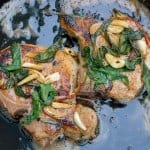 Butter Sage Pork Chops
Butter Sage Pork Chops are pan seared pork chops in a simple butter, garlic and sage sauce. Sear in cast iron and then finish in the oven for the best pork chop recipe ever!
Ingredients
2 1 1/2

inch

thick bone-in pork chops

1/4

cup

sage leaves

whole

4

garlic cloves

thinly sliced

1/2

cup

butter

divided

Fine black pepper
Instructions
Preheat oven to 400 degrees.

Season both sides of pork chops with a healthy sprinkle of fine sea salt and fine black pepper. Melt 2 tablespoons butter to cast iron skillet over medium-high heat. When hot, add chops, do not move, allow to sizzle and brown for 2 minutes, turn and report on other side. Both sides should have a nice, browned crust.

Continue to brown for 1 minute on each side for 8 minutes total. Turning frequently will help them cook evenly all the way through without burning the outside. While doing this, continually butter over the tops to keep them lubricated. If you have a thinner chop, you will not need to cook for the whole 8 minutes.

Remove pan from heat and add sage, garlic, and butter, smashing garlic into butter. Tilt skillet and spoon foaming butter and drippings over pork chops, making sure to baste the fat cap as well as the rib.

Transfer whole dish to oven for 3-5 minutes. Check internal temperature of pork to make sure it has reached 145 degrees. Allow to rest for an additional 3 minutes (I know, it is hard, they are gorgeous) before serving, making sure each has a healthy topping of crispy sage and garlic.

Cut away bone and slice pork about 1/4″ thick. Serve with any juices from the cutting board spooned over top.

If you've tried this recipe, come back and let us know how it was!
Notes
The technique also works for preparing steak and chicken.
Adapted from Epicurious.
Nutrition
Calories:
423
kcal
,
Carbohydrates:
2
g
,
Protein:
1
g
,
Fat:
46
g
,
Saturated Fat:
29
g
,
Cholesterol:
125
mg
,
Sodium:
408
mg
,
Potassium:
24
mg
,
Vitamin A:
1420
IU
,
Vitamin C:
1.9
mg
,
Calcium:
24
mg
,
Iron:
0.1
mg