Dinner is served! This EASY Crock Pot Pork Chops recipe is perfect for Sunday dinners with the family, freezer friendly and can be prepped ahead of time. Tender pork chops slow cooking in a delicious sauce with a 4 hour cook time.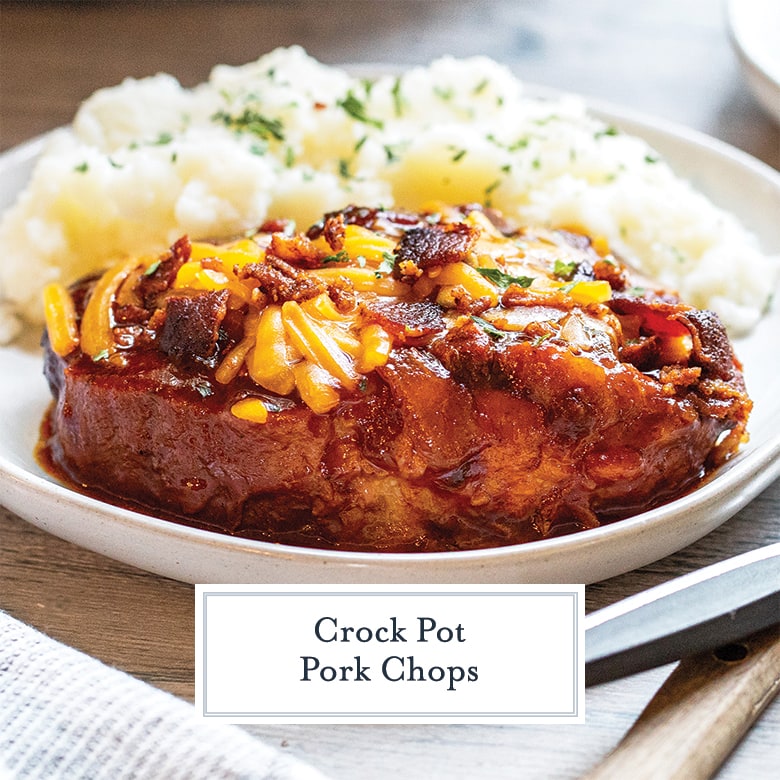 Serve alongside mashed potatoes, mixed vegetables or corn on the cob for the perfect comfort food combination.
Family time is dinner time in our house, and there is never any complaining when these BBQ Slow Cooker Pork Chops are on the menu. These are always requested by my oldest, and there are rarely any leftovers. But I want an easy recipe the whole family will love and a flavorful pork chops fit the bill. And the fact that it is a crock pot recipe makes it a great recipe in my book too.
You can enjoy the thick pork chops plain right out of the crock pot, or dress them up with some crumbled bacon and cheese (drool!)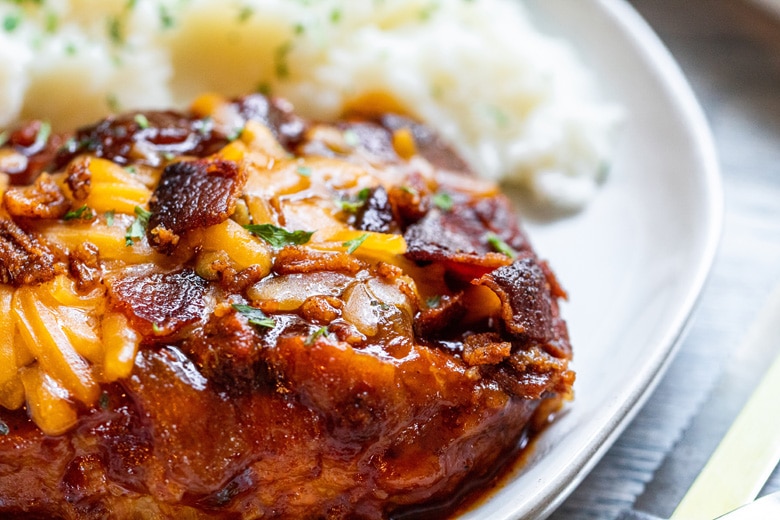 Ingredients
While the list looks long, most of it is dry seasoning. Many of these can be omitted, swapped or increased based on preference and availability.
Thick Boneless Pork Chops– look for thick cut pork chops about 1 1/2 inches or more and boneless.
BBQ Sauce– Use your favorite here! Sometimes I like a sweet sauce like cola BBQ sauce and other times a sweet and smoky does the trick.
White Onion– sweet or red works too.
Brown Sugar– to balance the heat and add the sticky we know and love.
Kosher salt– or other coarse salt. If using a fine salt, reduce to 1/2 teaspoon. Do not use iodized, it has the tendency to taste metallic.
Seasonings– black pepper, garlic powder, smoked paprika (or regular), chili powder (or chile powder), cumin, dry mustard, celery seed.
Bacon– Optional and your preference, crumbled.
Cheese– Cheddar is fairly traditional, but smoked gouda or even a smoked mozzarella is a good choice. Cheese is also optional.
Other variations include adding a packet of ranch seasoning to the BBQ sauce, chopped jalapenos, a few dashes of Worcestershire sauce or a packet of onion soup mix.
How to Make Crock Pot Pork Chops
Combine all herbs and spices in a small bowl and stir to combine.
Rub both sides of the pork chops with all of the dry rub and set aside. You want to really season the pork chops good, so they develop a great flavor and get tender. Don't skimp on the spices people!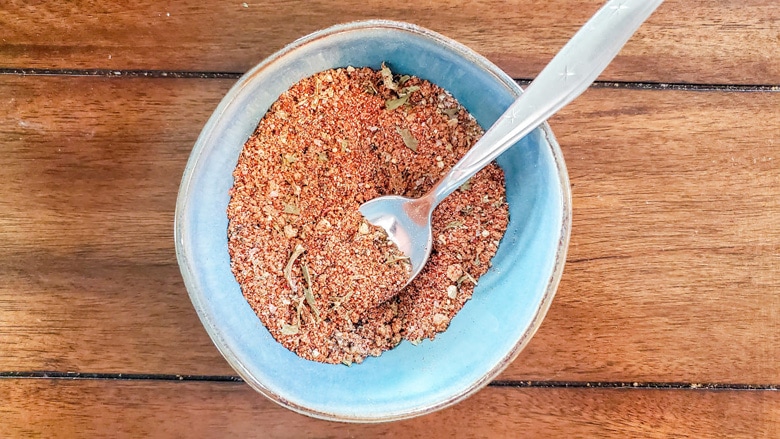 Spray your slow cooker with cooking spray and spread a thin layer of BBQ sauce over the bottom. For best results, place pork chops over the sauce, then half the BBQ sauce and sliced onions on top.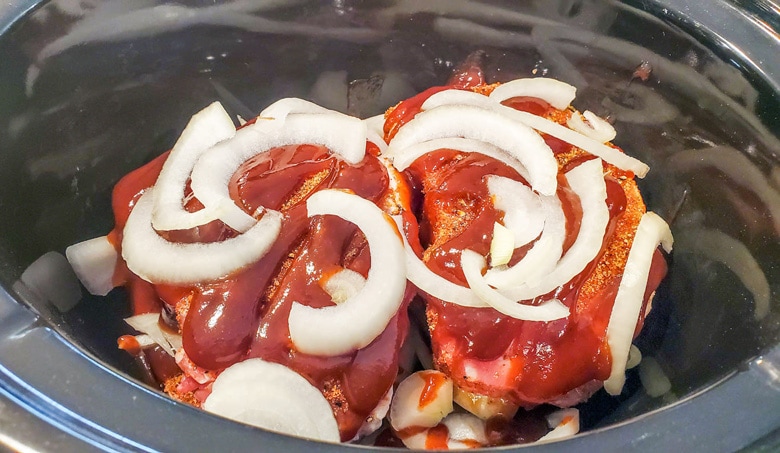 Repeat with the remaining two pork chops and the remaining BBQ sauce and sliced onions. Cook the crock pot pork chops on HIGH for 4 hours or LOW for 6 hours or until internal temperature reads 145-155 degrees F.
Pro Tip: Don't overcook! It is very important to monitor your pork chops so that they do not overcook and become shredded pulled pork. You want the chops to reach an internal temperature of 145-155 degrees F. After that they will start to break down into pulled pork. Don't get me wrong it will be super yummy still, but we went to stick with a pork chop here.
Once the BBQ pork chops are cooked through, remove from the slow cooker and top with BBQ sauce, crumbled bacon, shredded cheese and parsley.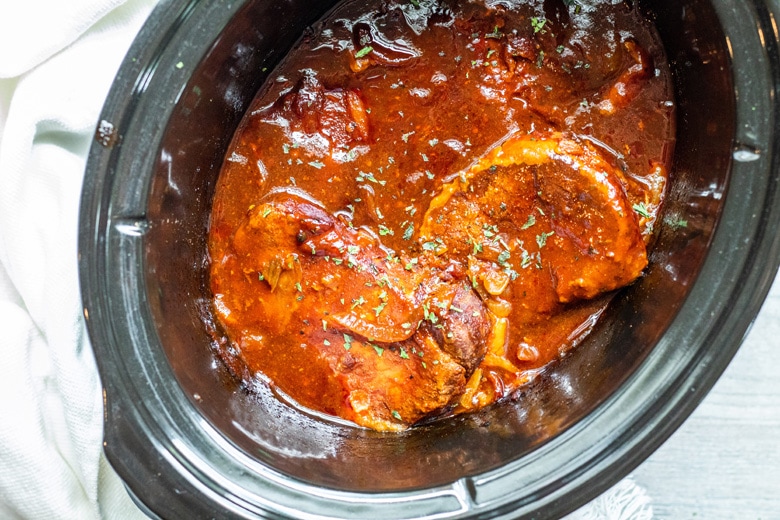 This step is optional but gives the pork chops that classic sticky BBQ feeling. If you are wanting your chops to have some sticky goodness to them you can broil them.
Once the pork chops have cooked in the slow cooker and are fork tender, remove them and add to a baking sheet. Pour over some of the BBQ sauce from the crockpot and broil the ribs for 5 minutes on high, or until the sauce is caramelized.
I like to top mine with a little chopped parsley for color, but is not necessary. This recipe can also be made with boneless skinless chicken breasts.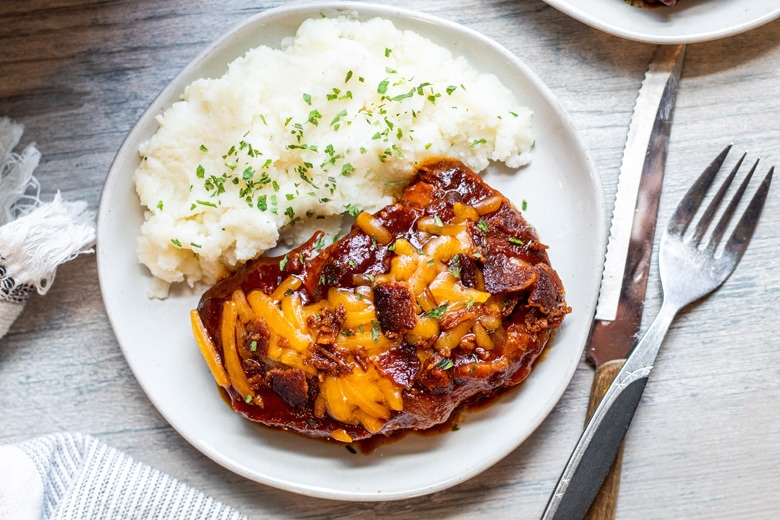 What to Eat Pork Chops With
Personally, my favorite side to enjoy with these slow cooker BBQ pork chops is mashed potatoes. I swear mashed potatoes make everything that much yummier.
Some other great side dish ideas include:
Pro Tip: I do not recommend using pork chops thinner than 1 1/2 inches thick. Thin pork chops will cook down to pretty much nothing and you will not be left with a tender chop. The thicker the better for this slow cooker recipe.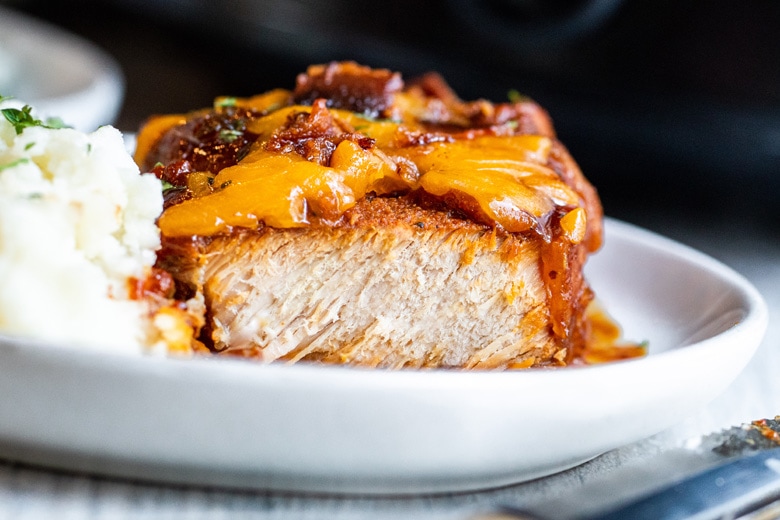 Freezing & Storage
Store leftover crock pot pork chops in an airtight container in the fridge for up to 4 days. Be sure to reheat the pork in the microwave, over or return to a slow cooker until warmed through. You can add a little chicken broth to the container to keep it moist, or even in the bottom of the slow cooker if you plan to have it stay on "keep warm" for very long.

You can freeze the uncooked pork chops for up to 3 months. Add all the ingredients to a large bag, then store flat in the freezer.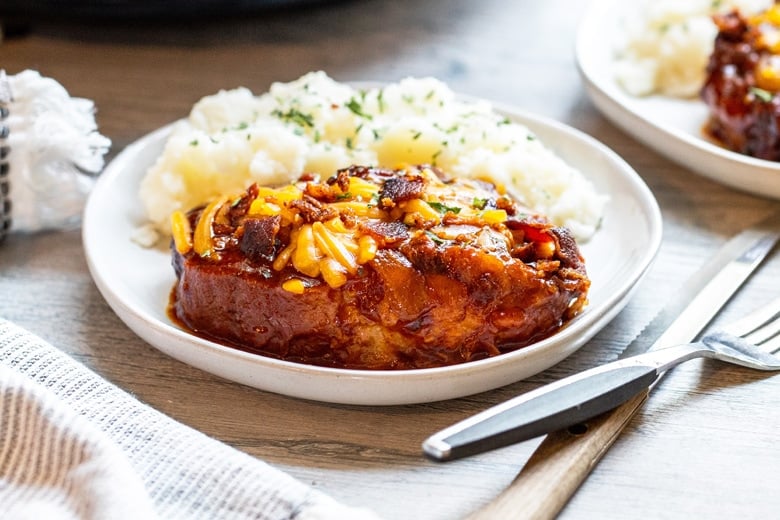 When ready to make the crock pot pork chops let the thaw in the fridge overnight then follow the recipe instructions. I love using this recipe as part of my freezer meal rotation and it is just as great after being frozen.
These slow cooker pork chops can also be prepped ahead of time. You can add the dry rub to pork chops and place them in a large bowl or zip-lock bag with the sliced onion and BBQ sauce and store in the fridge for up to 24 hours.
When ready to cook add the pork chops to the crockpot (don't worry about layering) and cook according to recipe instructions.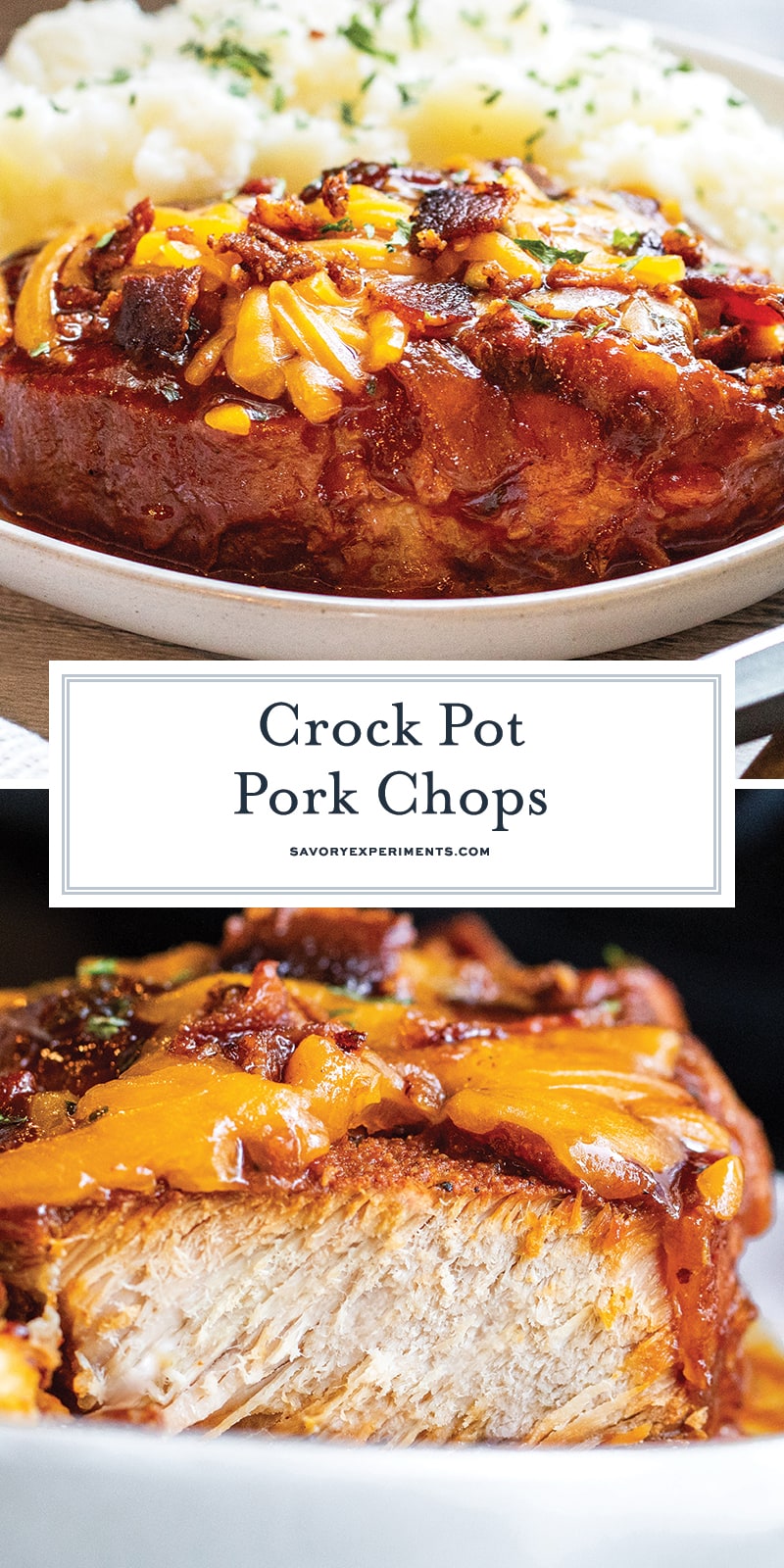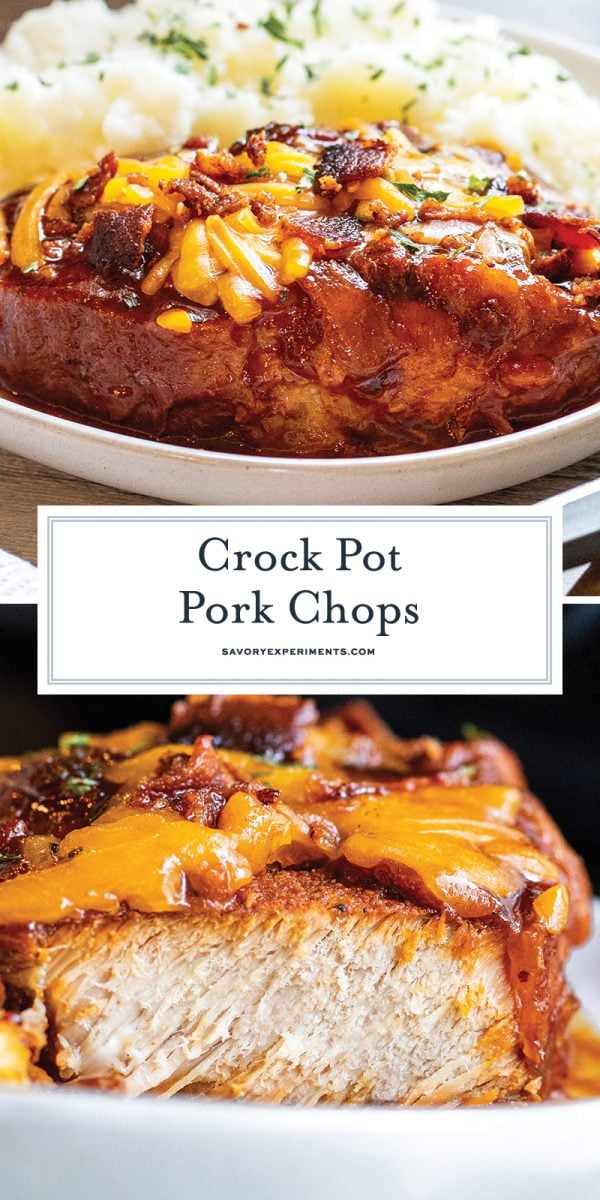 More crock pot recipes you'll love: