Oh, cauliflower. The color colorless cousin of broccoli, you get a bad reputation with kids (and adults) turning up their noses left and right. It is all kind of odd considering that you are fairly bland. But let's not hold that against you. Instead, with a glass half full attitude, you are a blank slate waiting patiently to be painted.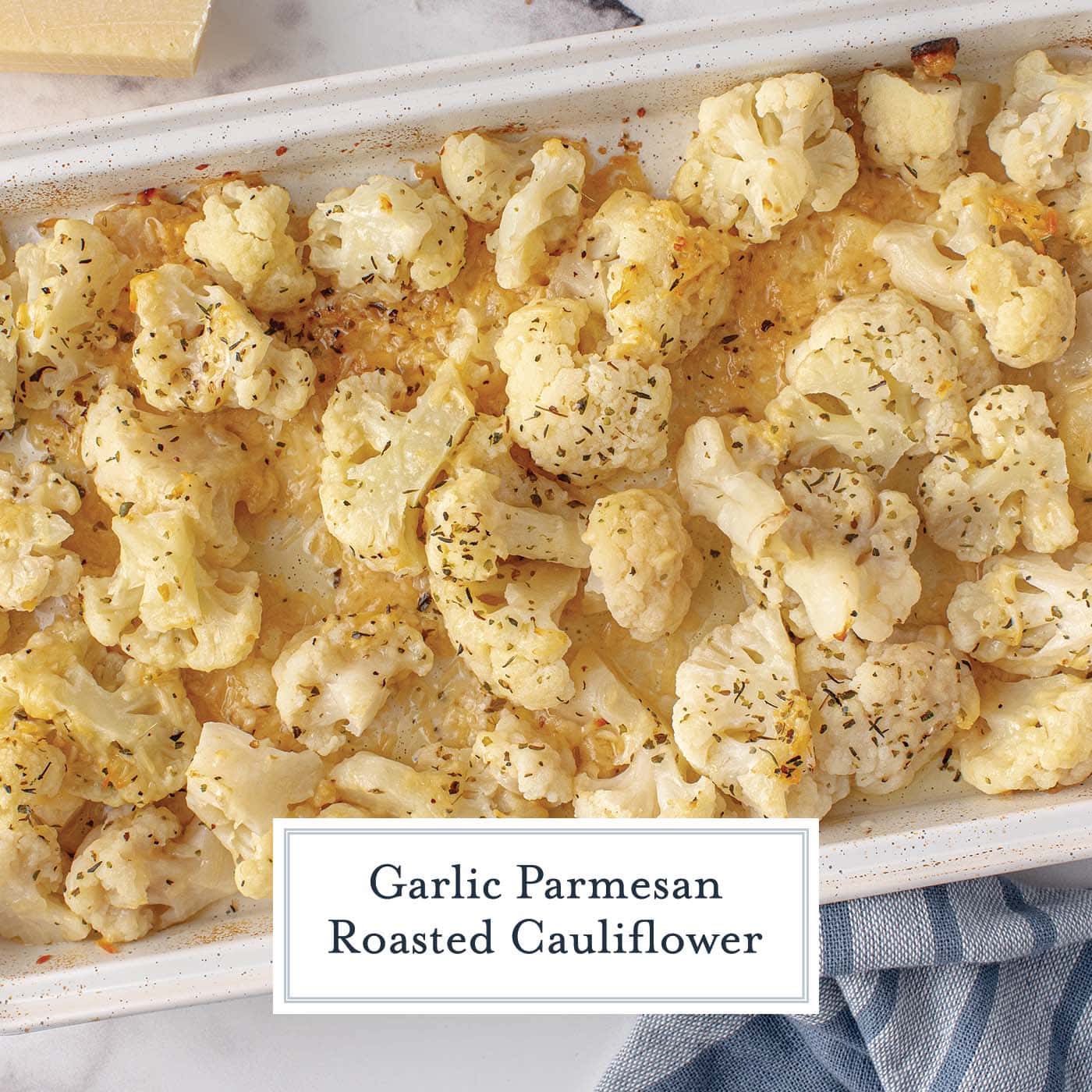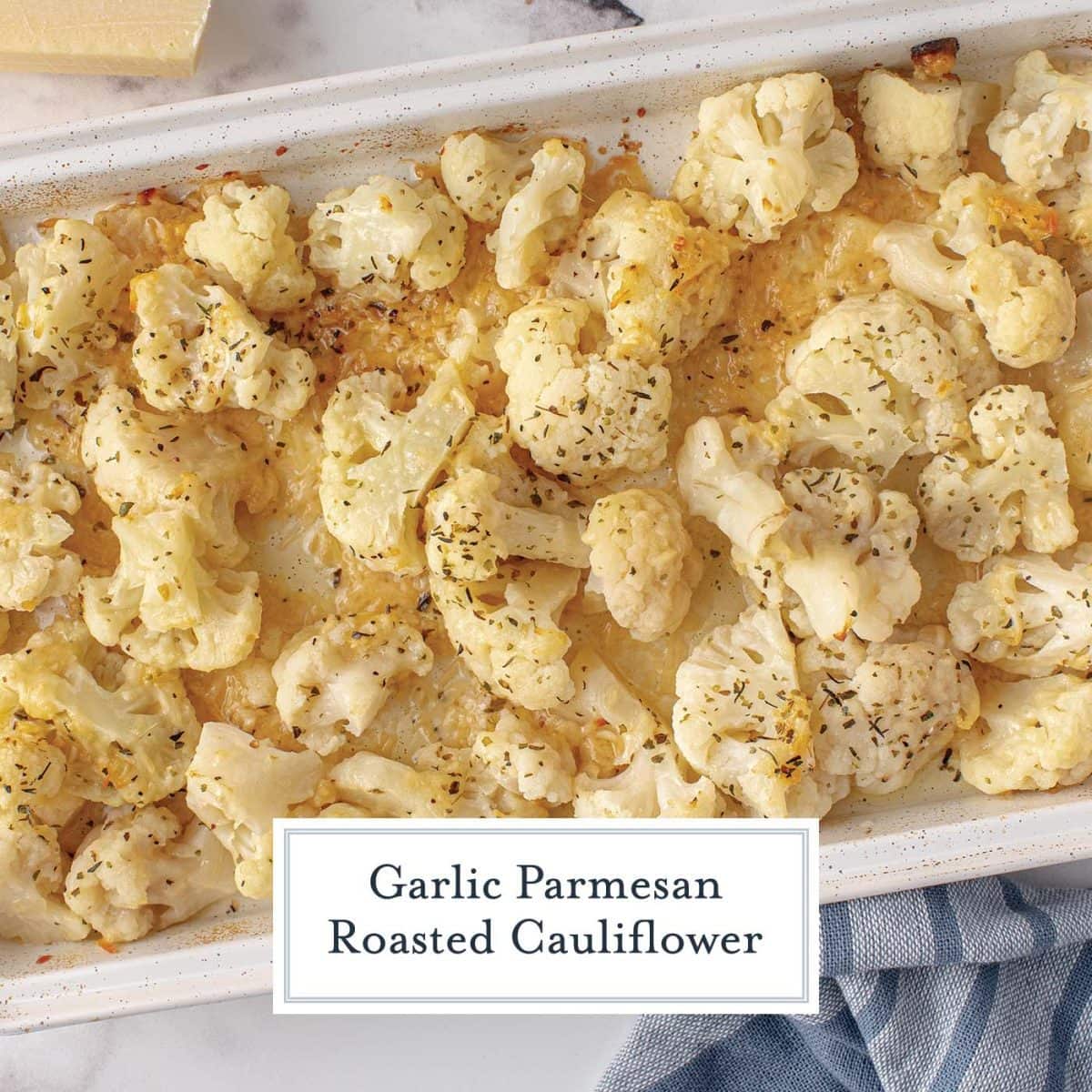 And paint you we will- with hearty garlic and nutty parmesan cheese. Throw a roasted fast heat in there and BOOM- a side dish that will have cauliflower haters asking for seconds. My favorite way to prepare fresh cauliflower using simple ingredients.
The Best Cauliflower Recipe
I'm try to be modest in stating any of my recipes are "the best"- it is all in the eye of the beholder, right? But as far as roasted cauliflower goes, this has to be one of the greatest. And the trick is to actually make roasted cauliflower, not baked cauliflower. ROASTED.
I do roast, what is the difference? Well, roasting generally refers to hearty foods that can withstand a blast of high temperature for a prolonged period of time, like hard cored veggies or a piece of meat. Baking, on the other hand, is usually a lower temperature for foods that aren't as solid or more delicate- thinking batters or thin flaky fish.
Roasting cauliflower achieves two goals, it cooks it faster and adds flavor. That high heat won't get a full-blown browning maillard impact, but it will chemically change some of the elements giving this cauliflower a distinctly different taste than steamed or cauliflower rice, even.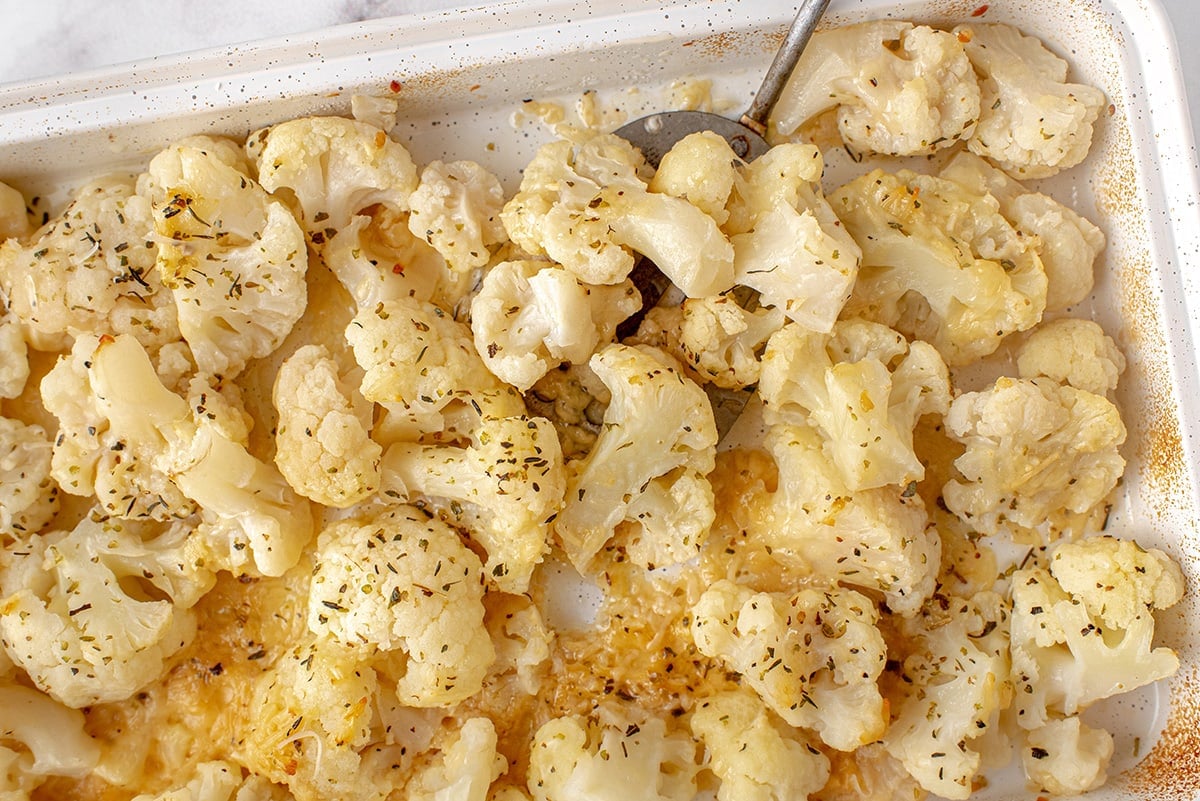 What You'll Need
The ingredient list, with the exception of the cauliflower perhaps, is fairly short and consists of kitchen staples.
Head of Cauliflower- the star of the show, this can also be modified for broccoli. I used florets only because they cook at a different speed that the stalks.
Canola, Vegetable Oil or Avocado Oil– both have a higher smoke point than oils like olive oil, and thus won't burn your food when roasted at high heat. Any neutral oil with a smoke point at 400°F or higher will work.
Parmesan Cheese– finely and freshly grated, do yourself a favor and use a fresh wedge instead of the canned shaker cheese. If you get the aged version you'll get the added bonus of nutty notes with crystalized salty pieces (those are my favorite!!!) a younger wedge will boast a mild creamier result.
Garlic- the recipe calls for 2 cloves, but let's be honest, measure garlic with your heart. I used 2 very large cloves and wouldn't have batted an eyelash going up to 4. Read your audience and make an informed decision. Jarred garlic offers a sweeter flavor. Please don't swap garlic powder.
Italian seasoning– this is one of my quick and easy recipes, so I did use the dried spice mix. Feel free to swap out for fresh herbs at a ratio of 1 tablespoon of fresh for every 1 teaspoon of dried.
Coarse Kosher salt and ground black pepper- freshly grind your pepper for maximum pepper goodness and if using a fine salt (opposed to coarse) but back by at least 50% in volume. I season this dish after cooking and that is for two reasons. Pepper actually loses much of its signature flavor when subjected to heat and I wanted to get maximum results. Salt, which helps to accentuate all flavors, is also great for adding texture and I wanted that as well. I also use Maldon salt for this dish, which comes as a flaky little pyramids to add crunch.
Other spice blends can be used to be complement your meal. Try Thai seasoning, blackened seasoning or even dry ranch mix. Add a dash of red pepper flakes for more heat or freshly grated lemon zest for a citrus splash.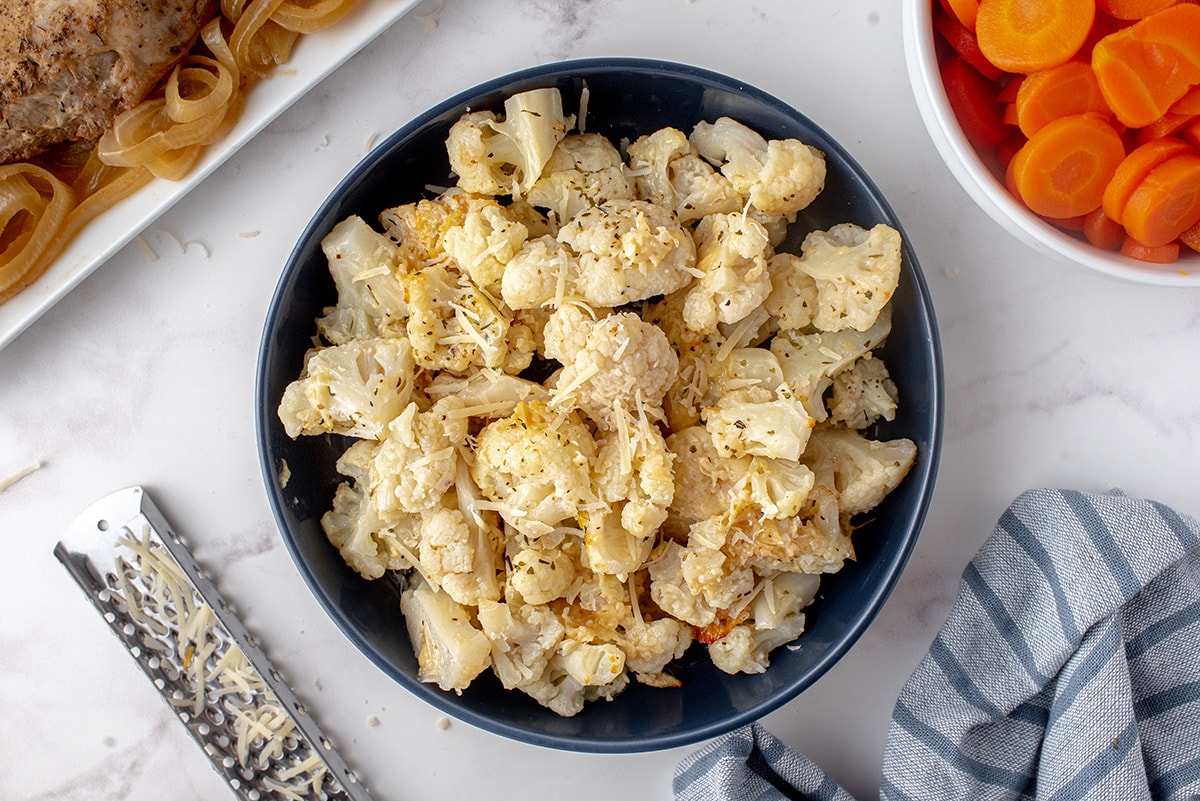 Make It!
Making this dish is super easy. You can make all of the elements ahead of time and then pop them into the fridge until you are ready to cook. If you want to cook it ahead of time as well, instructions for reheating are below in the leftovers section.
Fully preheat the oven, you need a HOT oven for roasting.
Cut your cauliflower into florets. Cut large florets in half, aiming to have uniform size. When cutting cauliflower (or broccoli), cut the stalk with a sharp knife and then pull apart the frilly ends. This reduces waste.
Place the oil and seasonings (except salt and pepper) into a large bowl. Use a bowl larger than you think you'd need because you are going to use it for tossing.
When combined, add the cauliflower and toss to evenly coat.
Using tongs, a slotted spoon or even clean heads, transfer the coated florets to a rimmed baking sheet. Try to tap off excess oils. If you are aiming for crispy crunchy ends, use a large rimmed baking sheet and not a high sided baking dish. The reason is that cauliflower has a lot of water and the heat will release it, making steam. If the sides are too high (even in a 9×13 baking dish) you can risk steaming the veggies instead of roasting. They will still taste good, but you'll lose the crunch. For quicker cleaning, you can use parchment paper, but this may also reduce the crunch factor because it won't have direct contact with a hot metal pan. Arrange in a single layer, giving each piece ample space for hot air to circulate around. Don't crowd the pan!
Roast for 15-18 minutes. Times will vary based on how large you trimmed the florets. Test them by piercing with a fork, it should easily go in and come out and the florets will be golden brown.
Remove and seasoning with coarse salt and pepper before serving.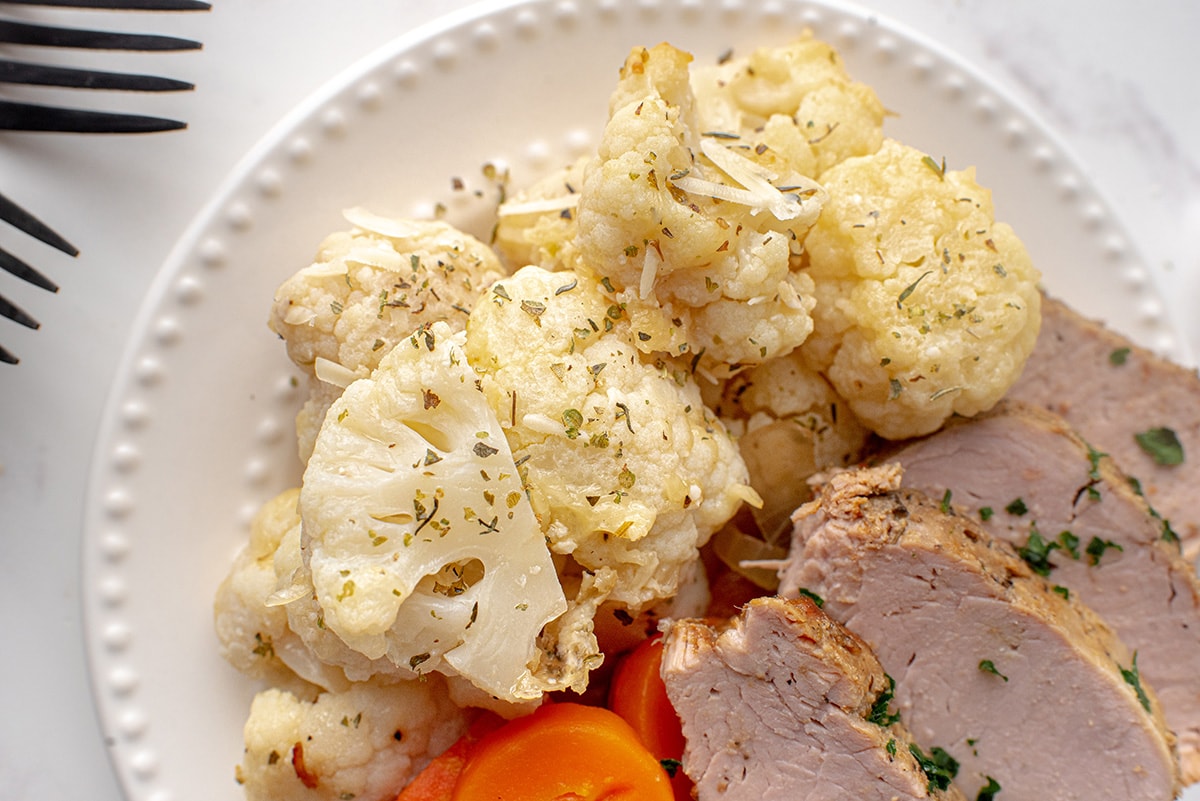 Orange and Purple Cauliflower
What is orange cauliflower?
Orange cauliflower is the same as white cauliflower, but crossbred to hold beta carotene, the same pigment that makes carrots orange. Orange cauliflower also has 25% more vitamin A than its white cousin.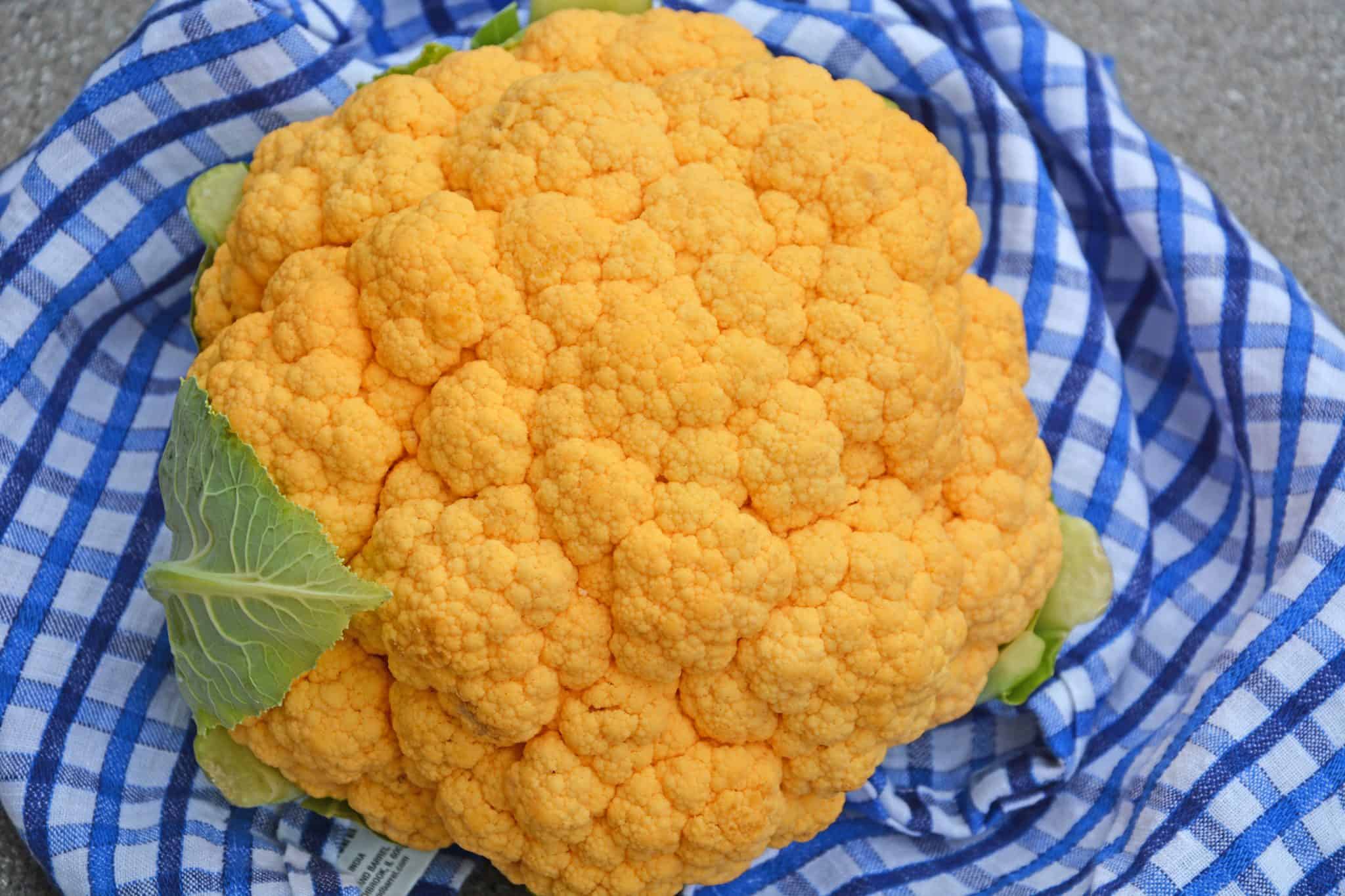 Cheddar Cauliflower is the nickname, however it doesn't taste at all like cheese. In fact, it tastes and cooks exactly like white cauliflower.
What is Purple Cauliflower?
Like orange, purple cauliflower is not dyed, it is a crossbreed. The signature hue comes from the same antioxidant that makes red cabbage. Then we all ask why is it called red and not purple, but I digress.
Which is good because that means you can make my Garlic Parmesan Roasted Cauliflower with orange white or purple cauliflower and it will be spectacular.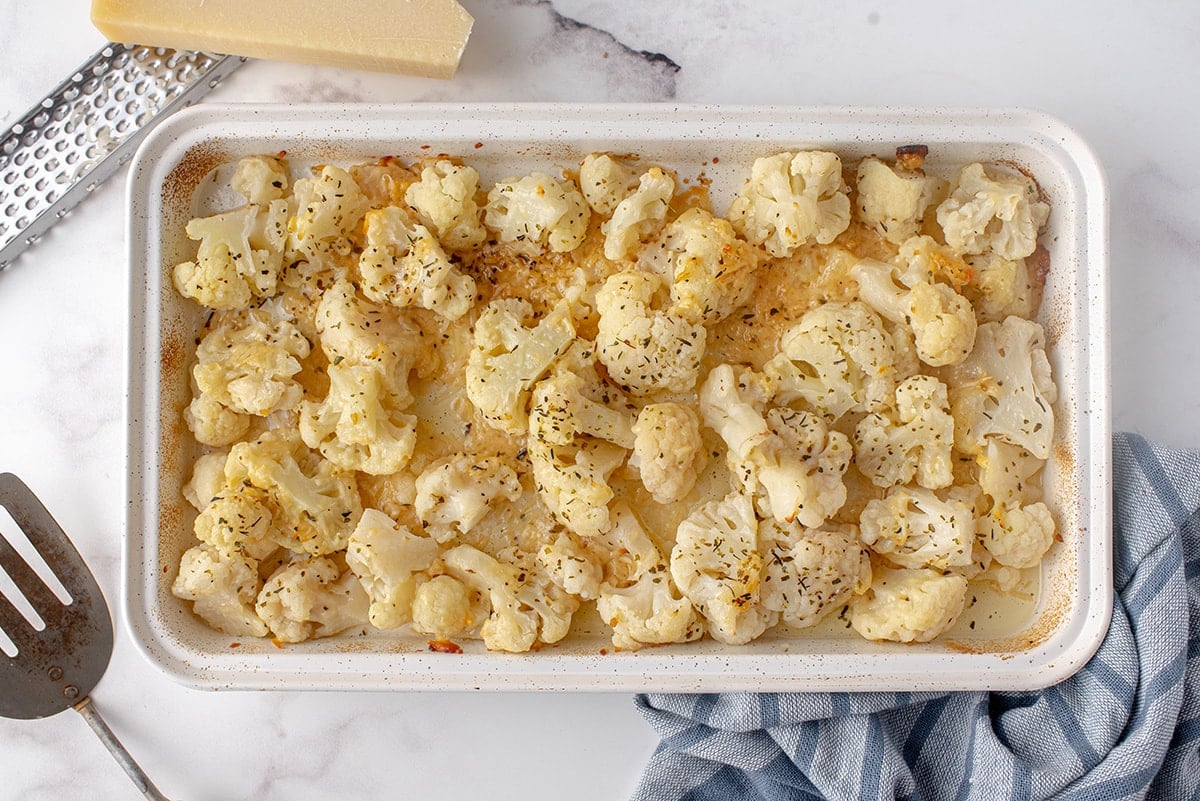 What to Serve it With
Cauliflower florets are a great simple side dish for most meats and even pasta. I like to serve it with steak, roast chicken or fish, pork loin recipes really anything you want. The roasted florets are also phenomenal in salads either hot or room temperature.
Some of my favorite dishes include:
I've even made it as part of my hibachi event!
Storage & Reheating
Store in an airtight container in the refrigerator for up to 5 days. I find reheating in the oven to yield the best results. Roast (from cold) at 400°F for 4-5 minutes or until hot on an oven safe baking sheet.
In a pinch, reheat in the microwave, but don't expect the crunchy edges.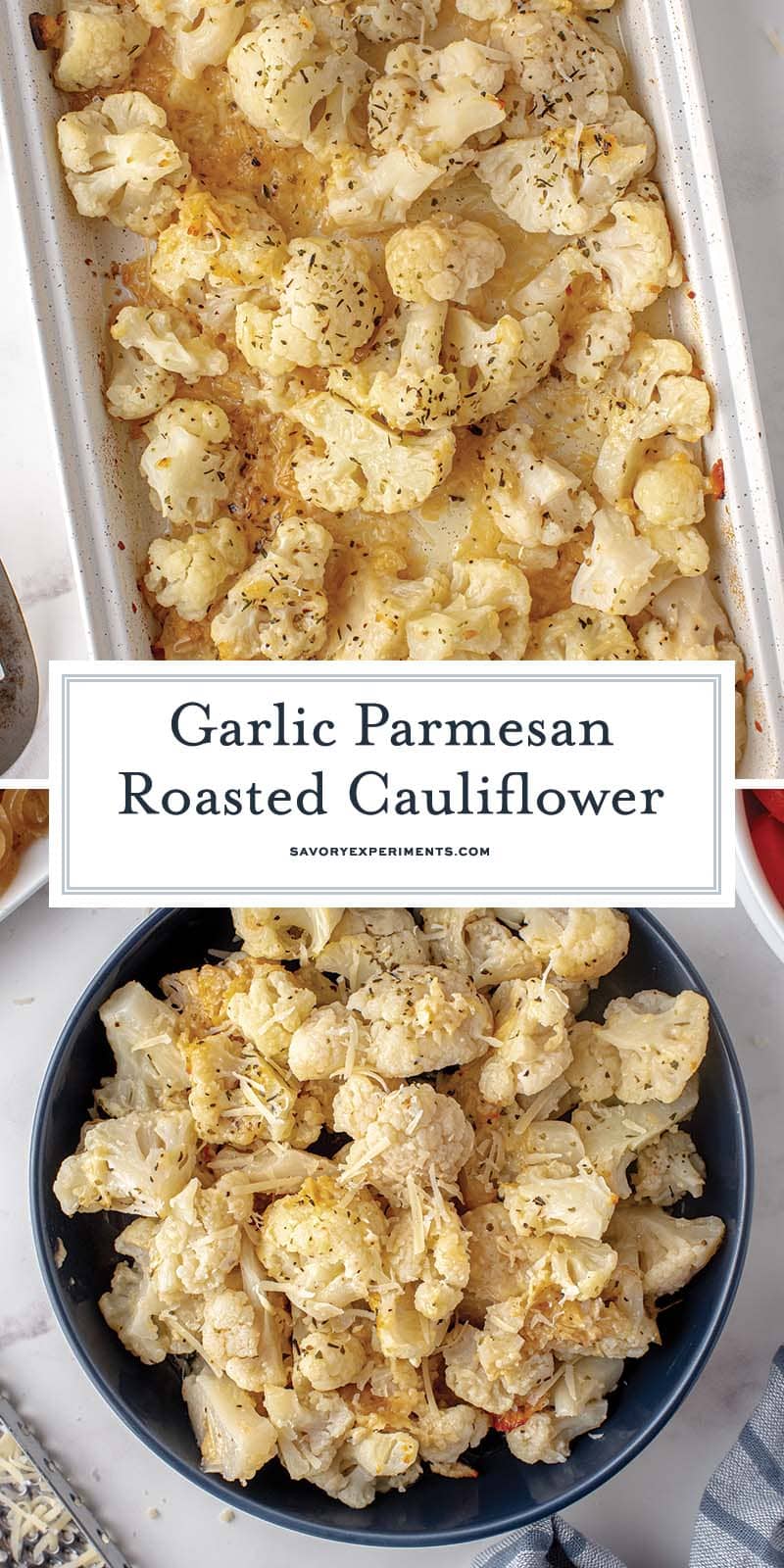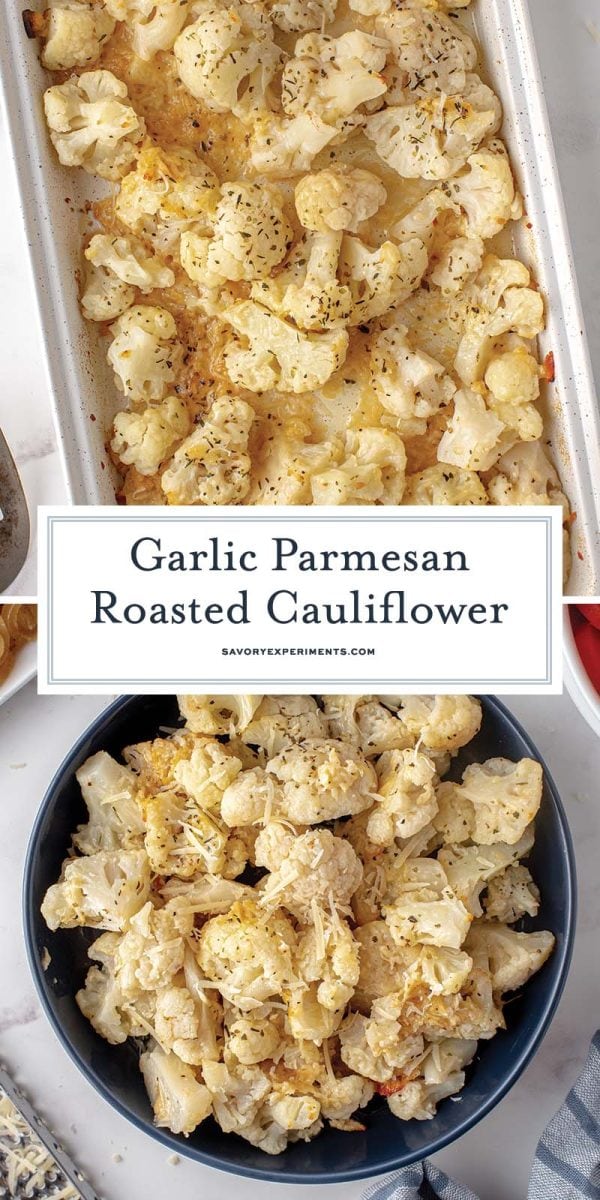 You may like these other easy cauliflower recipes: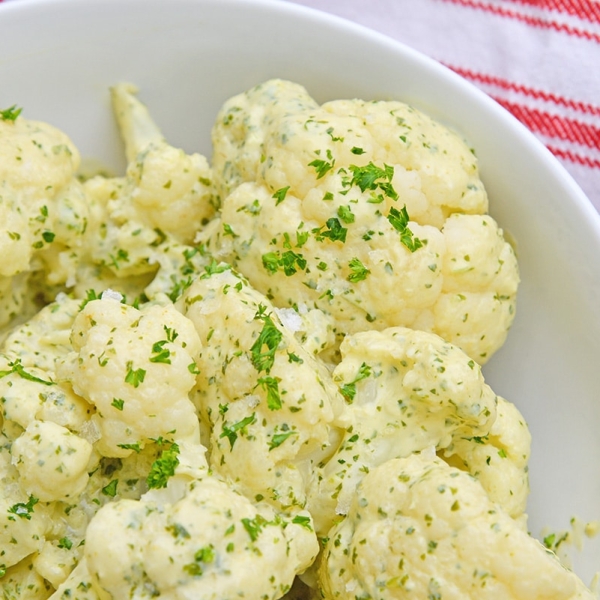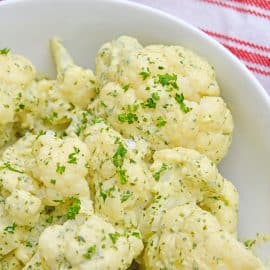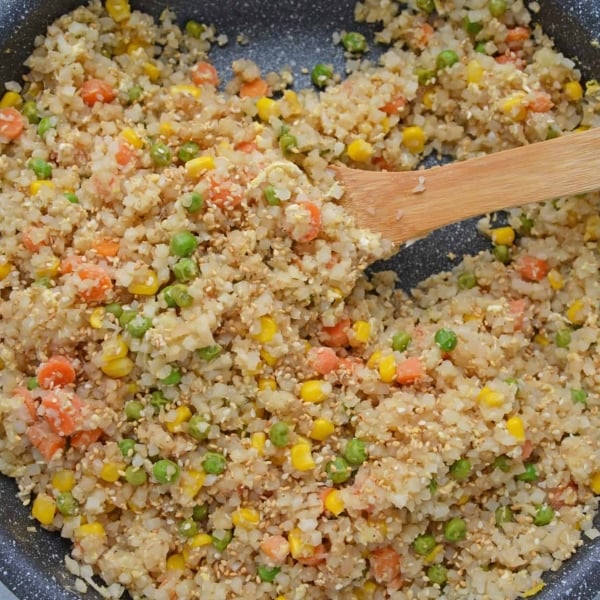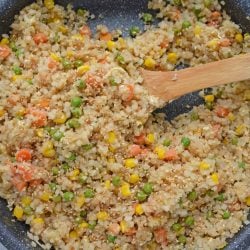 Cauliflower Fried Rice
If you've ever wondered how to make Cauliflower Fried Rice, look no further! This cauliflower fried rice recipe is the perfect way to cut down on carbs!
See The Recipe!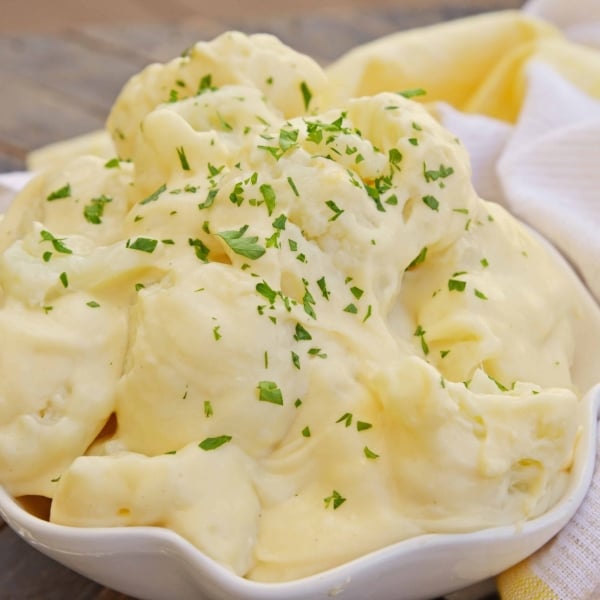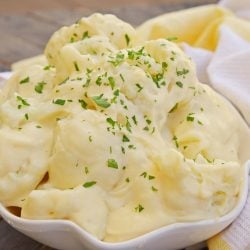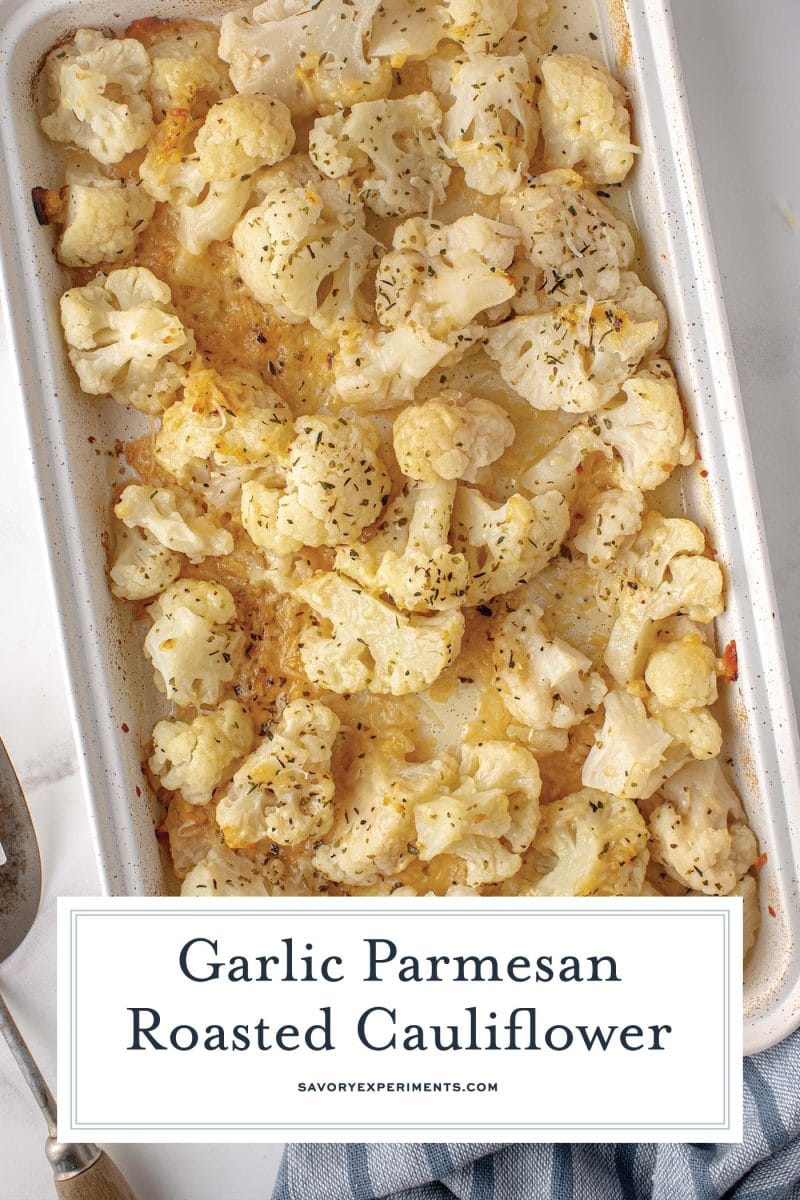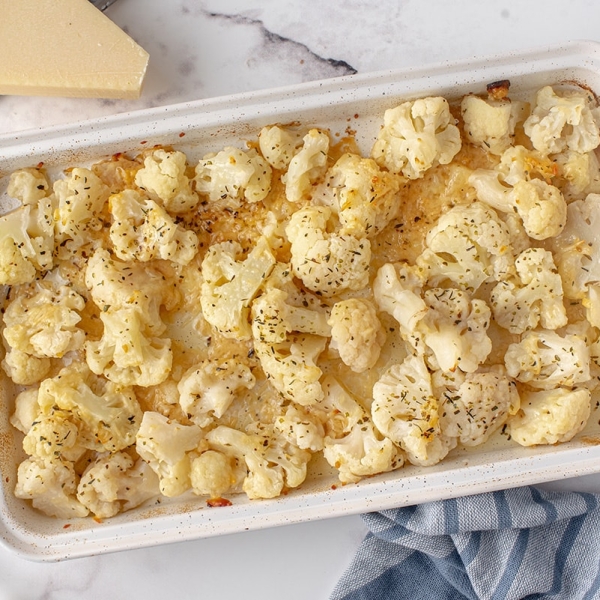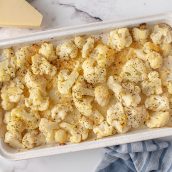 Garlic Parmesan Roasted Cauliflower
Roasted Cauliflower recipe using parmesan cheese, fresh garlic and seasonings. The perfect easy dish for any meal.
Instructions
Preheat the oven to 400°F.

In a large bowl, whisk together the oil, Parmesan, garlic and Italian seasoning.

Add the cauliflower florets and toss to coat. Transfer to a rimmed baking sheet, leaving excess oil and seasoning behind in the bowl. Discard.

Roast for 15-18 minutes or until soft when pierced with a fork and tips are slightly crunchy. The cooking time will vary based on how large you cut your cauliflower.

Remove and season with the salt and pepper.

If you've tried this recipe, come back and let us know how it was in the comments or ratings.
Nutrition
Calories:
172
kcal
,
Carbohydrates:
3
g
,
Protein:
3
g
,
Fat:
15
g
,
Saturated Fat:
2
g
,
Cholesterol:
4
mg
,
Sodium:
109
mg
,
Potassium:
111
mg
,
Fiber:
1
g
,
Vitamin A:
90
IU
,
Vitamin C:
13.4
mg
,
Calcium:
123
mg
,
Iron:
1.2
mg