If you like crispy potatoes, you are going to love these EASY Hasselback Baked Potatoes! And my SECRET ingredient sends them over the top!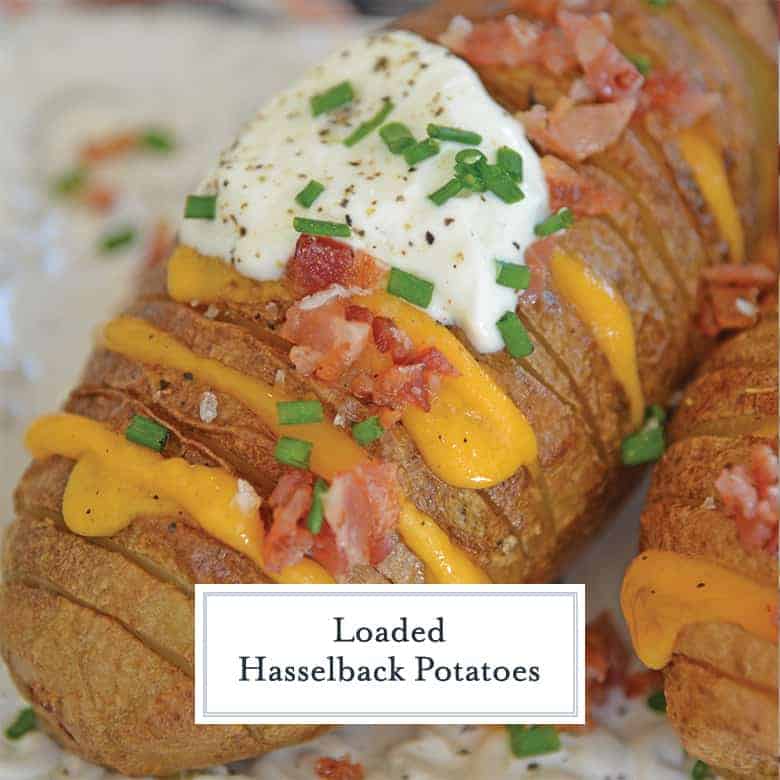 Calling all potato lovers! These crispy Hasselback Baked Potatoes are going to be your new favorite easy side dish!
I've had potatoes with every meal this week. I am so tired of potatoes…
Words I never thought I'd say. But my 2-year-old has been demanding "BAKED POTATO". Not just any potato, very specifically a baked potato.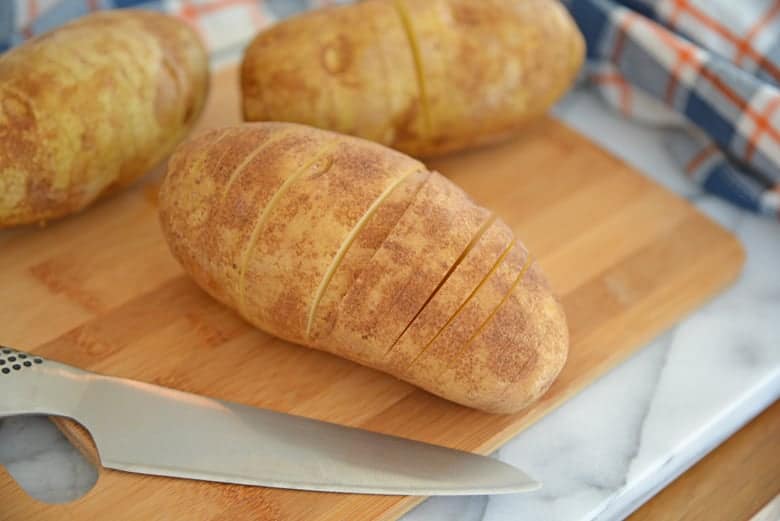 I've served her waffle fries, twice baked sweet potatoes, classic roast potatoes, twice baked potatoes, mashed potatoes… the whole potato gamet.
PRO TIP: Slice a small piece off the bottom of your potato so it is level and will sit without rolling.

You can also stand your potato on a large wooden or plastic mixing spoon while cutting so when it hits the knife, you'll know when to stop cutting and not cut all the way through.
But she still is requesting a BAKED potato. I decided to finally try out Hasselback Potatoes. I see the pretty pictures on Pinterest and wonder what all the fuss is about.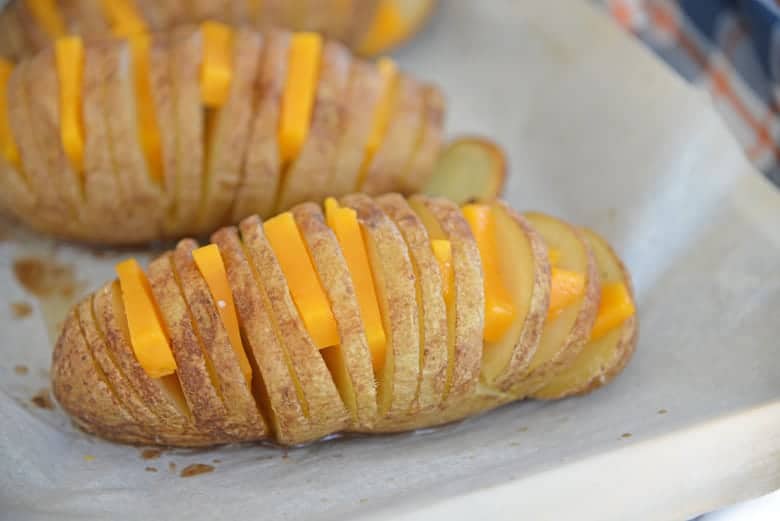 Well, the fuss is real, foodie friends. Baked Hasselback Potatoes are legit. Think: crispy sliced potatoes. Totally heavenly!
PRO TIP: Freshly shredded cheddar cheese is the way to go on these! Pre Shredded cheese is tossed in a light coating of starch to prevent sticking that may give you an undesired chalky texture.
Sliced super thin, each little pieces gets a nice crisp. Like eating the cunchiest french fries combind with kettlecooked potato chips. Buttery, potatoy goodness in every bite.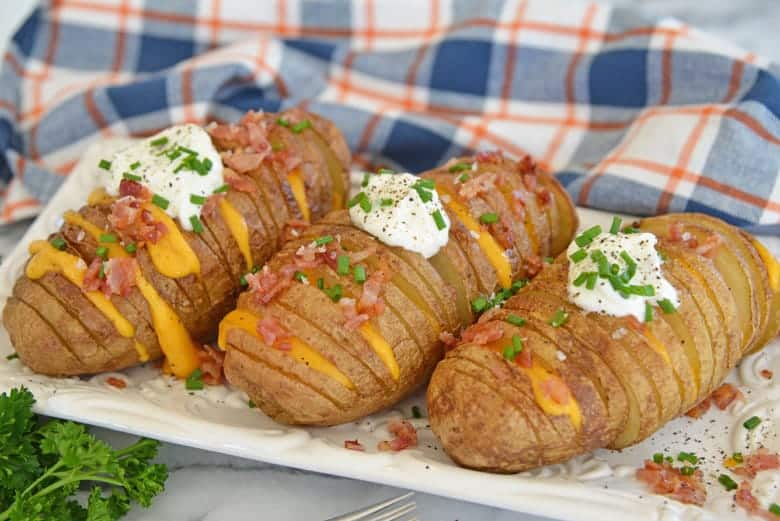 The combination of butter and olive oil are what make these little slices turn out so beautifully. I'm sure the Serious Eats kitchen has a fabulous explanation. All I know is that it works.
PRO TIP: The best way to mince chives is using kitchen shears. Hold a bunch together and snip them into a bowl.
But I wanted to be different from any other baked Hasselback Potatoes recipes out there so I added a little acidity with umph.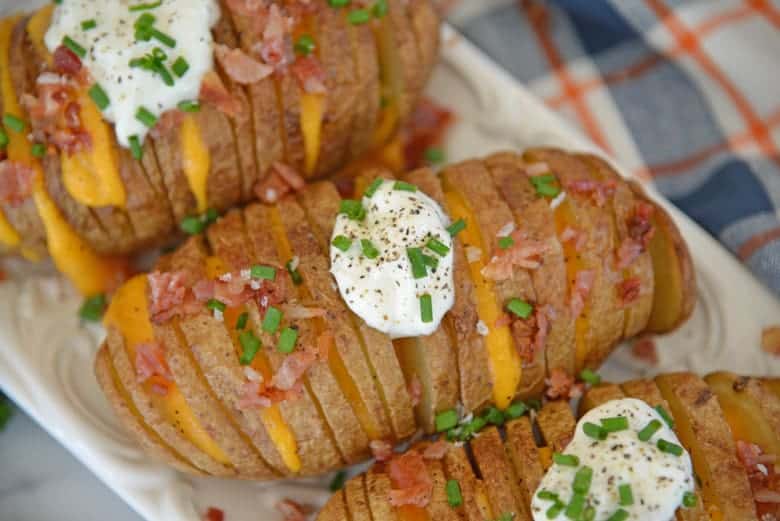 Dijon mustard. It is seriously my go-to for adding a "can't put my finger on it" flavor to any dish. A little zing on your tongue.
Now don't going sharing our secret! Just smile, nod and say "it was just butter…"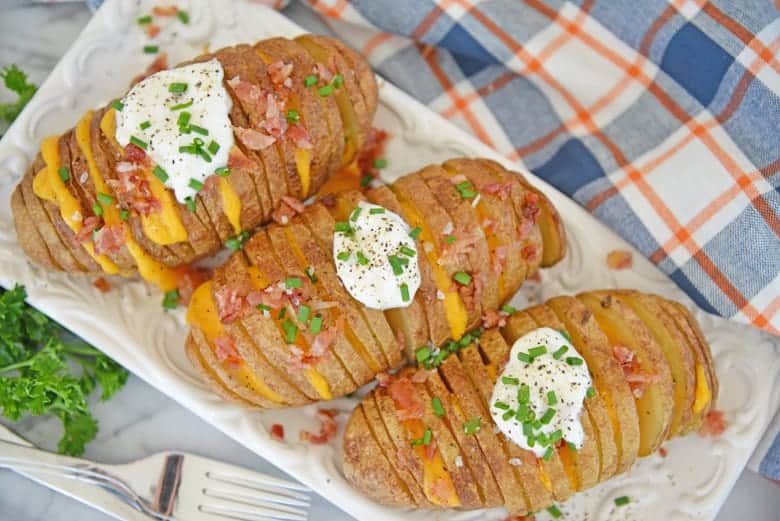 If you liked these baked potatoes hasselback, check out my other favorite potato recipes: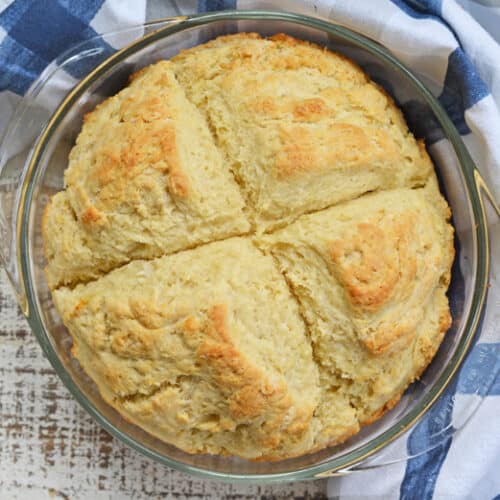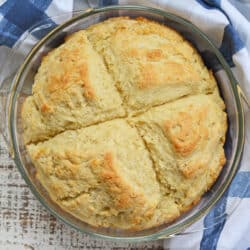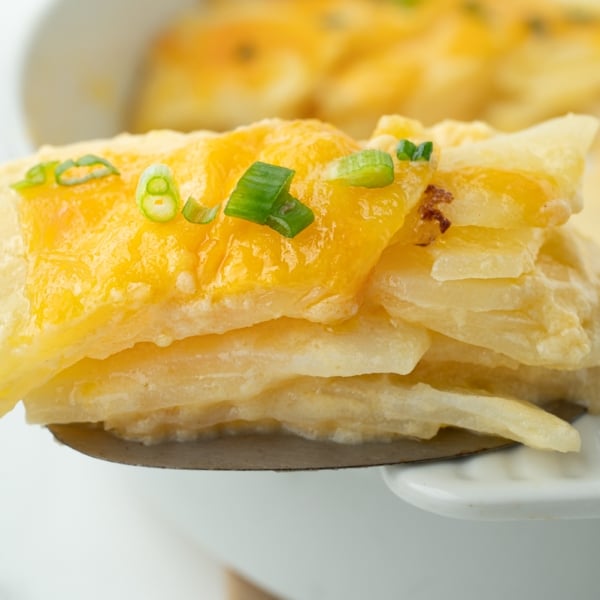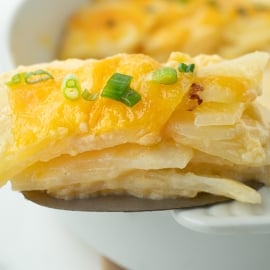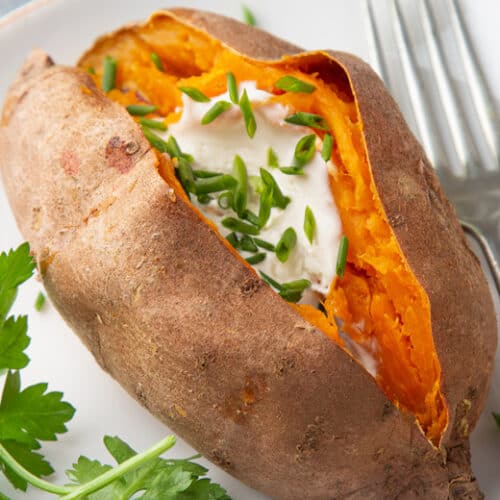 Need some dinner inspiration to go with those potatoes? Check out these ideas: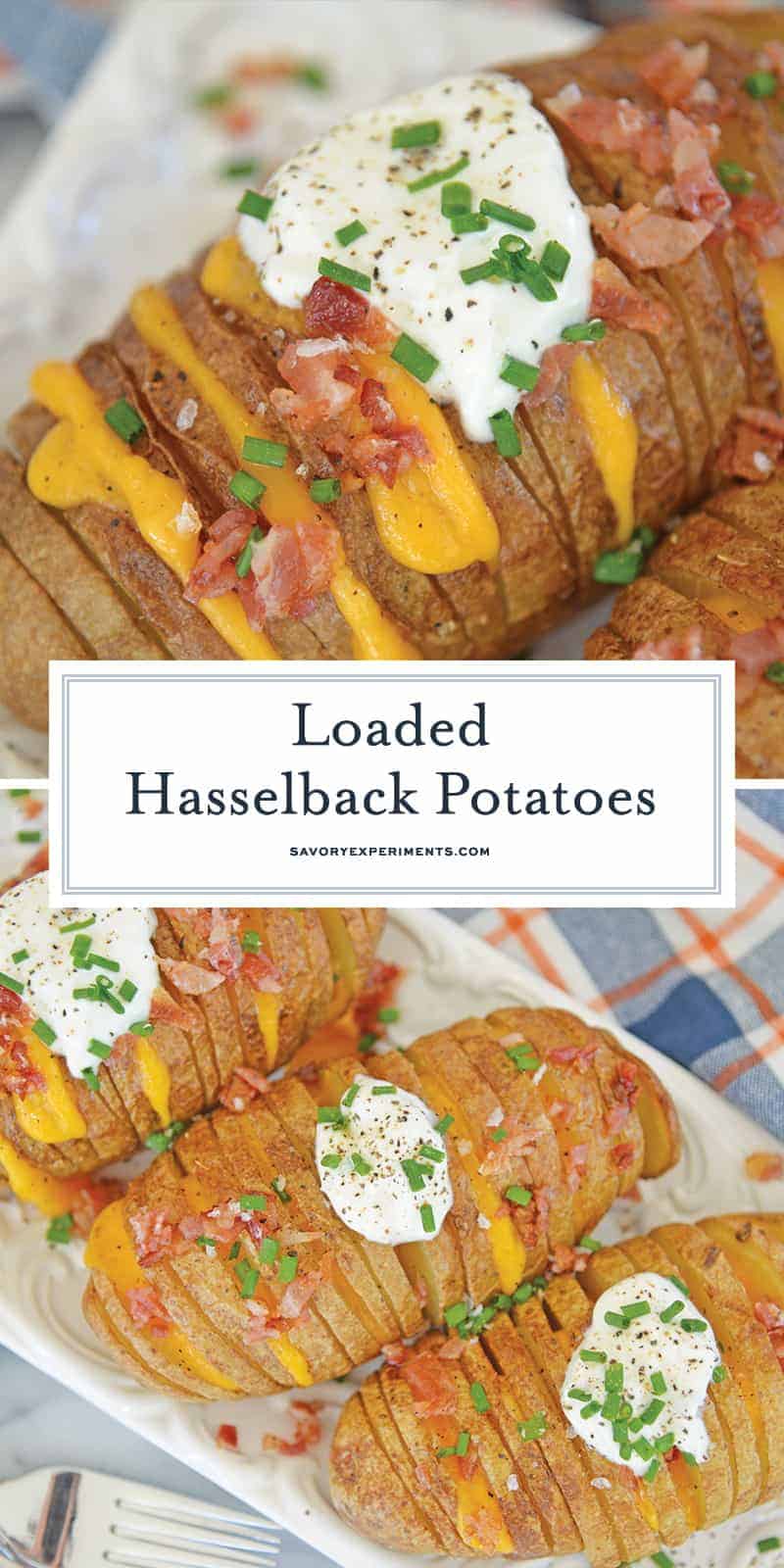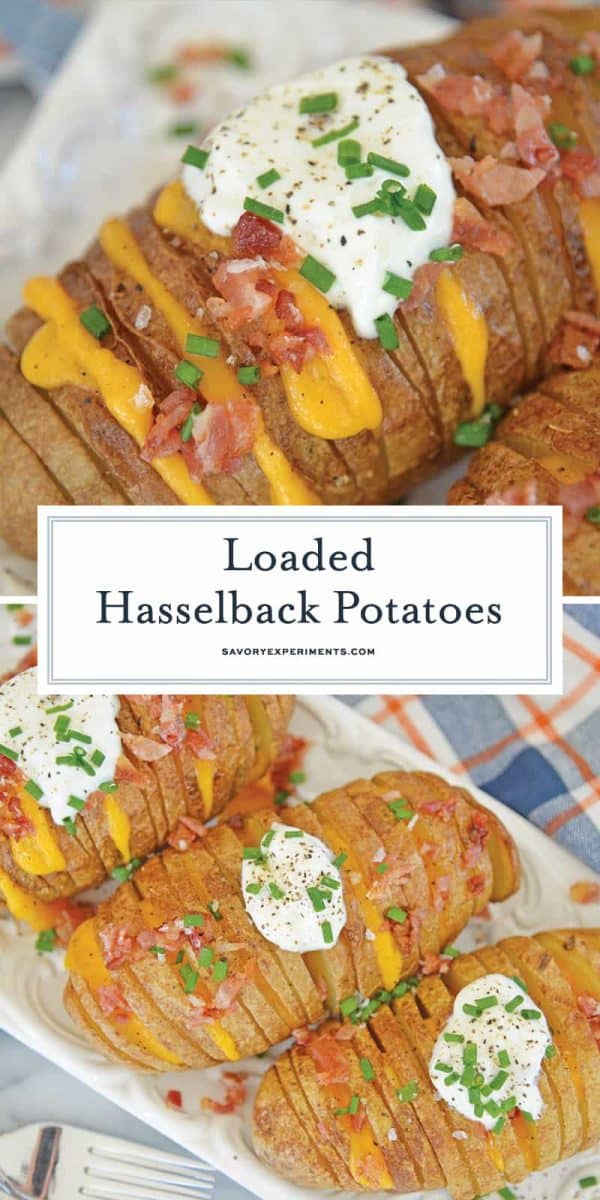 Why are they called Hasselback Potatoes?
No Matt Hasselback, nor his wife, came up with this dish. It is much older than either of them and hails from Sweden.
They get their name from Hasselbacken, the Stockholm restaurant where it was first served.
Can you make them ahead?
You can, but much like so many things that you make ahead they won't be as crispy when you reheat them.
If you do this, bake them and then reheat in the oven with the butter drizzle and toppings last right before serving.
What are the best potatoes for Hasselback potatoes?
I find that Russet Potatoes are the best for Hasselbacks, but red potatoes come in second with Yukon Gold in third.
You can use smaller or mini potatoes and make a mini version, but the baking time will be reduced significantly.
Can I use sweet potatoes?
I don't advise using sweet potatoes because of their starch content. It is lower so they tend to limp over instead of getting crispy and standing up straight.
Can I grill Hasselback potatoes?
I am sure you can, but I haven't experimented with it. I will let you know when I do!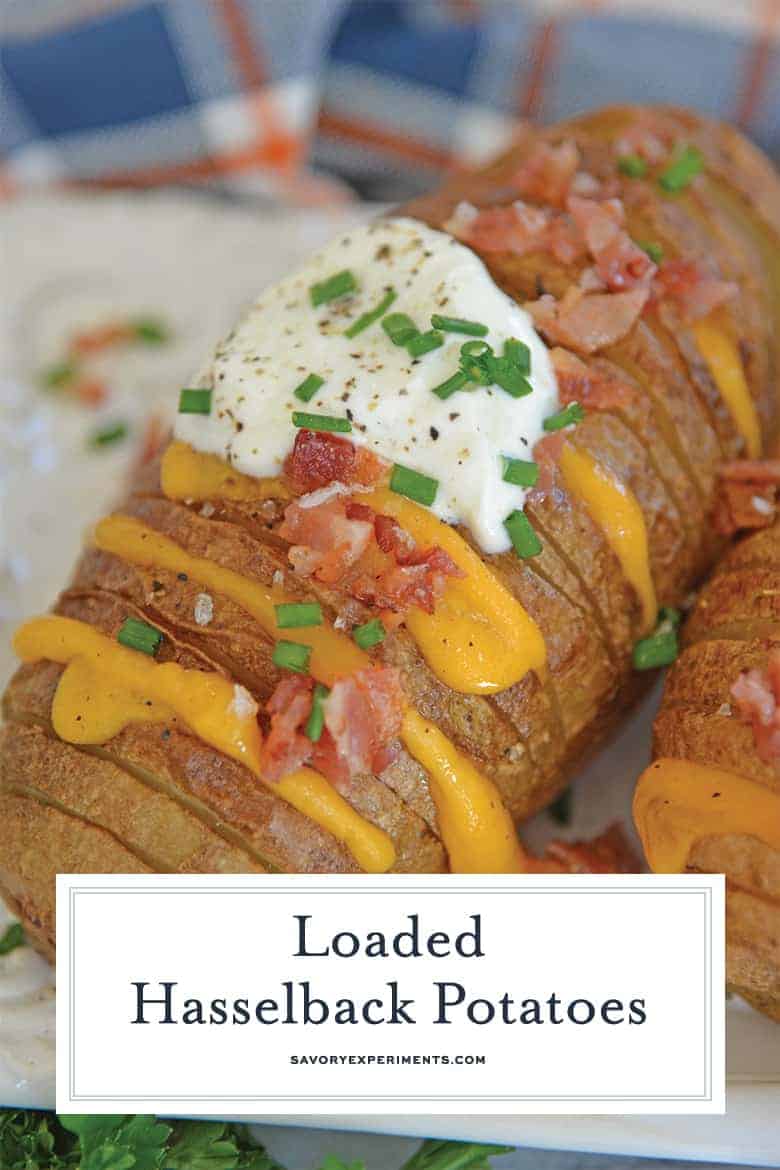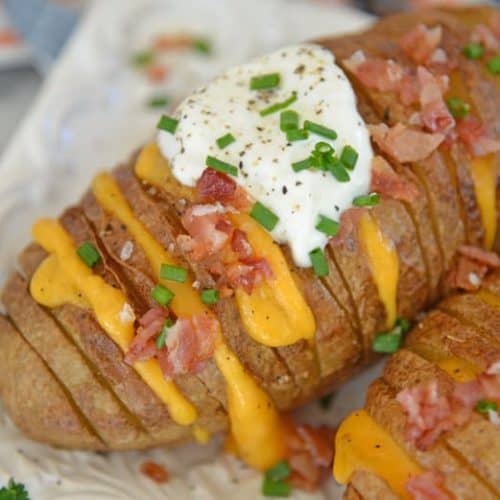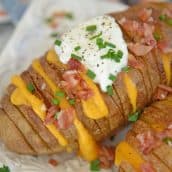 Hasselback Baked Potatoes
Calling all potato lovers! These crispy Hasselback Baked Potatoes are going to be your new favorite easy side dish!
Instructions
Heat the oven to 425 degrees.

Pat potatoes dry.

Cut thin slits (1/8 to 1/4 inch thick) in the potatoes, leaving the bottom intact. Cut parallel slits into each potato, stopping just before you cut through so that the slices stay connected at the bottom of the potato. You can cut a thin slice off the bottom to create a flat surface and prevent them from rolling around.

Place them on a rimmed baking sheet.

Brush the potatoes with olive oil, making sure to get into all the nooks and crannies.

Season with salt and pepper. Sprinkle the potatoes generously with fine sea salt and freshly ground pepper.

Bake for 45 minutes. At this point, the layers will start separating.

In a small bowl, melt unsalted butter and whisk with garlic powder and Dijon mustard.

Remove the pan from the oven and brush the potatoes with your butter mixture. Return to oven and bake for 15-25 minutes or until potatoes are nice and crispy. The time will vary based on the size of your potatoes. Large potatoes will take longer.

Remove and stuff shredded cheddar cheese evenly into the slits. Return to warm oven for 1-2 minutes, or until cheese starts to melt.

Remove and top with desired toppings. I used bacon crumbles, sour cream and chives.

Serve immediately.

If you've tried this recipe, come back and let us know how it was!
Nutrition
Calories:
364
kcal
,
Carbohydrates:
39
g
,
Protein:
9
g
,
Fat:
20
g
,
Saturated Fat:
9
g
,
Cholesterol:
36
mg
,
Sodium:
138
mg
,
Potassium:
919
mg
,
Fiber:
3
g
,
Sugar:
2
g
,
Vitamin A:
424
IU
,
Vitamin C:
13
mg
,
Calcium:
143
mg
,
Iron:
2
mg