This is a sponsored conversation written by me on behalf of Smithfield® Fresh Pork. The opinions and text are all mine.
Fire up your grill, summer is here! Make your first grilled meal of the season easy Grilled Pork Chops. But not just any chops on the grill… stuffed pork chops.

Grilled Stuffed Pork Chops are an easy grilled pork chop recipe. Herb marinated pork is stuffed with bread crumbs, herbs and Parmesan cheese and grilled to flavorful perfection in just 15 minutes!
Is it just me or did it seem like winter lasted ridiculously long this year? In fact, today was the first day it really felt like summer, only there was no spring. It went from cold to hot overnight. Literally.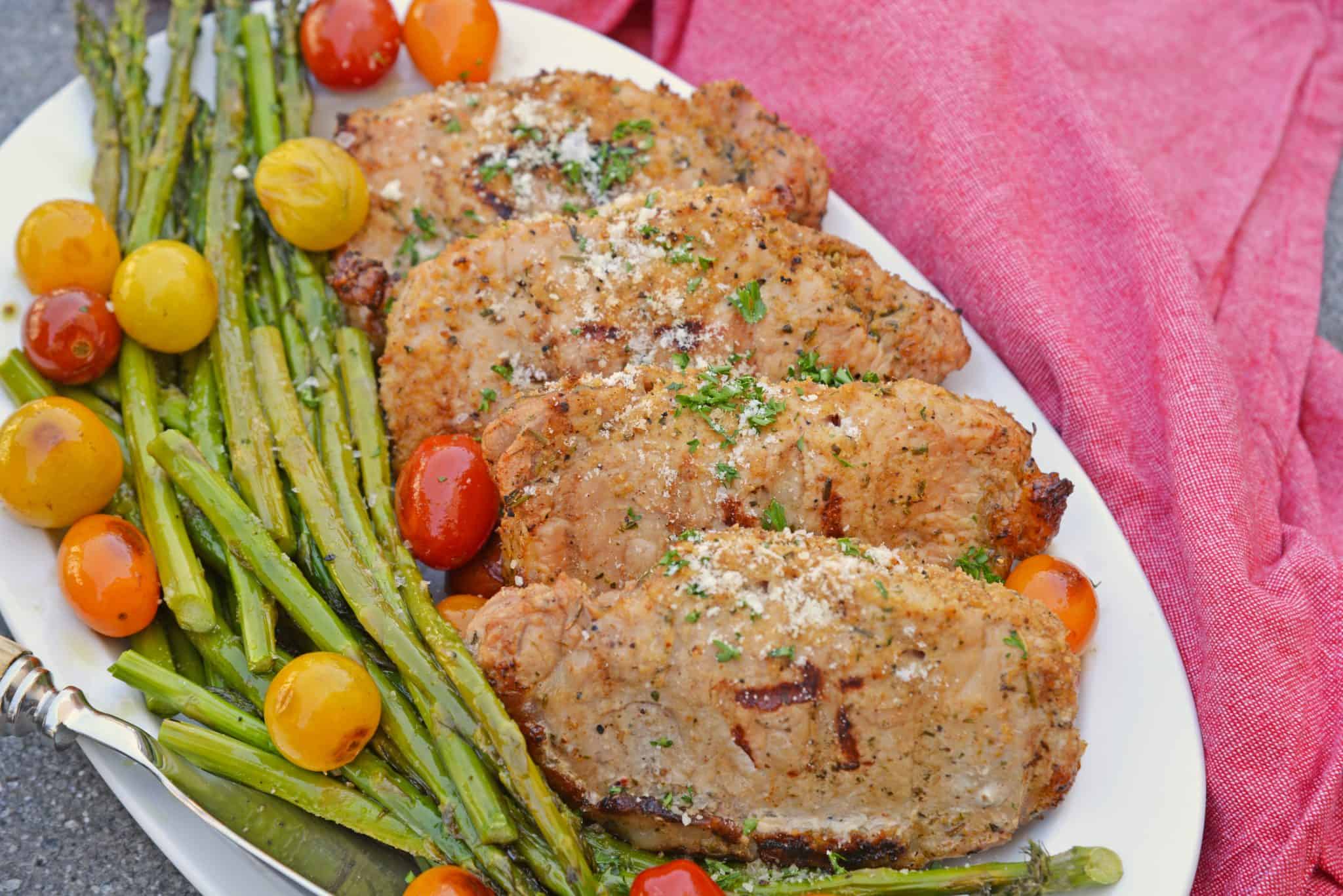 Even though we grill year-round, summer heat has me craving delicious grilled meals. We love hanging around the deck and chatting about our day while we prepare dinner together, but we also like taking our daughter for a nice long walk, so quick meals are key.
PRO TIP: Soak your toothpicks in water for about 30 minutes before using them to secure your meat. They are less likely to catch on fire.
Enter Smithfield® Marinated Fresh Pork! In my opinion, Smithfield Marinated Fresh Pork is a kitchen essential. I always keep a few packages in my freezer for flavorful, easy meals.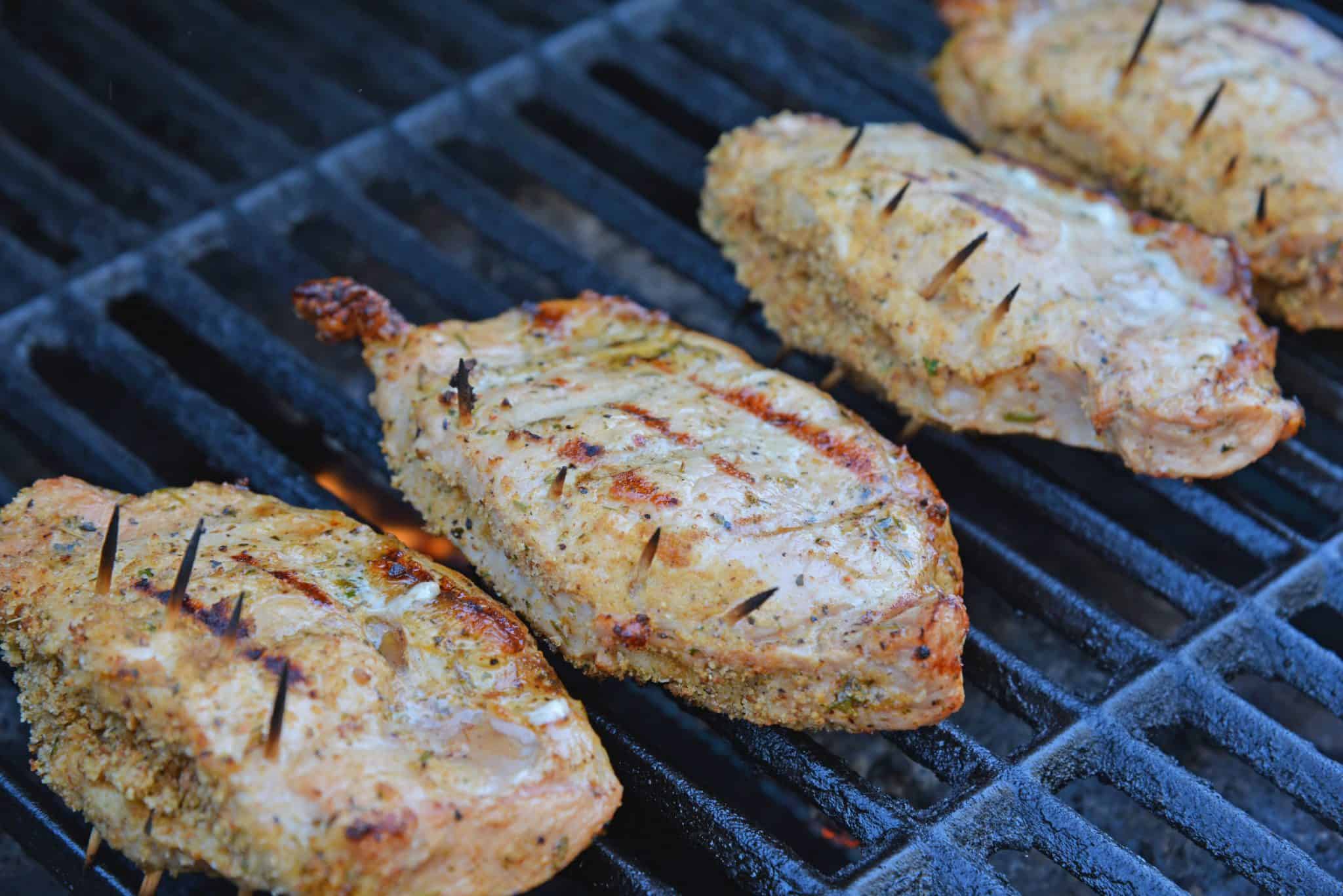 Whether I just want to grill it up and serve it with a salad or get fancy and make a stuffed pork chop recipe, they provide consistently delicious and tender marinated pork.
Championship Pitmasters even prefer Smithfield both in competition and home, so you know it has to be good.
For my Grilled Stuffed Pork Chops, I used Roasted Herb and Garlic Boneless Center Cut Pork Chops. They come in packages of 4, but are individually wrapped and sealed, so I can make just 2 if it is just my family, but easily increase it to 4 or more when we entertain.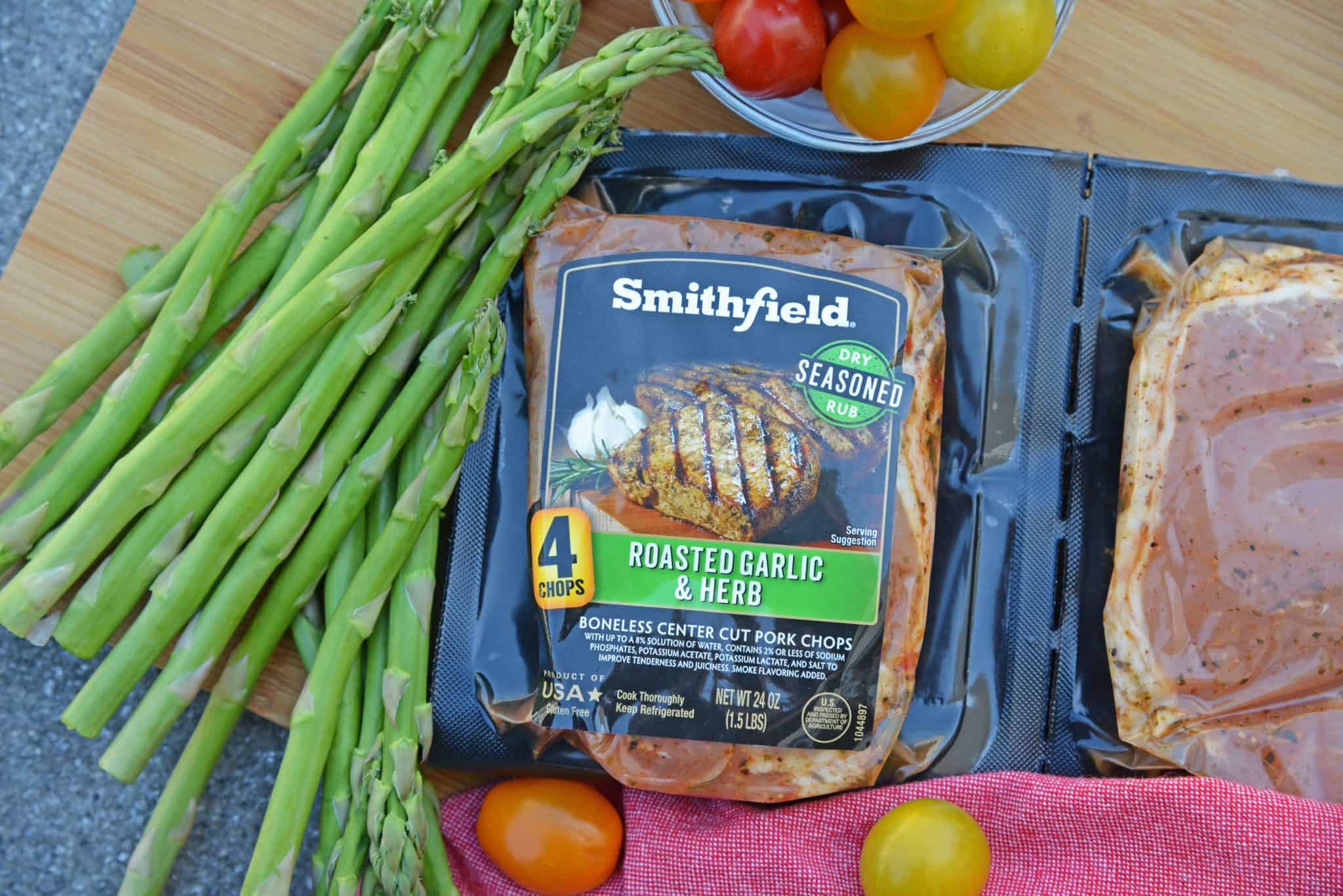 The pork is already marinated, so it takes a ton of time out of my meal prep. It takes me less than 5 minutes to prepare what I call a crunch pocket, a simple bread crumb stuffing popping with herbs, garlic and Parmesan cheese.
Seal them shut with toothpicks and less than 15 minutes later, dinner is served!

Honey Balsamic Instant Pot Pulled Pork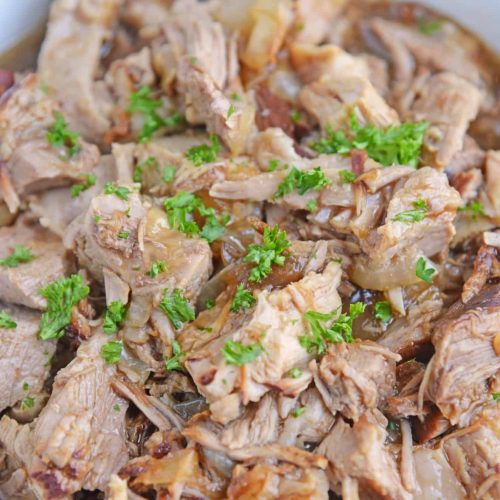 Honey Balsamic Instant Pot Pulled Pork is a pressure cooker pulled pork recipe using sweet and Asian flavors resulting in a super delicious sandwich. Ready in just 90 minutes!
Grilled Dijon Pork Chops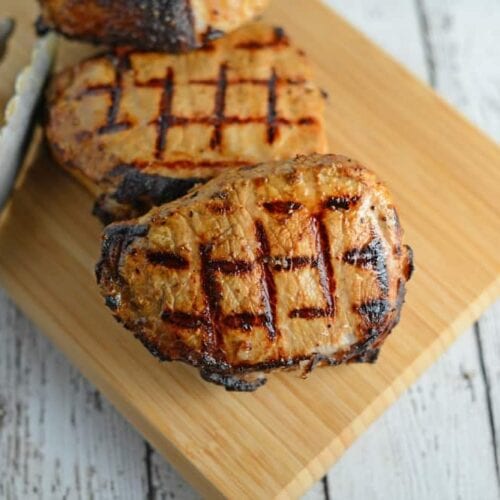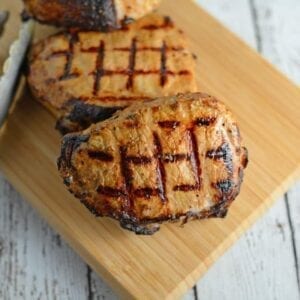 Grilled Dijon Pork Chops are a favorite for pork on the grill. A zesty and easy pork marinade recipes perfect for grilled or baked pork chops!
Tools for making this stuffed pork chop recipe:
Grilling Tools
– You'll need some grilling tools if you plan to grill!
Wood cutting board – wood won't dull your knives like plastic and if treated properly, has natural antimicrobial properties.
Mixing Bowls– make sure to check out my article on Using the Right Mixing Bowl, you'd be surprised how many people aren't!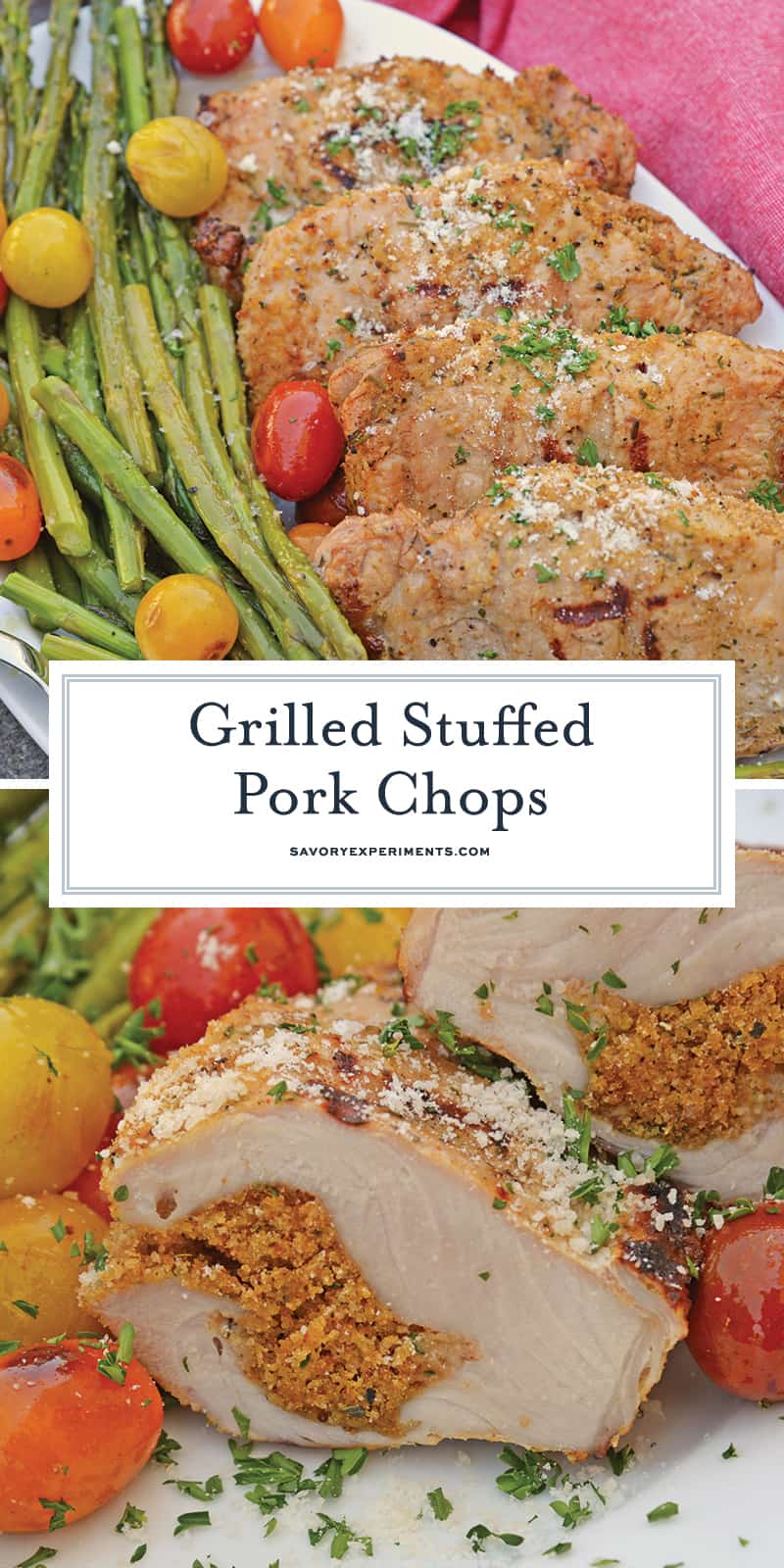 Questions you might have about how to make grilled pork chops:
I don't have this type of pre marinated pork chop, can I use fresh? Sure! They will be flavorful just with the stuffing. I would suggest making sure you have thick pork chops. The thicker they are, the easier it is to make a pocket! Aim for at least an inch thick.
I want to use a different marinade, what do you suggest? Any flavor that floats your boat. The stuffing mixture is so verstile that you can literally use any marinade, even an Asian dressing. However, my favorite is a simple lemon pepper or bottled Italian dressing.
Can I make stuffed pork chops in advance? Sure! Go ahead and stuff them up to a few hours in advance. Just store them in the refrigerator until you are ready to grill.
What should I serve with my grilled pork chops? Here are a few of my favorite grilling side dishes:
Can you freeze stuffed pork chops? I wouldn't suggest freezing them while raw purely because they do have dairy and this combined with the raw meat leaves a lot of potential for bacteria. The bread crumbs will also not be nearly as crunchy.
What temperture should stuffed pork chops be? Like any pork, use a meat thermometer
and aim for 145 degrees internal temperature.
Can I use a bone in pork chop? You can, but I highly recommend using a boneless pork chop.
Can I stuff a whole pork loin? if you stuff a whole pork loin, butterfly it down the center, add the stuffing and instead of toothpicks, use cooking twine
to roll it back up and secure it. You can grill it or throw it in a baking dish and into the oven for an easy dinner with hands off! Cooking time with vary depending on the size of your roast.
Can I use olive oil instead of butter? Feel free to substitute olive oil for butter.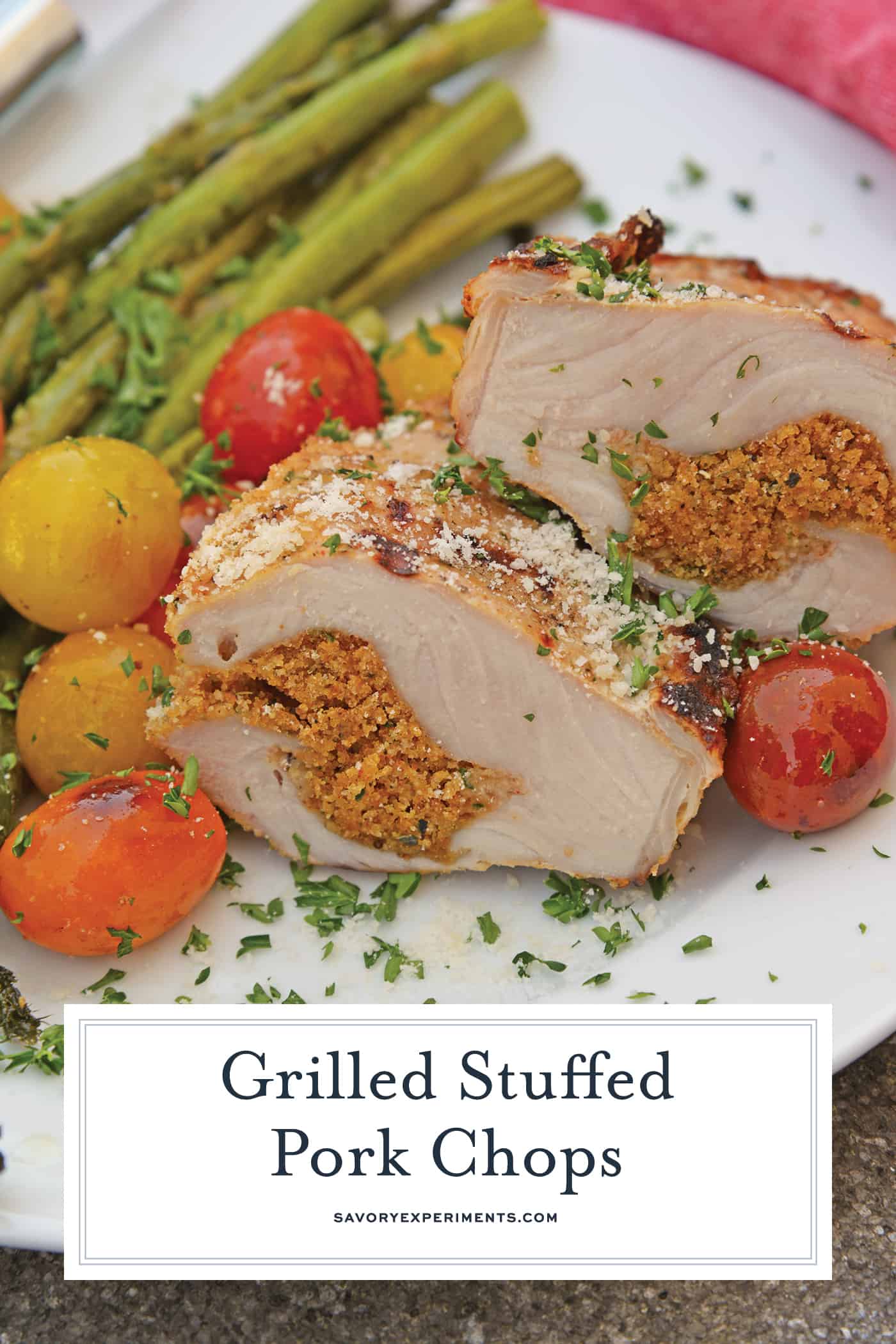 Grilled Stuffed Pork Chops are an easy grilled pork recipe. Herb marinated pork is stuffed with bread crumbs, herbs and Parmesan cheese and grilled to flavorful perfection in just 15 minutes! Click to Tweet
---
---
Grilled Stuffed Pork Chops
Grilled Stuffed Pork Chops are an easy grilled pork recipe. Herb marinated pork is stuffed with bread crumbs, herbs and Parmesan cheese and grilled to flavorful perfection in just 15 minutes!
Instructions
Heat grill to medium-high heat. Soak 16 toothpicks in water.

In a small bowl, combine melted butter, minced dried onion, minced garlic, bread crumbs, dried parsley, kosher salt, smoked paprika, rubbed sage, dried thyme, ground black pepper and Parmesan cheese. Set aside.

Remove pork chops from packaging. Lay a pork chop on its side and using a very sharp knife, cut a slit in the side, being careful to not cut all the way through. This is your crunch pocket.

Stuff each pork chop with equal parts breads crumb mixture. Secure with toothpicks.

Grill over indirect heat for 5-6 minutes on each side or until internal temperature of pork reaches 145 degrees.

Remove and allow to rest for a few minutes before garnishing with additional grated Parmesan cheese and parsley.

We love comments, please come back and let us know how you liked this recipe and if you made any delicious modifications!
Nutrition
Calories:
293
kcal
|
Carbohydrates:
10
g
|
Protein:
31
g
|
Fat:
13
g
|
Saturated Fat:
5
g
|
Cholesterol:
98
mg
|
Sodium:
499
mg
|
Potassium:
526
mg
|
Vitamin A:
210
IU
|
Vitamin C:
0.2
mg
|
Calcium:
49
mg
|
Iron:
1.5
mg
To find inspiration of your own, check out the Smithfield Championship Pitmasters page or the Smithfield Facebook page. Look for it in the meat section of your local Safeway or Albertsons grocery store! Stuffed pork chop recipes are where it is at!