Almond Rice is one of my favorite childhood recipes. I would literally eat myself silly when my mom made this classic side dish.
Almond Rice Pilaf is an easy side dish made with crunchy almonds, mushrooms and savory chicken broth and lemon juice to give it loads of flavor! An easy rice recipe the whole family will love.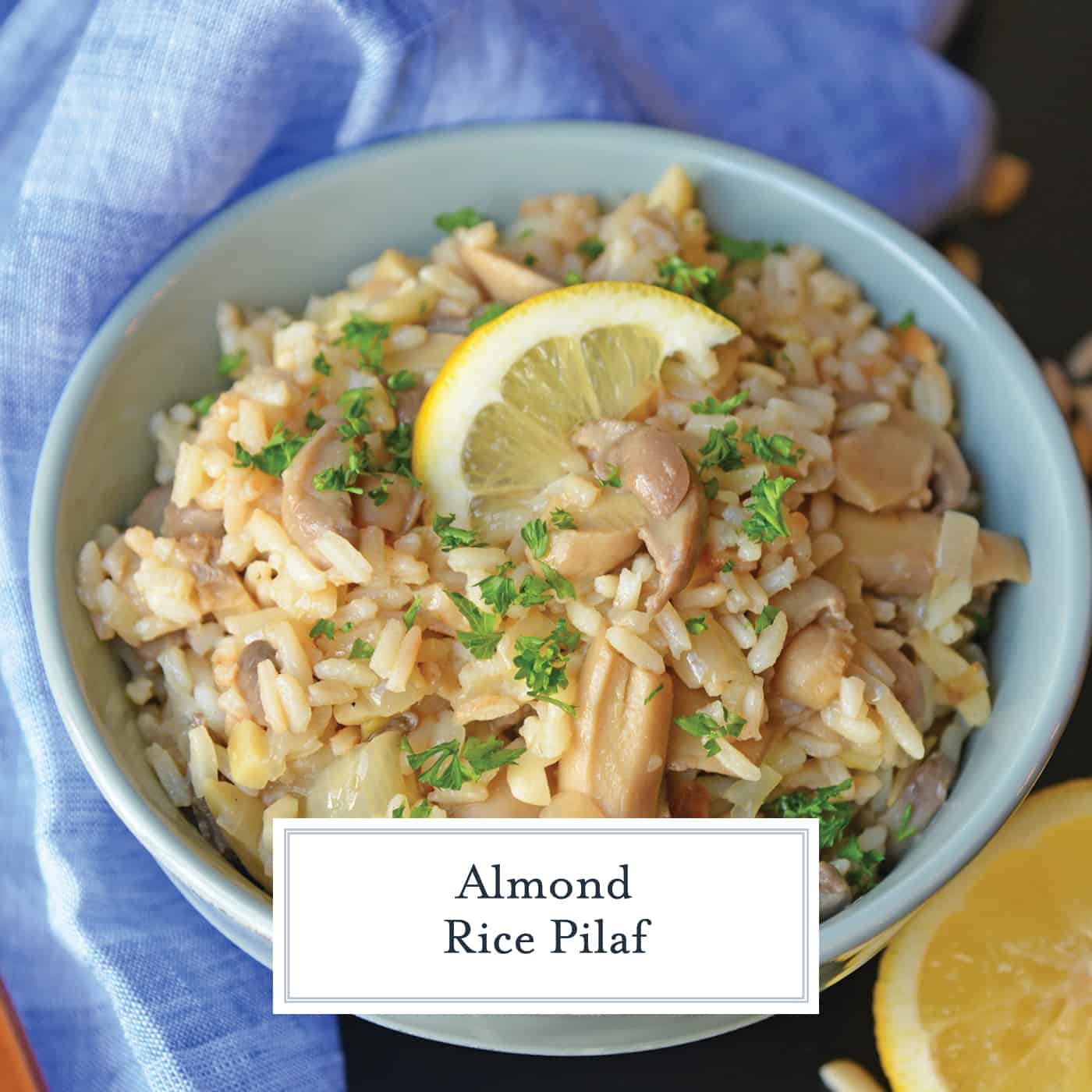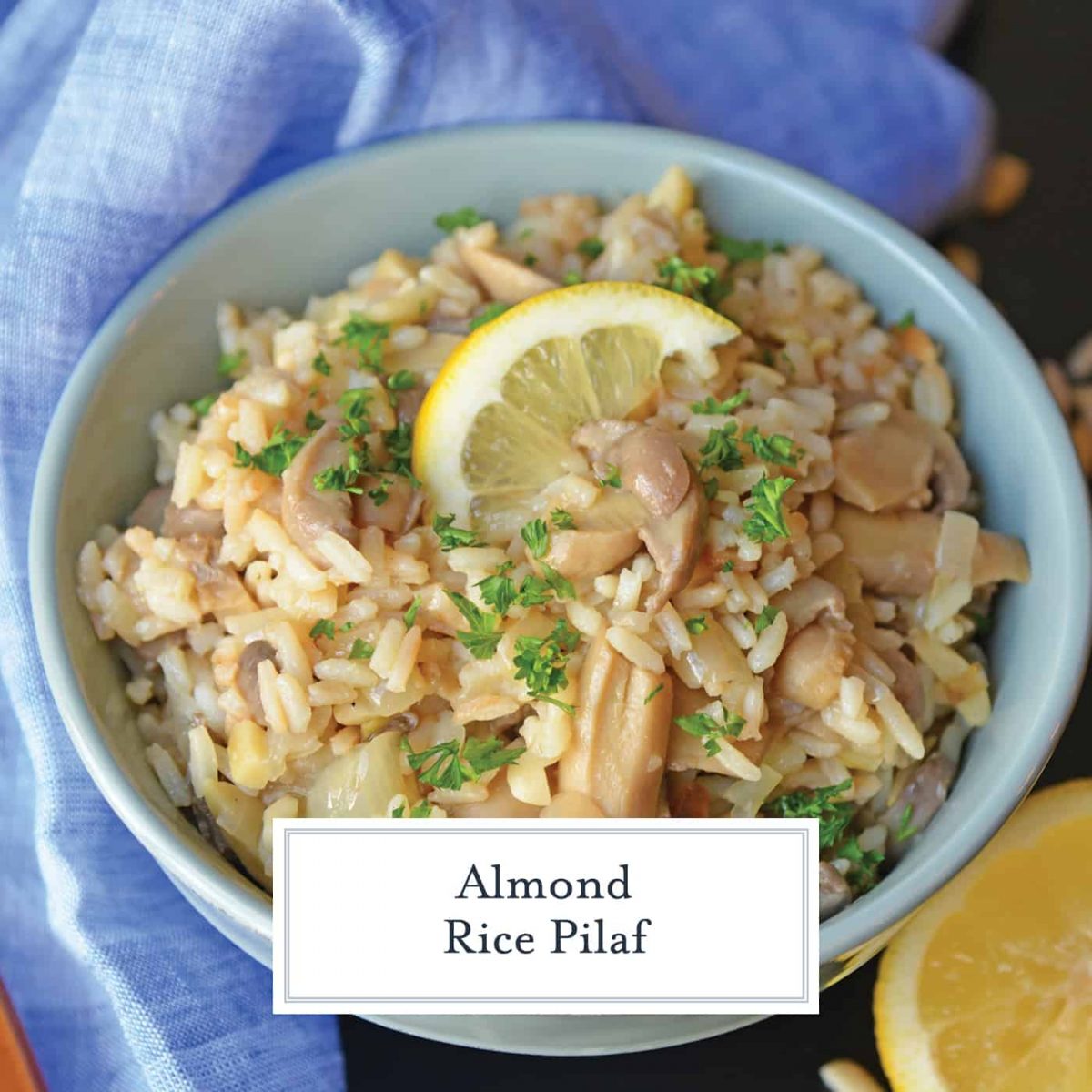 Almond Rice Forever!
When I got to college, I virtually lived off Almond Rice for at least 3 months. I suppose when I got to the point of being able to make it myself, I just couldn't get enough.
It was easy, satisfying and reminded me of home. It soon became a favorite of my roommates too, so I made it at least once a wheen, if not more.
Side Dish to Main Entree
You can also transform Almond Rice Pilaf into a one-dish meal by adding shredded rotisserie chicken and vegetables.
Veggies can be fresh or frozen. Personally, cubes zucchini or roasted red peppers work well.
Toasted almonds serve as protein, but shredded chicken, either cooked and store bought or even leftovers, are delicious. My favorite is lemon pepper. I've also added sliced sausage.
Rice Pilaf
What is rice pilaf?
I used to think of rice pilaf being any rice with little grated bits of vegetables in it. You know the type of rice with flecks of carrot and red bell pepper?
Well, I was wrong. Really rice pilaf is nothing but rice simmered in in some sort of broth.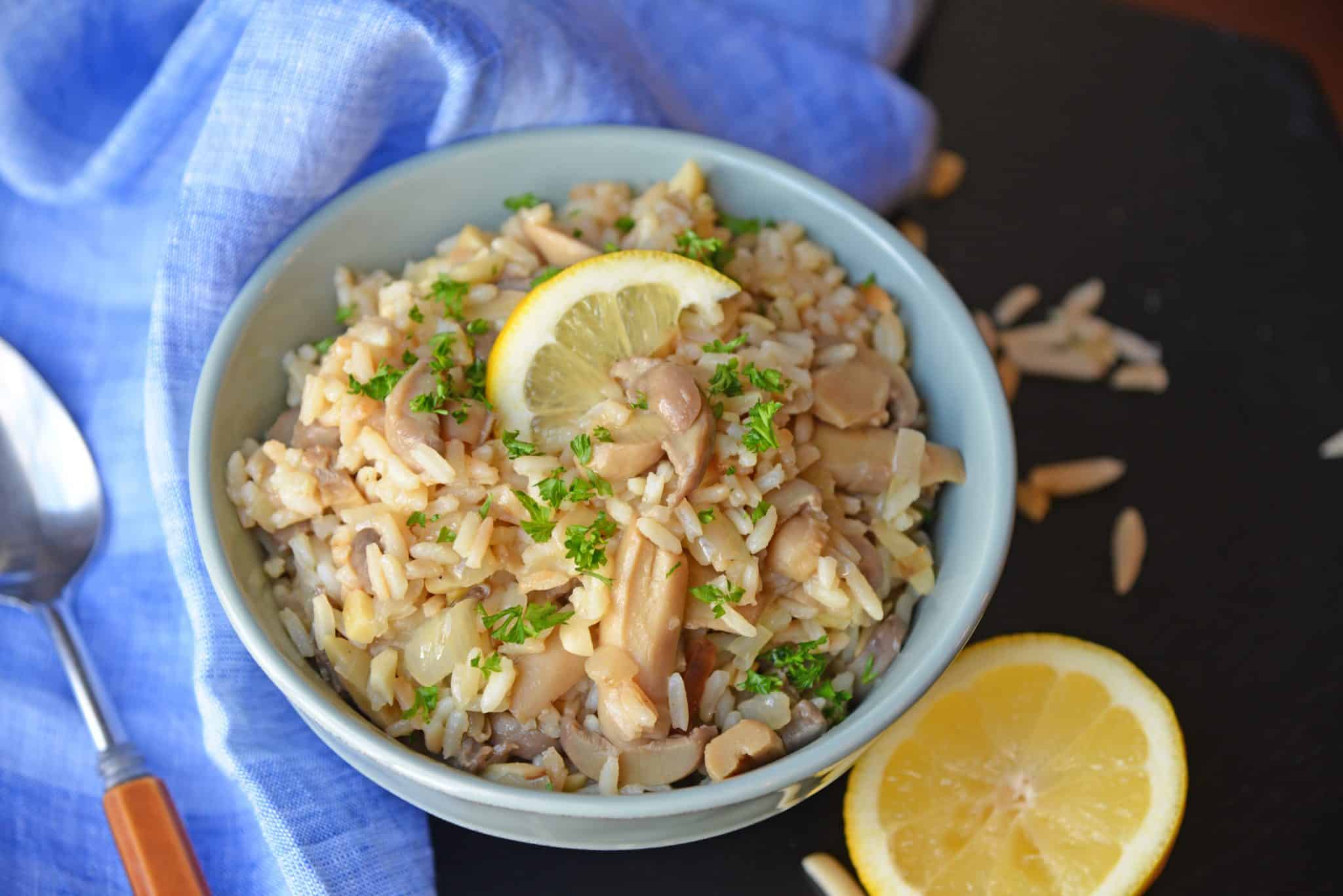 What makes this rice dish different from others? A couple of things, but the first is that the rice is browned before cooking. This give it a different flavor profile, almost nutty, which complements the almonds.
The second is that I use chicken broth or chicken stock instead of plain water. This trick can be used for any rice pilaf recipes, couscous or even grain recipe.
They soak up liquids and flavor! Wine works wonders too.
Ingredients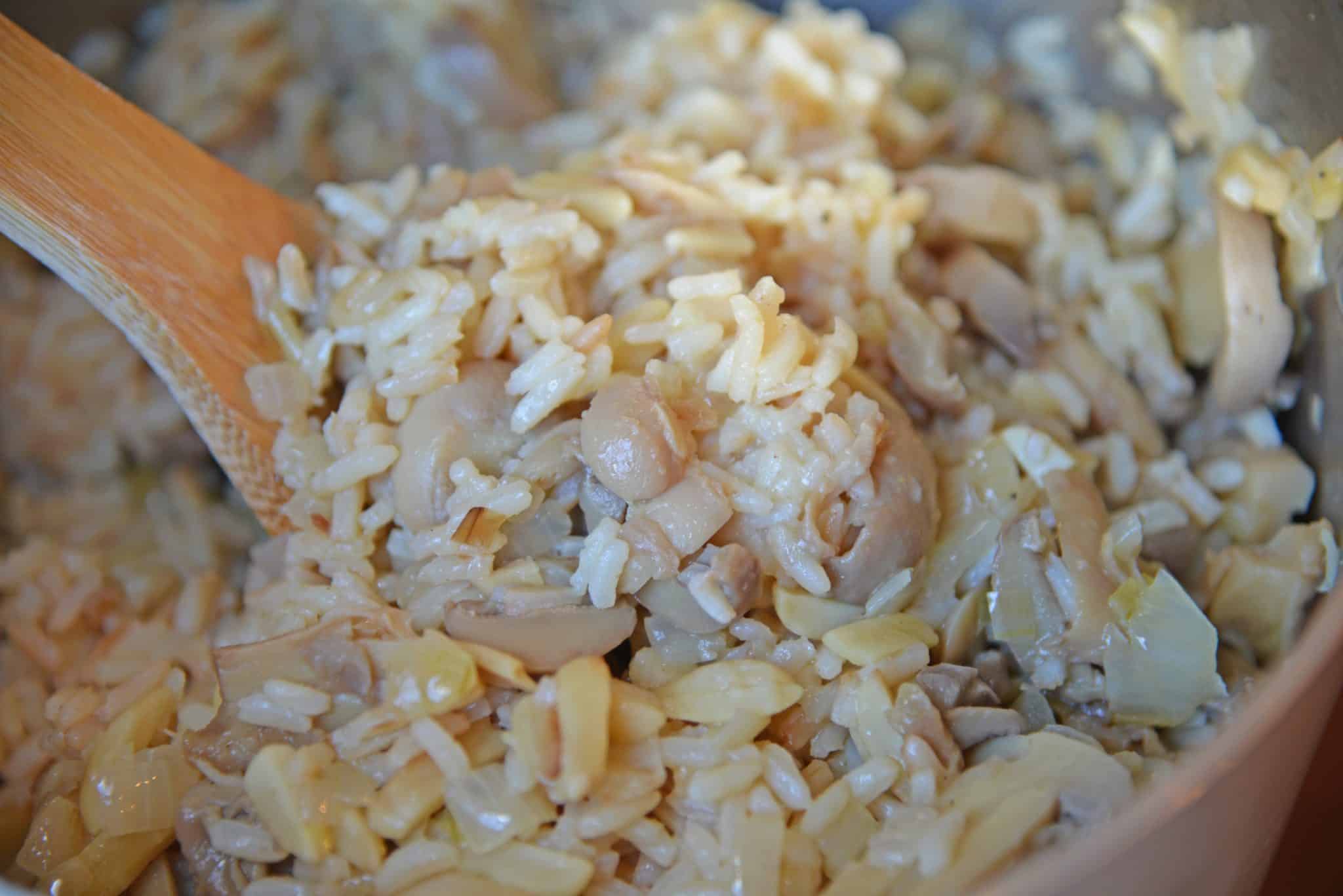 Slivered Almonds– I like using slivered because of the size and texture, but feel free to use sliced. I do not recommend whole.
Yellow Onion– or white.
Long grain white rice– long grain works best for this recipe. I've used brown rice, but since it is so different, you can't sub it perfectly without also adjusting the liquid.
Unsalted butter– if you use salted butter, omit additional salt. You can also use olive oil.
Fine sea salt and pepper– to taste.
Chicken broth– for flavor- soak it up into every little rice grain!
Lemon juice– balances the flavors and adds a splash of acidity.
Canned sliced mushrooms– one of the only occassions where canned mushrooms are actually better. Raw have a ton of water and it will mess up the balance of dry rice to liquid.
Instructions
Toast onions, almonds and rice in a saucepan. This will bring out maximum nutty flavor in the rice. Don't skip this step, it is what makes it better than the rest! Saute until uniformly golden brown.
Lightly season with salt and pepper. Add chicken broth and lemon juice.
Just when mixture comes to a boil, lower heat to a simmer and cover for 15-20 minutes. Refrain from opening the lid too often. This will only slow down the cooking process. Also refrain from stirring the rice, this releases starch and can make the rice mushy.
When fully absorbed, toss in mushrooms and allow to sit for 3 minutes (lid on) with no heat.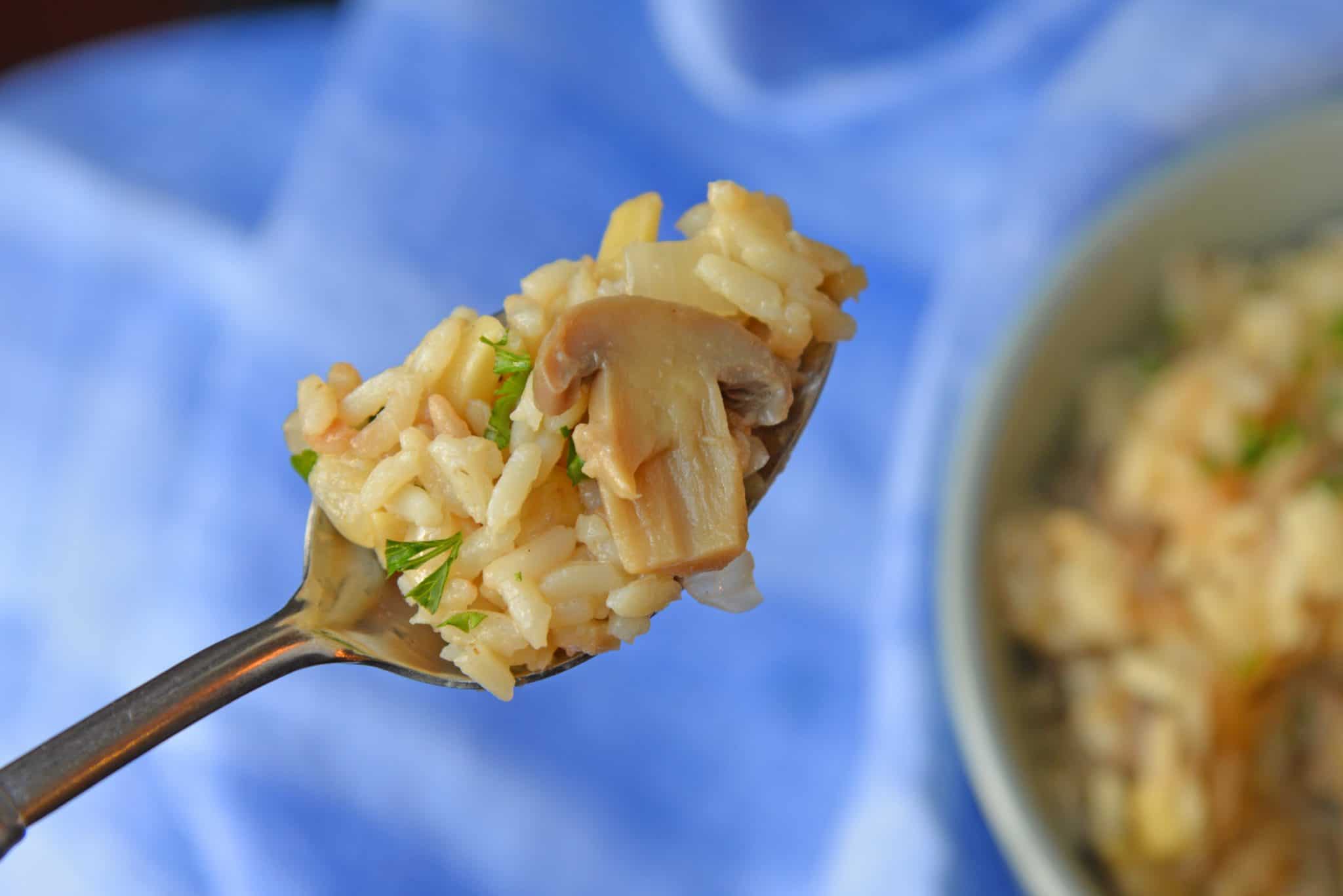 This easy rice pilaf can be made ahead and reheated in the microwave or on the stove.
Rice typically doesn't freeze well and neither do mushrooms, so I don't recommend freezing. It will stay fresh in the fridge for up to 5 days.
Tools:
Heavy Bottom Sauce Pan– this will be one of your most used kitchen tools. Having something that is heavy bottom will distribute heat better and prevent burning whether you are using an electric or gas range.
Wood cutting board – wood won't dull your knives like plastic and if treated properly, has natural antimicrobial properties.
Good knife – Global is my favorite! They are worth the price, I promise. I am kind of obsessed with them and store them tucked away so no one else can use them. Including hubby. Hands off my good stuff!