If you're looking for a quick and easy side dish recipe, these Seasoned Buttered Noodles are for you! Using homemade seasoned salt, butter and ground black pepper, you can have this recipe done in under 20 minutes.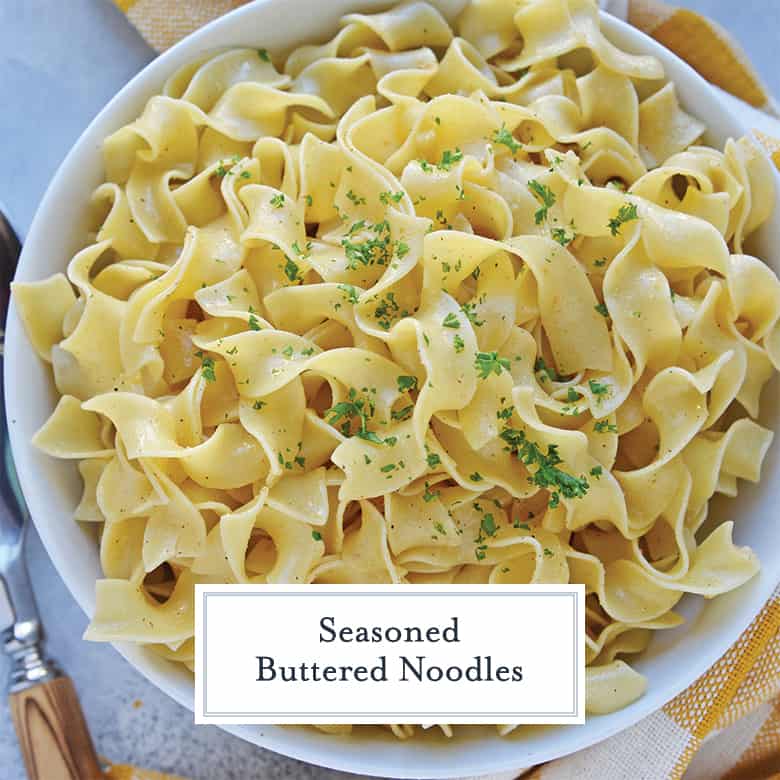 A pasta side dish doesn't get any more delicious than this Seasoned Buttered Noodles recipe. With only 4 ingredients, this recipe couldn't be easier!
Do you have a go-to side dish when you just don't have the time or energy to make something fancy? Steamed veggies are usually a safe bet, but I don't always have fresh vegetables at the ready.
That's where these easy buttered noodles come in. I almost always have a box of pasta or egg noodles in the pantry, and the rest of the ingredients (butter, seasoned salt and pepper) are kitchen staples for me.
My mother used to make these buttered noodles all the time when we were kids. I had totally forgotten about them until I was doing one of my pantry purges to use up odds and ends and made them for dinner. Basic, but tasty.
Along with Seasoned Peas and Onions, I usually have all the ingredients on hand and the flavor profile is simple enough that it can be paired with nearly any meal.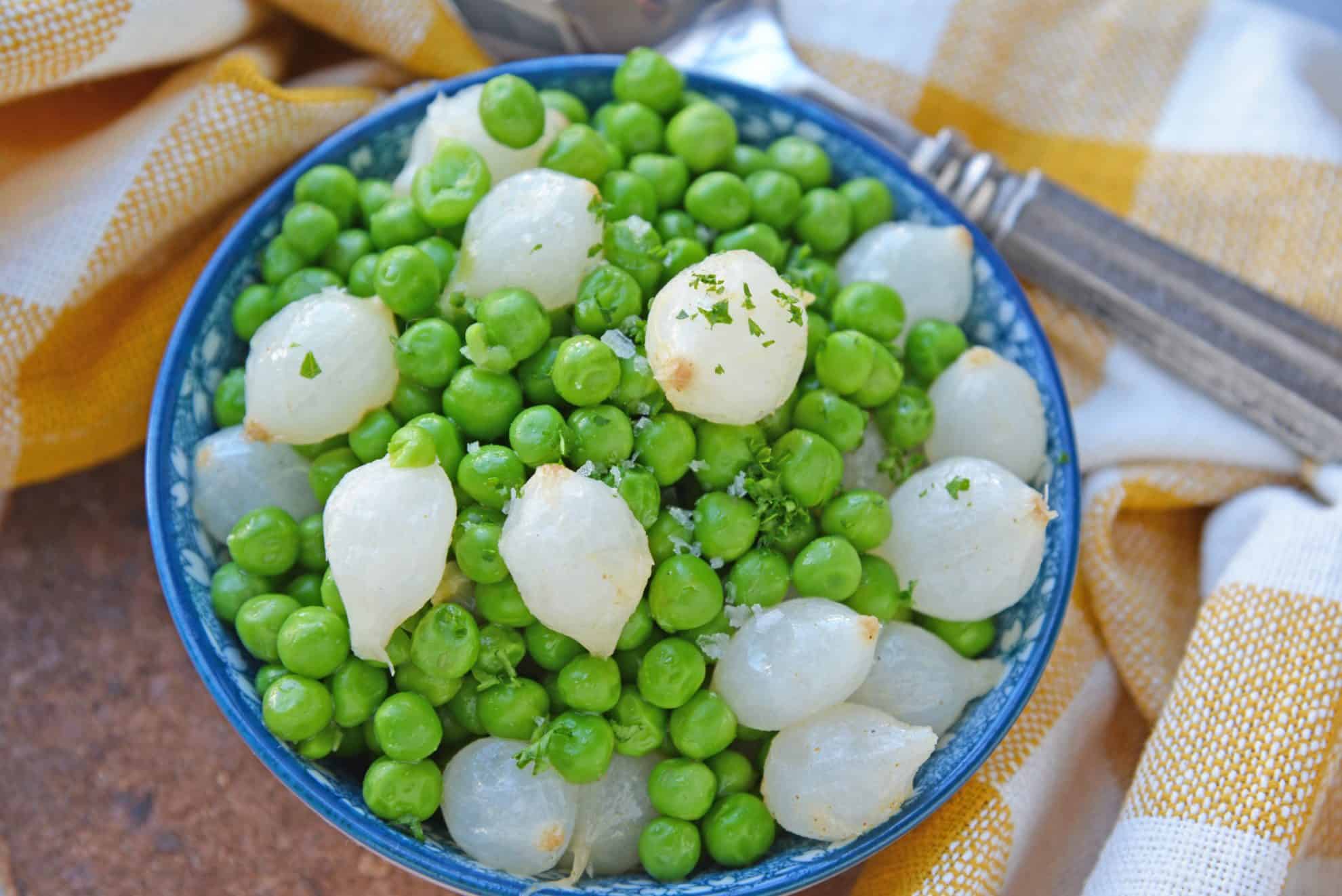 Turns out hubby loved them and they have rejoined the rotation as a side dish staple. Seasoned buttered noodles are so basic they can literally pair with any meal.
Serve them as a pasta side dish or even as a base for other saucy dishes like Creamy Asiago Chicken , Veggie Stuffed Meatloaf , Brined Pork Chops, Swedish Meatballs or Salisbury Steak! Kids always love these noodles, too!
To make this easy noodle recipe, simply add your pasta water to a large pot and cook pasta according to the package instructions. The times will vary based on which noodles you choose.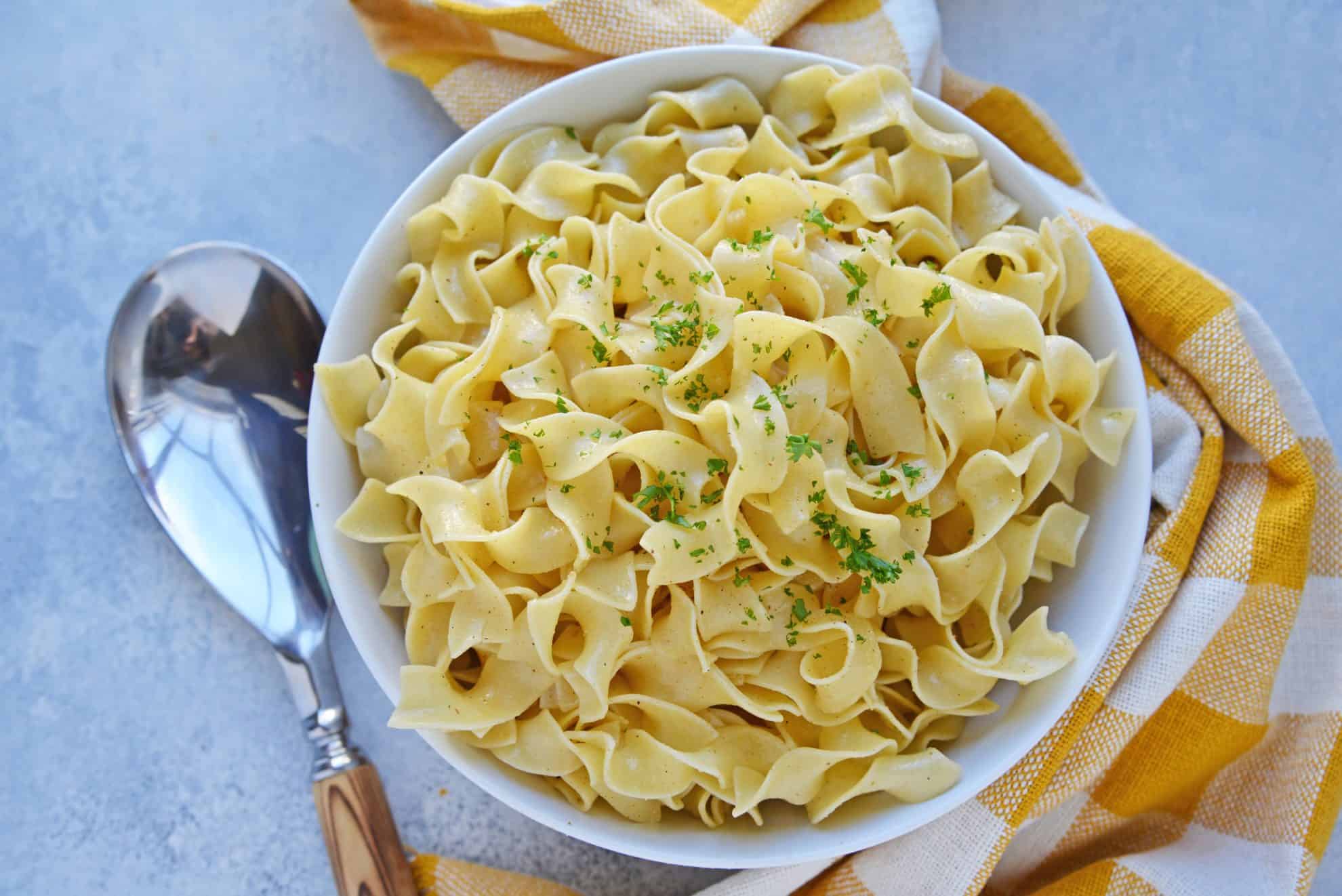 Remove from heat and drain the noodles. Return the noodles to the pot over low heat and add butter, seasoned salt and pepper. Toss the pasta until the butter is fully melted and noodles are coated completely.
And that's it! If you're feeling fancy and have it on hand, you can top your noodles with parmesan cheese or parsley if desired. Totally optional.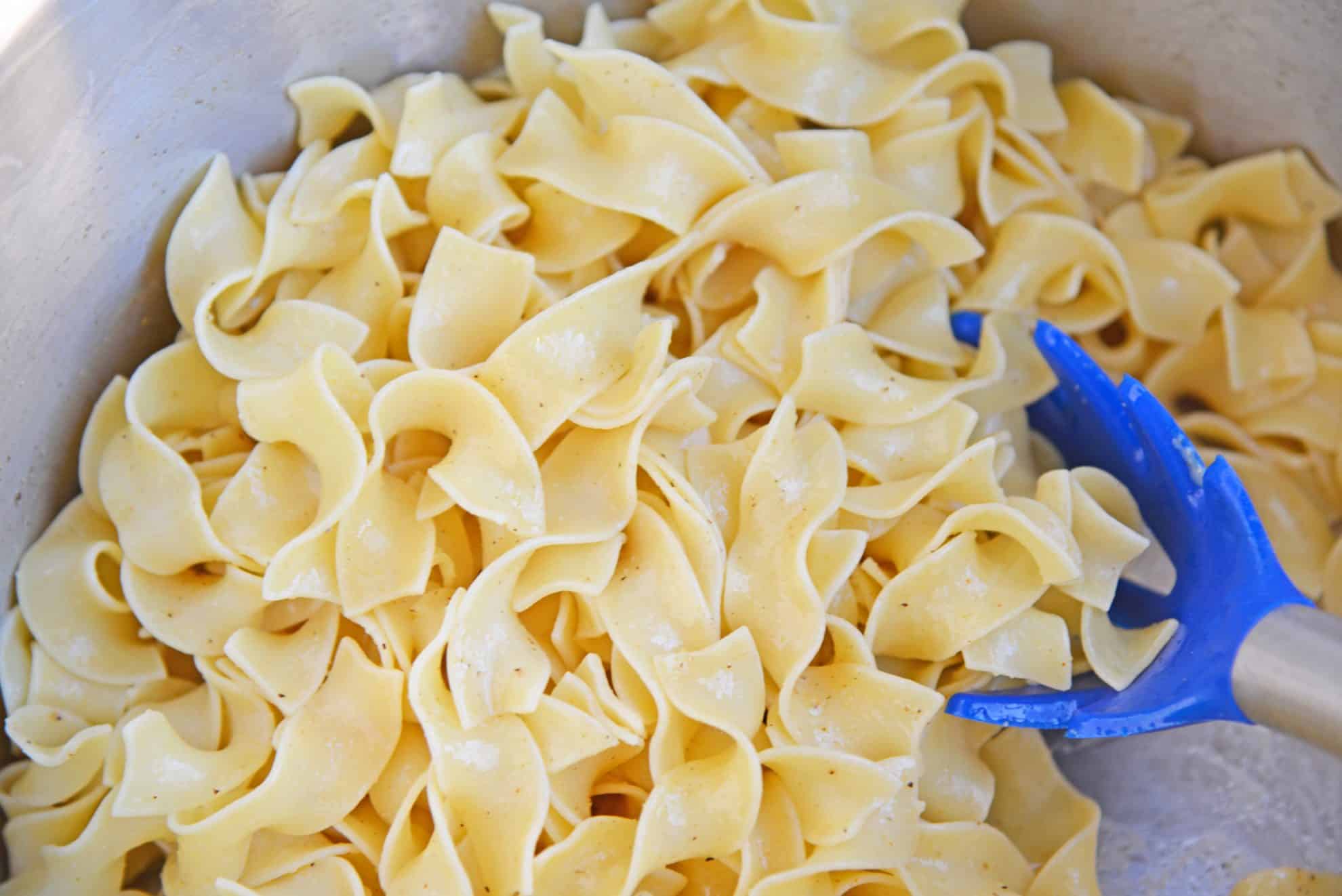 Questions you might have about how to make seasoned butter noodles:
Do I have to use egg noodles or can I substitute a different type of pasta? This is an easy answer… any type of pasta you'd like. Flat noodles, tubed noodles and even stuffed noodles.
Butter and seasoned salt doesn't discriminate, it tastes good on ALL the noodles!
Can I make them into garlic butter noodles? Sure! Simply add 1/2 teaspoon of garlic powder to the mix. Make sure you use garlic powder and not granulated garlic, as granulated garlic will give it a gritty texture.
Noodles with garlic are great for serving with any Italian dish. Ok, any dish, really.
What to serve with buttered noodles? You can serve these seasoned buttered noodles with just about anything! But I especially love to serve them with something saucy like Creamy Garlic Chicken or Creamy Apple Pork Chops.
Are buttered noodles healthy? Pasta is generally not a very healthy side dish option. However, these noodles aren't smothered in a super creamy sauce or anything, so they aren't terrible. Everything in moderation, of course!
How to reheat buttered noodles? These noodles could easily be reheated in the microwave for about 30 seconds to a minute. You could also throw them in a skillet with some extra butter until heated through.
What can I add to noodles for flavor? So many things! Here are some of my favorites to add to this recipe for a little more zing.
Smoked paprika
Chili powder
Ground mustard
Splash of vinegar
Smoked salt

If you liked this Seasoned Buttered Noodles recipe, check out these other easy dinner ideas for tonight: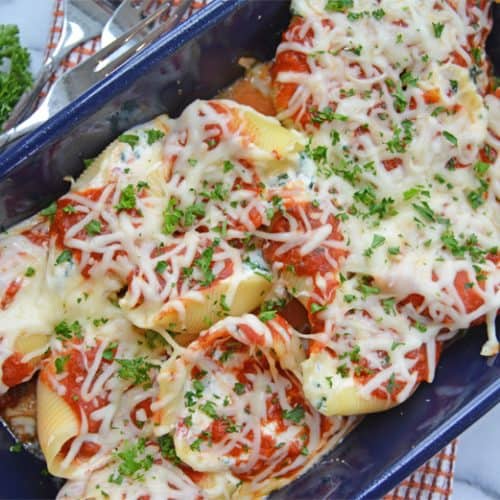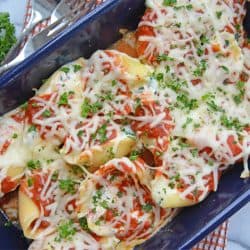 Spinach Stuffed Shells
Pasta night just got SO much more delicious! This easy Spinach Stuffed Shells recipe is full of cheesy goodness and makes a great weeknight meal.
View this recipe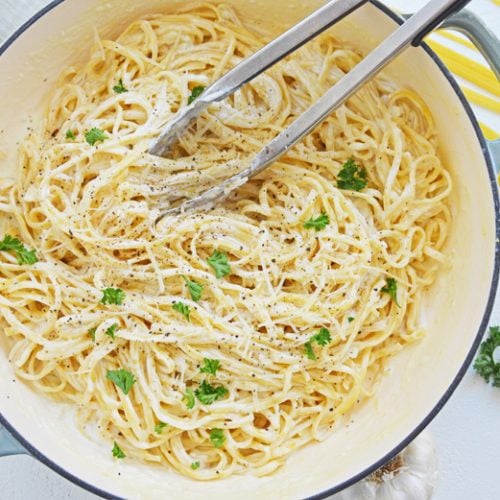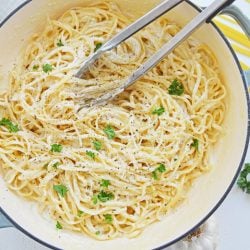 Parmesan Garlic Linguine
Creamy, cheesy & delicious, this EASY Parmesan Garlic Linguine pasta recipe is perfect for a quick weeknight dinner! With simple ingredients!
View this recipe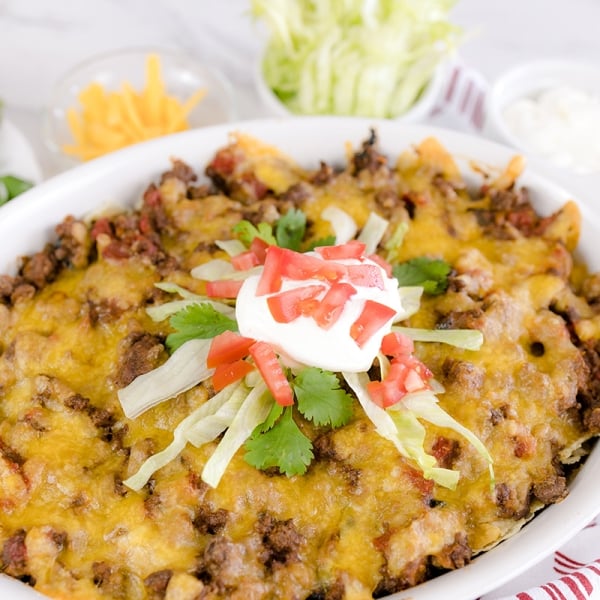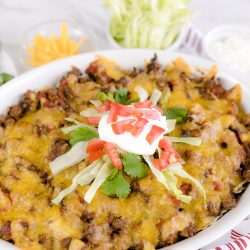 Taco Bake Casserole Recipe
This easy taco bake casserole recipe is a great cheesy recipe for an weeknight meal or potluck. Easily customizable with your favorite taco toppings.
View this recipe
Tools for making buttered noodles:
Heavy Bottom Sauce Pan– this will be one of your most used kitchen tools. Having something that is heavy bottom will distribute heat better and prevent burning whether you are using an electric or gas range. Make sure it is a very large one so you don't crowd the pasta.
Dutch Oven– every kitchen should have one! They are heavy. They are expensive. They are worth it!
Colander– You'll need one to drain the noodles!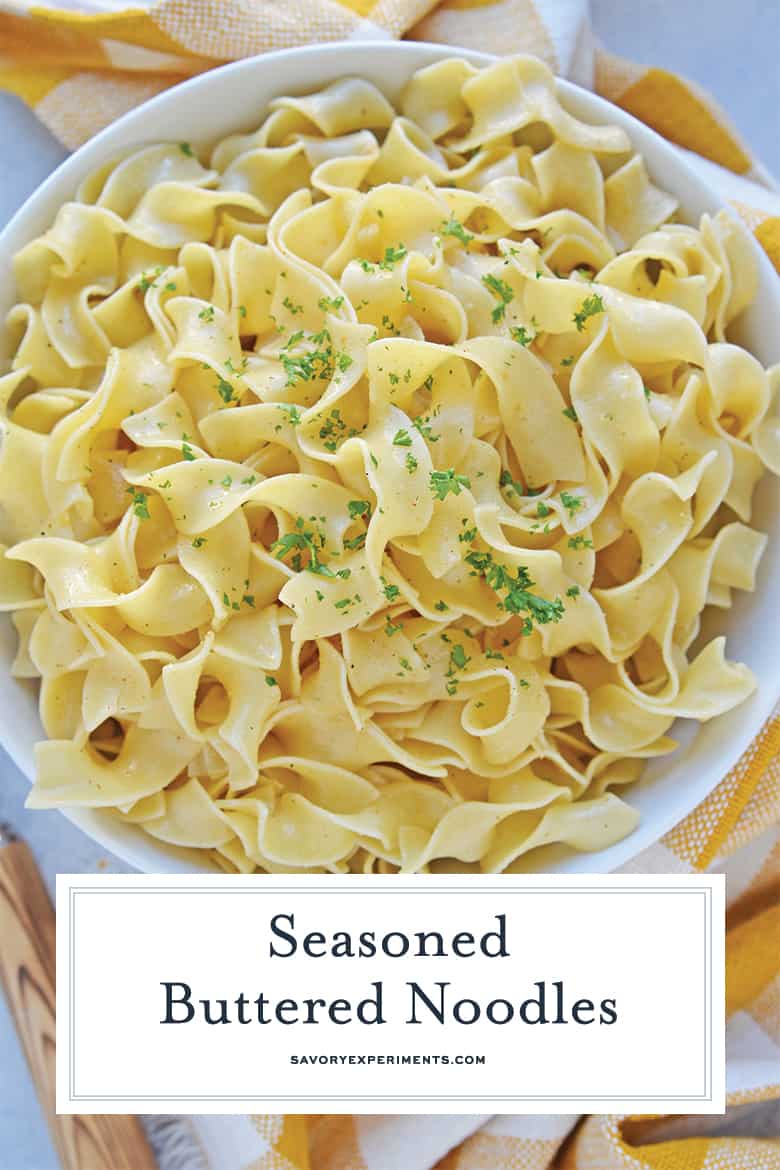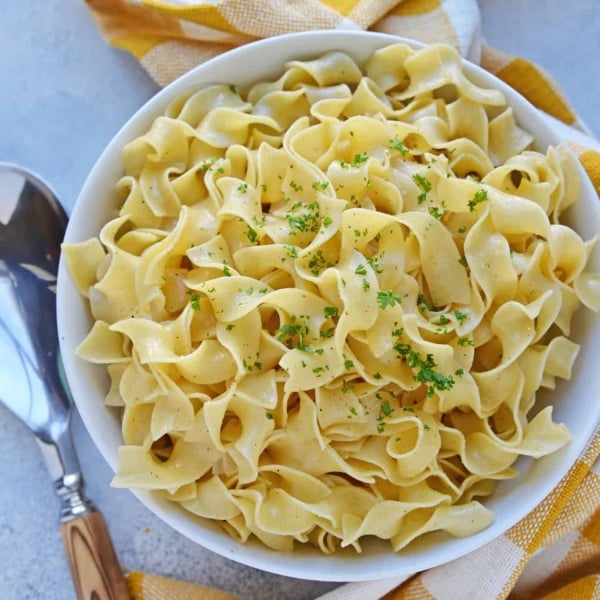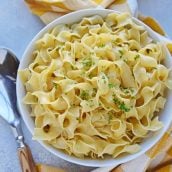 Seasoned Buttered Noodles
A pasta side dish doesn't get any more delicious than this Seasoned Buttered Noodles recipe. With only 4 ingredients, this recipe couldn't be easier!
Instructions
Cook noodles according to package instructions for al dente. Drain and return to hot pan. The residual heat should be enough to melt your butter, but if not, place on low heat.

Add butter, homemade seasoned salt and ground black pepper.

Toss until butter is melted and noodles are fully coated.

Serve immediately.

If you've tried this recipe, come back and let us know how it was!
Nutrition
Calories:
134
kcal
,
Carbohydrates:
20
g
,
Protein:
4
g
,
Fat:
4
g
,
Saturated Fat:
2
g
,
Cholesterol:
31
mg
,
Sodium:
31
mg
,
Potassium:
69
mg
,
Fiber:
1
g
,
Sugar:
1
g
,
Vitamin A:
105
IU
,
Calcium:
10
mg
,
Iron:
0.5
mg