If you like store bought Shake and Bake, you are going to love these Crispy Baked Pork Chops! Coated in a simple bread crumb and Parmesan cheese mixture, these breaded pork chops are full of flavor, easy to make and totally kid friendly.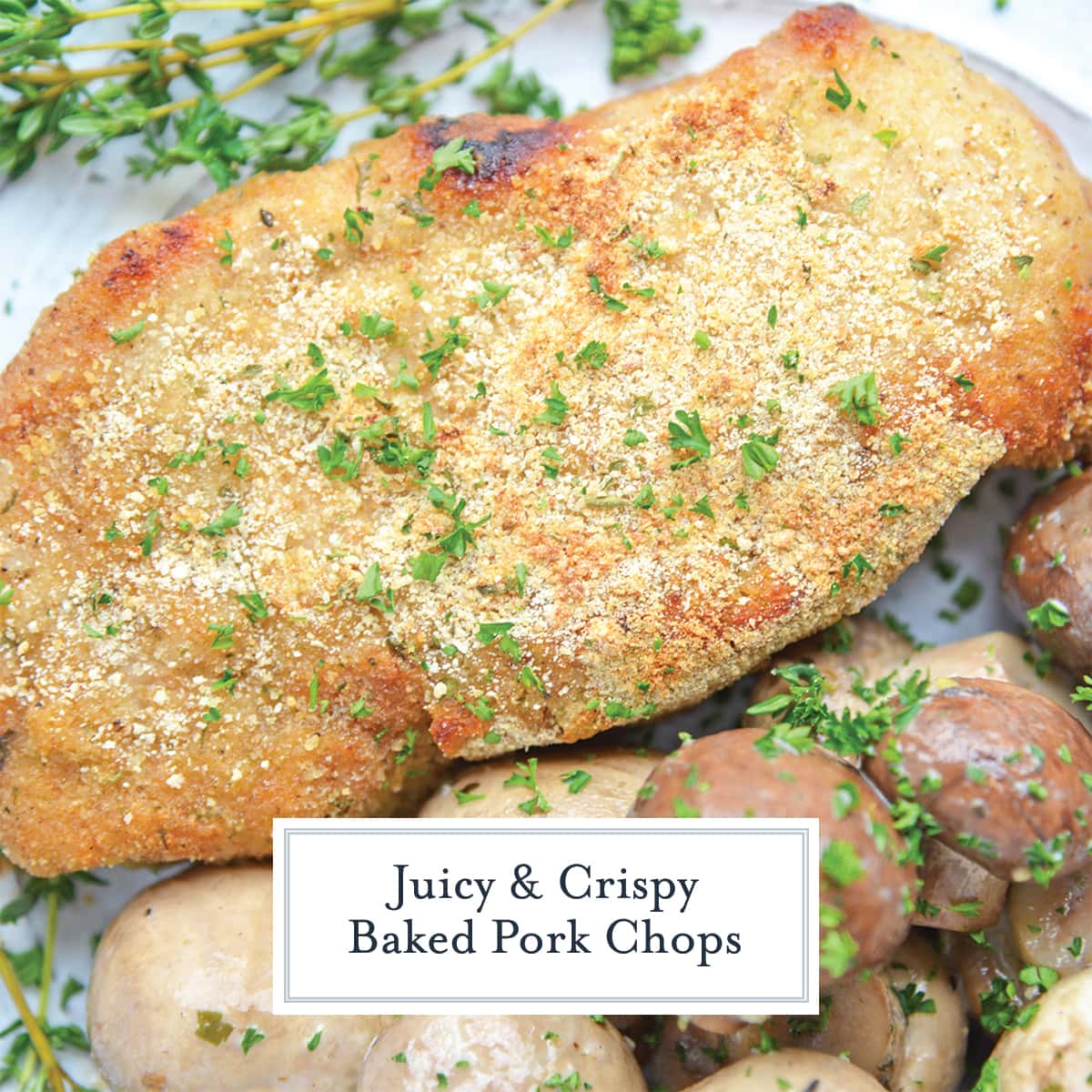 Crispy Baked Pork Chops
Pork chops are always a favorite in this house. I have many recipes from baked to grilled, as well as lots of different flavor combinations.
But I think we can all agree that sometimes getting a nice crispy crust without actually frying like a cutlet, is challenging. You want all the crunch, but none of the fat and calories, I totally get it.
Shake and Bake revolutionized this concept by selling prepackaged packets of seasoned mix with a plastic bag. Yes, that is all it was, a breadcrumb mixture, and yet people went nuts.
Totally bonkers! And paid a lot more than what it was actually worth for the stuff. Talk about good marketing.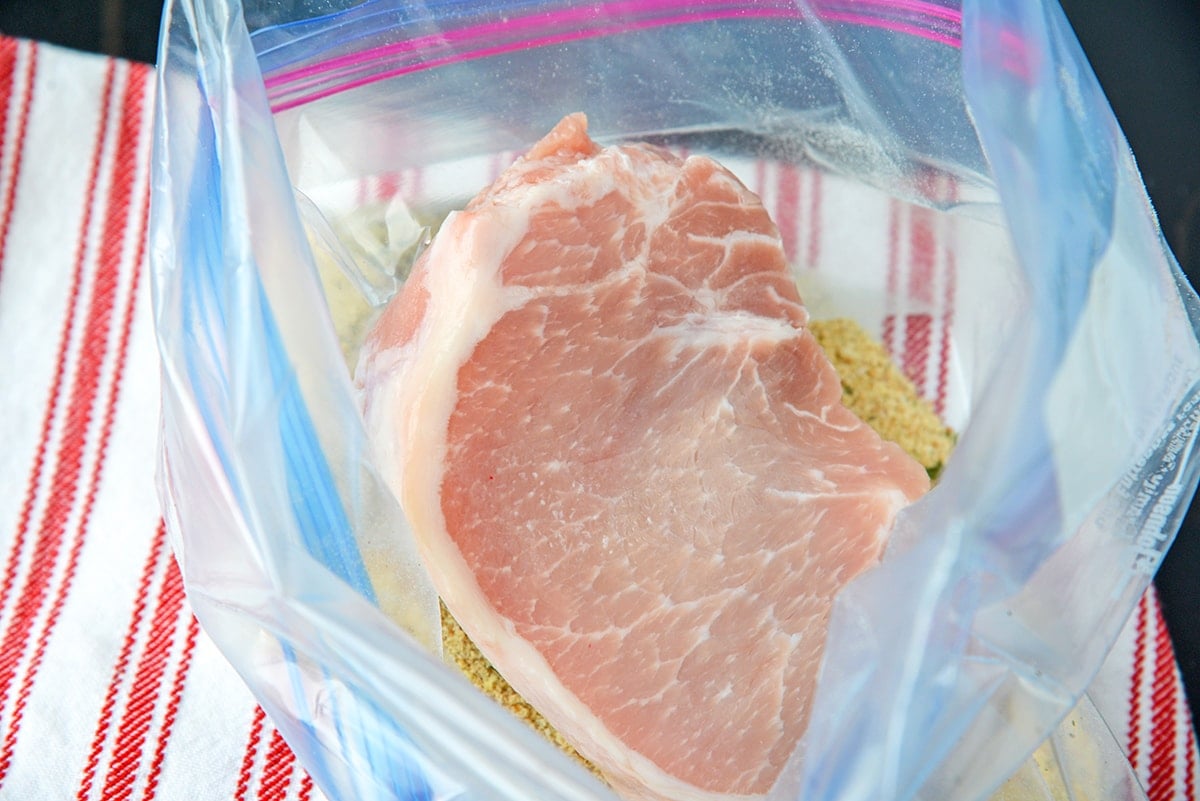 Shake and Bake Pork Chops
So although he loves all of my pork chop recipes, Hubby has long been bothering me to buy Shake n Bake. He is fond memories of childhood eating Shake and Bake chicken and pork chops.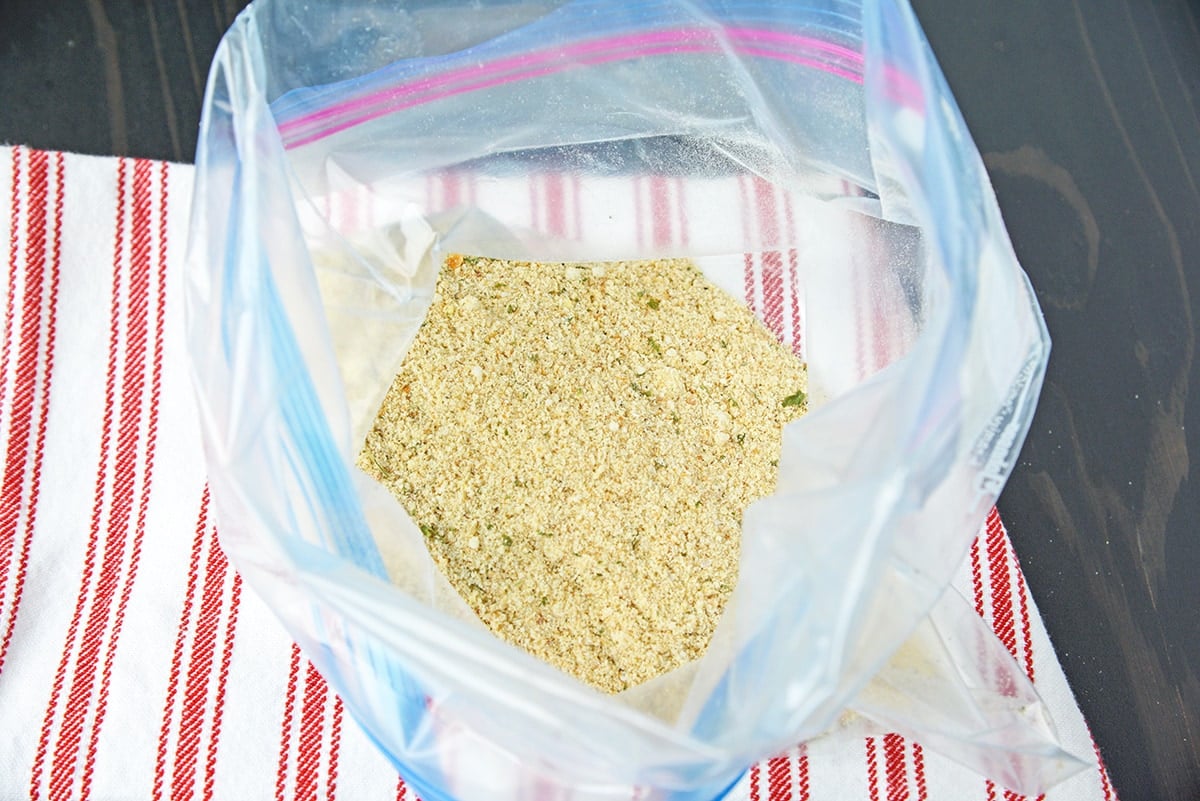 My first thought while preparing it was that it seemed fairly straightforward and easy. Wet the pork, toss it in the included plastic baggy and bread crumb mix and bake on a baking sheet. Coat, bag and shake. Super easy. Also just as easy to make a homemade shake and bake.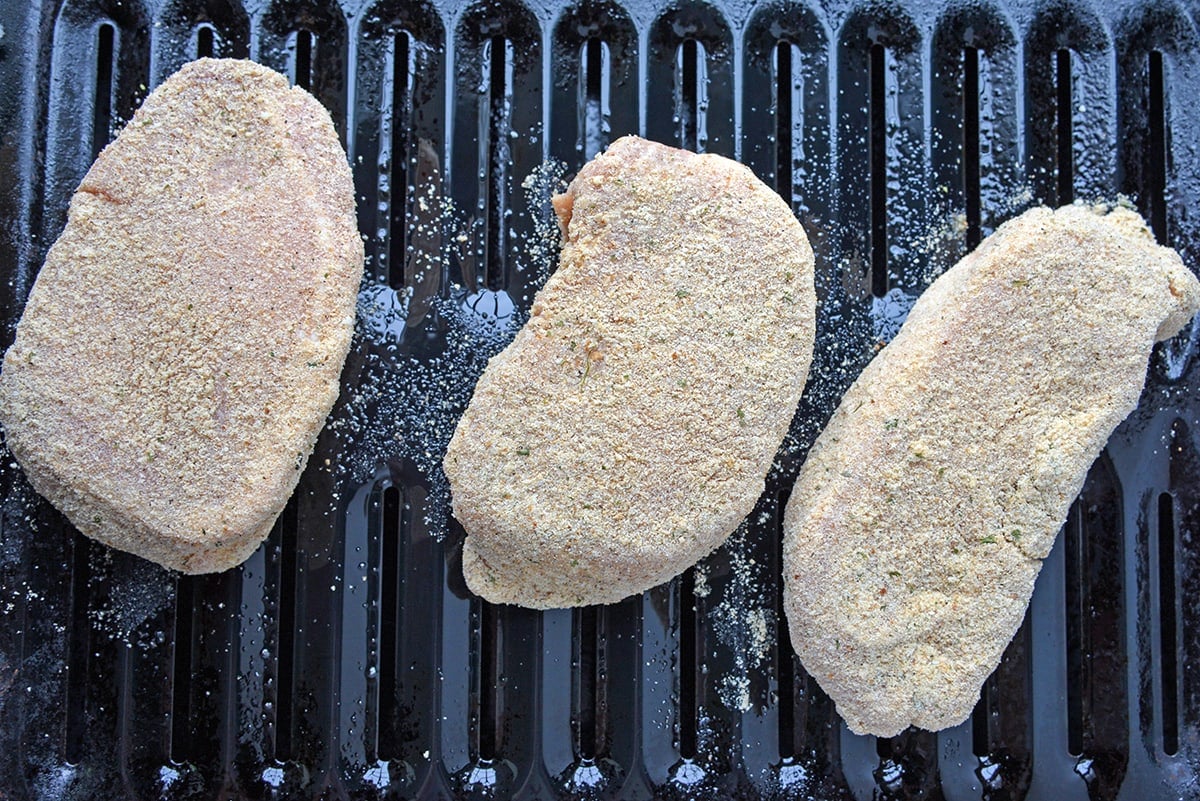 It cuts out the process of flour, egg and bread crumbs. Not patting the pork dry was a little out of my comfort zone, but I followed the directions. I mean, how was it supposed to stick?
Foodie friends, I followed ALL of the directions, which is really difficult for me to do. Right down to baking them on a rimmed sheet pan
To my amazement, the breading stuck! They were juicy and cooked all the way through, but not that flavorful. Only problem was the bottoms got all soggy since the juices that ran out just pooled in the baking sheet. I knew I could them into a great baked pork chop recipe.
How to make baked pork chops (better):
I knew I could do it better, so I did! And here ya go… Crispy Baked Pork Chops. Boneless Pork Chops tossed in an easy bread crumb seasoning and baked to perfection.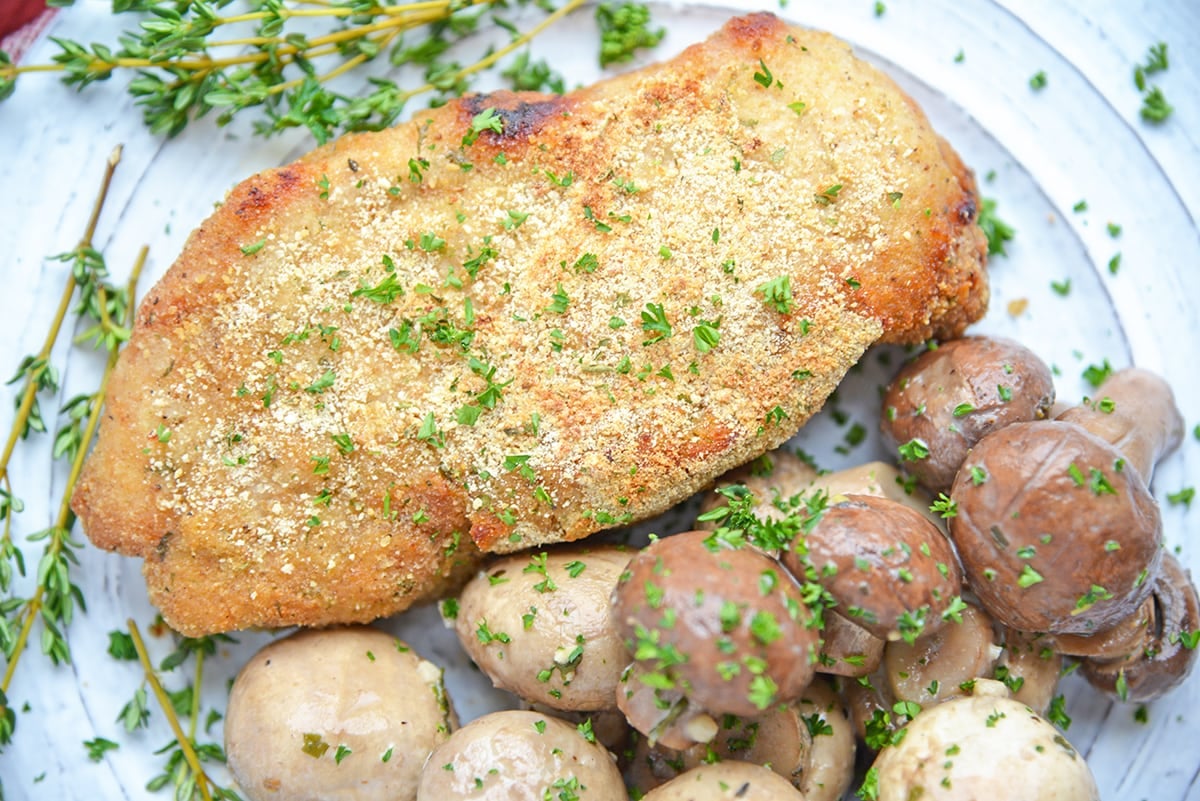 I served this baked pork chops with my Garlic Herb Sauteed Mushrooms.
ONE. Hubby likes a thick pork chop. Based on how thick your pork is, the cooking times with vary. Use a meat thermometer and make sure it registers at 145 degrees before serving. These pork chops were about 1/2 pound each!
TWO. You don't want your pork chops to be dripping with water, but they can't be dry either. Rinse them in cold water, then shake them a little before tossing in the bread crumbs.
THREE. To avoid pooling and soggy bottom pork chops, use a broiler pan or a wire rack on a rimmed baking sheet. The heat will circulate around your boneless pork chops and the released liquids will fall to the bottom leaving your whole pork chop nice and crispy.
FOUR. To further customize your boneless baked pork chops, you can add other dry seasonings. Use about 1/2 teaspoons of any of my favorites including:
crushed red pepper flakes
garlic powder
onion powder
smoked paprika
celery seed
chile powder
What Cut is a Pork Chop?
A pork chop comes from the loin and is typically boneless cut into smaller, steak like pieces. Less fatty than other cuts of pork and with a milder flavor, they are desirable as a "blank slate" type of meat, really taking on whatever flavors you want to add to them.
It's such a versatile piece of meat, and if cooked properly it comes out super juicy and delicious. We could probably eat pork chops at least once a week and never tire of them.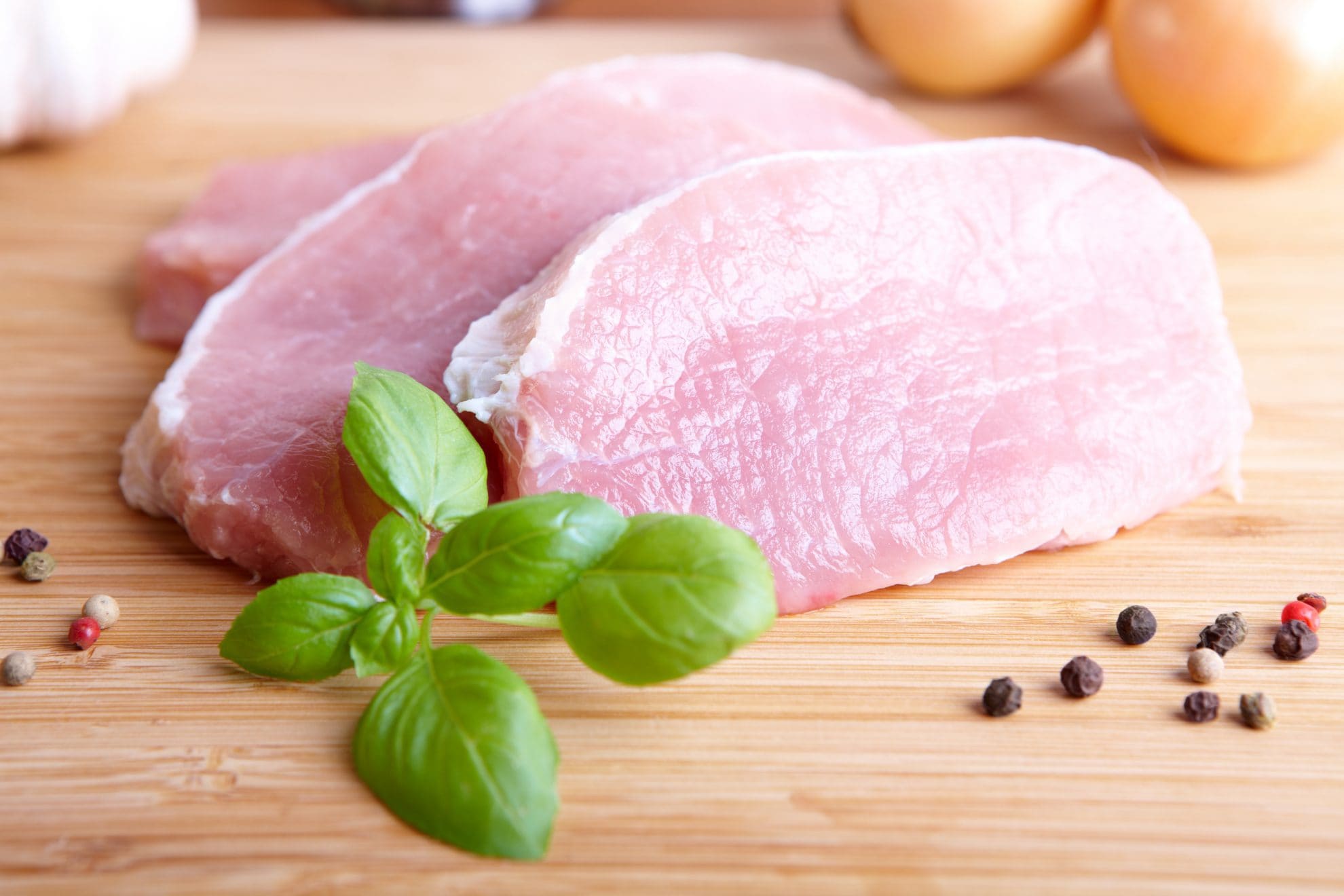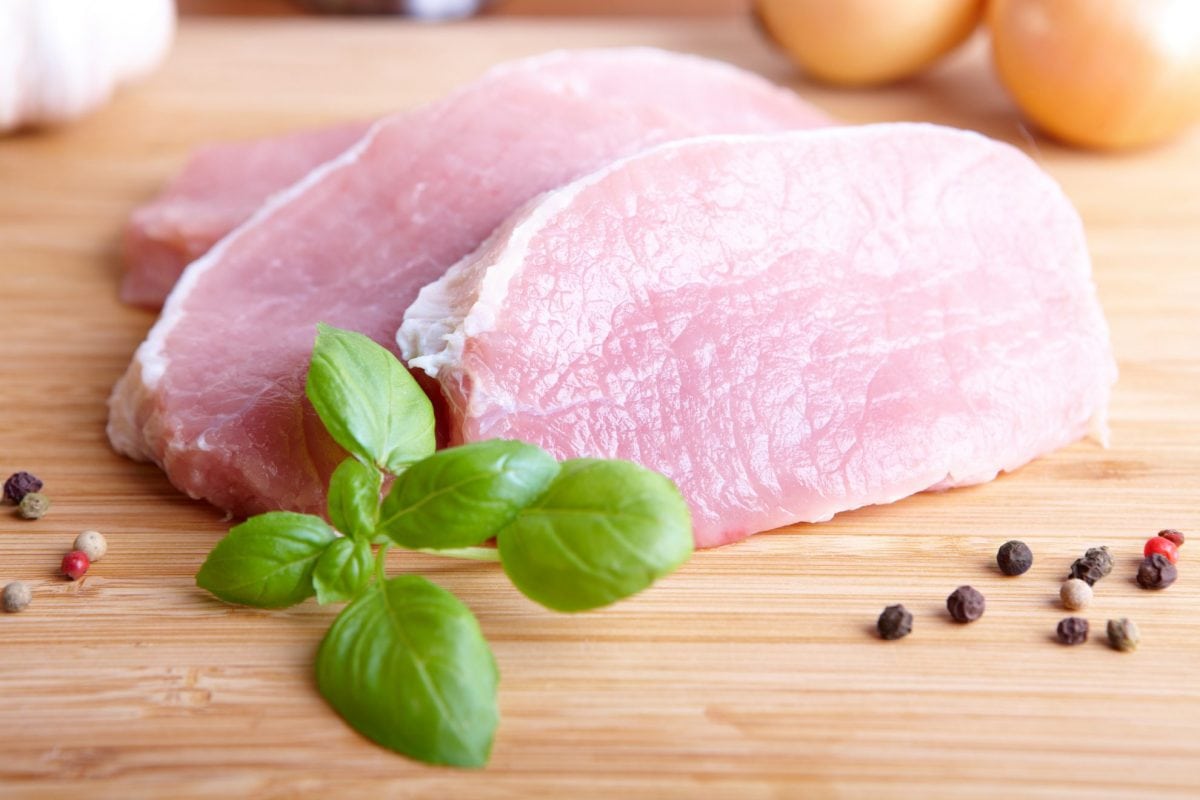 Do I have to Use Pork Chops?
Can I use bone-in pork chops for this recipe? You can surely use this same simple recipe for bone-in pork chops.
Can I use this same bread crumb mixture with chicken? Sure! Use boneless chicken breasts, I would recommend tenderizing them to a uniformly thin thickness so they cook evenly and fast.
Pork Chops in the Oven
How long do I need to cook pork chops in the oven? This question comes through all the time and the answer is… it depends. It depends on a lot of variables. The only thing constant is that your pork chops should register at 145 degrees before serving.
The average pork chop is about 5 ounces and will take 30-35 minutes in a 350 degrees oven.
Can pork chops be pink? Pork can become tough when overcooked, so I do like a little bit of pink in mine. However, as long as the internal temperature reaches 145 degrees, which is generally the temperature they are cooked to in a restaurant. However, the FDA suggest 160, but much like beef, it just doesn't taste as good overcooked!
Best Sides for Pork Chops
What to serve with pork chops? Baked apples or applesauce are always a really popular dish to serve with any cut of pork. The sweetness of the cinnamon and apples complements the pork really nicely.
But if you don't have any apples on hand, some sort of potato or vegetable would work well too!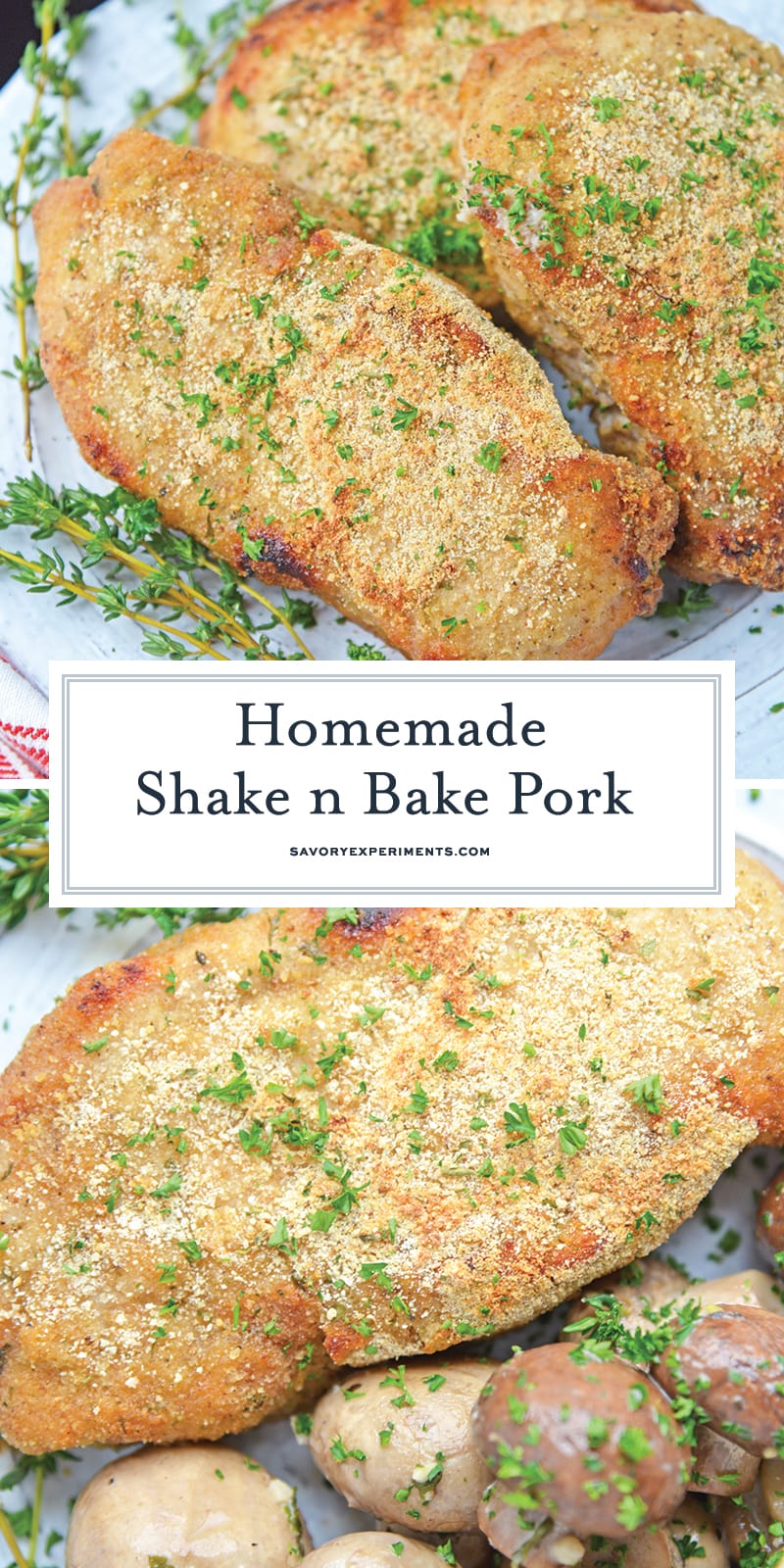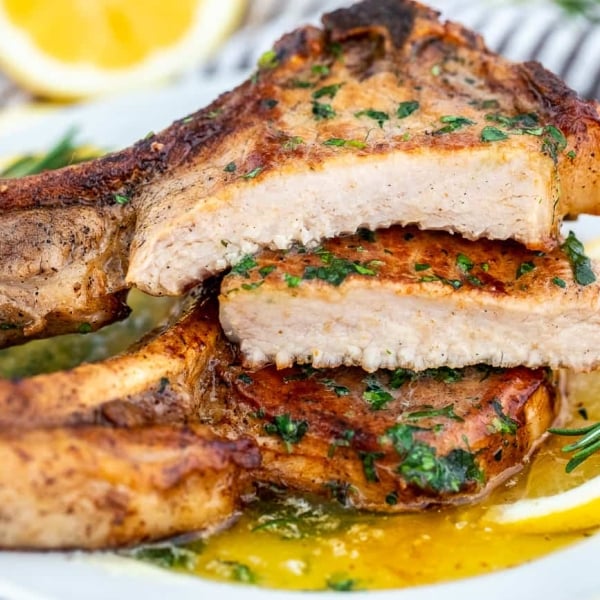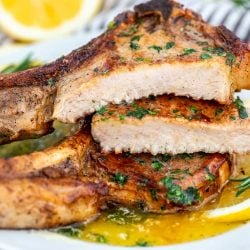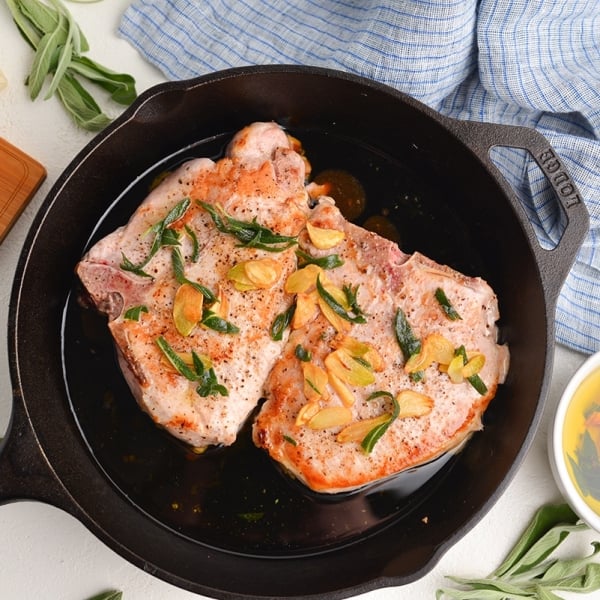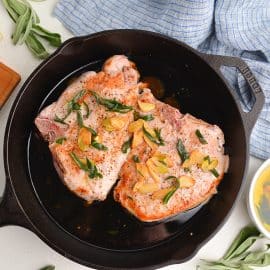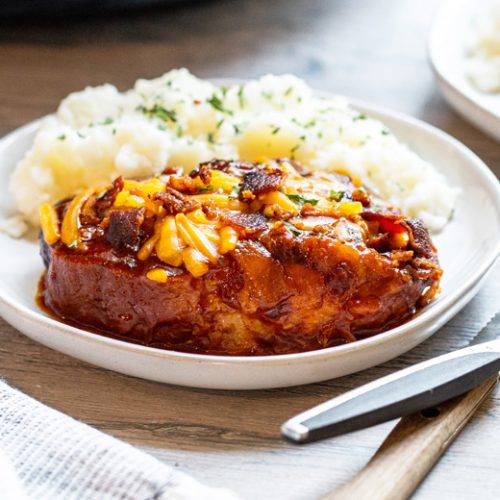 Tools:
Broiler Pan– You can use a baking sheet, but the excess liquid will prevent your pork chops won't be as crispy. A broiler pan lets the liquids fall and hot air circulate around the whole chop, letting them cook a little faster.
You can also place a wire rack on a rimmed baking sheet.
Meat Thermometer – Nix cutting your pork chop in half to check doneness. Just buy an instant read thermometer.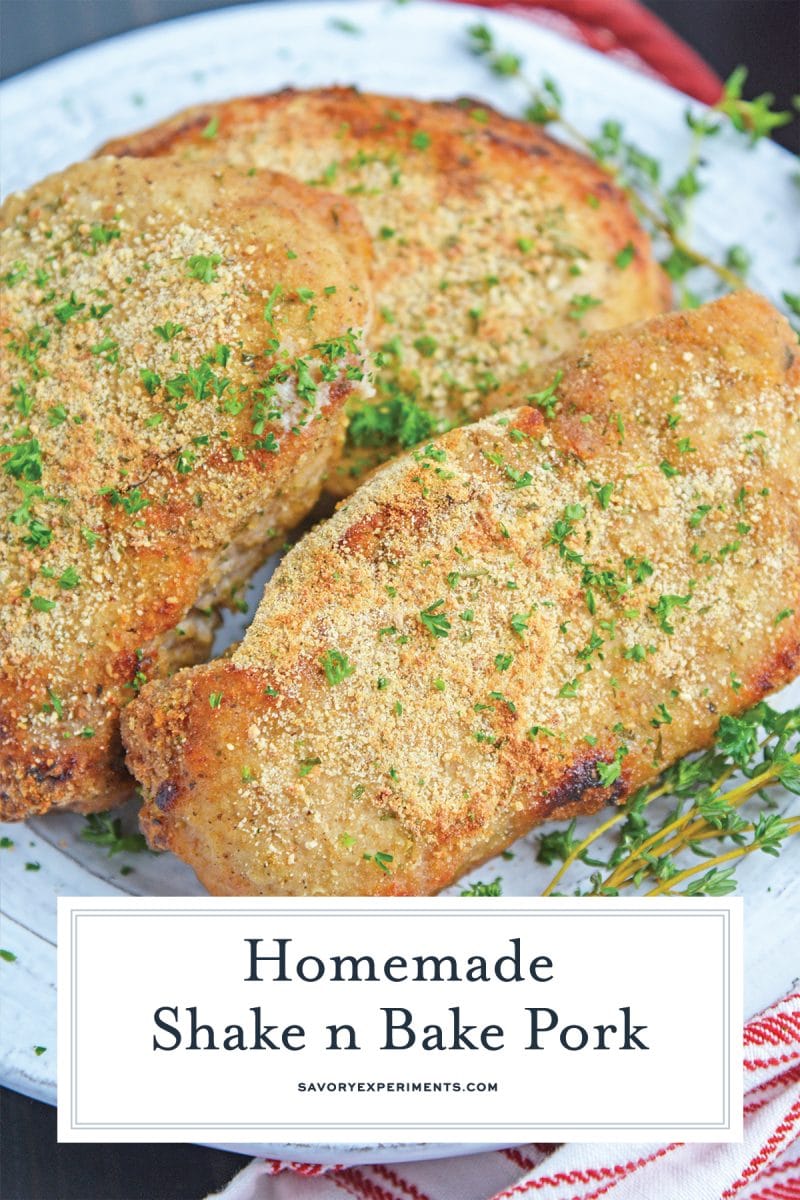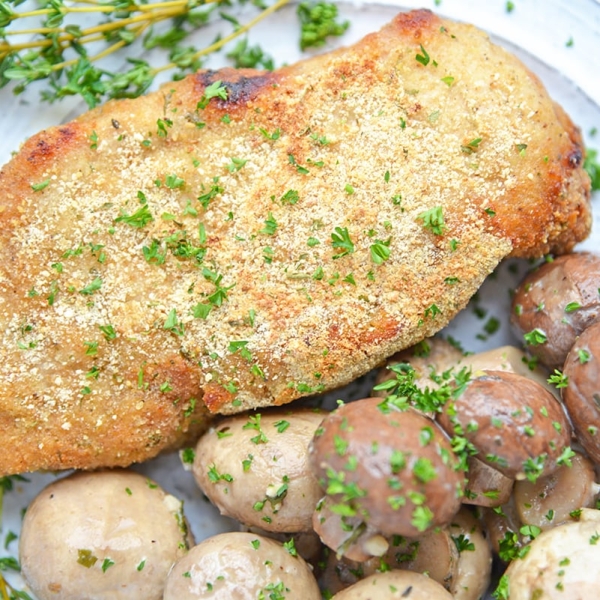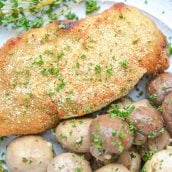 Crispy Baked Pork Chops
If you've never made pork chops in the oven, this shake and bake Crispy Baked Pork Chop recipe is the best! It's even better than shake and bake!
Instructions
Preheat oven to 350 degrees and coat a broiler pan with cooking spray.

In a plastic airtight bag, combine bread crumbs, Kosher salt, black pepper, Parmesan cheese and any other desired seasonings in a plastic bag or a shallow baking dish. Mix well and set aside.

Rinse your boneless pork chops with cold water, shaking to release excess liquid.

This will depend on the thickness of the pork chops. Please use a meat thermometer to check for an internal temperature of 145.

Remove and allow to rest for 5 minutes before serving.

If you've tried this recipe, come back and let us know how it was.
Notes
If you have plain bread crumbs, add 1 teaspoon Italian seasoning.
To further customize your boneless baked pork chops, you can add other dry seasonings. Use about 1/2 teaspoons of any of my favorites including crushed red pepper flakes, garlic powder, onion powder, smoked paprika, celery seed and chile powder.
Nutrition
Calories:
327
kcal
,
Carbohydrates:
10
g
,
Protein:
39
g
,
Fat:
13
g
,
Saturated Fat:
5
g
,
Cholesterol:
116
mg
,
Sodium:
511
mg
,
Potassium:
661
mg
,
Fiber:
1
g
,
Sugar:
1
g
,
Vitamin A:
20
IU
,
Calcium:
66
mg
,
Iron:
1.5
mg