Today I am sharing one of my favorite go-to side dishes: Balsamic Stewed Tomatoes. It is so simple, you are going to scream.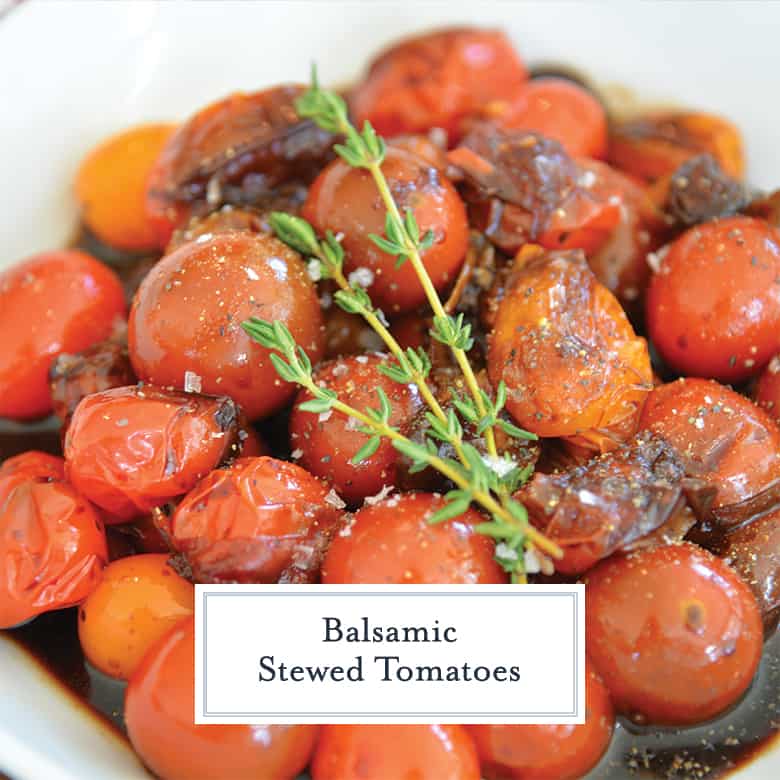 When I'm making a super involved dish, I balance it with a few easy recipes so I don't go completely nuts (or have too much wine to cope).
These simple Balsamic Tomatoes combine stewed tomatoes with an easy balsamic sauce and are ready in about 10 minutes.
The best part? ZERO chopping. ZERO.
Stewed Tomato Recipe
There is literally 1 minute of prep work. The amount of time it takes you to get these simple ingredients out of the pantry and fridge:
grape tomatoes
olive oil
balsamic vinegar
sugar
thyme sprigs
kosher salt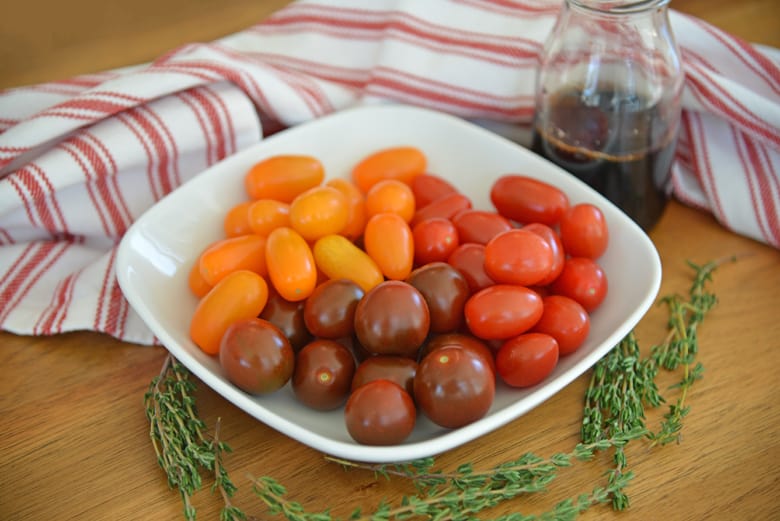 Stewed tomatoes are literally just tomatoes that stew in their own juices. They are generally coarsely chopped and then break down further during the cooking process.
The liquid that gathers is just juice from the tomato. After some of the water evaporates, the sauce thickens and reduces.
Balsamic Stewed Tomato Recipe
I like using a variety of tomatoes for color and flavor and I keep them whole. Since I am using grape tomatoes instead of beefsteak, vine ripened or plum tomatoes, they are naturally smaller.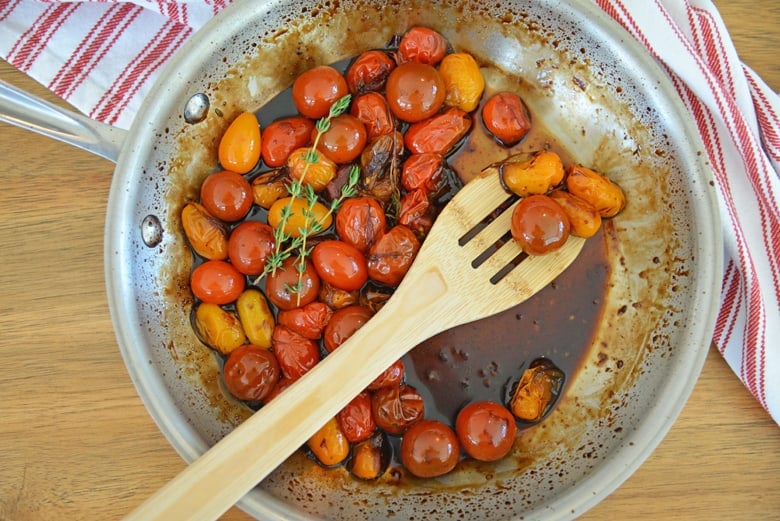 These are basic red grape tomatoes, sun sugar tomatoes (small and yellow) and black cherry tomatoes (burgundy ones). All have distinctly different flavors and sizes which naturally adds to the flavor without you needing to do any additional work to make it happen.
Balsamic Reduction Sauce
The trick with these easy balsamic tomatoes is to cook the tomatoes while the balsamic vinegar reduces. At first, it will be like an oil slick and you'll see droplets of vinegar just sitting on tomato skin.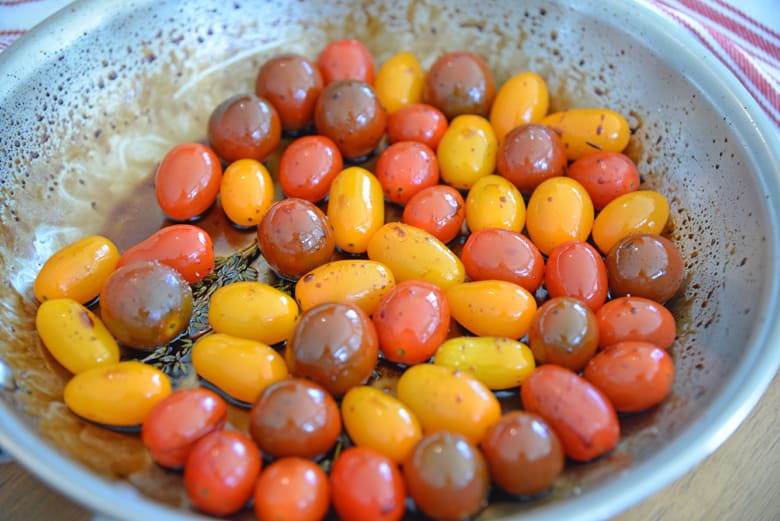 But as the vinegar reduces and the tomatoes start to heat, plump, pucker and burst, it will all meld together.
PRO TIP: Use a cheap balsamic vinegar and leave the 15-year aged stuff for a salad.
In fact some tomatoes might pop into an unidentifiable oblivion, while others will stay perfectly round, but that is what contributes to the beauty of this easy side dish.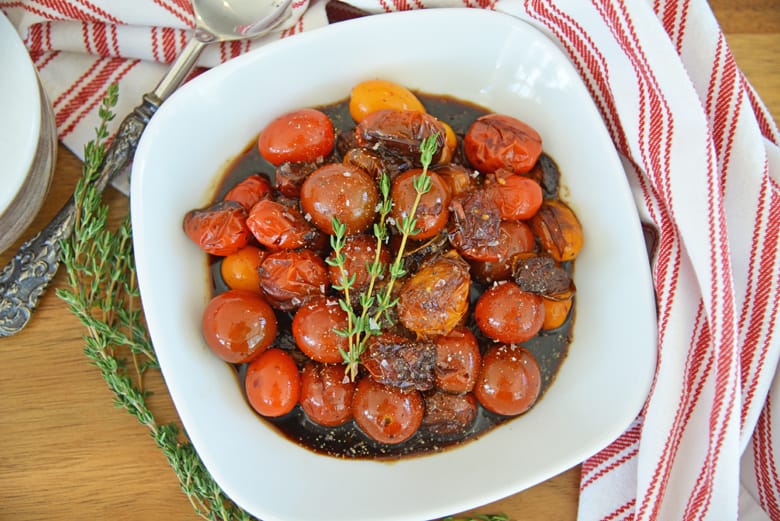 Sugar and salt help to make it more syrupy since you aren't going to allow it to reduce for a long period of time. It just speeds up the process. You can omit both, if you choose.
The balsamic sauce will start to thicken as it cools too, so take it off the heat right before you think it is getting to the syrupy point.
Serve Stewed Tomatoes
Serve these roasted balsamic tomatoes with a slotted spoon, as you don't want too much balsamic reduction. Or maybe you do…
I like serving them with grilled chicken, steak and even seafood.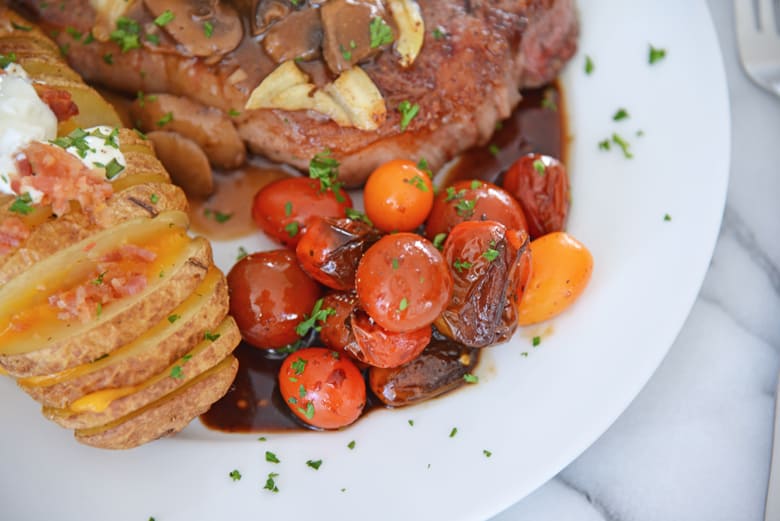 Store Bought Balsamic Reduction
I don't recommend this only because it is already reduced to a syrup and if you cook it with the tomatoes, you'll probably just get burned sugar.
You can, however, go ahead and stew your tomatoes and then toss it with a balsamic reduction.
But honestly, it costs so much (sometimes $12 for a bottle!) and cheap bottle of balsamic vinegar is only $4, making your own is the way to go. If you want to make your own balsamic sauce, this Balsamic Reduction Sauce is my favorite easy recipe.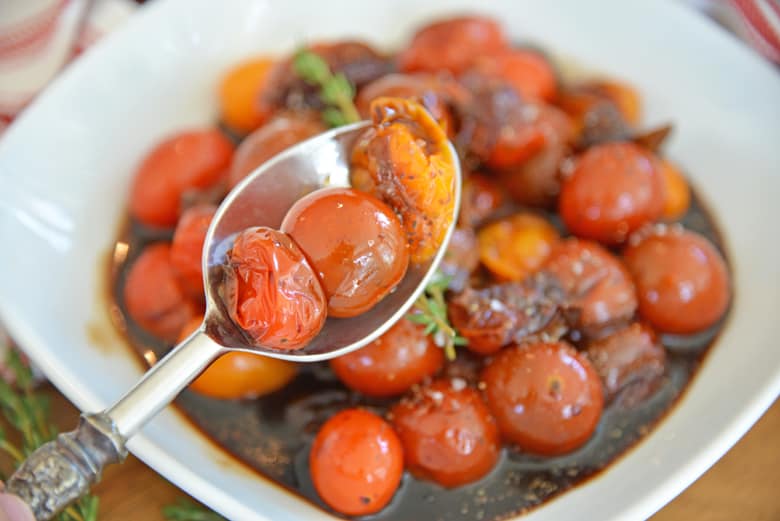 If you're a big fan of balsamic like I am, check out these recipes:
Can I use large tomatoes cut into pieces?
You sure can! It might be a little more soupy just depending on the tomato you used, but it is totally possible.
You can start by letting the tomatoes cook on their own to reduce the liquid and then add the vinegar half way through cooking.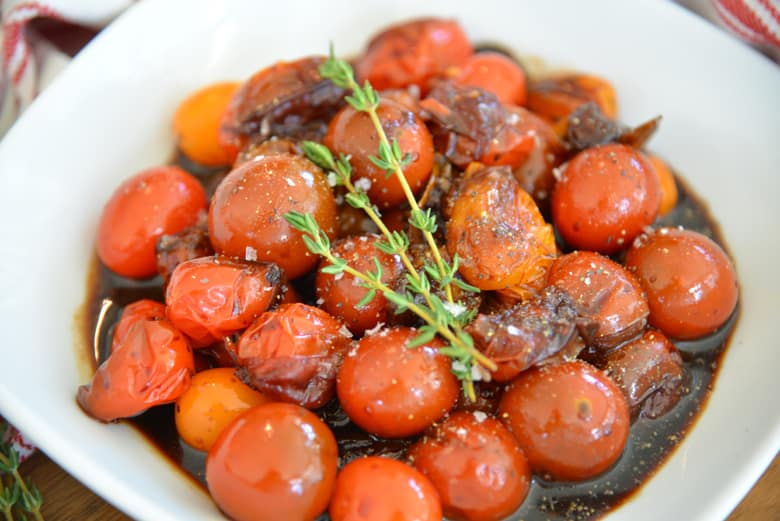 Do I have to use thyme in these balsamic tomatoes?
Nope! Omit it or use a pinch of dried thyme leaves. You can even use rosemary, tarragon or mint.
If you use dried herbs, one teaspoon for every 1 tablespoon is the way to go. Rub the dried herbs between the palms of your hands before adding to bring out natural oils. Remember, dried herbs do expire and are at their best 6 months after opening.