Baked asparagus is an amazing side dish, asparagus wrapped in bacon is even better dish. But do you know what takes it to the next level? Basting in a salty and sweet honey, soy and garlic sauce.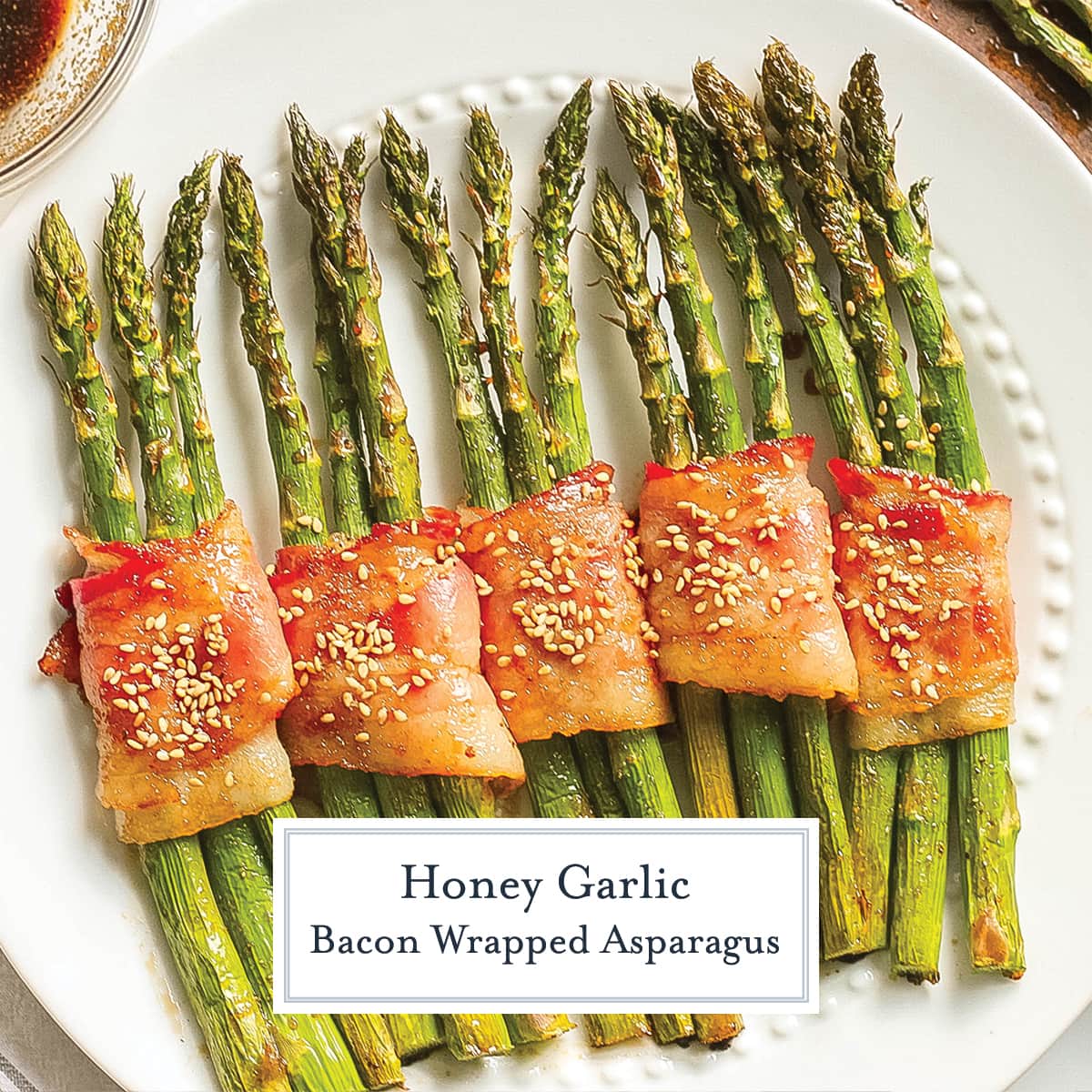 Crispy bundles wrapped in bacon, the bacon fat helps adds flavor and also tie together for the perfect bacon to vegetable ratio. Sesame seeds are optional, but add not only beauty, but a nice little nutty crunch.
What Type of Bacon To Use
While I'd generally tell you that thicker is better when it comes to bacon, in this care use a thinner cut of bacon to ensure both the bacon and the asparagus bundles cook thoroughly. You want the chewiness, but also a little crispy.
This is one of the few times you don't want a super thick cut piece of bacon. Your goal is to have the asparagus stalks and the bacon cook at the same rate. If the bacon is too thick then it won't be nearly done when the asparagus is already starting to look all dry and crinkly. Or be raw…
Two layers is the most you want them to overlap, otherwise I suggest par-cooking the bacon before wrapping.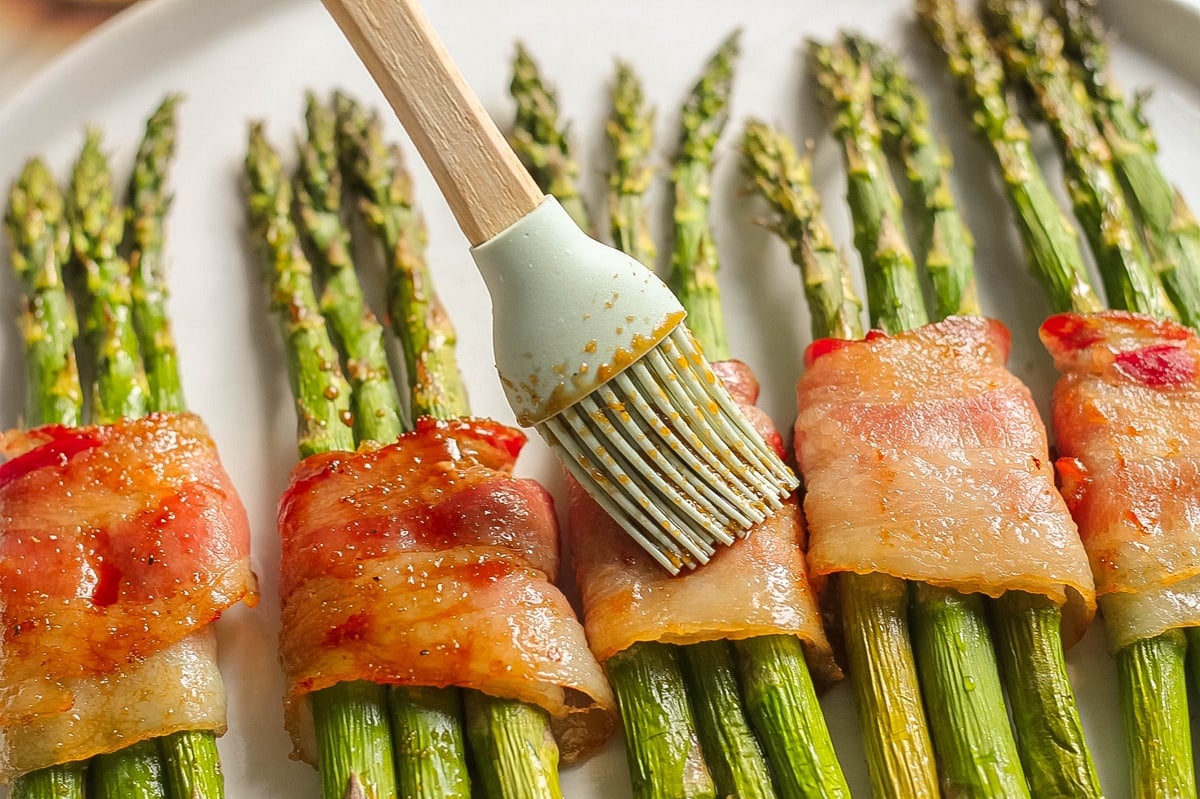 Ingredients
The ingredients for this bacon wrapped asparagus recipe are simple and general pantry staples. The sauce is really a stand out and creates a sticky and sweet syrup over the bacon.
Asparagus– One bunch should be enough.
Bacon– Center cut and thin, this gives it the least amount of fat, but not so thick it won't cook.
Honey– you can also use agave nectar or even brown sugar if in a pinch.
Low Sodium Soy Sauce– Dark soy sauce will also work, but it will be thicker and a little more tart and salty.
Garlic powder– garlic powder adds the garlic flavor you need without the little pieces. If you opt to use fresh, grate it for a garlic pulp instead of chunks.
Sesame seeds– optional, but give a great crunch and perfect for garnishing. Use a blend of white and black seeds for maximum impact.
Sea salt & black pepper– used to taste for seasoning. Both can be omitted and I'd highly suggest omitting salt if using a full bodied soy sauce.
PRO TIP: You can substitute white or purple asparagus for green asparagus for fun color variation.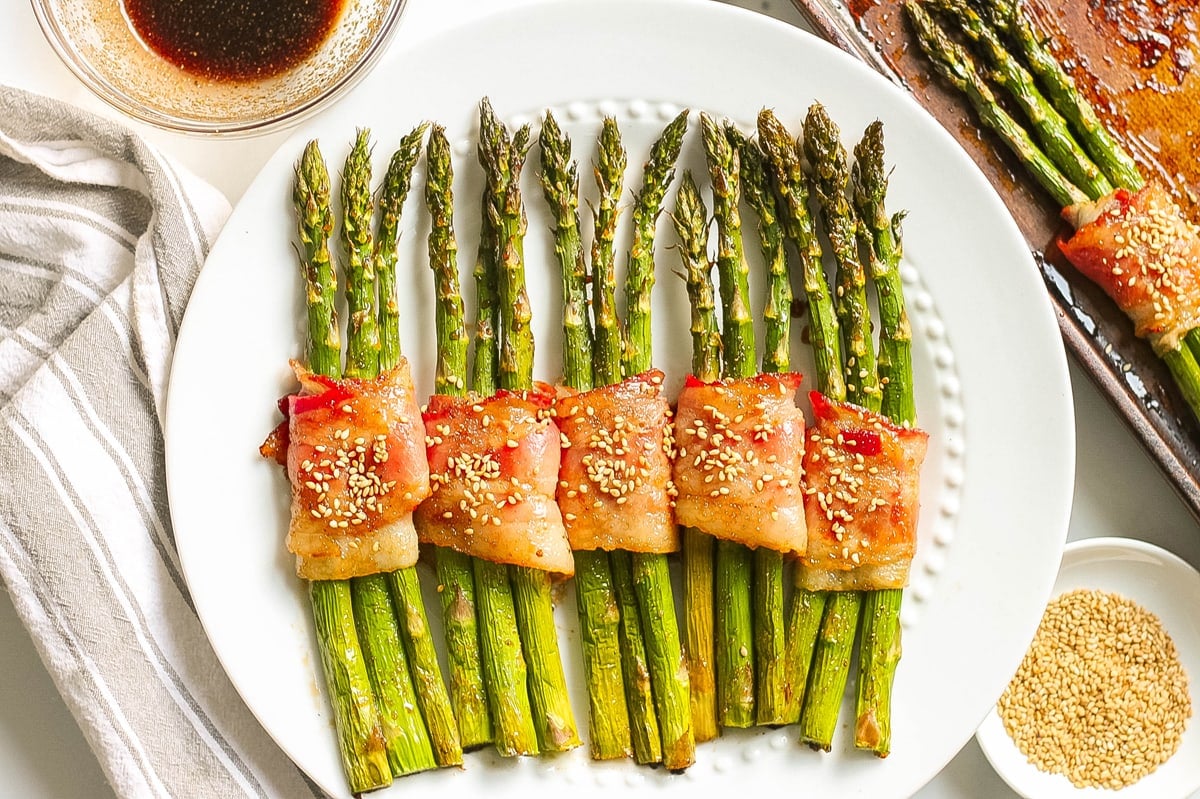 How to Make
Gather all of the ingredients and then…
Equally divide the number of asparagus spears between 8 slices of bacon.
Wrap each bundle, trying not to overlap too much so it cooks evenly. Place on a baking sheet.
Bake for 5 minutes on each side so it can equally cook.
Whisk together the sauce of honey, soy sauce and garlic until honey dissolves. Baste over the bacon wrapping of each bundle. You can serve immediately for a lighter sauce or pop it back into the oven to caramelize.
Sprinkle with sesame seeds and serve immediately.

PRO TIP: If you liked the tips of asparagus to be a little crispy and crunchy, turn the broiler on high for 2-3 minutes at the end of cooking. Watch carefully as the broiler can burn food super fast!
How to Trim Asparagus
Start with good quality produce. Look for asparagus bundles that are plump and firm with tips that are tightly closed, not splayed.
The thickness of a spear has nothing to do with its age or flavor, instead it is that is the age of the entire plant (asparagus blooms from crowns that lie underground) and its variety. Thicker spears are actually thought to be more tender because of the fiber density. Pick whichever you'd like; but for something like this, thicker is better so it cooks at the same rate as the bacon.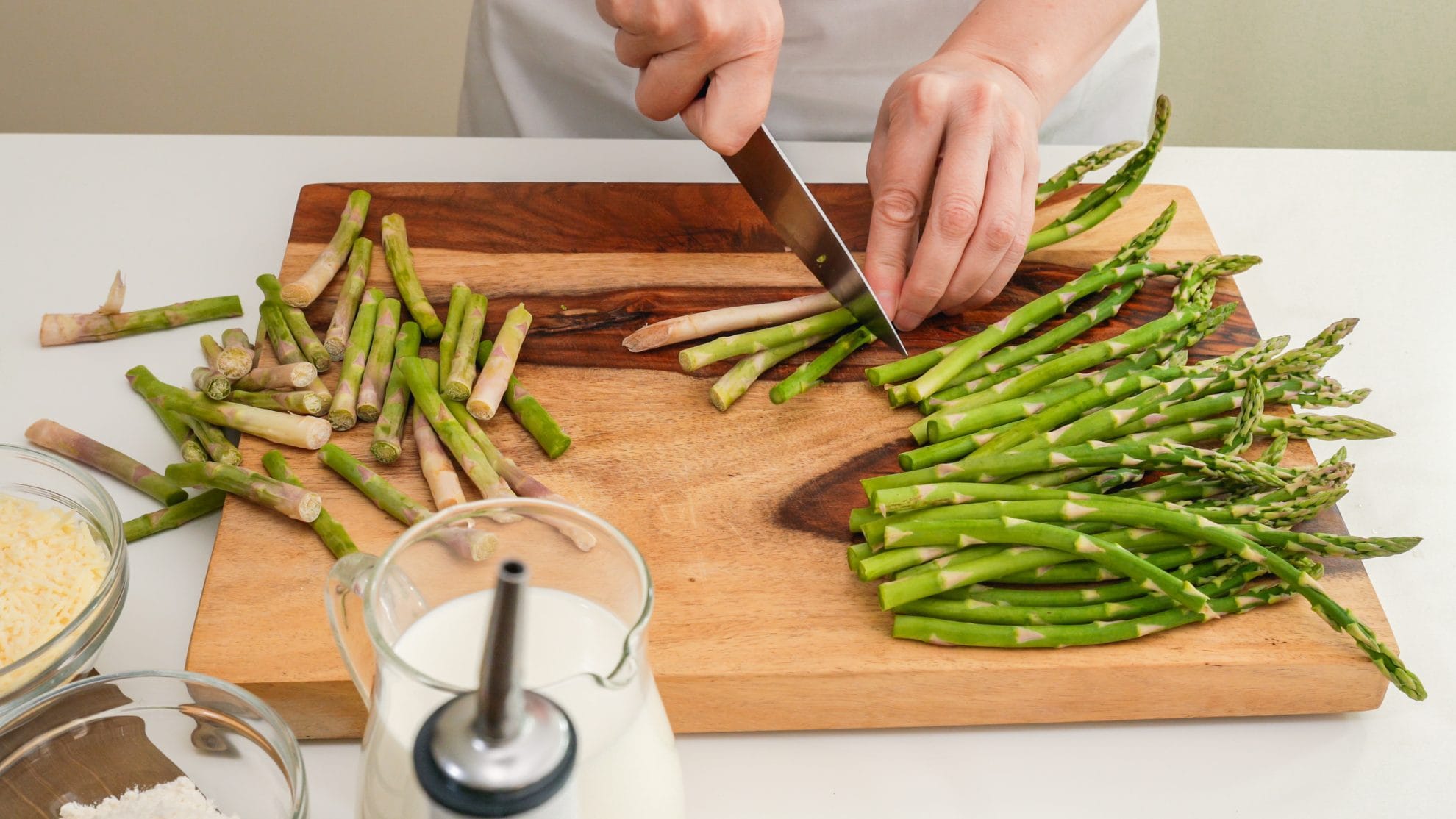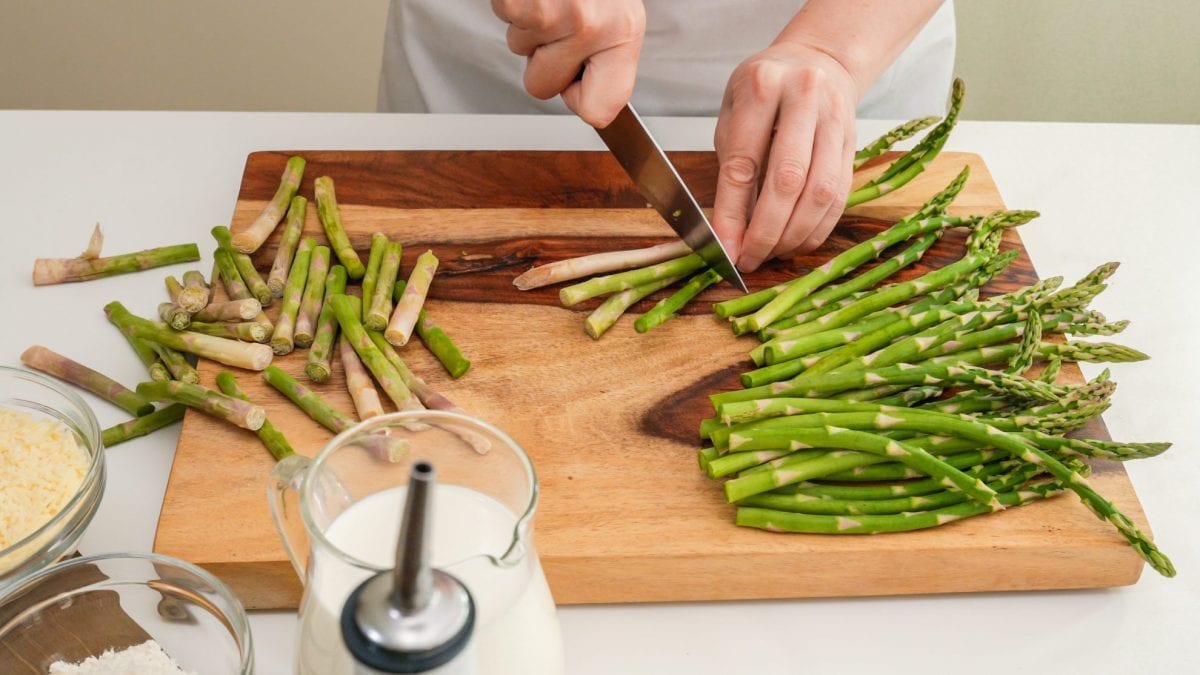 You'll have three options to trim the asparagus:
Big Chop– While still packaged in the bundle, estimate a few millimeters above where the white, woody stalk is and give it one big hack, trimming them all at once. The problem is that all the stalks will be slightly different, so you might not get some too high and others too low.
Snap– Some beleive this is the most natural method. It involves bending each spear and allowing the stalk to snap, however you might end up wasting good asparagus. It often snaps too high.
Happy Medium– With this method, you'll be chopping, but doing it with each stalk individually. This takes the most time, but gives the best overall results with the least waste.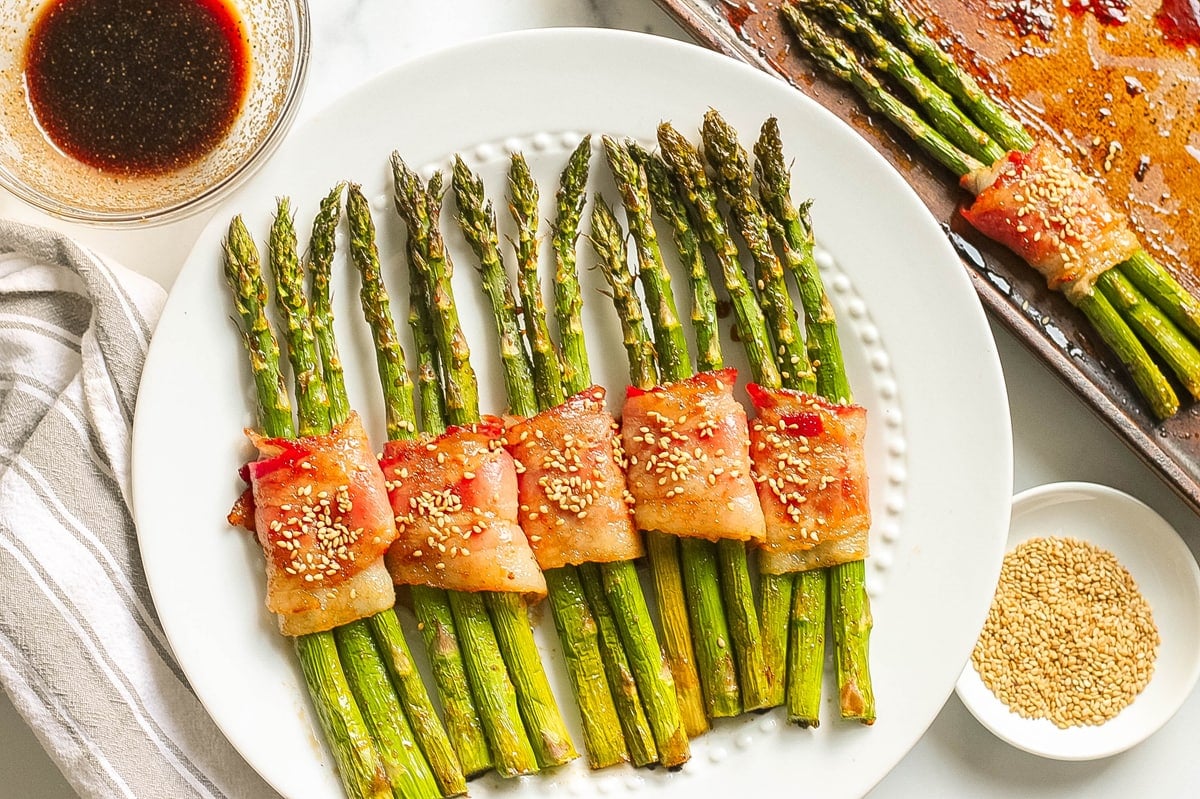 Fun Facts about Asparagus:
Michigan is known as the asparagus capital of the world and holds the Asparagus festival in June.
June is the season for asparagus, but it is relatively short so up to 60% of asparagus is pickled, canned or otherwise preserved.
Asparagus can grow 10 inches in a 24 hour period of time!
All asparagus is white until it reaches the top of the soil and photosynthesis turns it green. White asparagus is much more expensive because the process of digging it up is labor intensive.
Purple asparagus turns a deep green when cooked.
Asparagus is part of the lily family.
Asparagus was once a prized food with both medicinal and aphrodisiac qualities.
A mature field can produce 25-25 rounds of crops per season.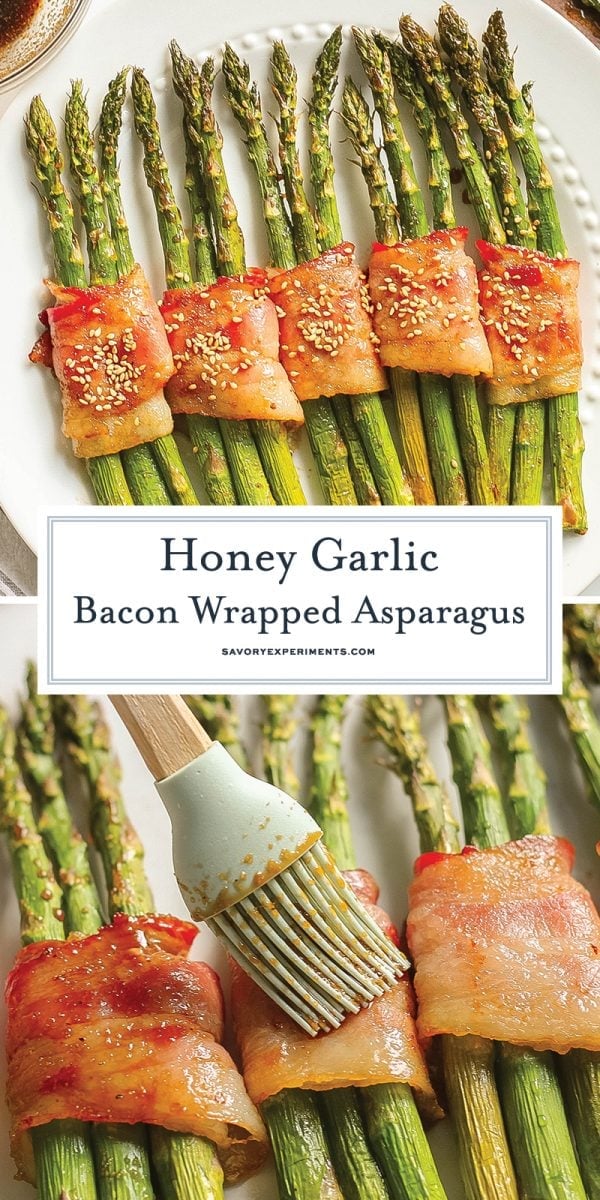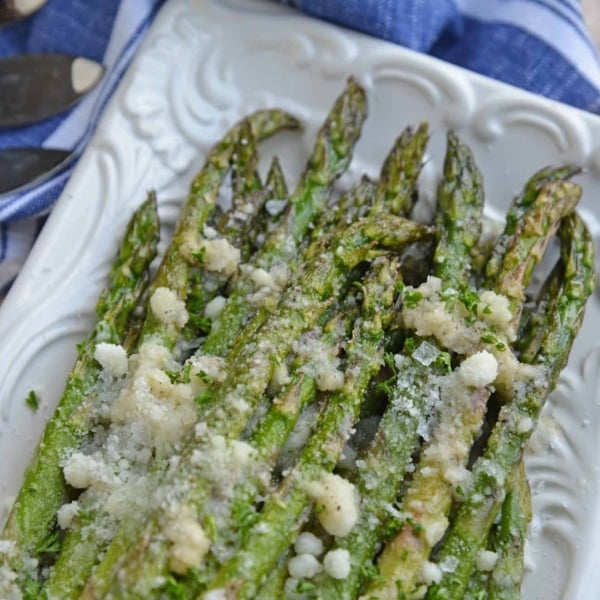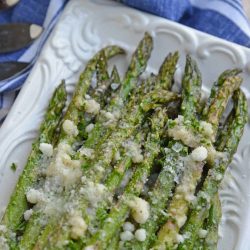 Garlic Parmesan Asparagus
Garlic Parmesan Asparagus is an easy side dish with loads of flavor. One of your favorite vegetables covered in fresh garlic and Parmesan cheese, what could be better?
See The Recipe!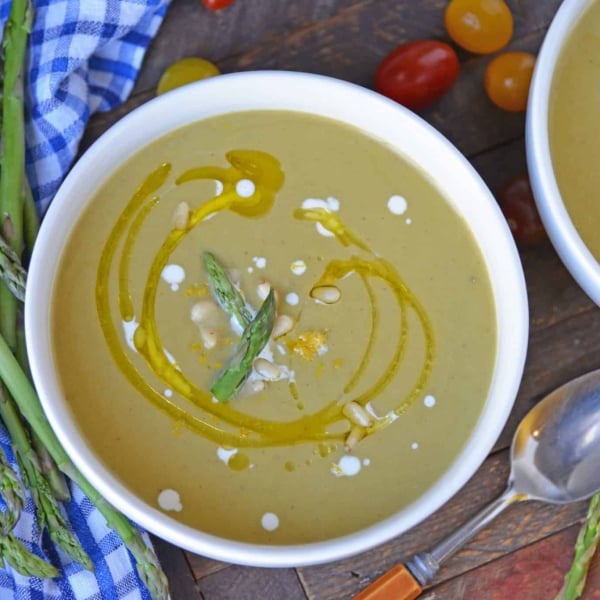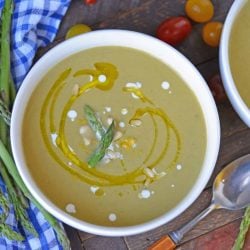 Asparagus Soup
Asparagus lovers will love this creamy asparagus soup! Deliciously smooth and flavored to perfection, this cream of asparagus soup makes the perfect appetizer!
See The Recipe!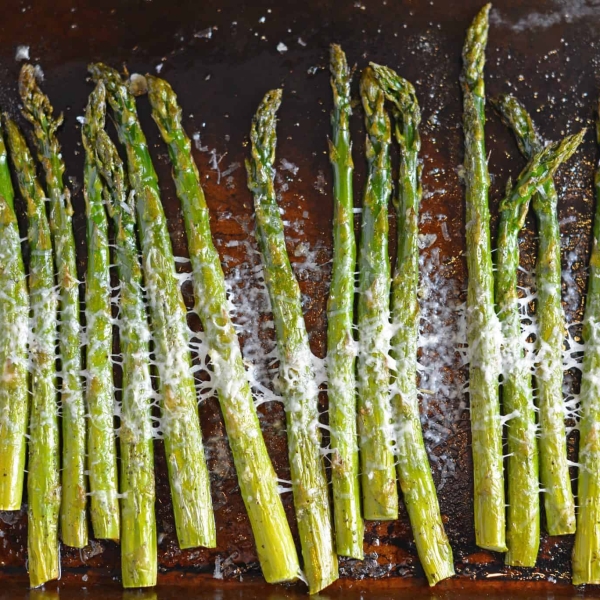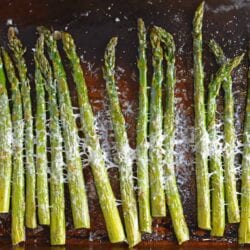 Asiago Asparagus
This delicious Asiago Asparagus is a quick and easy roasted asparagus recipe requiring only 4 ingredients and 15 minutes to prepare.
See The Recipe!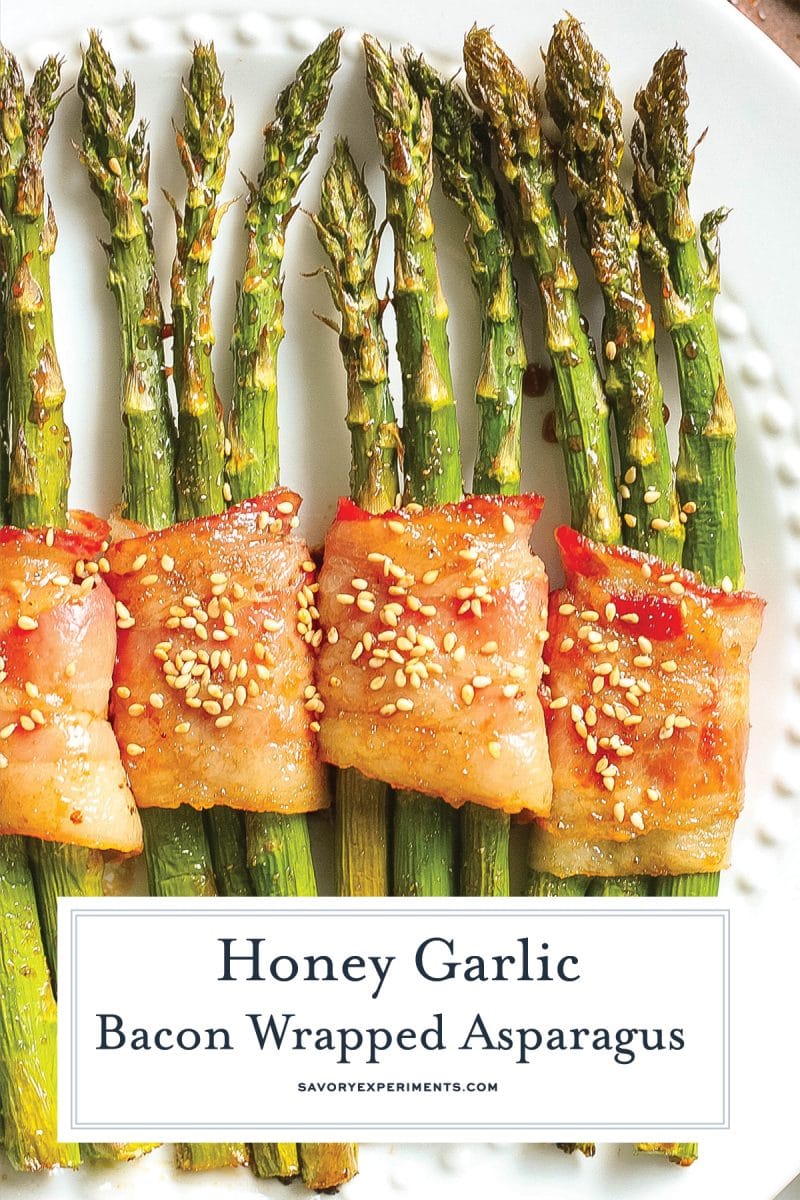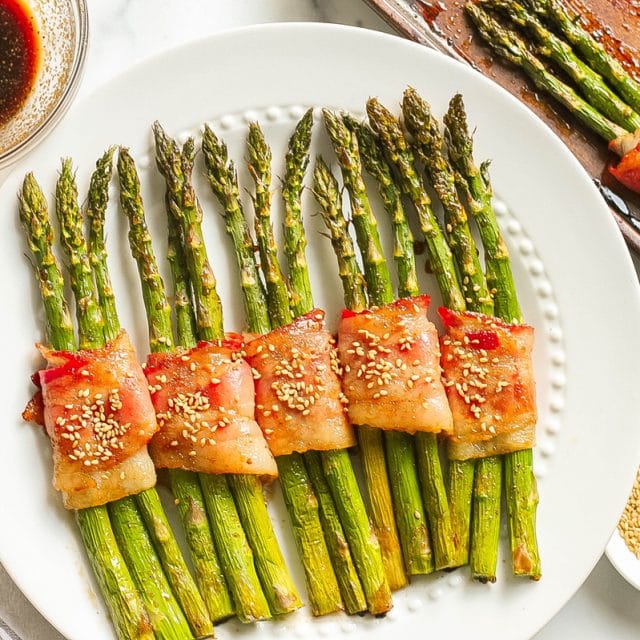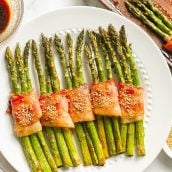 Honey Garlic Bacon Wrapped Asparagus
This Bacon Wrapped Asparagus is coated with a honey, garlic and soy sauce blend. Sweet and salty for the best side recipe.
Instructions
Heat oven to 400°F. Spray a rimmed baking sheet with cooking spray.

Wrap 3-4 asparagus spears with 1 slice of bacon, tuck in the ends and lay seam down on the baking sheet.

Cook asparagus for 5 minutes, remove and turn over, cook for an additional 5 minutes or until stalks are soft and tips are crispy and bacon has cooked.

While asparagus cooks, whisk the honey, soy sauce, garlic powder, salt and pepper in a small mixing bowl.

Remove from the oven and glaze with honey mixture. Pop back into the oven for several minutes to caramelize.

Sprinkle with sesame seeds and serve.

If you've tried this recipe, come back and let us know how it was in the comments or ratings.
Notes
If you liked the tips of asparagus to be a little crispy and crunchy, turn the broiler on high for 2-3 minutes at the end of cooking. Watch carefully as the broiler can burn food super fast!
Nutrition
Calories:
234
kcal
,
Carbohydrates:
10
g
,
Protein:
8
g
,
Fat:
18
g
,
Saturated Fat:
5
g
,
Cholesterol:
29
mg
,
Sodium:
560
mg
,
Potassium:
337
mg
,
Fiber:
2
g
,
Sugar:
6
g
,
Vitamin A:
865
IU
,
Vitamin C:
6.3
mg
,
Calcium:
37
mg
,
Iron:
2.9
mg