Chili Verde is a family favorite! Do you love a smothered burrito, a "wet" burrito, if you will? Zesty chili verde and melty cheese soften a tortilla filled to the max with refried beans, veggies and more cheese making this Pork Chili Verde recipe!
Chili Verde is a wonderful mixture made up of green chilis, tomatoes and spices, best served over giant burritos, eggs, refried beans or in tacos!
Fun fact about refried beans, also known as frijoles refritos, they are traditionally served for breakfast with eggs and sometimes as a side dish for lunch or dinner. To me, that sounds delicious!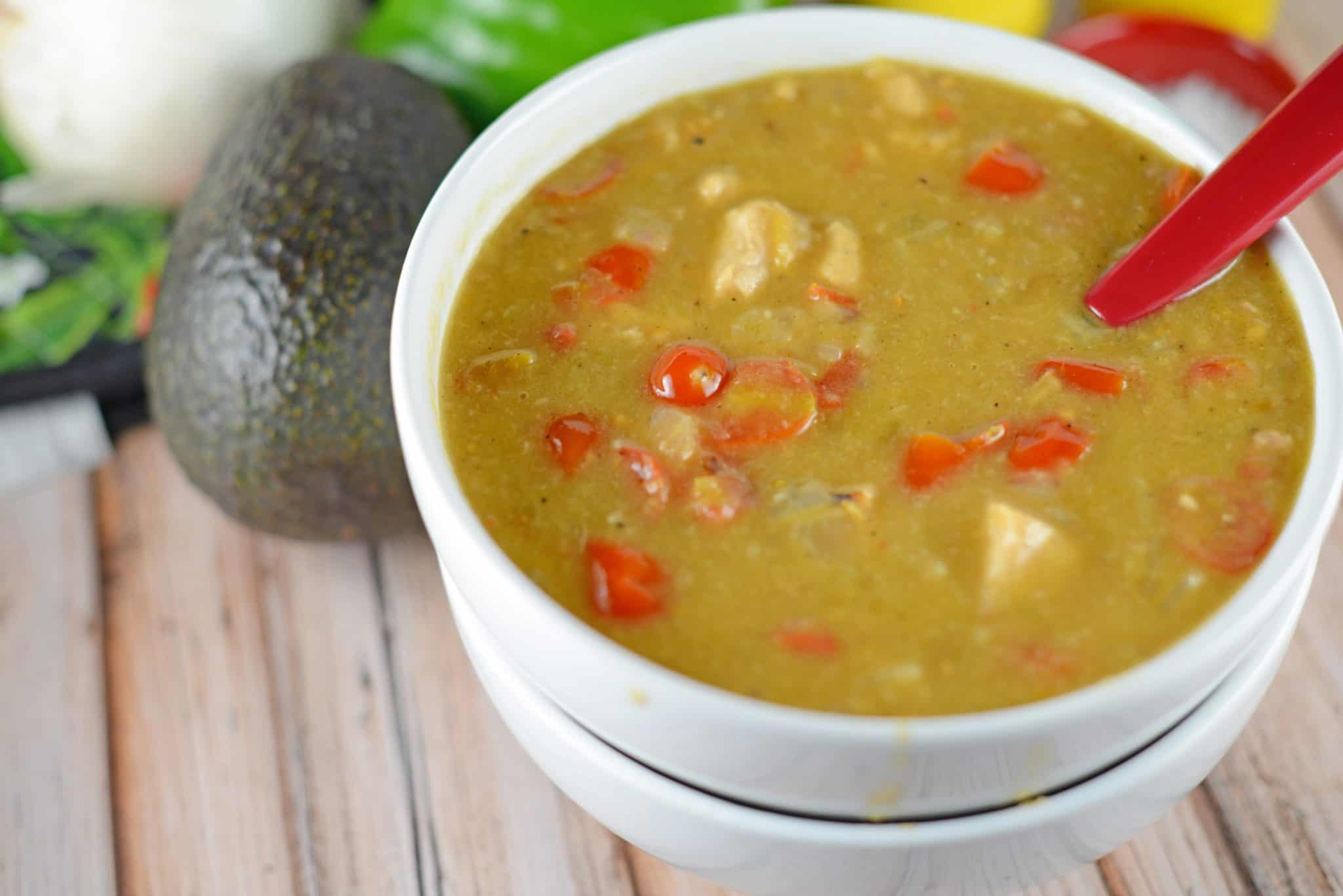 Another family favorite (I'm sure you are sensing a theme that my family enjoys Mexican food), Pork Chili Verde! Burrito night often includes extra guests that find any receptacle they can to get the Chili Verde from the pan to their mouth, so plan to have some tortilla chips on hand.
Although sometimes it just gets smothered on nachos, beans or spooned into tacos.
This is a quick and dirty version of green chili sauce. Like Italian red sauces, there are many ways to make it and each family and even region of Mexico, has its own spin and tradition.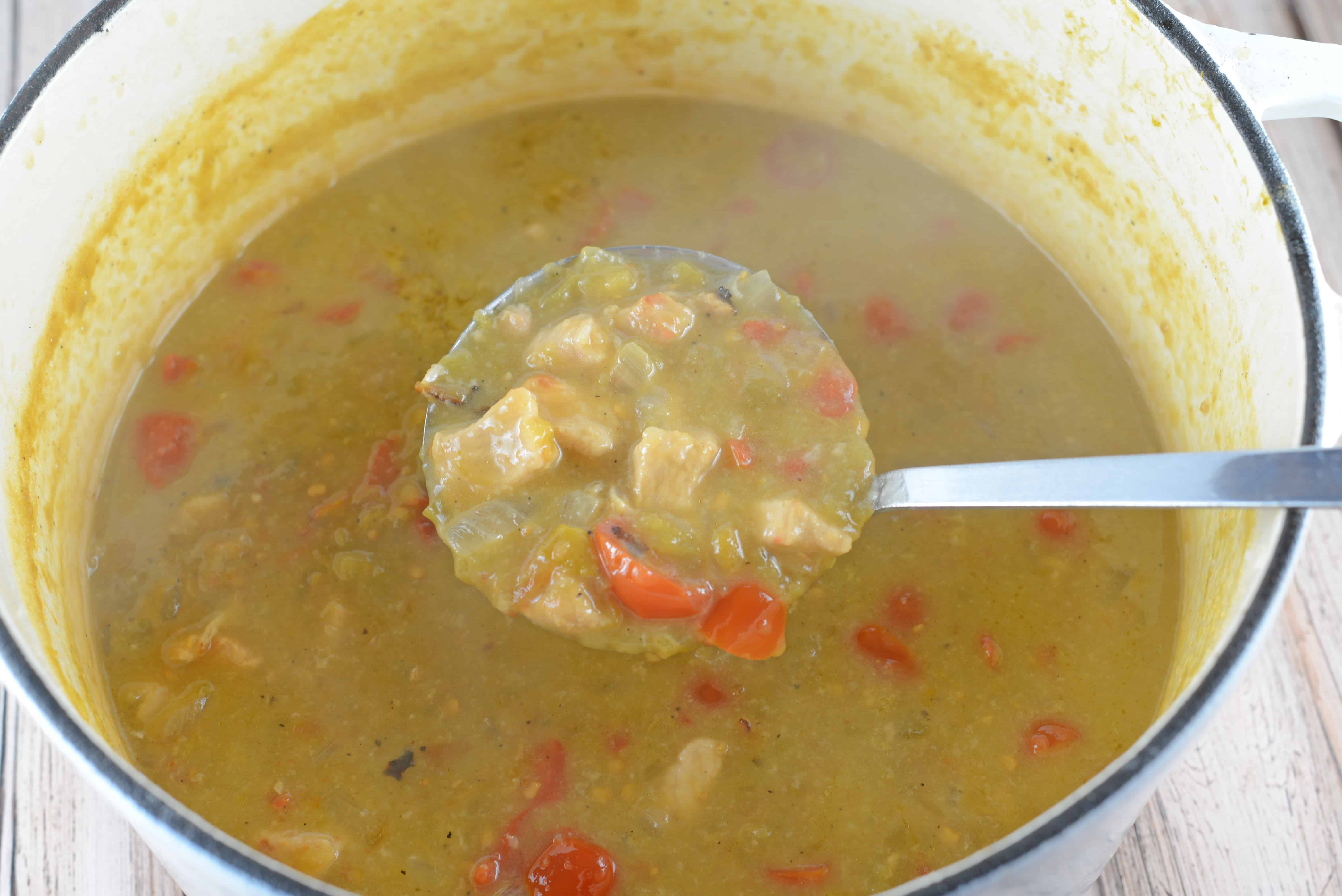 In no way, shape or form do I suggest that mine is authentic or "the best", but what I do know is that it is darn delicious and I hope you enjoy it as much as my family does.
Is it chile or chili? I often go back and forth and seems chile and chili are used interchangeably. However, I once a boss that was one hell of a writer and used to be a book editor.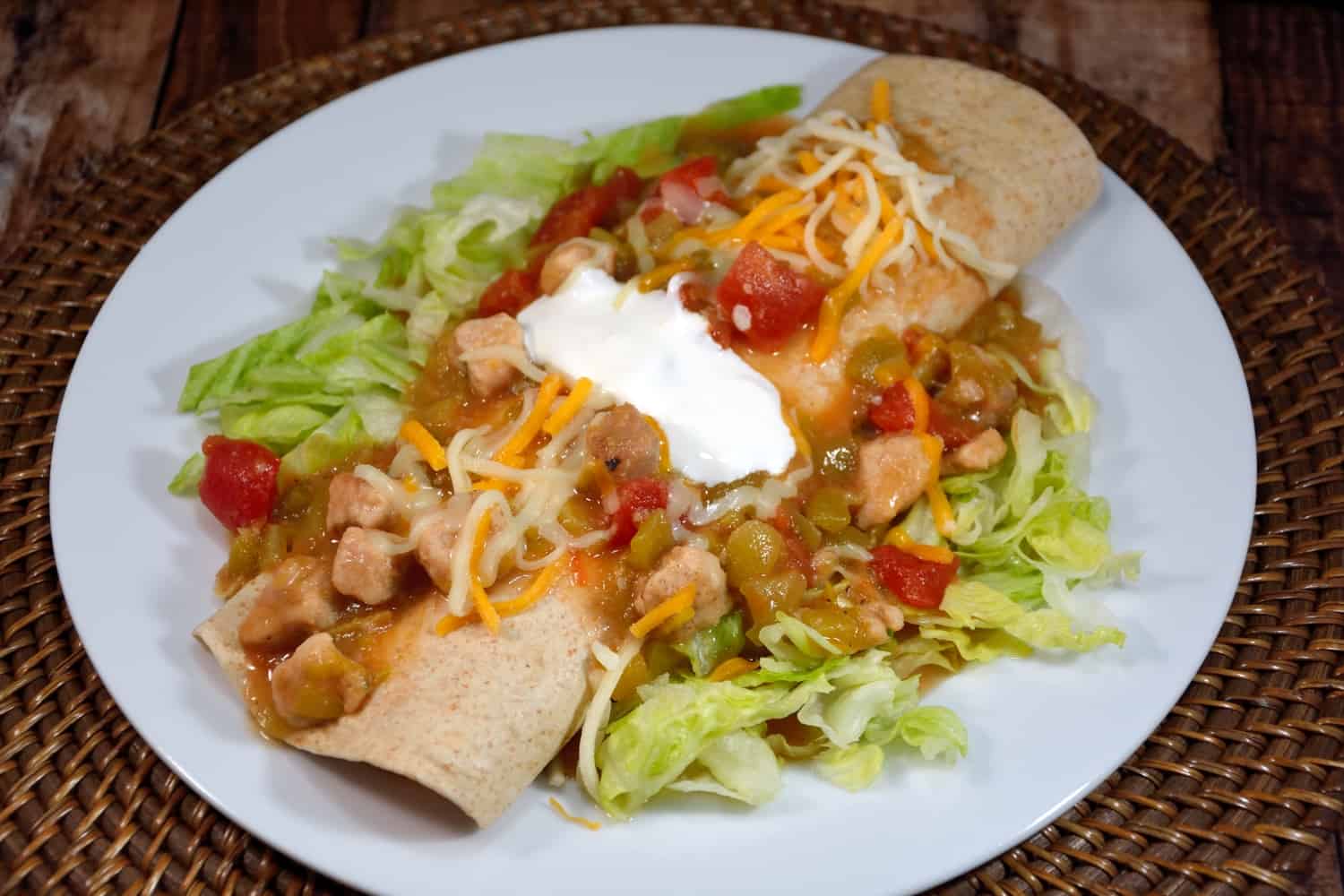 If you gave us the same 10 words to string together in a sentence, hers would undoubtedly be more elegant. So I asked her and she shared that in book editing, they would use chile to describe the actual fruit and chili to describe a soup or stew. So there you have it, foodie friends. I hope you learned something new today!
If you love this 
chili verde recipe, check out these other easy chili recipes: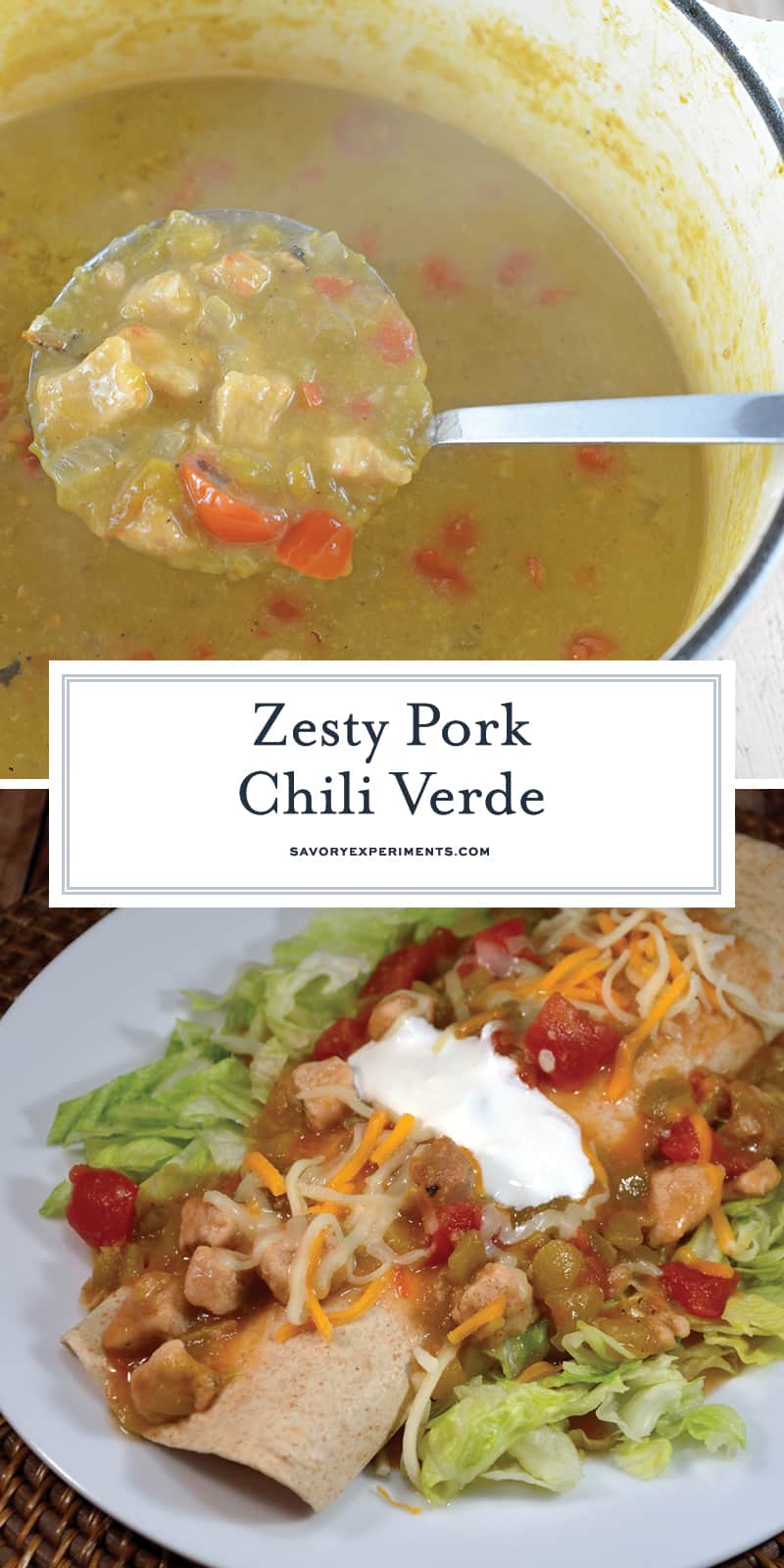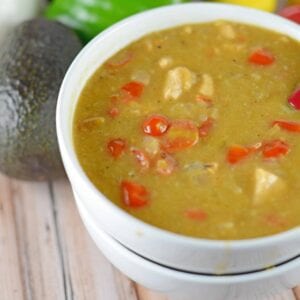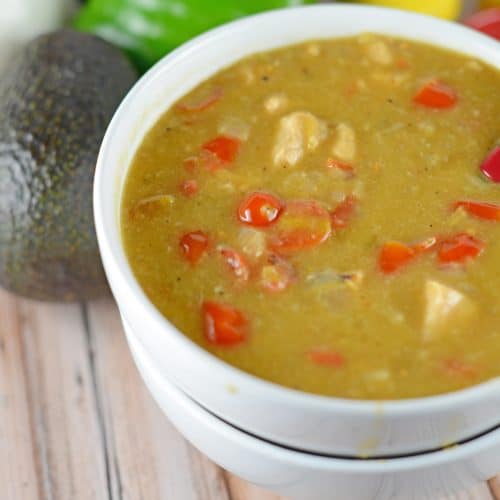 Pork Chili Verde
Pork Chili Verde is a wonderful mixture made up of green chilis, tomatoes and spices, best served over giant burritos, eggs, refried beans or in tacos.
Ingredients
4

boneless pork chops

1

cup

flour

Salt and pepper

2

tablespoons

Vegetable oil

21

ounces

cans diced green chilies

Or one cup freshly roasted and peeled

2

large tomatoes

diced (or two 14 ounces cans diced tomatoes, drained)

1

tablespoons

garlic salt

1

teaspoon

ground pepper

2

cups

water
Instructions
Cut boneless pork chops into 1 inch cubes, discarding excess fat. Toss and coat well in flour.

Heat 2 tablespoons vegetable oil over medium-high heat in a large Dutch oven or pot. When oil it hot, sift pork cubes out from the flour, and brown in the Dutch oven. Season with salt and pepper to taste. Discard remaining flour.

Stir and cook until browned on the outside, approximately 5-8 minutes. Remove pork to a paper towel lined plate. Leave any excess oil in the pot.

Without removing remaining oil or browned bits, add diced canned chilies, tomatoes, garlic salt, ground pepper, water and pork to the Dutch oven. Bring to a low simmer, stirring continuously and breaking the browned bits off the bottom of the pan (these are like little flavor bombs that will disintegrate into the Chile Verde).

Lower and simmer for 1 1/2-2 hours, stirring and making sure heat is low enough that it doesn't scald (been there and done that, oops).

Chile verde will thicken and be ready to ladle over burritos, eggs, tacos or refried beans.

If you've tried this recipe, please come back and let us know how it was!
Recipe Notes
To roast chiles, place on a hot grill in under the broiler until the skin blisters, then place hot, soft chiles into a an airtight bag, close tightly and allow to steam. The skin should easily peel off.
If you don't wish to use fresh chiles, you can purchase an 8-ounce can whole or diced green chiles, drained and patted dry and skip this step.
You can order Hatch Green Chiles and other varieties from ChileMonster.com. It is the only site I trust for fresh and flavorful chiles.
Nutrition Facts
Pork Chili Verde
Amount Per Serving
Calories 217
Calories from Fat 72
% Daily Value*
Total Fat 8g 12%
Cholesterol 44mg 15%
Sodium 1157mg 48%
Potassium 339mg 10%
Total Carbohydrates 18g 6%
Protein 16g 32%
* Percent Daily Values are based on a 2000 calorie diet.