Have you jumped on the kale train yet? If you're hesitant to try kale, this cheesy, creamy Baked Kale Gratin recipe is a great place to start!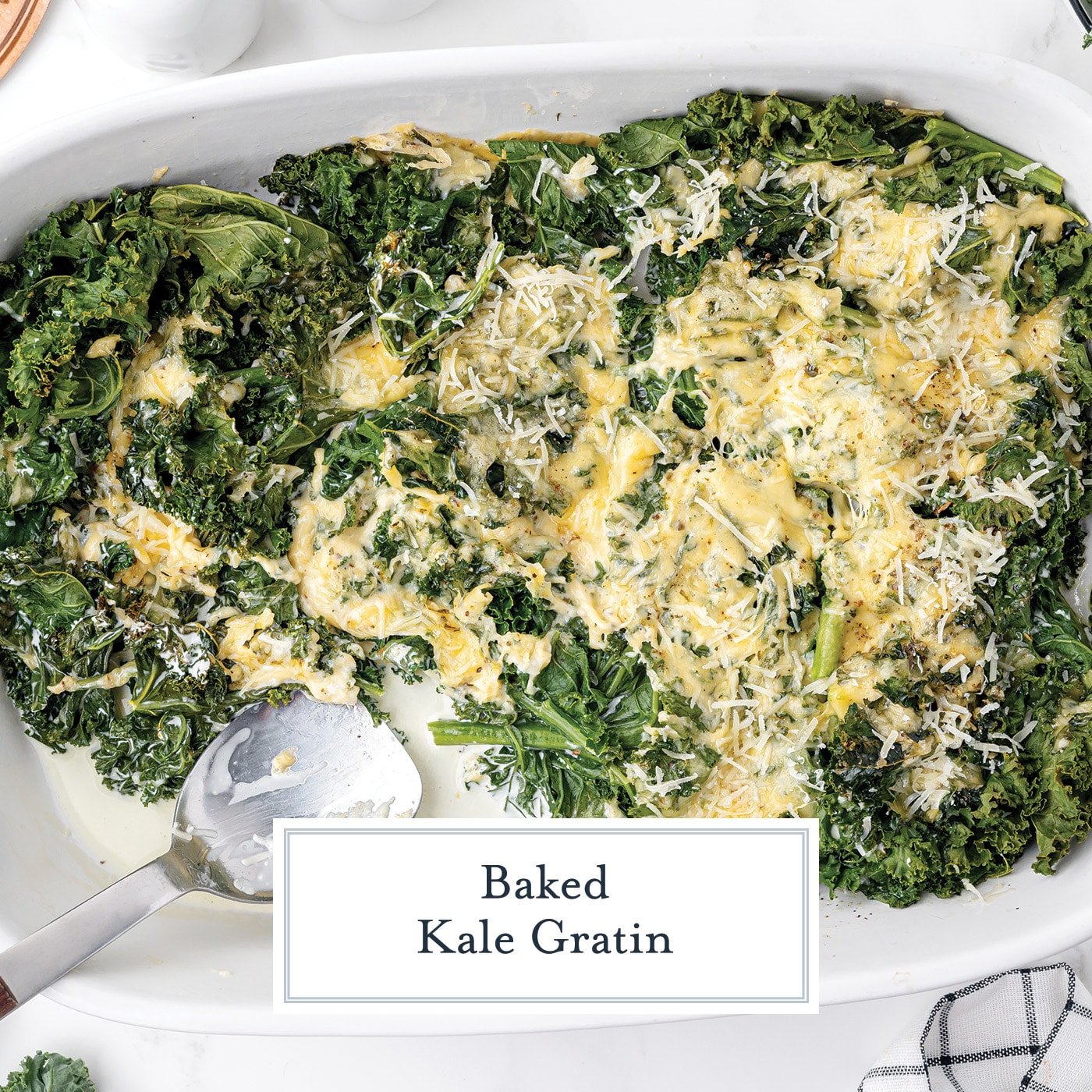 Kale was a super trendy "superfood" for several years. Now that the obsession is dying down, you rarely see it.
So far, the best way my family enjoys it is as kale chips. I make a traditional salted crispy kale chips and ranch kale chips which are generally gone in seconds. A healthy snack compared to potato chips and still delicious.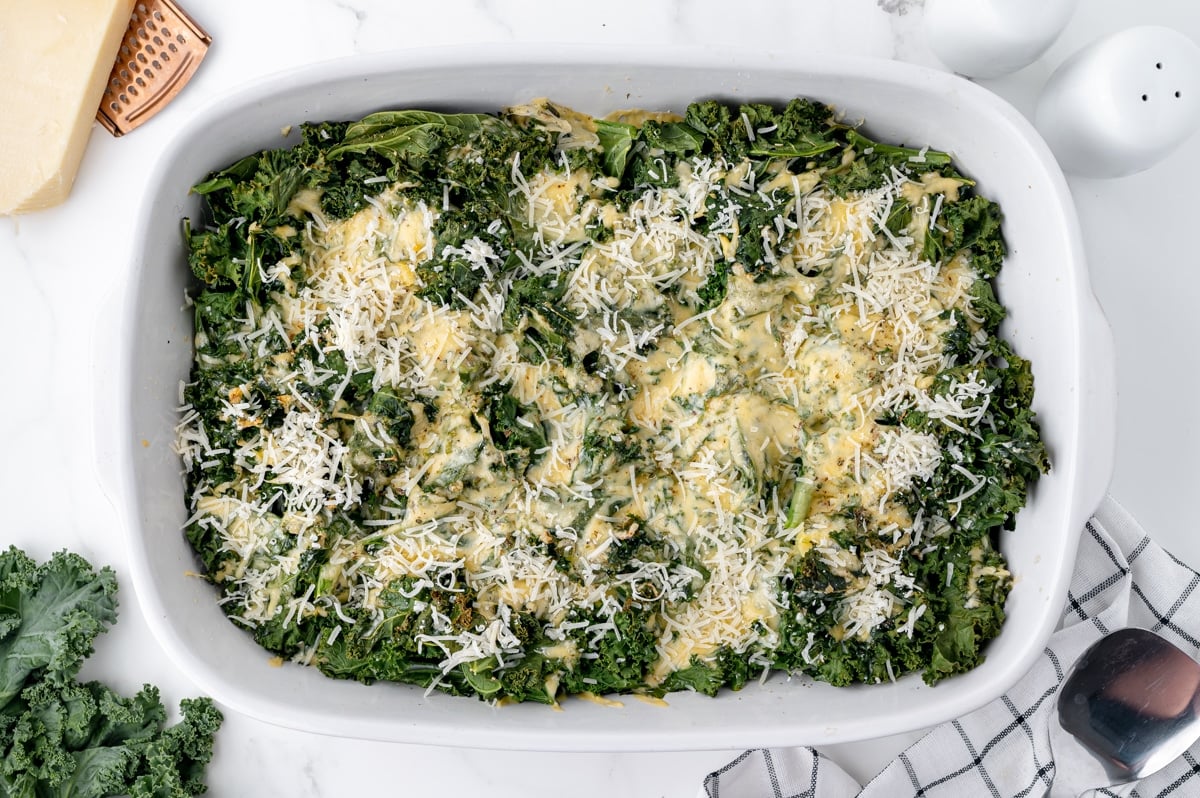 Types of Kale
There are several common types of kale that are widely available. Here are some of the most popular varieties:
Curly Kale: Curly kale is perhaps the most recognizable type of kale. It has ruffled, curly leaves and a slightly bitter taste. The leaves are usually dark green or purple, and they have a robust texture. Curly kale is versatile and can be used in salads, soups, sautés, or even baked into kale chips.
Lacinato Kale (also known as Tuscan Kale or Dinosaur Kale): Lacinato kale has long, narrow, dark blue-green leaves with a bumpy texture. They are generally large leaves, hence the dino kale name. It has a slightly sweeter and more delicate flavor compared to curly kale. Lacinato kale is often used in Italian cuisine and is great for soups, stews, sautés, and raw salads.
Red Russian Kale: Red Russian kale has flat, fringed leaves that are green with purple veins. It has a mild flavor and a tender texture. Red Russian kale is often used in salads, sautés, and smoothies.
Redbor Kale: Redbor kale is a variety of curly kale with vibrant, deep purple or reddish leaves. It has a slightly milder flavor than curly kale and retains its color even after cooking. Redbor kale is often used in salads or as a colorful garnish.
Siberian Kale: Siberian kale has large, flat, blue-green leaves that are tender and slightly sweet. It is one of the hardiest varieties and can withstand cold weather. Siberian kale is suitable for various cooking methods, including sautés, stir-fries, and soups.
Black Kale– Much harder to come by, but very mystical in appearance.
These are just a few examples, and there are other kale varieties available as well. Each type of kale has its own unique flavor profile and texture. The most common and widely available kale leaf is curly kale.
Baked Kale Gratin Recipe
The first time I made this dish was for Christmas. It was a recipe my sister had been wanting to try, so we gave it a whirl.
It only had three ingredients: cream, kale and Gruyere cheese (I believe). Although it was good, I felt like there was a little too much cream. It just pooled at the bottom of the dish instead of blending with the cheese to make a cheese sauce.
Then I realized, I kinda liked it that way. So the next time I made it I reduced the cream, changed the cheese and added a few more seasonings like Homemade Italian Seasoning, Kosher salt and pepper.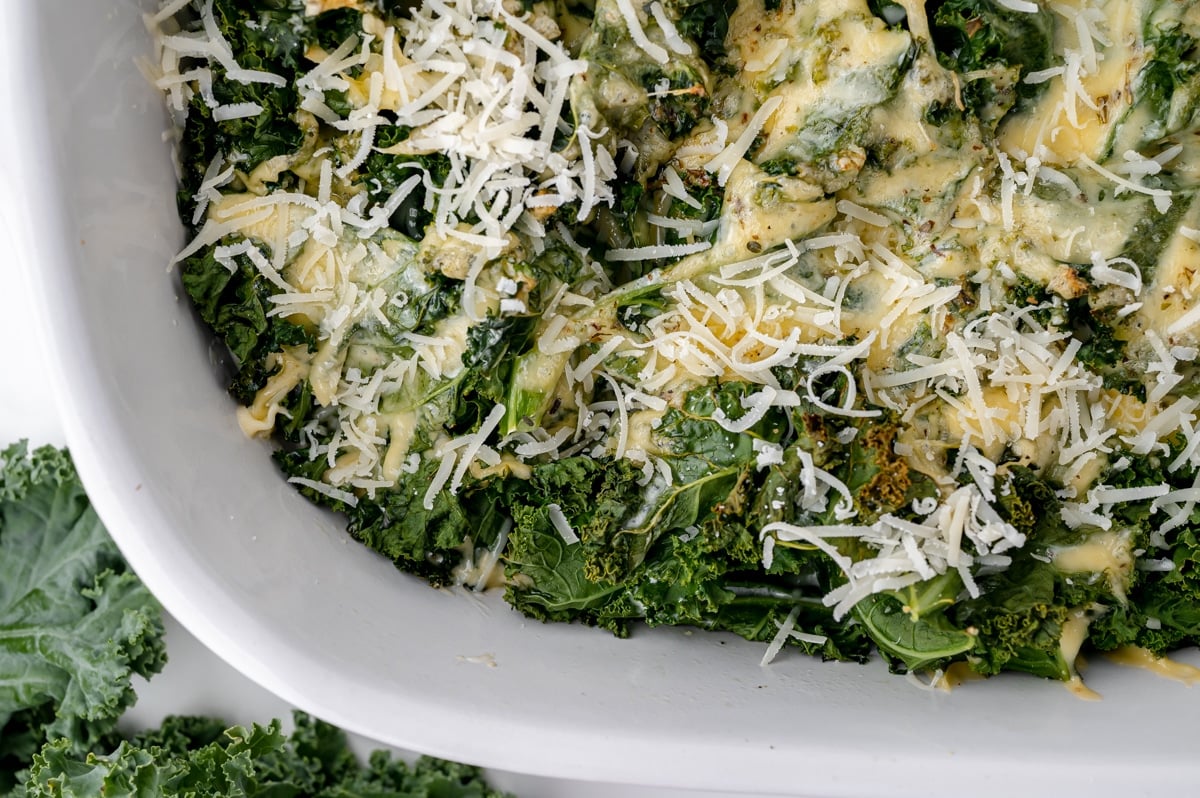 Why Do You Massage Kale?
Massaging kale is a technique used to prepare raw kale before consuming it in salads or other dishes. Kale has a tough and fibrous texture, and massaging helps to break down its structure, making it more tender and enjoyable to eat. Here are a few reasons why people choose to massage kale:
Texture improvement: Massaging kale helps to soften its leaves and reduce their toughness. By breaking down the fibers, the kale becomes easier to chew and digest.
Bitterness reduction: Raw kale can have a slightly bitter taste, which can be lessened through massaging. The process helps to release some of the natural compounds that contribute to the bitterness, making the kale milder in flavor.
Enhanced flavor absorption: Massaging kale with a dressing or oil allows the leaves to absorb the flavors more effectively. This step can help the kale to better incorporate the dressing's flavors, resulting in a tastier and more well-rounded salad.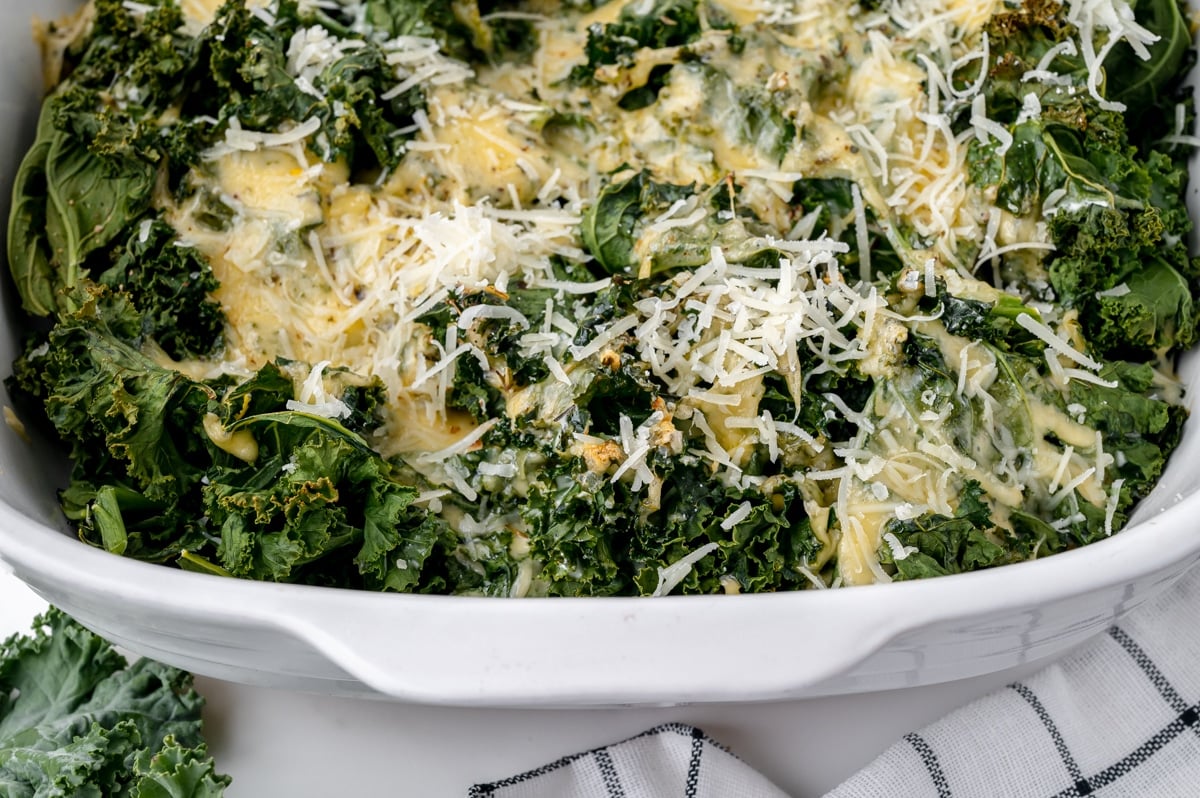 How to Massage Kale
To massage kale, you typically remove the tough stems and rip the leaves into smaller pieces. Then, using your hands, gently squeeze and rub the kale leaves for a few minutes until they begin to soften and darken slightly. Afterward, you can use the massaged kale as a base for salads or incorporate it into various recipes.
I personally like to spread it in a single layer on a baking sheet with paper towels and then massage it with sea salt. This gives some texture to really tenderize and break down those fibers.
Some folks use a salad spinner, but this will only dry it, not break down the fibers.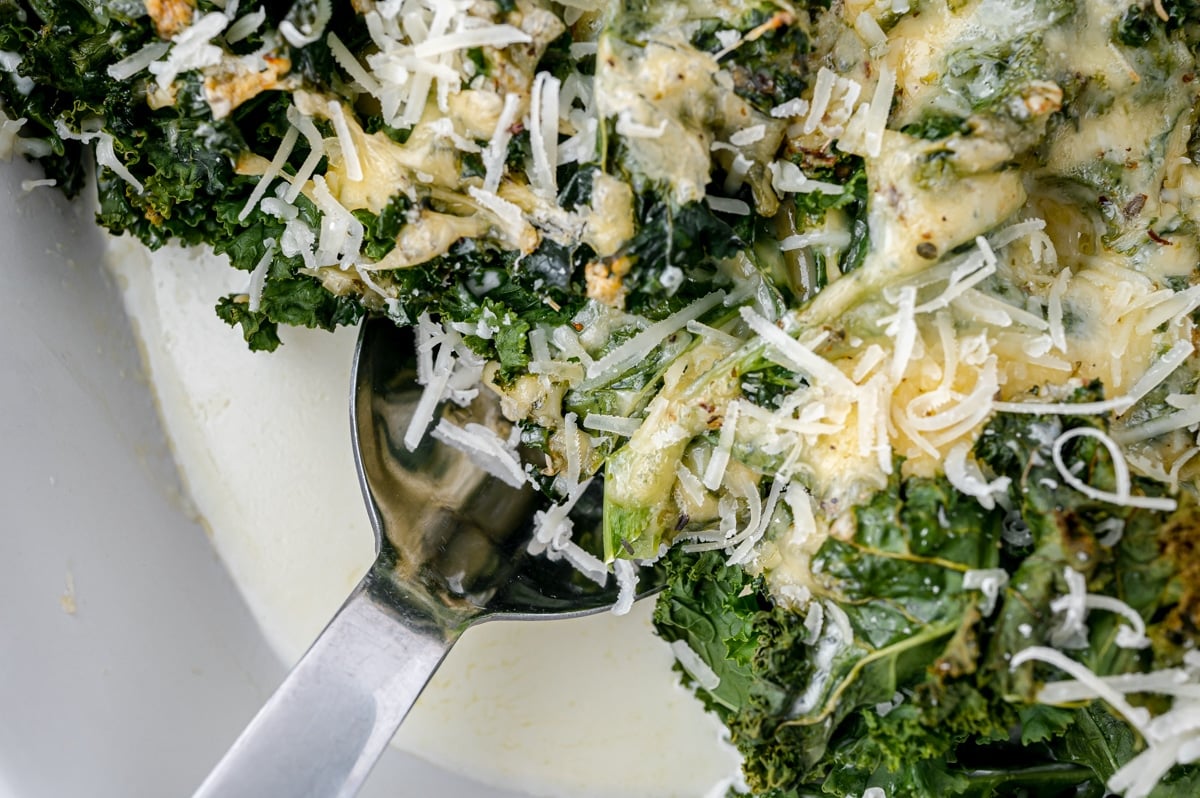 Why You'll Love This Recipe
There are endless reasons why we love this kale dish, but here are a few specifics:
Simple ingredients – The ingredient list is super short (only 5 to be exact) so there is no need to make special trips to the grocery store.
Loved by all – Even kale haters are sure to fall in love with this kale casserole- especially with it's simple ingredients!
Customizable – While the original recipe is pretty basic, there are plenty of ways for you to spruce it up to your liking.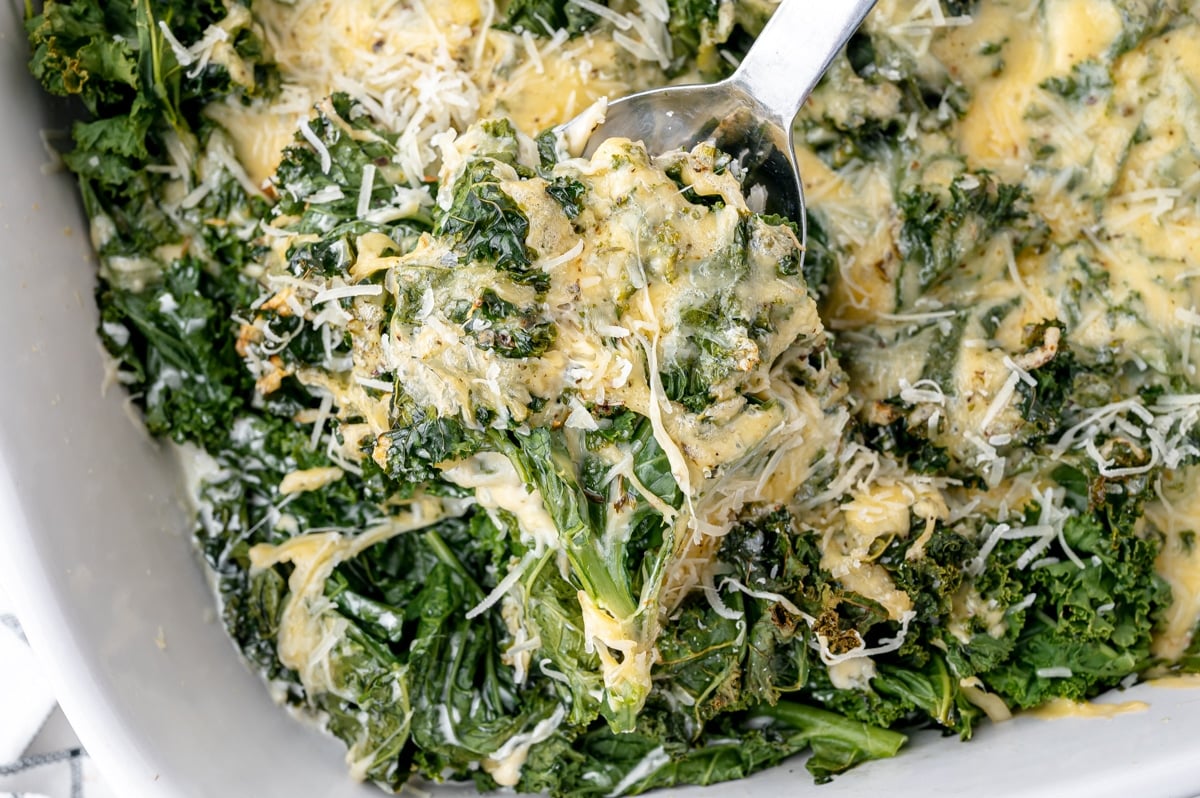 Ingredients for Baked Kale
This ingredient list is simple and everything can easily be found at local grocery stores.
Kale – I like to use green curly kale. Make sure the leaves are removed from the stems.
Heavy cream – Instead of getting fancy and making a béchamel sauce, we just stir cream into the mix to get that creamy consistency. You could also use whole milk.
Gouda cheese – You can use different kinds of cheese, I just prefer the flavor of gouda.
Italian seasoning – We don't need a lot to season this dish. But Italian seasoning is just the right amount of flavor.
Garlic Powder & Onion Powder– Use both or only use one, up to you and your tastebuds! You can also use fresh garlic cloves.
Salt and pepper – I like to use a blend of Kosher salt and freshly ground black pepper.
Parmesan Cheese– You can also use a pecorino blend. This is added at the end for a nutty texture and flavor. Who doesn't want more cheese?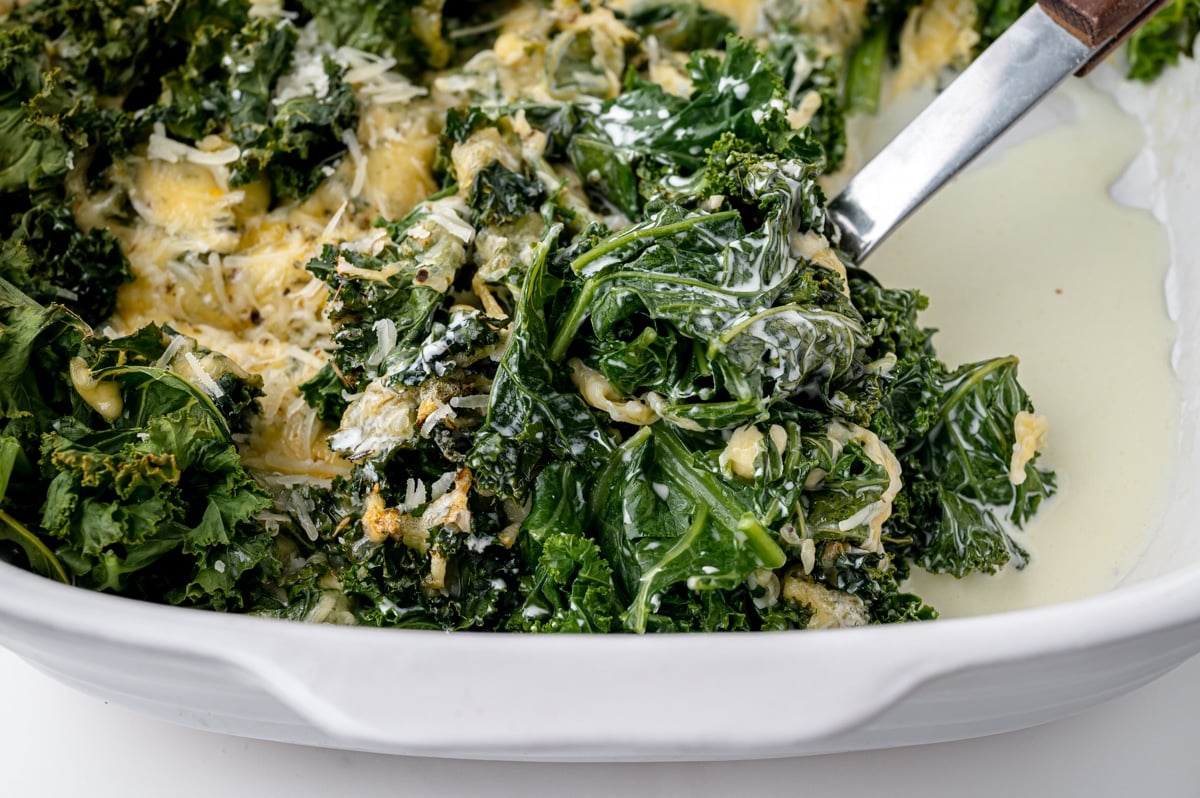 How to Make Baked Kale Gratin
You are going to love how easy it is to make this kale mixture with cheesy sauce!
Prepare oven gratin dish. and Coat a casserole dish with cooking spray and preheat oven.
Wash Kale. Like most lettuces, you'll want to give it a quick rinse with cold water before cooking. Make sure to dry kale for best results. It doesn't need to be perfect, but you don't want it waterlogged either.
Massage kale. Using your hands, massage kale well. This breaks down fibers making it silky smooth to eat.
Add to dish. Pile into casserole dish. Depending on the size and shape of your dish, it might mound, that is fine, it will cook down.
Top with heavy cream, cheese and seasoning. Pour heavy cream over the top. Top with shredded cheese, Italian seasoning, onion and garlic powder, Kosher salt and freshly ground black pepper.
Bake. Bake uncovered until it has reduced in size and cheese has melted.
Serve. Top with the parmesan cheese while still hot so it melts and serve immediately!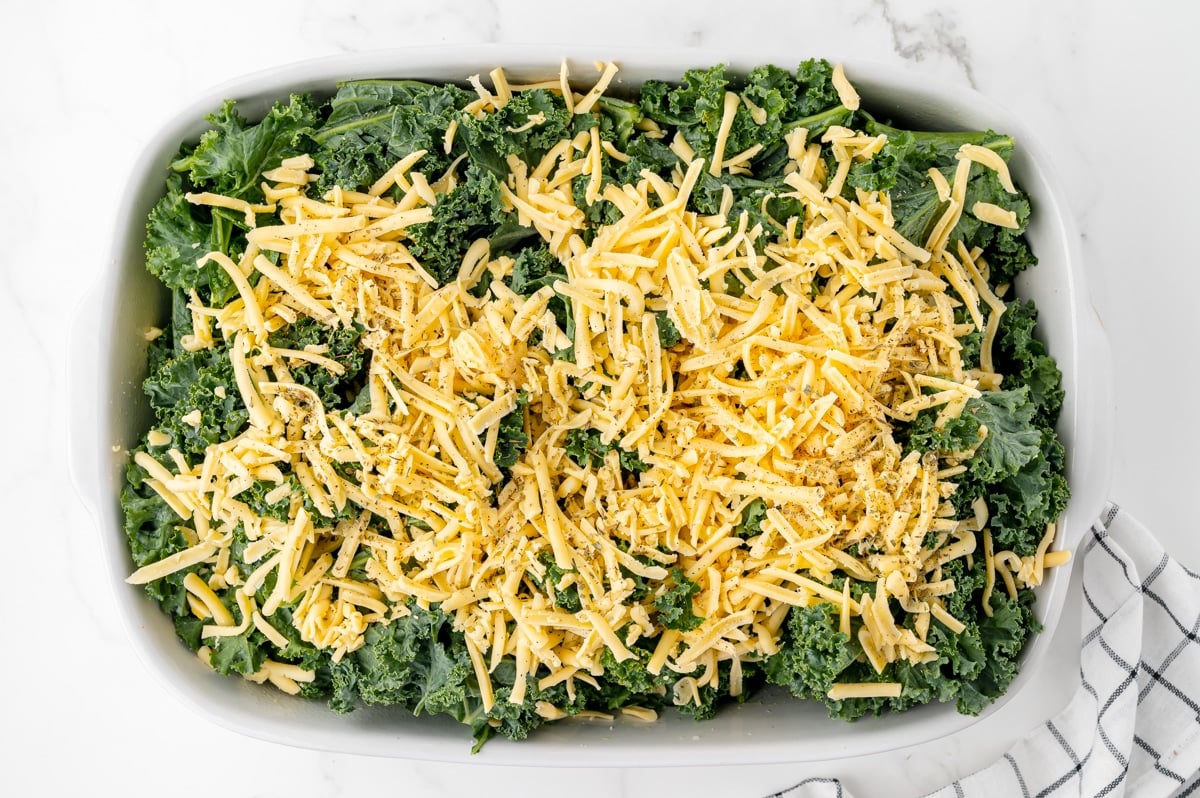 Baked Kale Recipe Variations
Because kale is such a blank slate, nearly any number of different seasonings can take place of the Italian seasoning. Here are a few favorites that also work on homemade kale chips.
Make sure to pick a flavor affinity that matches the meal you are serving it with.
Sesame Seeds– Toasted or plain, a sprinkle of these after the dish is complete add a fun nutty flavor to the already nutty cheese. Use a black sesame seed for even more variety.
Lemon Zest– Can be added to the cream mixture and adds brightness, but not acidity like lemon juice would.
Chile Powder– Looking for a little bang? Add a dash (or more) of chile powder or red pepper flakes to the spice blend.
Cajun Seasoning or Blackened Seasoning– These also add gentle heat to the baked kale gratin.
Variety of Kale– If you can find multiple types, throw them all together! This creates unique texture, color and taste.
Crunchy Topping– Make it crunchy by adding 1/4 cup of panko bread crumbs or seasoned bread crumbs during the last 5 minutes of baking.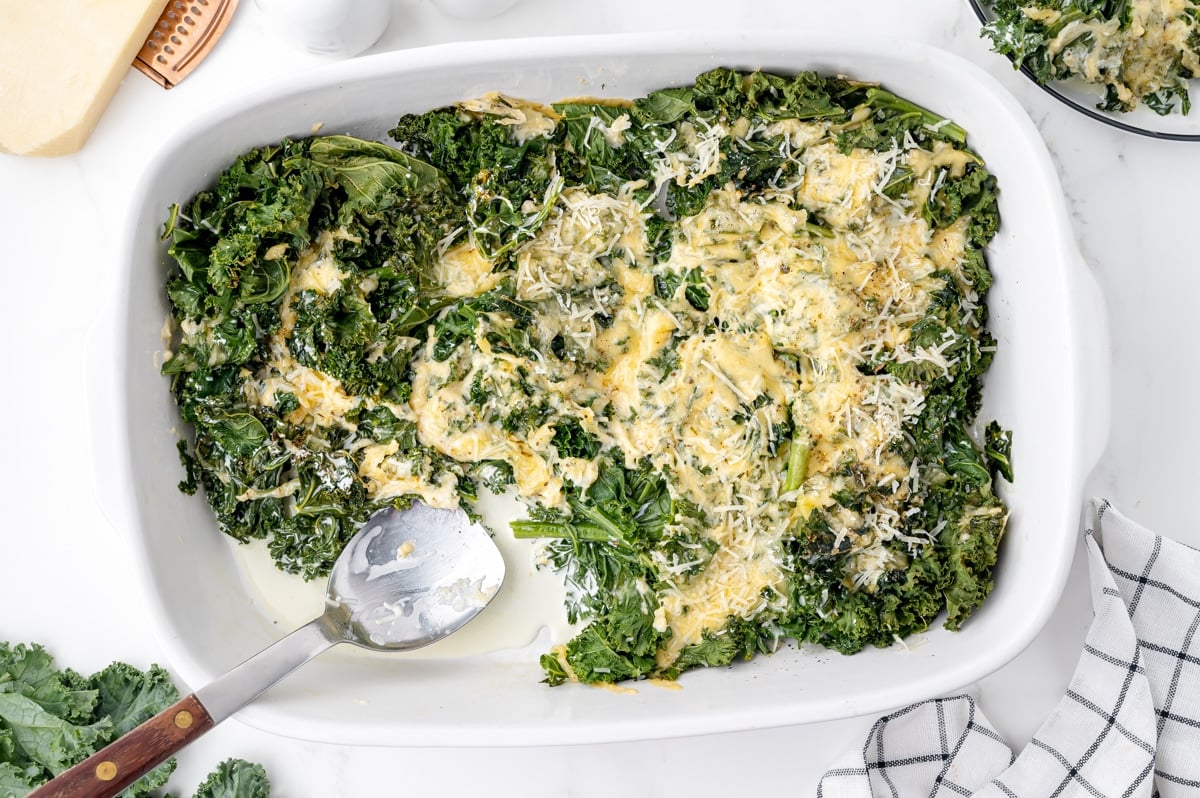 What to Serve with a Kale Side Dish
Because this is an easy side dish, you can really serve it alongside any main dish you'd like to. It pairs really well with other sides like sweet potatoes or even regular potatoes. It pairs really well with other sides like sweet potatoes, brown rice, swiss chard or even regular potatoes. Garlic bread slices are also great.
I serve it with my baked chicken thighs, steak frites, crab cakes and salmon croquettes regularly. This creamy gratin really goes with any main meal.
While this Baked Kale Gratin isn't a hard side dish, it isn't a particularly healthy side dish, either. Some people may hate the cheesy top and soupy bottom, but I have grown to love it and I hope you do too!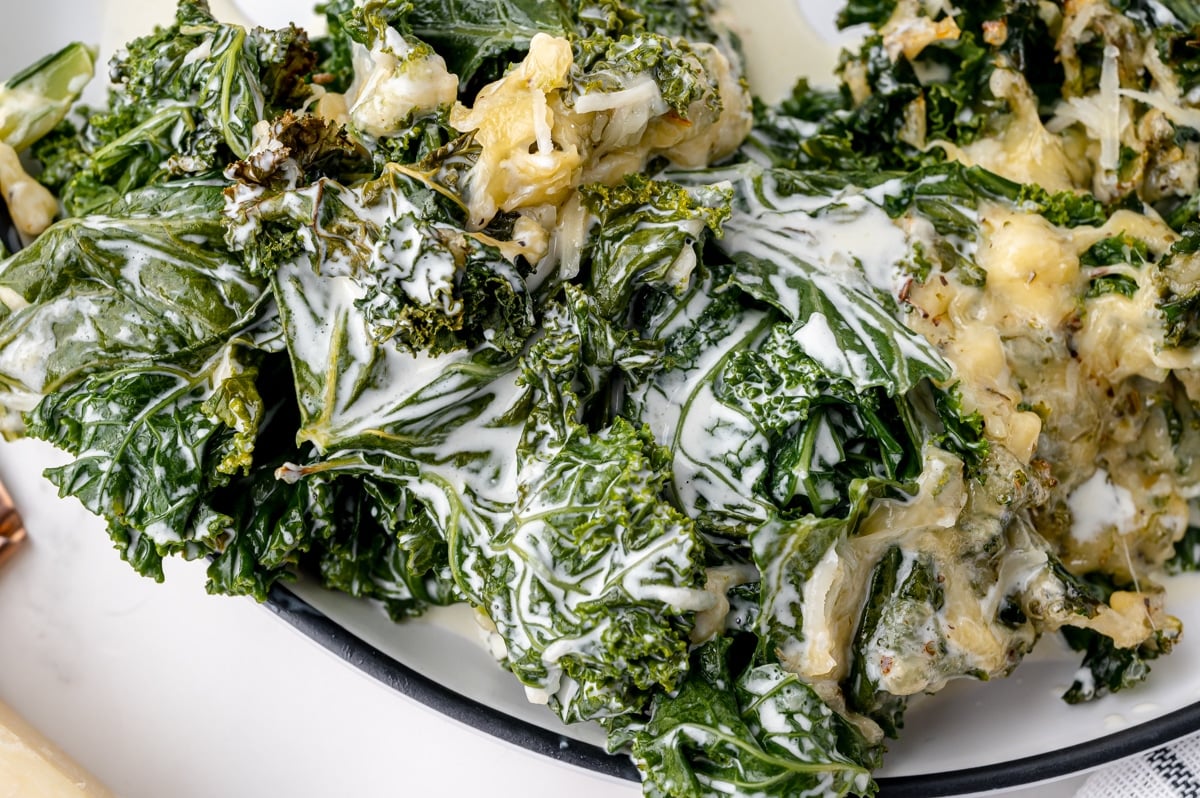 Benefits of Kale
While I am not a doctor or health expert, there are plenty of health benefits that these leafy greens can provide.
It has tons of vitamins and nutrients like: Vitamin A, Vitamin K, Vitamin C, Vitamin B6, Manganese, Calcium, Copper, Magnesium and more!
It's loaded with antioxidants.
It can help lower cholesterol.
It's high in fiber which promotes a healthy digestive system.
It's high in beta-carotene which is really good for your skin and nails.
If you have some leftover, consider make a salad or throwing it into a green smoothie.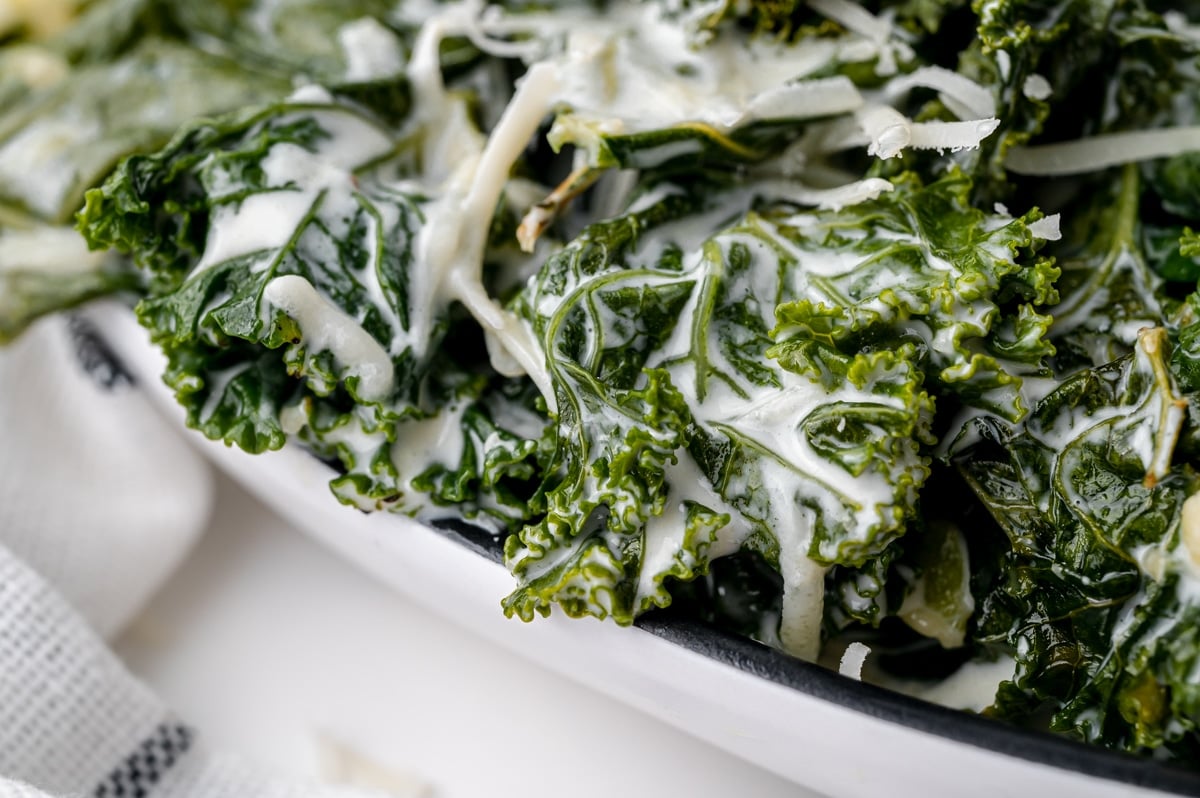 Storage and Freezing
Storage: You can store any leftover baked kale gratin in an airtight container. It will stay in the refrigerator for up to 3-5 days.
Freezing: You can also freeze this kale. Put in a resealable plastic bag or airtight container and keep in the freezer.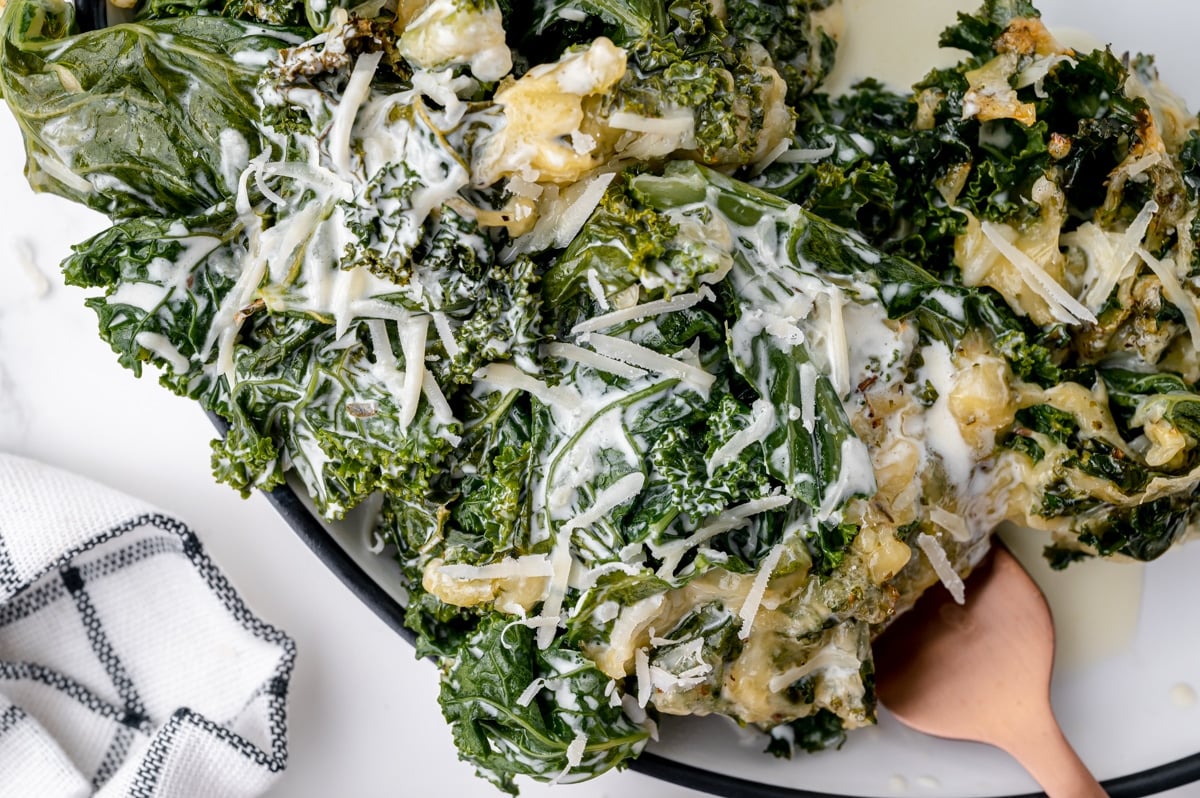 Frequently Asked Questions
Can I use a different type of cheese?
Sure! Use whatever cheese you have on hand. I've made this dish with cheddar, Gruyere (with freshly grated nutmeg) and even a Pepper Jack for a spicy blend of greens.
How do I reheat kale gratin?
I prefer to reheat it in the oven on 350 for about 5 minutes so the kale top remaining nice and crusty, but you can also microwave it for a few seconds. The exact time really depends on how much you are reheating.
Can I make this ahead of time?
Sure! I would assemble it and then pop it the oven when you are ready to cook.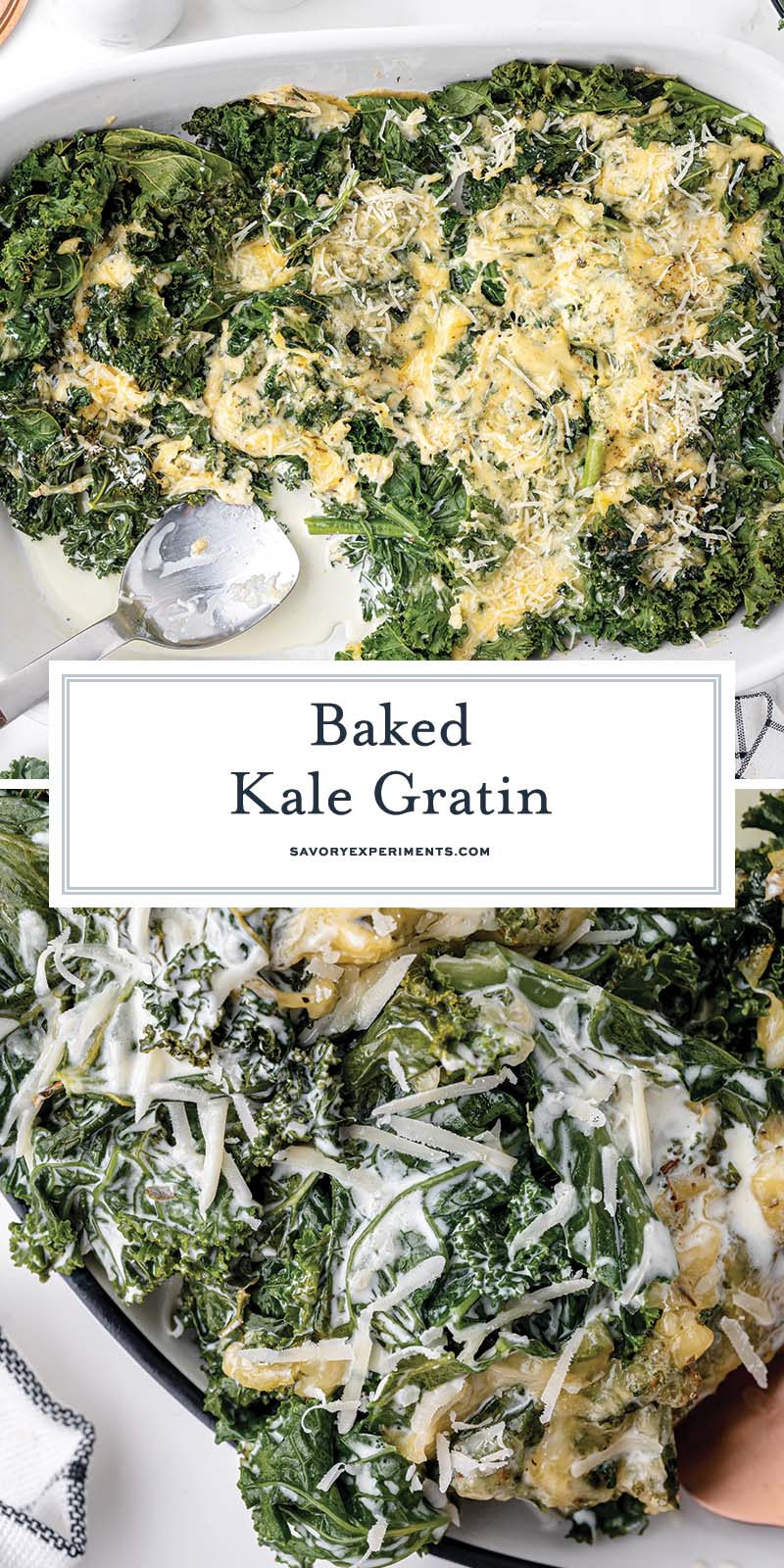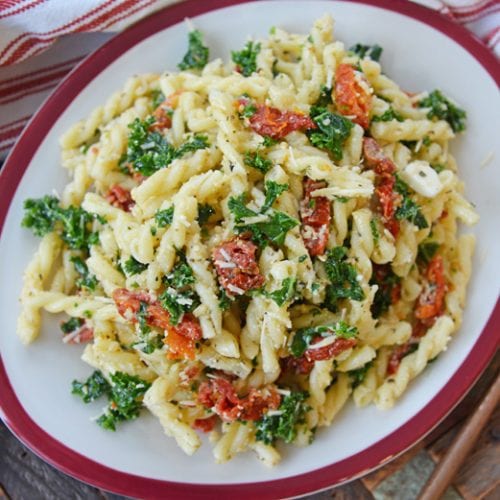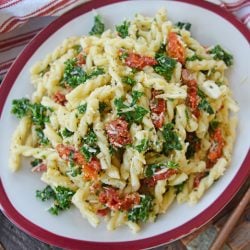 Kale Mac and Cheese
Massaged kale tossed with olive oil, garlic, Parmesan cheese and sundried tomatoes, this EASY Kale Pasta Salad is the ultimate side dish!
See The Recipe!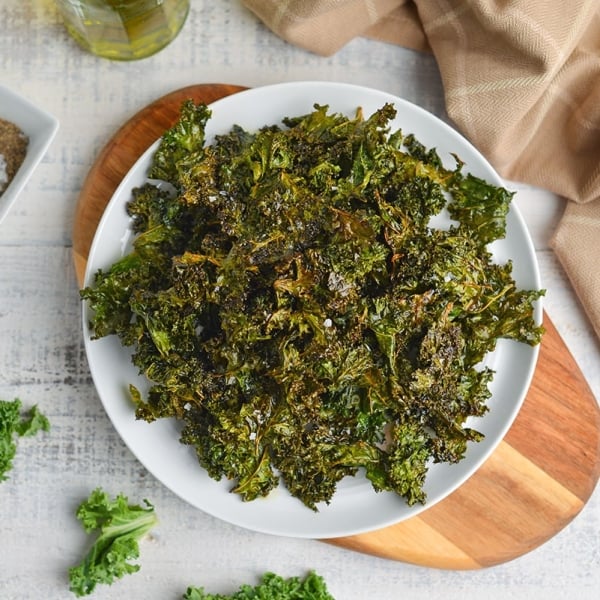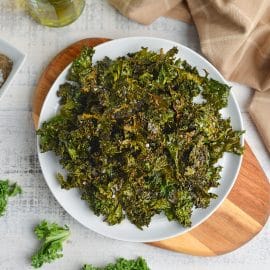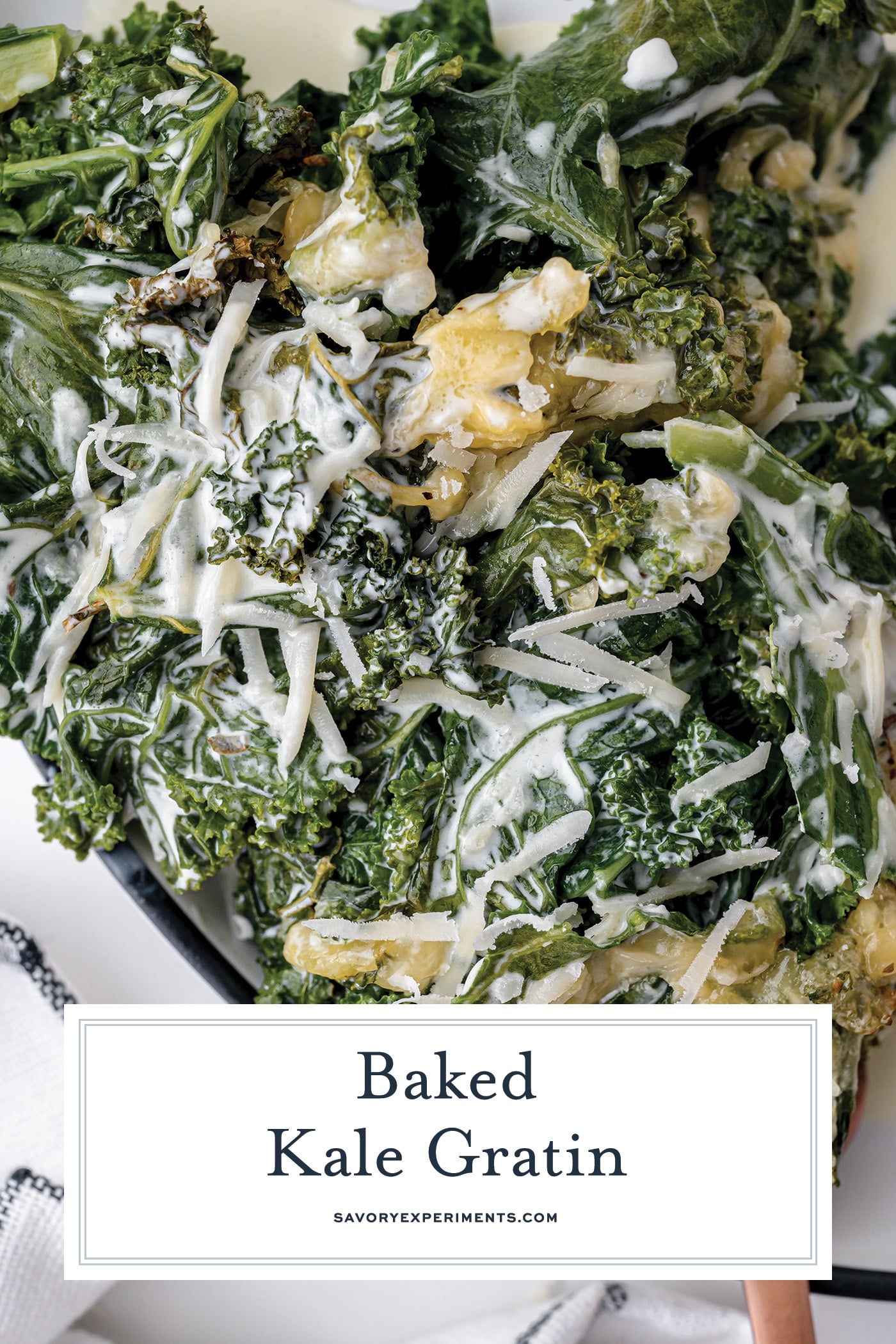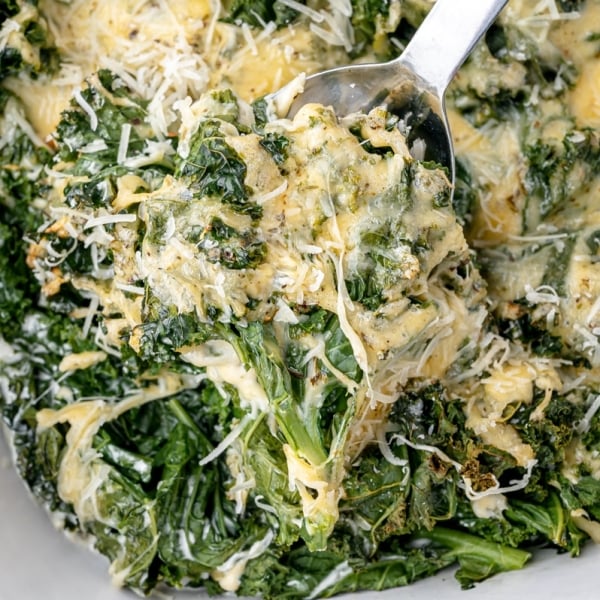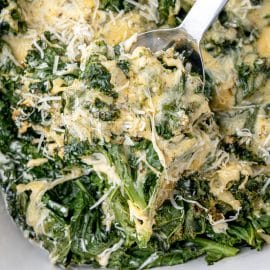 Baked Kale Gratin Recipe
This Baked Kale Gratin is one of the best kale recipes! You'll never have to wonder how to cook kale after you've tried this cheesy goodness!
Instructions
Coat a 5-6 quart casserole dish with cooking spray and preheat the oven to 350°F.

Using your hands, massage the kale well. This breaks down fibers making it silky smooth to eat.

Pile the kale into the casserole dish. Depending on the size and shape of your dish, it might mound, that is fine, it will cook down.

Top with the shredded cheese, Italian seasoning, garlic powder, onion powder, Kosher salt and freshly ground black pepper.

Pour the heavy cream over the top of the casserole.

Bake, uncovered, for 20-25 minutes or until it has reduced in size and cheese has melted.

Remove, top with parmesan cheese while still hot and serve immediately.

If you've tried this recipe, come back and let us know how it was in the comments or star ratings.
Nutrition
Calories:
347
kcal
,
Carbohydrates:
8
g
,
Protein:
16
g
,
Fat:
29
g
,
Saturated Fat:
18
g
,
Cholesterol:
111
mg
,
Sodium:
834
mg
,
Potassium:
419
mg
,
Fiber:
1
g
,
Sugar:
1
g
,
Vitamin A:
7555
IU
,
Vitamin C:
80.6
mg
,
Calcium:
478
mg
,
Iron:
1.2
mg