Have you jumped on the kale train yet? If you're hesitant to try kale, this cheesy, creamy Baked Kale Gratin recipe is a great place to start!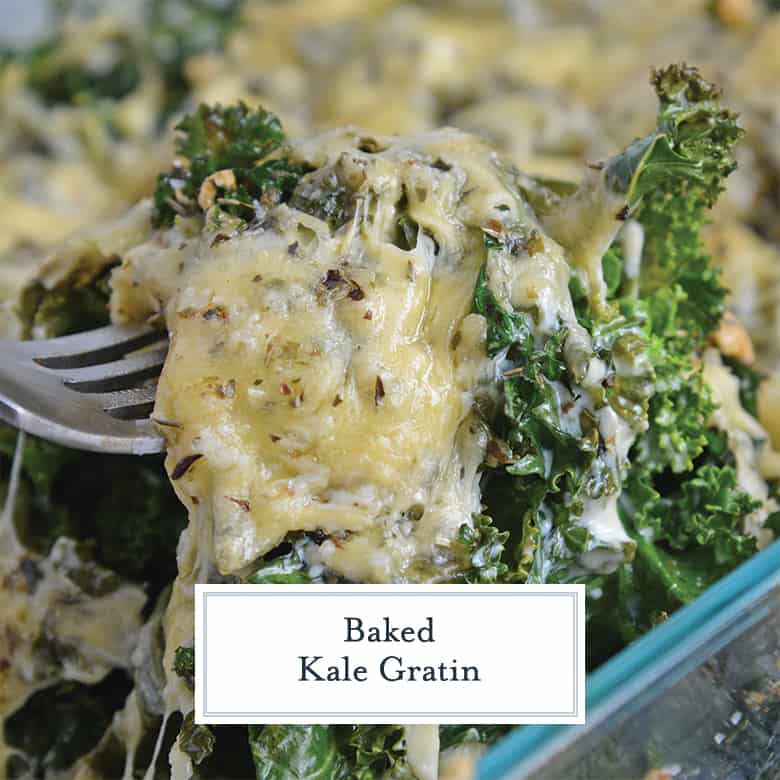 This Baked Kale Gratin is one of the best kale recipes! You'll never have to wonder how to cook kale after you've tried this cheesy goodness!
Kale was a super trendy "superfood" for several years. Now that the obsession is dying down, you rarely see it.
However I am just now figuring out how to incorporate it into our menus without hubby and my daughter making squishy faces.
So far, the best way they enjoy it is as kale chips. I make a traditional salted kale chip and ranch kale chips which are generally gone in seconds.
However, kale chips are tossed in olive oil and although it has its own health benefits and I am glad they are eating their leafy greens, it does pack a lot of calories.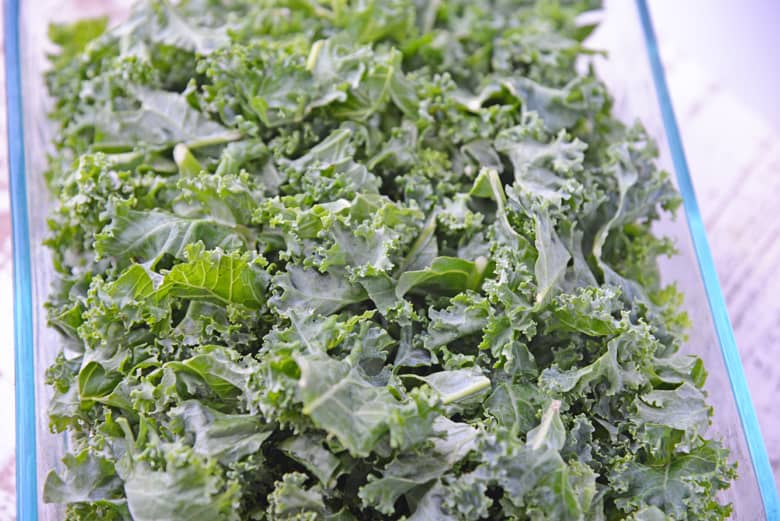 I also incorporate kale into salads. I find blending chopped kale with other leafy greens like romaine, butter, Bibb and iceberg lettuce gives it less toothiness.
PRO TIP: Massage kale before adding to recipes. It breaks down fibers so it feels more like a soft lettuce.
Another trick for cooking with kale is to massage it before adding it to the recipe. Break the leafy parts off from the steams and then really give it a deep tissue massage. This breaks down fibers and helps it become more chewable.
For my Baked Kale Gratin, it is certainly not a healthy side dish. It is topped with heavy cream and cheese, for goodness sake!
But I justify it that some salad dressings and other salad toppers probably have the same amount of fat and calories.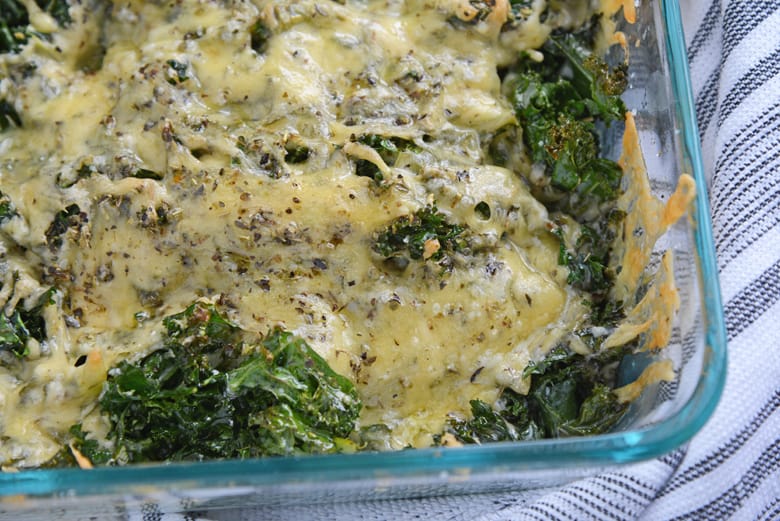 Regardless, my family is still getting the health benefits of kale and probably eating more of it than they would in chip or salad form.
The top of my Baked Kale Gratin gets a nice little crunch, cheese provides flavor and the cream gets a little soupy on the bottom.
In fact, the first time I made this dish was for Christmas. It was a recipe my sister had been wanting to try, so we gave it a whirl.
It only had three ingredients: cream, kale and Gruyere cheese (I believe). Although it was good, I felt like there was a little too much cream.
It just pooled at the bottom of the dish instead of blending with the cheese to make a cheese sauce.
Then I realized, I kinda liked it that way. So the next time I made it I reduced the cream, changed the cheese and added a few more seasonings like Homemade Italian Seasoning, Kosher salt and pepper.
This Baked Kale Gratin is actually pretty easy to make! As funny as it sounds, you'll first want to massage the kale to break down the fibers.
After massaging, you'll pile the kale into a casserole dish that has been sprayed with cooking spray.
Next you'll simply pour the heavy cream over top, sprinkle with shredded cheese and seasonings and pop it into the oven for 20-25 minutes! Easy peasy!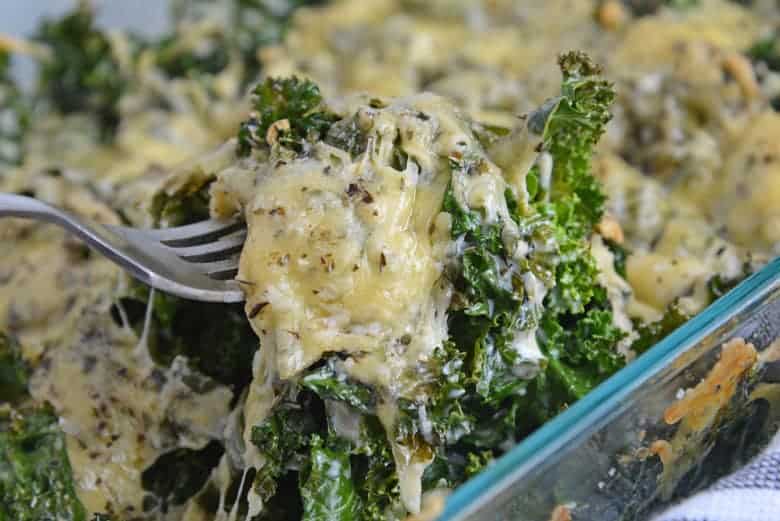 So while this Baked Kale Gratin isn't a hard side dish, it isn't a particularly healthy side dish, either. Some people may hate the cheesy top and soupy bottom, but I have grown to love it and I hope you do too!
PRO TIP: This gratin recipe is easiest served out of the dish cutting into squares with a fork and serrated knife.
In case you need more coaxing to try my Baked Kale Gratin, here are some of the health benefits of kale:
It has tons of vitamins and nutrients like: Vitamin A, Vitamin K, Vitamin C, Vitamin B6, Manganese, Calcium, Copper, Magnesium and more!
It's loaded with antioxidants.
It can help lower cholesterol.
It's high in fiber which promotes a healthy digestive system.
It's high in beta-carotene which is really good for your skin and nails.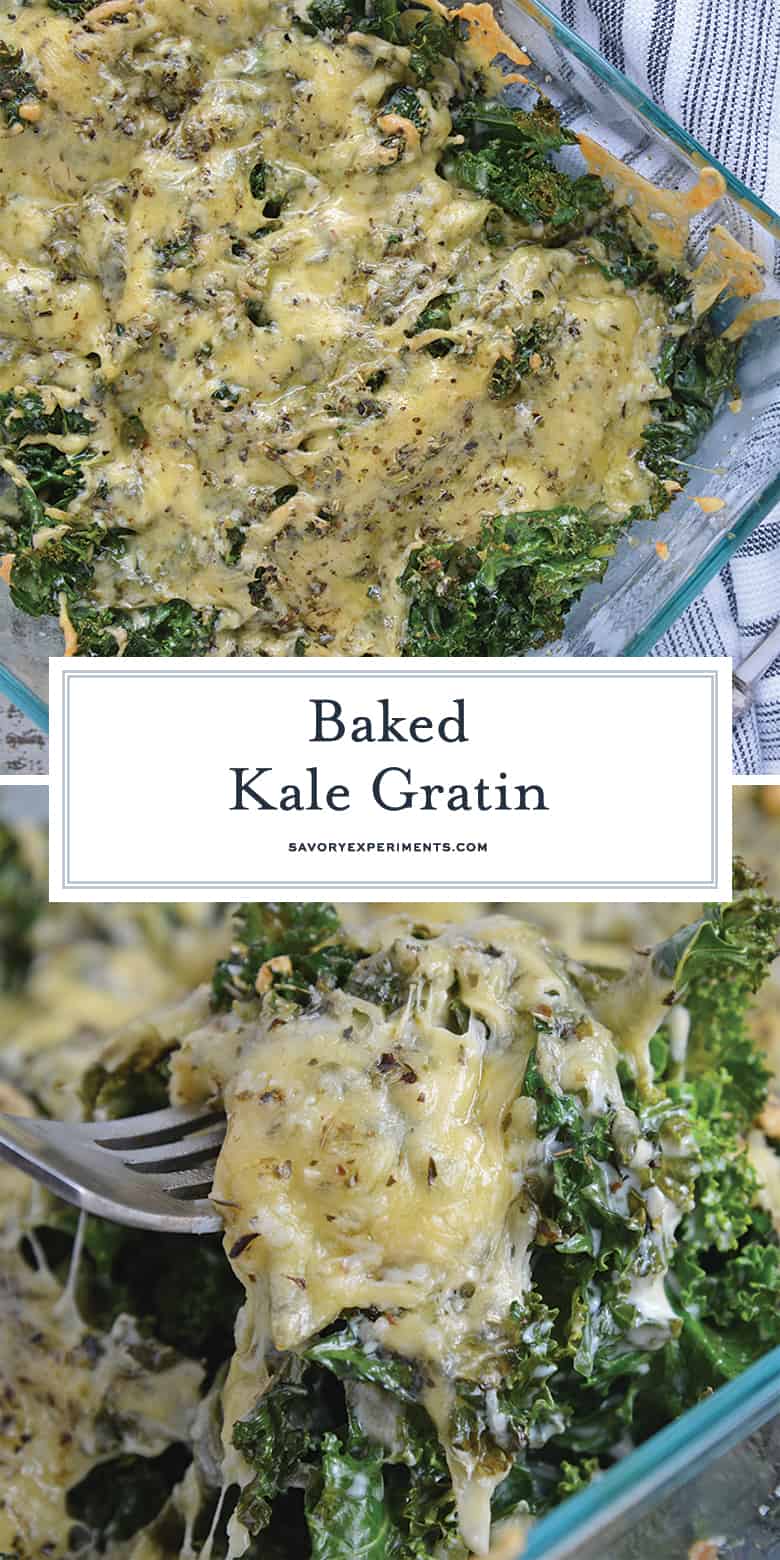 Questions you might have about how to make Kale Gratin:
Can I use a different type of cheese? Sure! Use whatever cheese you have on hand. I've made this dish with cheddar, Gruyere (with freshly grated nutmeg) and even a Pepper Jack for a spicy blend of greens.
Can I make this ahead of time? Sure! I would assemble it and then pop it the oven when you are ready to cook.
How do I reheat kale gratin? I prefer to reheat it in the oven on 350 for about 5 minutes so the kale top remaining nice and crusty, but you can also microwave it for a few seconds. The exact time really depends on how much you are reheating.
If you liked this baked kale recipe, check out these other kale recipes: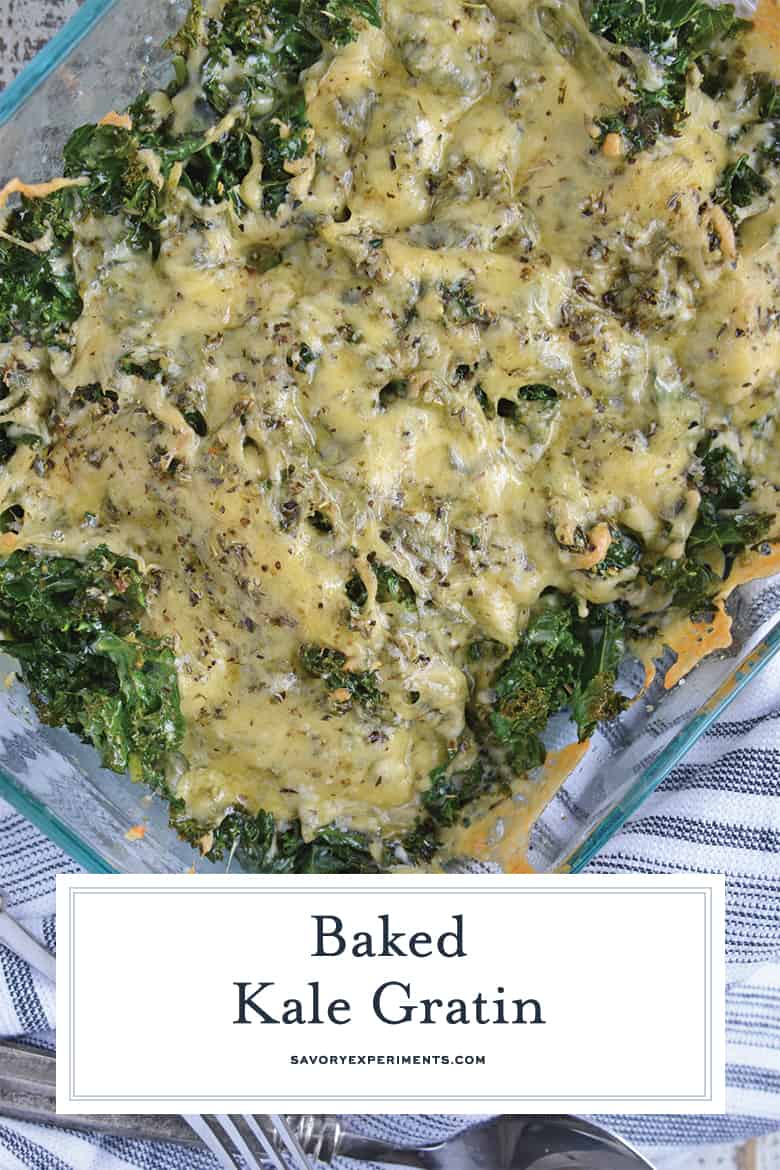 Tools for making Baked Kale Gratin:
6 Quart Baking Dish– I find this to be the perfect size baking dish for this meal, but you can use many other sizes.
Measuring Utensils– You can eyeball it or you can measure it, your call.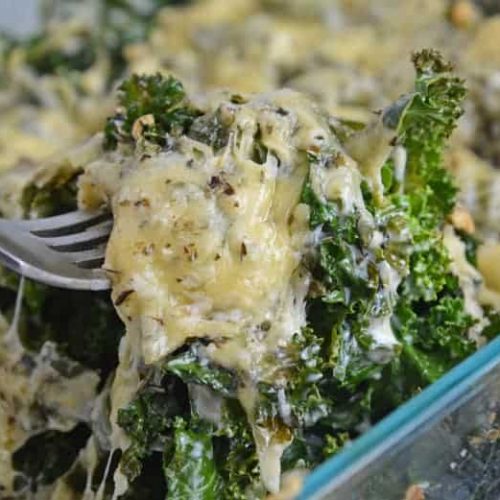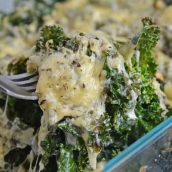 Baked Kale Gratin
This Baked Kale Gratin is one of the best kale recipes! You'll never have to wonder how to cook kale after you've tried this cheesy goodness!
Instructions
Coat a 5-6 quart casserole dish with cooking spray and preheat oven to 350 degrees.

Using your hands, massage kale well. This breaks down fibers making it silky smooth to eat.

Pile into casserole dish. Depending on the size and shape of your dish, it might mound, that is fine, it will cook down.

Pour heavy cream over the top.

Top with shredded cheese, Italian seasoning, Kosher salt and freshly ground black pepper.

Bake, uncovered, for 20-25 minutes or until it has reduced in size and cheese has melted.

Remove and serve immediately.

If you've tried this recipe, come back and let us know how it was!
Nutrition
Calories:
347
kcal
,
Carbohydrates:
8
g
,
Protein:
16
g
,
Fat:
29
g
,
Saturated Fat:
18
g
,
Cholesterol:
111
mg
,
Sodium:
834
mg
,
Potassium:
419
mg
,
Fiber:
1
g
,
Sugar:
1
g
,
Vitamin A:
7555
IU
,
Vitamin C:
80.6
mg
,
Calcium:
478
mg
,
Iron:
1.2
mg