You've got your cast iron skillet and you've properly seasoned it. But now I you actually want to cook something in it.
How to clean cast iron cookware in easy steps, plus how to care for and maintain cast iron to make the most of your seasoning and prevent rust!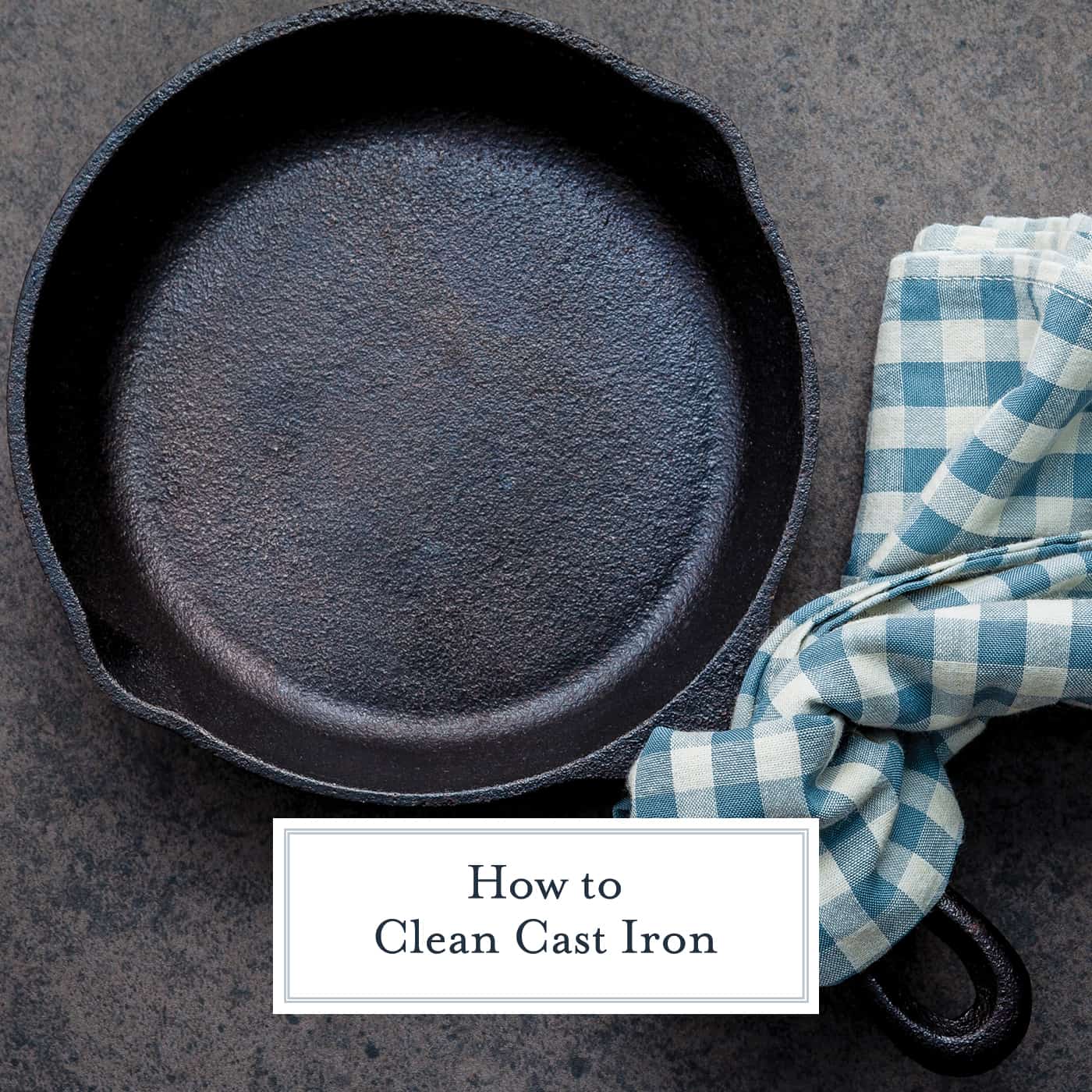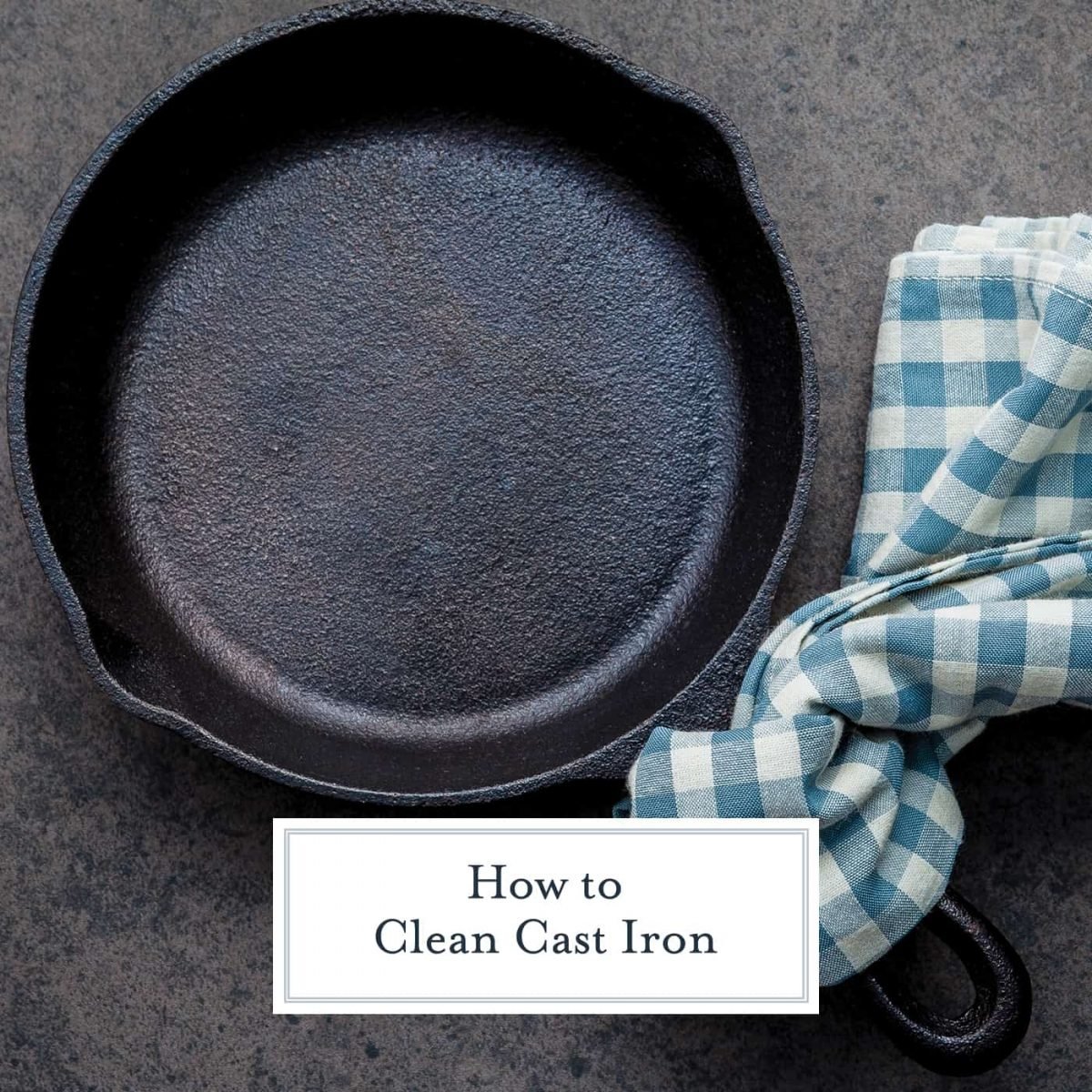 The food was marvelous, but now you have a cast iron skillet casked with all sorts of browned bits and burnt food. You've heard to never clean cast iron with soap and certainly never scrub it, so how do you get this thing clean?
I'll show you how to clean cast iron, maintain it and give you tips and tricks along the way.
Are you supposed to clean cast iron skillets?
Let's think about this logically. If you've ever cooked, even in the most nonstick of pans out there, there was food debris left in the pan. Imagine using this same pan over and over and over again without ever cleaning it. GROSS!
Yes, you can clean cast iron and YES you should be cleaning cast iron! There are just better ways to clean cast iron than regular cookware to prevent stripping the glorious and flavorful seasoning.
Can you clean cast iron with salt?
Yes, you can clean cast iron with salt, in fact this is my prefered method. Use a stiff brush or the cut side of a raw potato to rub around coarse salt and remove all the stuck-on bits. Salt also helps to add more flavor. Kosher salt or coarse sea salt work well.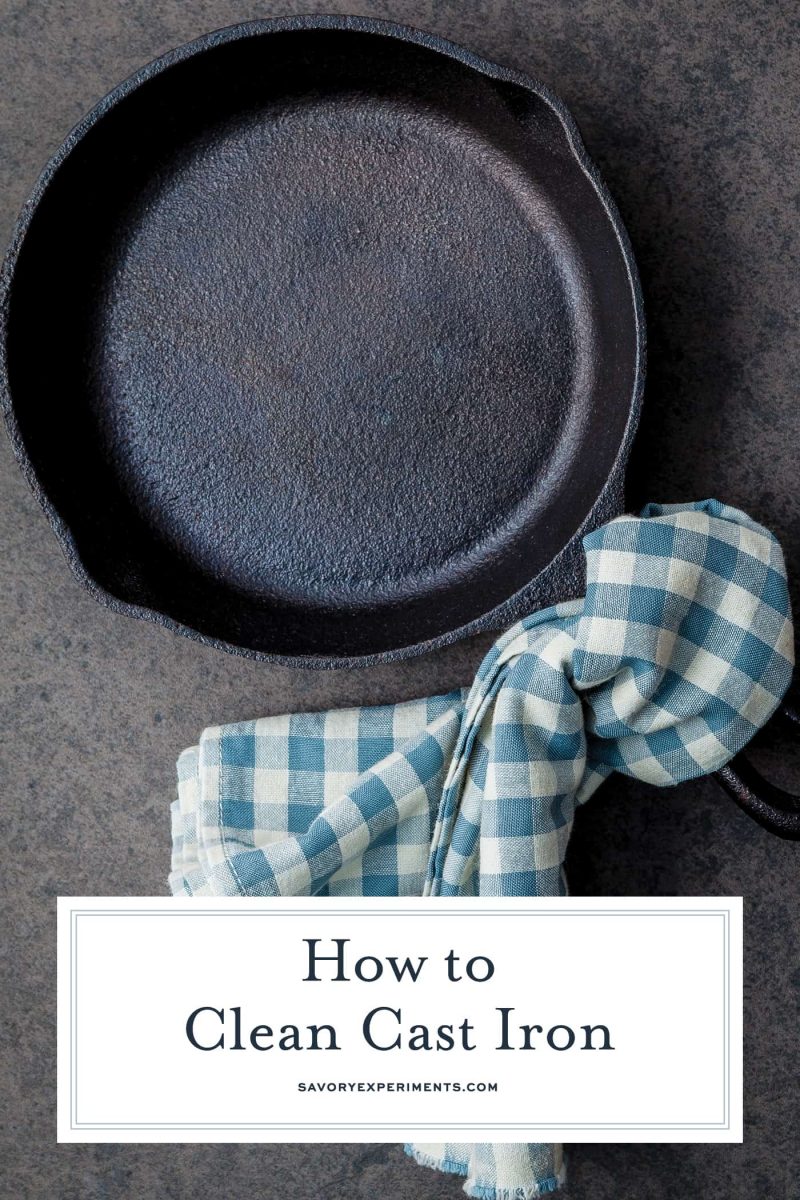 Can you clean cast iron with soap?
Yes, you can clean cast iron with soap, however it will require you to reseason the cast iron. There are some jobs that require soap. It is just a fact.
You can use your regular dish soap or buy fancy cast iron soap. Clean it as you would any other pan, then you'll have to follow the process of reseasoning the pan, which is essentially the same process as initially seasoning cast iron. Wash, dry, oil, bake and re-oil.
You can also try putting water into the cast iron and boiling it to remove stuck-on bits.
Can you clean cast iron with steel wool?
I would avoid using steel wool, as it is so abravie that you can easily strip your cast iron of the coveted seasoning. Use a cast iron stiff brush if you need to scrub, but only reserve this for extreme cases.
Can I use baking soda to clean cast iron?
You can use baking soda to clean, deodorize and remove any lingering aromas and flavors, but be mindful that it will remove the offensive, but also the good stuff. Use sparingly.
Can I use vinegar to clean my cast iron pan?
Yes, in fact, you can let it sit for a while too and it helps remove rust. Generally, you wouldn't want to put acidic things like vinegar into your cast iron, but in this case, you aren't consuming the vinegar.
Can I use a brillo pad to clean cast iron?
Brillo pads come under the same heading as steel wool. You can, but only in extreme cases and it will also take off some of the seasoning. The pan will require reseasoning.
How do I clean rust from my cast iron?
Both the salt and vinegar method work for removing rust. This is one of the few scenarios when you might want to consider using steel wool. The cast iron will require reseasoning.
Scroll on down for more detailed information on cleaning!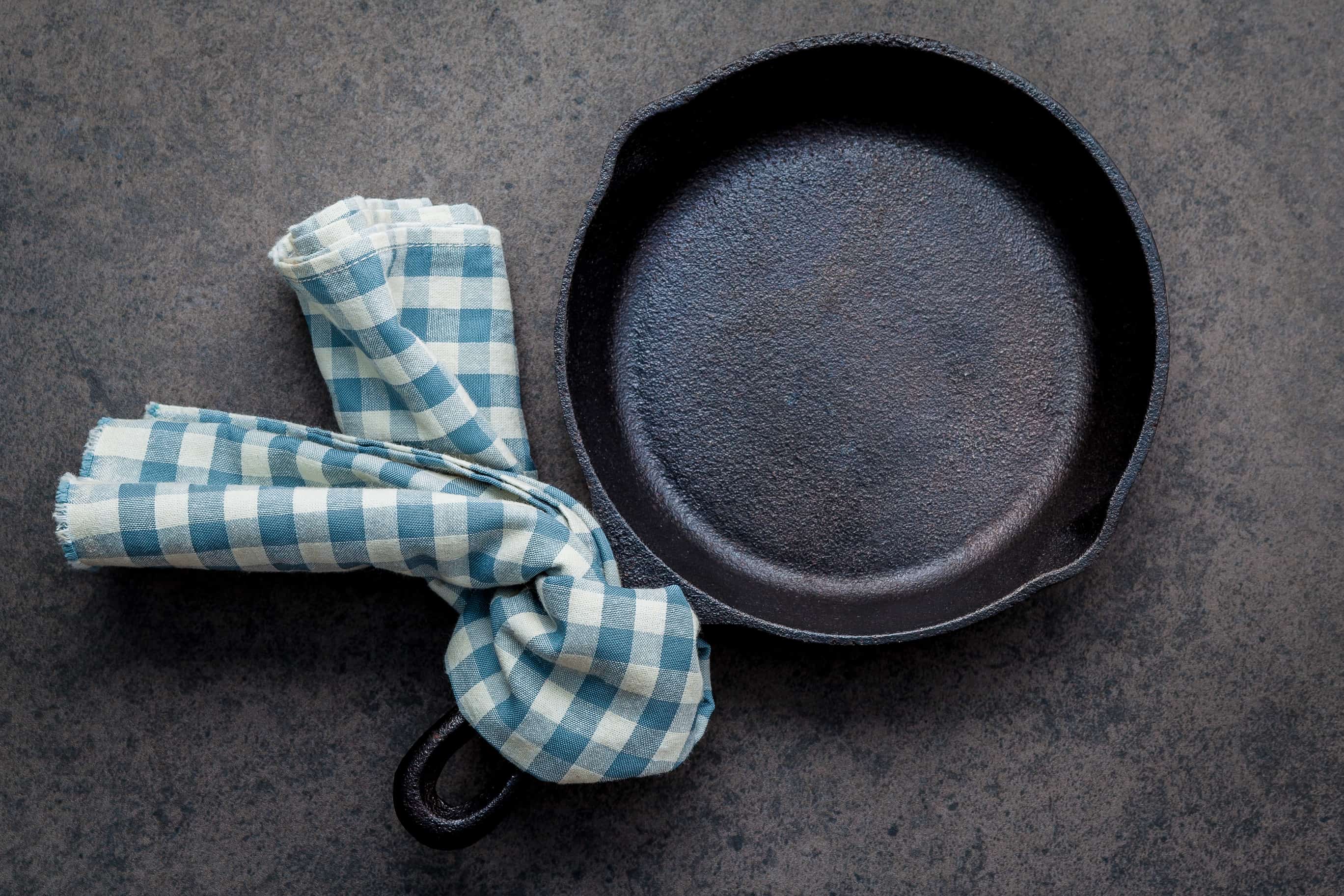 How do I prevent my cast iron from rusting?
Honestly, I've never had rust on my cast iron cookware and it is because I maintain it well. As long as you care for it, rust won't happen.
There are two basic things to prevent rust: avoid moisture and create a protective barrier.
Even when I am regularly washing my cast iron with just hot water, I let it sit in a warm oven to dry. This ensures it is really dry, not just kitchen towel dry. Just use whatever residual heat is left in the oven after cooking, turn it off and you'll be fine.
Apply a thin layer of oil to the pan before putting it away. This creates a barrier from rust forming. I only oil the inside of my pan and I've never had an issue with rust forming on the outside, but you can also oil the outside.
I nest all of my cast iron cookware together in a dry cabinet separated by a paper towel. I only do this to prevent too much oil from being on the bottom surface of the cookware when I go to make something again. I am the queen of setting off the fire alarm. Heheh.
Tips for Cleaning a Cast Iron Skillet:
It is easiest to wash a cast iron skillet while it is still hot using just hot water and a stiff brush.
Use coarse salt or Kosher salt and a potato to provide abrasion to really stuck-on, stubborn pieces.
Do not soak your cast iron skillet in water.
Do not put cast iron in the dishwasher.
Always make sure your cast iron is dry before storing it.
Create a barrier using a thin layer of oil.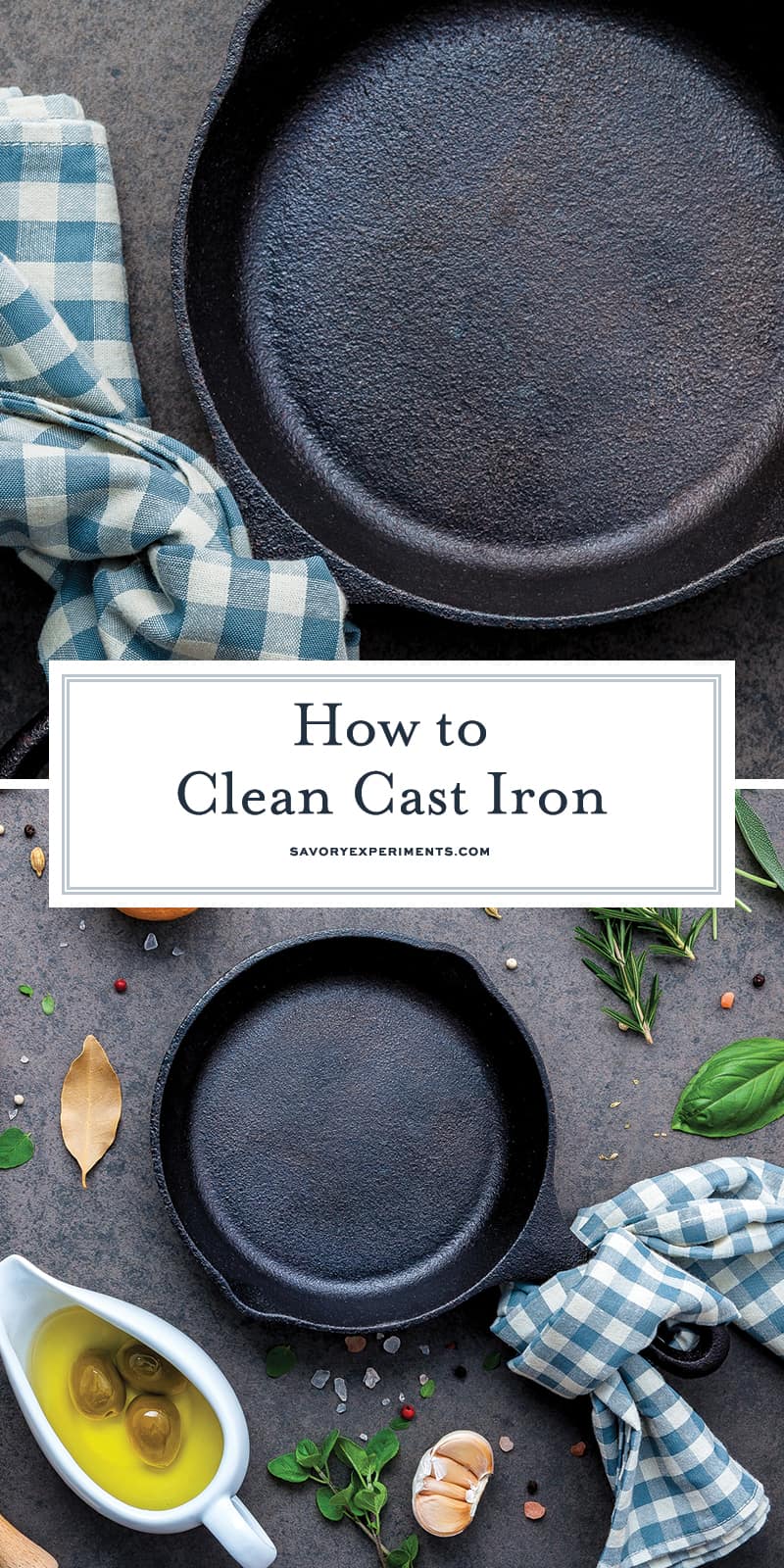 How to Clean Cast Iron:
Clean your cast iron in just 5 minutes!
Stiff brush, optional
Kitchen towels
Vegetable oil, shortening or olive oil
Kosher salt/Coarse Salt + raw potato, if you have caked on food
Instructions:
ONE. Clean the skillet immediately after using it while it is still hot or warm. Cast iron holds heat well, so even if you eat your meal, it will still be warm right after you eat.
TWO. Wash the skillet using hot water and a stiff brush. See notes above about using soap or steel wool.
If you have stuck-on, stubborn foods, cut a raw potato in half and using the cut end, scrub with coarse salt or Kosher salt. Rinse with hot water.
THREE. Dry well with a dry kitchen towel.
FOUR. Using a cloth or paper towel, apply a light coat of vegetable, shortening or olive oil.
FIVE. Store the skillet in a dry place. If you nest them, place a paper towel between each. Oil on the bottom of the skillet will smoke when you go to cook with it.
SIX. If you've tried this technique, come back and let us know how it worked!
If you are looking for fabulous cast iron skillet recipes, give these a whirl!
Also check out my roundup of 19+ Fabulous Cast Iron Skillet Recipes!