Hey you! Yes you, the one looking for a stellar cornbread recipe! This is an easy sweet potato cornbread recipe that is perfect side dish for Thanksgiving, serving with a bowl of chili or your favorite BBQ recipes.
It is a combination of sweet potato flavor and a classic cornbread recipe. You are going to love the moist texture and delicious flavors.
Why You'll Love This Sweet Potato Cornbread
A moist cornbread that is full of fall flavor- what's not to love!
Perfect for fall – With the slightly sweet and robust flavor of sweet potato, this cozy cornbread is perfect for pairing with your fall favorites.
Easy to make – With simple ingredients and in under an hour, you can have this delicious cornbread on the table.
Loved by all – This recipe is a great way to sneak some extra veggies in, because you don't even see them! Making it perfect for picky eaters.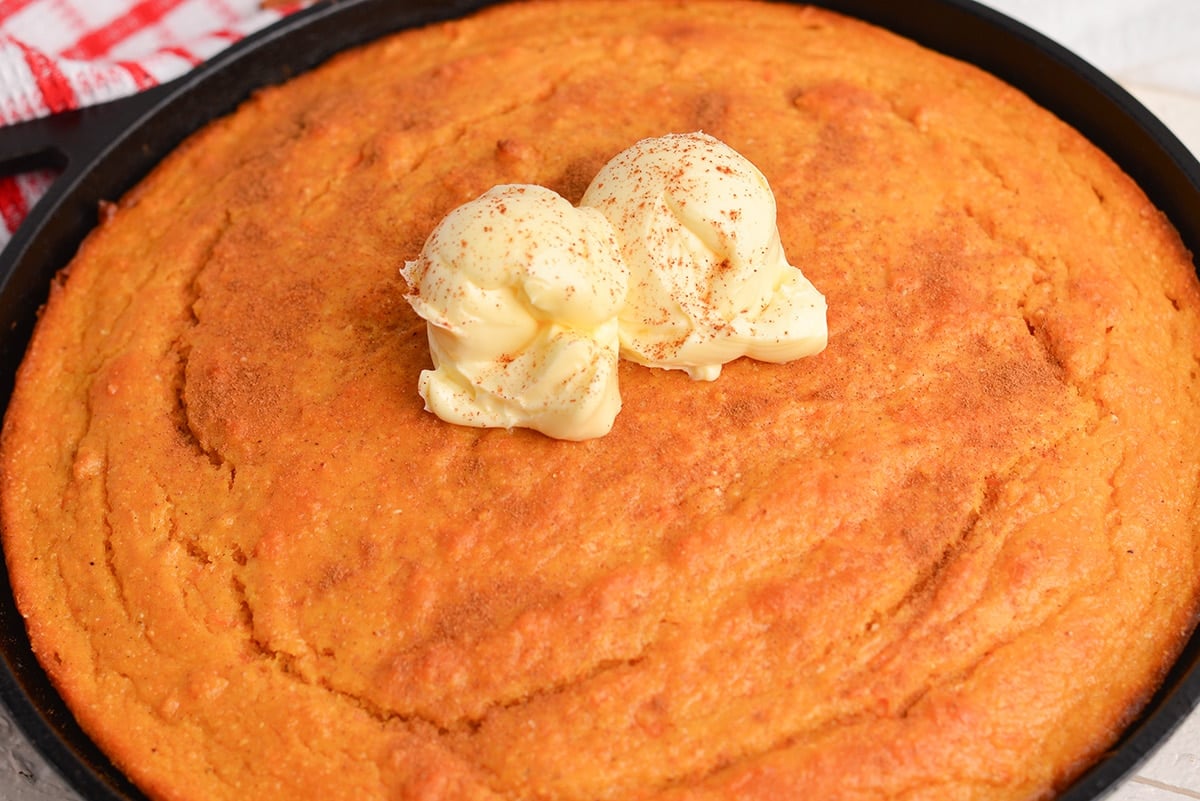 Why Cook Cornbread in Cast Iron?
There are many benefits to making your cornbread in cast iron. Of course, use a casserole dish or glass pan if you have it available. Do not use a glass pie dish for this recipe, it won't be large enough!
Cooking cornbread in a cast iron skillet is a popular and traditional method that offers several benefits:
Even Heat Distribution: Cast iron skillets are known for their excellent heat retention and even distribution. It becomes very hot and maintains a consistent temperature, which helps bake cornbread evenly throughout and keeps it warm while serving. Just don't touch the pan!
Crispy Crust: The preheated cast iron skillet creates a sizzling effect when the cornbread batter is poured in, resulting in a crispy and golden crust. Coupled with the shortening, it is superb!
Natural Nonstick Surface: Over time, a well-seasoned cast iron skillet develops a natural nonstick surface. This means that the cornbread is less likely to stick to the skillet, making it easier to remove slices without breaking them apart. I still use some shortening because of the high smoke point.
Flavor Enhancement: Cooking cornbread in a well-seasoned cast iron skillet can impart a subtle, pleasant flavor that comes from the seasoned layers of oil on the skillet's surface.
Aesthetic Appeal: Cornbread baked in a cast iron skillet often has a rustic and charming appearance, which can enhance the presentation when serving.
Cultural and Historical Connection: Cooking cornbread in a cast iron skillet has deep historical and cultural roots, especially in Southern and Appalachian cuisines. It's a tradition that has been passed down through generations.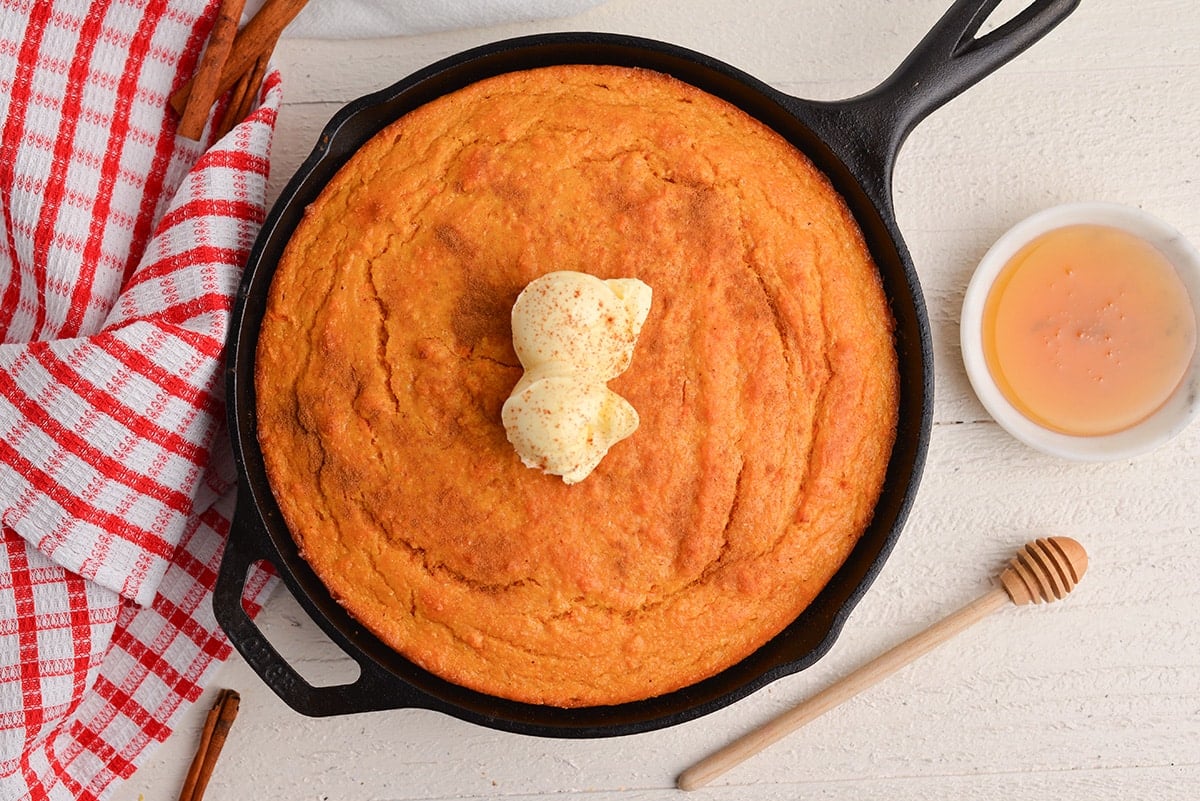 What You Need to Make Sweet Potato Cornbread
The ingredients required for this perfect Sweet Potato Cornbread recipe are easy to find and easy to put together. Trust me… it will be perfect, just follow the recipe.
Sure, here's bulleted information on each of the ingredients you've mentioned:
Vegetable Shortening: A solid fat and perfect for baking due to the high melting point makes it suitable for high-temperature baking.
Yellow Cornmeal: Coarsely ground dried corn kernels which adds texture, flavor, and a characteristic golden color to cornbread.
All Purpose Flour : Provides structure and helps bind ingredients together.
Baking Powder: Leavening agent that helps the cornbread rise and become light and fluffy. Contains a combination of an acid (usually cream of tartar) and a base (usually baking soda).
Coarse Kosher Salt: Larger grains of salt compared to table salt with better flavor and it enhances flavor and provides a slight crunch.
Ground Cinnamon & Allspice (Optional): Adds warmth and depth of flavor, common spice used in both sweet and savory dishes, it is an optional ingredient for adding a hint of spice to the cornbread. Pumpkin pie spice can also be used.
Sweet Potatoes: A root vegetable with a sweet flavor and vibrant orange color. Adds moisture, natural sweetness, and nutrients to the cornbread. I generally use fresh sweet potatoes and then cook them, but if you want to use canned sweet potatoes, yams or sweet potato puree for ease, go ahead!
Large Eggs : Provides structure, moisture, and helps bind ingredients, also adds richness and contributes to the overall texture of the cornbread.
Plain Yogurt: Adds moisture, tanginess, and richness to the cornbread while helping tenderize and lighten the texture. Sour cream can also be used.
Buttermilk: Tangy, acidic dairy product often used in baking and reacts with baking soda to provide leavening and create a tender crumb.
Melted Butter : A fat that adds flavor, richness, and moisture to baked goods. I use unsalted so I can control the saltiness.
Dark Brown Sugar: Brown sugar with a higher molasses content than light brown sugar, it adds a deep, caramel-like flavor and moistness to the cornbread and enhances the overall sweetness and color.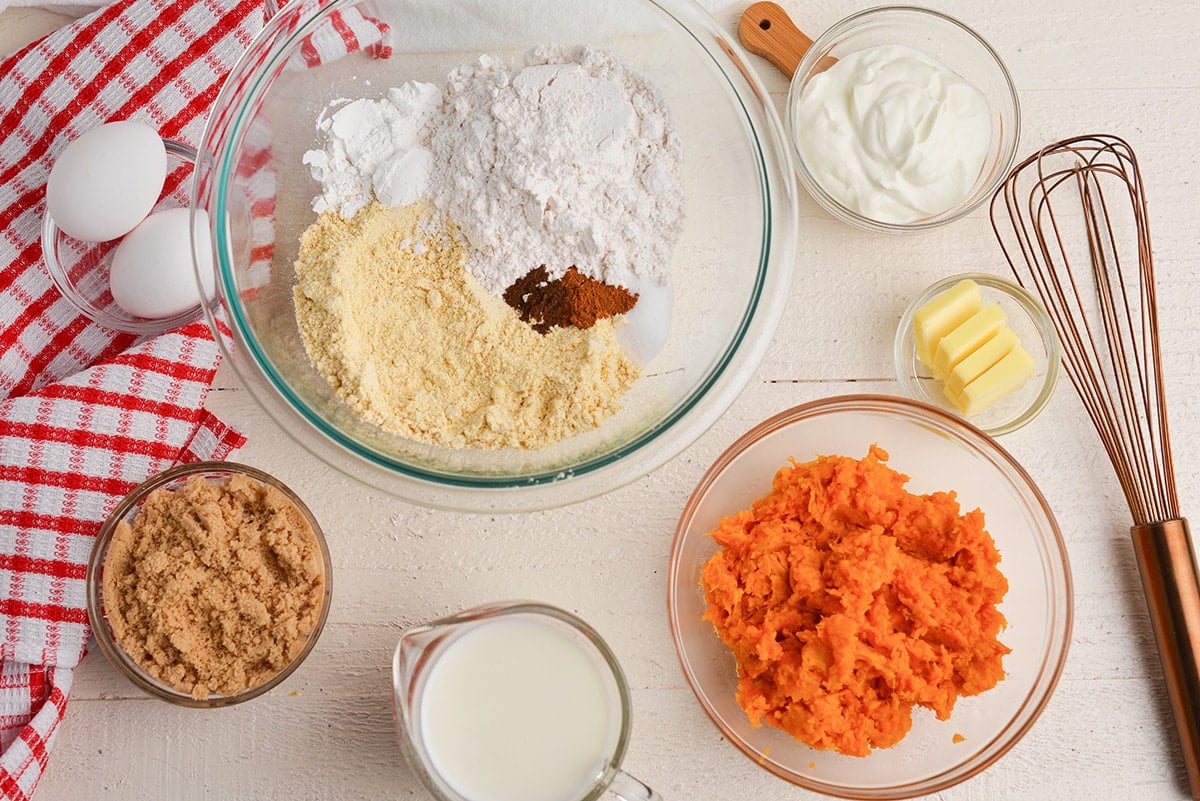 How to Make Sweet Potato Cornbread
Making this cornbread is super easy- less than 10 minutes to make the batter and then pop it in the oven.
Make sure you have cooked sweet potatoes- either leftover, canned or make sweet potatoes in the microwave. Mash them really well so there aren't any large chunks.
Preheat the oven and lightly grease a 10-inch cast iron skillet with vegetable shortening or vegetable oil. I prefer using one of these two because of the smoke point. Butter has the tendency to burn.
Whisk together the cornmeal, flour, baking powder, salt, cinnamon and allspice in a large mixing bowl, this ensures equal distribution.
Beat together the sweet potato mash, eggs, yogurt, dark brown sugar and butter in a large bowl.
Alternate adding the dry ingredients and buttermilk to the wet ingredients until fully mixed. Do not overmix the sweet potato mixture, this overworks the gluten and can make your bread dry and rubbery. The sweet potatoes may still be a little chunky, that is fine!
Pour the batter into the prepared cast iron skillet. Bake for 30-35 minutes. Test using the toothpick test.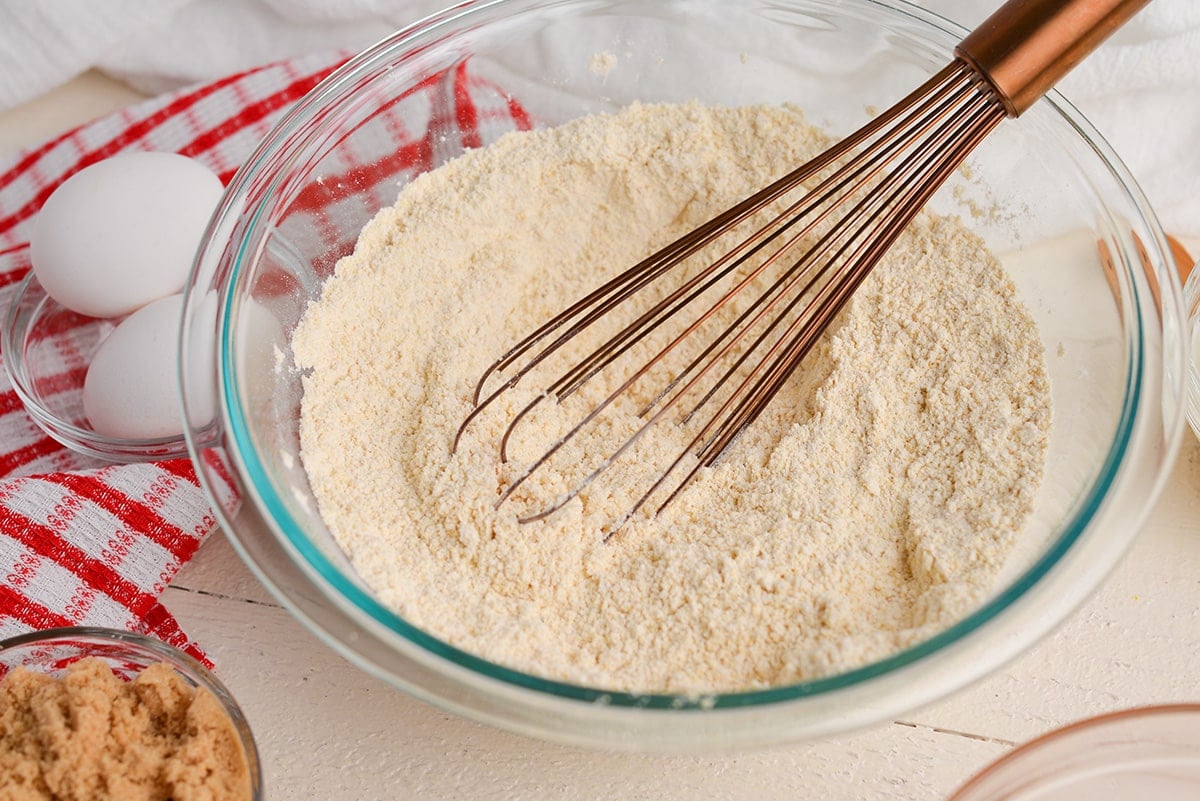 What to Serve with Cornbread
I like to serve Sweet Potato Cornbread with Cinnamon Honey Butter or Molasses Butter and then a drizzle of honey, maple syrup or even agave nectar. Doing it that way makes a wonderful breakfast for a crowd or sweet treat alongside a spicy chili or BBQ pulled pork. Here are a few of our favorites:
Leftover cornbread also makes for an excellent stuffing base and can even be cut in half and used in my Chicken Enchilada Pie, the perfect way to hide veggies from kids!
Also use it to make cornbread croutons, cornbread salad or can be used as the base for a cornbread casserole!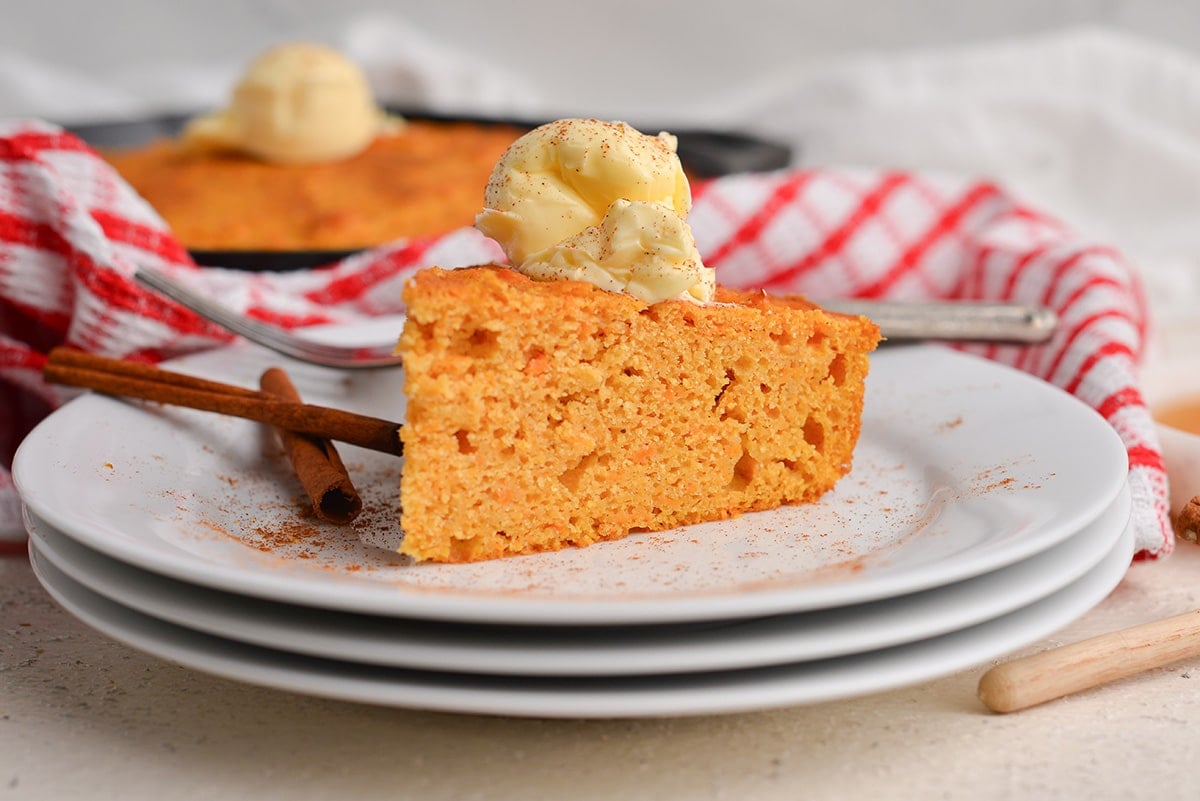 Did You Know SweetPotato is One Word?
Did you know that sweetpotato is actually one word? Most people still use two, so we do as well, but in 1989 this nun (not an adjective) was officially changed to one word to help standout against it's very commonly confused cousin the yam.
And as we know, sweet potatoes are not yams! You've likely never even had a yam in your lifetime because they aren't grown in the US. So bring up this little bit of trivia at your table tonight.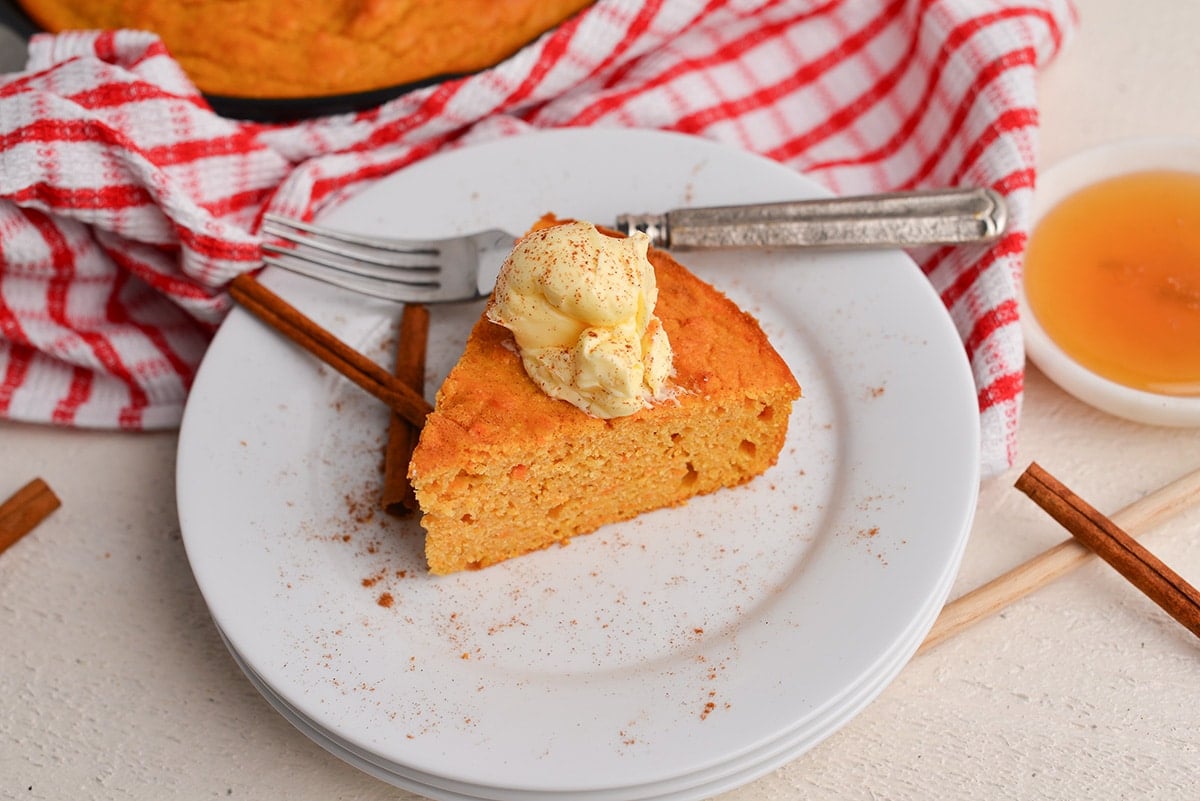 Storage, Freezing & Reheating
How to Store Cornbread
Allow the cornbread to cool completely at room temperature. If it is hot, the steam will make it mushy and rubbery when thawed.
Wrap the cornbread tightly in plastic wrap or aluminum foil to prevent moisture loss and to keep it fresh.
Store the wrapped cornbread in an airtight container or a resealable plastic bag.
Keep the container or bag in a cool, dry place, such as a pantry or bread box.
Cornbread stored at room temperature is best consumed within 2-3 days to ensure optimal freshness. Since it has so much moisture, it can also start to develop unwanted mold.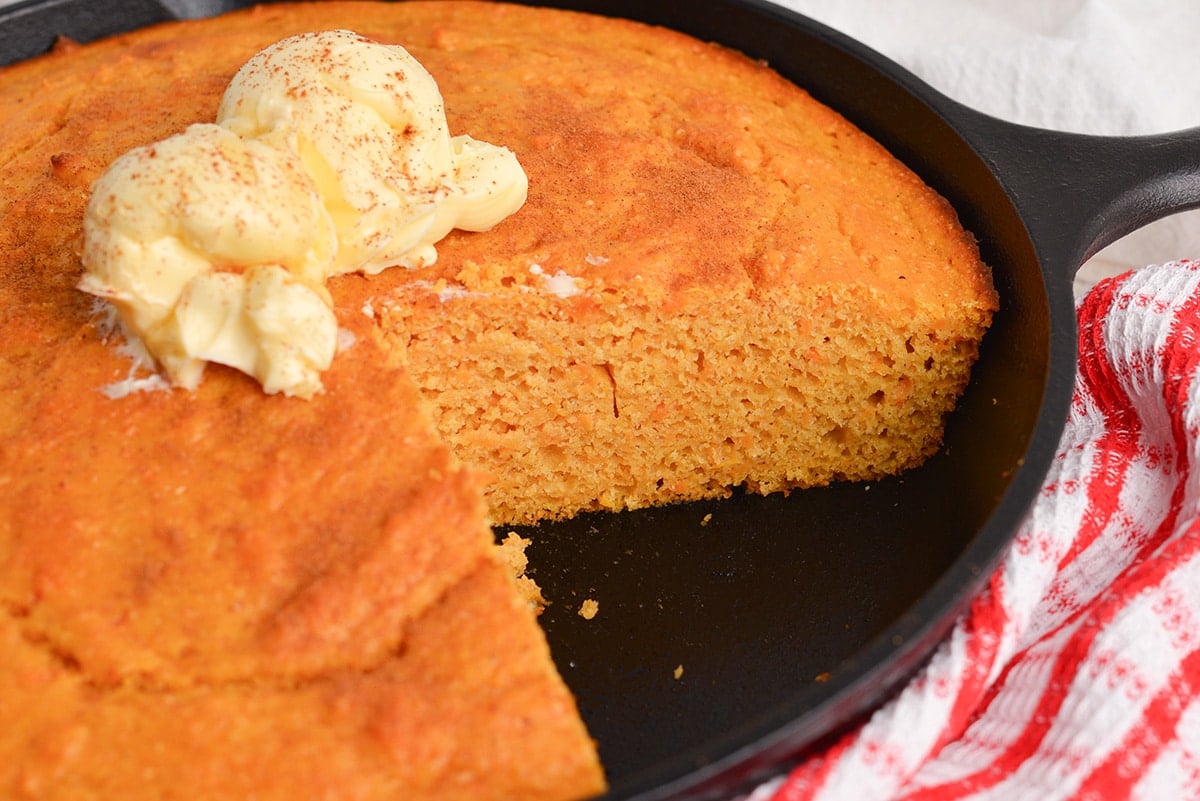 How to Freeze Cornbread
To freeze cornbread, it's best to do so before cutting it into slices. However, if you've already cut it, that's fine too. The edges dry out so it if it is in one big piece, you'll have less occurrence of this.
Wrap the cornbread tightly in plastic wrap or aluminum foil to prevent freezer burn and maintain its moisture.
Place the wrapped cornbread in a heavy-duty freezer-safe plastic bag or a vacuum-sealed bag, removing as much air as possible.
Place the bag in the freezer, ensuring it lies flat to prevent the cornbread from getting squished.
Frozen cornbread can be stored for about 2-3 months. While it might still be safe to eat after this period, the quality may begin to deteriorate.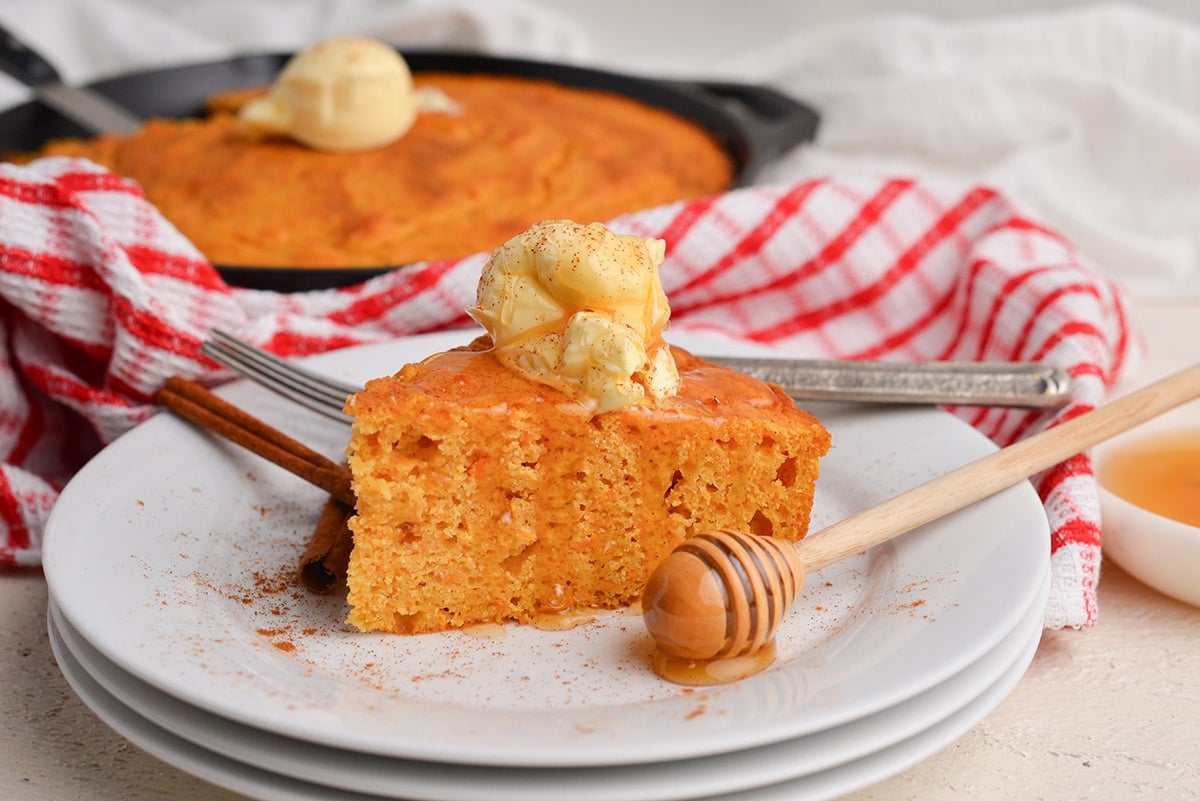 How to Reheat Cornbread
To thaw frozen cornbread, transfer it from the freezer to the refrigerator and let it thaw overnight.
Once thawed, you can reheat the cornbread for a few minutes in the oven at a low temperature (around 250°F) to restore its texture and flavor. You can also use a microwave, but the texture might be slightly different. Wrap it in a paper towel and heat for 15 seconds at 50% power.
To reheat individual slices, you can use a toaster or toaster oven.
Remember that freezing and reheating may affect the texture and moisture of the cornbread, but these steps will help preserve its taste and quality as much as possible.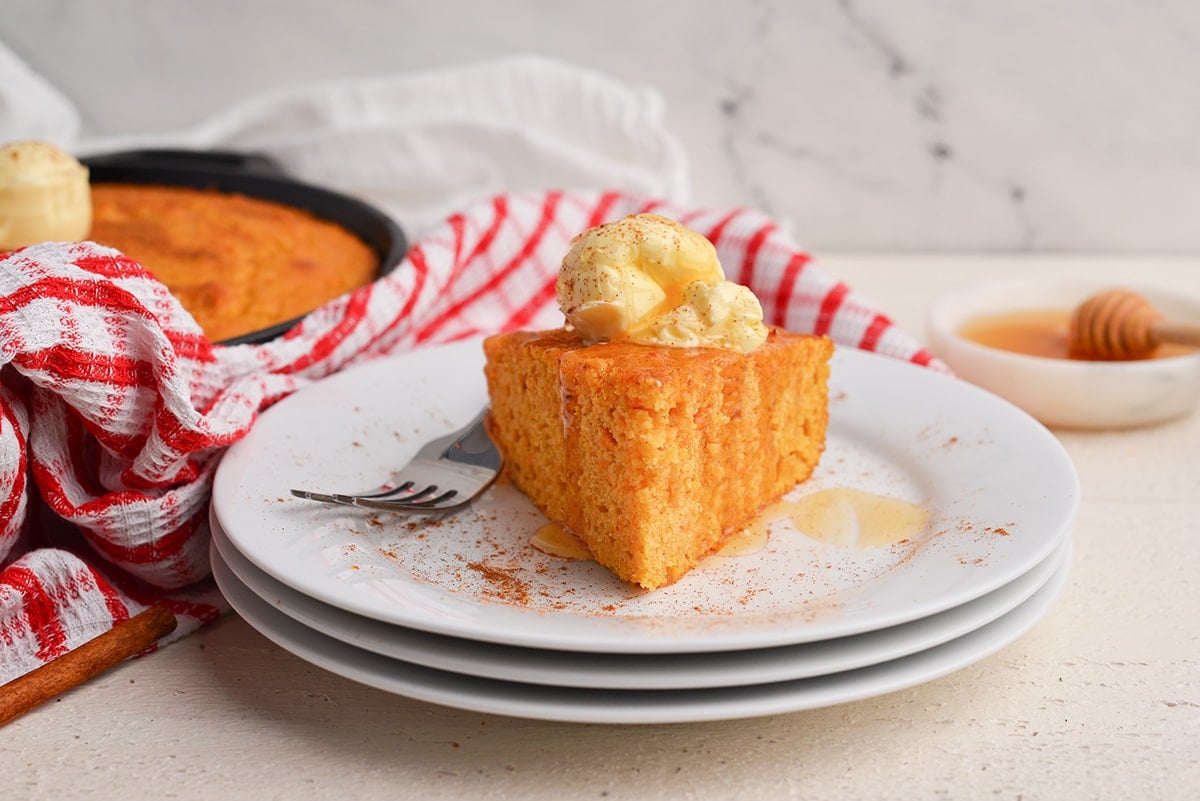 Commonly Asked Questions
How many cups in 1 cooked sweet potato?
There is about 3/4-1 cup in a medium sweet potato. We used 2 medium sweet potatoes for 1 1/4 cups mashed sweet potato. You don't have to be exact and can use anywhere between 1-1 1/2 cups for this recipe.
Should sweet potatoes be soaked before cooking?
In some cases, like larger sweet potato chunks, soaking can prevent them from becoming mushy by pulling out the starch, however for this recipe and other mashed sweet potatoes, it is not necessary.
Why use sweet potatoes in cornbread?
In the South, the caramelized spuds were used to replace sugar. However, this recipe uses both sweet potato and molasses laced brown sugar to bring flavor to this moist cornbread recipe.
Can I make this in a different dish?
We have only tested this recipe in a 10-inch cast iron skillet, which 3 quarts. I would venture to think any 3-quart casserole dish, baking dish or square pan will be fine as long, but the baking time might vary so keep a close eye on it.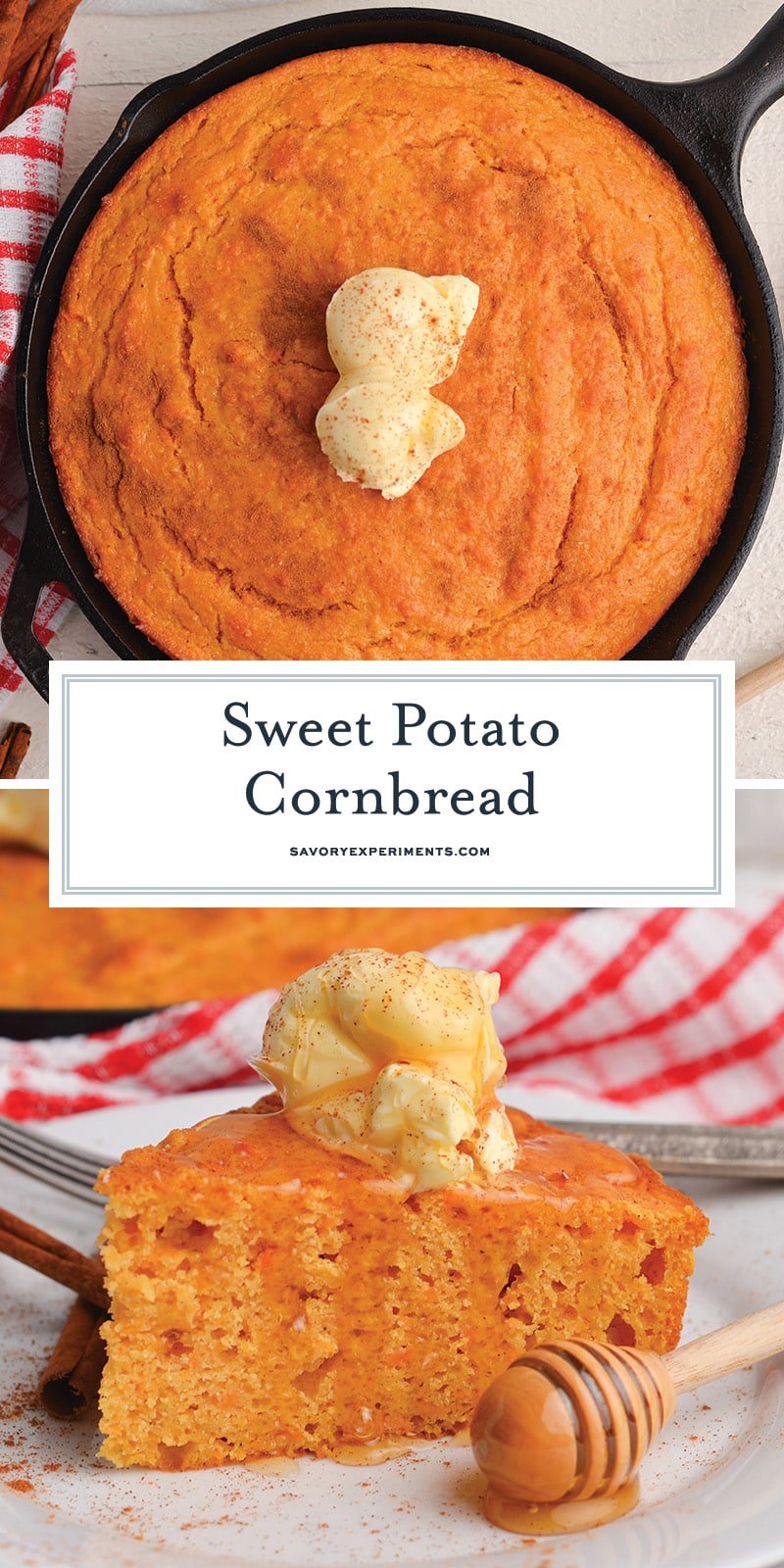 More Cornbread Recipes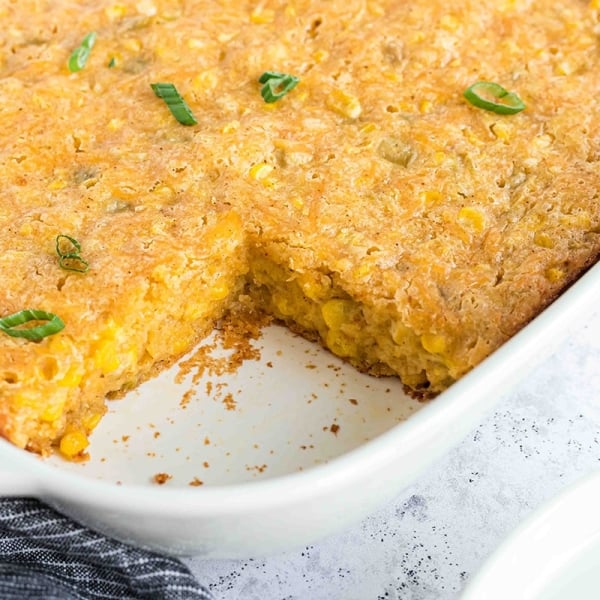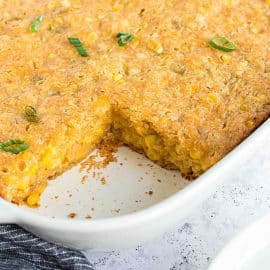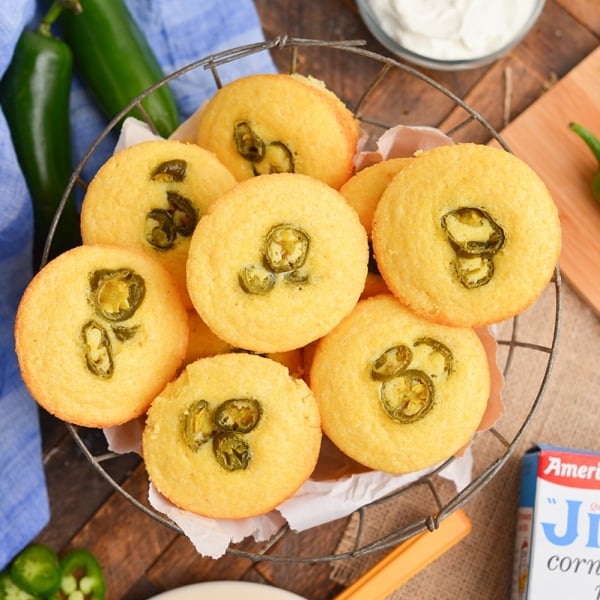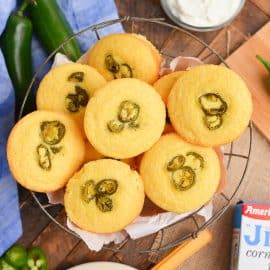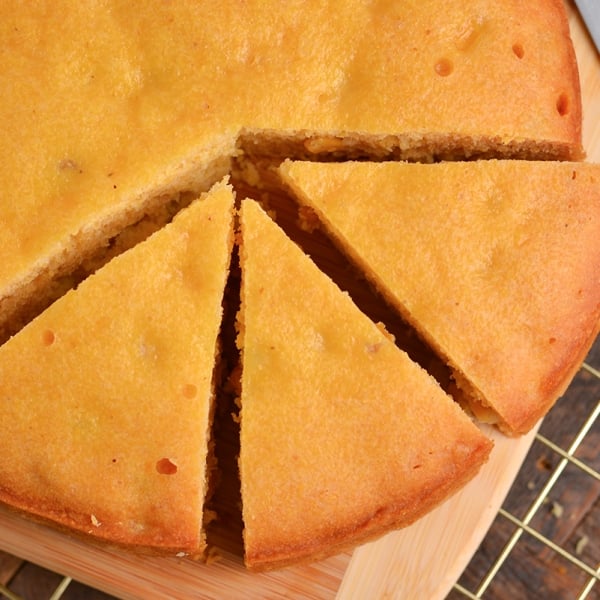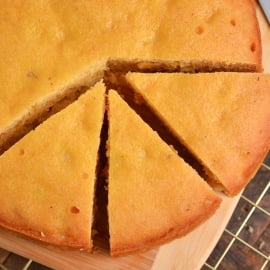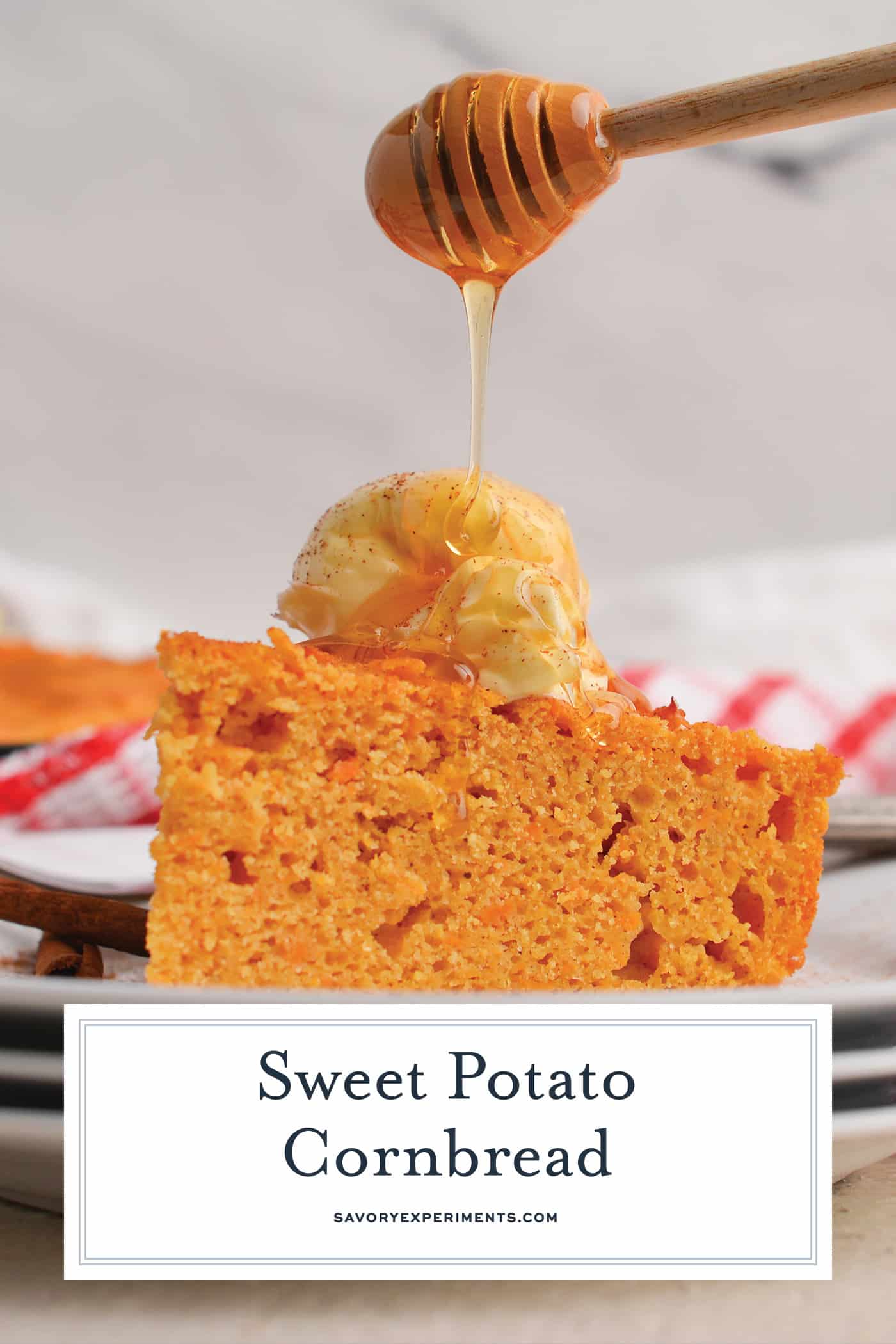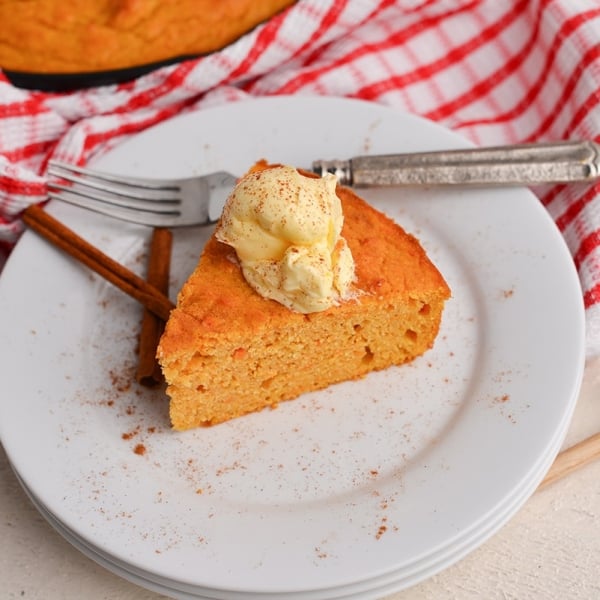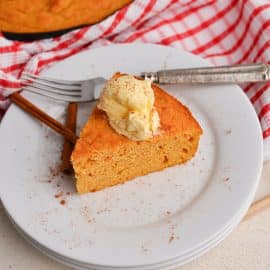 Sweet Potato Cornbread Recipe
Sweet Potato Cornbread is a sweet combination of two of my favorite fall foods: sweet potatoes and cornbread all baked in a cast iron skillet.
Instructions
Preheat the oven to 375°F. Lightly grease a large cast iron skillet with vegetable shortening or vegetable oil.

Whisk together the cornmeal, flour, baking powder, salt, cinnamon and allspice. Set aside.

In the bowl of a stand mixer fitted with the paddle attachment or large mixing bowl, beat the sweet potatoes, eggs, yogurt, dark brown sugar and butter. Mix until combined.

Alternate adding the dry ingredients and buttermilk until fully mixed. Do not overmix. The sweet potatoes may still be a little chunky.

Pour the batter into the prepared cast iron skillet. Bake for 30-35 minutes. Test using the toothpick test.

If you've tried this recipe, come back and let us know how it was in the comments or star ratings!
Notes
The average sweet potato is about 3/4 cup mashed. They come in so many shapes and sizes. I usually buy two medium sweet potatoes and then cook them in the microwave.
Nutrition
Calories:
394
kcal
,
Carbohydrates:
62
g
,
Protein:
10
g
,
Fat:
11
g
,
Saturated Fat:
5
g
,
Cholesterol:
102
mg
,
Sodium:
493
mg
,
Potassium:
461
mg
,
Fiber:
4
g
,
Sugar:
19
g
,
Vitamin A:
2715
IU
,
Vitamin C:
0.4
mg
,
Calcium:
149
mg
,
Iron:
2.7
mg