Hey you! Yes you, the one looking for a stellar cornbread recipe! This is an easy sweet cornbread recipe that is perfect for Thanksgiving or any other holiday event you are hosting!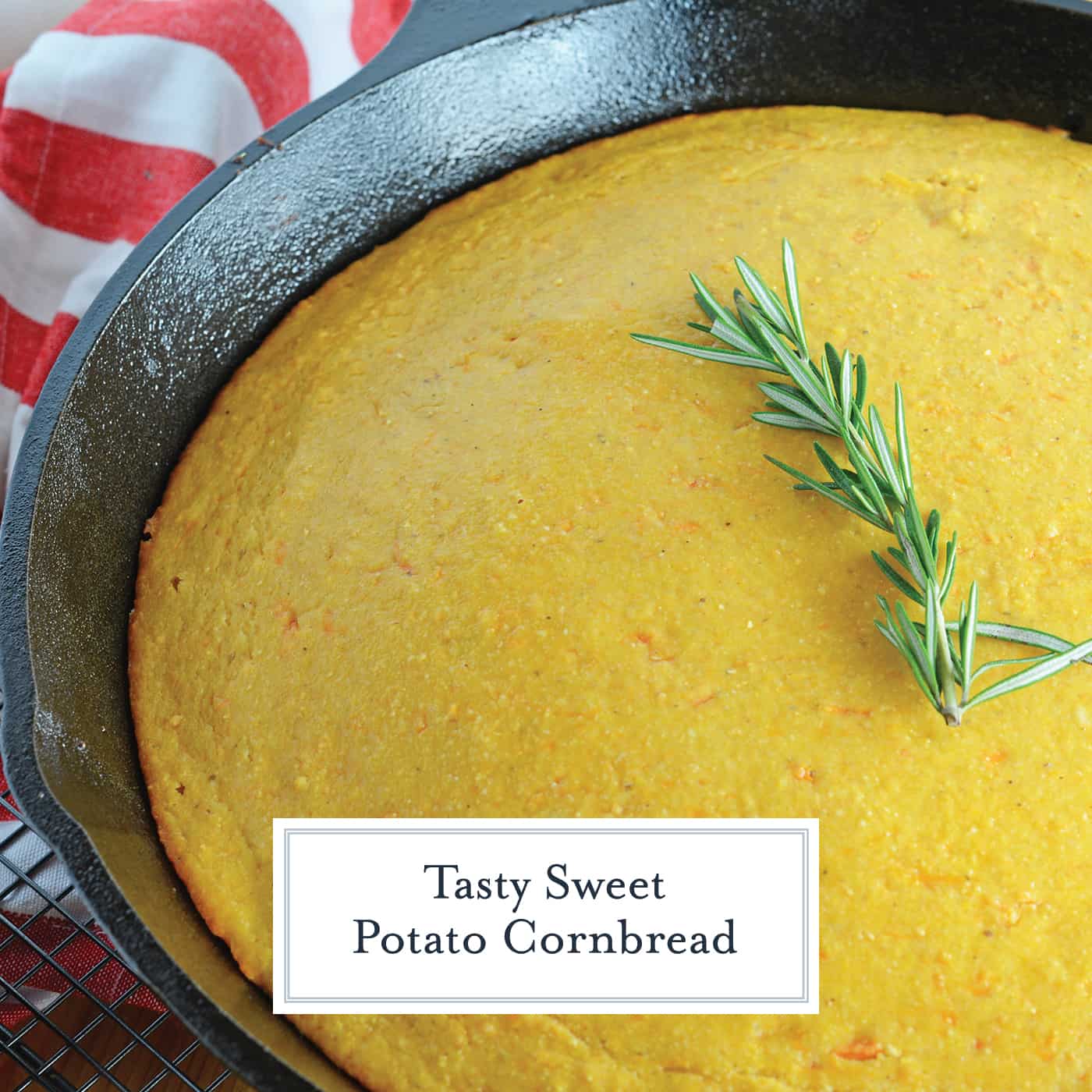 Sweet Potato Cornbread is a sweet combination of two of my favorite fall foods: sweet potatoes and cornbread.
Cornmeal, flour, baking powder, baking soda, salt, pumpkin pie spice, eggs, sweet potatoes, yogurt, buttermilk, butter, dark brown sugar, honey, and honey cinnamon butter? It doesn't get much better than that.
The ingredients required for this perfect Sweet Potato Cornbread recipe are easy to find and easy to put together. Trust me… it will be perfect, just follow the recipe.
If you are like me, you grew up in a household where most baked goods came from a box that was either stored in the pantry or in the freezer. Growing up, cornbread was something we ate often – from a box of course.
It didn't occur to me that it could be easily made from scratch until later on in life. Man o man am I happy I started tinkering in that department. One of my favorite foods just got a whole lot better.
This recipe also uses my love of cooking in cast iron, so really, Sweet Potato Cornbread is the perfect recipe. Southern at heart, cornbreads can be served with many meals, so make sure you get creative.
It is absolutely perfect to complement a spicy chili or serve with a turkey at your Thanksgiving dinner.
While sometimes I like a spicy jalapeno cornbread, other times I'm looking for something that leans a little more on the sweet side. And this Sweet Potato Cornbread does the trick.
Trust me this mouthwatering sweet cornbread will be a huge hit no matter when you serve it. But be prepared, because this is a recipe that will stick. It will be a constant every year for Thanksgiving. There is obviously a good reason for that, its delicious just give it a try.
Two mashed sweet potatoes will do the trick in a traditional cornbread batter. They give each bite an earthiness and sweetness you don't get in a traditional cornbread.
Sometimes I add a little pumpkin pie spice for additional fall essence and other times I like to serve Sweet Potato Cornbread with Cinnamon Honey Butter. Doing it that way makes a wonderful breakfast for a crowd.
It also makes for an excellent stuffing base and can even be cut in half and used in my Chicken Enchilada Pie, the perfect way to hide veggies from kids!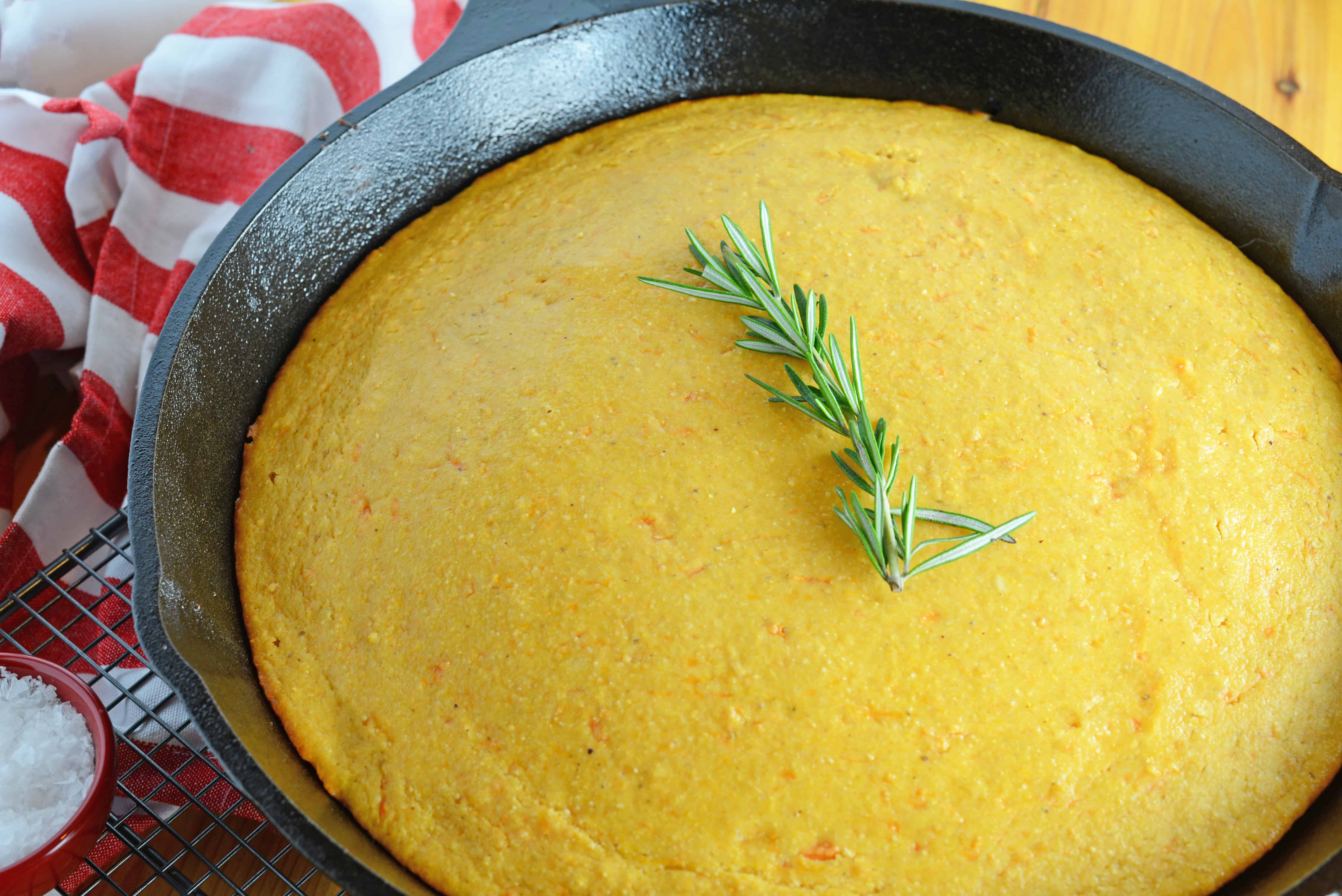 This recipe also makes an excellent cornbread stuffing, cornbread dressing, cornbread croutons, cornbread salad or can be used as the base for a cornbread casserole!
Did You Know SweetPotato is One Word?
Did you know that sweetpotato is actually one word? Most people still use two, so we do as well, but in 1989 this nun (not an adjective) was officially changed to one word to help standout against it's very commonly confused cousin the yam.
And as we know, sweet potatoes are not yams! You've likely never even had a yam in your lifetime because they aren't grown in the US. So bring up this little bit of trivia at your table tonight.
If you liked this
buttermilk cornbread, make sure you check out these other easy cornbread recipes: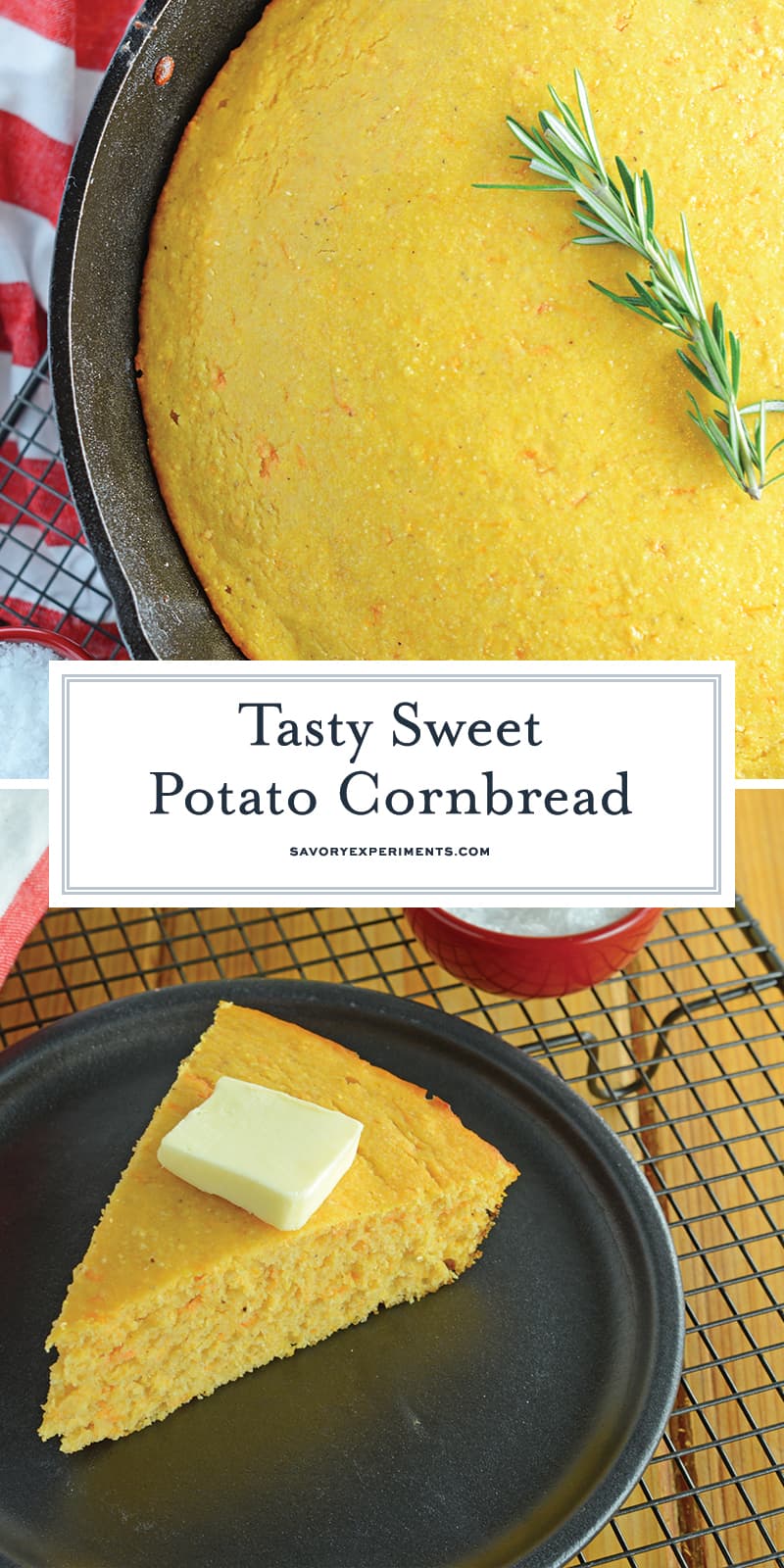 Before you get started, make sure you know how to properly season your cast iron and how to clean your cast iron!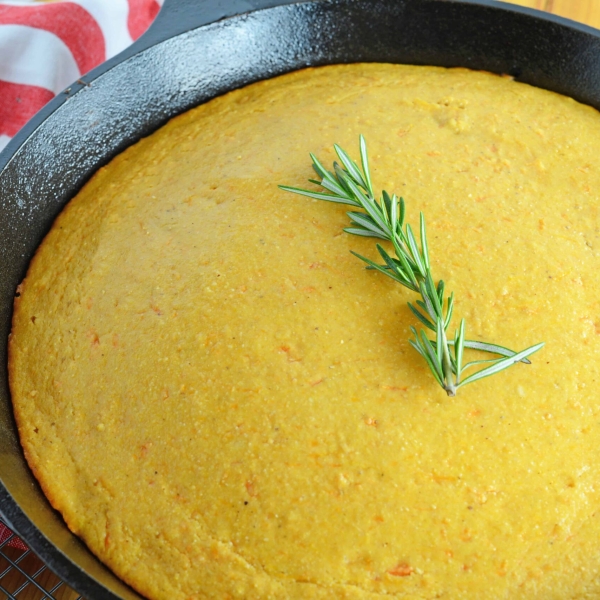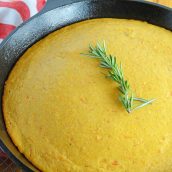 Sweet Potato Cornbread
Sweet Potato Cornbread is a sweet combination of two of my favorite fall foods: sweet potatoes and cornbread.
Instructions
Preheat oven to 375 degrees. Lightly grease a large cast iron skillet (butter or vegetable oil).

Whisk together cornmeal, flour, baking powder, baking soda, salt and pumpkin pie spice (optional). Set aside.

In the bowl of a stand mixer fitted with the paddle attachment or large mixing bowl, beat eggs. Add sweet potatoes, yogurt, buttermilk, dark brown sugar, butter and honey. Mix until combined. Do not over mix.

Add dry ingredients and mix until all batter is wet. Do not over mix, this will result in tough cornbread.

Pour batter into prepared cast iron skillet. Bake for 30-35 minutes. Test using the toothpick test. Serve with Cinnamon Honey Butter.
Nutrition
Calories:
394
kcal
,
Carbohydrates:
62
g
,
Protein:
10
g
,
Fat:
11
g
,
Saturated Fat:
5
g
,
Cholesterol:
102
mg
,
Sodium:
493
mg
,
Potassium:
461
mg
,
Fiber:
4
g
,
Sugar:
19
g
,
Vitamin A:
2715
IU
,
Vitamin C:
0.4
mg
,
Calcium:
149
mg
,
Iron:
2.7
mg