Need room on the stove, don't have space in the oven, trying to get food on the table quickly? Whatever the case may be, you can utilize your microwave to cook your sweet potatoes in a flash.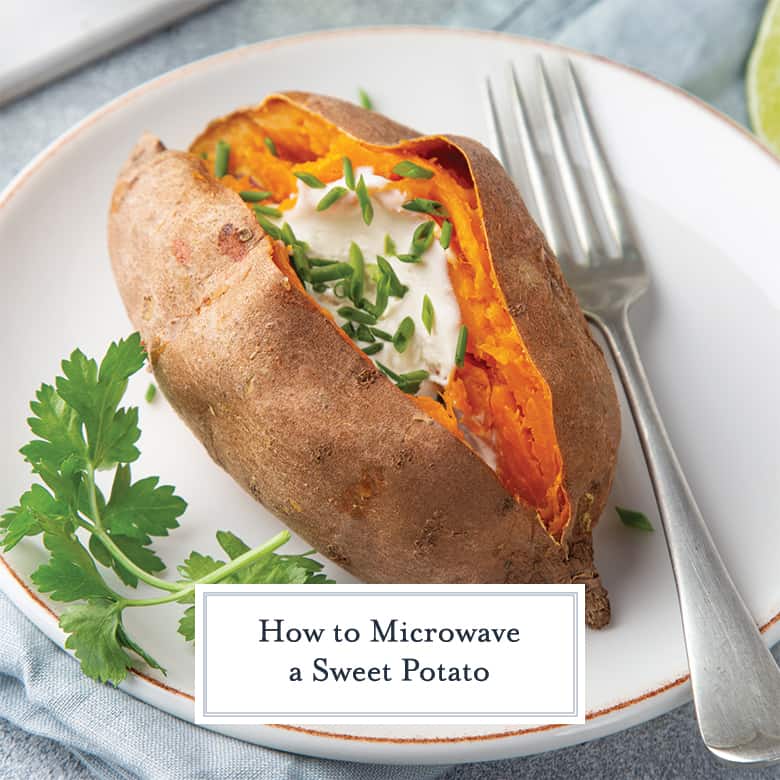 Cooking sweet potatoes doesn't have to be a long, drawn out process. All you need are your spuds, a microwave, and a fork, and you are in business.
At this point, I think you all know that I am a huge fan of the time saver. For those of you who don't this about me here's why: two kids under the age of three, a husband, and a job. Time is a precious commodity and that is something I am sure we all agree on.
And while I love cooking potatoes slowly in the oven or boiling them in a pot of water on the stovetop to get them nice and soft, it just isn't always an option.
Enter your favorite familiar appliance: the microwave as I like to refer to it, the "science oven." (I fully blame Jennifer Lawrence in the movie, American Hustle for that one.)
When was the microwave invented?
The microwave was invented at the end of World War II by a scientist looking to make radar technology more efficient. One day, while at work, a chocolate bar in his pocket melted.
The wheels start turning, he put two and two together and voila the microwave. (I know it wasn't that easy, but we are here to talk food.)
How do you microwave a sweet potato?
Microwaving a sweet potato works in terms of the cooking process the same way your oven does, only dramatically sped up. Instead of 45-55 minutes, it is going to take 5-10.
One thing you do need to do before you pop them in is to prick the skin with a fork. Neglecting to do this will result in a lot of an orange mess that would defeat the purpose of the time-saving method of cooking. Read: they will explode if you skip this step.
PRO TIP: Make sure you pierce the potato before cooking to prevent explosion!
Why? Well, the heat and moisture build quickly and gather underneath the skin. They need somewhere to go. If there are small holes made by the fork, both the heat and moisture have an escape route.
If not, it will build and build until, boom. Sweet potatoes everywhere. BOOM!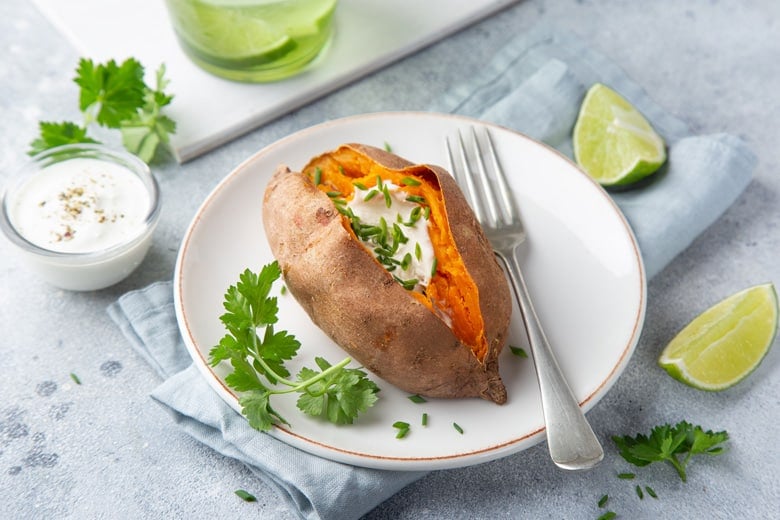 Can I cook more than one at once?
In terms of cooking more than one, you can, but you should be cautious. If you need to do a bunch of them in batches, I would say no more than 1-2 at a time. Always be sure to keep an eye on them as you would when microwaving anything.
The time listed in this recipe is accurate for my microwave, but as we all know, every microwave is different. Adjust the timing up or down accordingly. You will know they are done when their skin is puffed up or if you can pierce them easily with a knife all the way through.
It is also thought the more quickly you cook your sweet potato the more nutrients you retain and hold onto. They are rich in fiber, vitamin A, vitamin b5, and have other beneficial properties you don't want to miss out on.
And for those skeptics out there, the texture is the same as you would get if they were baked in the oven the old fashioned way.
What toppings are good on a sweet potato?
You can use the usual stuff: butter, yogurt, chives, green onions, sour cream and bacon, or you can take it up a notch!
We'd love to hear about your favorite toppings in the comments below! Also check out traditional baked potatoes and how to make them in the Instant Pot and AirFryer!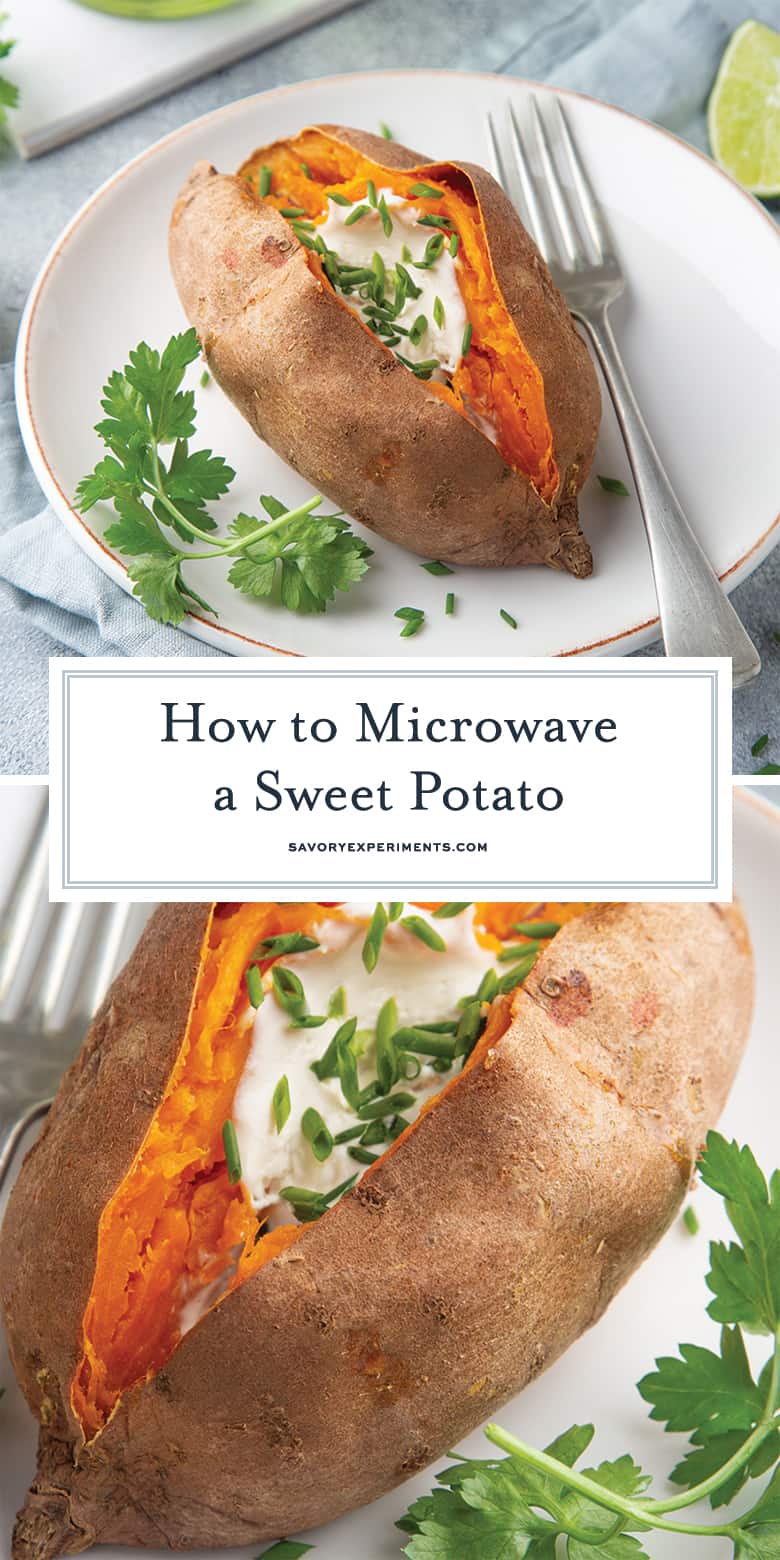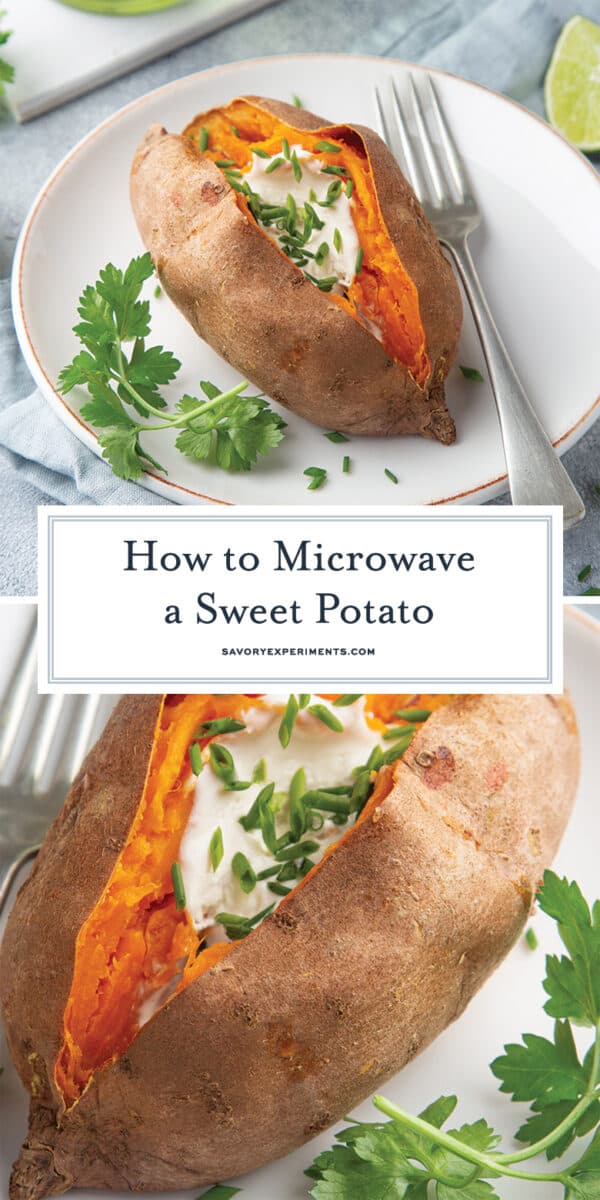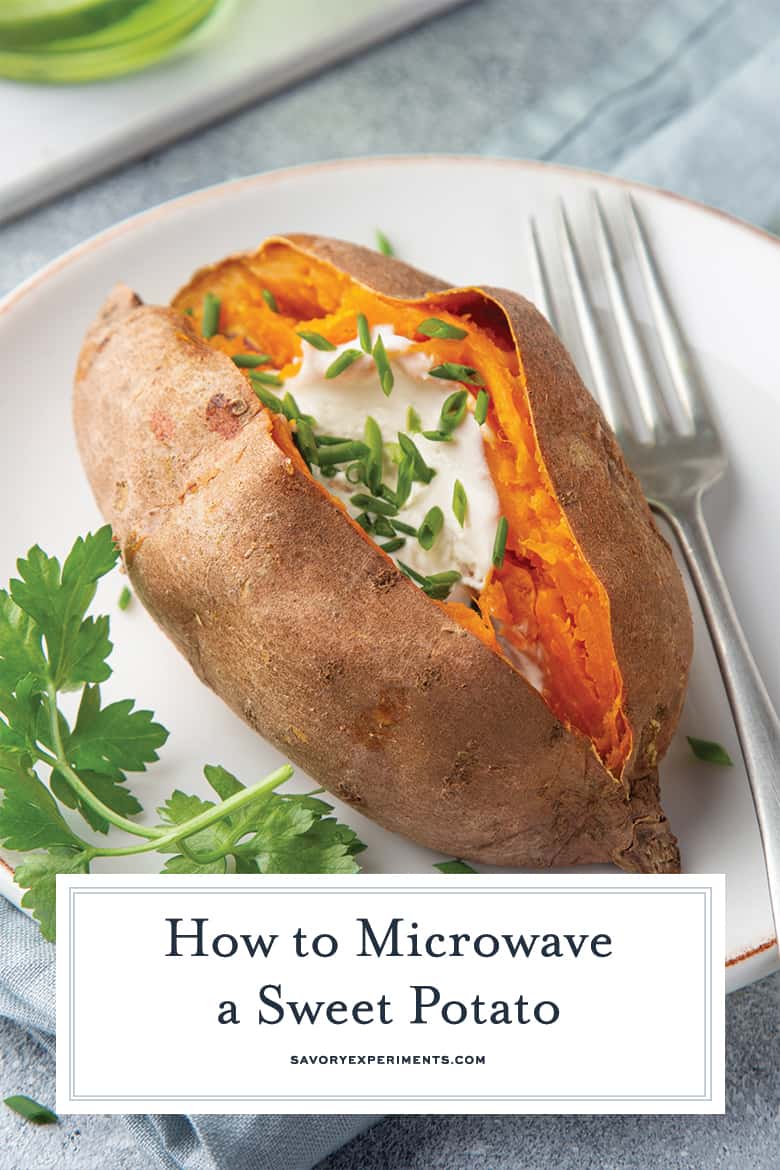 CONNECT WITH SAVORY EXPERIMENTS!

Be sure to follow me on social media, so you never miss a post!

Facebook | Twitter | Youtube
Pinterest | Instagram

Get our FREE 8 Day E-Course on How to Be a Better Home Cook. Sign up HERE!