Looking to spice up your life? This chili will set it on fire! Adapted from Bobby Flay's Red Beef Chili, this was a recipe I just had to try.

Red Beef Chili uses chunks of steak and simmers them to tender perfection in a chili tomato sauce. Serve over rice, noodles or as a stew.
A few months back, my neighborhood had a chili cook-off. Because I was busy coordinating the event, I did not submit a pot of chili and by the time I was done coordinating there was none of the winning chili left to sample. I was so sad.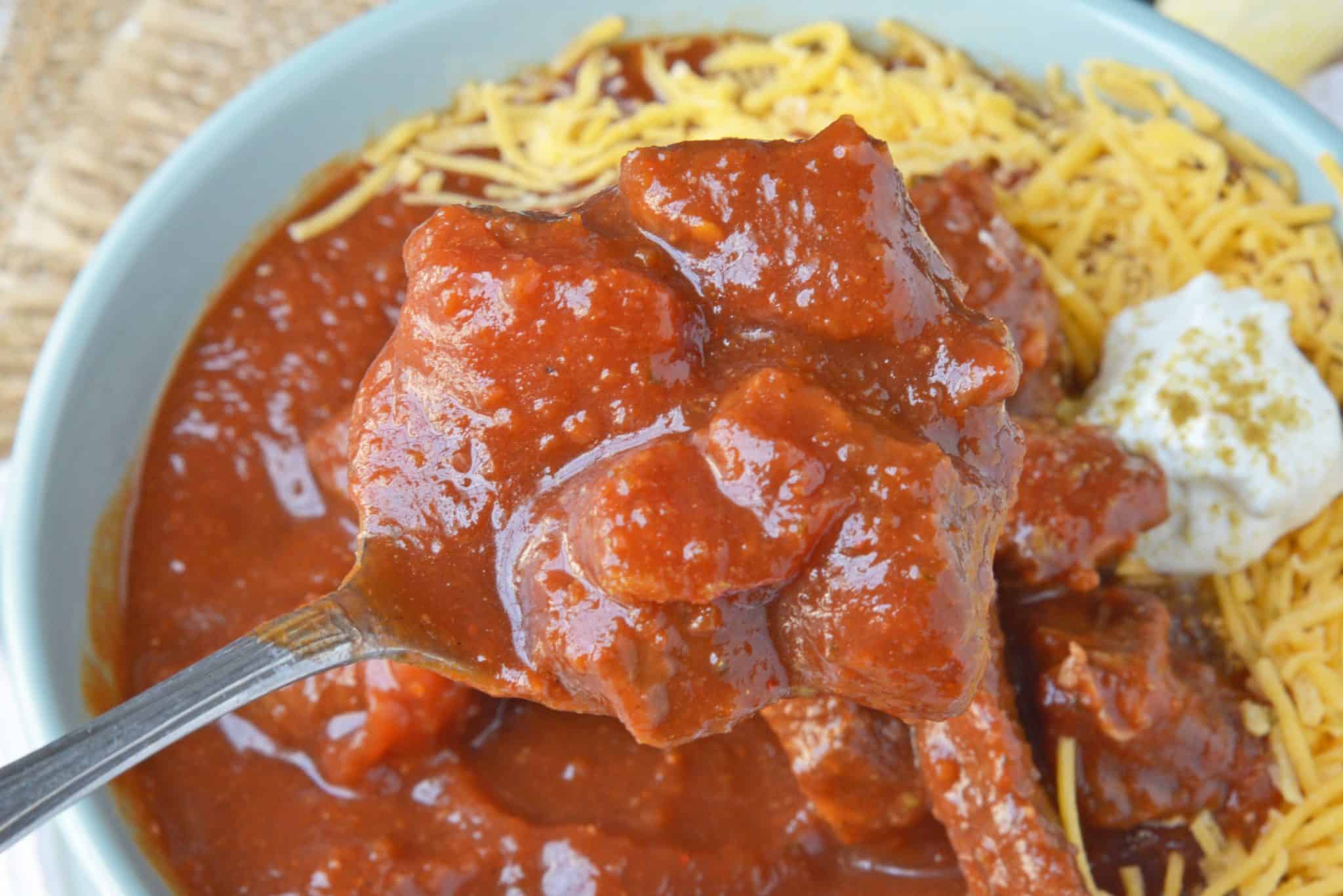 The winners disclosed that the recipe was actually Bobby's Flay's Red Beef Chili, so I decided to look it up, make it and try it for myself!
There are so many chili recipes out there claiming to be "the best" so I'm not even going to say that. Lord knows I have quite the collection of chili recipes myself.
Beans, no beans, ground beef, turkey, sausage, chocolate, beans, veggie, white and no bean chili, how can you even make a case to compare them all?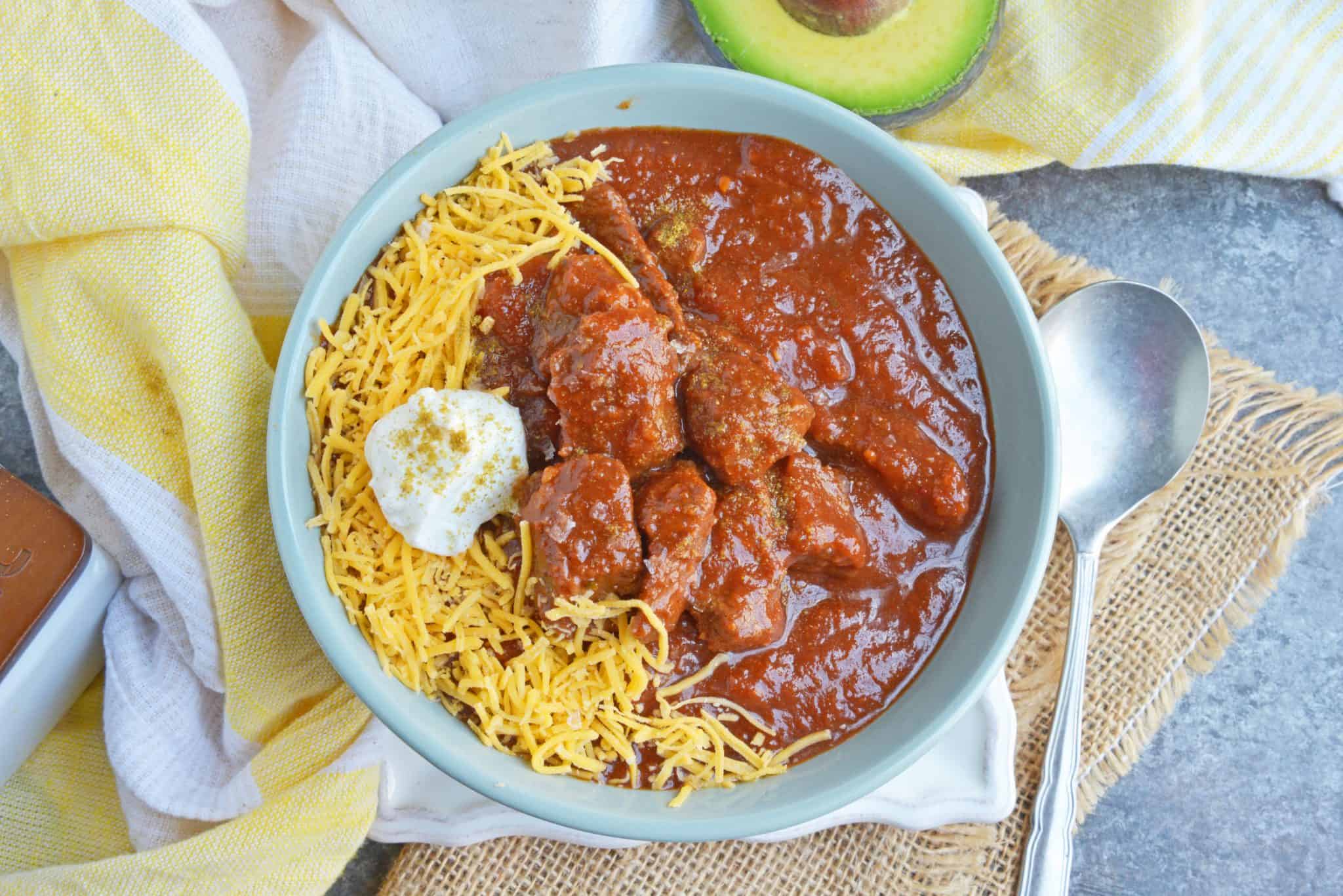 This chili recipe stood apart from the regular contenders. Why? Instead of ground beef, it uses large, glorious chunks of beef. It is literally steak in a chili sauce and it is delicious, hearty and will warm your soul. True comforting, soul food.
Word to wise: I significantly increased the amount of heat in this recipe by nearly doubling the amount of chiles and peppers. I also had to substitute some of the fresh peppers and chile powders for more accessible ingredients.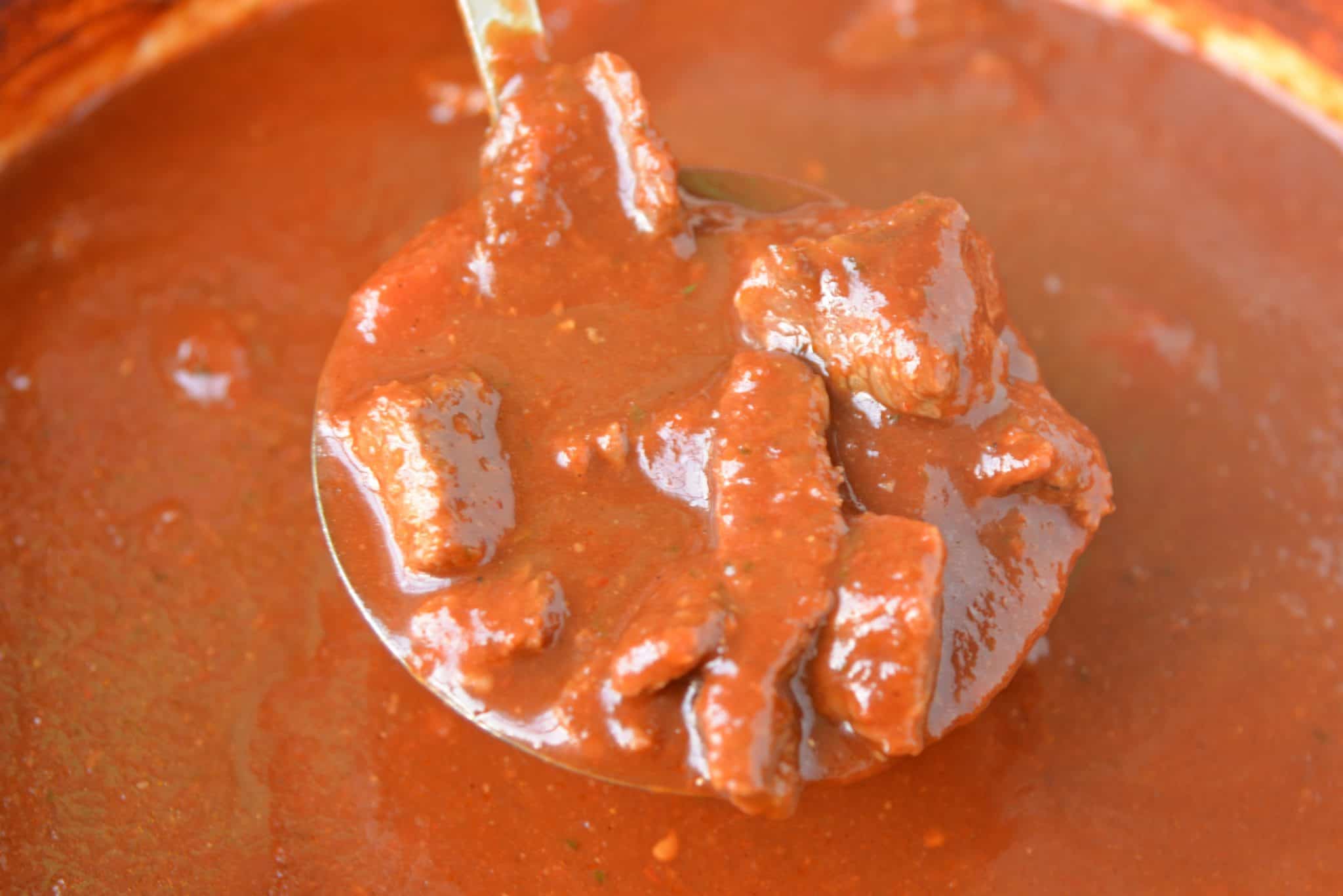 If your diners are not ready to sweat, cut the amount of peppers and chile powders by 50-75%. Seriously, this will make you tear up a little. It is a four alarm chili: SPICY CHILI!
Also keep in mind safe handling of chile peppers. Make sure you wear powder free latex gloves or use plastic storage bags over your fingers while handling.
This prevents painful burns from the oils secreted from peppers. If you do happen to touch, soak your finger(s) in milk to cool.
When dicing your beef, try to cut it against the grain. Bottom round isn't the most tender cut of beef, cutting it against the grain shortens the fibers, making it less chewy.
The long simmering time will also tenderize making it literally melt in your mouth, so also don't cut back on the simmer time.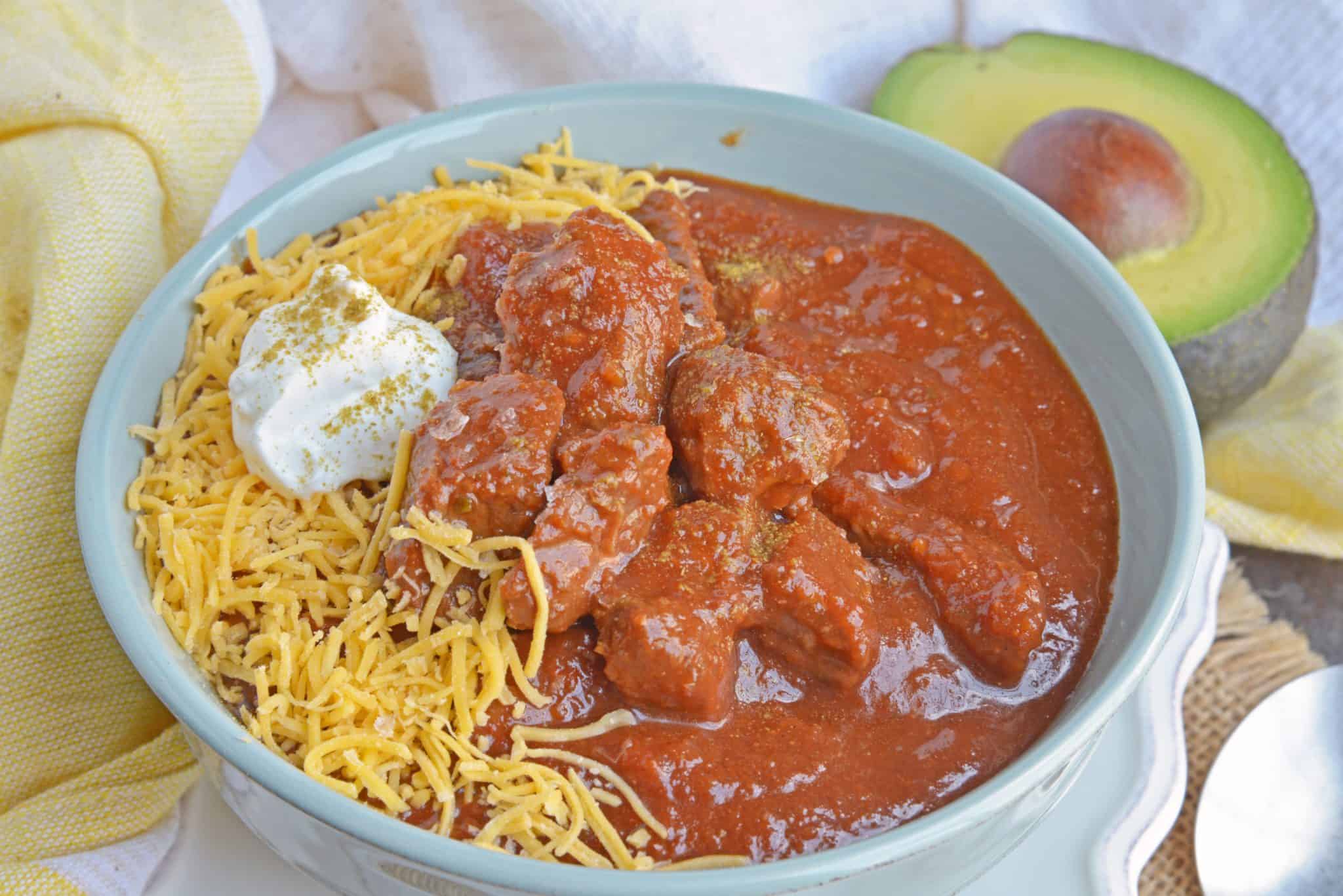 Getting a nice sear on your beef is also essential and the step so many people seem to think they can omit. Not only does it build massive amounts of flavor, it cauterizes and seals in the juices so your beef is likely to not dry out.
Red Beef Chili tastes great by itself as a stew, but you can also serve it over rice or egg noodles (chili mac). I top mine with cheddar cheese, sour cream and a dash of cumin, but feel free to top yours with garlic dill oyster crackers, leftover hot dog bun croutons, jalapenos, cilantro or parsley, fresh tomato or anything else your heart desires.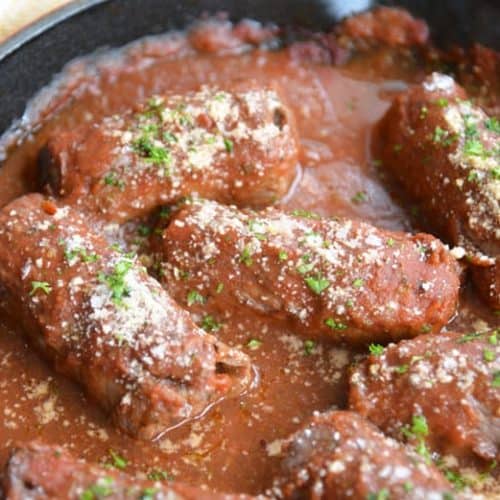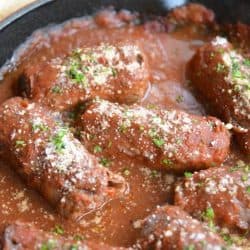 Italian Beef Braciole without Egg
This EASY Beef Braciole recipe is the best Italian comfort food! Juicy flank steak, tomato sauce, herbs and cheese make up this delicious Italian rolled steak!
View this recipe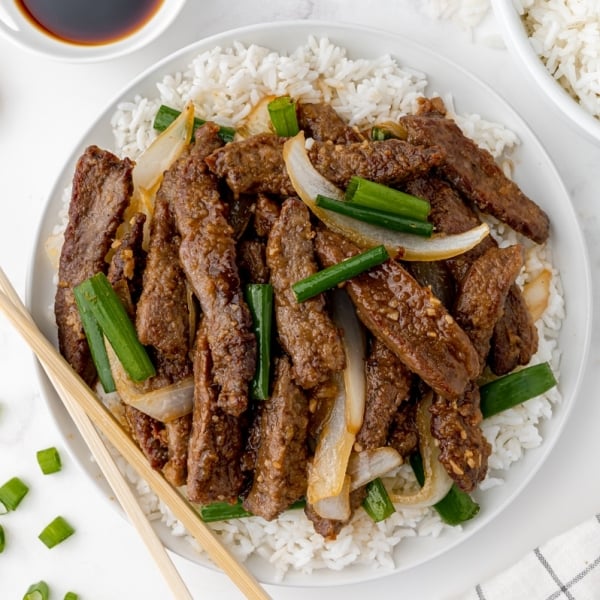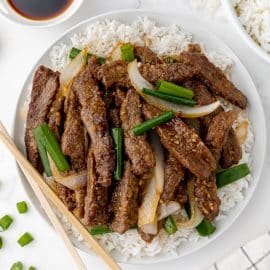 30-Minute Mongolian Beef
Skip the takeout and make this homemade Mongolian Beef recipe instead! It tastes even better than the PF Chang's recipe!
View this recipe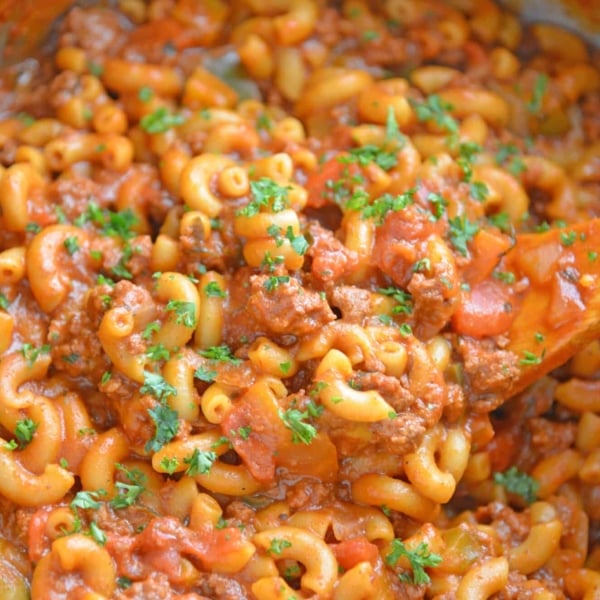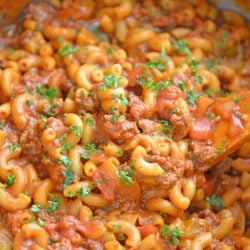 Beef Goulash
Classic goulash doesn't get any better than this Beef Goulash recipe! The perfect comforting meal for any weeknight!
View this recipe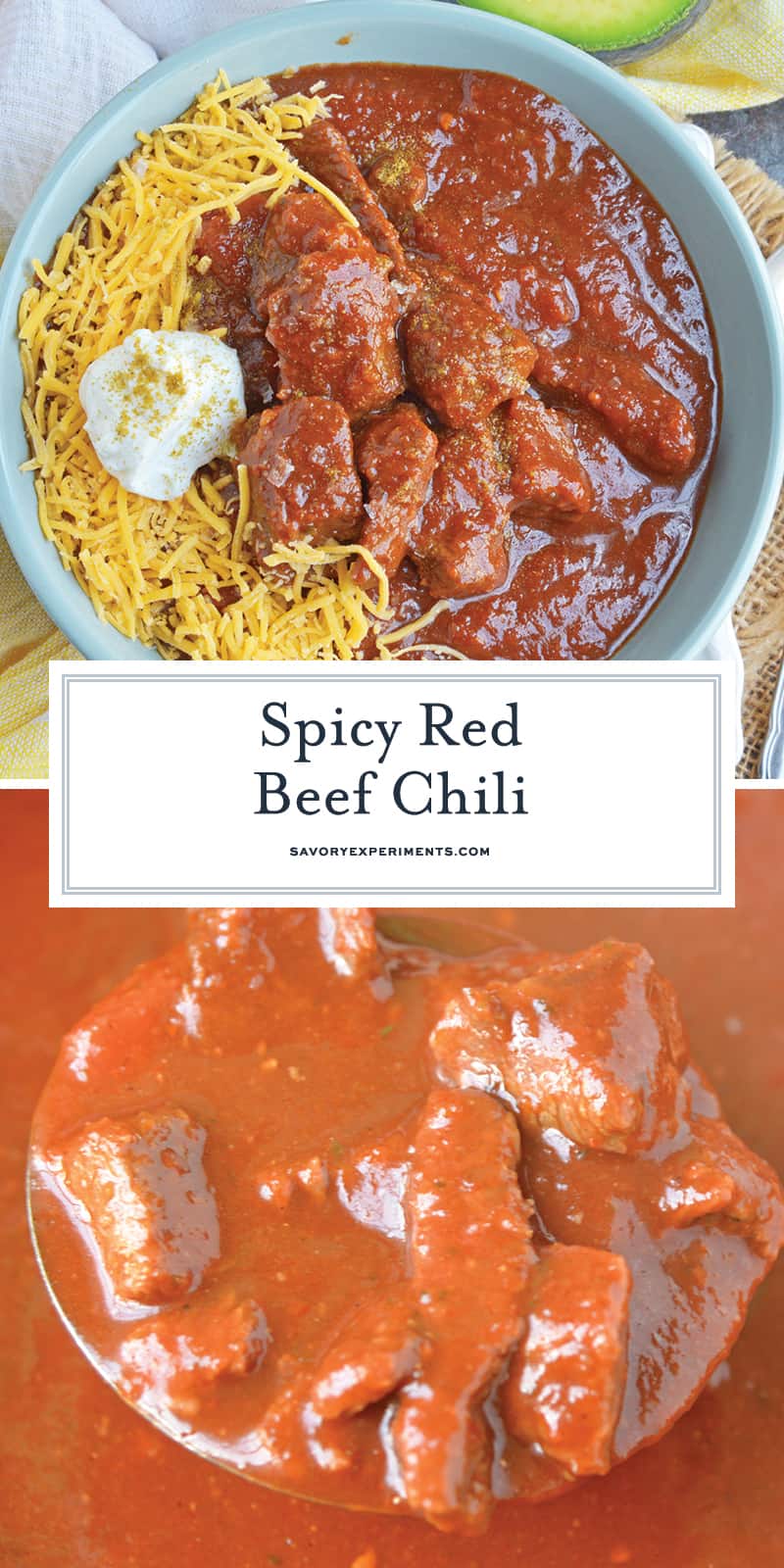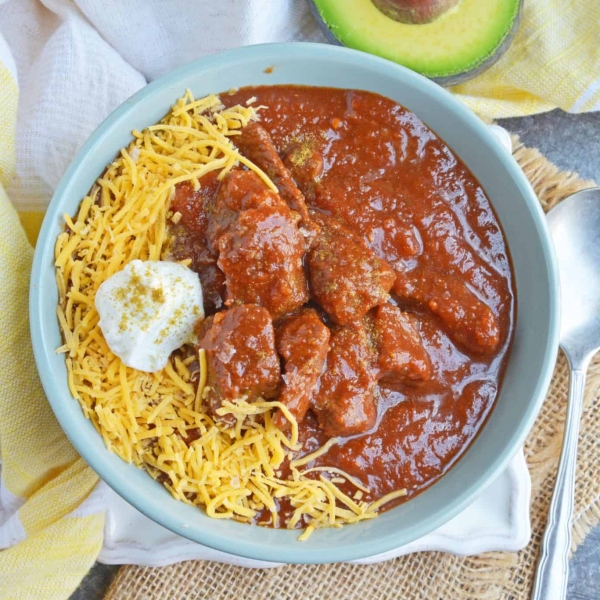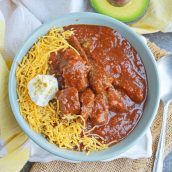 Steak Chili
Red Beef Chili uses chunks of steak and simmers them to tender perfection in a chili tomato sauce. Serve over rice, noodles or as a stew.
Ingredients
8

tablespoons

olive oil

, divided

4 1/2

pounds

bottom round beef

, cut into 1/2 -inch cubes and patted with a paper towel

1

teaspoon

fine sea salt

1

teaspoon

ground black pepper

2

tablespoons

ground cumin

12

ounces

dark beer

1

red onion

, diced

6

cloves

garlic

, minced

1/2

cup

red wine

1

habanero pepper

, seeded and chopped

1

jalapeno pepper

, seeded and chopped

1

poblano pepper

, seeded and chopped

2

tablespoons

ancho chile powder

4

chipotle peppers in adobo sauce

, chopped

24

ounces

crushed tomatoes

1

tablespoon

chile powder

5

cups

beef stock

2

plum tomatoes

, chopped, seeds and membranes removed

3

tablespoons

maple syrup or agave nectar
For Serving:
Instructions
n a large mixing bowl, toss cubed meat with fine sea salt and ground black pepper.

Heat 2 tablespoons olive oil in a large Dutch oven or stock pot. When oil is hot, add 1/3 diced beef. Cook 3-4 minutes, tossing along the way, until all pieces are a uniform, light brown. Remove to a paper towel lined plate. Discard excess liquid in the pot, but do not rinse out browned bits clinging to the pan.

Repeat this process twice with the remaining diced beef. After removing the last of the excess liquid, add browned beef back to the hot pot and add ground cumin. Stir and continue to brown for an additional 3 minutes.

Add dark beer to deglaze the pan and loosen browned bits from the bottom of the pot. Lower heat to a simmer. Allow beer to absorb into the browned beef. Simmer until almost no liquid remains. Remove beef from the pot. Set aside.

Add remaining 2 tablespoons olive oil to the Dutch oven or stock pot. Add onion. Saute until almost soft, approximately 5 minutes, add garlic, saute an additional 2 minutes.

Add jalapeno, habanero, chipotle and poblano peppers to pot. Continue to saute over medium-high heat until fresh peppers start to soften.

Add crushed tomato and beef stock. Stir and bring to a simmer for 20 minutes.

Using an immersion blender, puree the chili mixture to a smooth sauce. Add beef back to the sauce and simmer on low for at least an hour.

Before serving, stir in maple syrup.

Ladle chili into a bowl and top with sour cream and cheddar cheese. Serve by itself, over rice or with macaroni.

If you've tried this recipe come back and let us know how it was!
Nutrition
Calories:
628
kcal
,
Carbohydrates:
14
g
,
Protein:
33
g
,
Fat:
48
g
,
Saturated Fat:
16
g
,
Cholesterol:
130
mg
,
Sodium:
639
mg
,
Potassium:
958
mg
,
Fiber:
2
g
,
Sugar:
7
g
,
Vitamin A:
915
IU
,
Vitamin C:
17.2
mg
,
Calcium:
112
mg
,
Iron:
5.8
mg