Whether you call it dressing or stuffing, this Southern Cornbread Dressing will be the star of your Thanksgiving table!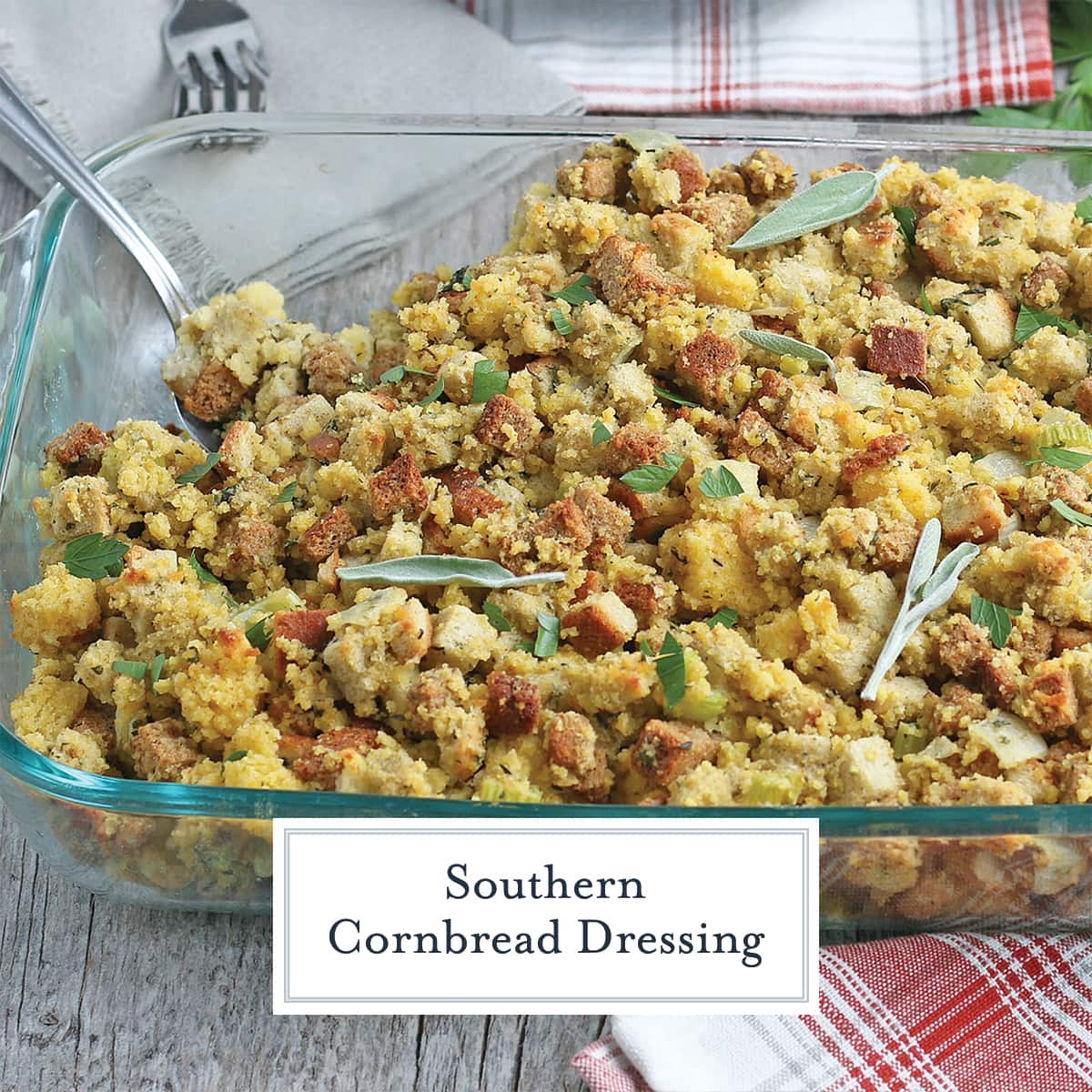 If I told you I didn't eat dressing (or stuffing) until I was in my 30's, I wouldn't be lying. And now that I've had this epiphany, I am aiming to try ALL the recipes.
This southern cornbread dressing recipe has been handed down to me from a friend and a true southerner. There were a few pieces that raised my eyebrows, but when I asked her, the answers made perfect sense. So read on…
Stuffing or Dressing?
Let's address the elephant in the room before we start talking about this old fashioned cornbread dressing.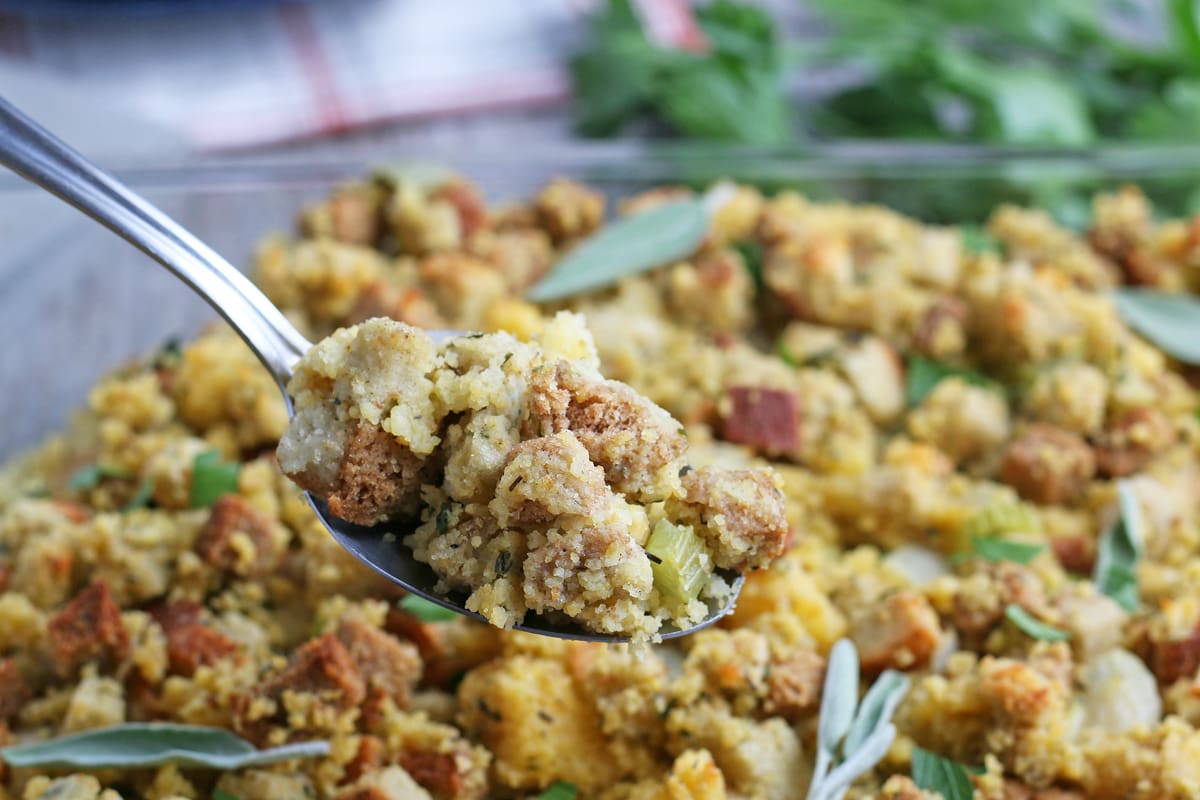 Is it stuffing or dressing? Technically speaking, stuffing is a mix that is stuffed into a turkey, chicken or other protein. Dressing is basically the same mixture, but cooked independently in a separate baking dish.
But if you are asking my opinion, call it whatever you want to call it! My family always calls it stuffing even though we serve it as "dressing".
Cornbread Dressing
For this recipe you can make your own easy homemade cornbread or use store bought. The amount is forgiving, but it equals between 3-4 cups cubed.
I prefer a buttermilk cornbread, but you can also use whole milk if you doesn't like the zing.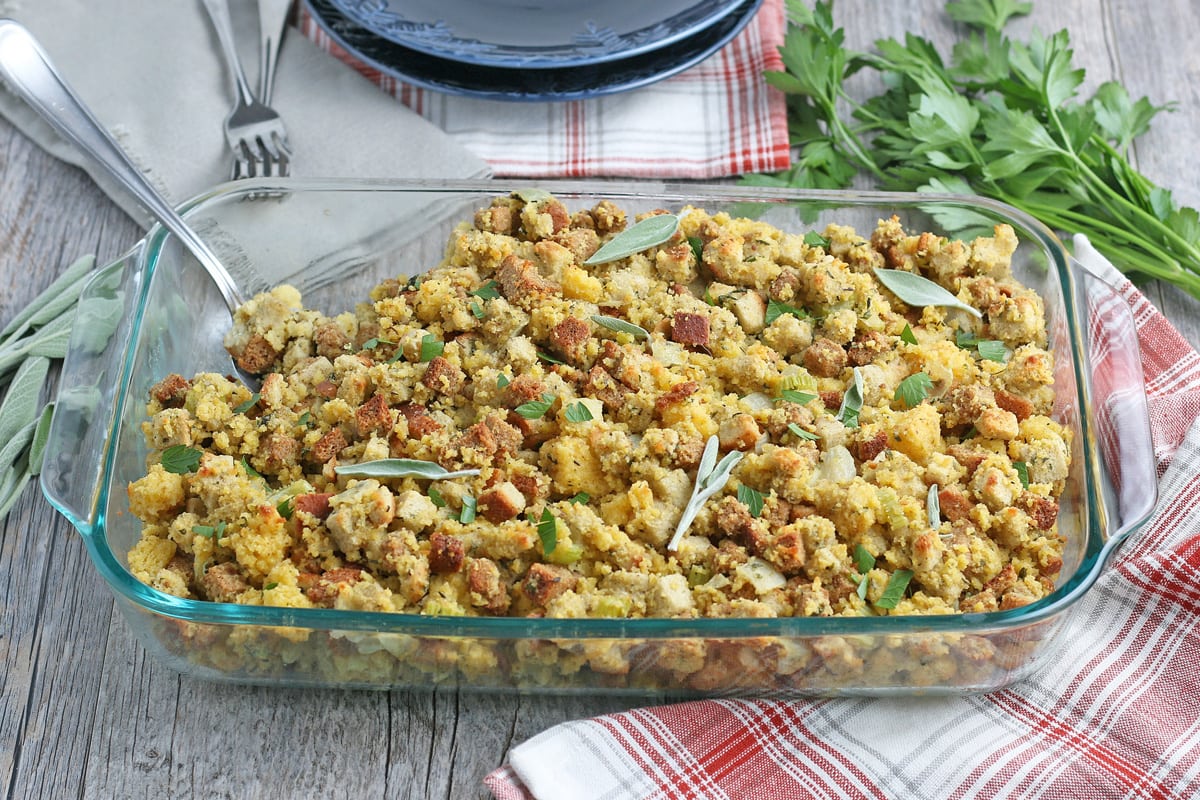 The trick to this cornbread dressing is making sure the cornbread is toasted or dried out. If it is too fresh, the dish ends up soggy without any body. Here are your options to achieve this:
Bake your own 3 days ahead. Yes, this required planning and foresight. Bake the bread and let it sit for a few days to dry out. Even better, cut it into squares so it dry out on all the edges.
Bake your own and then toast it. Toasting does more than just dry out the bread, it also uses browning to create more nutty flavor.
Get store bought off the sale rack. Why do I specify the sale rack? It means that it is older than the fresh stuff and they are trying to get rid of it. It might still need a day to sit (or you can toast it too).
And lastly, if you want something right in the middle for your cornbread dressing, use a cornbread box mix.
Why Stuffing Cubes?
Let's first answer what stuffing cubes are- they are the dry stuffing mix at the store and basically just gloried, seasoned croutons or dried bread.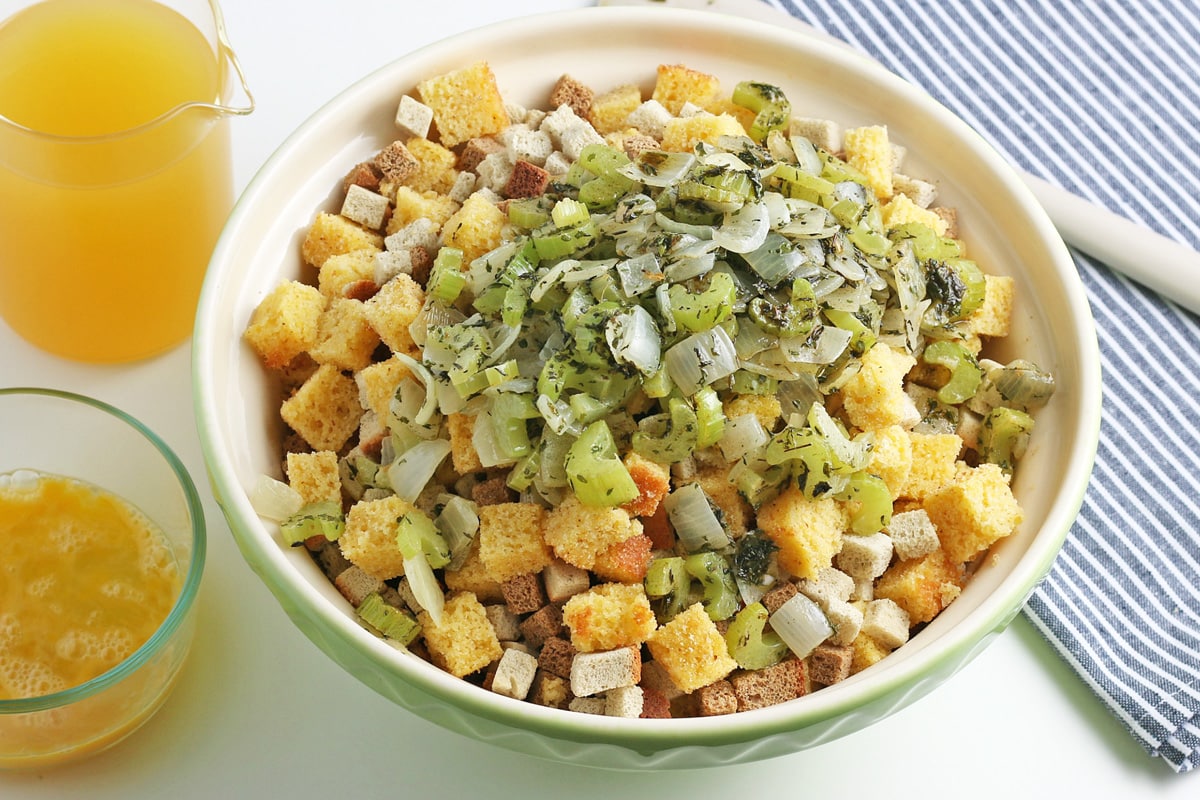 So why do I need these if I just made cornbread? This was one of my questions too.
Cornbread will never have the right texture to dry out like regular bread will. This is why you don't see cornbread croutons or cornbread toast.
But to make cornbread dressing/stuffing, you need DRY bread. If you add broth to fairly moist bread, it won't achieve the right texture So using stuffing cubes will create layers of flavor AND textural sophistication.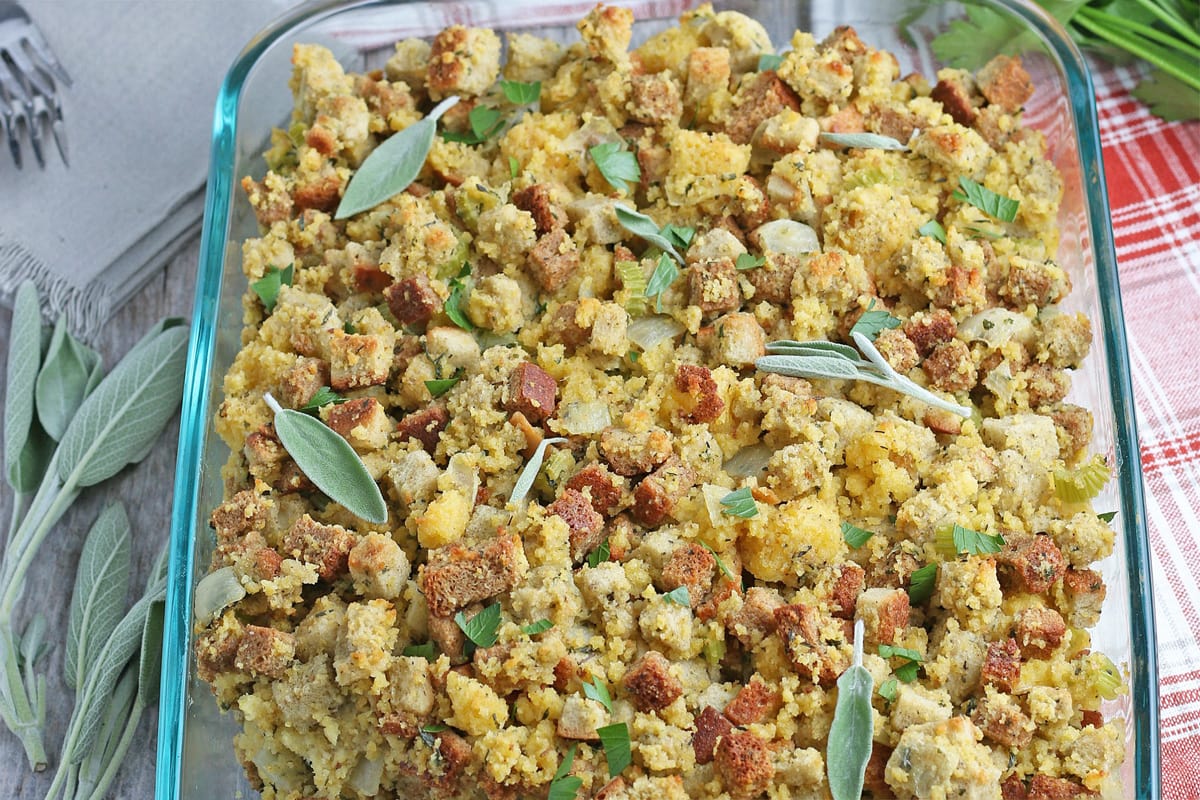 Broth
Chicken stock/broth is a more flavorful alternative to plain water. But you have other options too, like vegetable or bone broth.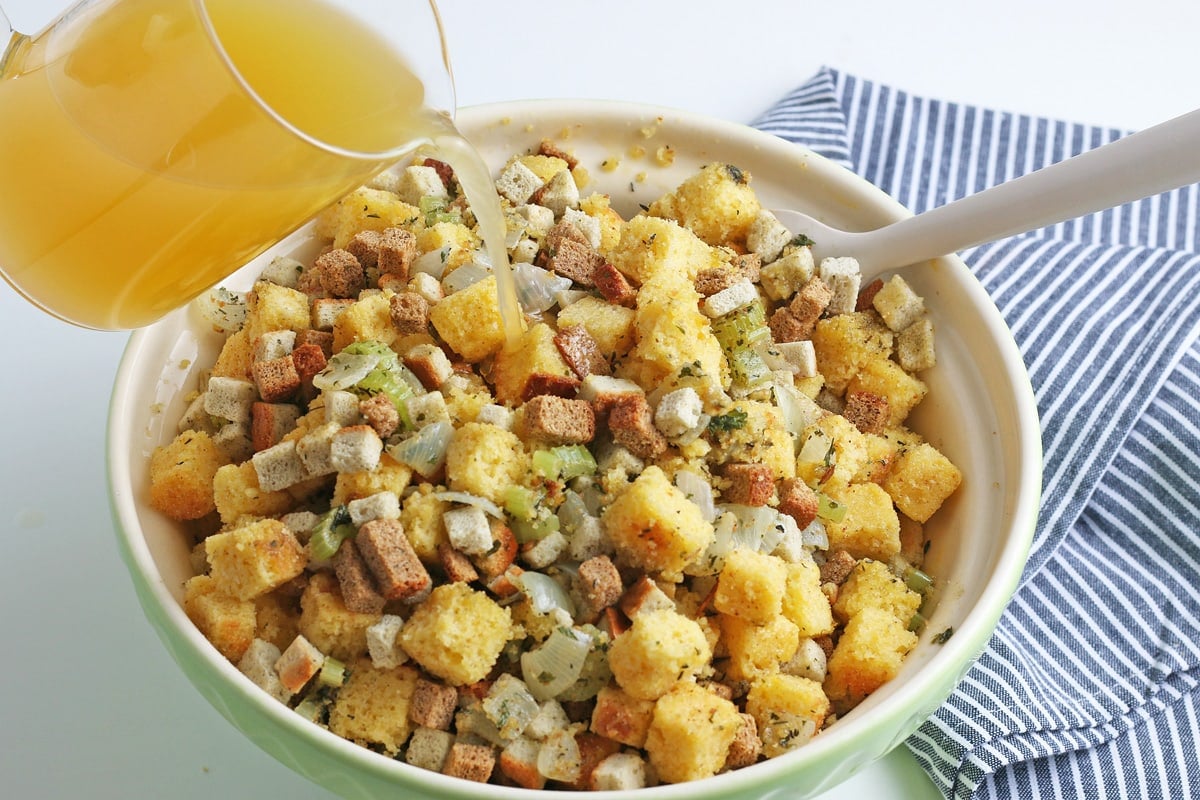 And furthermore, use a combination of flavors by introducing white wine. A dry or fruity wine can be used in addition to chicken broth. Stick with the same total volume amount, but substitute 1/2 -1 cup of broth or wine.
Cornbread Dressing Variations
This dressing recipe is amazingly delicious all on its own, but if you feel the need to customize, here are a few ideas.
Nuts– you can add 1/2 cup chopped pecans, walnuts or almonds to give it a nice crunch.
Fruit– adding dried or fresh fruit adds a chewy and sweet touch. Just add 1/2 cup dried fruit or 1 cup chopped fresh apples or pears.
Sausage– stir 1 cup crumbled sweet or breakfast sausage into the breading mixture to spice it up a bit.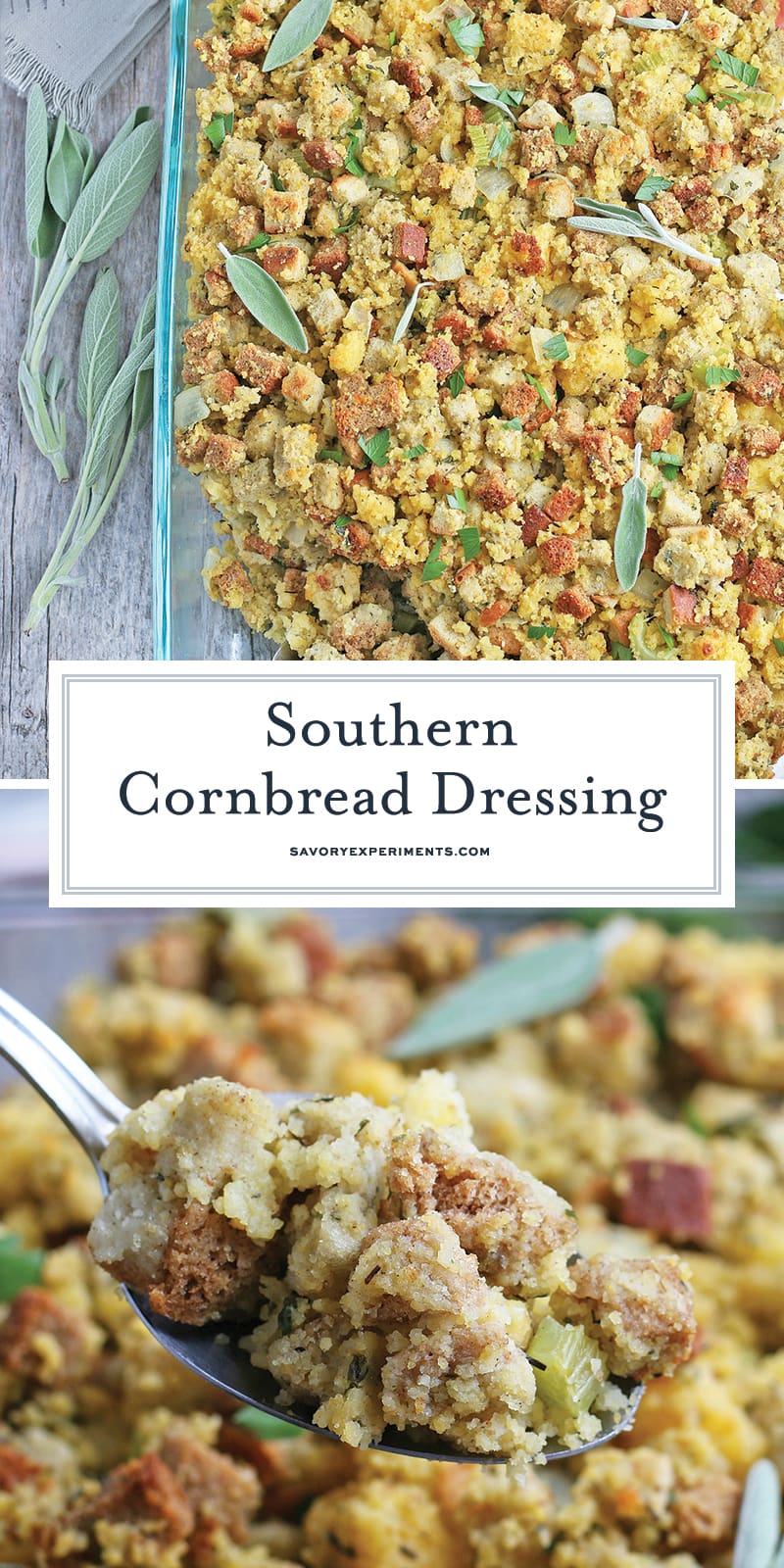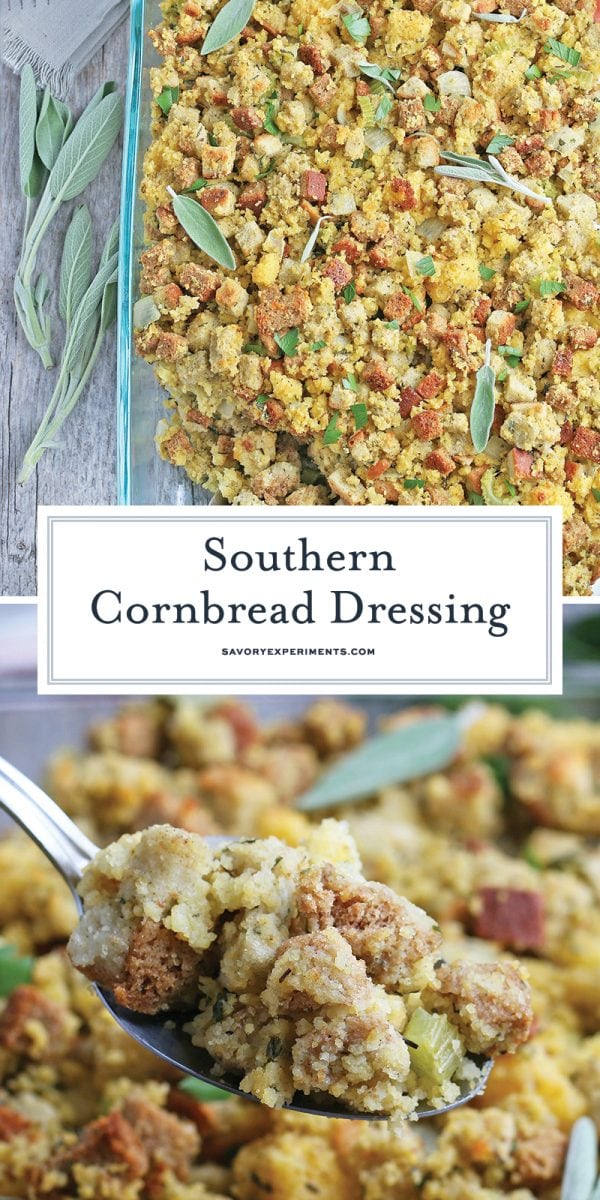 Make Ahead & Freezing of Cornbread Dressing
There are several element to this cornbread dressing dish so the fact that you can achieve some, if not all of them ahead of time is nice, especially if you are preparing it with a big meal for Thanksgiving dinner.
Make the whole dish ahead of time and then tightly cover it after step #7, so before you bake it. It can be stored or put in the freezer at this stage.
To heat it, allow to thaw and then bake as directed.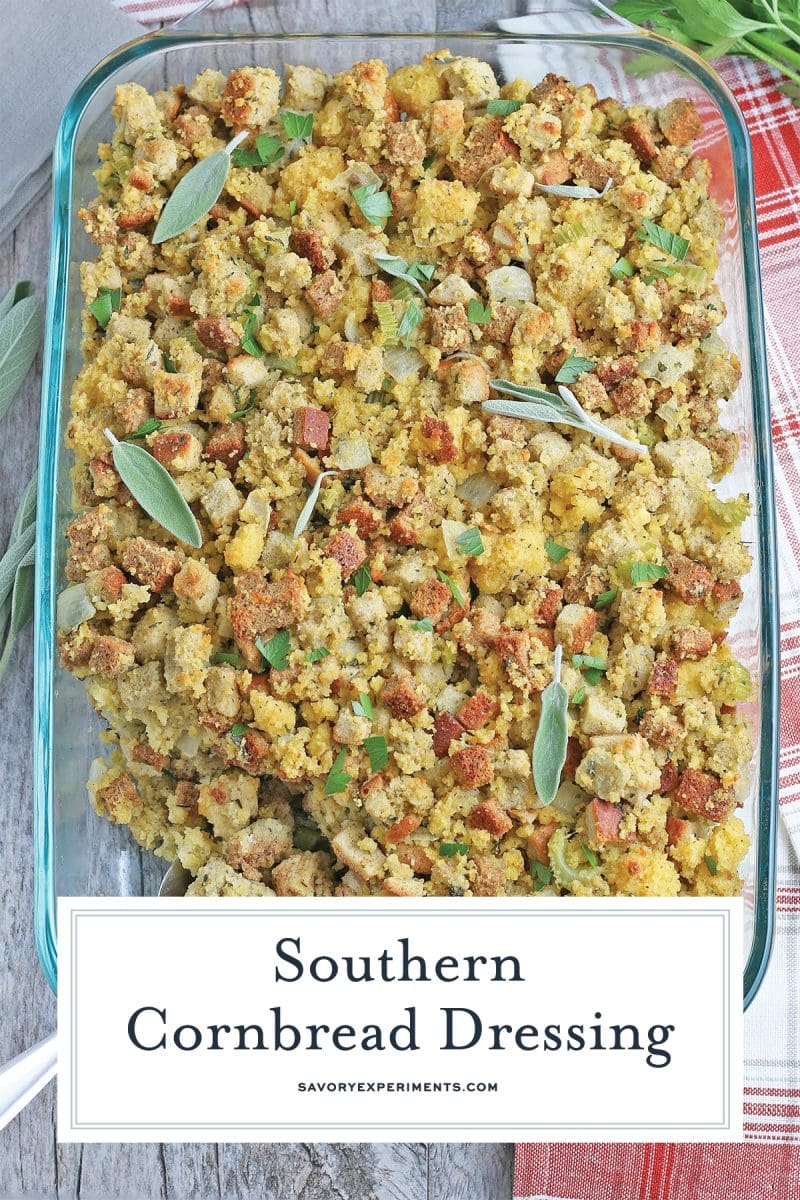 We've also got your appetizers, turkeys and desserts covered!