Whether you call it dressing or stuffing, this Southern Cornbread Dressing will be the star of your Thanksgiving table!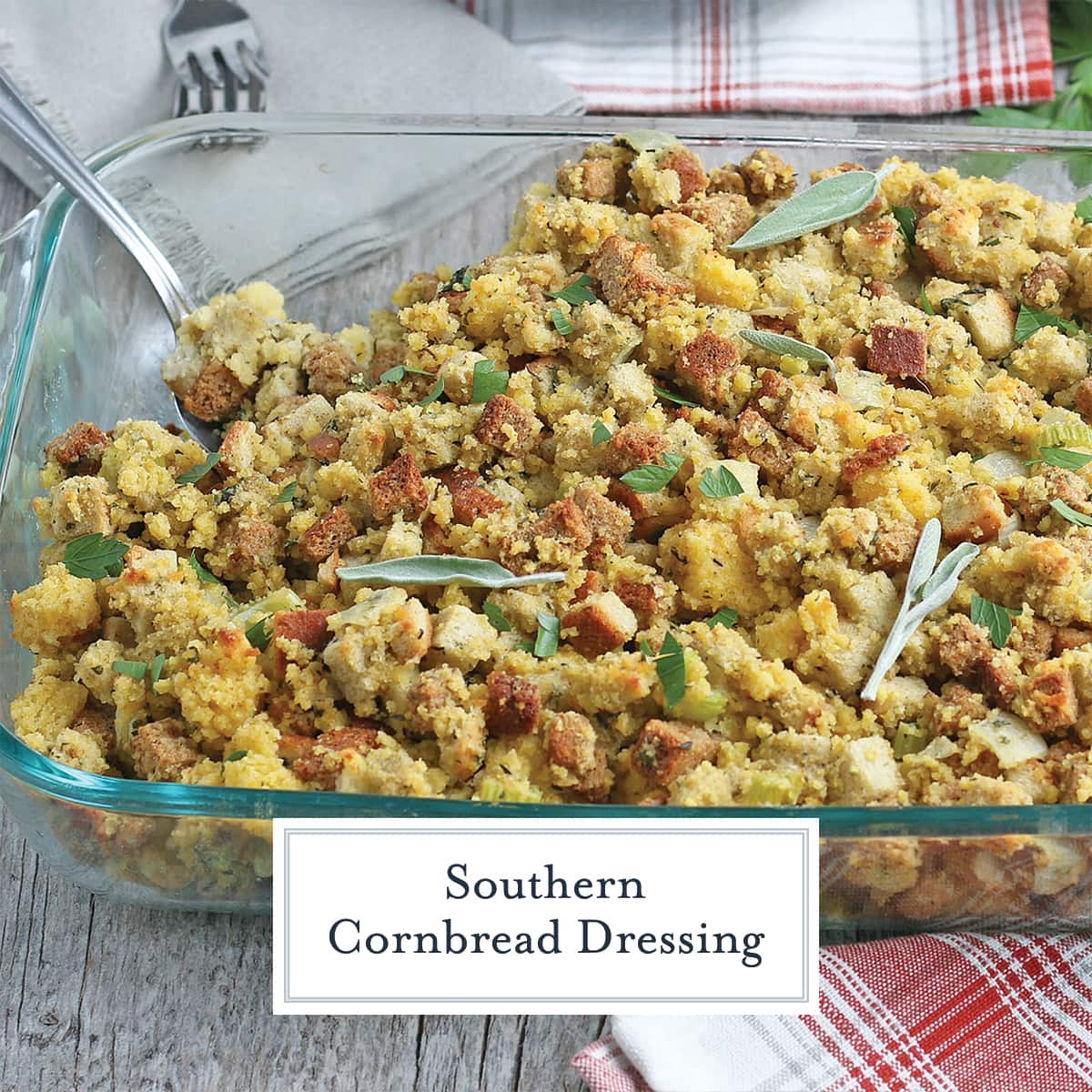 If I told you I didn't eat dressing (or stuffing) until I was in my 30's, I wouldn't be lying. And now that I've had this epiphany, I am aiming to try ALL the recipes.
This southern cornbread dressing recipe has been handed down to me from a friend and a true southerner- a family recipe. There were a few pieces that raised my eyebrows, but when I asked her, the answers made perfect sense. So read on…
Stuffing or Dressing?
Let's address the elephant in the room before we start talking about this old fashioned cornbread dressing.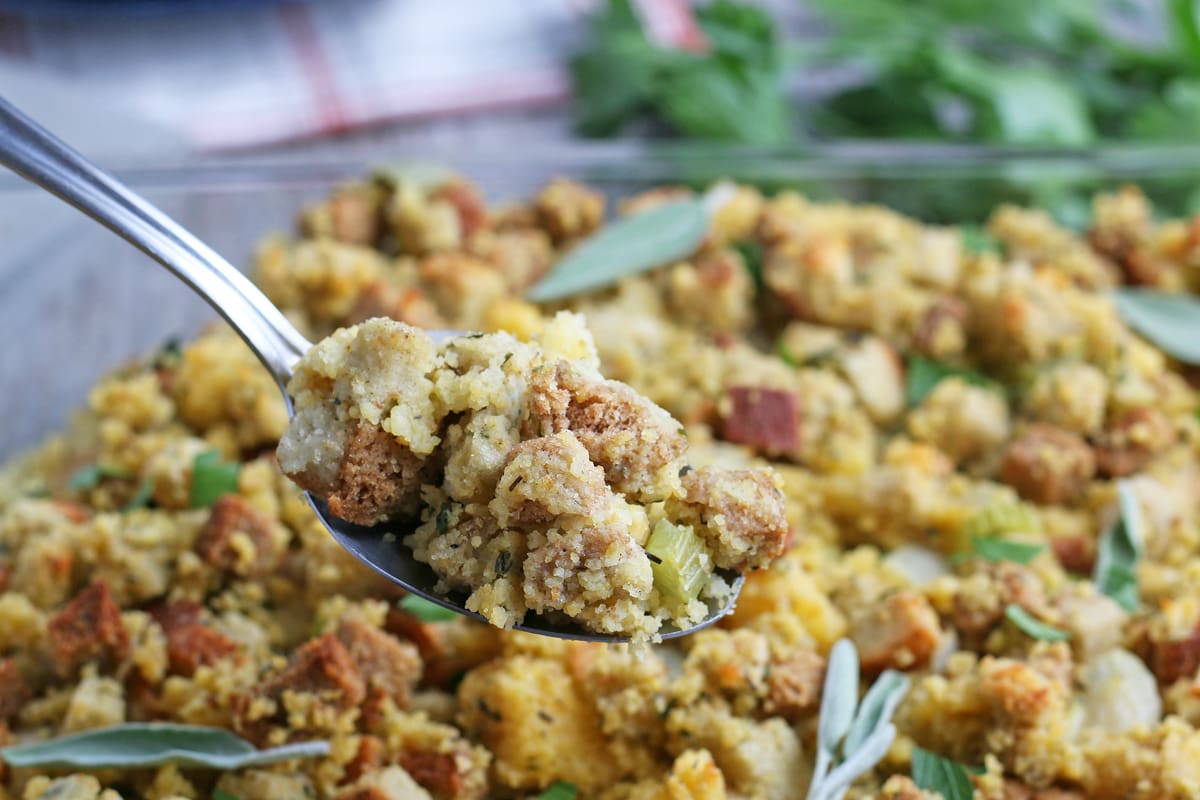 Is it stuffing or dressing? Technically speaking, stuffing is a mix that is stuffed into a turkey, chicken or other protein. Dressing is basically the same mixture, but cooked independently in a separate baking dish.
But if you are asking my opinion, call it whatever you want to call it! My family always calls it stuffing even though we serve it as "dressing".
Cornbread Dressing
For this recipe you can make your own easy homemade cornbread or use store bought. The amount is forgiving, but it equals between 3-4 cups cubed.
I prefer a buttermilk cornbread, but you can also use whole milk if you doesn't like the zing.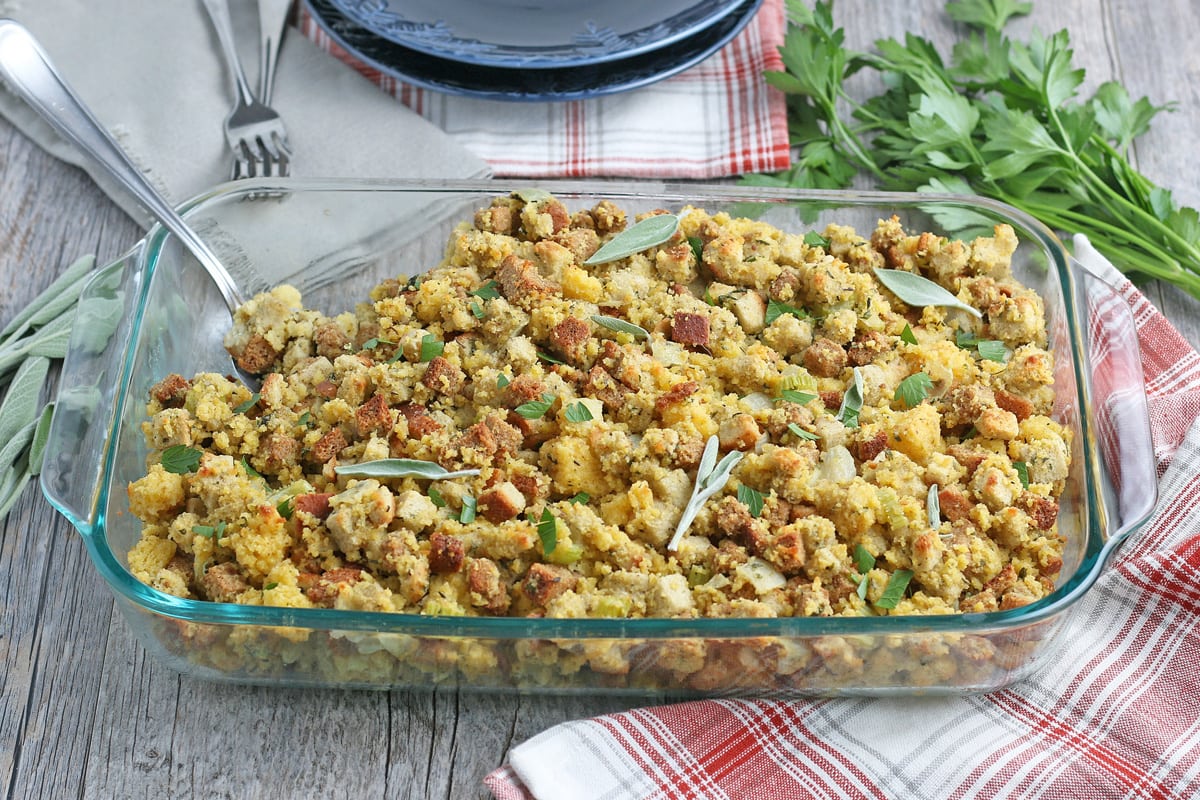 The trick to this cornbread dressing is making sure the cornbread is toasted or dried out. If it is too fresh, the dish ends up soggy without any body. Here are your options to achieve this:
Bake your own 3 days ahead. Yes, this required planning and foresight. Bake the bread and let it sit for a few days to dry out. Even better, cut it into squares so it dry out on all the edges.
Bake your own and then toast it. Toasting does more than just dry out the bread, it also uses browning to create more nutty flavor.
Get store bought off the sale rack. Why do I specify the sale rack? It means that it is older than the fresh stuff and they are trying to get rid of it. It might still need a day to sit (or you can toast it too).
And lastly, if you want something right in the middle for your cornbread dressing, use a cornbread box mix. You can also use Gluten-Free Cornbread.
Why Stuffing Cubes?
Let's first answer what stuffing cubes are- they are the dry stuffing mix at the store and basically just gloried, seasoned croutons or dried bread.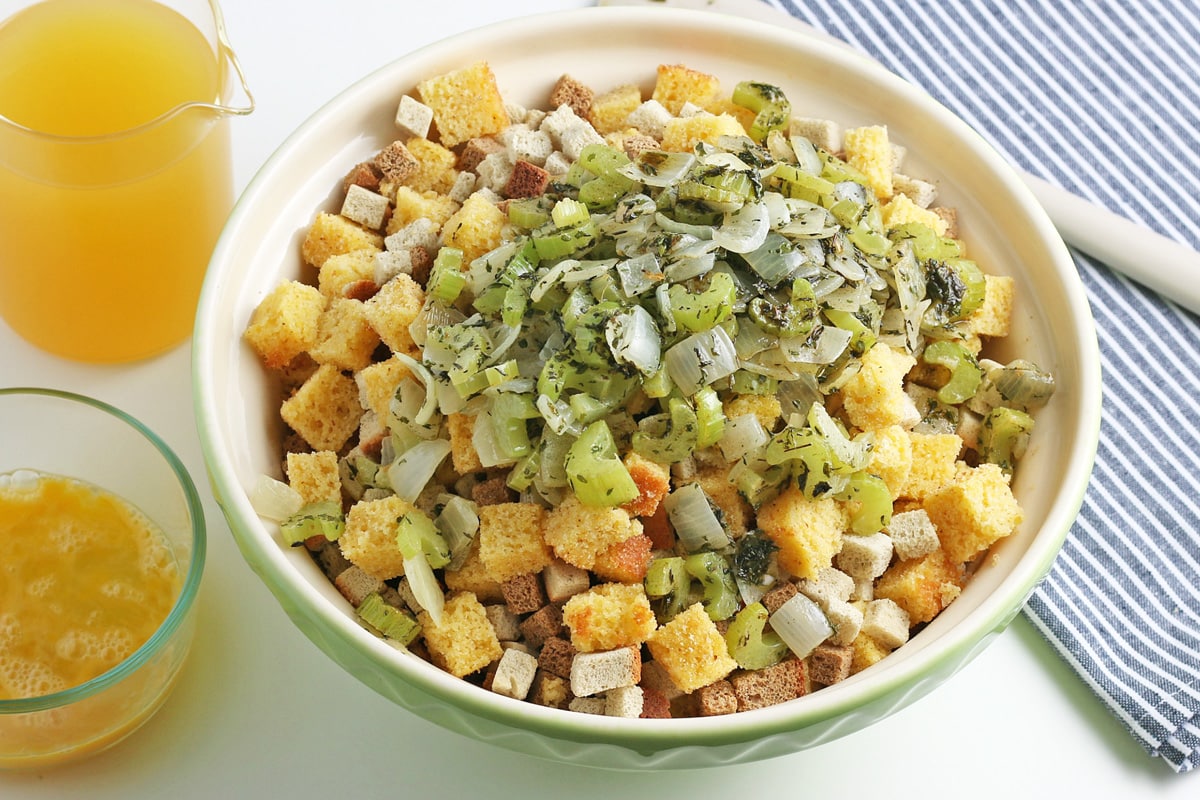 So why do I need these if I just made cornbread? This was one of my questions too.
Cornbread will never have the right texture to dry out like regular bread will. This is why you don't see cornbread croutons or cornbread toast.
But to make cornbread dressing/stuffing, you need DRY bread. If you add broth to fairly moist bread, it won't achieve the right texture So using stuffing cubes will create layers of flavor AND textural sophistication.
Ingredients
The majority of this recipe is kitchen staples and is easily customizable.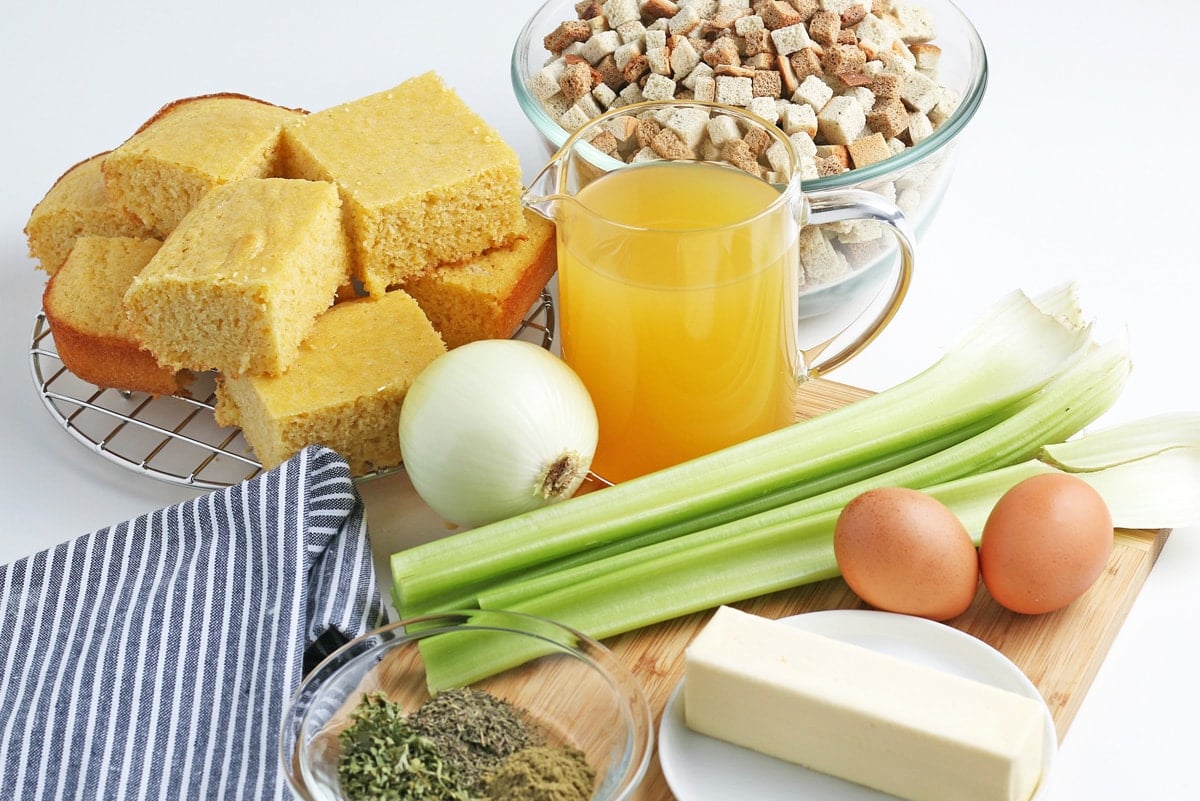 Cornbread- make your own using our recipe below or buy premade cornbread at the grocery store.
Stuffing cubes- see the explanation above on the why you need stuffing cubes in addition to the cornbread.
Unsalted butter– if you use salted butter, omit the additional salt below.
White onion– red onion can be used for heftier onion flavor, while shallots can be used for a milder flavor.
Celery– Optional.
Dry seasonings– parsley, sage, thyme, garlic powder, onion powder, coarse Kosher salt and black pepper. Alternately, you can use about 1-2 tablespoons of poultry seasoning.
Eggs– Serves as binder for all of the ingredients.
Broth- Chicken broth is a more flavorful alternative to plain water. But you have other options too, like vegetable or bone broth. You can also swap out 50% of the liquid measurements with a sweet, fruity wine.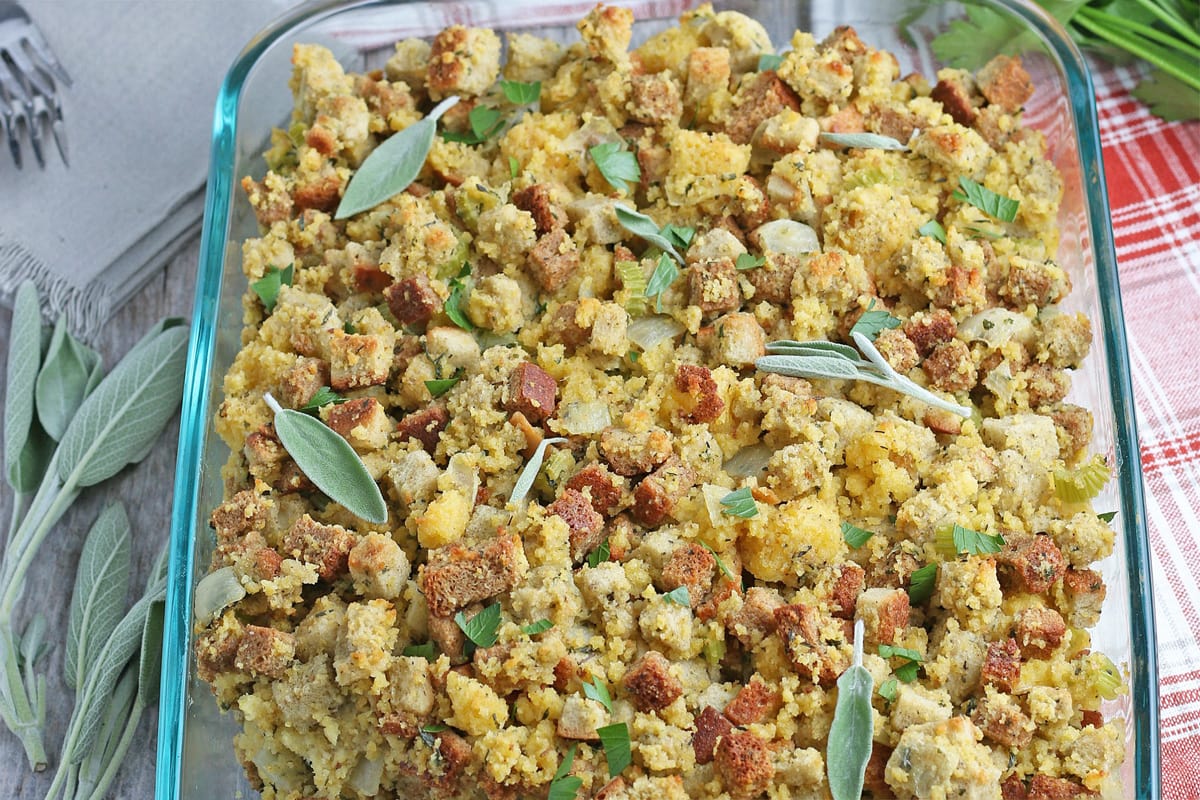 Make it!
First, make the cornbread, if you are making it from scratch using our easy cornbread recipes. Allow it to cool fully otherwise it will disintegrate when you mix it all together.
Next, melt butter and soften the veggies- just enough so they are slightly soft, but still toothy. To do this, use a large skillet (don't crowd the pan) over medium heat- not too low and not too high. Seasoning here so that the butter carries all of those flavors equally throughout the dressing.
Get a large bowl, larger than you think you need and then toss the cornbread mixture with the rest of the ingredients to combine. For best texture, do not stir, or the pieces will start to get mushy. Here you can decide whether you are a person who wants a softer dressing or a crunchy one. Add more broth if you like soft and less for crunchy.
Pour mixture into a prepared casserole dish.
Bake until golden brown and allow to rest before serving.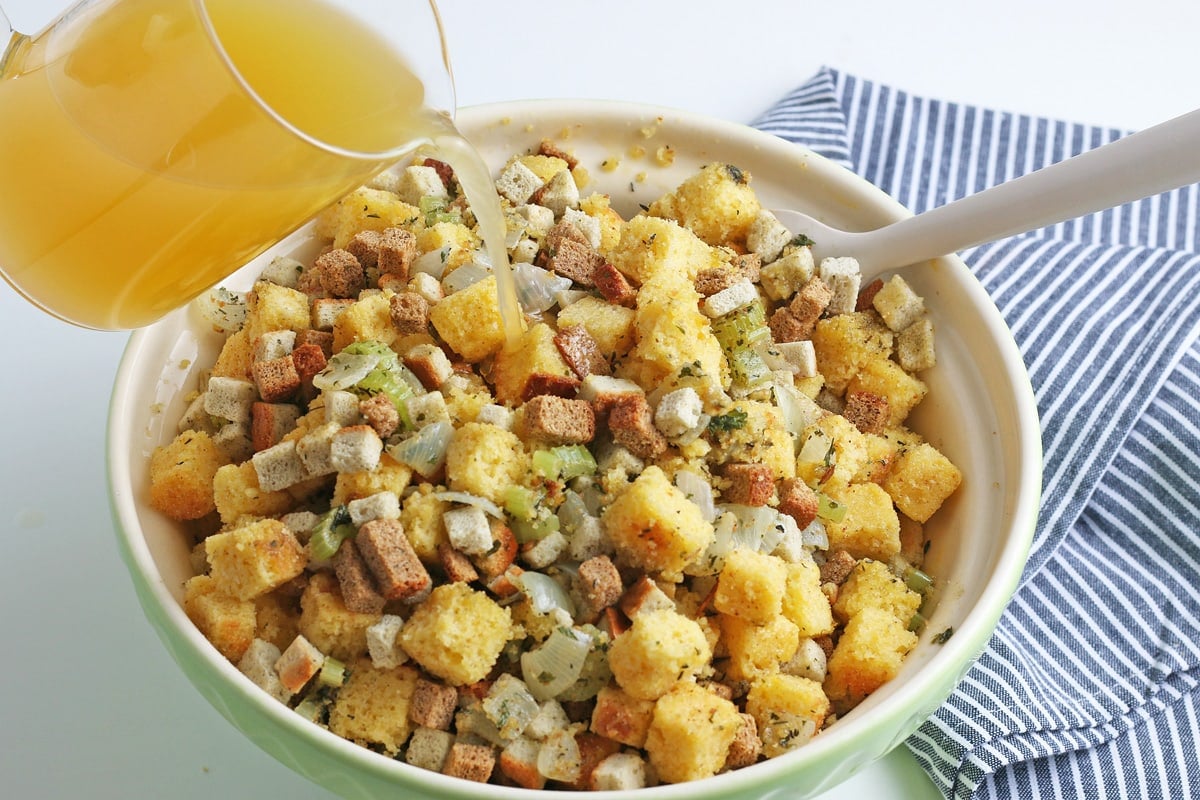 Cornbread Dressing Variations
This dressing recipe is amazingly delicious all on its own, but if you feel the need to customize, here are a few ideas.
Nuts– you can add 1/2 cup chopped pecans, walnuts or almonds to give it a nice crunch.
Fruit– adding dried or fresh fruit adds a chewy and sweet touch. Just add 1/2 cup dried fruit or 1 cup chopped fresh apples or pears.
Sausage– stir 1 cup crumbled sweet Italian sausage or breakfast sausage into the breading mixture to spice it up a bit.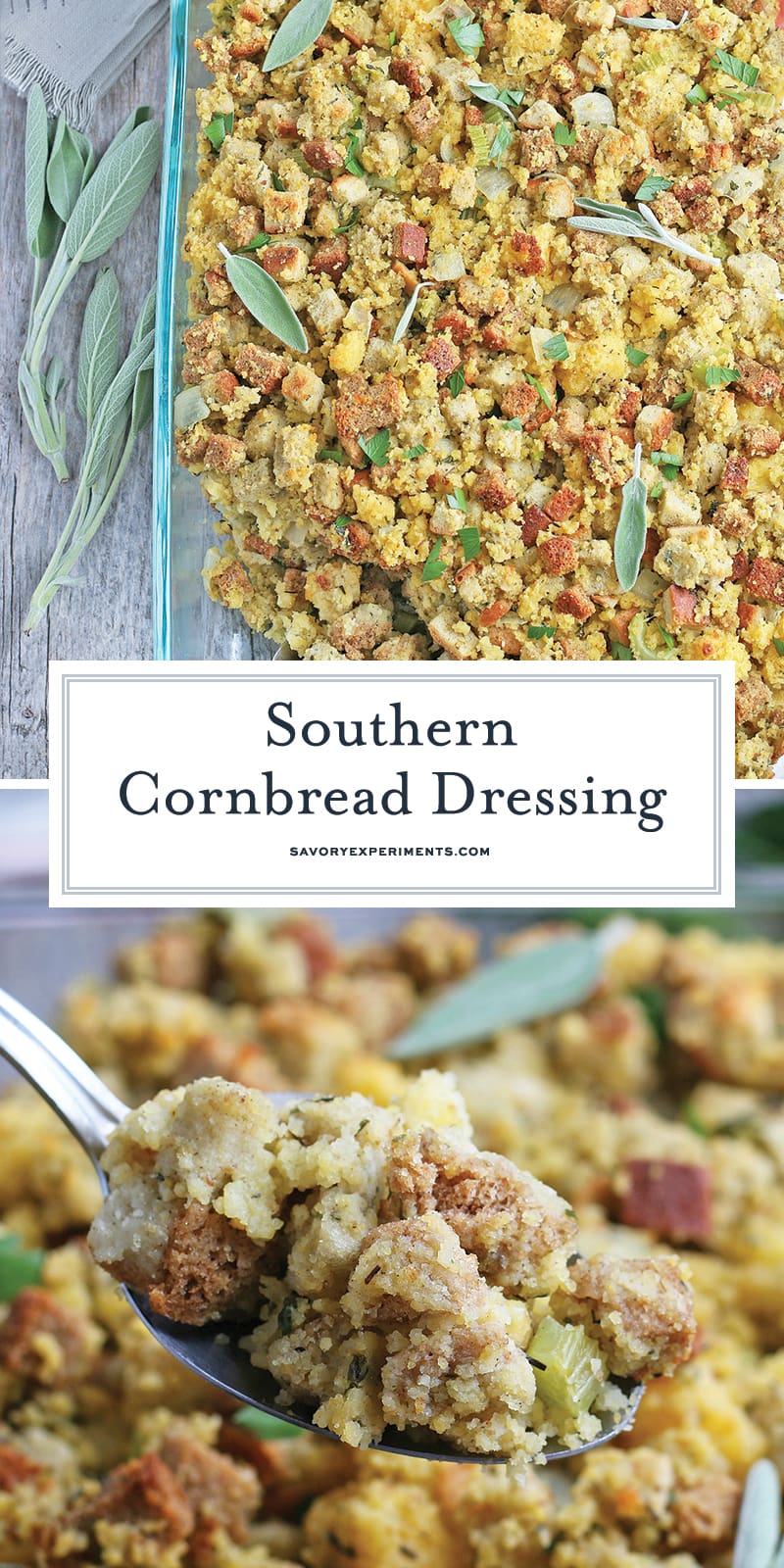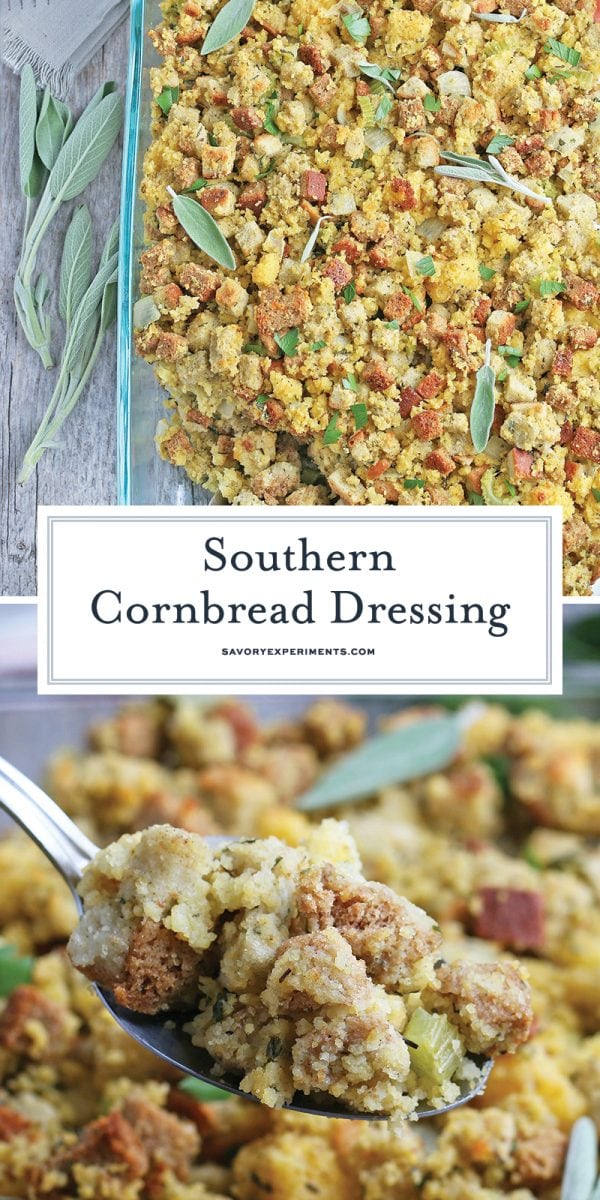 Make Ahead & Freezing of Cornbread Dressing
There are several element to this cornbread dressing dish so the fact that you can achieve some, if not all of them ahead of time is nice, especially if you are preparing it with a big meal for Thanksgiving dinner.
Make the whole dish ahead of time and then tightly cover it after step #7, so before you bake it. It can be stored or put in the freezer at this stage.
To heat it, allow to thaw and then bake as directed.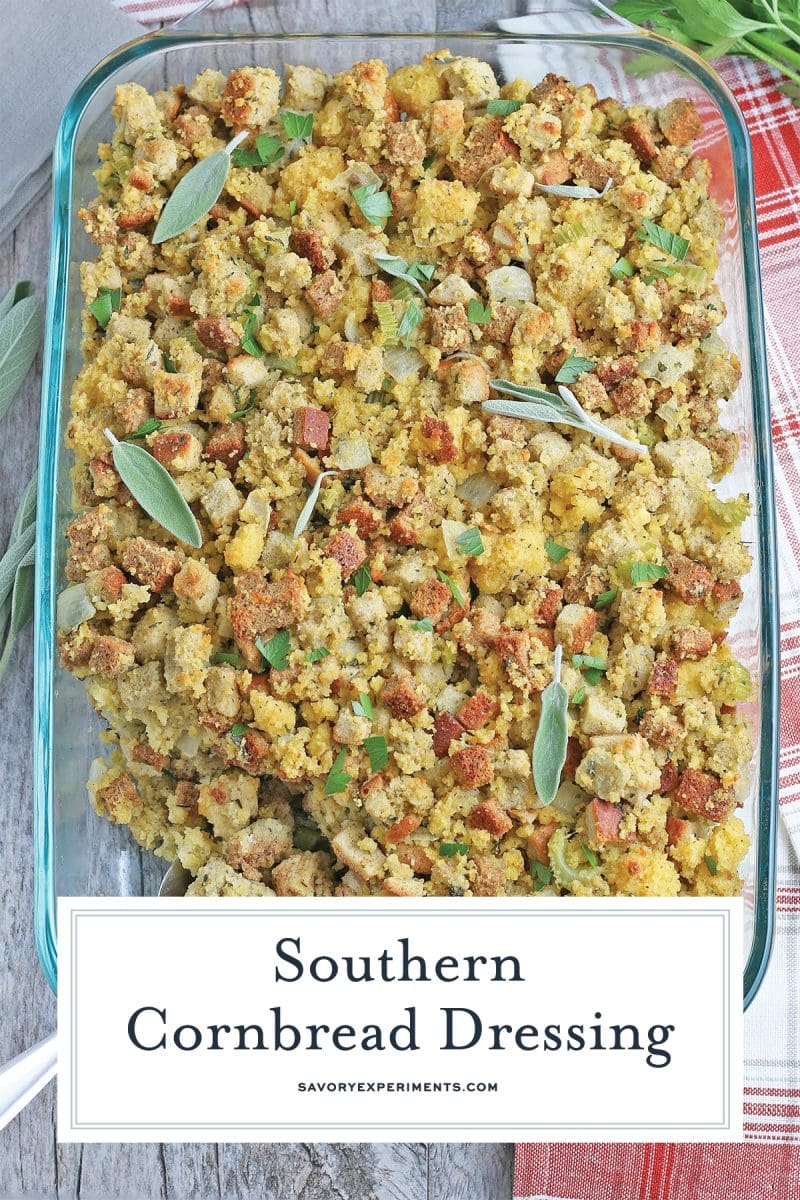 We've also got your appetizers, turkeys and desserts covered!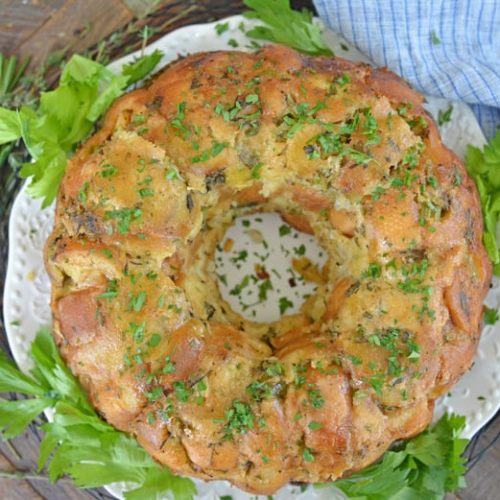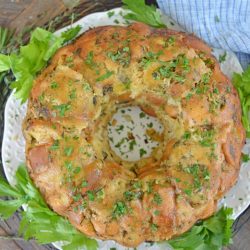 Herb Stuffing Wreath
Of all of the homemade stuffing recipes, this Herb Stuffing Wreath is the best! It will be the star of your Thanksgiving dinner!Of all of the homemade stuffing recipes, this Herb Stuffing Wreath is the best! It will be the star of your Thanksgiving dinner!
See The Recipe!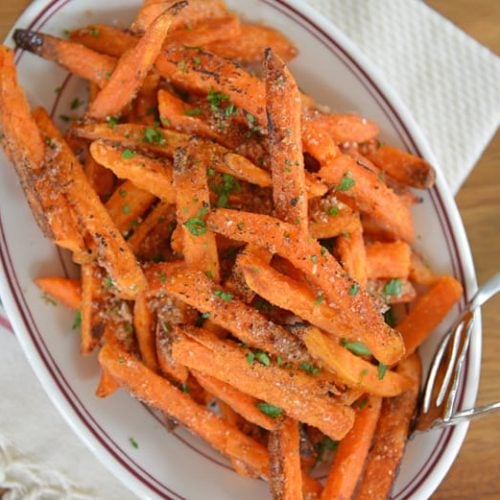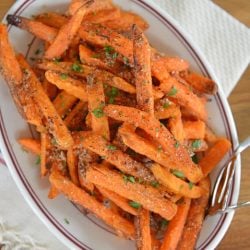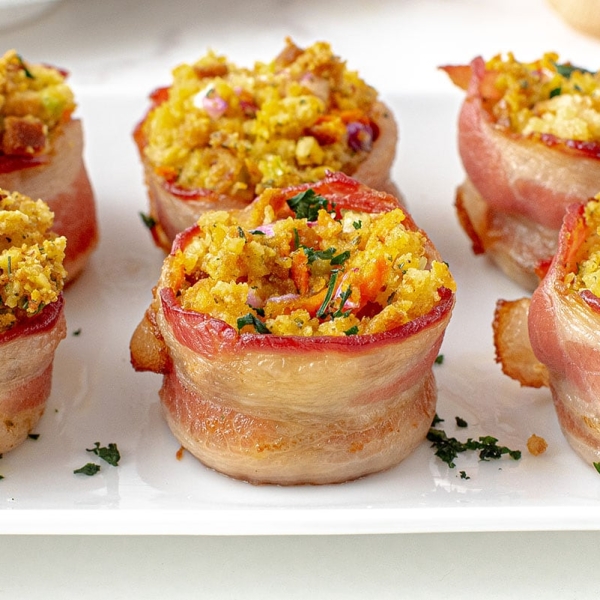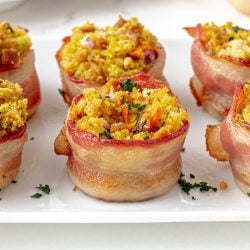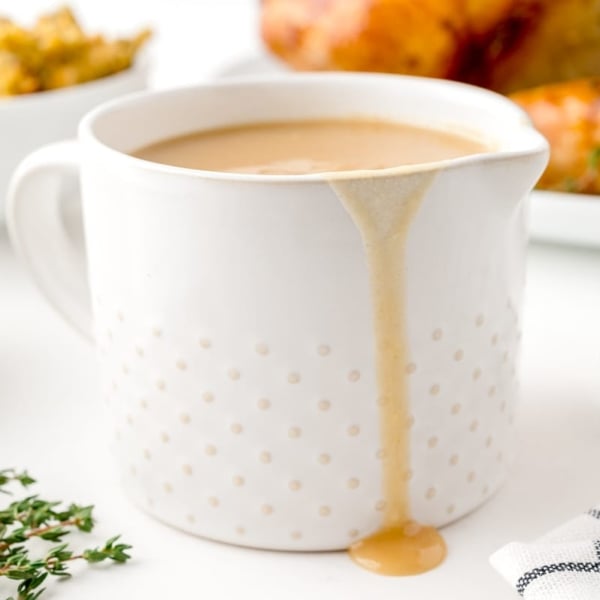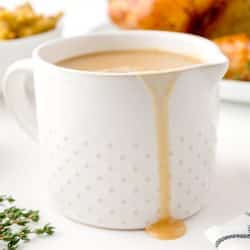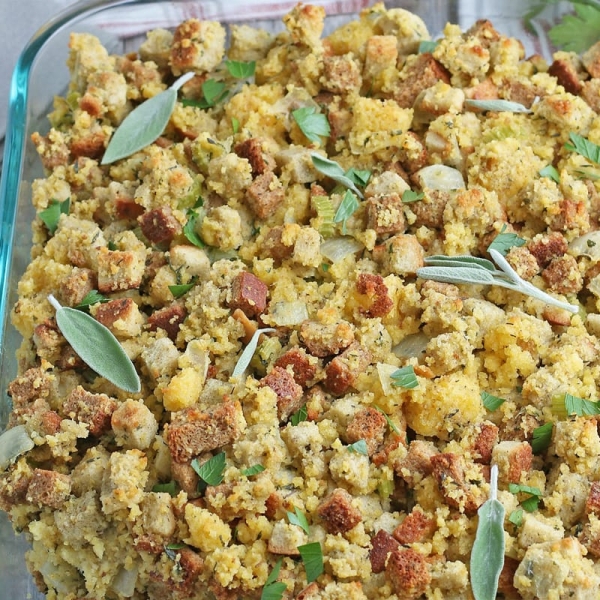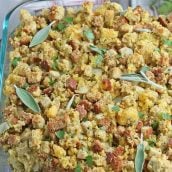 Southern Cornbread Dressing
Whether you call it dressing or stuffing, this EASY Southern Cornbread Dressing will be the star of your Thanksgiving table!
Instructions
Cornbread:
Preheat oven to 400 degrees and prepare an 8×8 baking dish with cooking spray.

In a large bowl, whisk together cornmeal, flour, sugar, baking powder and salt.

Add buttermilk, eggs and butter, stirring until all is wet. Do not overmix.

Transfer into prepared pan.

Bake for 20-30 or until toothpick inserted in the center comes out clean.

Allow to cool fully before cutting.

Cut into 1-2 inch cubes. Heat oven to 250 degrees and toast in a single layer for 30-40 minutes.
Dressing:
Preheat oven to 350 degrees and prepare a 9×13 baking dish (or other 3 quart casserole dish) with cooking spray.

In a large skillet, melt butter over medium heat.

Remove from heat and add parsley, sage, thyme, garlic powder, onion powder, coarse sea salt and ground black pepper, stirring well.

In a large mixing bowl, toss hot onion mix with toasted cornbread and stuffing cubes. Word to the wise, use a larger bowl that you think you need.

Add beat eggs, tossing to combine. Gradually add broth to cornbread mixture. You might not need all of the broth. Use less for a crunchy dressing and more for a softer, cake-like dressing.

Transfer to prepared baking dish.

Bake, uncovered, for 20-25 minutes or until golden brown.

Remove from oven and serve immediately.

If you've tried this recipe, come back and let us know how it was in the comments or ratings.
Nutrition
Calories:
316
kcal
,
Carbohydrates:
33
g
,
Protein:
6
g
,
Fat:
19
g
,
Saturated Fat:
11
g
,
Cholesterol:
97
mg
,
Sodium:
727
mg
,
Potassium:
337
mg
,
Fiber:
2
g
,
Sugar:
13
g
,
Vitamin A:
623
IU
,
Vitamin C:
9
mg
,
Calcium:
97
mg
,
Iron:
2
mg