Honey Balsamic Instant Pot Pulled Pork is a sweet and unctuous dish that is fall-apart tender. Perfect for salads, sandwiches, and all on its own.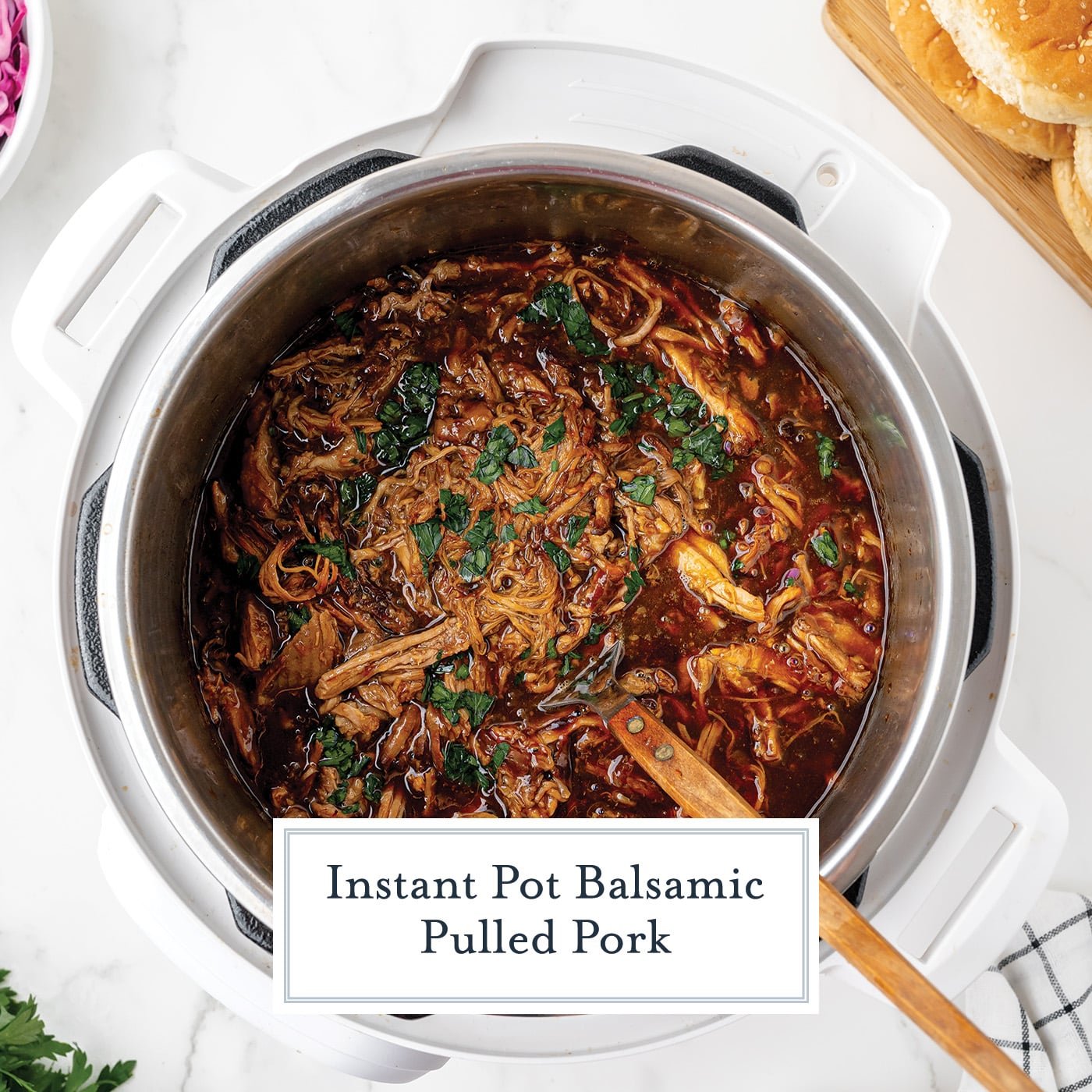 Honey Balsamic Instant Pot Pulled Pork is a pressure cooker pulled pork recipe using savory and sweet flavors creating a super delicious pork dish. You can serve with your favorite bbq sauce or enjoy it as is. Ready in just 90 minutes!
Pulled Pork in the Instant Pot
It took me a while to get on the Instant Pot train. I am usually pretty hesitant to acquire any new appliances. I have so many and they take up so much space. Fast forward a few tries and I will tell you I am a full-on convert.
I love my Instant Pot. Let me also say, this is NOT a sponsored post. It is great for tenderizing large or tough cuts of meat in a fraction of the time it would take normally. We're talking "break it down with a spoon, fall apart tender" in no time.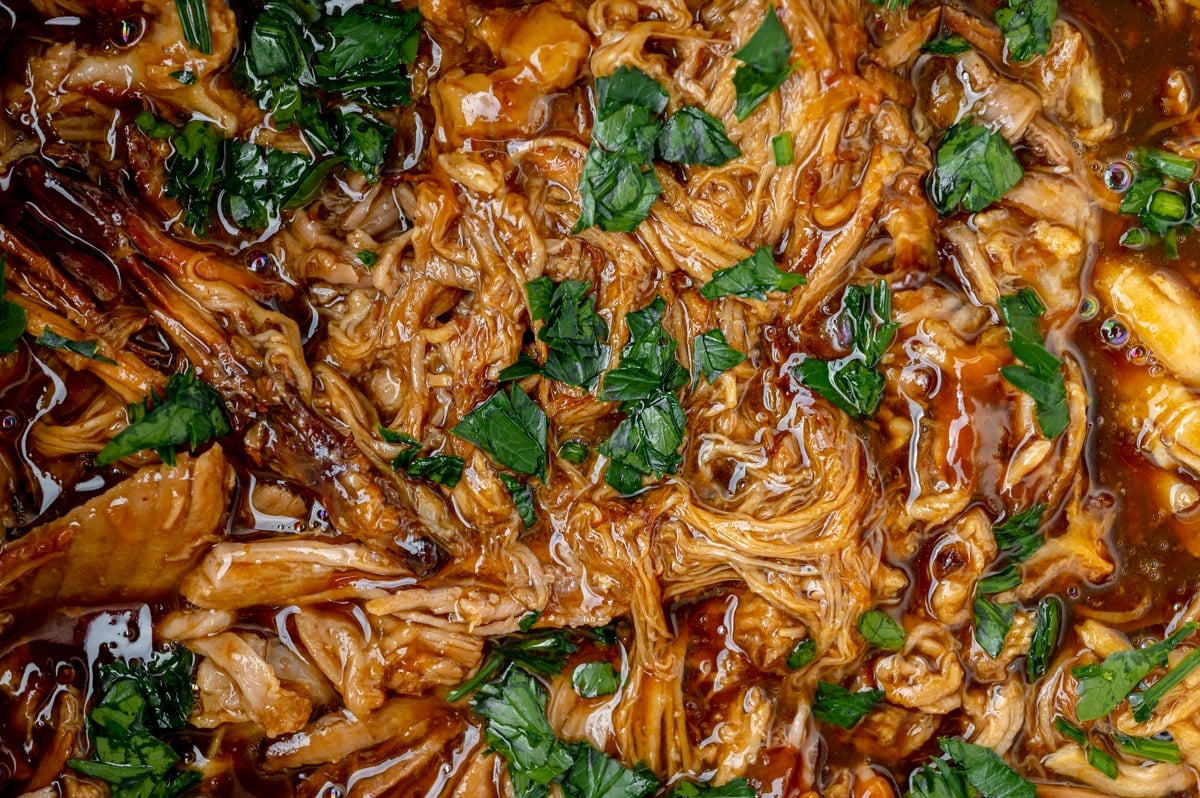 Why You'll Love This Easy Pulled Pork Recipe
If you are a pulled pork lover who also happens to be short on time or just doesn't have the patience, this recipe is for you!
Time – With the Instant Pot you are shaving hours and hours off the time it would normally take to make pulled pork, even making it in the slow cooker.
Flavor – sweet and savory, fall-apart pork. This great recipe adds a little more to your average shredded pork recipe.
Great for a Crowd – Have a lot of people coming over? Say no more, this recipe goes far and doesn't take a long time to make.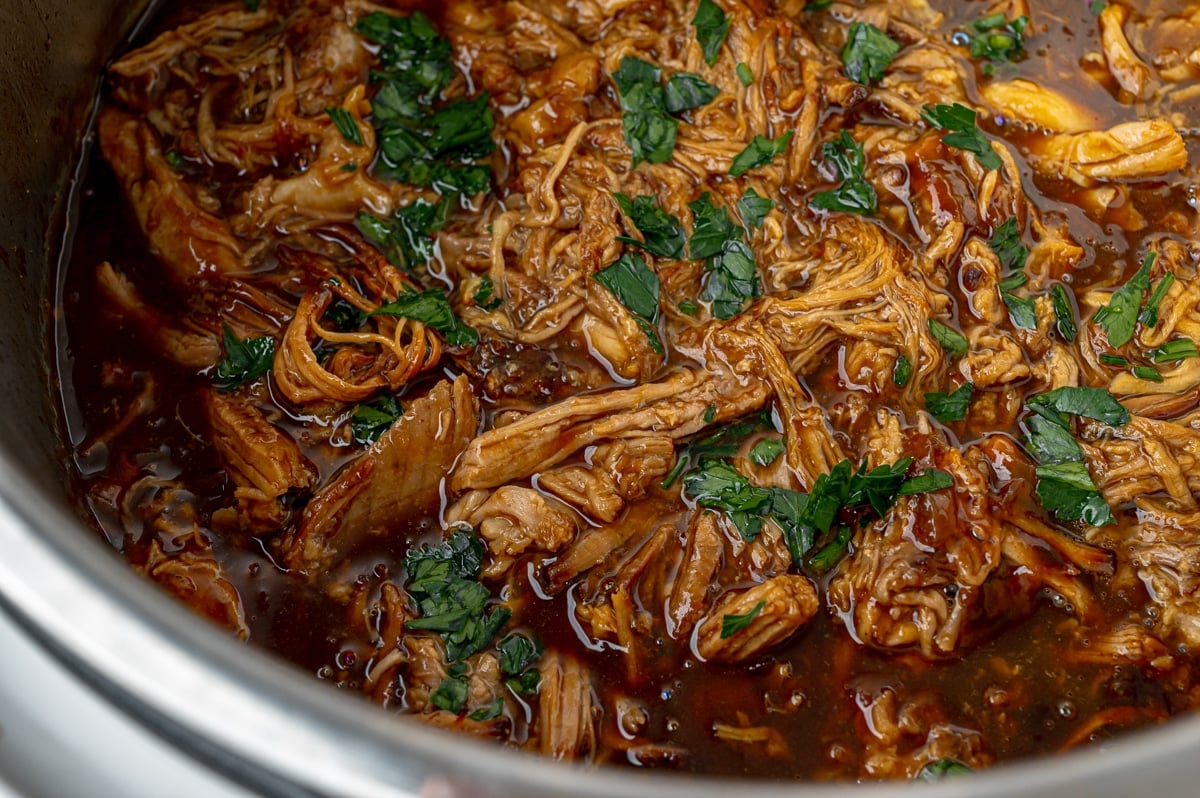 What is Honey Balsamic Instant Pot Pulled Pork?
Let's start with the pulled pork part of things. Pulled pork is most often made with a pork shoulder or a pork butt (sometimes even Boston butt) and oddly enough comes from the upper part of the shoulder of the hog. You can get bone in or bone out.
It is a glorious cut of meat that also happens to be full of tough fibers. To make pulled pork, you will often need 8-12 hours of oven or smoker time to get something really tender. It also does best with long bouts of moisture, which is why it tends to be braised.
That is unless you have a pressure cooker. Read: Instant Pot!
This recipe pairs the sweetness of honey, brown sugar, and hoisin sauce with the tartness of balsamic vinegar and the bite of onion to create something truly incredible.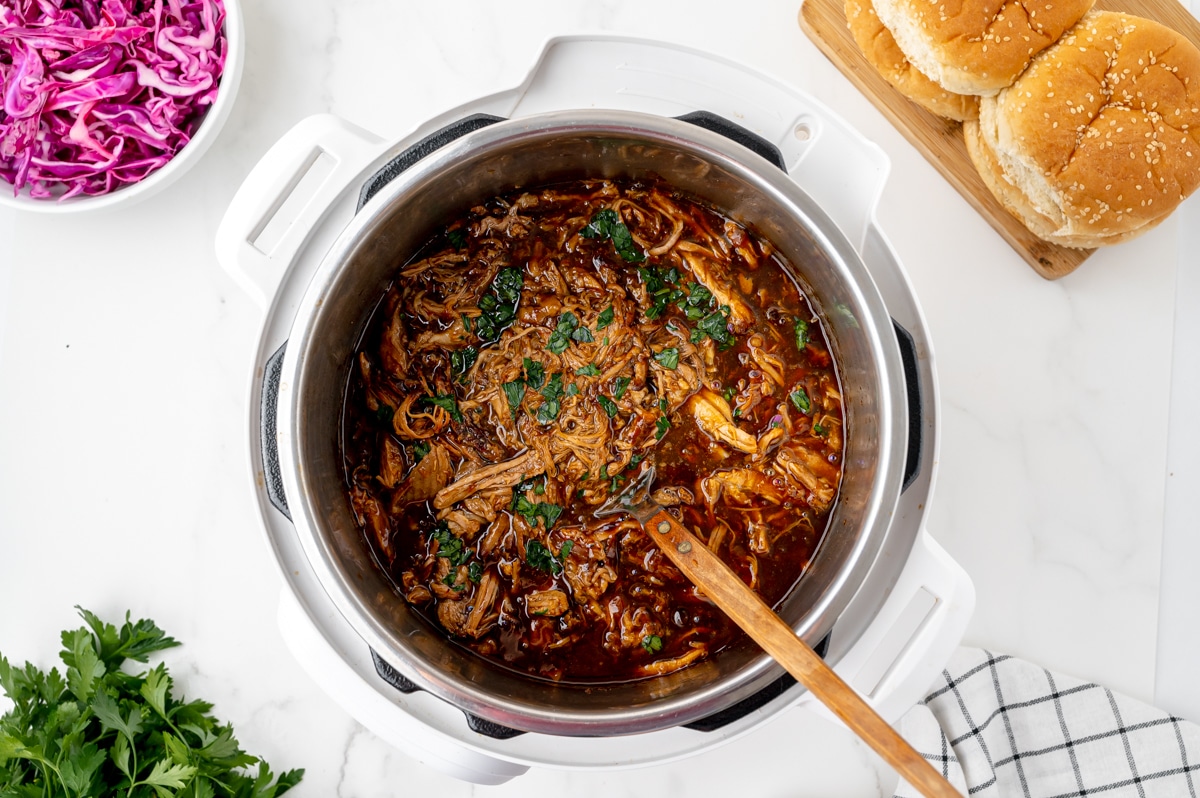 What You Need to Make Instant Pot Pulled Pork
If I had to guess, a good number of these simple ingredients are already in your kitchen. Thankfully the ones that might not be, are easy to find.
Bone-in Pork Butt – The shoulder of the front leg of the hog. If you don't see it in the display case or in the meat aisle, say hello to your butcher and ask if they have one that is bone-in. Cooking pork with the bone makes for a more tender bite. It is also labeled as pork shoulder.
Honey – Adds sweetness and helps to create a sauce for the pork.
Balsamic Vinegar – Rich in flavor, this will bring acidity and bite helping to cut through the richness of the pork and the sweetness of the sauce.
Hoisin Sauce – A blend of sweet and salty and used for stir fry and glazing meats. Easily found at the grocery store in the Asian food section or online.
Vegetable Broth – Bouillon cubes or paste will also work in lieu of the broth.
Brown Sugar – Sweetness of course, but also a natural tenderizer for meat.
Garlic Powder – Dehydrated and powdered garlic and used to enhance flavor.
Sweet Onion – I like the sweetness of this variety for this recipe. For more pungent onion flavor, grab a red onion.
Cornstarch – Used to help thicken the sauce. Arrowroot can also be used.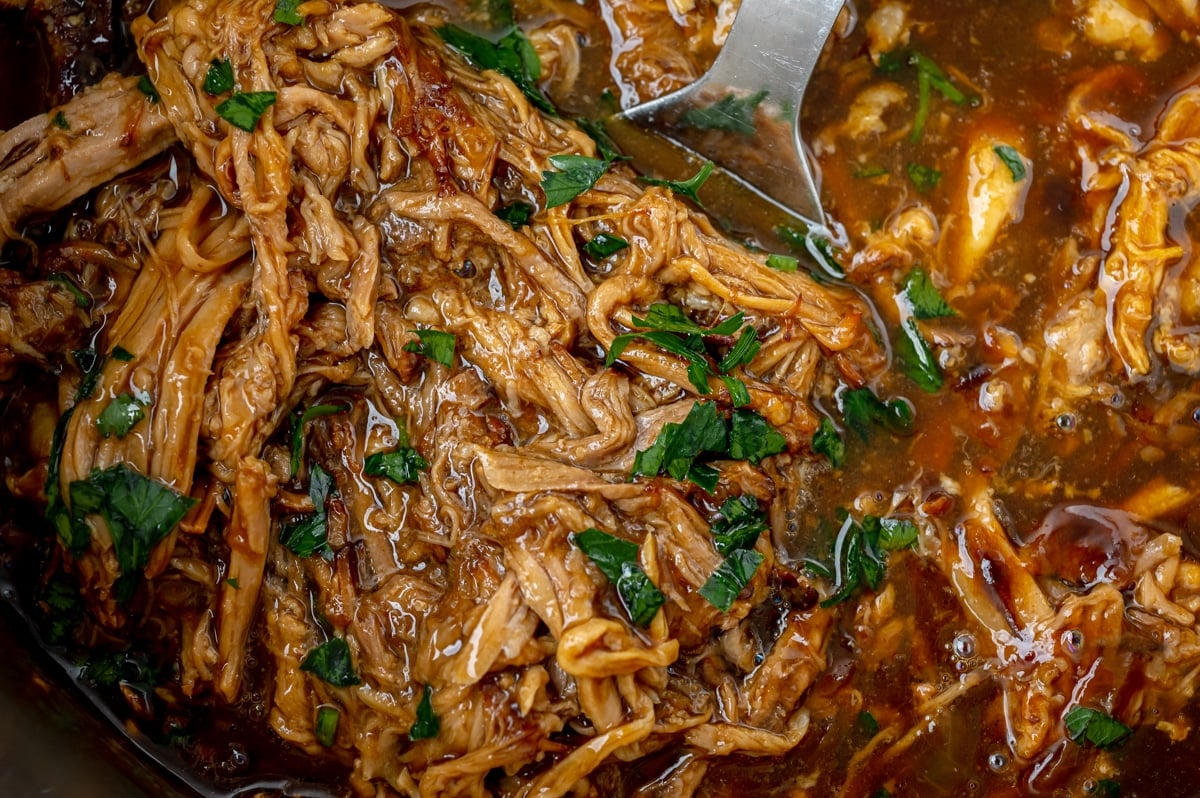 Instant Pot Pulled Pork Recipe Instructions
Making it in the Ip is super easy. I don't even sear or brown the exterior, it is literally a toss-and-go type of situation.
Make sauce. You can do this using a fork or a whisk. Start slowly as the honey may need a bit more elbow grease to start to incorporate with the other ingredients.
Rinse meat. Wash away any impurities that might be on the surface of the pork cut before putting it into your Instant Pot.
Add the rest! Carefully pour sauce over the pork and arrange the onion slices on and around the meat.
Set it. Remember that pressure cookers need time to build pressure and the larger the cut of meat, the longer that takes. This one takes about 20 minutes.
Natural release + quick release. Using a mix of both in this recipe to cut down on time.
Get to shredding! Carefully remove the now very tender pork shoulder and begin to shred it with two forks. The bone can go in the trash can.
Reduce. You don't want all that liquid to go to waste so we create a sauce and use the saute function to do it.
Create slurry. Removing a small amount of liquid to mix with the cornstarch vs. adding the cornstarch straight in ensures it mixes evenly and doesn't create any lumps. When you add it back to the pan, the heat activates it and the sauce begins to thicken.
Toss. Tossing the pork in the sauce will keep it moist and make sure each and every bit is flavor-packed.
Choose how you want to serve it. There are a lot of options here – sandwiches (think sliders or grilled cheese,) with vegetables and rice, in a hash, in a quesadilla on a salad, etc.
Whether this is your first time using an Instant Pot or you use it all the time, check out my Instant Pot Basics.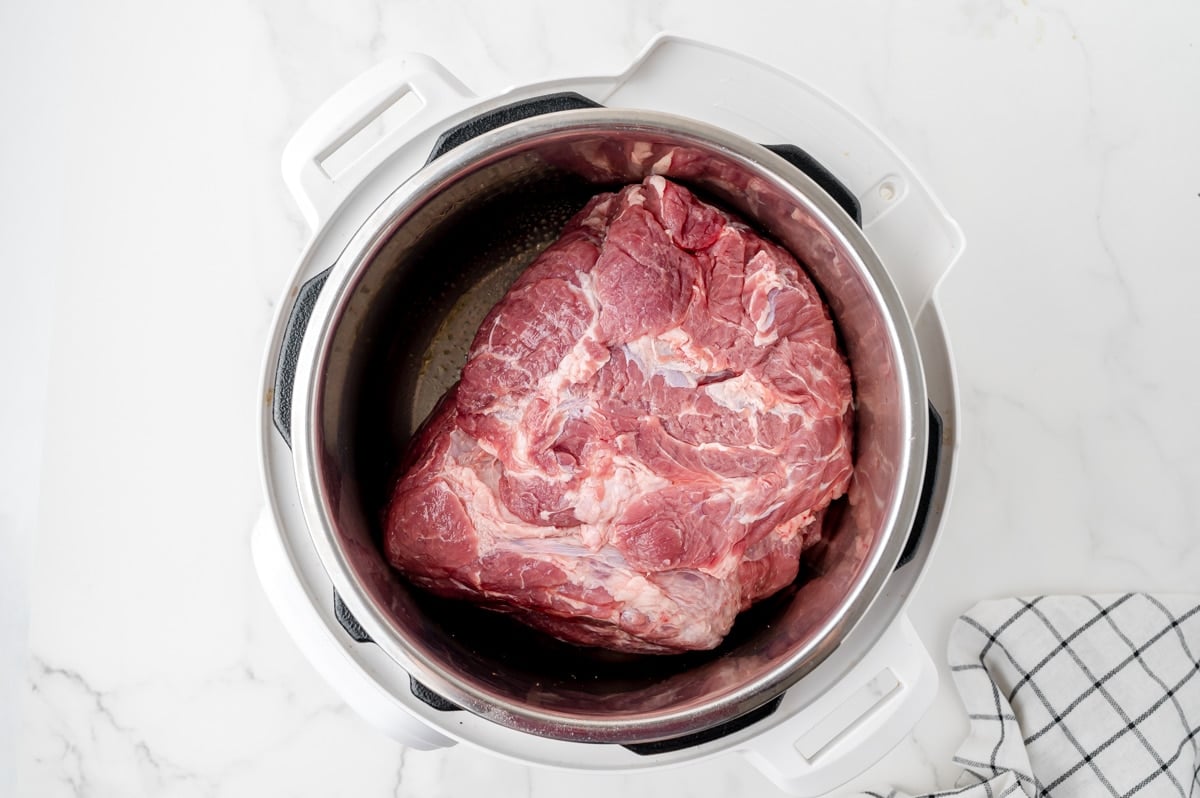 Pulled Pork in the Slow Cooker
Making this dish in the crock pot is another easy option, but will surely take longer. Follow all of the prep instructions except the cooking method.
Instead of placing it all in the IP, Set the crock pot for 7 hours on low or 4 hours on high. Keep pot on high while pulling pork to cook and thicken sauce or transfer it to a saucepan to make this process go a little faster.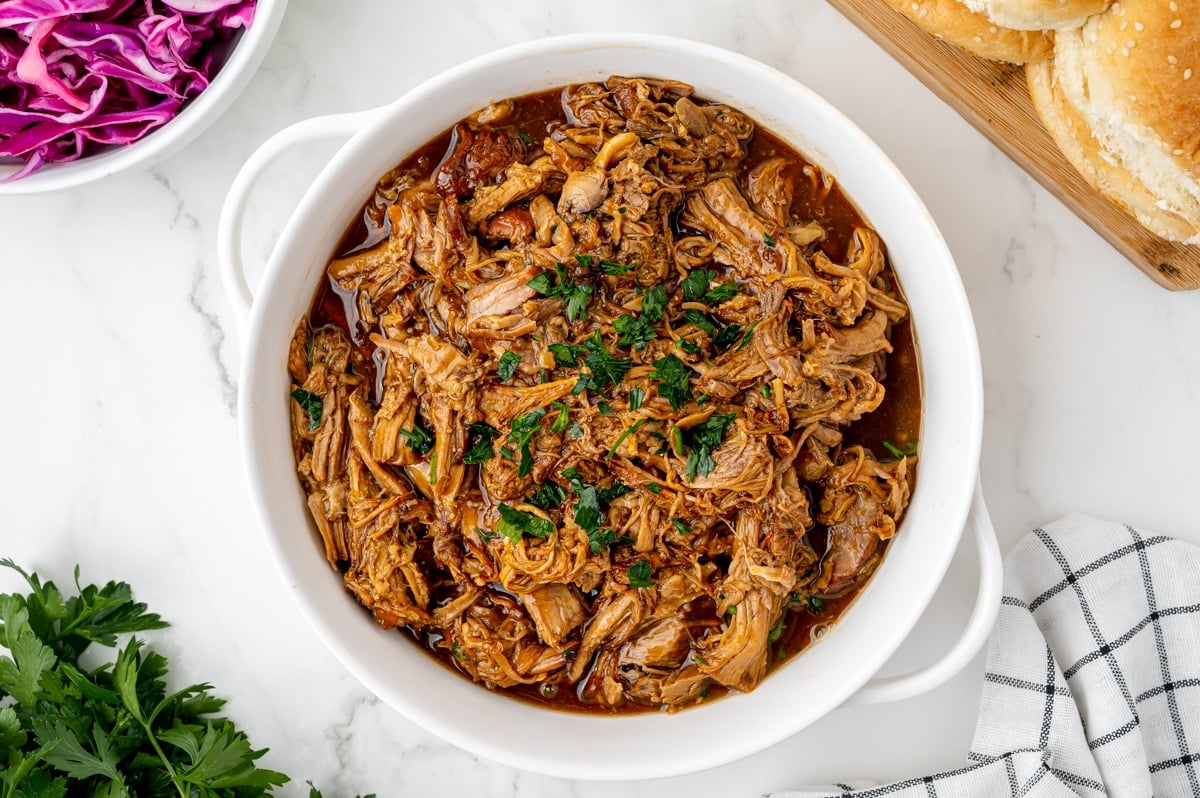 What to Serve with Honey Balsamic Instant Pot Pulled Pork
The good news is that this recipe is super versatile and friendly to almost any pairing you can think of. I like serving mine with a side of White Wine Couscous , Deviled Egg Macaroni Salad, Homemade Baked Beans or Garlic Herb Grilled Corn.
Of course, it always pairs nicely with a green salad!
You can use this best pulled pork recipe to make pulled pork sandwiches. Use either hamburger buns or slider buns if serving at a party. You could make pulled pork nachos and top with a homemade bbq sauce. The options are endless.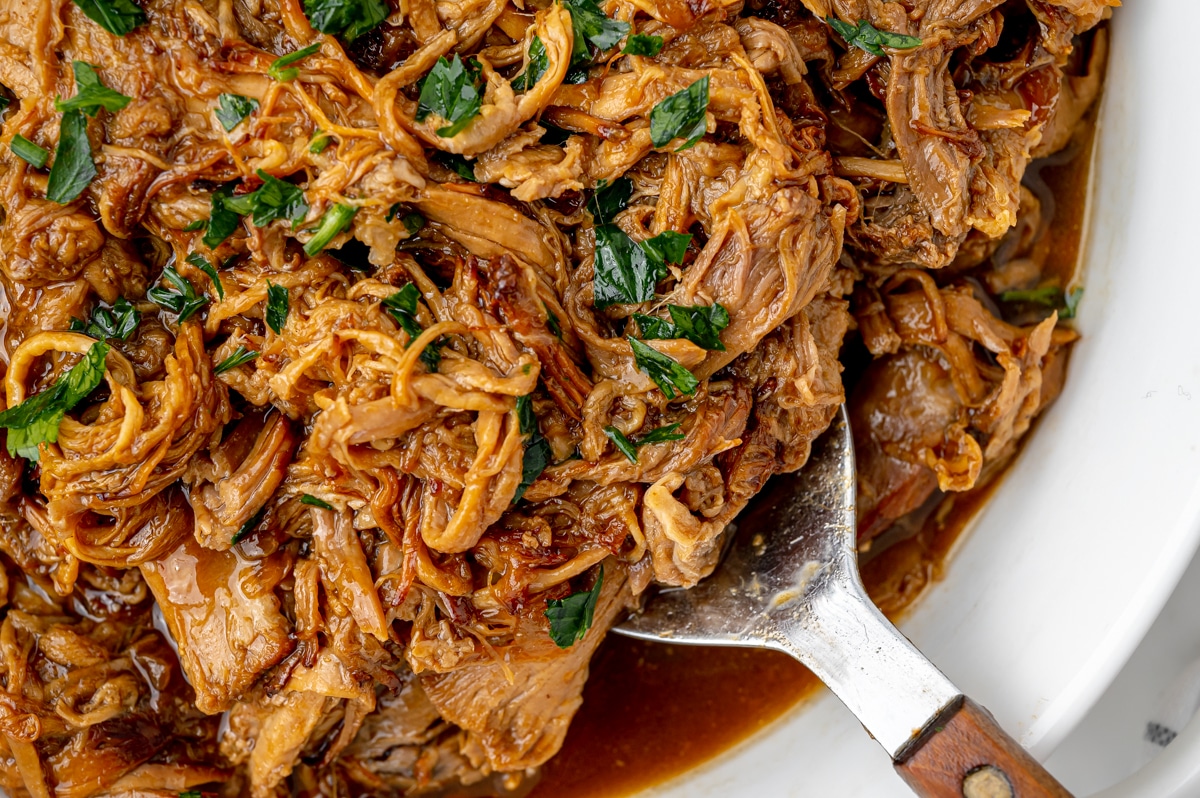 Variations
Not too much to change here, but here are a few things:
Boneless Pork Butt – You can absolutely use a bone-out pork butt here. There are some benefits to keeping the bone in when you are cooking over a long period of time, but when a pressure cooker is involved, all bets are off.
Instant Pot – In reality, you can use any electric pressure cooker. I like the Instant Pot because it has several other functions. Just be sure you buy one that is at least a 6-quart.
Yellow or White Onion – You could easily use one of these varieties of onions for this recipe if you can't find or don't have a sweet onion on hand.
Chicken broth or stock instead of vegetable broth – You could easily swap one of these in and still get a great result. You just want to avoid water as it won't have the flavor or salt content needed to make this recipe shine.
Flavor – You could play with the ingredients of the spice rub. Cayenne pepper, onion powder or chili powder is the easiest way to add to the flavor of the meat.
Cooking liquid – Try adding some liquid smoke, Worcestershire sauce, apple cider vinegar, root beer or even apple juice to the bottom of the slow cooker for different flavors.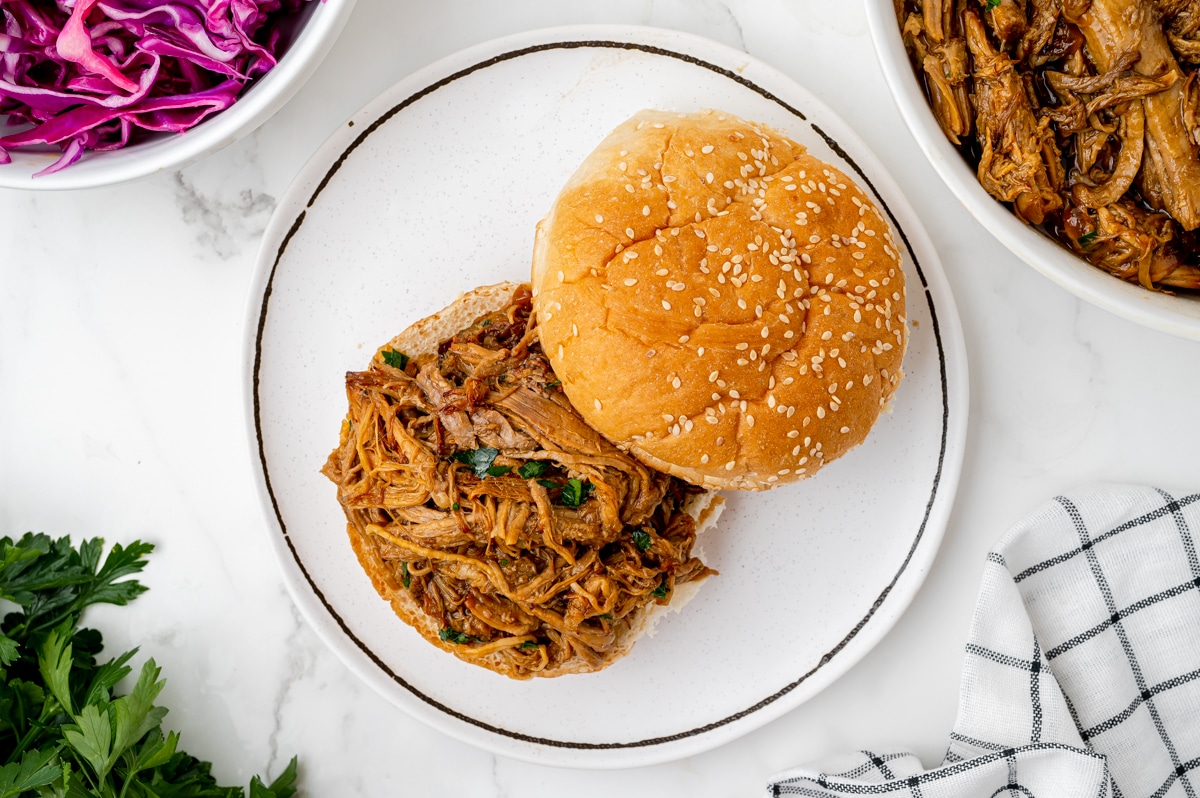 Storage and Freezing
Storage: Store leftover pulled pork in an airtight container in the refrigerator for up to 5 days. Leftovers can be heated low and slow in the oven at 300°F for 15-20 minutes covered in aluminum foil or heated in the microwave.
Freezing: Transfer the cooled pork to an airtight plastic bag expelling as much air as possible, and then freeze for 3-4 months. To eat it, allow it to thaw fully and reheat it according to the instructions above.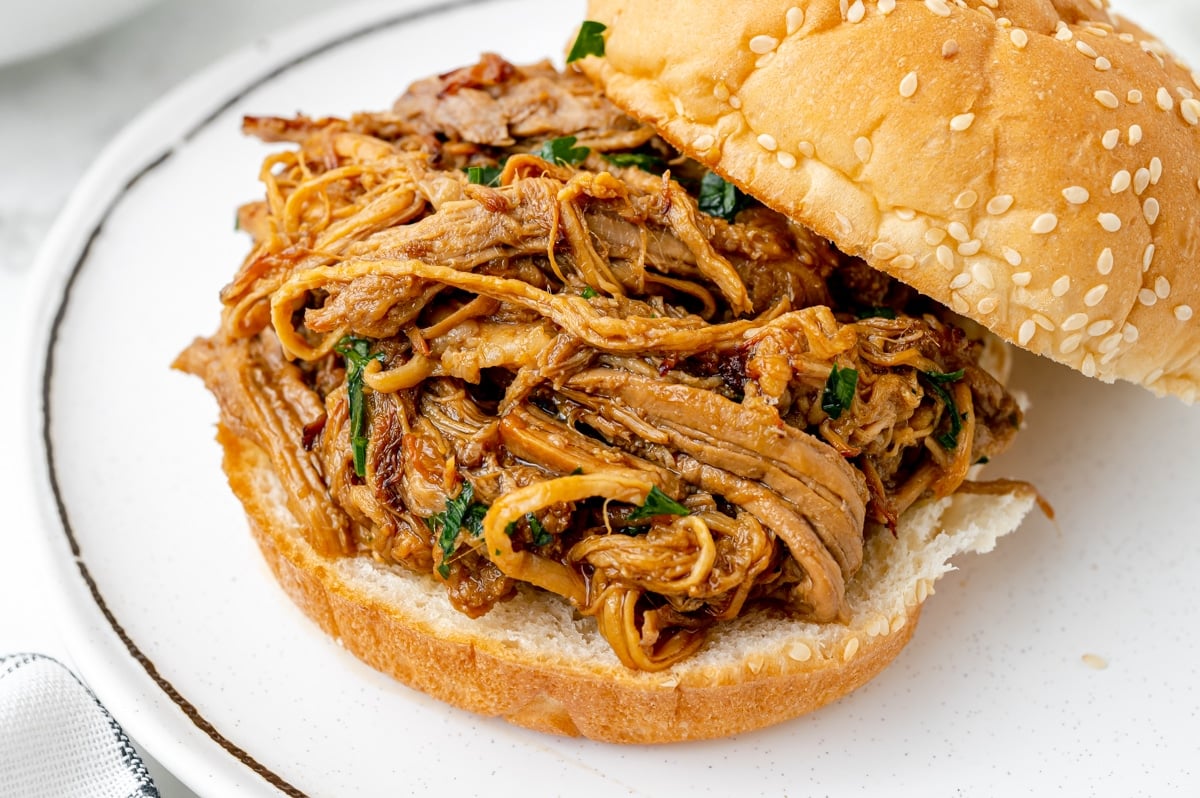 Common Questions About Instant Pot Pulled Pork
Why is my pulled pork tough in the Instant Pot?
The culprit is most likely using the quick release and not the natural release for at least 2 minutes. This recipe uses the natural release for 10 minutes and then the quick release to ensure a tender bite every time.
What is the secret to pulled pork?
In my opinion, there are two secrets to great pulled pork. You can either cook low and slow OR you can bust out the Instant Pot and slash the cooking time greatly. Both will give you amazing results, but only one will give you time back.
How long does it take to cook pork in the Instant Pot?
That depends on the size of the cut. For something like a pork loin, it may only need 40 minutes on high. For a larger, denser cut like a pork butt, 75 minutes on high is recommended.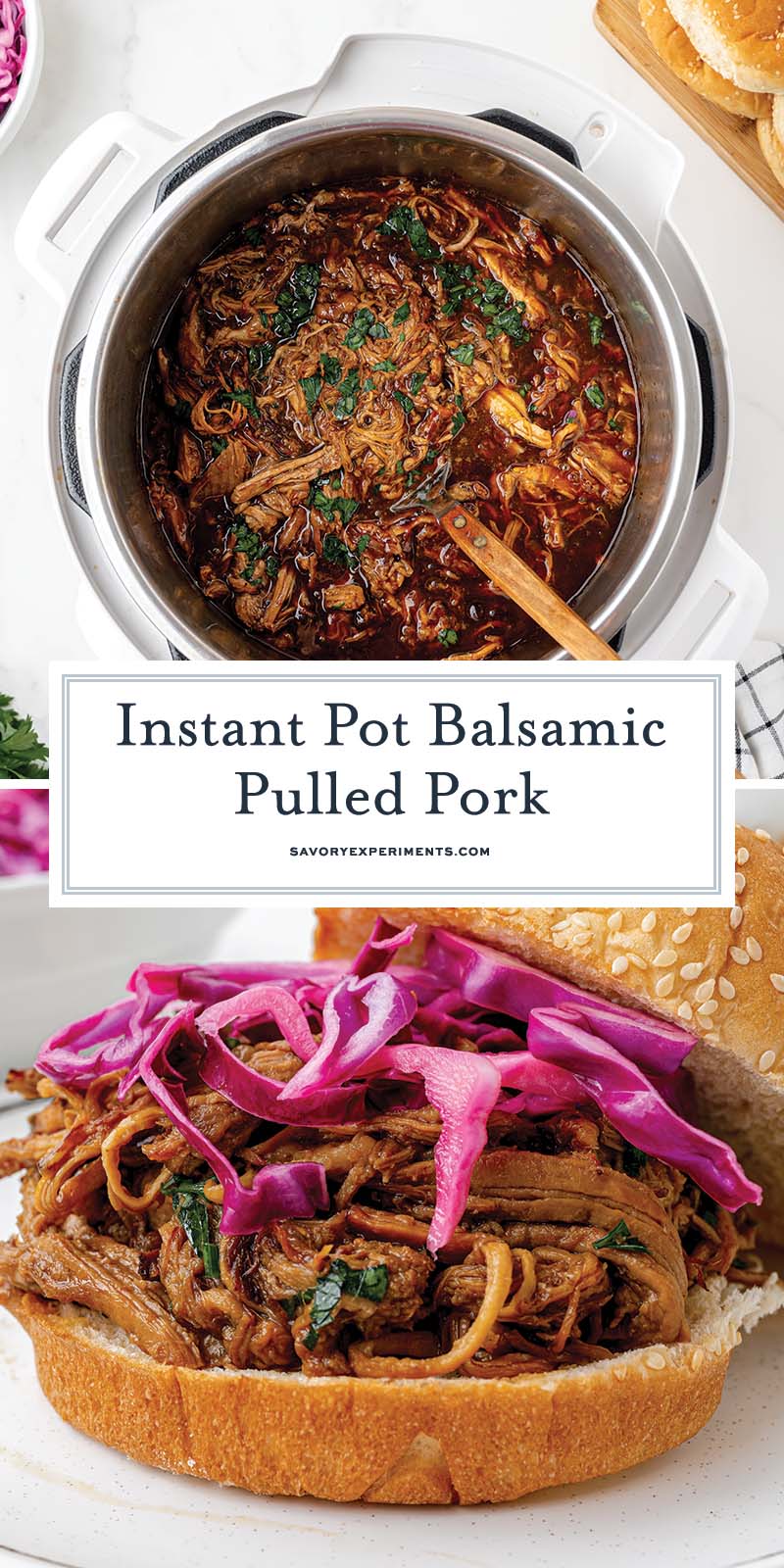 More Easy Pork Recipes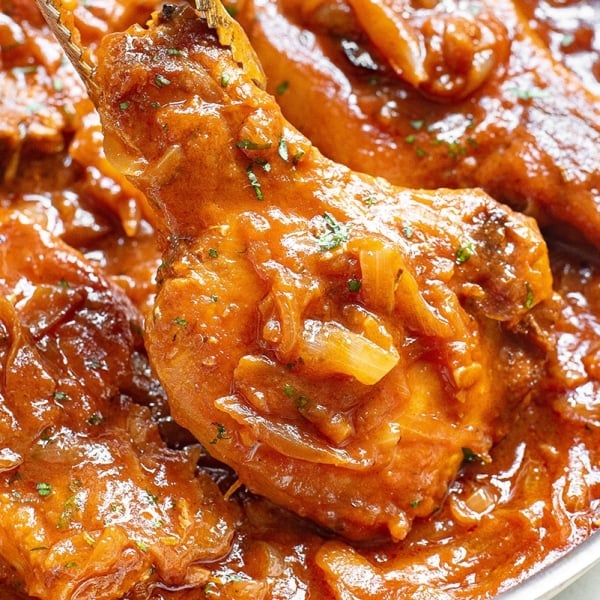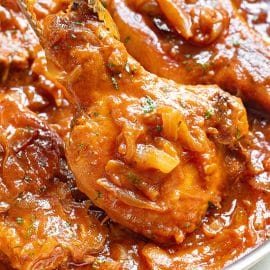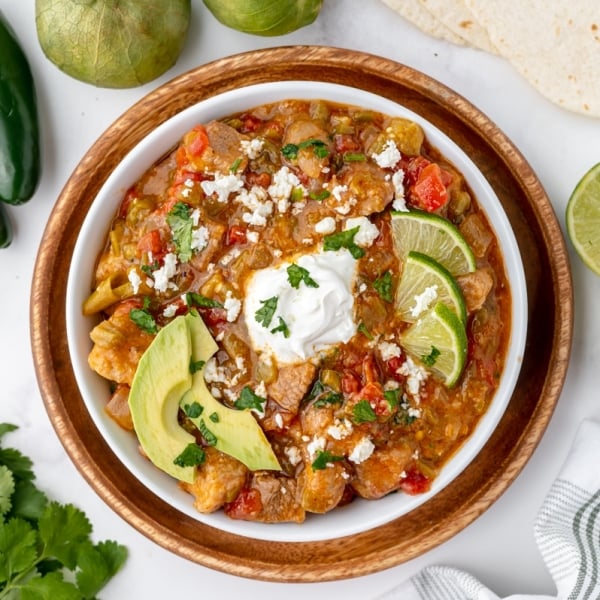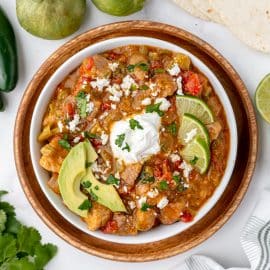 Pork Chili Verde Recipe
Pork Chili Verde is a wonderful mixture made up of green chilis, tomatoes and spices, best served over giant burritos, eggs, refried beans or in tacos.
See The Recipe!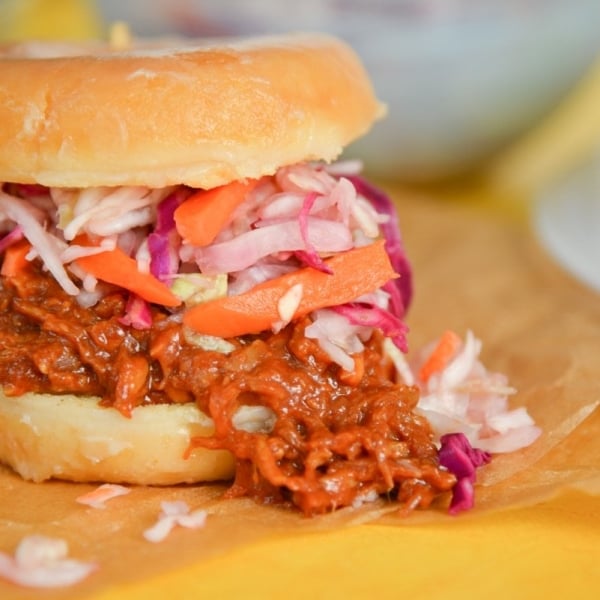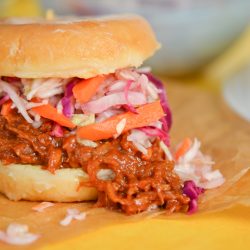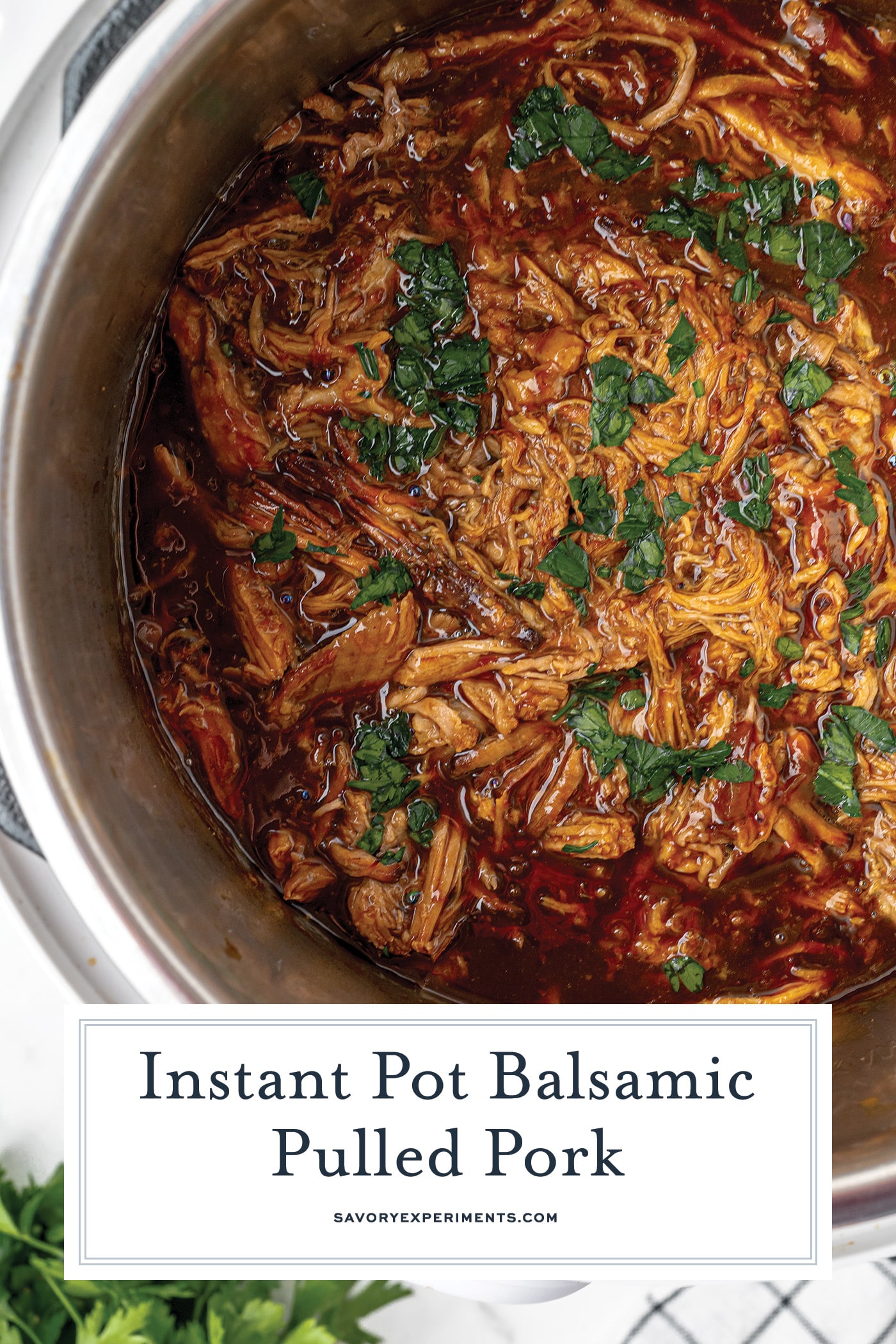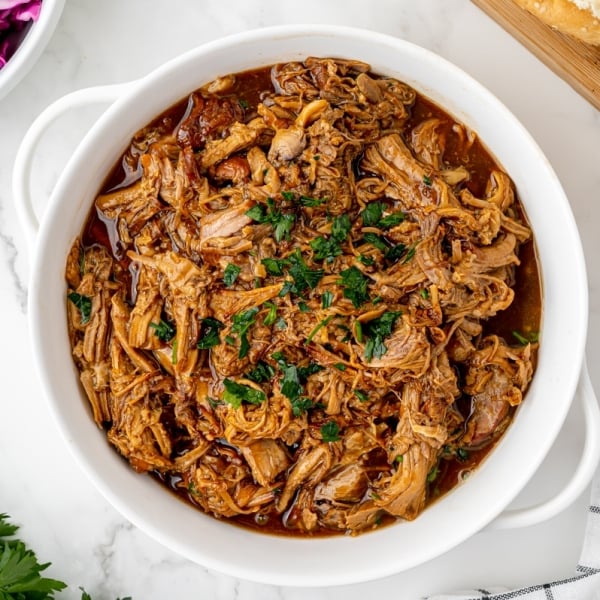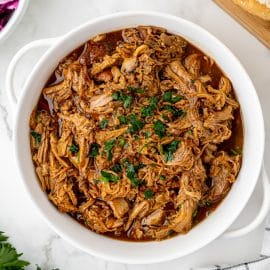 Honey Balsamic Instant Pot Pulled Pork
Honey Balsamic Instant Pot Pulled Pork is a pressure cooker pulled pork recipe using sweet and Asian flavors resulting in a super delicious sandwich. Ready in just 90 minutes!
Instructions
In a small mixing bowl, whisk together the honey, balsamic vinegar, hoisin sauce, vegetable broth, brown sugar, salt, black pepper and garlic powder.

Rinse the pork butter with cold water and place into inner pot of Instant Pot.

Cover the roast with the prepared sauce and top with the sliced onions.

Lock the lid and set to manual high pressure for 75 minutes.

Allow for 10 minutes natural release then quick release remaining pressure.

Remove the pork, shred the roast with two forks and discard the bone and any large fatty pieces.

Remove a small amount of remaining liquid from the pot and whisk with the cornstarch. Whisk it back into the larger batch.

Set the pot to saute function so the sauce simmers and thickens.

Return the shredded pork to the pot, tossing well with the sauce.

If you've tried this recipe, come back and let us know how it was in the comments or star ratings!
Nutrition
Calories:
370
kcal
,
Carbohydrates:
29
g
,
Protein:
36
g
,
Fat:
11
g
,
Saturated Fat:
3
g
,
Cholesterol:
113
mg
,
Sodium:
548
mg
,
Potassium:
723
mg
,
Sugar:
24
g
,
Vitamin A:
20
IU
,
Vitamin C:
1.4
mg
,
Calcium:
41
mg
,
Iron:
2.7
mg