I get sooo tired of boring grilled chicken recipes. Most don't infuse enough flavor and they often turn out dry. Grilled Citrus Chicken is different. Come learn why!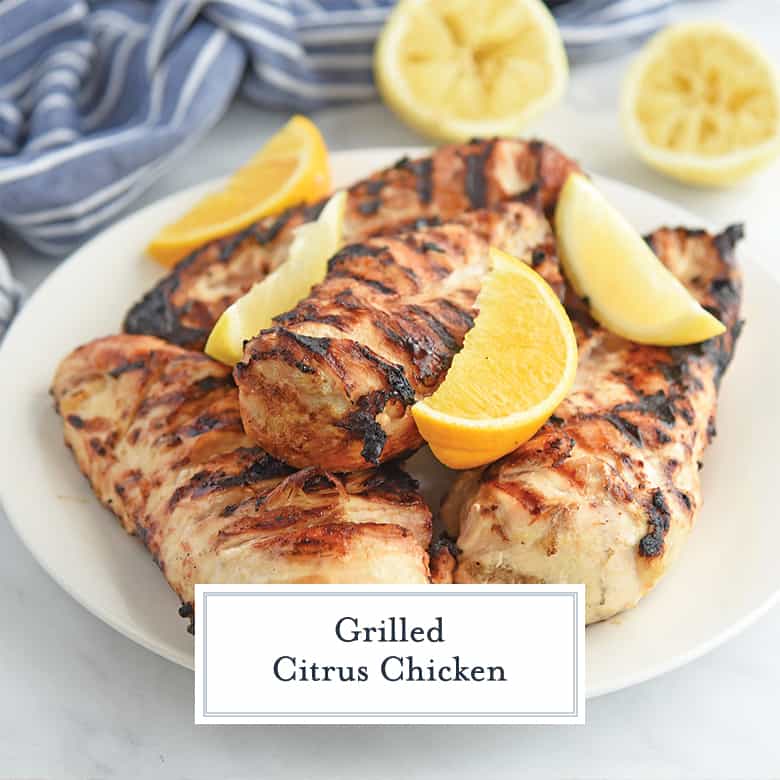 Looking for juicy chicken on the grill? Check out my Citrus Grilled Chicken recipe and tips for the best chicken on the grill!
Grilled Citrus Chicken is a flavorful and moist grilled chicken recipe using lemon, orange and garlic. Perfect for a salad, sandwich or to eat on its own.
Grilled chicken often comes with its own set of problems. Lack of flavor and being dried out. I am going to give you a few tips for grilled chicken to make sure this doesn't happen!
PRO TIP: Tenderize the crap out of chicken for the grill!
It is actually just one main tip. A tip that will work with nearly any marinated grilled chicken breast recipe.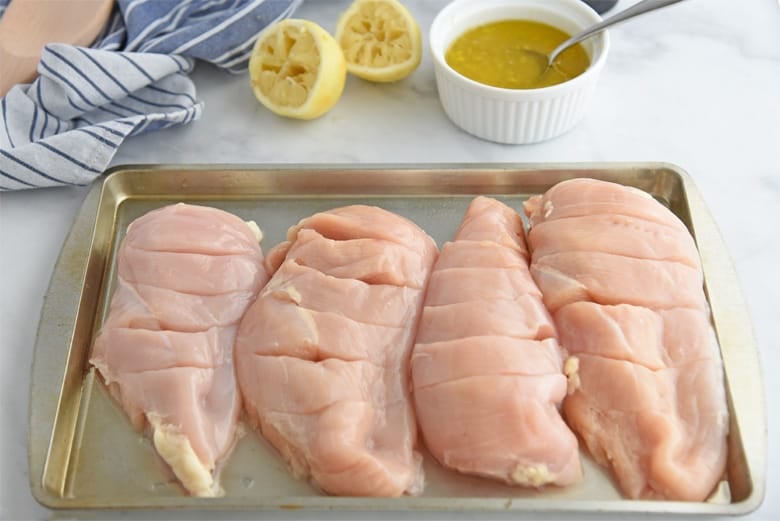 Tenderizing your chicken using a meat mallet achieves two things.
The first is that your chicken is now a uniform thickness. Dry Chicken happens when people cook to the correct temperture at the thickest part of the meat, but that means the rest of the breast is overcooked and rubbery.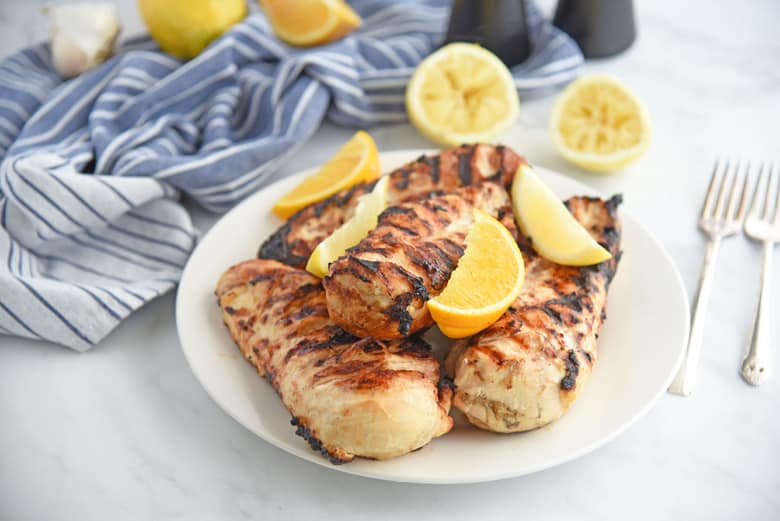 The second is that tenderizing breaks down fibers and opens them up, allowing all of the flavors from your marinade to soak right on in. In fact, even if you only have an hour to marinate, tenderizing will still allow it to have flavor, so imagine how great it will taste after 6-24 hours!
Okay… there might be a few more than one tip….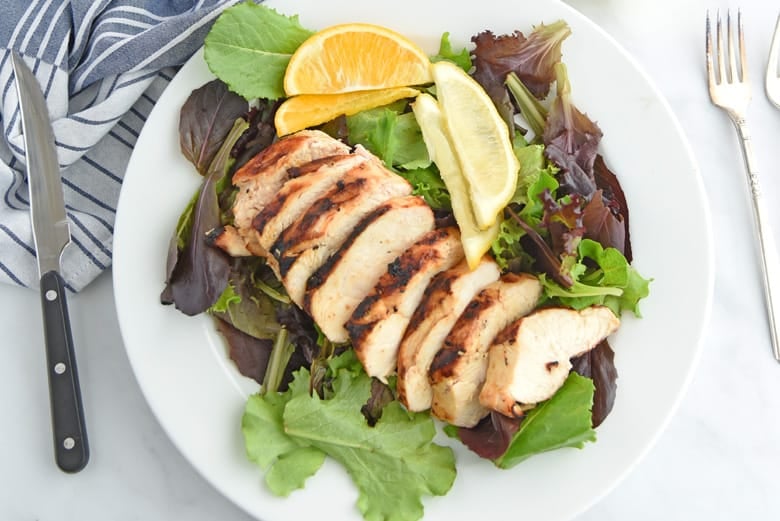 Cutting thin slices will also help your chicken marinate all the way through and cook more evenly. Whether you do both tenderize and cut slits will depend greatly on the size of the chicken breast. If they are smaller or thin, do one or the other, not both.
Picking the right marinade is also as critical as tenderizing your chicken. You want a marinade that has an acid, salt and fat. Water is also essential so your marinade also serves as a brine.
In this case, the lemon, orange and lime provides the acid, the salt is the salt and olive oil is the fat. Beautifully simplistic.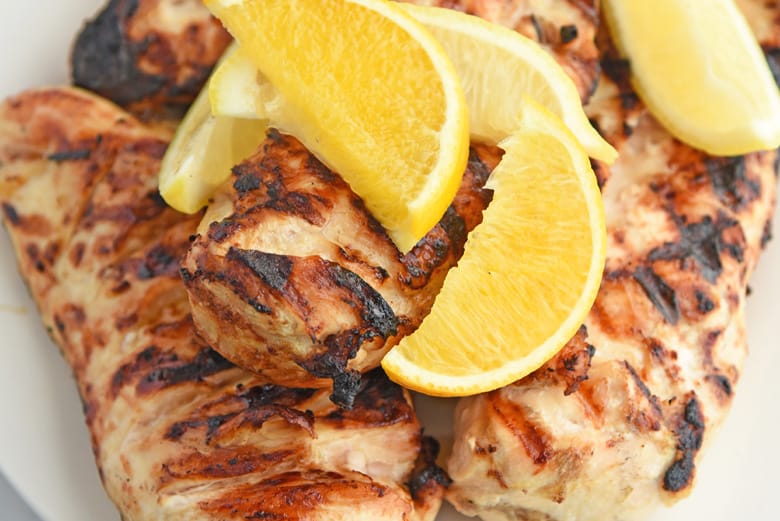 Water is the only item that will truly sink into your meat, but it will take on the other flavors you've added to the easy marinade.
This one seems obvious, but it is the most common mistake when grilling chicken: do not overcook your chicken! Chicken needs to be an internal temperature of 145 degrees.
Take it off the grill right before it approaches this temperature and allow it to rest, which will bring it up to the right temperature. Don't be worried about looking like an ametuar using a meat thermometer. Every notable chef has one attached to their being at all times.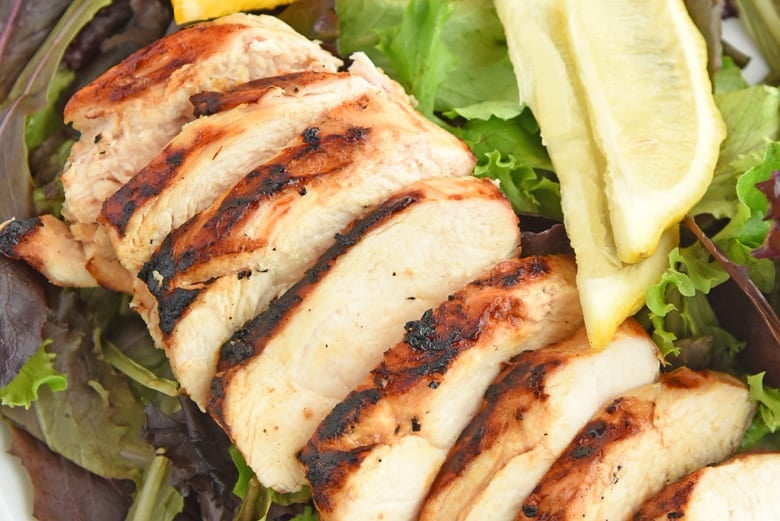 Don't guess and ruin it, just take the darn temp!
Lastly, allow your chicken to rest. Resting allows juices that went to the center of the meat (think of puckering) to redistribute. Cutting into it too early can result in losing all those juices to the cutting board.
In review, tips for juicy chicken on the grill:
Tenderize and/or thinly slice your chicken.
Use a flavorful marinade with salt, acid, fat and water.
Don't overcook your chicken.
Use a digital thermometer to measure doneness, don't just wing it.
Allow your chicken to rest before serving.
With these tips and my Grilled Citrus Chicken recipe, you will be ready to rock and roll. Use this chicken in a salad, a sandwich or even on its own!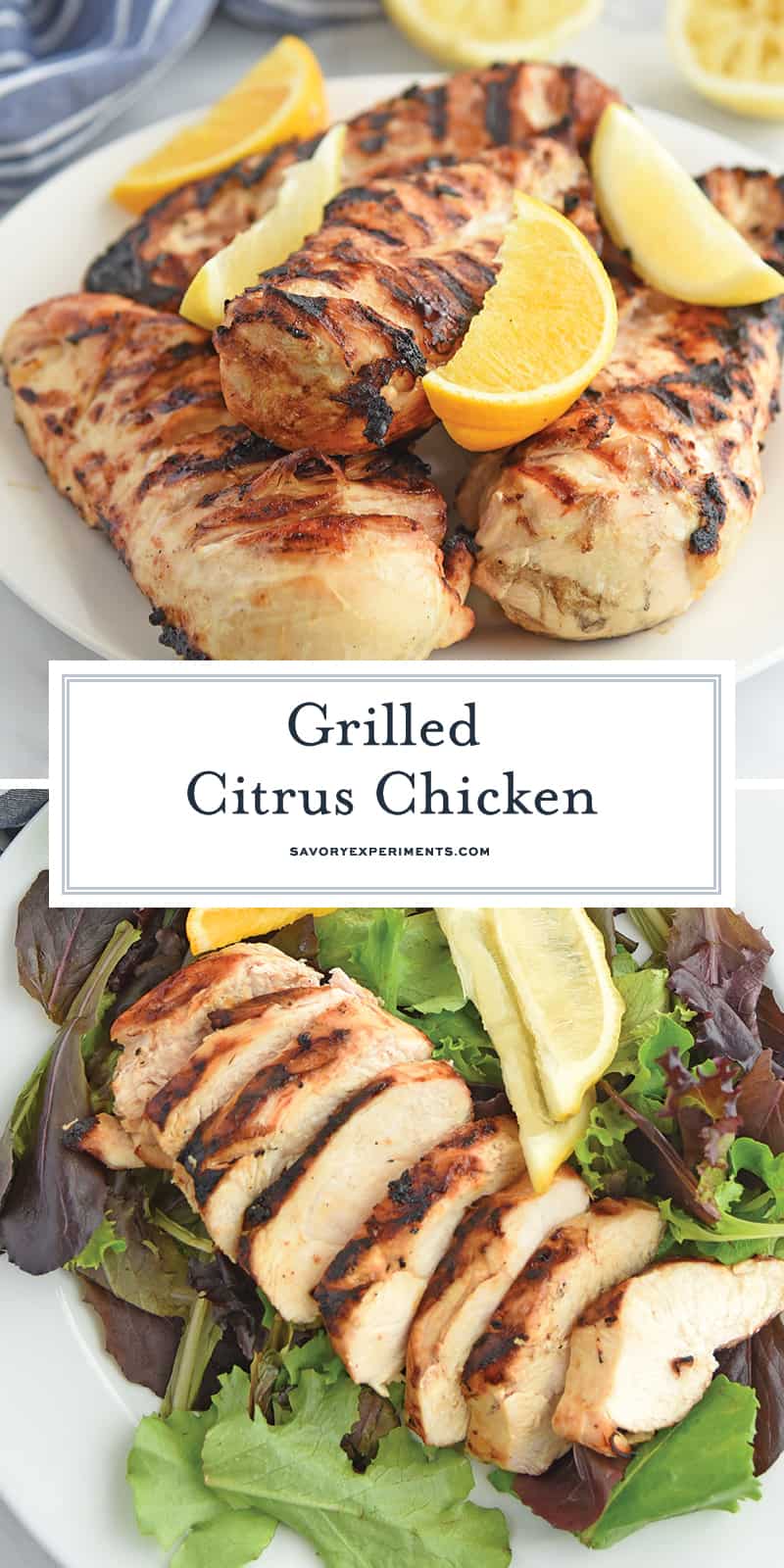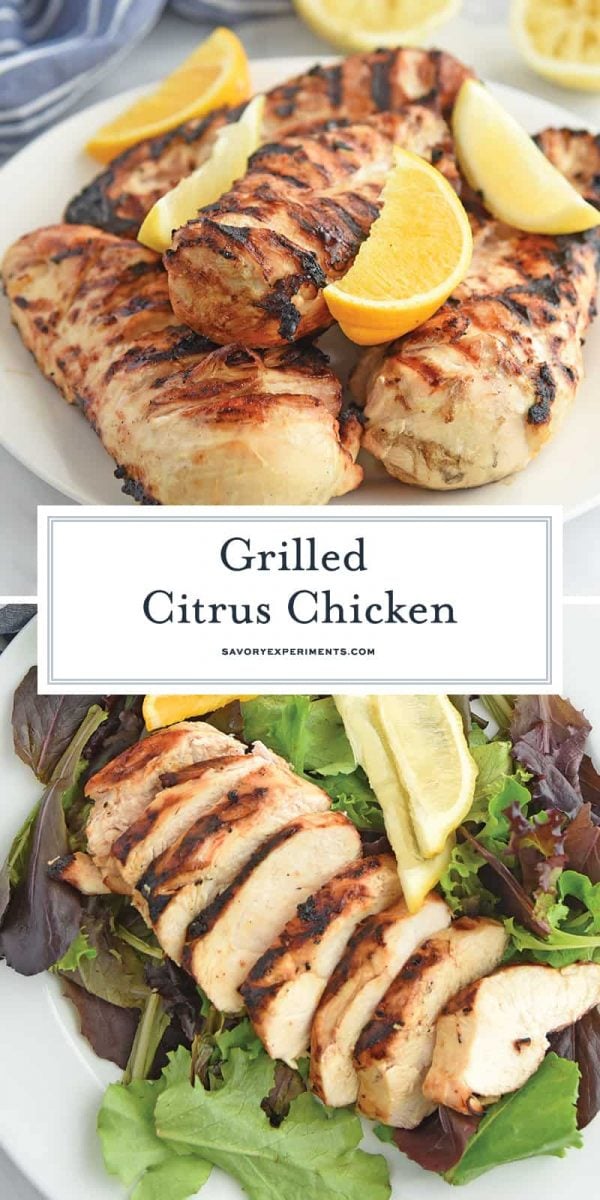 If you liked this grilled chicken recipe, you'll love these two: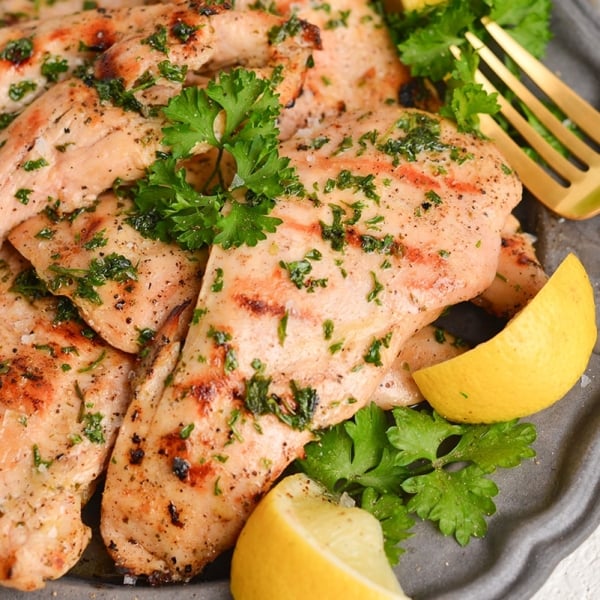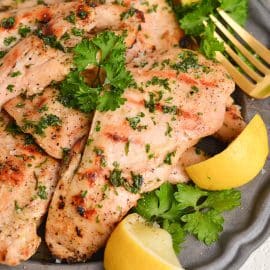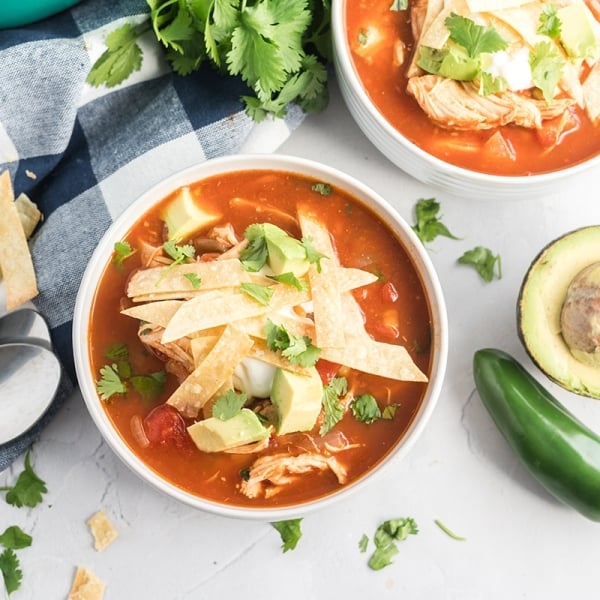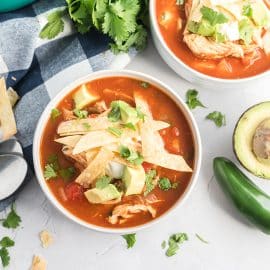 Easy Chicken Tortilla Soup
This is an easy chicken tortilla soup that can be on your table in less than an hour. A rich tomato broth with a bit of spice and large chunks of chicken make this a hearty and comforting meal!
See The Recipe!
Questions you might have about how to make citrus chicken marinade:
Do I have to use chicken breast? Nope! You can use whatever cut of chicken you prefer. I've actually decided I like boneless chicken thighs the most on the grilled. Drums are also a lot less expensive, have tons of flavors and are great for parties.
How long can I marinate the chicken? You can marinate the chicken up to 24 in advance. The least amount of time is 10 minutes, but chicken really needs time to absorb the flavors.
If you are running low on time, you can also use a meat tenderizer to break apart the fibers, allowing the marinade to sink in fast.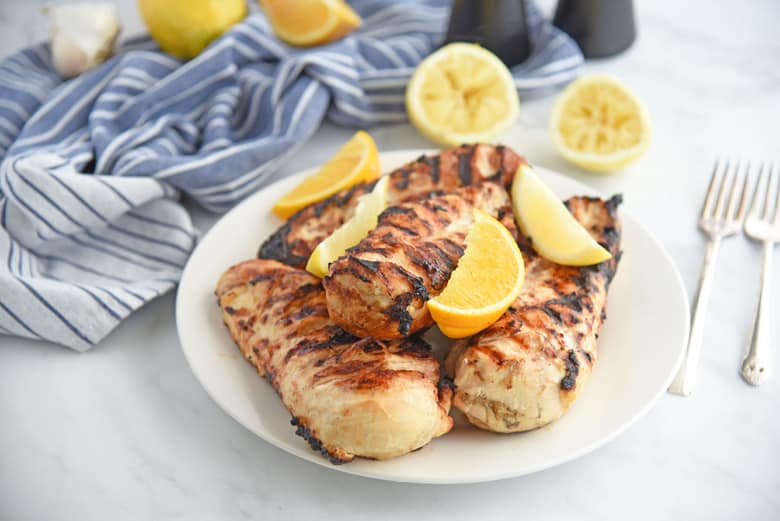 Can I freeze marinated chicken? You can! I sometimes freeze raw chicken in marinade or cooked chicken in individual pieces. I can take them out and defrost them for salads or sandwiches on the fly.
What sides go best with grilled chicken? I personally think of cookout items like:
Won't my chicken get cold if I let it rest? I guarantee you that your chicken will be too hot to eat right off the grill. Allowing it to rest for 5 minutes won't let it get too cold, but will allow it to be juicier.
Can I eat grilled chicken cold? Sure! Make this chicken and stick it in the fridge for a low carb snack or salads. Great for lunches and meal prep too.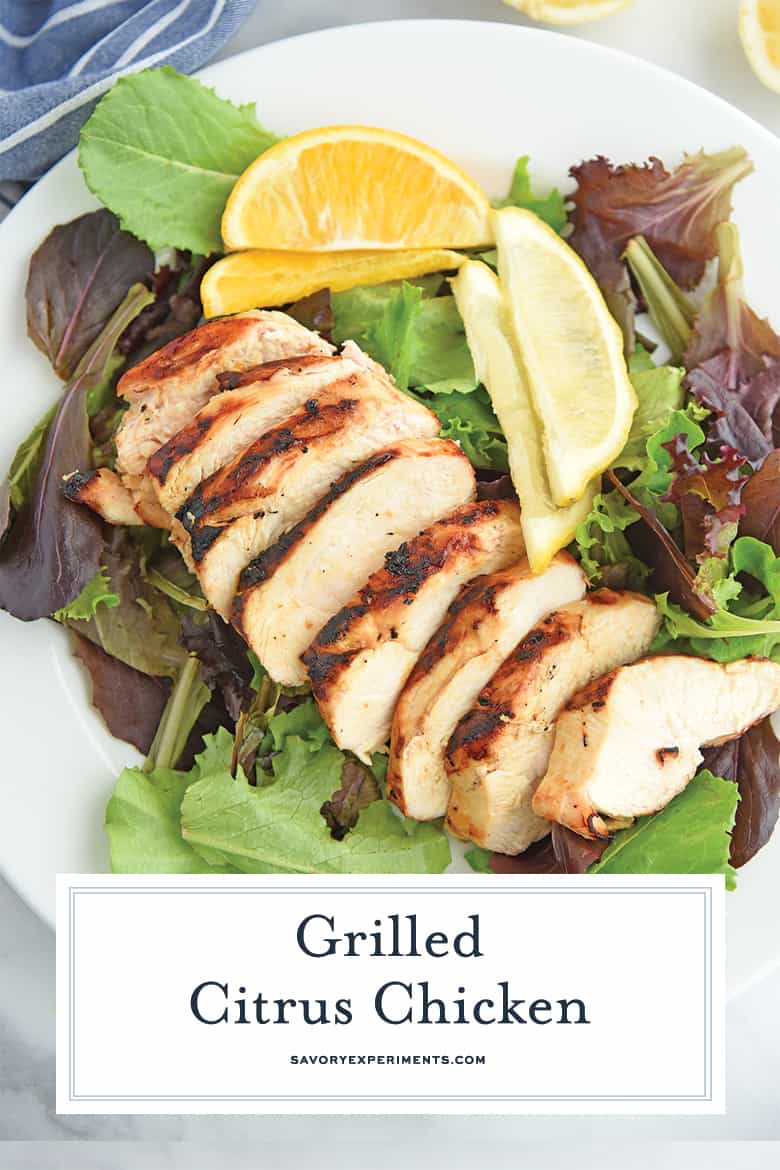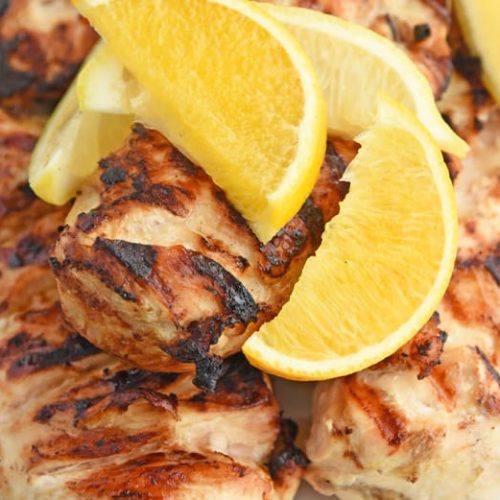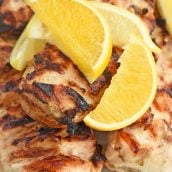 Grilled Citrus Chicken Recipe
Looking for juicy chicken on the grill? Check out my Citrus Grilled Chicken recipe and tips for the best chicken on the grill!
Instructions
Lightly tenderize chicken using the flat head of a meat mallet. Cut slits into each chicken breast about 1/2 inch apart and only cutting half way through the breasts. This will help the marinade sink in and cook quicker on the grill.

Combine the remaining ingredients in a large plastic bag along with chicken. Marinate for 10-30 minutes.

Heat grill to medium-high heat. Spray with grill approved cooking spray and place chicken directly over heat. Cook for 5-7 minutes on each side, or until done. Since the sizes of chicken varies greatly, so will the cooking times.

Remove and allow to rest for 5 minutes before serving.

If you've tried this recipe, come back and let us know how it was!
Notes
Chicken can also be baked at 350 degrees for approximately 15-20 minutes or until fully cooked.
Nutrition
Calories:
385
kcal
,
Carbohydrates:
2
g
,
Protein:
48
g
,
Fat:
19
g
,
Saturated Fat:
3
g
,
Cholesterol:
145
mg
,
Sodium:
409
mg
,
Potassium:
867
mg
,
Sugar:
1
g
,
Vitamin A:
99
IU
,
Vitamin C:
11
mg
,
Calcium:
11
mg
,
Iron:
1
mg