The only way to become a better cook is to exit your comfort zone and push the limits. Use the ordinary in unordinary ways and test out new ingredients. A few bloggers and myself have a mostly "challenge" which focuses on one ingredient.
The last months the topic has been chicken with Slow Cooker Cashew Chicken and lemon with my Garlic Lemon Chicken (ok, now I'm noticing a trend, next month, don't let me pick anything to do with chicken!). This month it is STRAWBERRIES! Make sure to scroll all the way down to check out what other fantastic bloggers created.
Oh glorious little, red bulbs. We took a poll on my Facebook page to see what people wanted to see and it was pretty clear that my foodie friends wanted SAVORY! I had done a blueberry BBQ sauce before and wanted to try the same concept of capitalizing the natural sugars in the strawberries and then adding some pizzazz with vinegar. A traditional ketchup base keeps it grounded, but it still has a wildly curious and unique flavor.
I paired mine with a cool avocado yogurt sauce and Strawberry Salsa for a well balanced and sophisticated dish. Don't feel pressured to make all of the pieces and feel free to use the same Strawberry BBQ sauce on fish, pork or a tri-tip roast.  One thing is for sure, having the right BBQ tools
is essential for any grilled feast!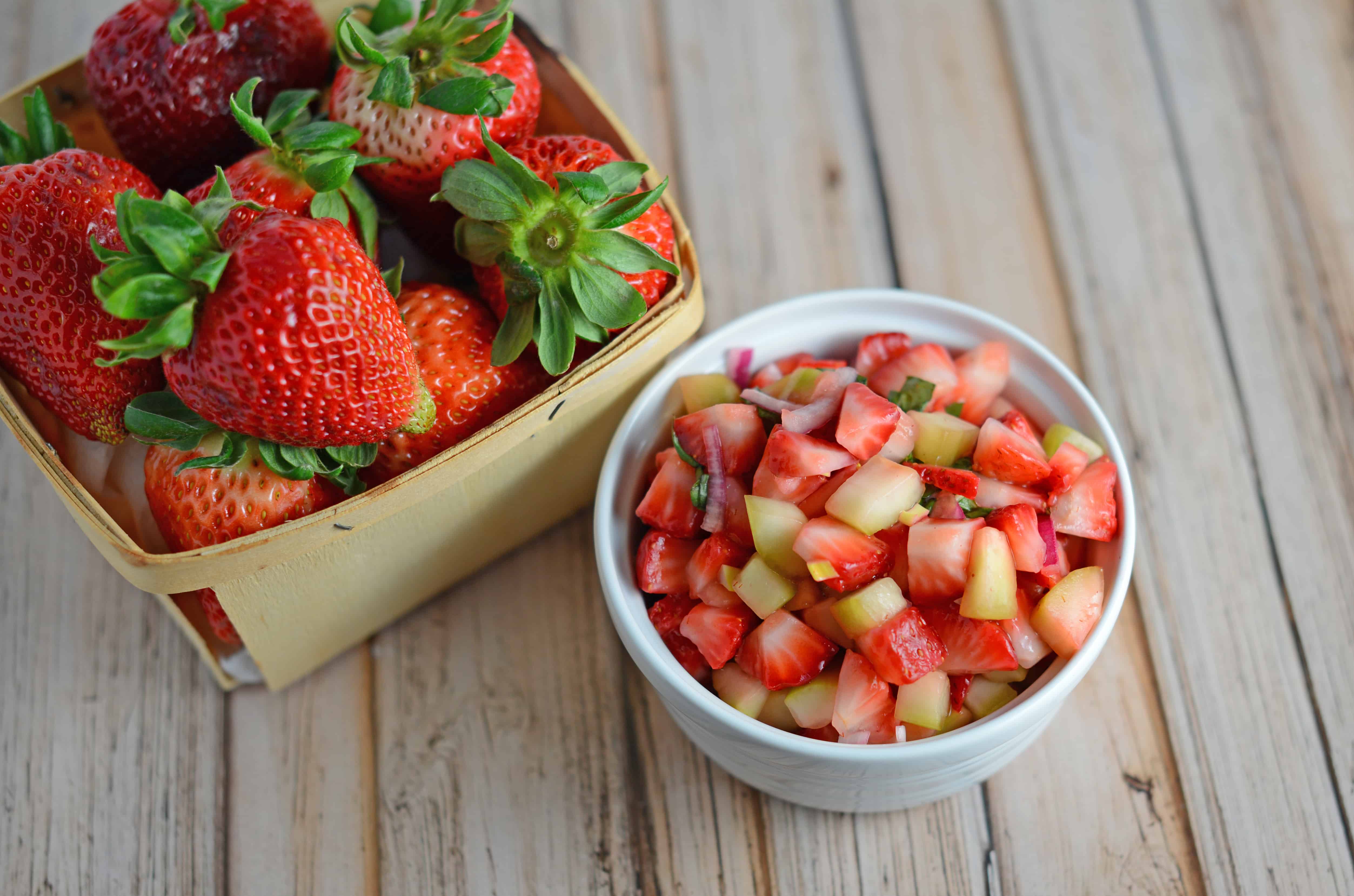 Don't forget to PIN Strawberry BBQ Chicken!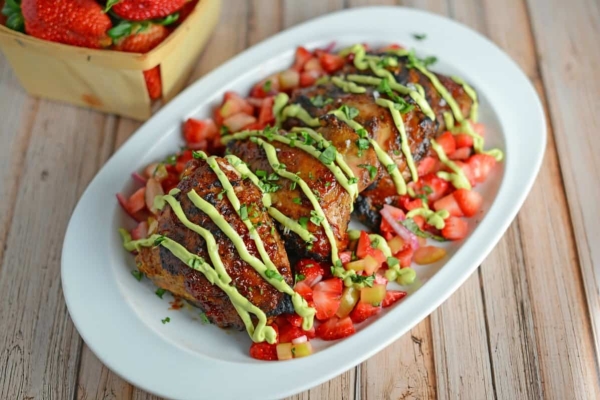 | | |
| --- | --- |
| | |
Preheat oven to 400 degrees. Line a rimmed baking sheet with aluminum boil, making sure to curl up the edges to catch all of the natural liquids.

Place strawberries on pan and bake for 15-20 minutes, or until fragrant, soft and caramelized.

Remove and allow to cool slightly before transferring to a medium sauce pan.

Combine all remaining ingredients into the sauce pan and stir. Continue to simmer for 20 minutes, stirring periodically.

Using an immersion blender, blend sauce until smooth. You can also transfer and blend in a food processor.

Season chicken thighs with salt and pepper and heat grill to medium-high heat.

Oil grates and place on indirect heat, turning very 5 minutes for 20 minutes.

Start to baste lightly every 3 minutes, turning twice. To finish, transfer to direct heat and baste one more time. Make sure chicken reaches an internal temperture of 165 degrees. Chicken sizes can vary greatly and therefore, so can cooking time.

Remove and allow to rest.

Meanwhile, in a small food processor, blend avocado, plain Greek yogurt and fresh basil. You can also mash with a fork. Place into an airtight plastic bag, snip the corner and drizzle over plated chicken.

Top with additional minced basil, if desired.
Check out all the other lovely strawberry recipes below from bloggers who took part in our 30 Day Strawberry Challenge.

If you like this recipe, make sure to follow me on Pinterest for even more! 
Visit Savory Experiments's profile on Pinterest.
If you liked this recipe, you'll love these!