With all of the crunchy goodness layered on top of a warm, fresh, sweet bread, this overnight French toast casserole could not be a better breakfast. This is the perfect make ahead morning dish for anything from a lazy Sunday morning or holiday brunch to Christmas morning or Mother's day.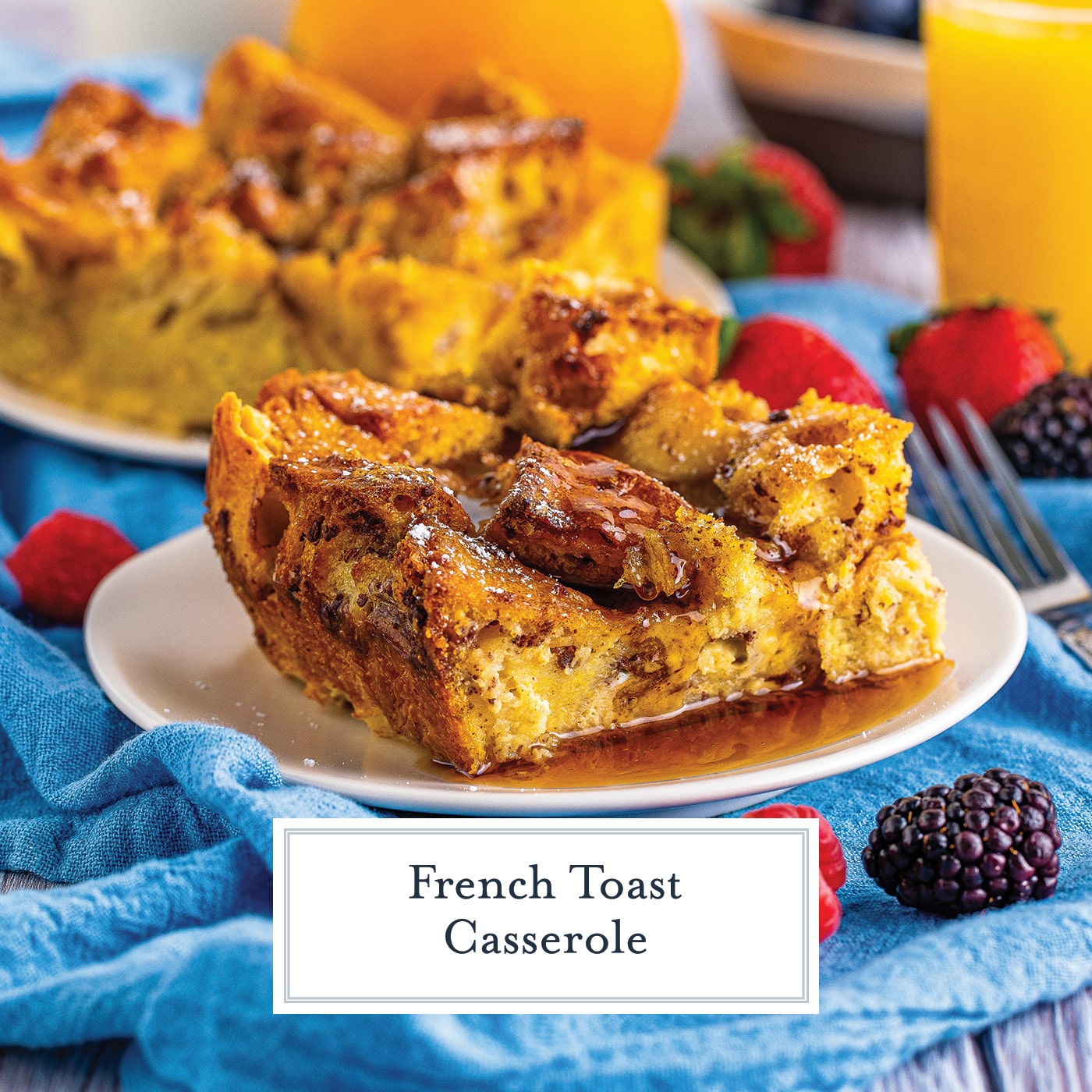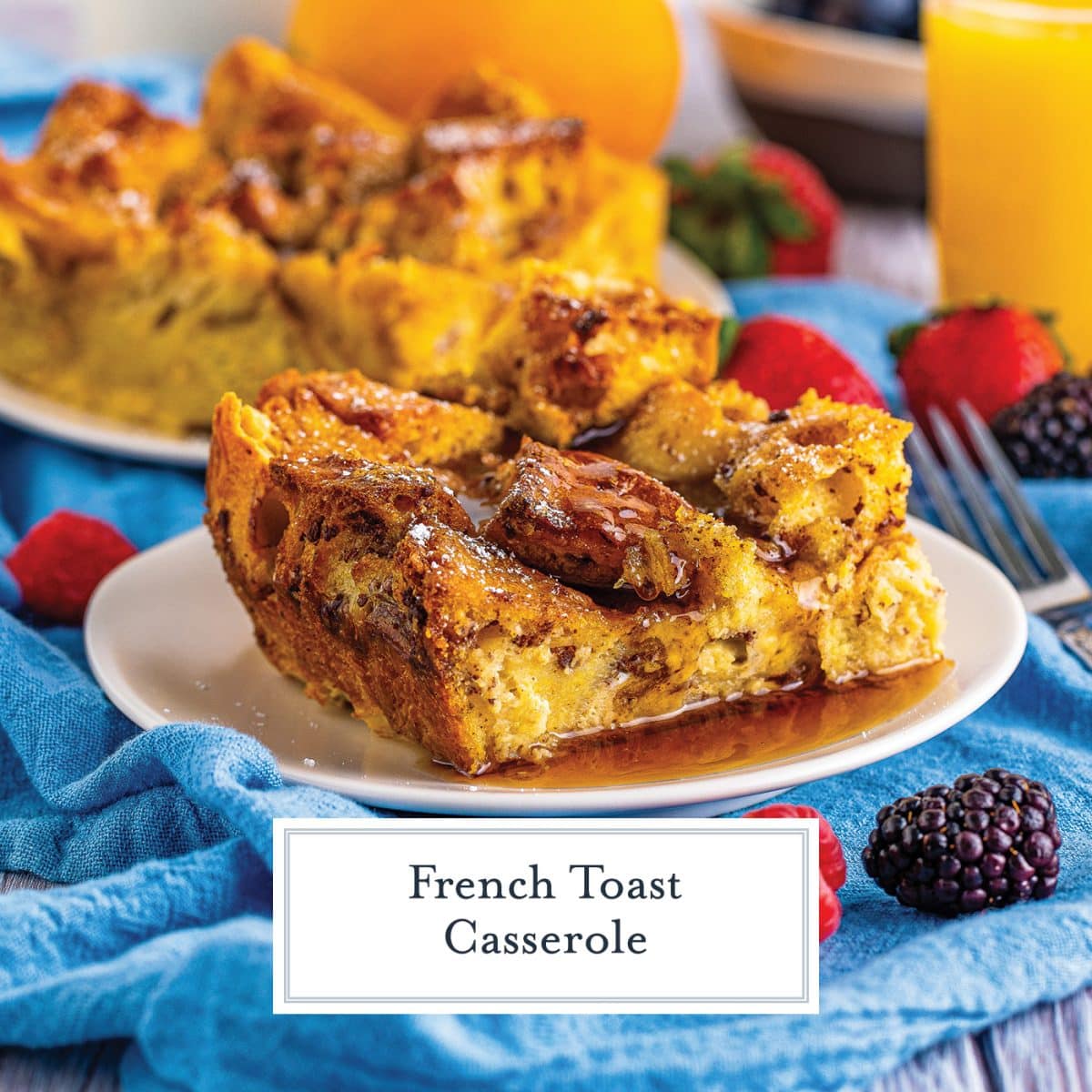 One of the great things about this French toast bake is that you can prep it ahead and it's ready the next morning. But you can also try it in a slow cooker — any way you slice it, it's way easier than standing in front of the stove making individual slices of french toast.
If you're looking for a quick and easy breakfast casserole, look no further — you'll love this sweet breakfast treat!
Which Bread is Best for French Toast Casserole?
Just like with bread pudding, I often use a good crusty French bread for this recipe but you can also use any leftover bread you have — even stale bread or just old bread (as long as it's mold-free). Just make sure you are using the same amount of bread as listed in the recipe and slice the bread cubes the same way. Some of my favorites include:
Challah
Brioache
Thick Cut White
Honey Wheat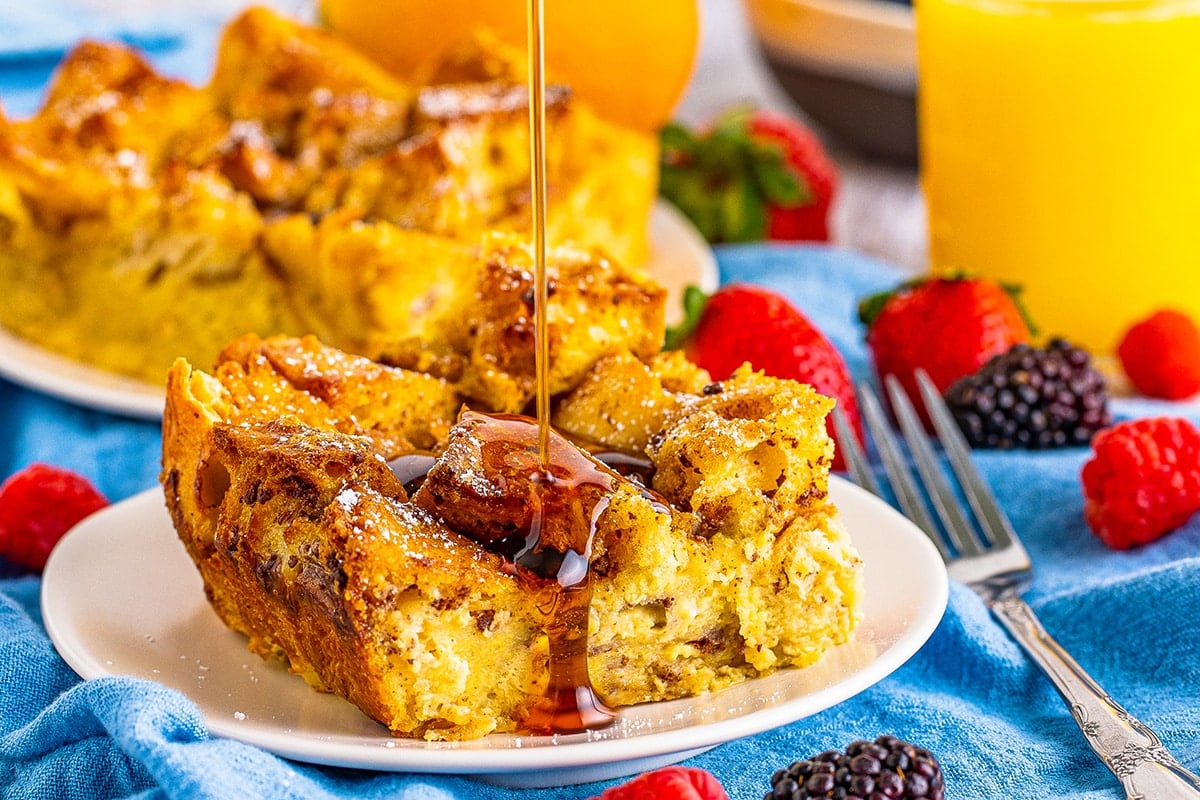 Why This Recipe Works
Make ahead – The best part is that you can make this breakfast bake ahead for holidays or a home-based brunch, then throw it in the oven.
Perfect for parties – If you're a holiday guest, bring this to satisfy sweet cravings.
Easy – You can throw this easy french toast casserole recipe together super fast and look like a star with the final results.
Quick – Who doesn't love a dish you can put together in no time and then also bake quickly, too?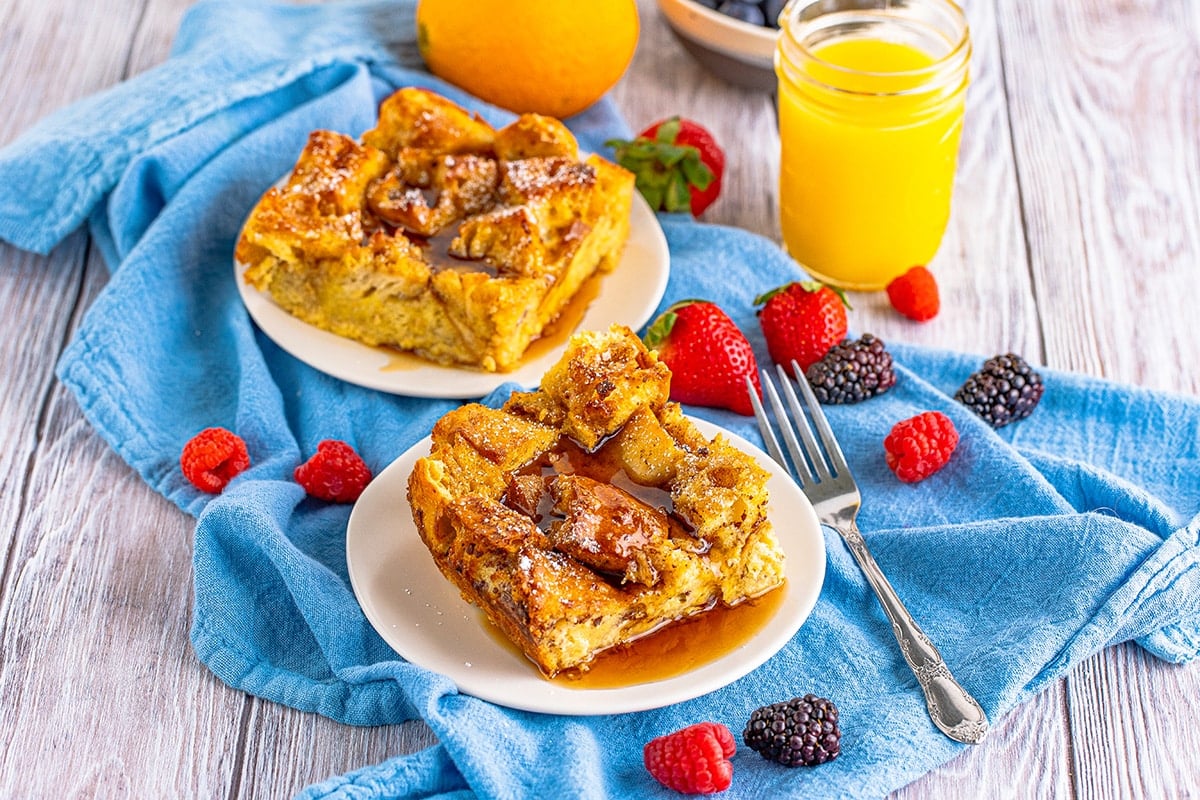 Ingredients
Use these simple ingredients to make a delicious breakfast!
Crusty French bread – Make sure to use the crunchiest of bread and cut it into 1-inch cubes. You can use sourdough bread, challah bread, brioche bread, french bread, italian bread, or any other kind of bread you choose.
Eggs – Whisk eggs well and make sure that you choose large eggs.
Whole milk – You'll want the fat, so don't skimp and use skim.
Heavy cream – Again, all of the fattiness will help make your casserole creamy.
Granulated sugar – White sugar dissolves so quickly, which makes it perfect for this recipe.
Light brown sugar – Pack your brown sugar to ensure you have just enough.
Vanilla extract – Grab some from your cabinet or make your own!
Cinnamon – Adding ground cinnamon to this dish will round it out and give it flavor.
Sea salt – Make sure it's fine so it mixes in and disperses easily and uniformly.
For the toppings:
Butter – Make sure your unsalted butter is melted to make it easy to mix.
Light brown sugar – Pack it tightly in the measuring cup to ensure to include the proper amount.
Cinnamon – Use ground cinnamon to be able to sprinkle into this topping.
Powdered sugar – Use a sifter or just pour the confectioners' sugar into a small container to gently pour over the casserole when serving.
Syrup – I prefer pure maple syrup, but use the syrup of your choice. Serve it at room temperature or warm it just slightly in the microwave before using.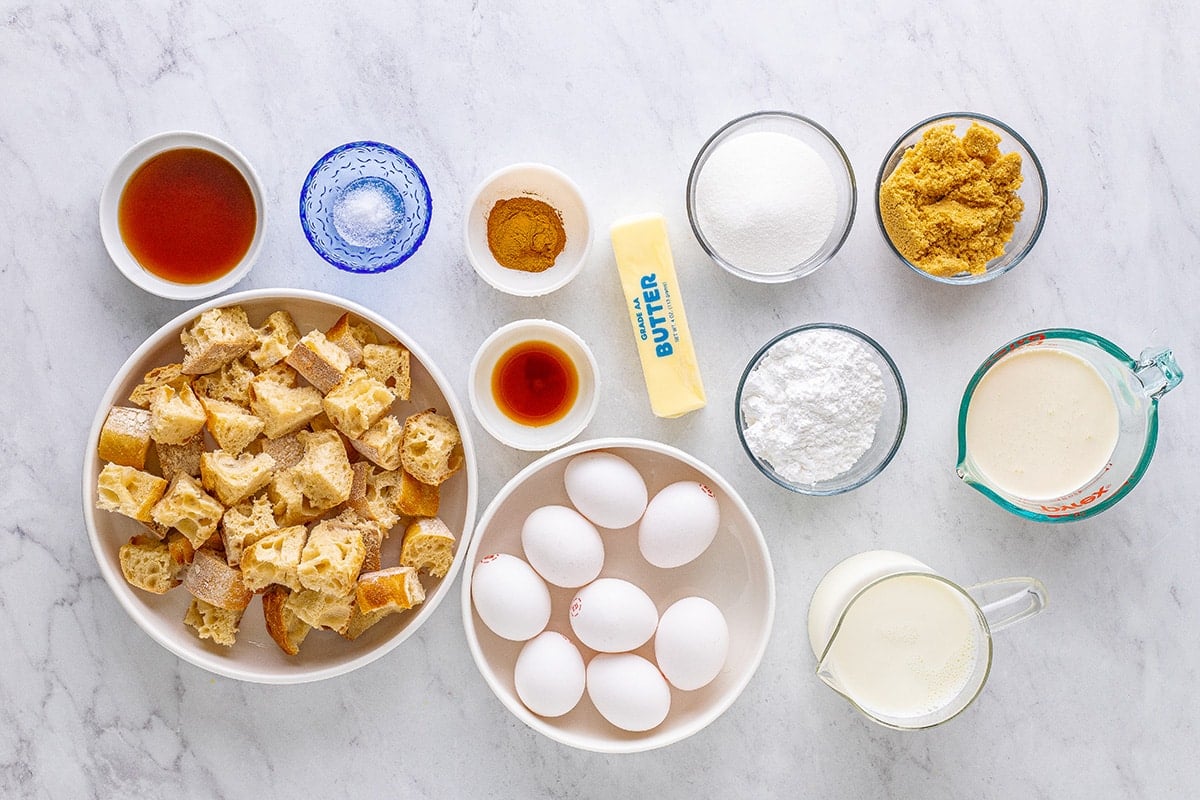 How To Make French Toast Casserole- Step-By Step
This will be a huge hit for you (because you can do it the night before) and with your family. The perfect way to start the day.
Prepare bread. Cube the bread and place it into the baking dish in a single layer sprayed with cooking spray. Then, set aside.
Whisk custard ingredients. In a large bowl, whisk together the eggs, milk, heavy cream, sugar, brown sugar, vanilla, cinnamon, and salt. Ensure all ingredients are combined completely.
Add to bread. Slowly pour the egg mixture over the bread cubes in the casserole dish, making sure that everything is covered.
Press bread into pan. Using a large spoon, gently press the bread into the custard allowing it to soak up the mixture.
Cover and refrigerate. Cover the dish with aluminum foil or plastic wrap and refrigerate. Just before baking, bring the dish out of the refrigerator.
Make topping. Whisk together the melted butter, brown sugar, and cinnamon until smooth. Then, drizzle the sauce all over the top of the casserole.
Bake. Cover the pan with tin foil and bake. To allow the top to get crunchy, remove the foil halfway through and bake until golden brown.
Serve. Serve this dish with Dutch honey or maple syrup. Our cranberry or blueberry syrups are also great options. You can never go wrong with fresh berries. I also make it alongside my Cream Cheese Board with fresh bagels for savory craving folks.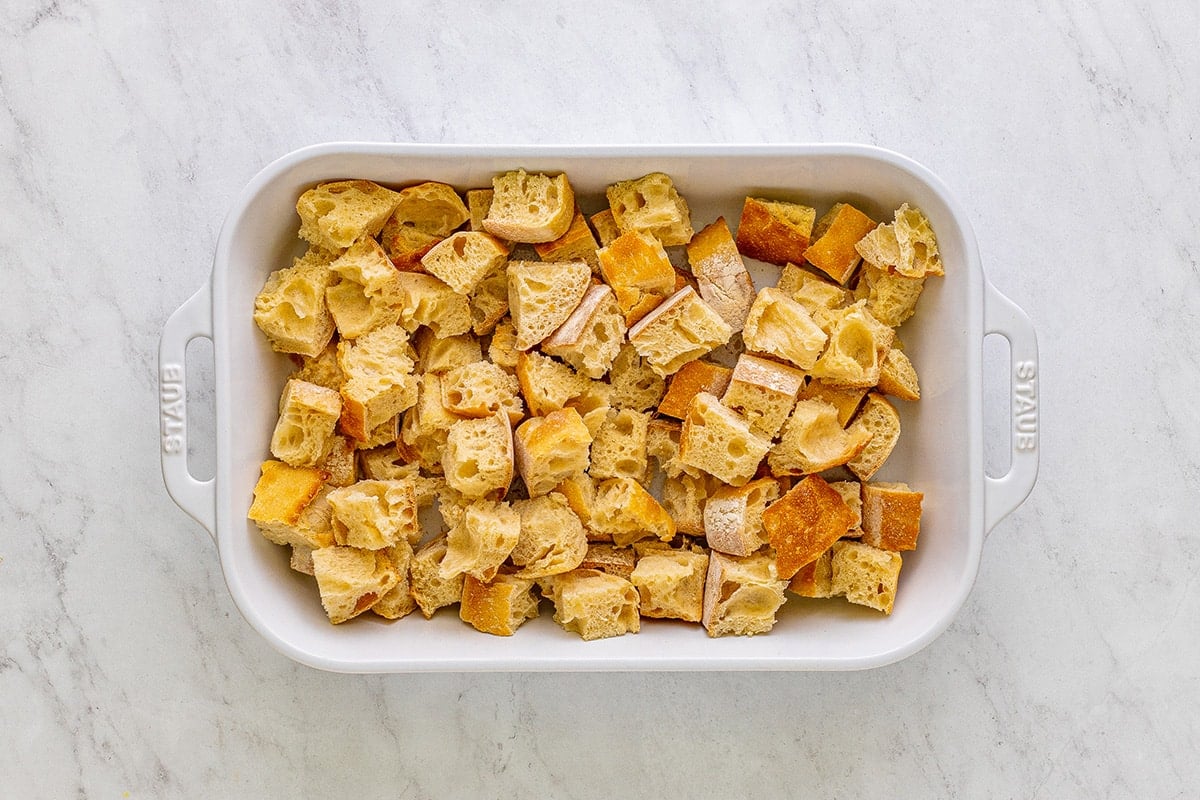 What to Serve with Overnight French Toast Casserole
Because this is a sweet breakfast casserole, I like to serve my casserole with some savory options. Scrambled eggs, bacon, breakfast sausage or hashbrown casserole are all great options. Of course, if you're serving it for brunch, mimosas would be a great addition too.
And don't limit yourself to breakfast or brunch. You can surprise the kids and make breakfast for dinner too!
If serving for a holiday morning, it might be best to make other make-ahead breakfast casserole recipes. An egg casserole, cinnamon rolls and hash browns are sure to please the entire family.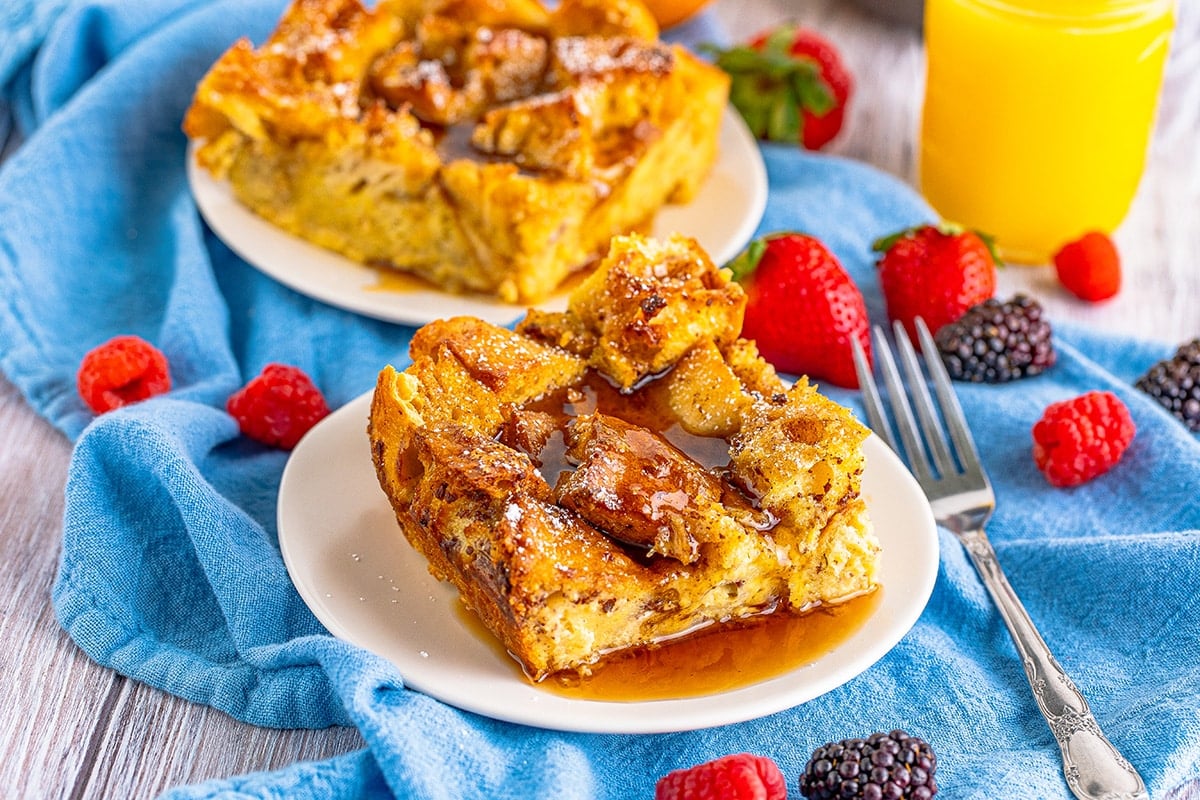 Variations
You can choose to replace the heavy cream with all milk, but I prefer the richness that heavy cream brings to this decadent French toast casserole. You can also use alternative milk which might impart different flavors, but keep in mind that it might not bring the same richness.
Speaking of richness — if you're trying to add more rich flavor try eggnog, especially during the holiday season.
What I also love about this is that you can give it a twist with some different flavors. Add some freshly grated nutmeg, pumpkin pie spice, or apple pie spice to the custard mixture.
If you're looking to get extra decadent, you can also top this easy french toast casserole with whipped cream and fresh fruit, preserves, or apple pie filling. You can also drizzle caramel sauce or warm vanilla sauce over top or sprinkle it with some toasted nuts.
Fresh fruits – Throw some fresh blueberries or other bright fruits on top.
Substitute milks – If you don't like or want to use regular milk, use your favorite alternative. Oat milk, coconut milk, almond milk or soy are great to experiment with.
Zest – Using citrus, like orange zest, lemon, or lime, will add a brightness.
Jam – Add dollops of your favorite jam to add some fruity flavor.
Nuts – Crush up some nuts and sprinkle them, for texture.
Dried fruit- Add some craisins or raisins or even dried bananas or mangoes to make this casserole fruity.
Cream cheese – Add dollops of cream cheese to add extra decadence to this dish.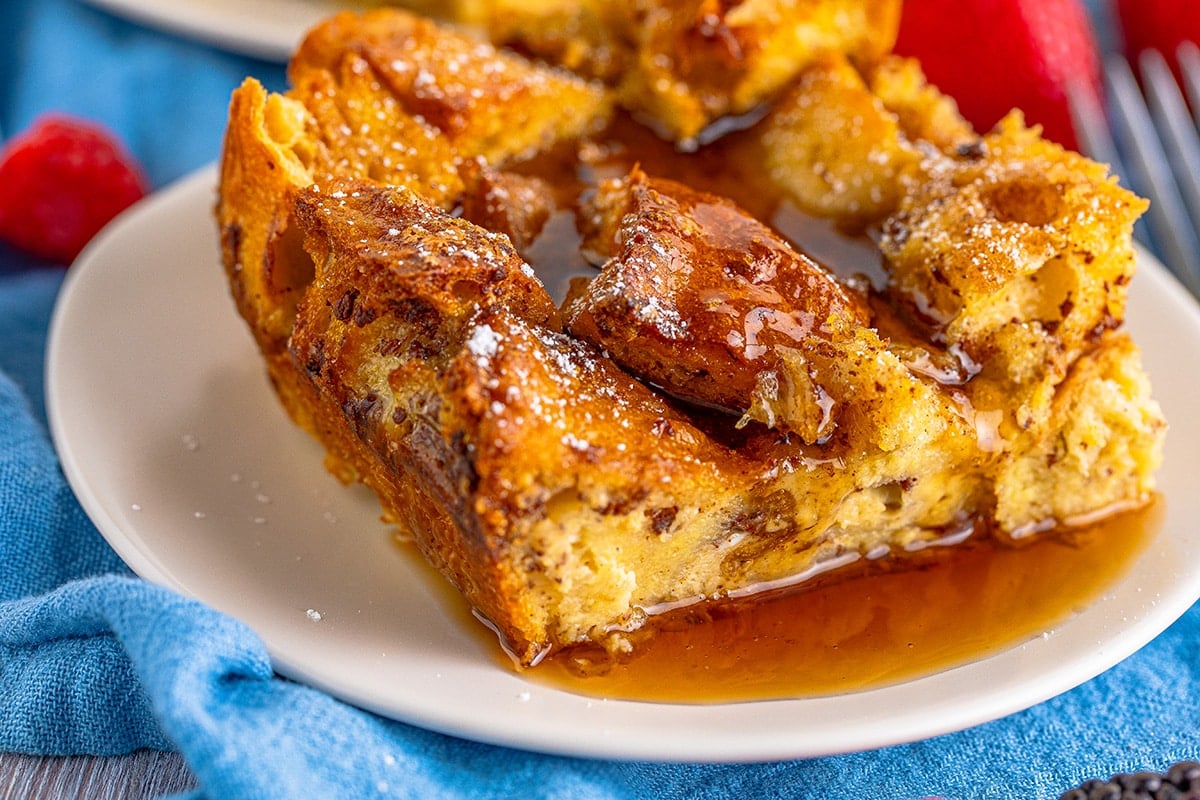 Storage and Freezing
Storage: Keep any leftovers covered with plastic wrap in the refrigerator for up to 3 days. For best results, reheat it in the oven at 350°F for 5 minutes. Microwaving bread can often make it rubbery.
Freezing: Freeze single servings in an airtight container for up to 3 months. You can even freeze the whole casserole. Check out our instructions here. After the casserole has cooked, allow it to cool fully and then place it in the freezer, uncovered, for about 12 hours. Remove it using the aluminum foil like a sling and then wrap it well in plastic wrap or freezer paper. Freeze for up to 6 months.
Reheating: To cook, unwrap and place it bake into the same baking dish (should fit like a glove). Bake for 40-45 minutes at 350°F or until it reaches an internal temperature of 155°F. Let it cool for 5-10 minutes before serving.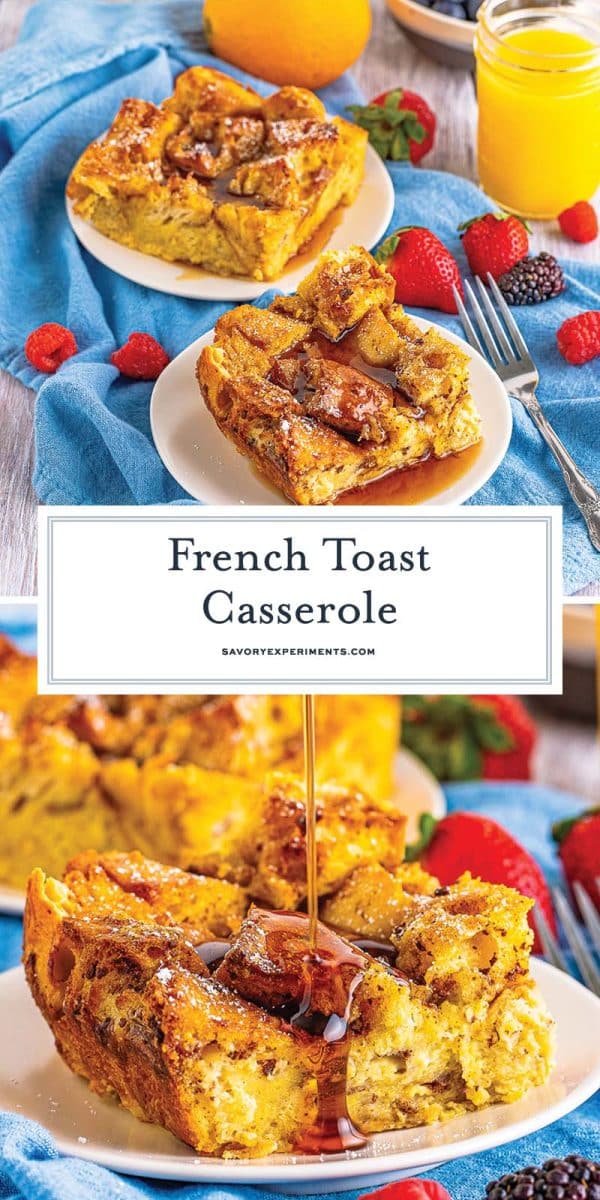 Other Breakfast One-Pan Meals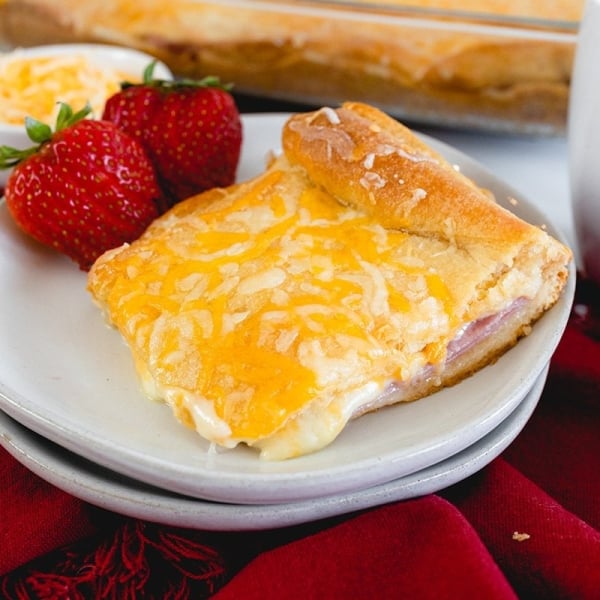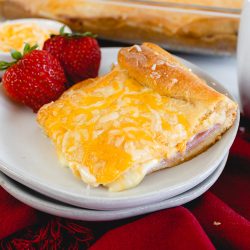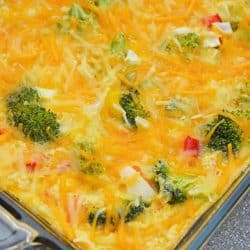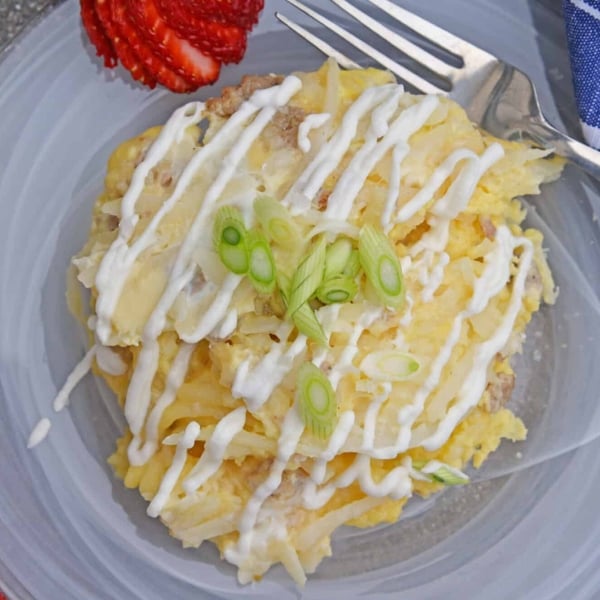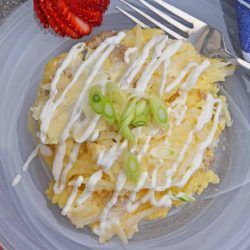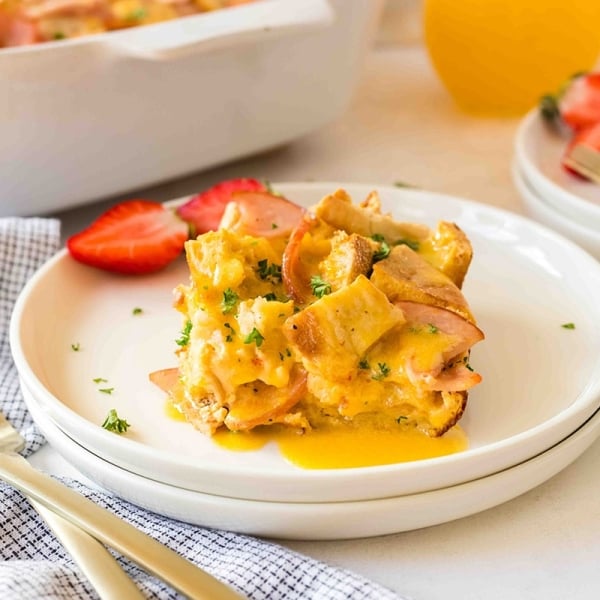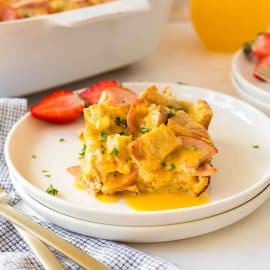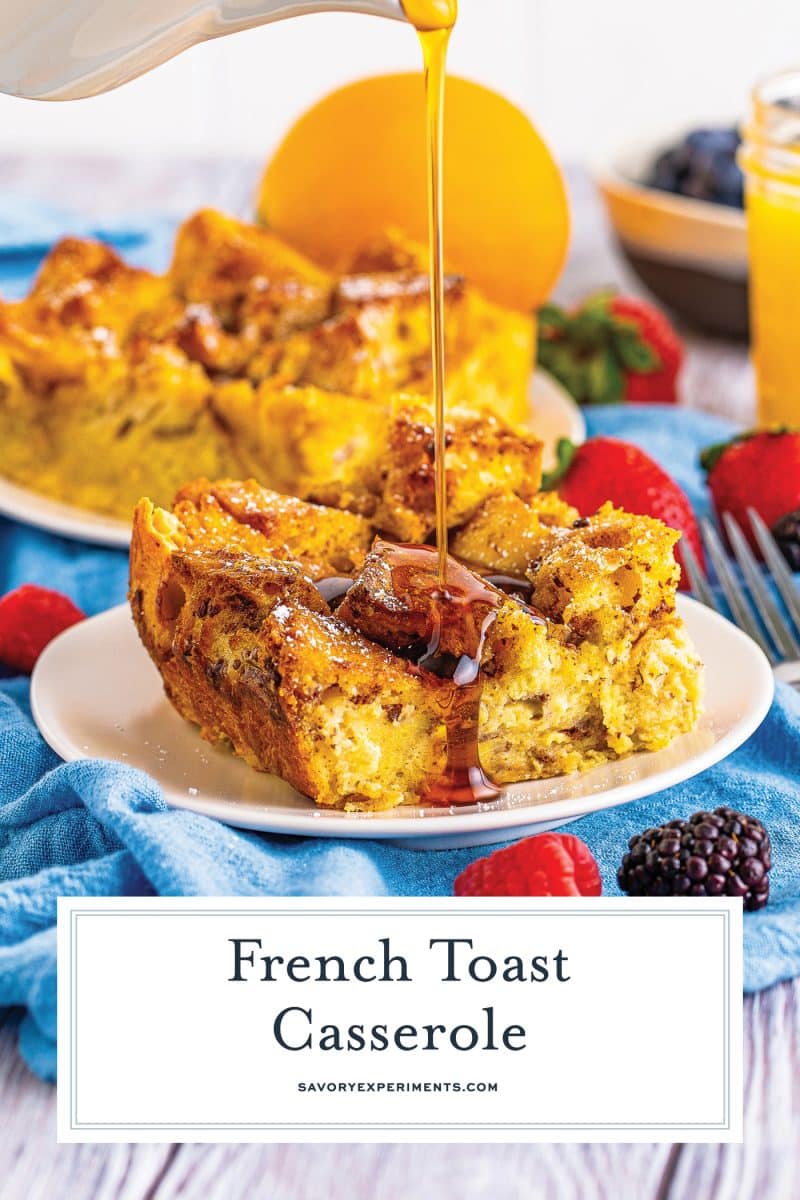 More Favorites from Savory Experiments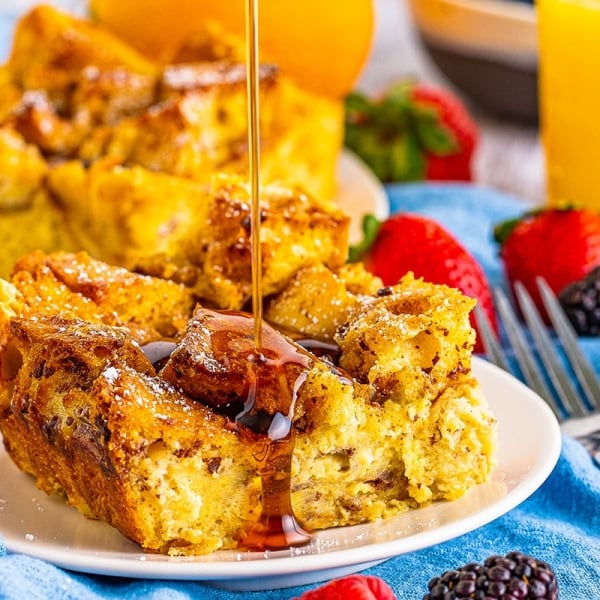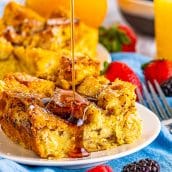 Overnight French Toast Casserole Recipe
Overnight French toast casserole is the delicious breakfast bake you didn't realize you needed. Sweet and easy, this will make your morning.
Instructions
Spray a 9×13 baking dish with cooking spray. Place the cubed bread into the baking dish, set aside.

Place the eggs, milk, heavy cream, sugar, brown sugar, vanilla, cinnamon, and salt into a large bowl. Whisk together well until combined. Some of the cinnamon may float on top, that's okay.

Pour the custard over the bread cubes. Take a large spoon and press the bread into the custard so it starts to soak it up. Cover the dish and place it in the fridge to soak for at least 6 hours, or overnight.

Preheat the oven to 350°F.

In a small bowl whisk together the melted butter, brown sugar, and cinnamon until smooth. Drizzle this all over the top of the casserole.

Cover with tin foil and bake for 30 minutes. Remove the foil and bake for another 25-30 minutes until the top is golden brown and a knife inserted into the center comes out clean.

Let cool for 15 minutes, slice and serve with a dusting of powdered sugar and maple syrup, or your favorite toppings.

If you've tried this recipe, come back and let us know how it was!
Nutrition
Calories:
359
kcal
,
Carbohydrates:
45
g
,
Protein:
10
g
,
Fat:
16
g
,
Saturated Fat:
9
g
,
Polyunsaturated Fat:
1
g
,
Monounsaturated Fat:
4
g
,
Trans Fat:
0.2
g
,
Cholesterol:
147
mg
,
Sodium:
392
mg
,
Potassium:
188
mg
,
Fiber:
1
g
,
Sugar:
26
g
,
Vitamin A:
635
IU
,
Vitamin C:
0.1
mg
,
Calcium:
116
mg
,
Iron:
2
mg