There is nothing I love more for breakfast than hot, gooey cinnamon rolls. Making these 2 ingredient dough cinnamon rolls takes all of the guilt from my indulgence. Sometimes I don't have the time for traditional cinnamon rolls.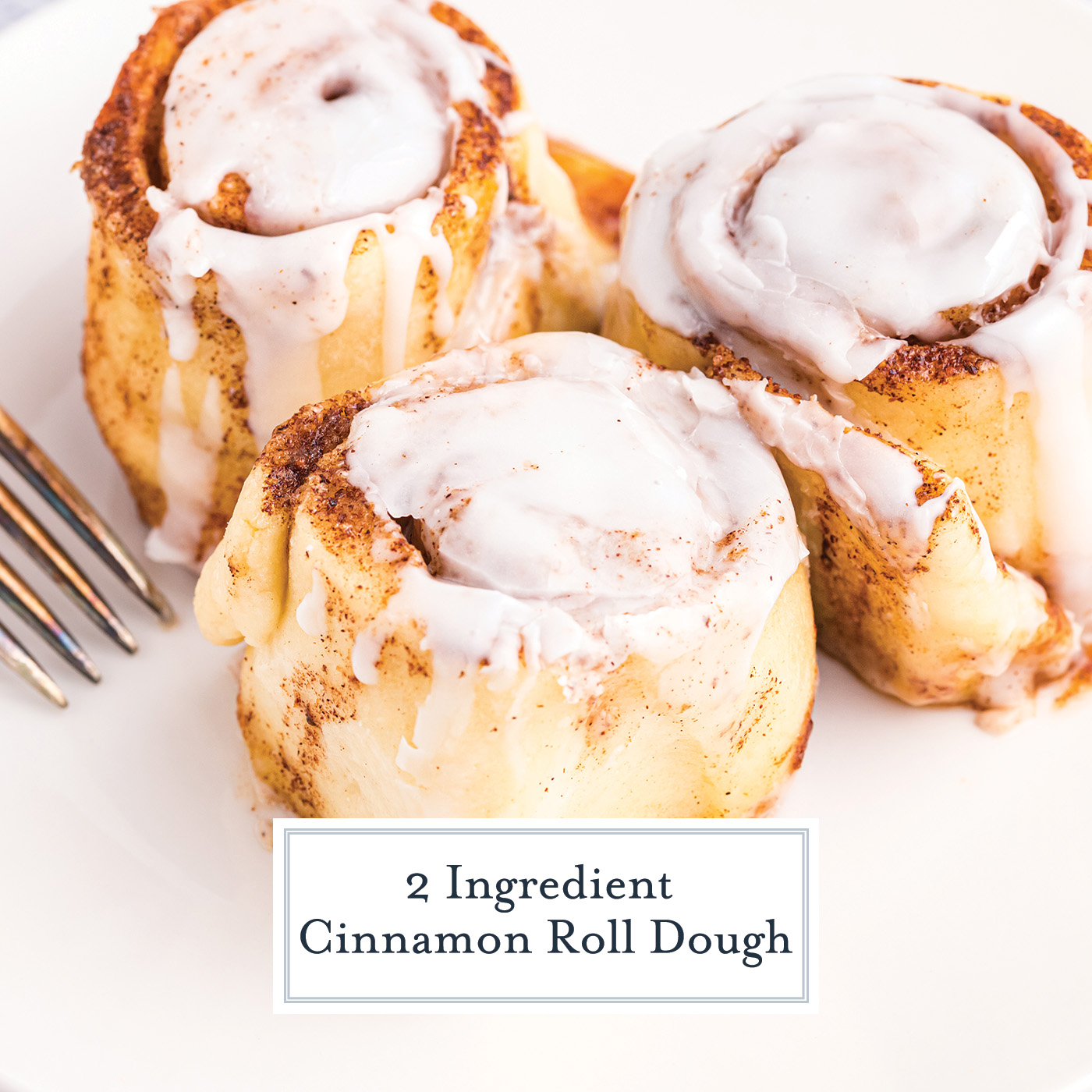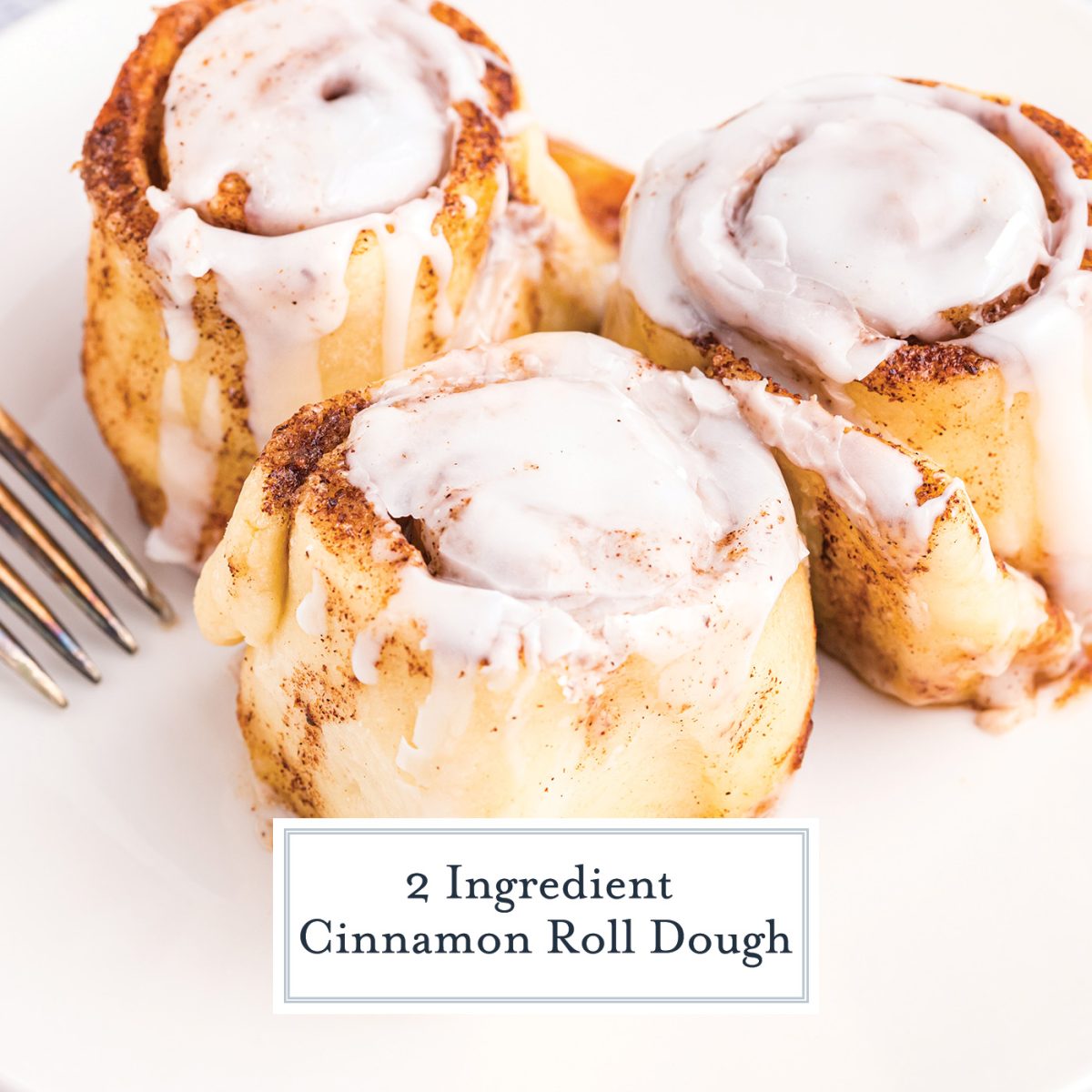 Easy dough made with Greek yogurt and self-rising flour smeared with a cinnamon and sugar filling and topped powdered sugar icing. Breakfast is the perfect time, but also just as good as an easy dessert recipe.
What is 2-Ingredient Dough?
This is a simple base dough made from plain Greek yogurt and self-rising flour. Self rising flour also contains salt and baking powder, a leavening agent. Because this dough does not use yeast, it relies on the baking powder to give it a little (albeit not a lot) of loft. Because it doesn't use yeast, it also doesn't require time to rise like a yeast dough for traditional cinnamon rolls.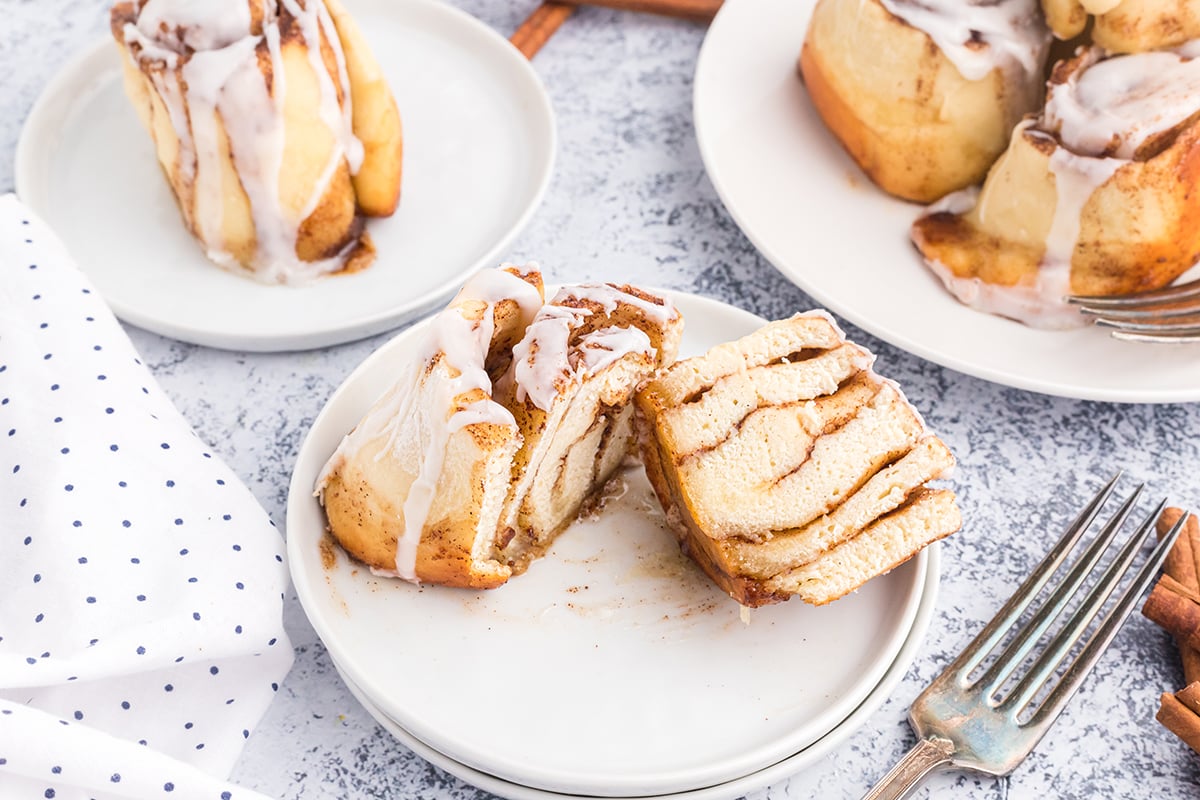 Greek yogurt serves as the moisture, but also has a good dose of protein and friendly to those with an egg allergy. I am not a Weight Watchers consultant or expert, but apparently this makes it less on the points system instead of using eggs or other types of liquid. Greek yogurt has a tang that gives this dough some flavor.
The original two-ingredient dough recipe uses equal parts flour to yogurt, but in nearly all of the comments, this provide to be an issue for several reasons. More on that later. One batch is 12 smart points (according to the WW website). It was made to use as a pizza crust and breadsticks, among other things, but this verstile dough is now used for everything from bagels to bread sticks and of course, sweet recipes too.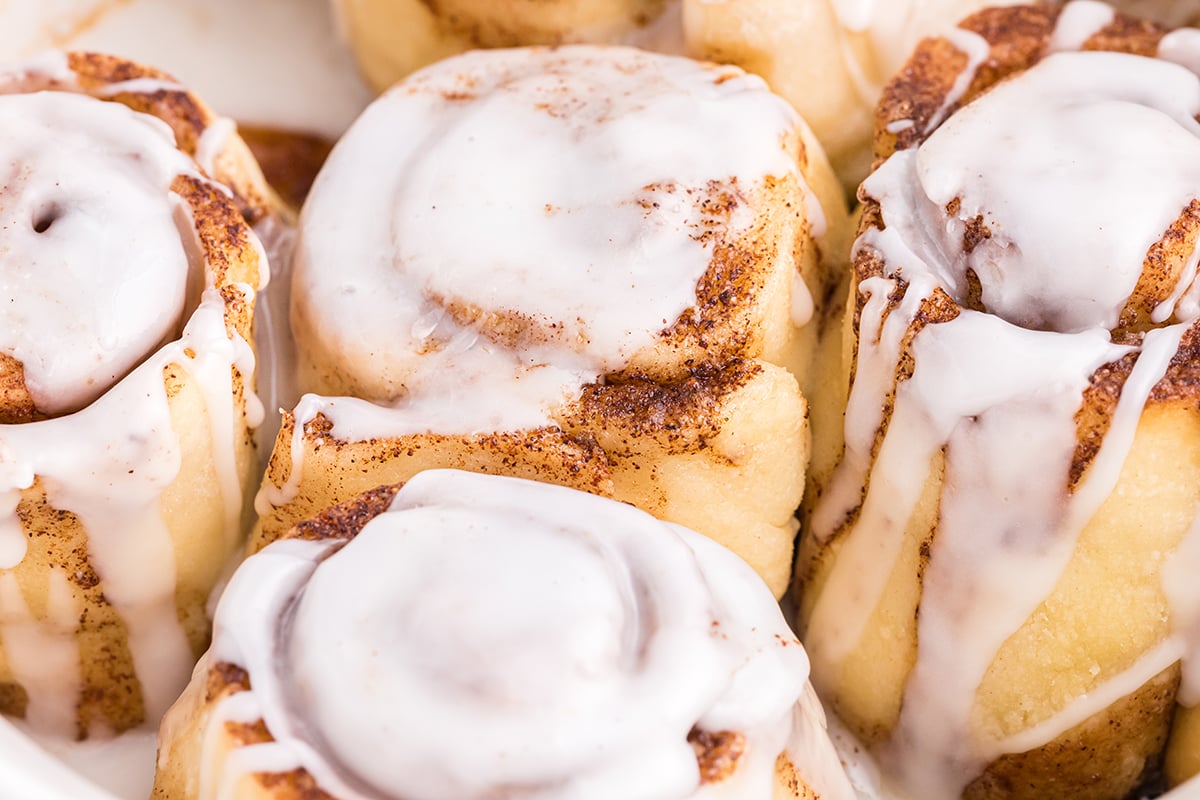 Ingredients
These are simple ingredients found in most kitchens. Even plain Greek yogurt is a staple in mine in lieu of sour cream and mayo for many recipes. It can also be used for marinades, salad dressings and dipping sauce recipes.
Self rising flour – You will need to make sure you have enough flour for the recipe, and then also an extra cup of flour your work surface. A well floured surface is crucial to keeping your 2 ingredient dough recipe from sticking.
Plain greek yogurt – Using regular yogurt is not recommended for this easy dough. It's too thin and the consistency of the dough will be all wrong. You can, however, use your favorite nonfat greek yogurt if you'd like to. If you don't have any plain fat-free greek yogurt, you can also substitute sour cream or non0fat greek yogurt. Because it is a sweet recipe, vanilla or almond flavored makes for a fun variation.
Butter – I always opt to use unsalted butter when baking. That way I am able to control the amount of salt that goes into the recipe.
Light brown sugar – Brown sugar gives our cinnamon roll filling the perfect amount of sweetness, and also adds to the flavor.
Ground cinnamon – You can't have cinnamon rolls without cinnamon! If you're feeling fancy, feel free to freshly grind your own.
Ground nutmeg – Nutmeg adds just a hint of nuttiness, and also is the perfect pairing for that cinnamon flavor.
Salt – Here is where the salt comes in. I like using fine sea salt in this recipe.
Powdered sugar – This will be the base of our icing. When mixed with the milk, it makes the perfect smooth consistency for topping out two-ingredient dough cinnamon rolls.
Milk – I find that whole milk works best when making icing, but you can use whatever type of milk you have on hand.
Vanilla extract – We just need a touch of vanilla to give our icing an extra boost of flavor. Plus it pairs very well with the cinnamon.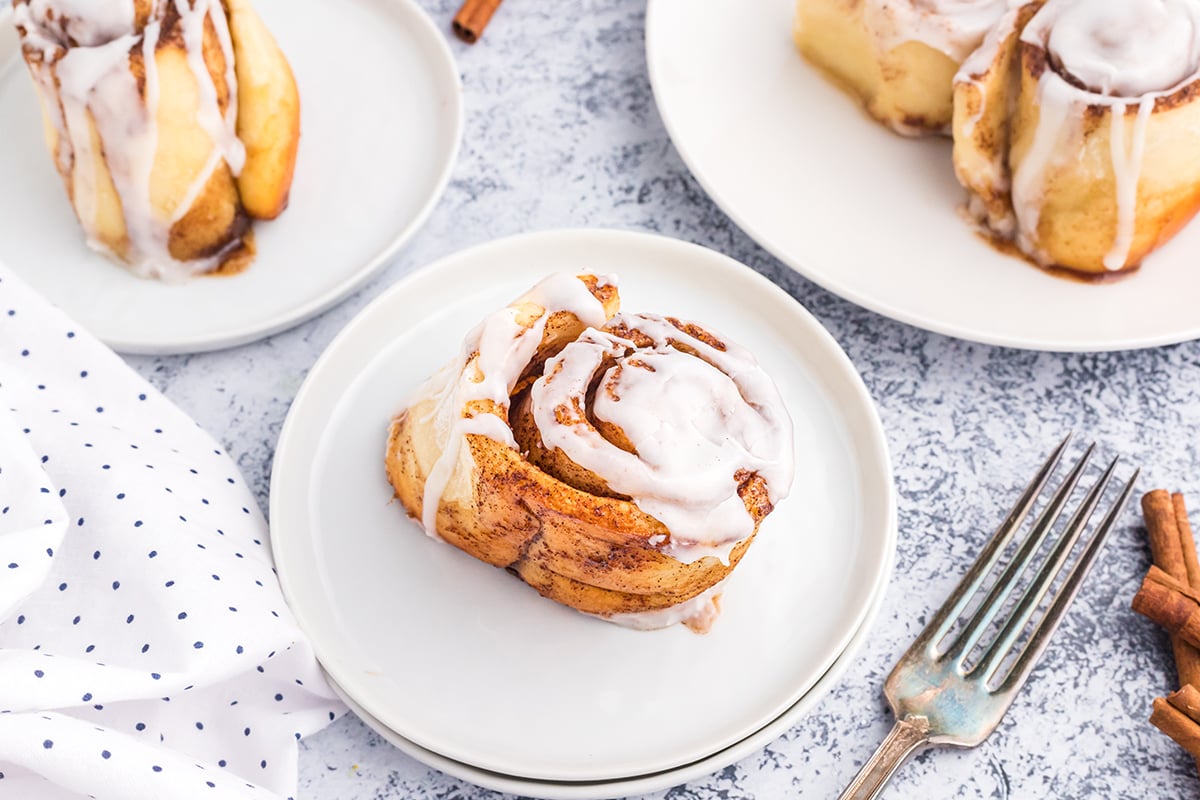 Gluten-Free Option– Make your own by following our recipe, but using a GF flour, or using Bob's Self Rising Gluten Free flour.
Substitutes for Greek Yogurt– As mentioned, Greek will be the thickest. You can use a plain regular yogurt, but it might contain more water, resulting in your needing more flour. Sour cream or diary-free yogurts can also be used.
Low Carb Flours- Also feel free to make a self-rising flour using low carb options, but know that this can also alter the amount of yogurt required. Almond flour, Carb Quick, Keto Wheat Flour, Coconut Flour, Chickpea Flour or Paleo Baking Flour are all options.
Low-Fat– Nonfat Greek yogurt can be used, but will need more flour because it isn't as thick.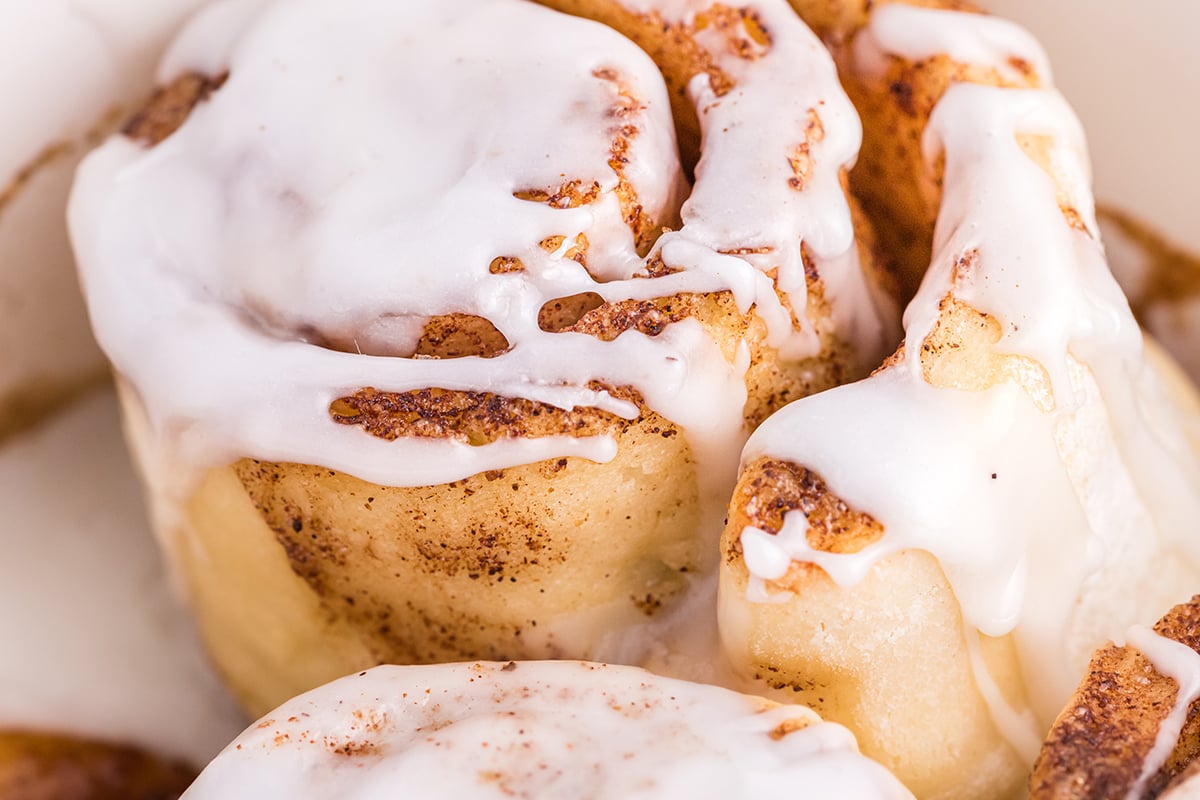 How to Make 2 Ingredient Cinnamon Roll Dough
Prepare oven and pan. Preheat the oven and coat a deep round pie plate or small casserole dish with cooking spray.
Make dough. In a large bowl, mix together the flour and Greek yogurt. Cover and allow to sit in the refrigerator. If it is a humid day, reduce the yogurt down to 3/4 cup and adjust flour from there. If you are working in a low humidity area, reduce the flour to 1 1/2 cups.
Knead dough. Transfer the dough ball to a clean work surface coated with flour. Knead the dough. If it still feels sticky, add a small amount of flour. Roll it into a rectangle with approximately ¼ inch thickness. You can make this in a stand mixer using a dough hook, just don't over mix, it can dry out.
Make filling. In a small mixing bowl, whisk together the melted butter, brown sugar, cinnamon, nutmeg and salt. Spread the mixture evenly over the dough.
Roll. Roll up the dough tightly along the long edge. Cut into 5 equal sections using a sharp knife. These are miniature cinnamon rolls, not giant oversized ones! Portion control!
Add to pie plate. Flip and arrange evenly in the pie plate or baking dish. Pour the Baste the tops or spoon the rest of the butter/sugar mixture over top.
Bake. Bake until the edges are golden brown.
Cool. Remove and allow to rest before icing.
Make icing. In a small bowl, whisk together the powdered sugar, milk and vanilla extract until smooth. Drizzle over warm cinnamon rolls. You can also use a cream cheese frosting. YUM.
Enjoy! Pull apart and serve. Store separated with parchment paper.

Can I Make More?
This recipe only makes 5 cinnamon rolls. If you are looking for a large batch, like a pie plate of traditional cinnamon or sticky buns, simply double the recipe and make sure to use a large mixing bowl. I wouldn't do more than 10 in a batch or the rolls in the middle might not bake all the way through.
Double or even triple the powdered sugar icing for the ultimate in ooey-gooey cinnamon rolls.
Why is My Dough Sticky?
The number one complaint is sticky dough, which is why we increased our base recipe to include more flour and not follow the 1:1 ratios in the original. Nearly every brand of flour tested required more flour with the same amount of yogurt.
The brand of yogurt will also make a difference since they carry different moisture levels.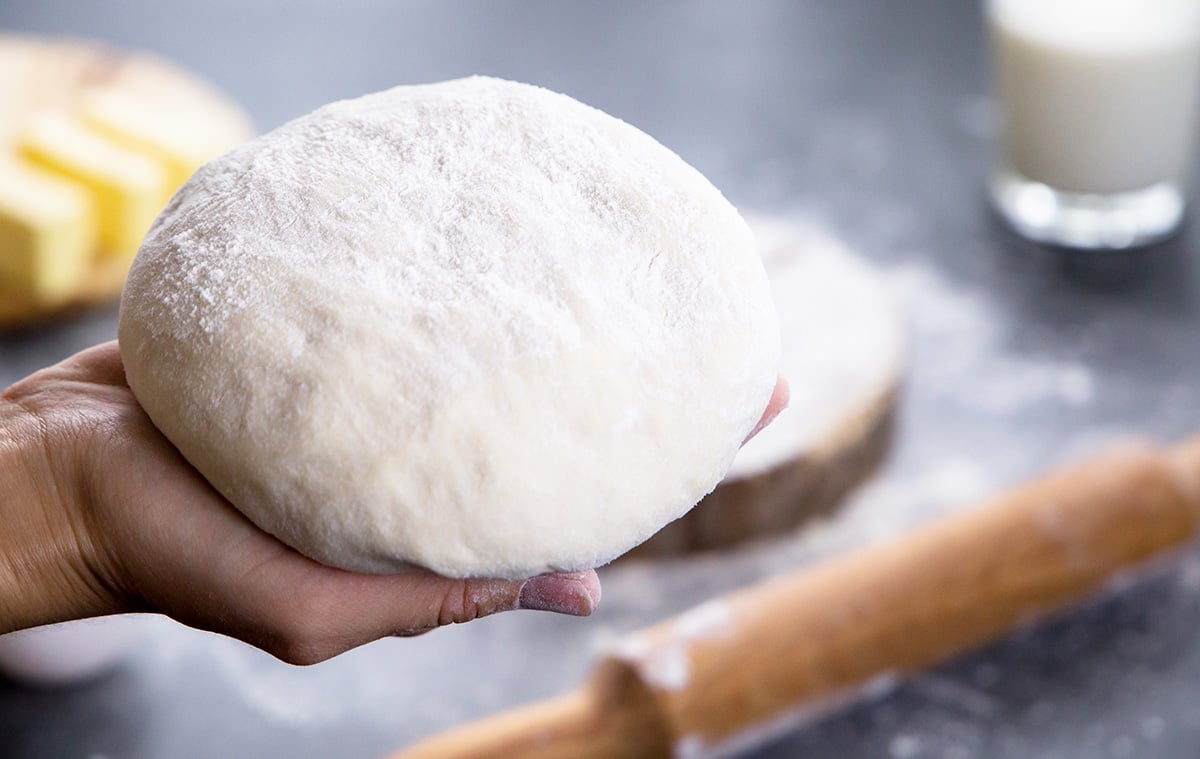 If your dough is too sticky– chilling will help it be more manageable. Use a well-floured work surface and rolling pin or hands (well-floured too!) But be mindful to not add too much or you run the risk if it being dry and crumbly.
If your dough is too dry- When it starts to crumble and you can't get it to stick, you might need a little more moisture. Spritz lightly with a spray bottle filled with water or add 1 tablespoon Greek yogurt. This can be challenging to evenly work into the dough after it has initially been combined.
Storage & Leftovers
Due to the nature of these easy cinnamon rolls, it does tend to dry out fairly fast. Cinnamon rolls are best enjoyed fresh and hot. Leftovers can be stored at room temperature in an airtight container or wrapped in plastic wrap. Heat for a few seconds in the microwave to revive the dough a bit.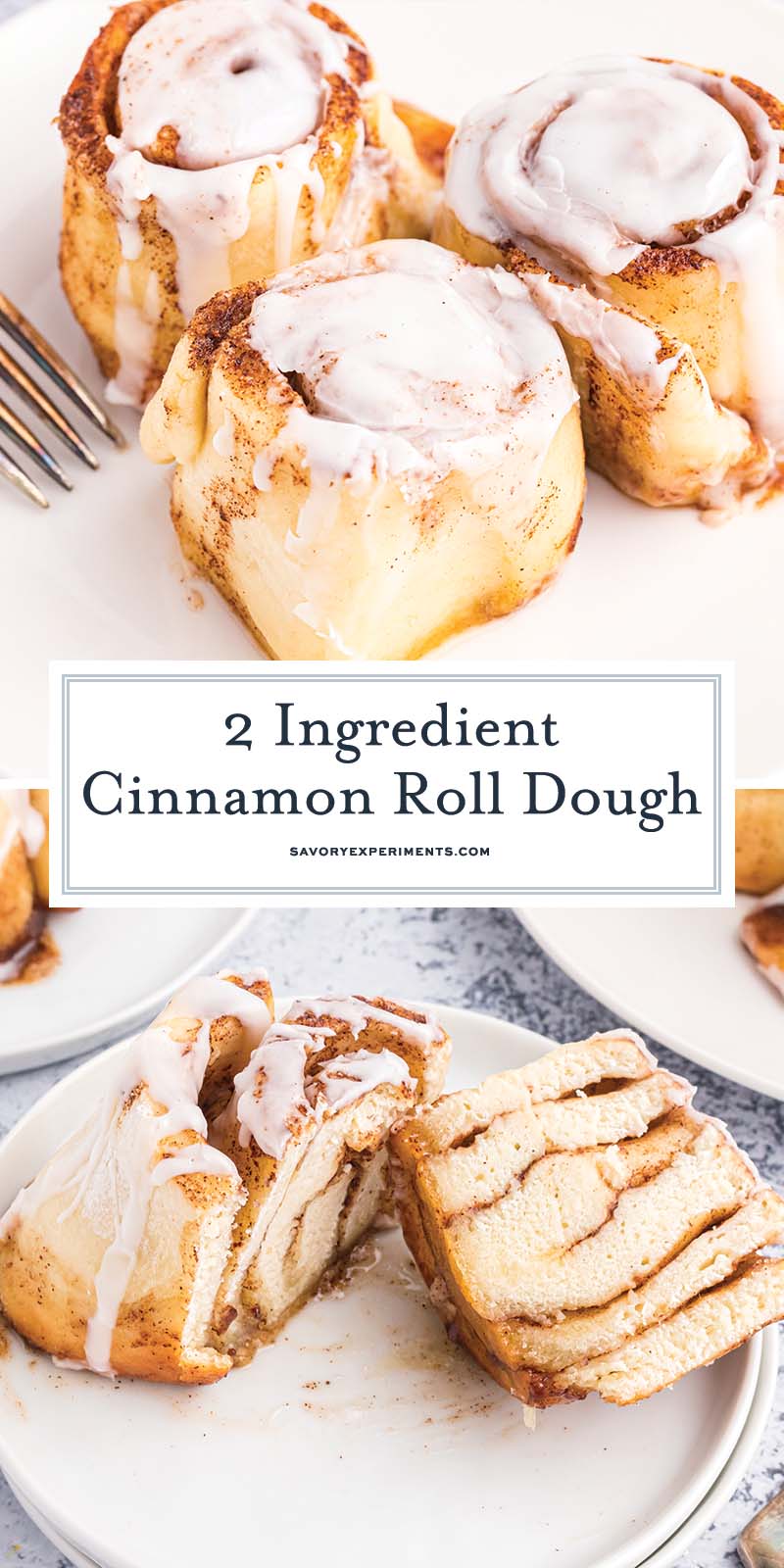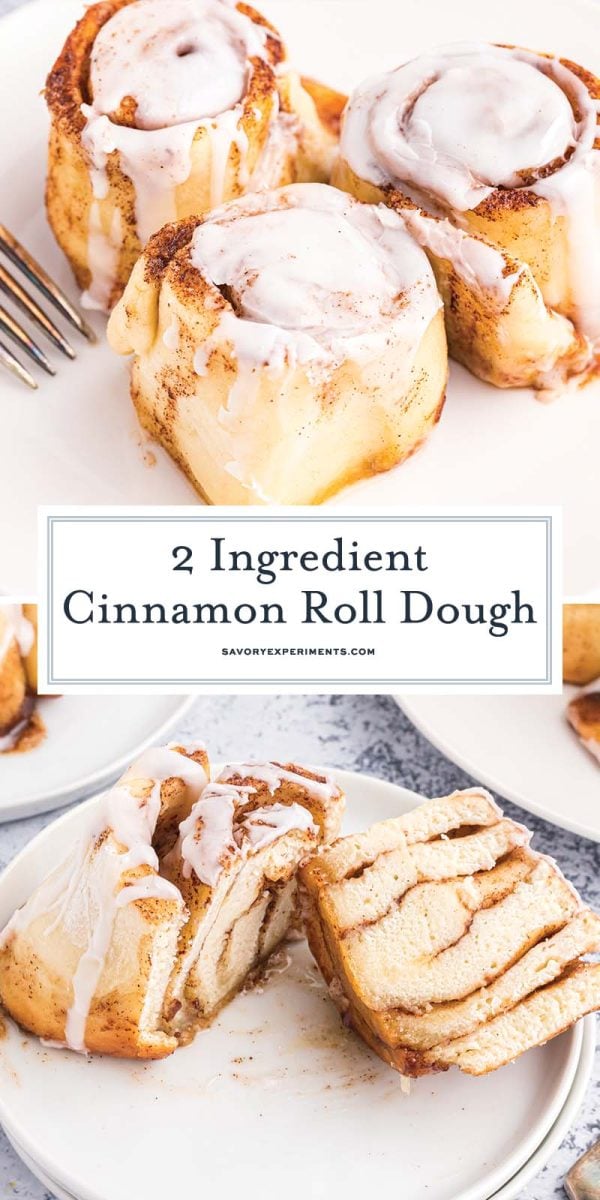 More Breakfast Pastries