Have you ever thought about making your own vanilla extract? Maybe not, it is so easy to buy. But I am the kind of person who likes to know how things are made and after I've satisfied my curiosity, I can back to buying it.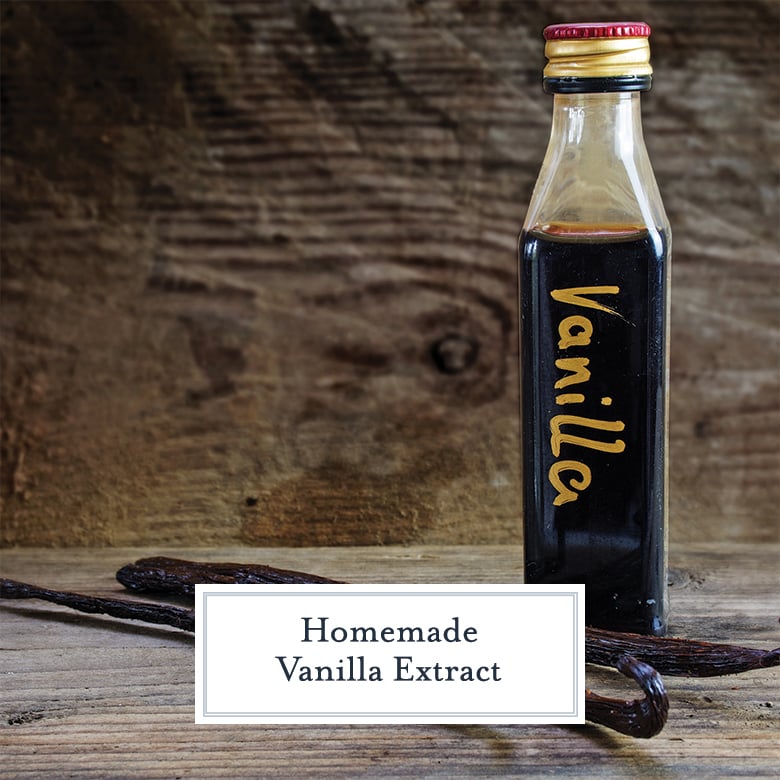 Vanilla Beans
Vanilla beans are pods that come from a species of orchid which is why many vanilla pictures have a white flower in them.
They are long, brown and skinny pods with a leathery outside and small black seeds inside. This is, sometimes known as caviar, is what you will use to use to get the most flavor.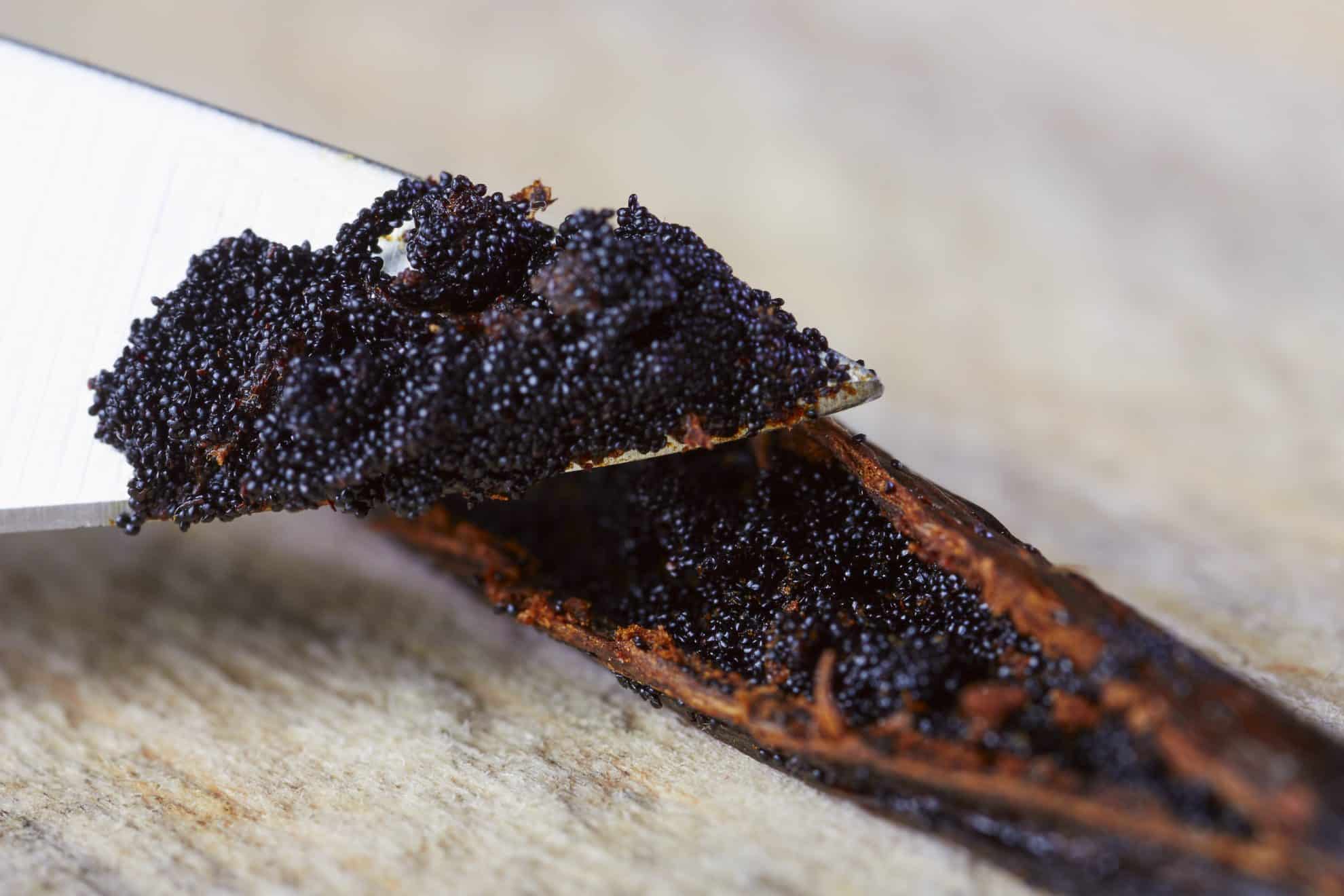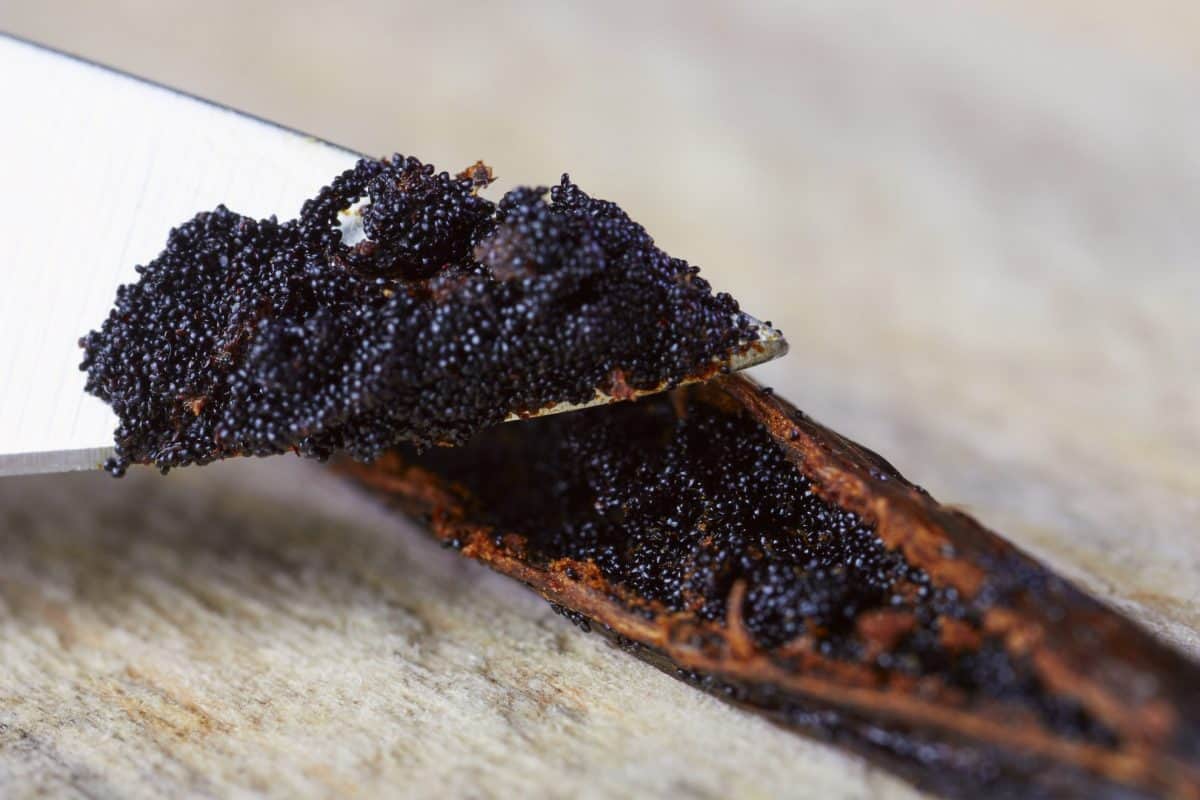 After the caviar is removed, the pods, now called a spent pod, can still be used to infuse flavor into everything from ice cream and vodka to oils and candles.
There are three main types of vanilla beans:
Madagascar- the most common, producing 75% of the world's vanilla. Simple and clean.
Mexican– More of a smoky flavor and darker in color.
Tahitian– Floral notes, lighter and more delicate.
Why is Vanilla So Expensive?
Orchids are a popular flower that are beautifully flowering and commonly given as gifts. But if you've ever had an orchid, you also know these suckers are extrememly tempermental. The vanilla orchid is no different.
In fact, each bloom only opens ONCE and for about 4 hours during which time it must be pollinated and even then only stands a slim chance to actually produce a pod.
It can take several years before they even produce their first bloom. Which means farming vanilla orchids is serious business and also very challening.
Due to this, vanilla and most vanilla products, are pretty pricey. A good quality extract can cost you up to $20. The amount of work and time that went into that one bean is astronomical! Okay, maybe that is a bit of a stretch, but a lot.
Grade A beans are the most expensive and grade B are a little less. You will need grade B for extract.
Vanilla Extract Ingredients
There are only two. Yep, TWO.
Vanilla bean and vodka. Wait…. vodka??? You can also use brandy, rum or bourbon, but vodka is the most popular.
So if it only takes two ingredients, why aren't more people making their own extract?
Time
Time is the answer to that questions. It takes 6-12 months to make your own extract.
The longer it sits, the more potent your extract will be. Some recipes will tell you can use it after 8 weeks and they they aren't wrong. Technically you can use it after 2 days, but it won't have the same full bodied flavor you are looking for.
Now, with that said. You can have what I call the never ending bottle of vanilla. More on that below…
Single Fold Vs. Double Fold
Single fold vanilla is what most people will purchase. It uses 4 pods per 8 ounces. It still produces a good vanilla taste if left for 12 months, but it is less concentrated than double fold.
Double fold vanilla is exactly double. So 8 vanilla bean pods per 8 ounces with a much more rich and concentrated flavor.
If you are making your own, you can make something right in the middle. Totally up to you and your budget.
Never Ending Vanilla
I've seen vanilla beans go for up to $18 per pod, so if you do the math, we are spending $80-$120ish per bottle of extract. That is expensive, BUT…
you are going to get a lot more extract because it is a never ending bottle.
What I mean by this is that you can top it off with alcohol as you use it, so just keep refilling it. I keep a sticky note on the back of mine and note the dates I added vanilla beans and change them out every 12-14 months.
I also go through a lot of vanilla, so in my kitchen this makes sense and actually saves money. If you don't bake often, this might be a total waste of money.
How to Make Vanilla Extract
All you have to do is submerge vanilla bean pods in vodka and shut the jar tightly.
Keep it in a cool, dry place with little sunlight, like a pantry or cabinet.
Try to shake it once per week, but if you miss some time, it is very forgiving and will be just fine.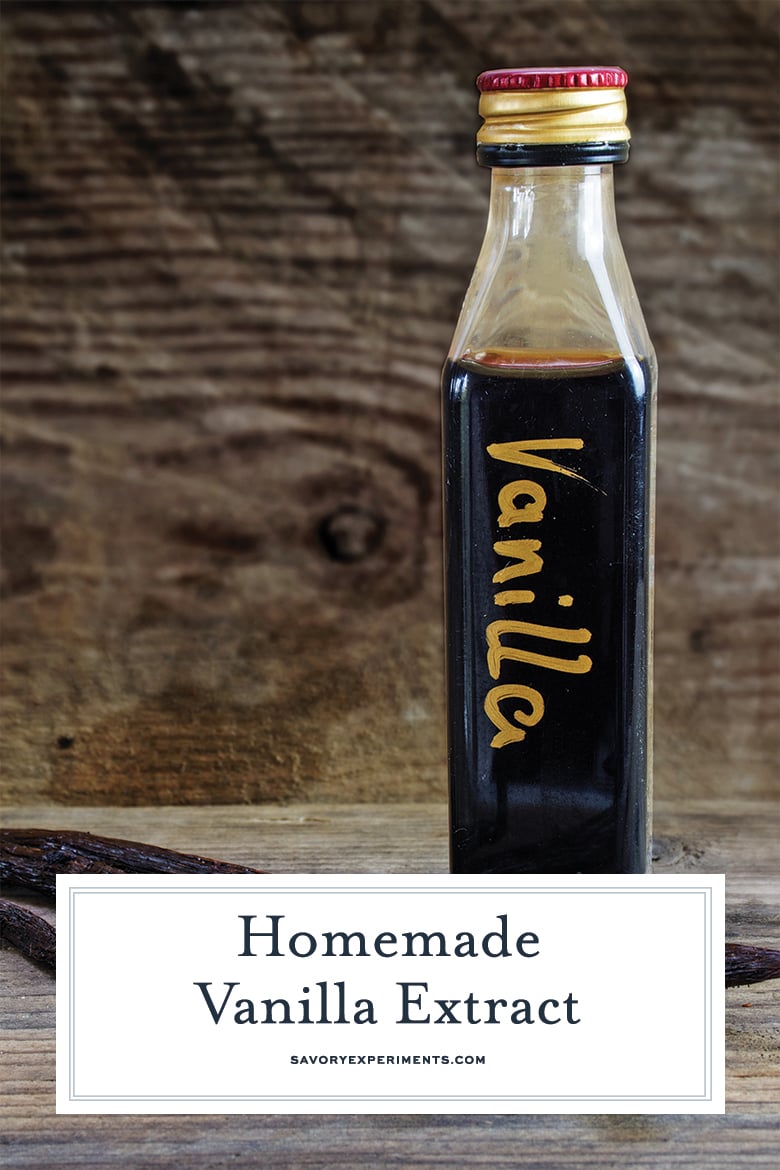 Instant Pot Vanilla Extract
You can also make extract in an electric pressure cooker, like an Instant Pot, in a fraction of time. When I say fraction, I'm talking about 2 hours from start to finish.
What I will say is that the concentration is similar to a 3-4 month aged vanilla. So it is good and will be just fine for cookies or something where vanilla accents other flavors, but for a vanilla custard, you might want something a little more robust.
Hybrid is also an option. Start it off in the instant pot and then move it to the cupboard for a few months. This gives a nice jumping off point and middle of the road timeline.
Here is how to make vanilla in the Instant Pot. Before you get started you will need a 16 ounce jar with a lid and 2 cups vodka.
Place split vanilla bean into the glass jar. Fill with vodka until bean is fully covered, approximately 2 cups. Seal the jar well.
Please the trivet into the Instant Pot, setting the jar on top.
Add 1 cup water to the Instant Pot. Cover, seal, and cook on high manual pressure for 60 minutes. Allow for natural release.
Remove the jar using tongs- it will still be hot. Allow to cool fully before handling or storing.
You can do up to 3 jars at a time using this method.
Spent Vanilla Bean Pods
We know you spent a lot of money on those pods, so rest assured we have other ways to use them from professional chefs!
My favorite is to use them for flavoring vanilla ice cream.
Flavoring scalded milk.
Add to a small canister of sugar for vanilla flavored sugar. Great for dusting cookies and finishing desserts.
Add to bourbon for flavored bourbon.
Use to make vanilla flavored simple syrup.
Storage & Shelf Life
Does vanilla go bad? Since it is suspended in alcohol, the shelf life never really expires.
It will have some sediment in the bottom from sitting though. I recommend our it through a piece of cheesecloth or a fine mesh sieve to make sure the sediment from the pod doesn't come through.
You'll also have some floating specks of vanilla bean. Depending on the recipe, those might be desirable and you won't want to strain it.
Neither the beans nor the pod will hurt you.
Vanilla extract will not freeze since it is made from alcohol.
Vanilla Extract Alcohol Content
Yes, since vanilla is made from alcohol, it is considered alcoholic, but since the amount used in most recipes is so little, there is only a trace. The minimum is that it contains 35% alcohol, which means that many commercial extracts are watered down.
Yours will be rich and robust, in fact, you might not even need the full amount called for in recipes. After you start to work with it, you'll get the hang of it.
After you bake it, the alcohol will cook off completely.
Homemade Vanilla Extract as a Gift
There is nothing lovelier than a homemade gift and vanilla extract really shows you went the extra mile considering how long it takes to make.
If you plan to give this as a gift, consider straining the whole batch before bottling. You can strain and then place one or two spent pods back into the jar for decoration.
Make cute labels or even a larger label with instructions for never ending vanilla on the back or secured to the neck of the jar.
If you want to make a little go a long way, dilute it with 75% extract and 25% water.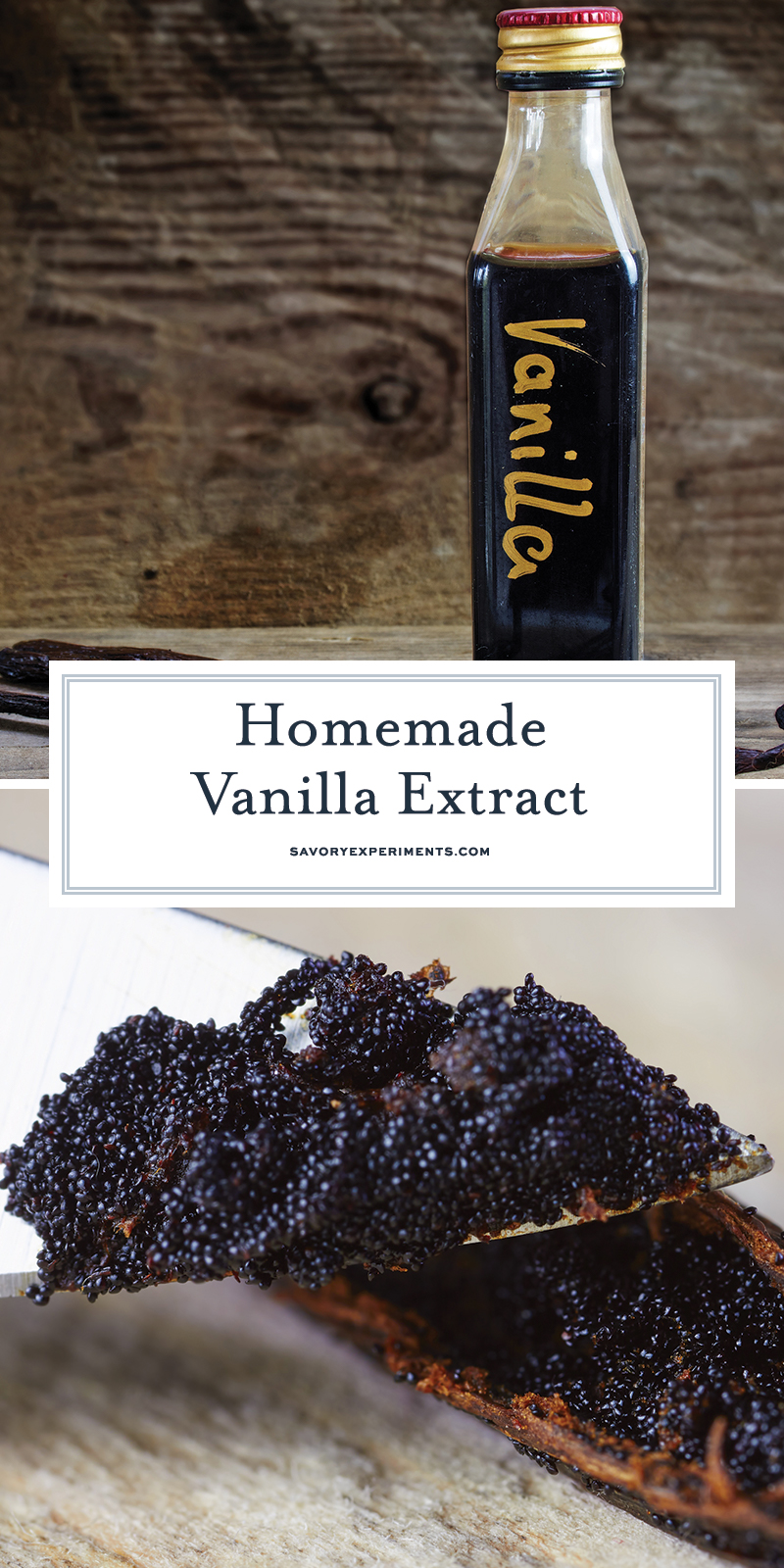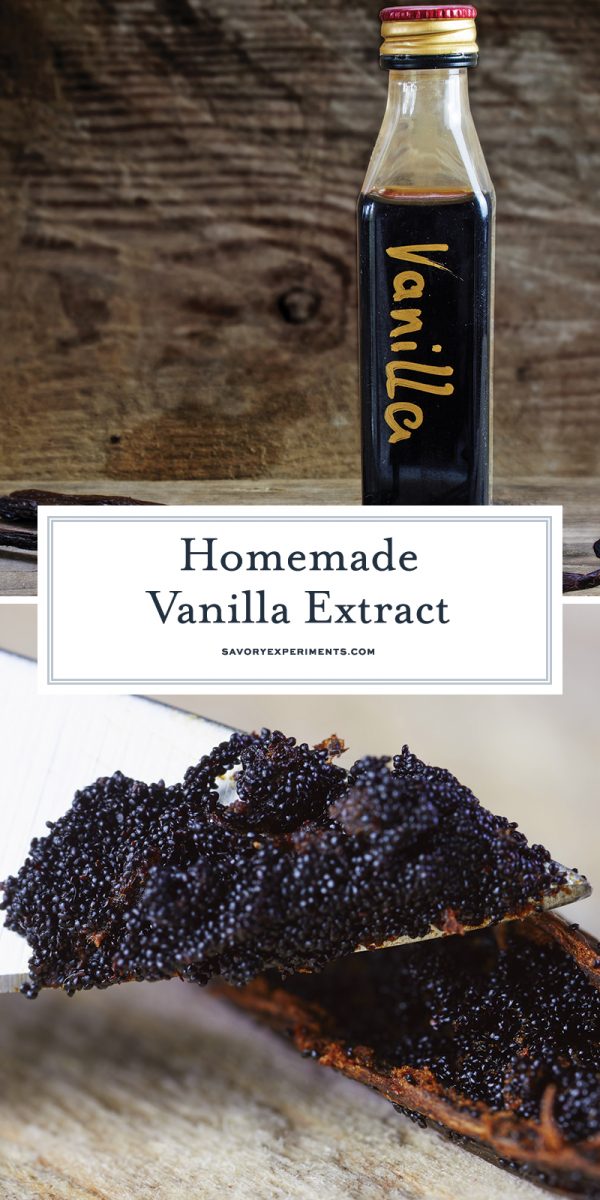 Recipes That Use Vanilla: