Fluffy Sheet Pan Pancakes are a quick and easy way to serve breakfast for a large group. With tons of options for add ins and toppings, this will become your go to breakfast bake in no time!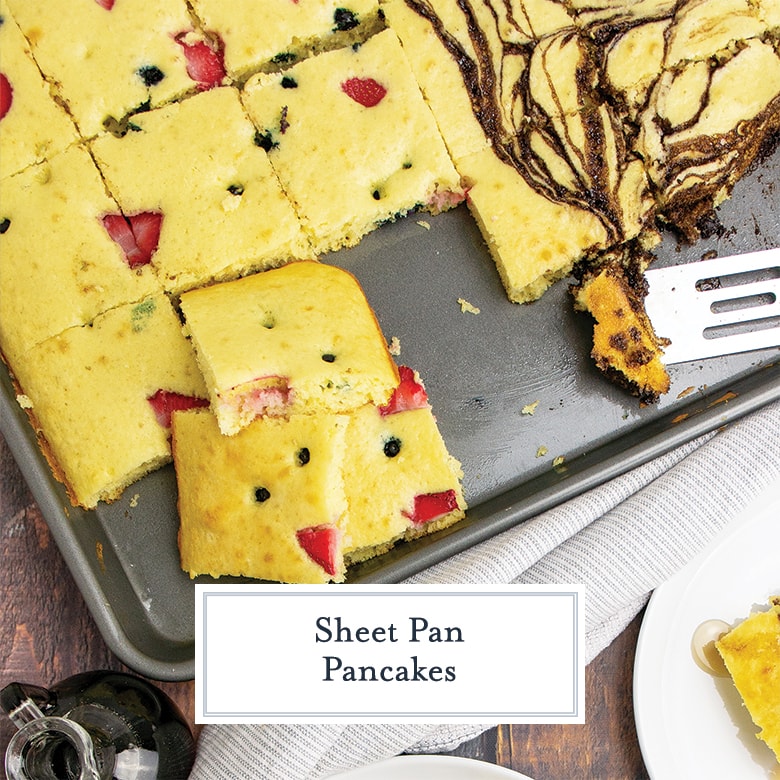 Easy Pancake Recipe
My husband loves pancakes, he would eat them every morning if either of us was willing to stand there and flip them in a pan again and again. So you can imagine when sheet pan pancakes were introduced to me, it was a game changer.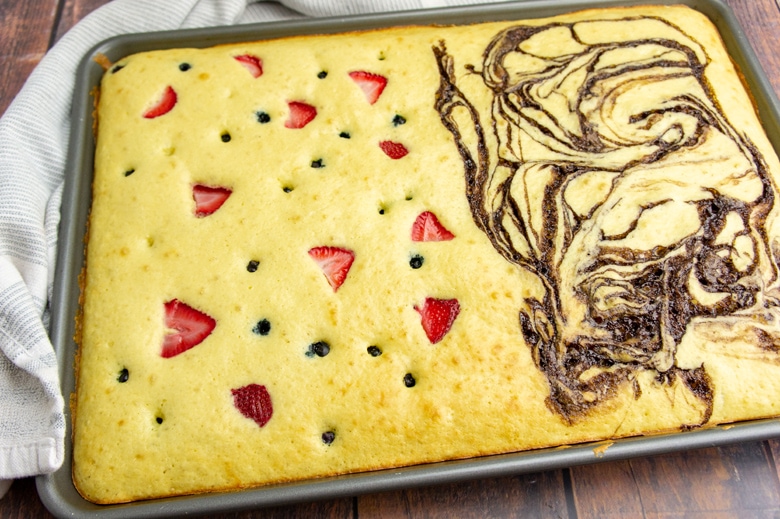 It has to be one of the easiest breakfast ideas out there. Not only can I make a HUGE batch of the fluffiest pancakes in one go, but I can create individual flavors.
Berries for kids, a little fudge sauce swirl for me, and bananas for the hubby, all in one go! If you've never made sheet pan meals for breakfast, get ready, you're about to fall in love.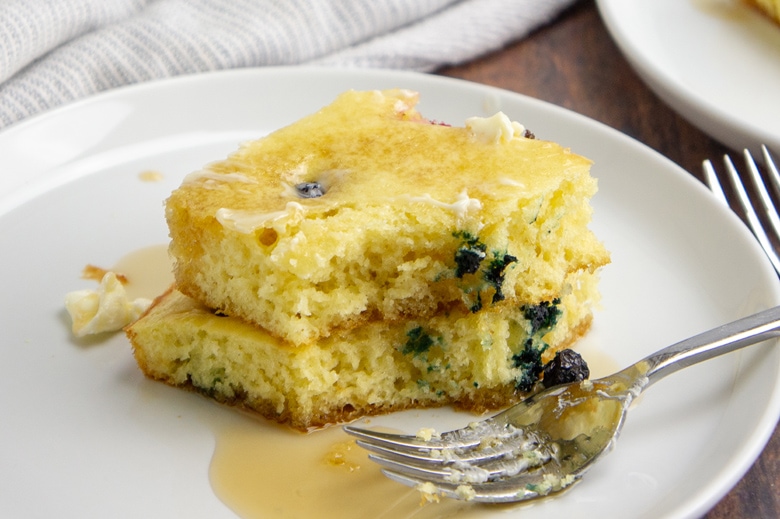 Homemade Pancake Batter
Now the key to any successful pancake, traditional or sheet pan, is a good batter.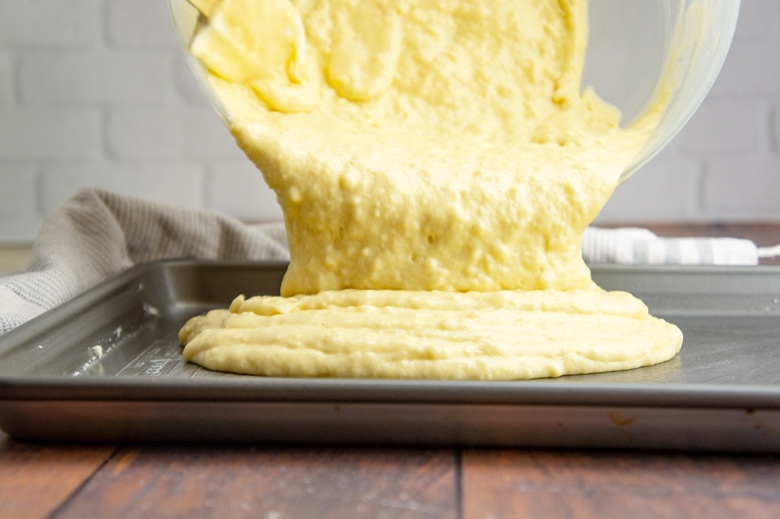 Buttermilk is my go to pancake batter and with some minor tweaking it easily adapted to create a fluffy and soft sheet pan pancake that was perfectly sweet. There are a few key tips for making this batter at it's best:
Beat the eggs with the buttermilk before adding it to the batter. This helps the eggs better incorporate into the batter without overmixing.
Don't overmix! Any flour based batter has the risk of becoming tough or dry when baked if it's worked too hard beforehand. Simply fold the wet ingredients into the dry ingredients until you no longer see any streaks of dry flour. It should be a little lumpy, thick, but easy to pour.
Spread the batter evenly in the pan. Skipping this step may lead to unevenly baked pancakes, that's no fun!
Bake until light and fluffy and then cut into squares.
Pro Tip: Make your own buttermilk by measuring 1 tablespoon plus 1 teaspoon of white vinegar or lemon juice in a measuring cup and filling it to the 1 ¼ cup mark with milk. Or to use the powder, mix in 5 tablespoons of powder to the dry mix and use 1 ¼ cups of water for the liquid.
Mix-In Ideas
My absolute favorite part about sheet pan pancakes (aside from how easy they are!) are the mix ins. You have so many options!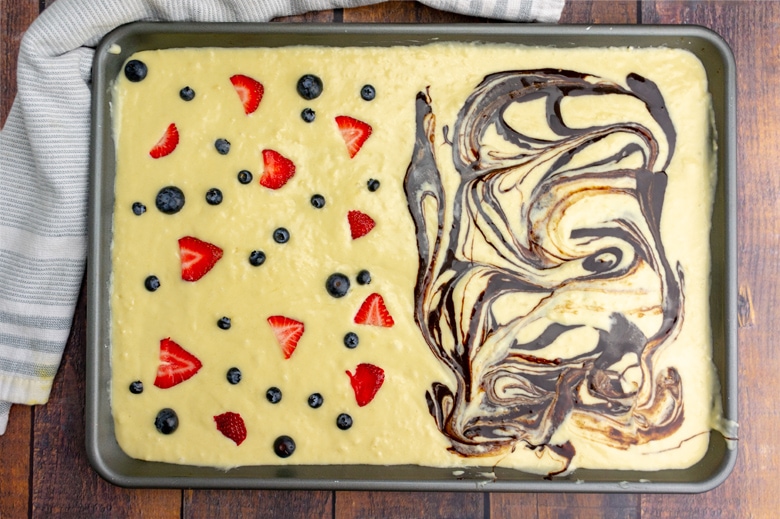 You can easily just drop in one mix-in across the whole sheet pan, each half can have a different ingredient, or go nuts and do 4 or even 6 sections! Somewhere between 1 to 1 ½ cups was right for us, but add as much, or as little, as you prefer.
Here are some of my favorite ideas:
Chocolate Chips (or any flavor you like!)
Homemade fudge sauce
Chopped nuts
Fresh Berries
Banana Slices
Apple chunks
Jam or jelly
Spices like cinnamon or nutmeg
Oat streusel
Pro Tip: Gently press any mix-in into the pancake batter once it's been spread on the sheet pan. This makes sure it gets baked into the pancakes, rather than sitting just on top. If you're using fudge sauce, jam or spices, swirl gently with a spoon.
And regardless of what you mix-in, you can always top them. Dutch honey, apple cider syrup, maple syrup or blueberry sauce are all winners.
Benefits of Sheet Pan Pancakes
Now that every member of your family has claimed a corner of your pancake, it's off to the oven. It took only minutes to mix and add your custom mix-ins, and now you can go relax while they bake.
The benefits of making your pancakes this way are numerous!
No flipping! Easily the best benefit for me, no standing at a griddle or frying pan for half an hour.
No more cold pancakes! Instead of turning my oven on and stacking each pancake inside as soon as they come off the griddle, they come out of the oven hot and fresh ready to eat.
Even baking, no more slightly burnt or slightly gooey pancakes. The sheet pan and oven do a fabulous job keeping the temperature even so every pancake bakes nice and even.
It's the easiest way to serve breakfast for a large group! We all love a good breakfast casserole for groups, and now you can add this breakfast sheet pan meal to your list. With unlimited flavors!
No hassle clean-up. You can easily wash the bowl and measuring cups while it bakes, no hot greased griddle or pancake drippings on your stove.
Pancakes for Dessert
Okay, now you're all full and satisfied and ready for the day…but what do you do with the leftover pancakes? I have a few tips, but my most favorite of all is to serve it as dessert!
Simply stack up a few of your favorite flavors, and top with ice cream, whipped cream, and a nice fruity drizzle like raspberry or strawberry sauce!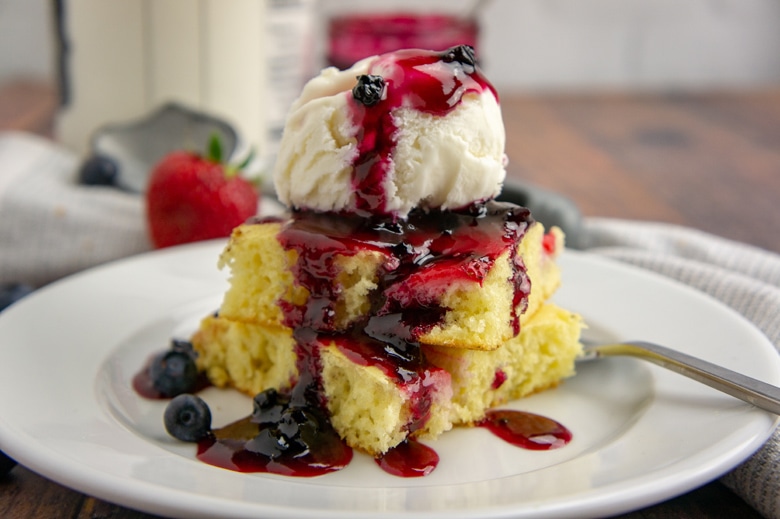 Think of it like a brownie sundae…but with pancakes! Your sundae toppings can be as creative and diverse as your pancake mix-ins were! Reheat the pancakes to serve them warm or heck, make them just for dessert. You'll be happy you did.
Storage & Leftovers
Save your sheet pan pancakes for breakfast the next morning by simply wrapping with plastic or storing in a plastic container with a lid. Then just pop in the oven or a toaster oven to reheat (you can also use the microwave very briefly).
I also love freezing leftover pancakes and waffles. My best results for reheating them happens when I take a few extra minutes to wrap each pancake square with plastic and then place the wrapped squares in a freezer safe bag or container.
To reheat, let thaw like you would any frozen bread or muffin, and toast to warm in the oven or toaster oven.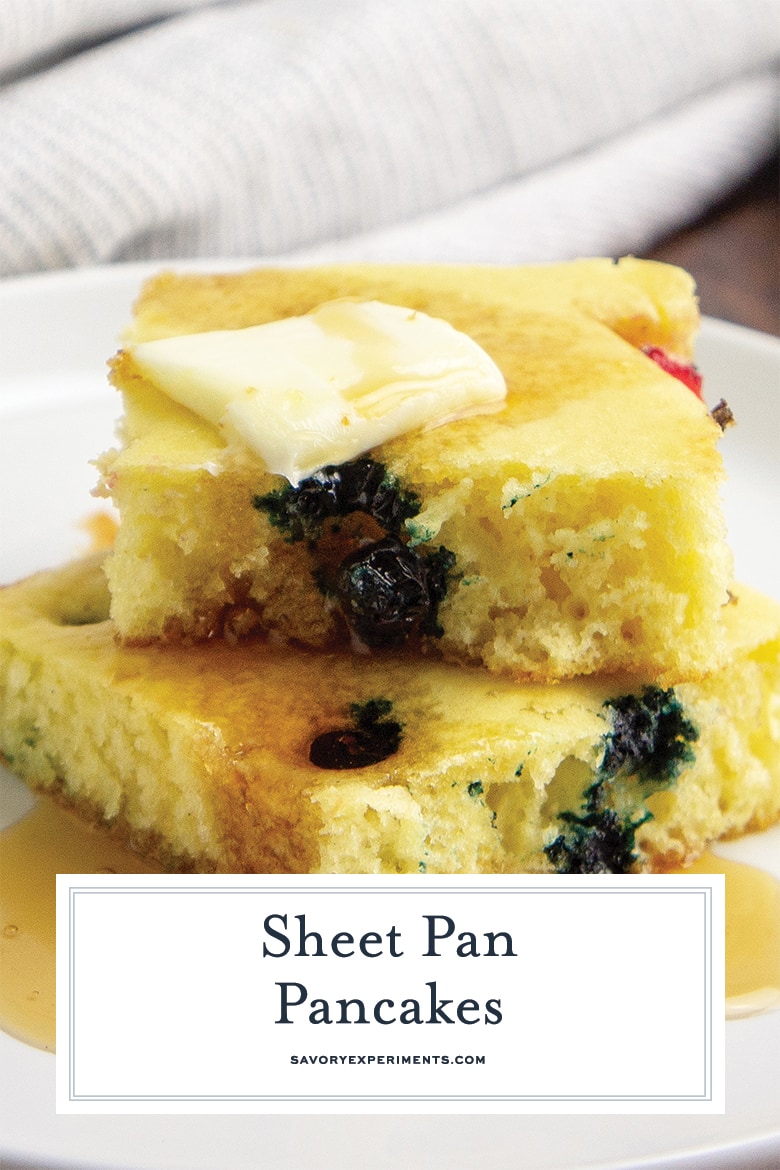 Adjusting the Sheet Pan Pancakes Recipe
One of the great things about this recipe is that it's pretty flexible. You can use a smaller sheet pan and have fluffier thicker pancakes with an extra minute or two of bake time.
You can divide it on to multiple sheet pans if you prefer, you can even bake this in a few cake pans or casserole dish, you simply need spread it about 3/4 inch thick in any pan for best results.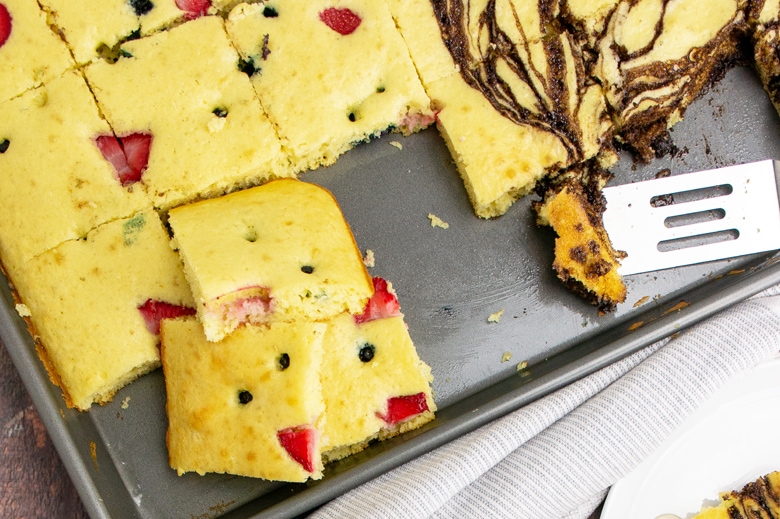 I'm wholly convinced, try this sheet pan pancake thing one time and you'll be a convert for life. I sure am. Sheet pan meals are a great time saver for dinner, why shouldn't they be for breakfast too.
Whip up some super easy custom sheet pan pancakes for your next family brunch, and enjoy a relaxing morning that both the cook and the family get to enjoy.
You can also go ahead and half it or even double it to meet your needs. Just adjust the size or number of pans as needed.