It's that time of year; the stores are all playing Christmas music and I am up to my ears in holiday season recipes. This classic Homemade Eggnog recipe will be your new favorite holiday treat.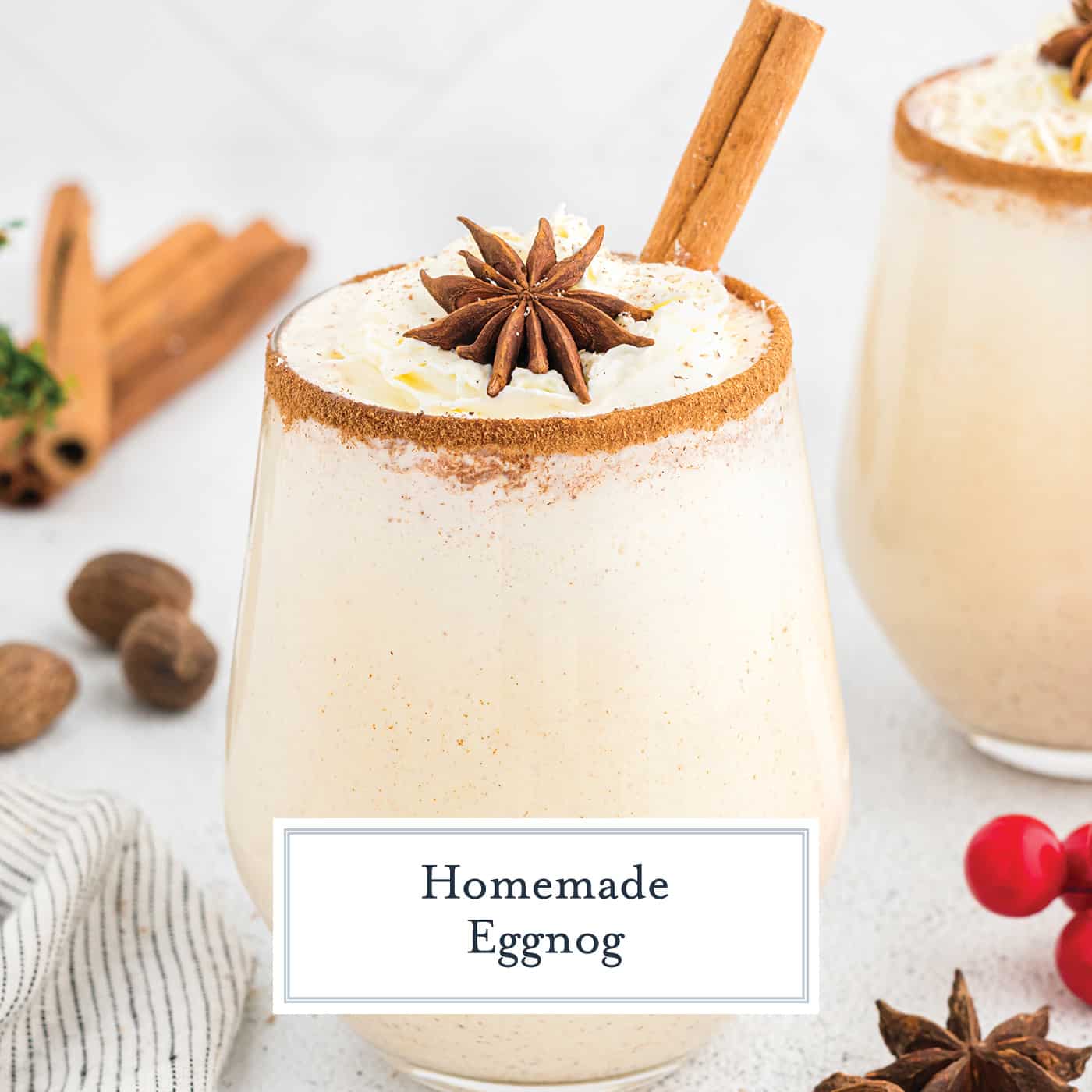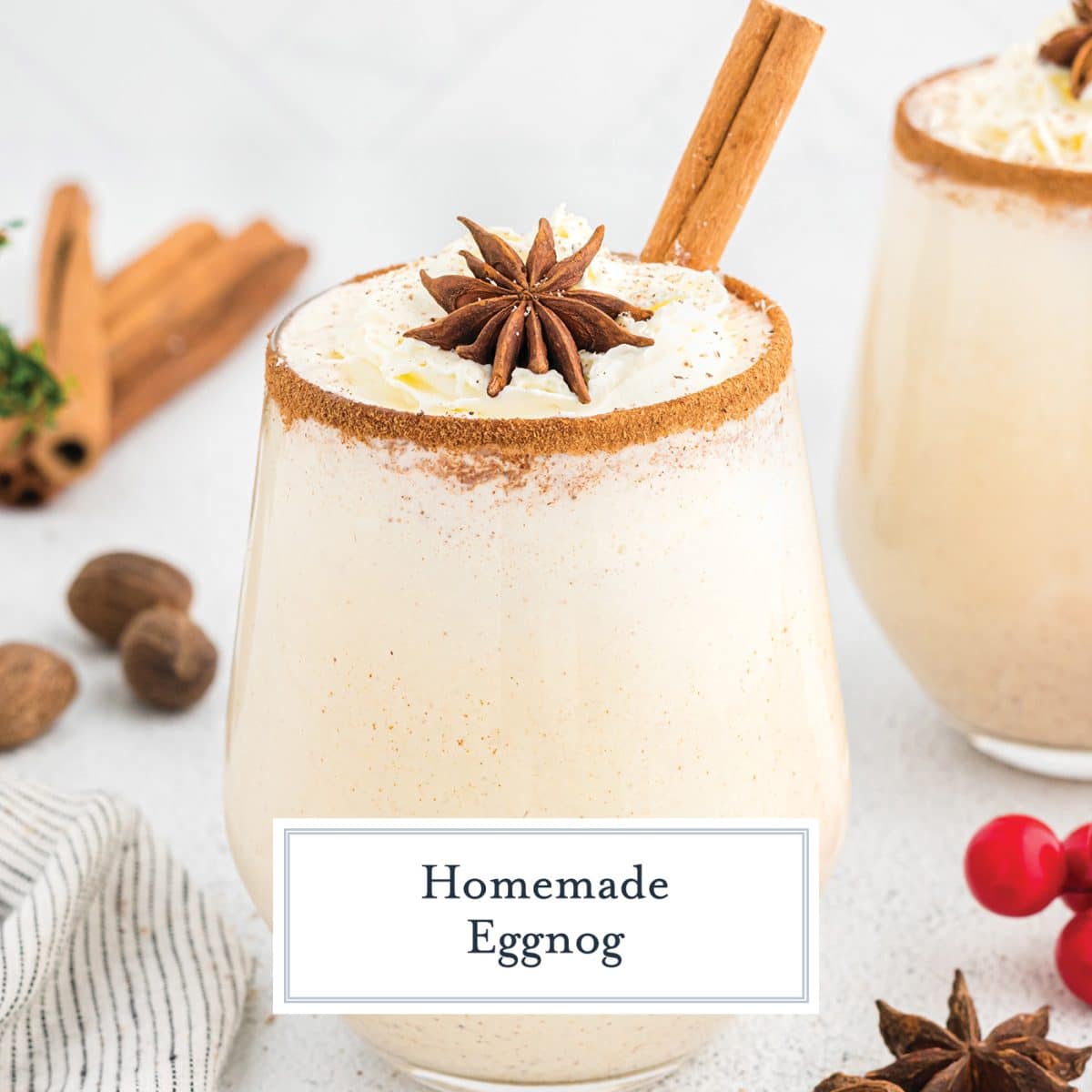 While store-bought eggnog is easy to pick up at the grocery store, it will never have the same flavor and texture as this delicious homemade eggnog.
Why it is Called Eggnog?
I tried to research the origins of this creamy drink, but the best I could come up with that "nog" was added from the word "noggin" which meant a wooden cup (not your head).
Others believe the real name was "egg grog" with grog meaning a strong beer or ale. I guess they only imbibed with the alcoholic version. LOL. Get your grog on!
Classic eggnog has also been known as egg punch or milk punch and has been around for centuries and throughout many cultures around the globe. Must be good if it is that popular.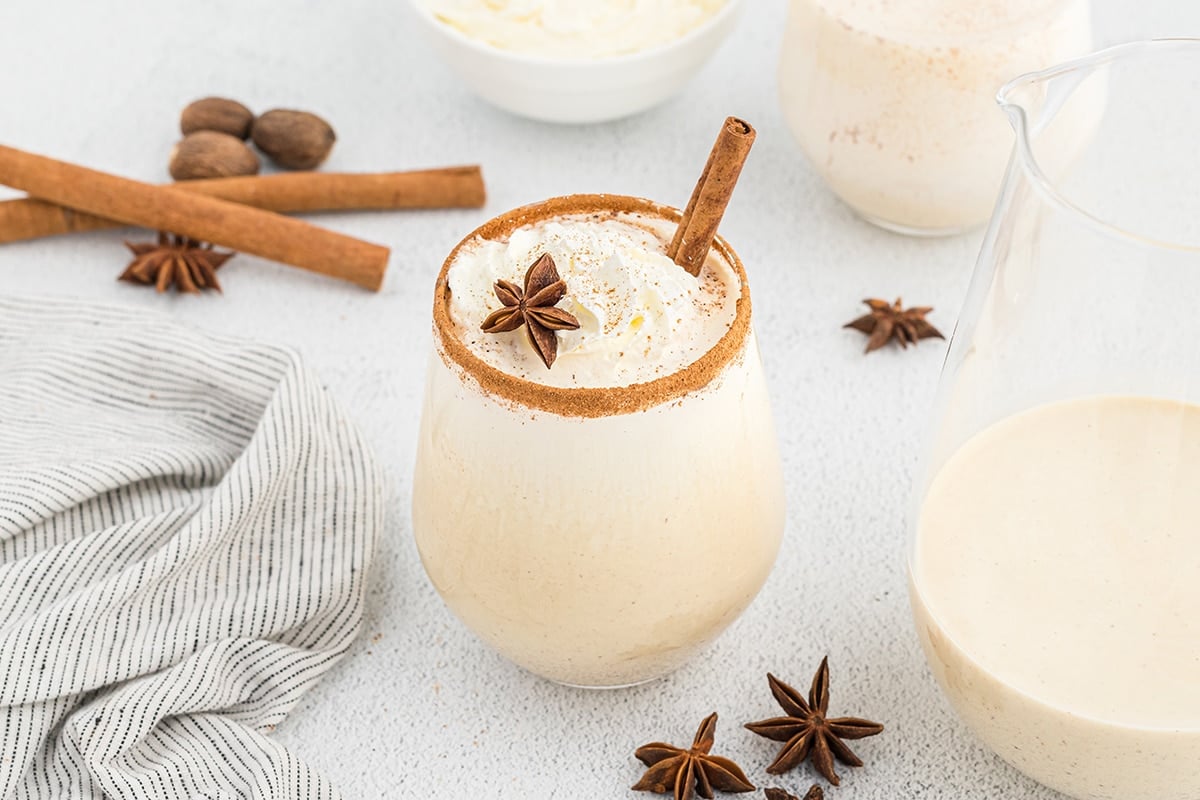 Ingredients
Many folks have ordered it at a restaurant, sipped it a party or even snagged a store-bought version, but have never made their own eggnog. Any why not?
The wholesome ingredients list is simple fridge and pantry staples and the preparation is easy too.
The taste and texture of a traditional eggnog recipe is unsurpassed. This is a great recipe to try if you've ever wanted to make your own homemade version.
Milk – Whole milk works best, don't skimp with skim on this one.
Cinnamon – freshly grated from an actual stick will give you the most bang for your buck.
Ground Nutmeg – same for the nutmeg.
Vanilla Extract – You can either make your own homemade recipe, or buy the bottled variety at the store.
Egg Yolks – You will need to separate egg yolks from the whole eggs. Always assume a recipe calls for large eggs. See notes below on egg yolks, they've earned themselves a whole section!
Sugar – To sweeten the drink. Sugar substitutes can be used.
Heavy Cream – To make it extra velvety and rich.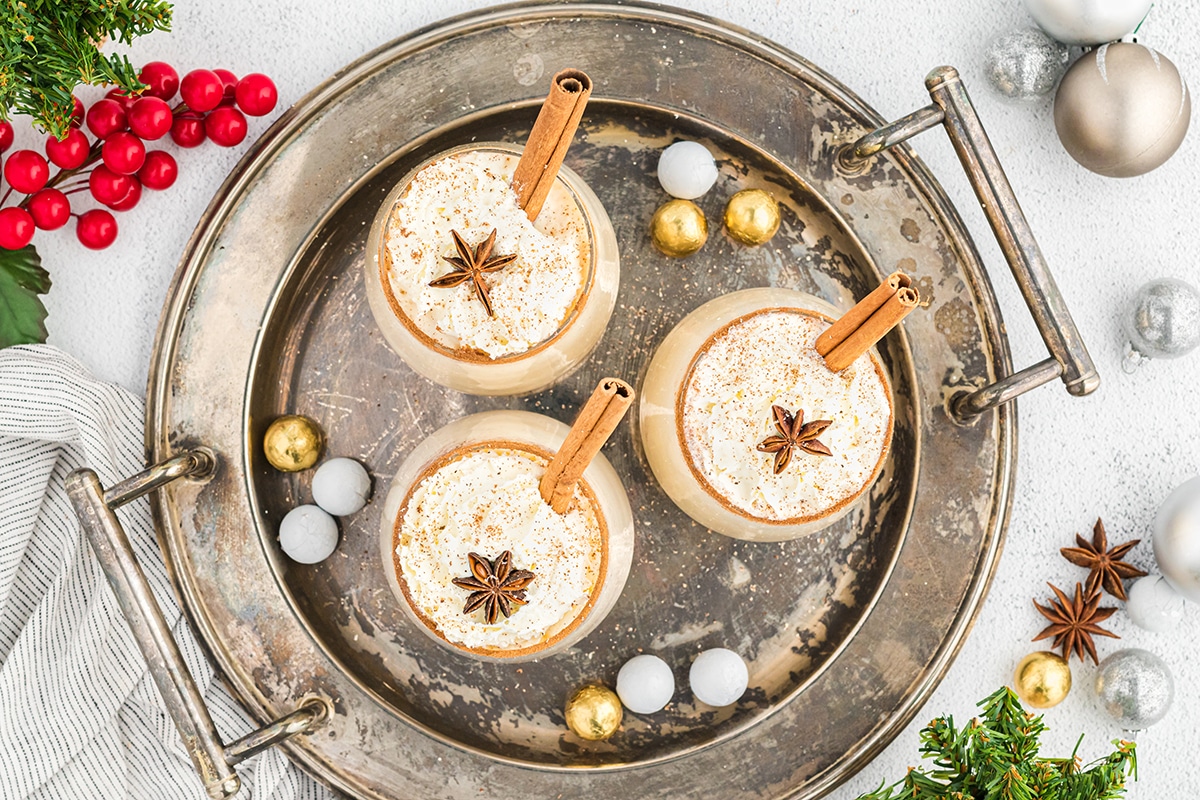 Does Homemade Eggnog Have Raw Egg?
The answer is yes and no. While many folks cringe at the idea of raw eggs, many of your favorites probably use them. Lots of thick cream sauces are thickened with barely cooked yolks, hollandaise sauce, custards and ice creams– lots of recipes! And tell me you don't like a nice runny yolks on your fried eggs.
This recipe heats egg yolks to a temperature that will be safe to eat, but also still tastes a little eggy. It is EGGnog for goodness sake.
If you are still a little weary, check your egg section for containers that specifically say "pasteurized" on the carton. These have been heat treated and don't pose potential risk.
As always, practice food safety and make sure both the eggs and the eggnog are kept refrigerated when not being cooked or consumed.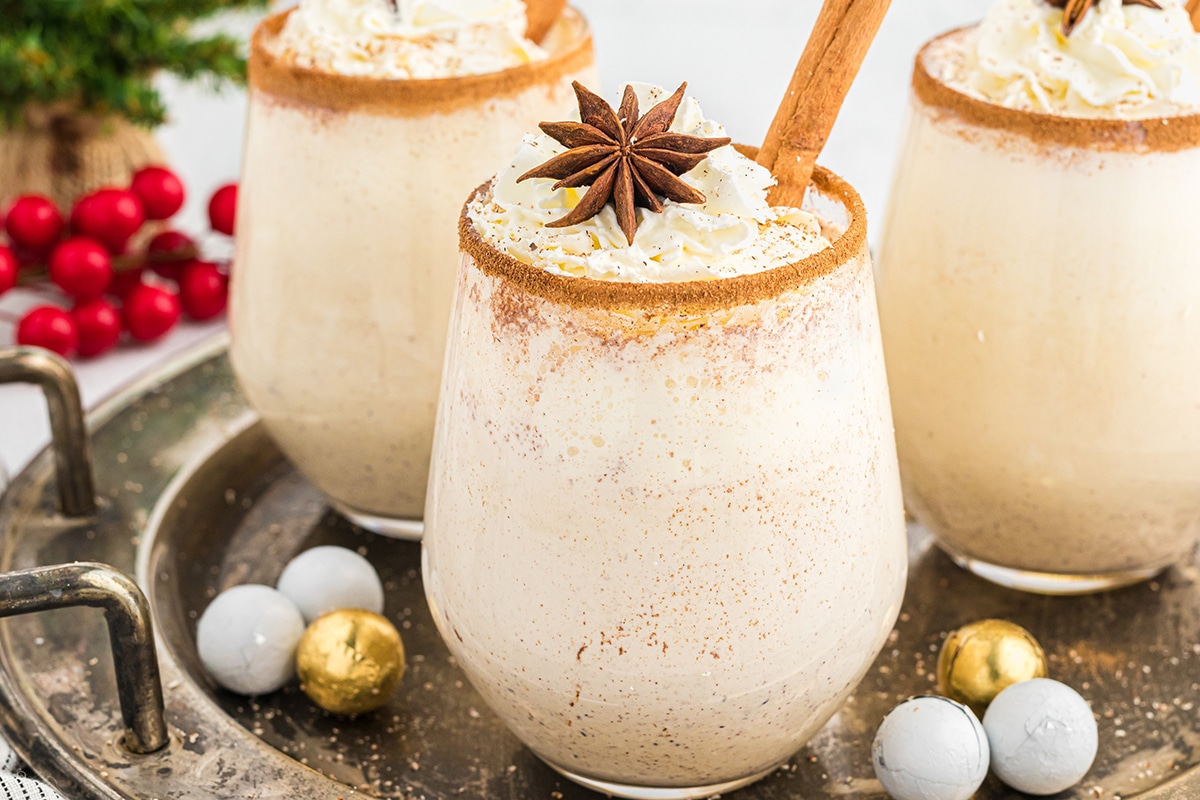 How to Make Homemade Eggnog
Making it is simple!
Separate egg yolks from the whites. If a little white gets in, don't fret, just leave it. Leftover whites can be used to make a nice egg white omelette, added into your scrambled eggs, to make egg cups or meringue desserts.
Next, heat milk, cinnamon, nutmeg and vanilla in a medium saucepan on low heat.
Slow bring mixture to a low boil. You aren't looking for a rapid boil, just little simmering bubbles. Not too hot, or else it will immediately cook the eggs when you add them.
Whisk together egg yolks and sugar until pale yellow in a medium-large mixing bowl, about 2-3 minutes. You can use an electric mixer or hand mixer for this. By combining these two before adding to the milk mixture, you reduce the risk of just having scrambled eggs.
Begin by adding a very small amount of the heated milk mixture to the egg mixture, whisking constantly to temper the eggs. Do not add the hot milk too quickly or it will cook the eggs.
Continue adding small amounts of the milk to the eggs, whisking constantly until all the milk is incorporated and well combined
Return to sauce and cook over medium heat until slightly thick and mixture coats the back of a spoon. Do not boil- only low simmer. Watch closely as milk and sugar mixtures tend to boil over if the temperature is too hot.
Remove from heat and stir in heavy cream.
Chill for several hours before serving.
Spike it, if you plan too.
To serve, top with whipping cream and additional ground cinnamon, cinnamon stick or star anise.

Spiked Eggnog Recipe
Eggnog is good, but spiked eggnog is better (in my opinion). Adding booze takes down the sweetness a few notches and warms your belly and your soul. So take a trip to the liquor store.
I highly recommend drinking moderation in that not only is this safer and more responsible, eggnog is one of those drinks with high alcohol content that goes down pretty smooth. At the very least, alternate with water.
Add alcohol after chilling for maximum impact. If you add it while the mixture is still hot, you'll retain some of the flavor of your booze of choice, but will lose some of the actual alcohol content. I like to add one jigger (or shot) to each cup opposed to the whole batch so it is equally distributed.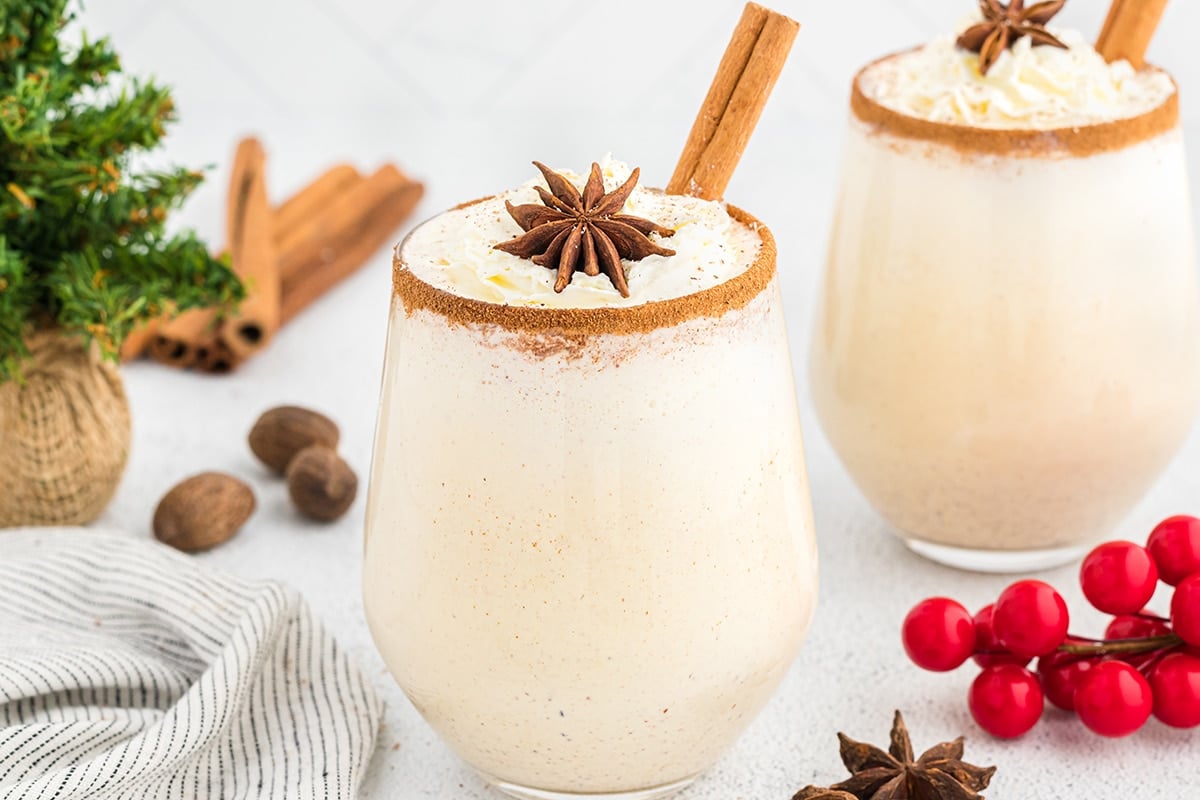 Best Alcohol for Homemade Eggnog
Most people tend to go for darker and amber colored liquor, but don't limit yourself. There are plenty of creamy and clear alcohols that will complement this holiday cocktail just as much. The amount of alcohol used is based on your preference.
These are our favorites:
Bourbon
Rye
Aged rum or dark rum
Irish whiskey
Blended Scotch whisky
Brandy
Peppermint Schnapps
White Chocolate Liqueur
Bailey's Irish Cream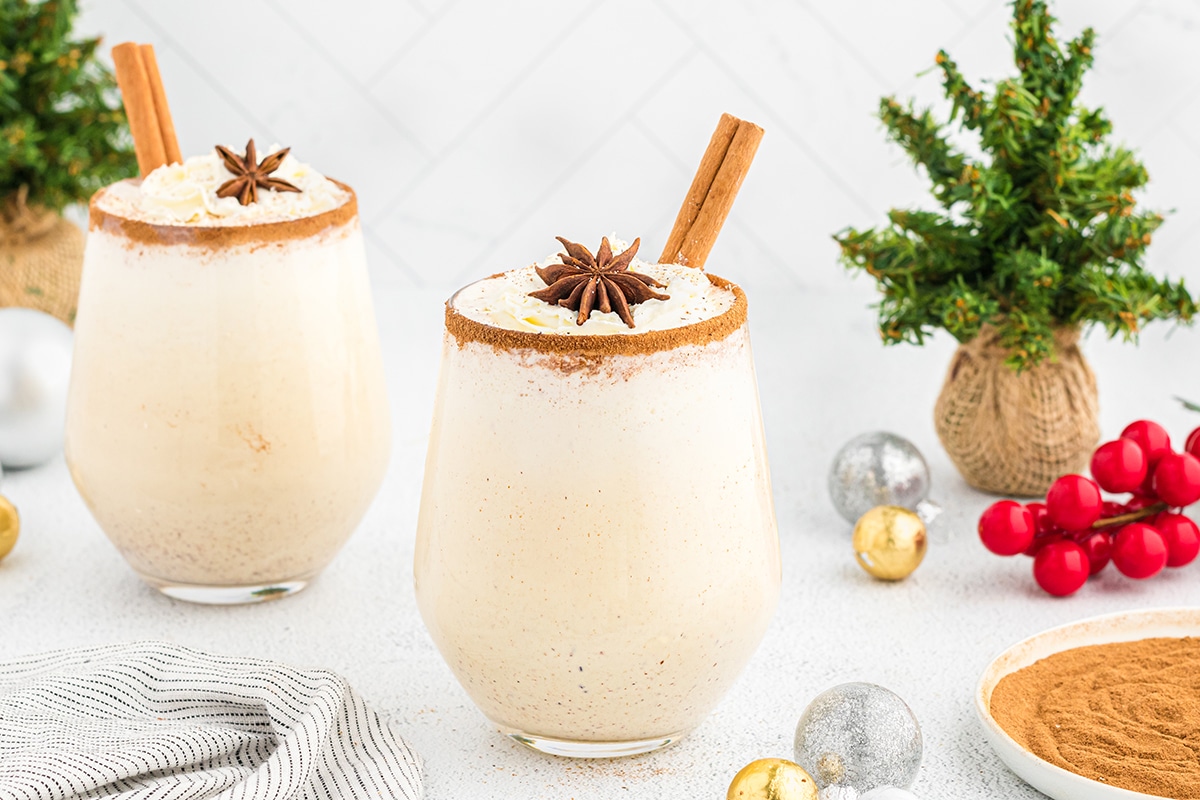 Eggnog Bar
With all of these options, it begs to have an eggnog bar! Set up a few pitchers of virgin eggnog and then on the side, a variety of alcoholic options.
Also set up garnishes like ground cinnamon, nutmeg, candied cranberries, mini candy canes, marshmallows, cloves, allspice and ginger.
Adding a shot of espresso or coffee, chocolate or caramel syrup or even maple syrup are also fun additions. Whipped cream is always a favorite.
No eggnog bar is complete without these classic moose cups from National Lampoon's Christmas Vacation. These are made from acrylic, so virtually indestructible from children or adults who had one too many.
Also include eggnog baked treats like Eggnog OREO Truffles, cookies, fudge or even cake. And other cocktails like Apple Amaretto Sours or Espresso Martinis.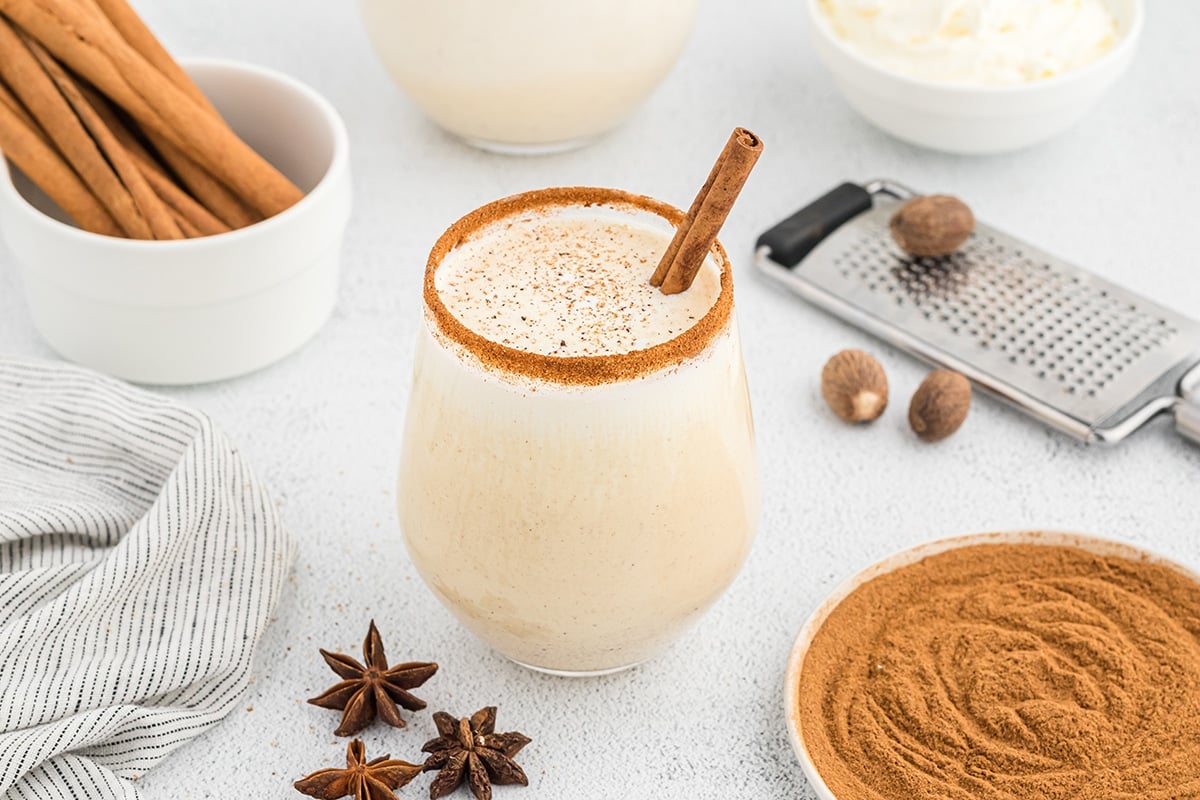 Make Ahead & Storage
Traditional homemade eggnog can be made ahead of time up to 2-3 days. Just give it a really good stir before serving to distribute all the spices and flavors.
When serving, it can be left out at room temperature for up to 2 hours. I recommend putting out a small pitcher and refilling it. Eggnog can be served warm or cold, but room temperature nog is kind of gross. As is watered down eggnog if you are serving with ice.
Leftovers can be stored in the fridge in a sealed container or airtight container for up to 5 days. Since this is homemade, it doesn't container the preservatives that other store bought versions do.
I do not recommend freezing eggnog. The flavors are muted and it waters down a lot after thawing.
You can also use eggnog as an ingredient in so many other holiday recipes!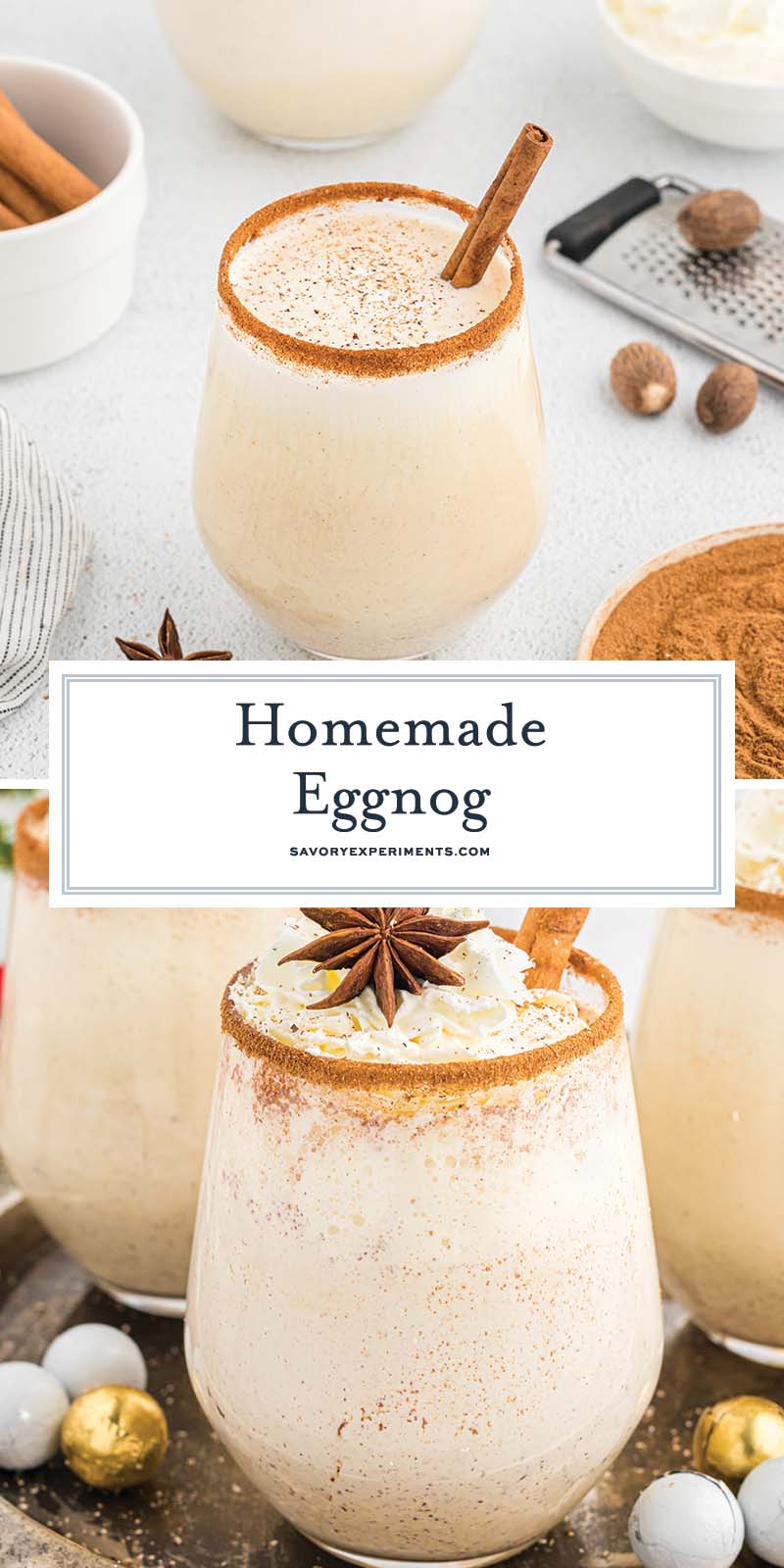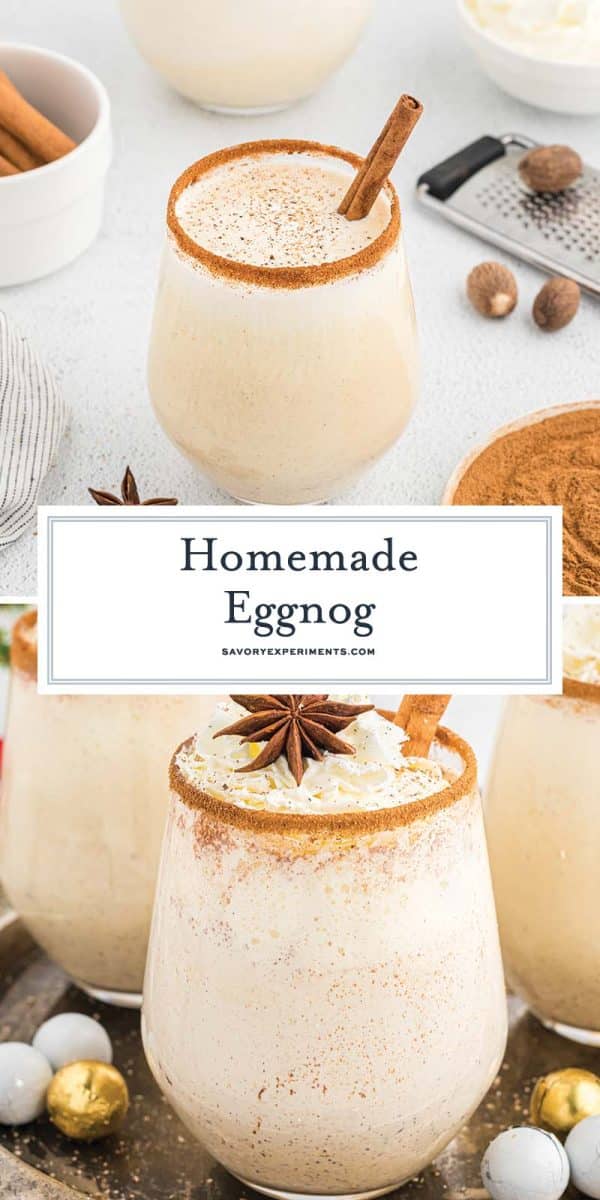 More Eggnog Recipes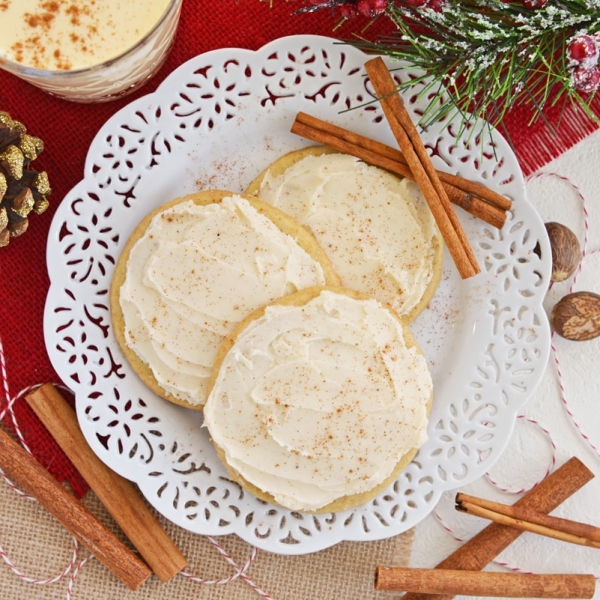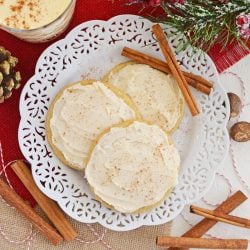 Eggnog Cookie Recipe
Eggnog Cookies are luscious, full of flavor and have eggnog mixed into the cookies and frosting. These cookies come straight from the North Pole and are the best way to use leftover eggnog!
See The Recipe!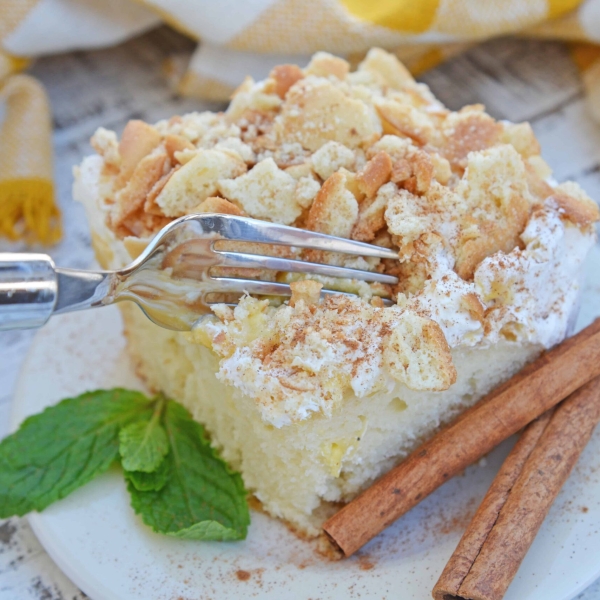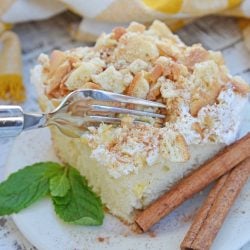 Eggnog Poke Cake
This Eggnog Poke Cake recipe is an easy pudding poke cake made with box cake mix and instant vanilla pudding, with delicious eggnog flavor.
See The Recipe!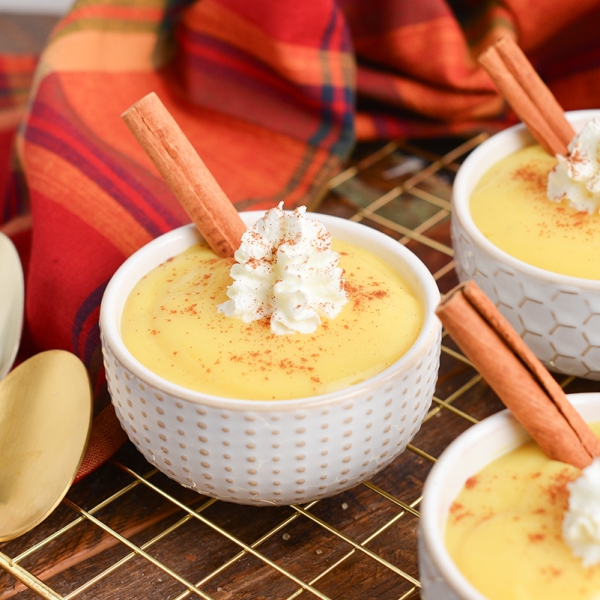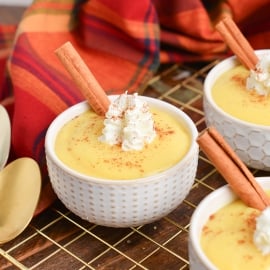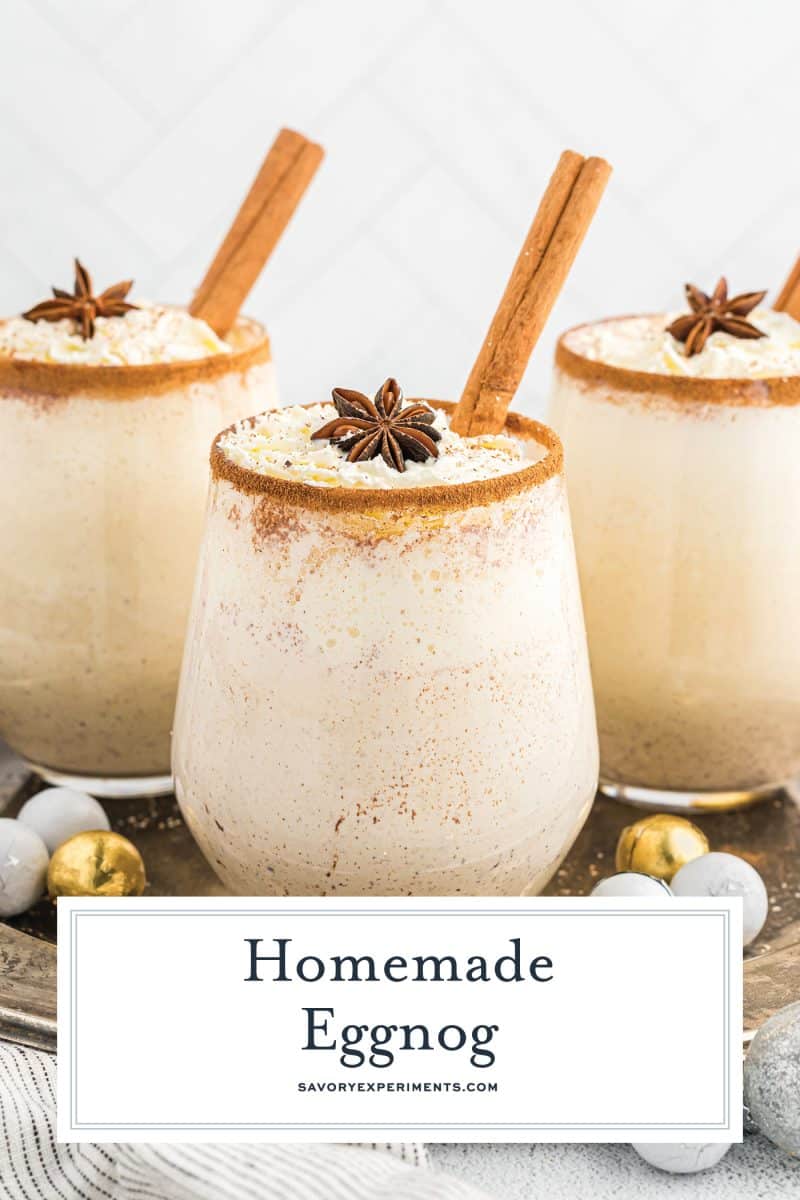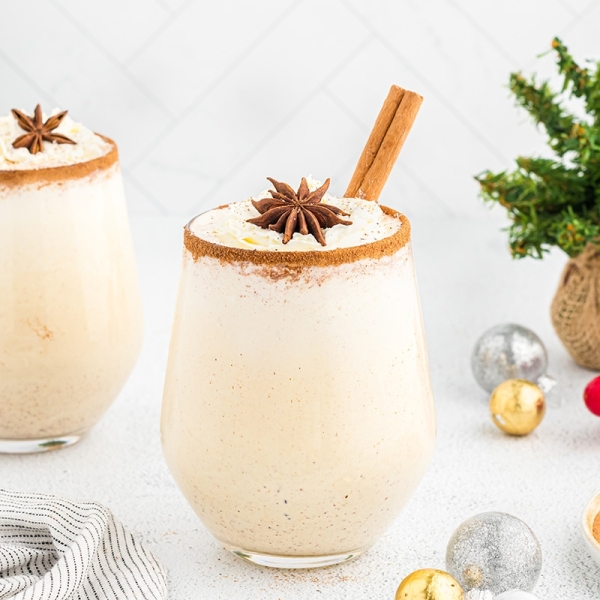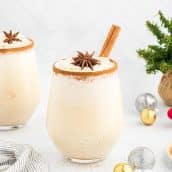 Homemade Eggnog
Easy instructions for how to make homemade eggnog, spiked eggnog and also a fabulous eggnog bar!
Instructions
Separate egg yolks from the whites in a small bowl.*

In a small saucepan, combine milk, cinnamon, nutmeg and vanilla, bringing to a simmer.

In a medium mixing bowl, combine egg yolks and sugar. Whisk for 2-3 minutes or until they pale in color.

Begin by adding a very small amount of the heated milk mixture to the eggs, whisking constantly to temper the eggs. Do not add the hot milk too quickly or it will cook the eggs. Continue until it is all incorporated.

Return to saucepan and cook over medium heat until slightly thick and mixture coats the back of a spoon. Do not boil.

Remove from heat and stir in heavy cream.

To serve, add whipped cream, ground cinnamon, cinnamon stick or star anise if desired. If you'd like to add alcohol, stir in 1 jigger or ounce per cup, stir well.

If you've tried this recipe, come back and let us know how it was in the comments or ratings!
Notes
*Leftover eggs whites can be used to create meringue desserts, added to omelets or egg cups or in casseroles. They can also be frozen for future use.
**Best alcohols for eggnog include:
Bourbon
Rye
Aged rum
Irish whiskey
Blended Scotch whisky
Brandy
Peppermint Schnapps
White Chocolate Liqueur
Bailey's Irish Cream
Nutrition
Calories:
470
kcal
,
Carbohydrates:
34
g
,
Protein:
9
g
,
Fat:
33
g
,
Saturated Fat:
19
g
,
Cholesterol:
387
mg
,
Sodium:
89
mg
,
Potassium:
235
mg
,
Fiber:
1
g
,
Sugar:
32
g
,
Vitamin A:
1462
IU
,
Vitamin C:
1
mg
,
Calcium:
216
mg
,
Iron:
1
mg