This post and recipe was created for #SummerDessertWeek! I was sent samples by some of the sponsor companies but as always opinions are 100% mine.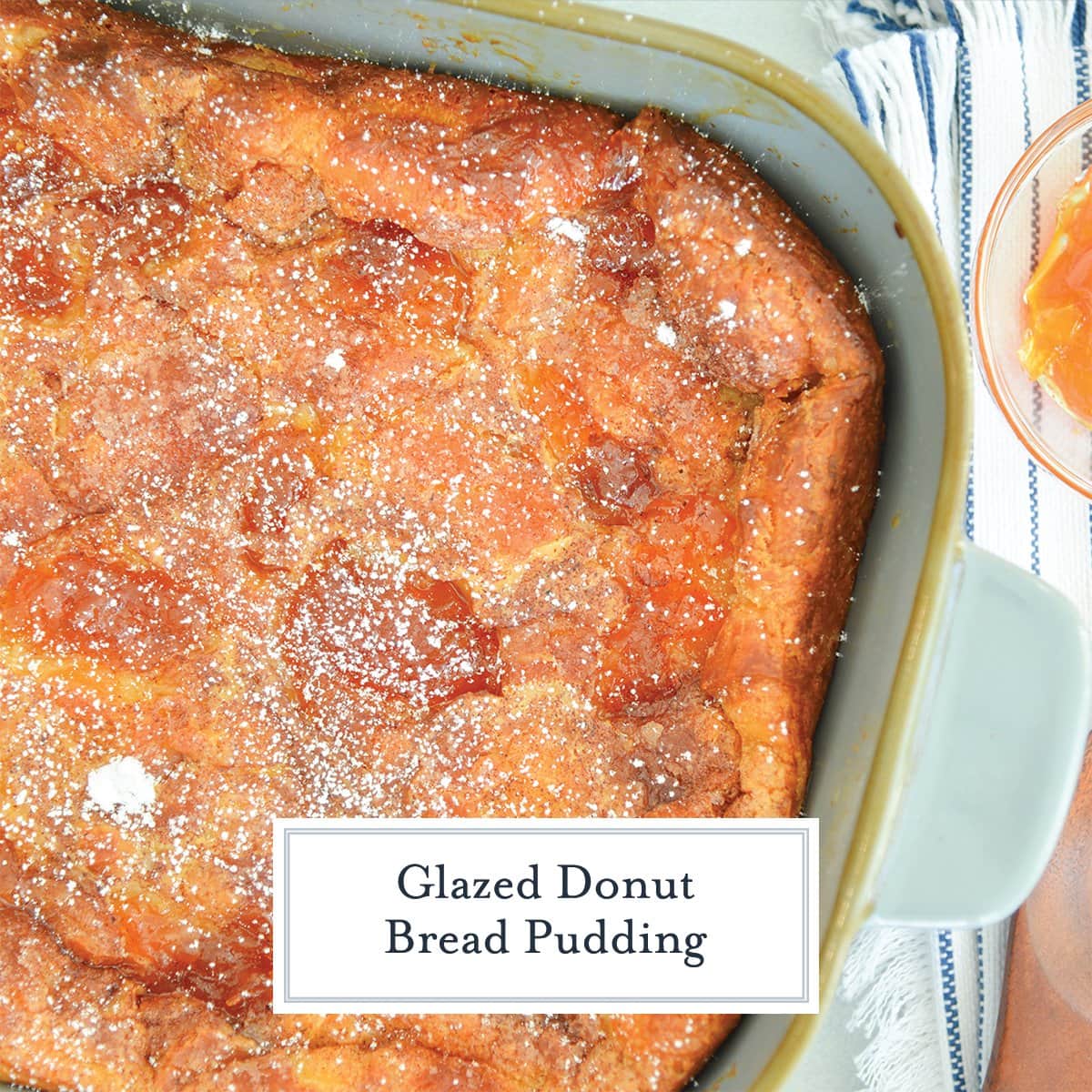 Bread pudding (along with rice pudding) was one of those recipes I never tried until I got older. For some reason I associated it with grandmothers and something you enjoyed in ripe old age. Considering I never saw any of my grandparents eat it, I have no clue where this notion came from.
But alas, I tried it at a chef's tasting table and was instantly sold. Comforting bread baked with vanilla custard and topped with gooey sauce? What's not to love?
The Bread
Bread pudding, is by definition, made with bread. Some use French bread, others a buttery brioche and before this recipe, my favorite was cinnamon raisin bread. If it it is bread, you can make it into bread pudding.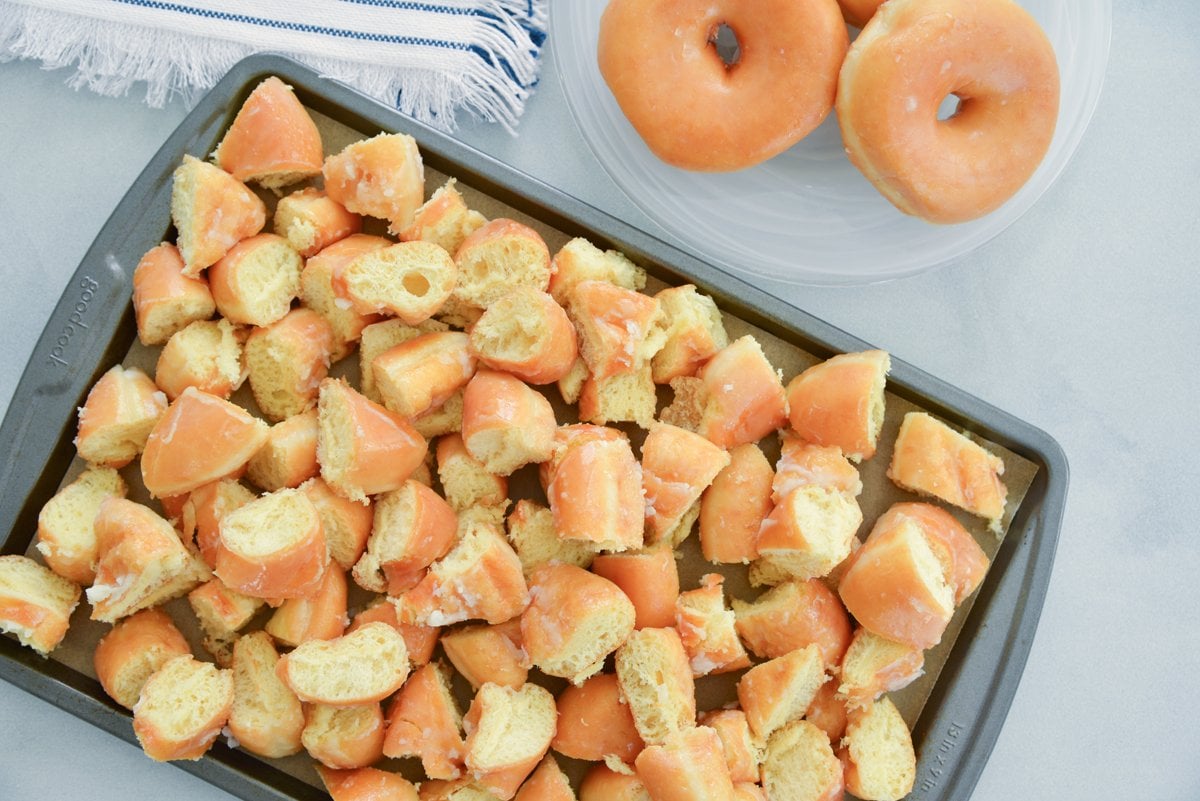 We are going to use donuts. Yep, donuts. While this sounds a little sweet, hear my out on the reasoning. I highly suggest using yeast donuts, opposed to cake donuts. While technically either will work, yeast are fluffier and produce the best light baked texture. Most people like to use Krispy Kreme donuts, but just a generic pack of glazed from your local grocer is fine.
And the glaze? We are going to account for the extra sugar in the glaze by reducing sugar in the custard.
Why Stale or Toasted Bread?
Stale, leftover bread is usually what is called for, however I've never in my life had "12 stale donuts" or a whole loaf of bread lying around. Maybe a slice or two… but never enough to make bread pudding. So when I set out to make it, you best believe I am pushing it specifically for this recipe. I also maintain that even day-old donuts are not crusty enough to make a good bread pudding.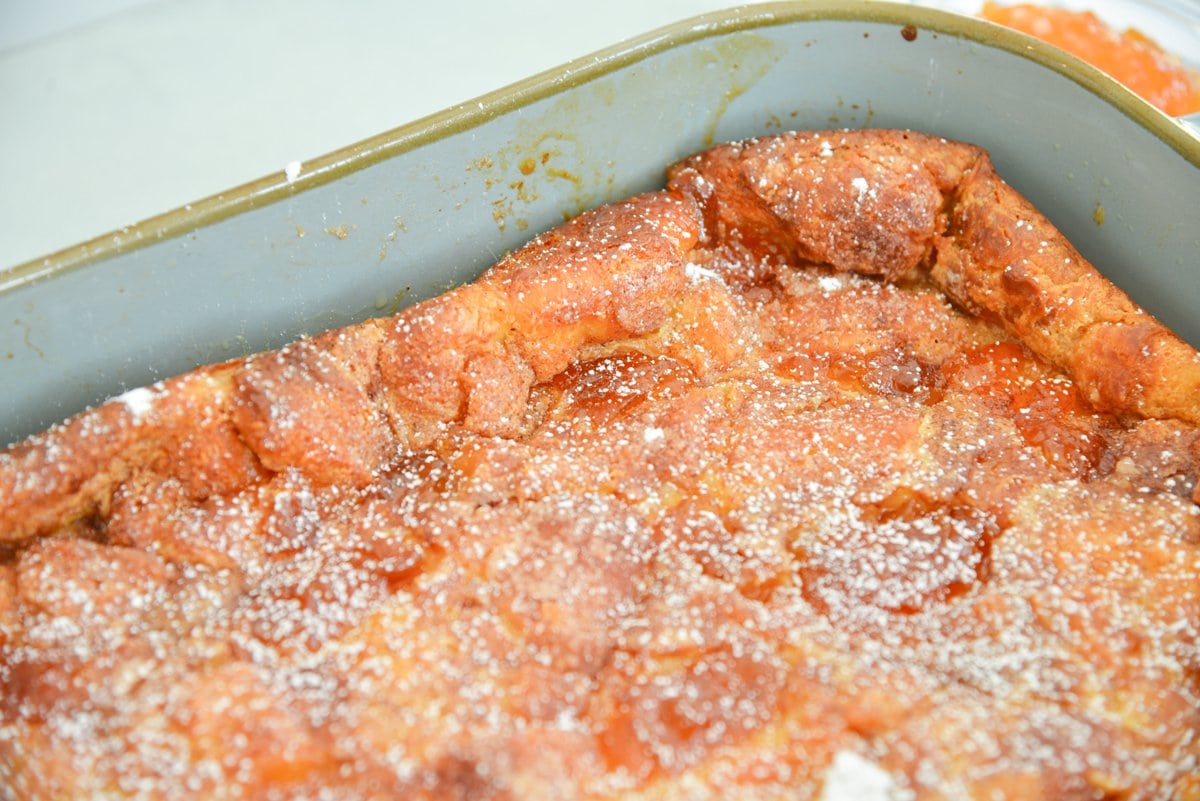 You do need dry bread, regardless of what type you use. Why? Because releasing the moisture from the bread allows it to suck up more moisture from the custard. Without the custard absorbing, you'll just have a milky egg mixture with floating bread croutons.
Think about a sponge- you need to wring it out in order for it to absorb the split mess on the counter. This is the same concept. So we toast the donuts. The glaze doesn't melt off, instead it actually hardens and becomes a nice crunchy candy-like shell on the bread.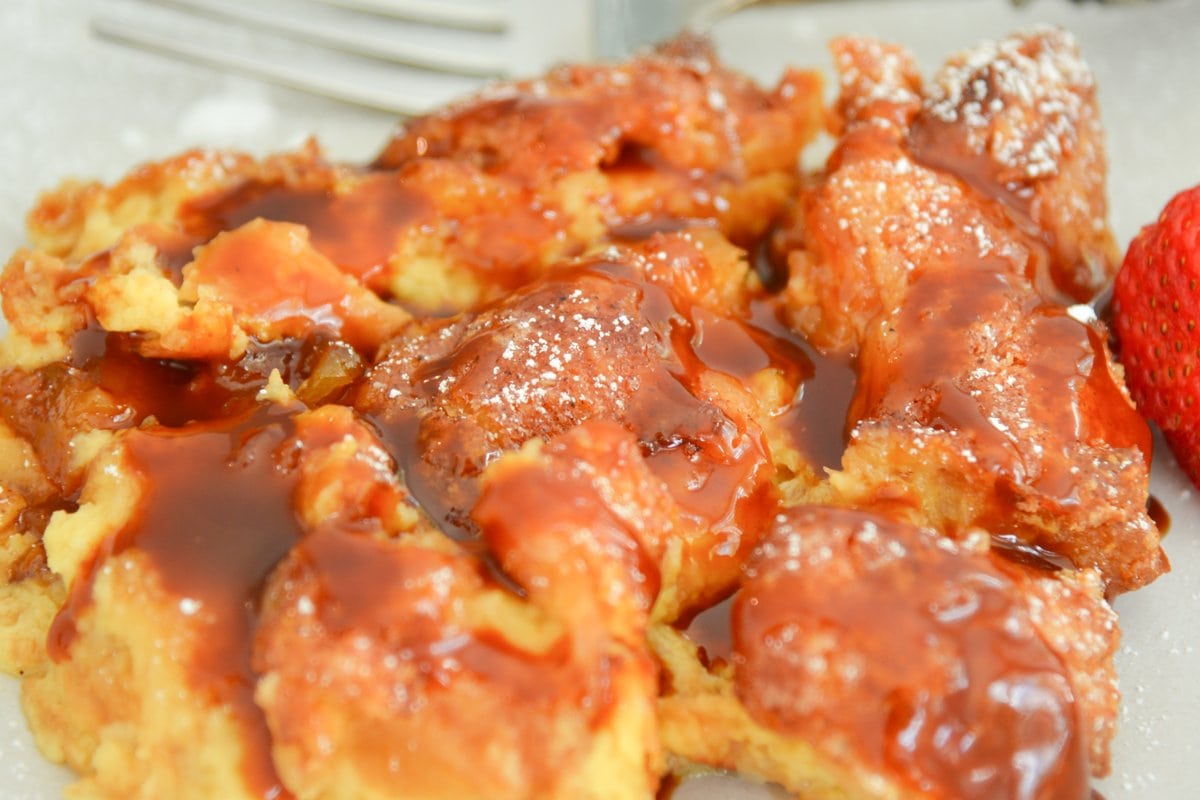 Custard Bath
Custard is the liquid that holds the whole thing together. A thick, egg based mixture that you want to soak into the bread and then bake for a lovely texture. It will be somewhere between a sweet stuffing and overnight French toast casserole. Some even say similar to a clafoutis.
But whatever you do, let it sit! The donuts need time to absorb custard. They will not absorb all of the custard, but some of it. This takes about 15 minutes, so be patients. Some donuts may start to fall apart, that is fine and to be expected.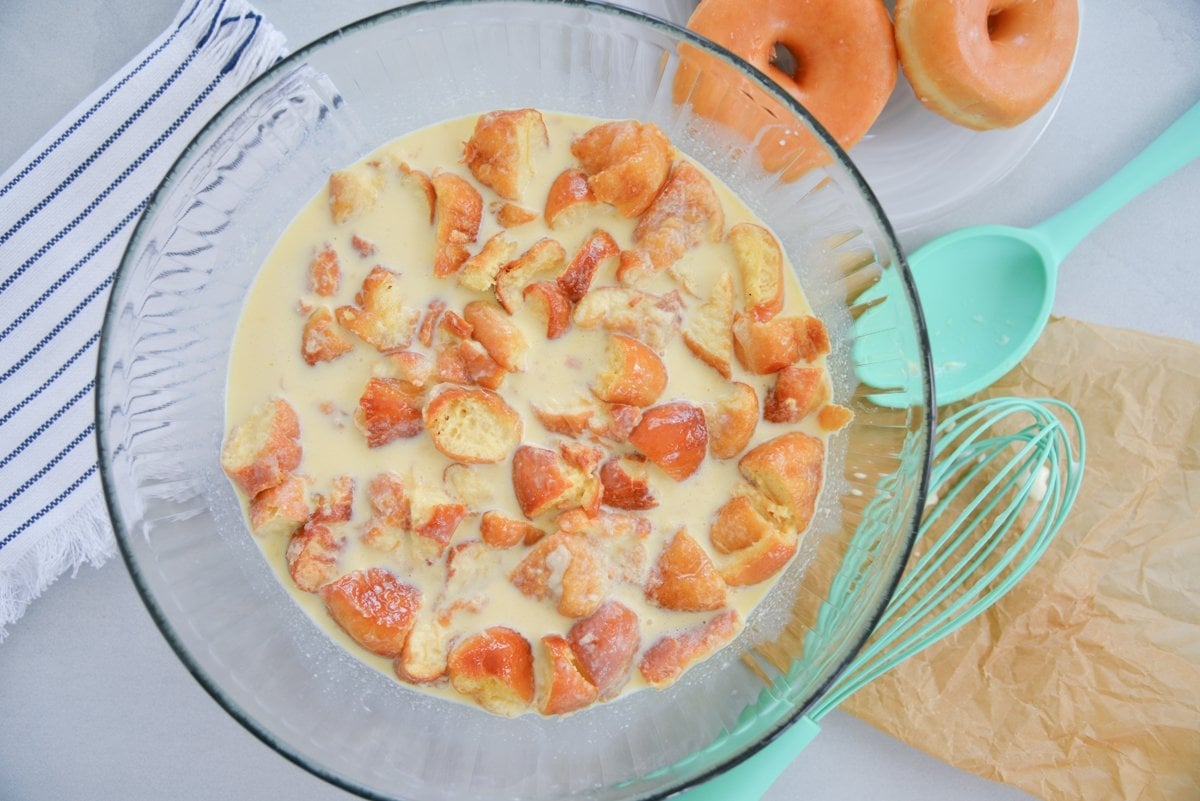 Toppings
My version is a spin off a Food & Wine classic that dots the bread pudding with raspberry preserves. I made mine mid-summer and wanted to use a tasty bourbon caramel sauce, so fresh peach preserves were the clear choice.
Traditional bread puddings are topped with more heavy cream and powdered sugar. Feel free to do this or opt for a fresh berry sauce like raspberry or cherry topping. Fudge, rum sauce or regular caramel sauce work too.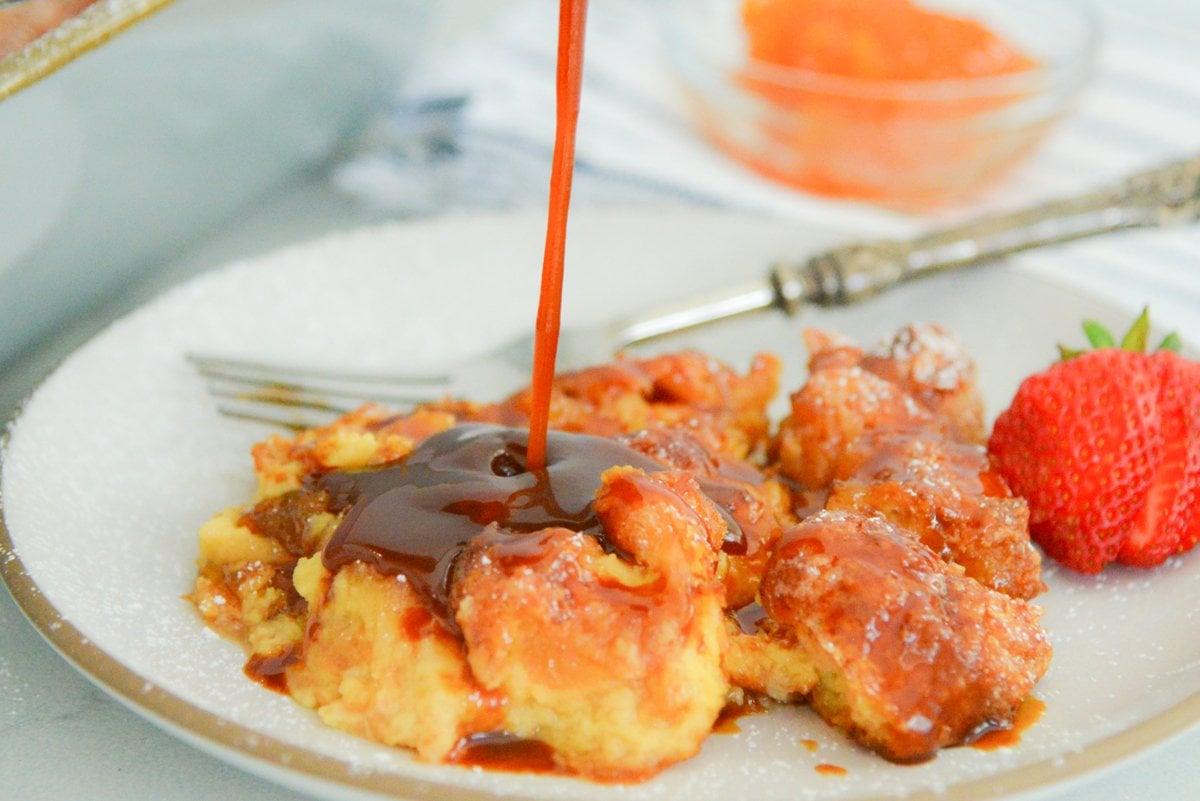 Ice cream is another traditional topping idea, as is whipped cream.
Variations
No doubt a million folks will tell me mine is wrong and their grandmother's is right, but please realize a bread pudding recipe is one of those recipes that a million different ways to be right and being delicious. Here are some other customizations you can make.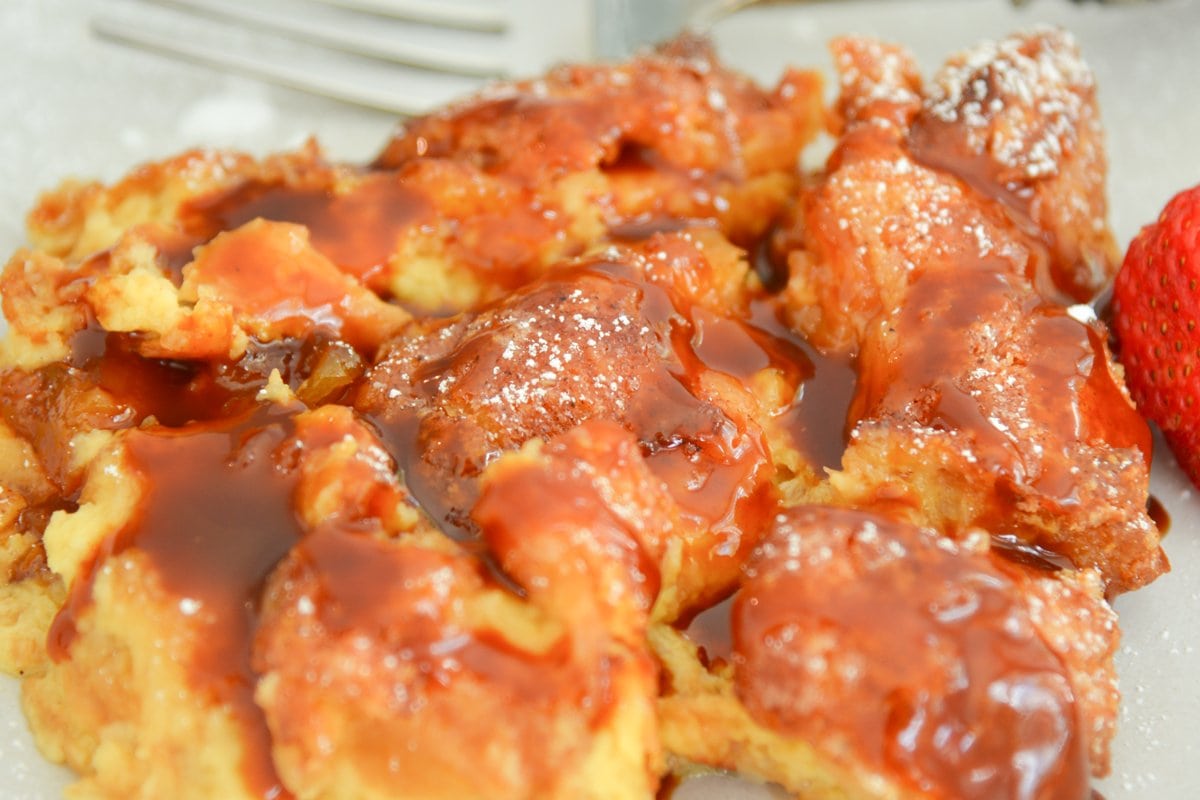 Use cinnamon sugar or chocolate donuts (omit cinnamon and nutmeg topping with chocolate).
Swap vanilla extract for almond extract.
Add 1-2 tablespoons of bourbon or dark rum to the custard mix.
Swap out peach preserves for raspberry, cherry jam or fig jam. Bacon jam is another unexpected flavor combo that works well.
Use pumpkin pie or apple pie spice for the spice topping.
Skip the sauce and go for fresh fruit instead- sliced peaches, raspberry or strawberries are best.
Or just make my pumpkin cinnamon bread pudding.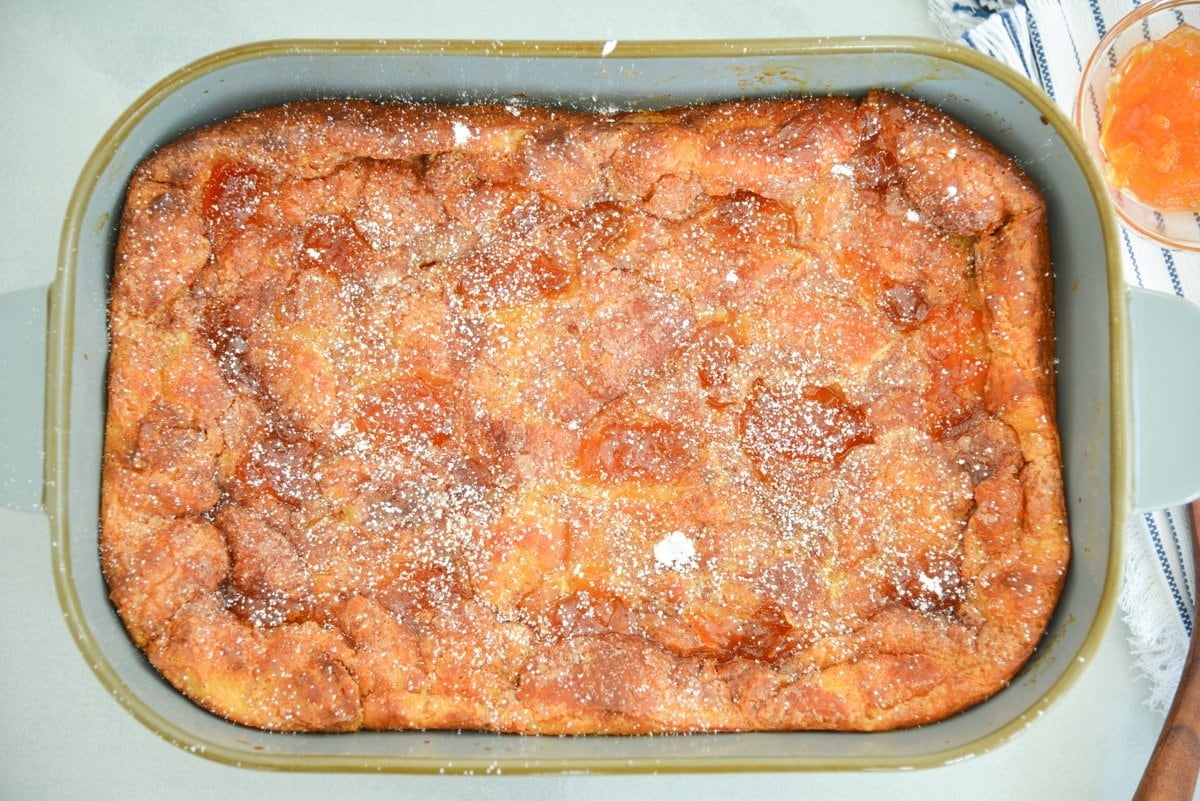 Storage & Freezer
Bread pudding is best enjoyed fresh and warm. If you do have leftovers, store them covered in the refrigerator for up to 5 days. Reheat in the oven on 300°F for 3-4 minutes. Microwaving will result in a rubbery texture.
Bread pudding can be frozen, but before you put sauce on top. Wrap well in plastic wrap or freezer wrap and store in the back of the freezer for up to 3 months.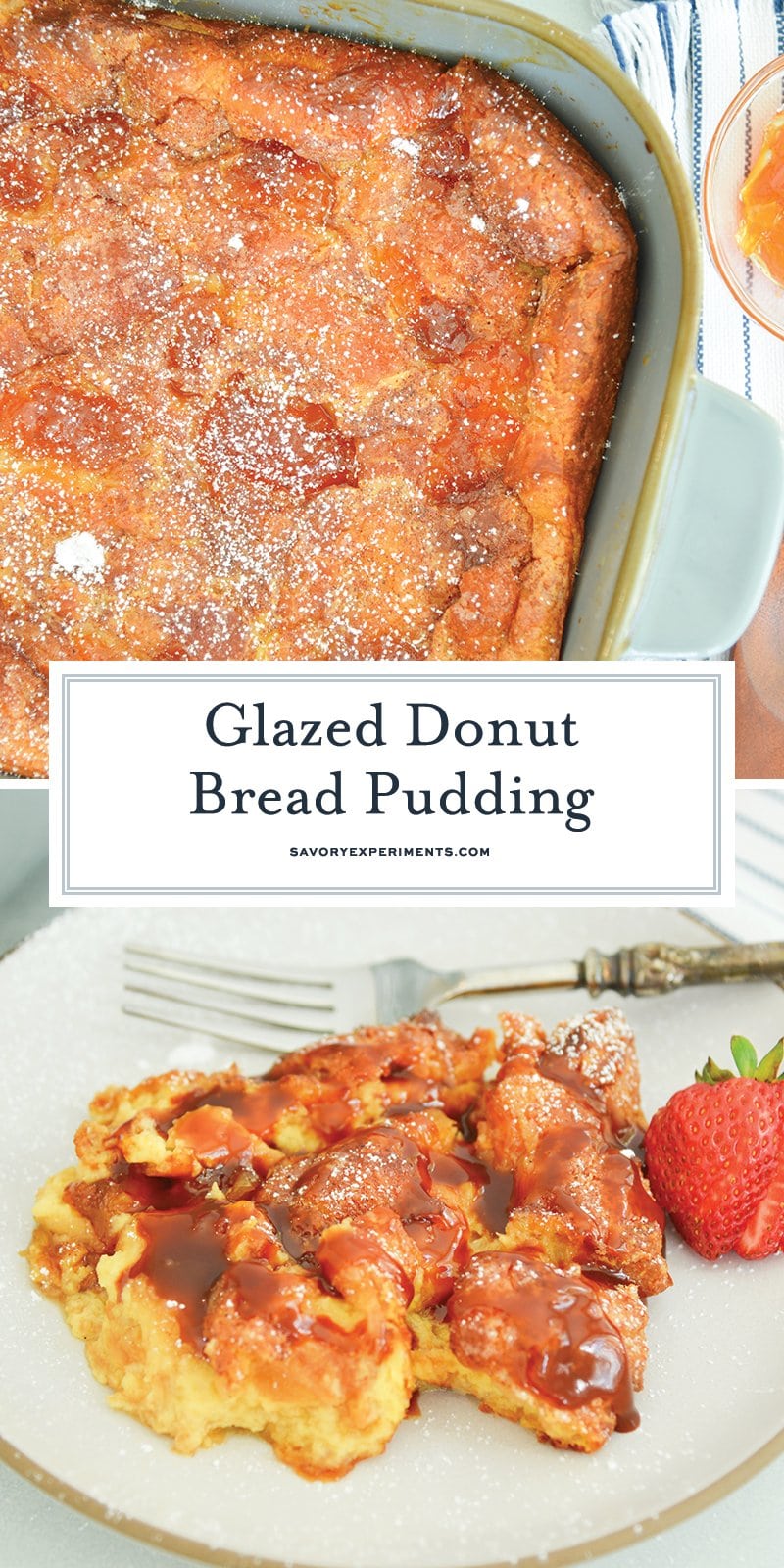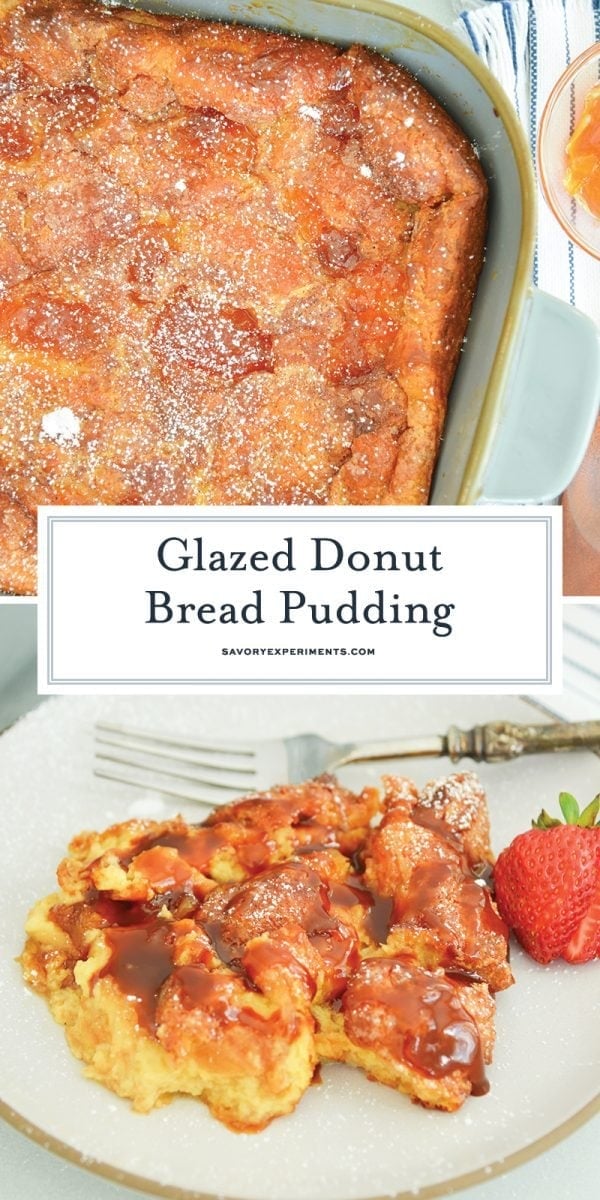 Check out the amazing #SummerDessertWeek recipes from our bloggers today!
Strawberry Banana Cheesecake Salad from Big Bear's Wife
Copycat Orange Julius from Semi Homemade Recipes
No Bake Raspberry Cheesecake from Eat Move Make
Birthday Crumb Cake from It's Shanaka
Strawberry Cheesecake Poke Cake from Fake Ginger
Blueberry Muffin Cake from Blogghetti
Lemon Cheesecake Mousse from 4 Sons 'R' Us
No Churn Mint Chocolate Ice Cream from Cindy's Recipes and Writings
Strawberry Unicorn Puppy Chow from For the Love of Food
Brown Sugar Layer Cake with Peach Filling from Hezzi-D's Books and Cooks
Smore's Ice Cream Torte from Family Around the Table
Strawberry Basil Cupcakes from Sweet Beginnings
Oreo Ice Cream Cake from Jolene's Recipe Journal
Donut Bread Pudding from Savory Experiments
Flourless Chocolate Cake from Devour Dinner
Rhubarb Crumble from Shockingly Delicious
Japanese Strawberry Shortcake from SugarYums
Raspberry Cream Pie from Cheese Curd In Paradise
Instant Pot Twix Cheesecake from Baking up Memories
Lavender Honey Cake from Food Hunter's Guide to Cuisine
Pineapple Upside Down Cake Dip from Sweet ReciPEAs
No Bake Key Lime Cheesecake from Comfortably Domestic
Peach Berry Eton Mess from Cookaholic Wife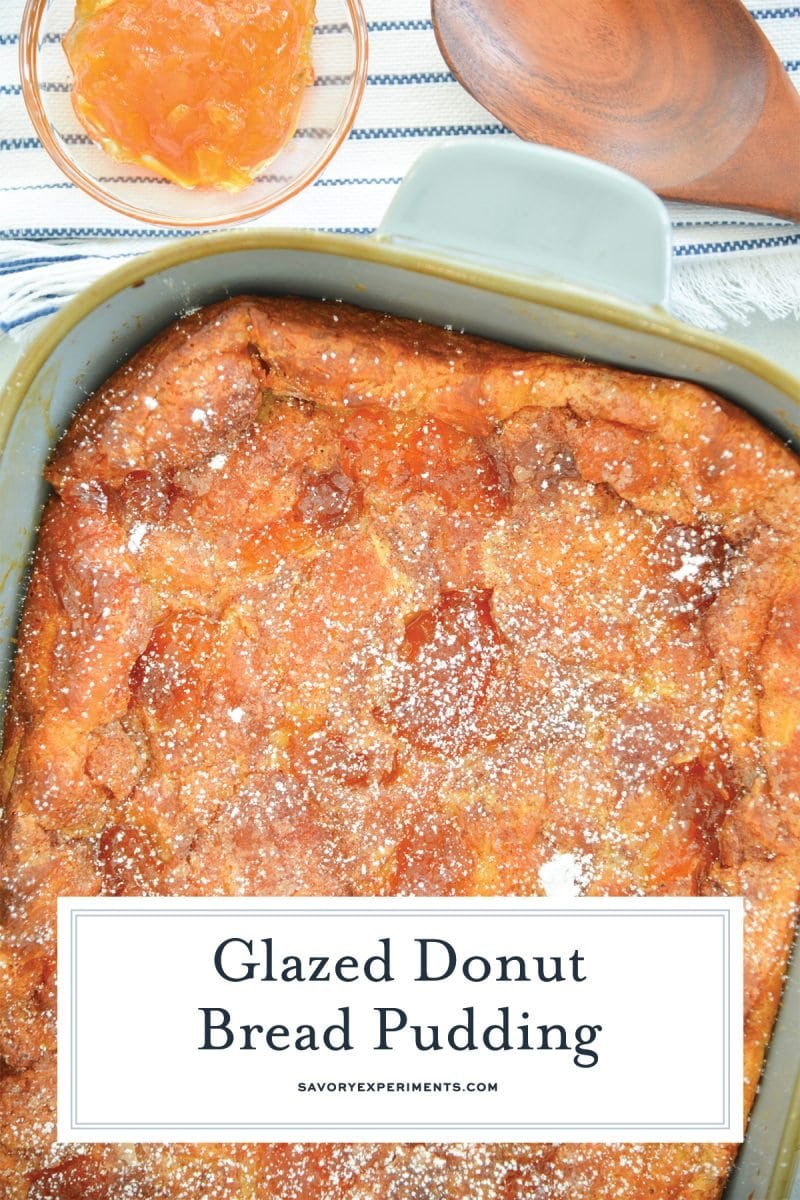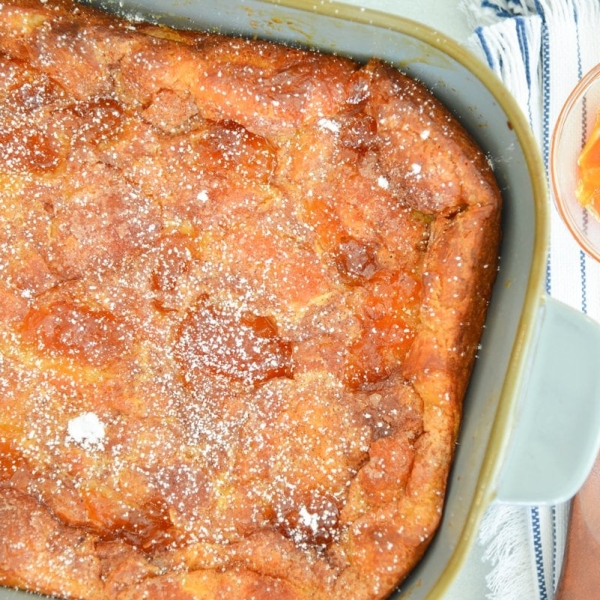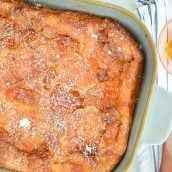 Donut Bread Pudding
Glazed donuts drenched in a decadent vanilla custard and baked until puffy, topped with cinnamon, nutmeg and a bourbon caramel sauce.
Instructions
Preheat oven to 325°F. Cut donuts into eighths and arrange on a large rimmed baking sheet in a single layer. Bake for 20 minutes, flipping once, until they are crispy. Set aside to cool for 10-15 minutes.

Using a brush, paint a 2-quart baking dish with melted butter to prevent sticking. Set aside.

In the bowl of a stand mixer fitted with the whisk attachment or a large mixing bowl with an electric whisk, blend together eggs, yolks, half & half, milk, brown sugar, extract and salt until bubbly and frothy.

Add cooled donut pieces to the custard mixture, tossing. Allow to sit for 10 minutes. Repeat tossing and sitting 2 more times to try and get the donuts to absorb as much custard as possible.

Transfer the donut pieces and custard to prepared baking dish.

In a small mixing bowl, combine the sugar, cinnamon and nutmeg and sprinkle on top of the custard and donuts.

Bake, uncovered, for 55-60 minutes or until the center custard has set, edges are browned and donuts are puffy. Internal temperature of bread pudding should be 160°F.

Remove and allow to cool for 5-10 minutes.

Dust the top with powdered sugar and then scoop onto serving plates. Drizzle with the Bourbon Caramel Sauce.

If you've tried this recipe, come back and let us know how it was in the comments or ratings.
Notes
Nutritional Information is without the caramel sauce!
Nutrition
Calories:
375
kcal
,
Carbohydrates:
41
g
,
Protein:
6
g
,
Fat:
12
g
,
Saturated Fat:
5
g
,
Polyunsaturated Fat:
2
g
,
Monounsaturated Fat:
4
g
,
Trans Fat:
1
g
,
Cholesterol:
110
mg
,
Sodium:
453
mg
,
Potassium:
182
mg
,
Fiber:
1
g
,
Sugar:
9
g
,
Vitamin A:
355
IU
,
Vitamin C:
1
mg
,
Calcium:
108
mg
,
Iron:
1
mg