This post first appeared over at Real Housemoms where I'm a contributor.
What happens when you take two favorites and mash them together? The best pizza ever! Cheeseburger Pizza!
The biggest question here is: what do you like on your burger? Err… pizza? For me, it really depends on my mood. I do love a specialty burger. Perhaps a cowboy burger with crispy onion straws, BBQ sauce, cheese and honey habanero pickles. Or maybe even a Taco Burger with traditional Mexican fixings. For pizza, there is nothing quite like a Fiery Hawaiian or Caribbean Jerk Chicken with a sweet honey finish.
But there is nothing like a classic cheeseburger. Or a classic pizza, for that matter. So what not take the two and mash them together? Like those silly commercials where two ingredients go running at each full force to create a new magical flavor. Well, consider Cheeseburger Pizza like that.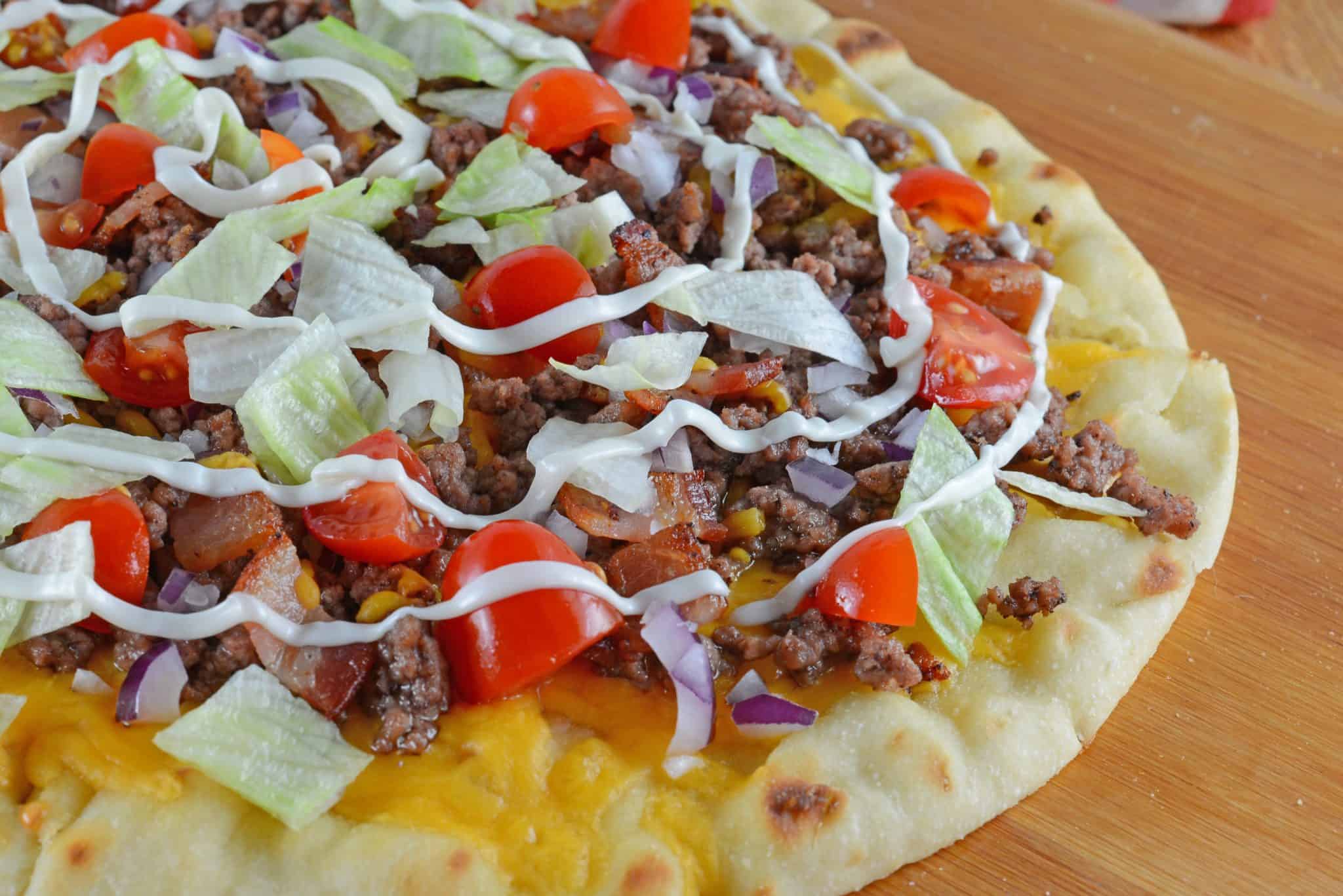 I like to think about the Jimmy Buffet song, Cheeseburger in Paradise. "I like mine with lettuce and tomato, Heinz 57 and french fried potatoes." Lettuce and tomato it is! Along with some other classic condiments like mustard, mayonnaise and red onion. The possibilities are endless and you can even tailor each quadrant of the pizza to individual people to adjust to their tastes.
If you are looking for some equally fun and easy side dish ideas to serve with your Cheeseburger Pizza, check these out! And be sure to scroll down for more dinner ideas in under 30 minutes!
Make sure you PIN Cheeseburger Pizza!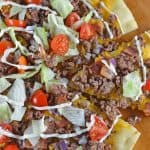 Cheeseburger Pizza
What happens when you take two favorites and mash them together? The best pizza ever! Cheeseburger Pizza!
Course:
Appetizer, Main Course, Main Dish
Ingredients
12

inch

flatbread or pizza crust

1/2

cup

desired cheese

1/2

pound

ground beef

cooked and drained, taco meat or chili

1/2

cup

bacon

cooked and crumbled

1/2

cup

tomatoes

chopped

1/2

cup

lettuce

chopped

2

tablespoons

red onion

minced

1

tablespoon

mayonnaise

optional

1

tablespoon

ketchup

optional

1

tablespoon

mustard

optional
Instructions
Preheat oven according to package directions for flatbread or pizza crust.

Spread cheese evenly over crust, topped by cooked ground beef and bacon.

Cook according to package directions.

While still hot, top with tomatoes, lettuce and red onion (or other desired condiments and toppings). Finish with mayonnaise, mustard and ketchup! To get the fun swirl or to make your own design, put mayo in an airtight plastic bag and snip the corner, resulting in a makeshift piping bag.

Cut into slices or squares and enjoy!
Comments make us smile, leave one! 
Here are more 3o minute meal ideas!