This post first appeared over at Real Housemoms where I'm a contributor.
The biggest question here is: what do you like on your burger? Err… pizza? For me, it really depends on my mood. I do love a specialty burger. What I love even more is a good mashup.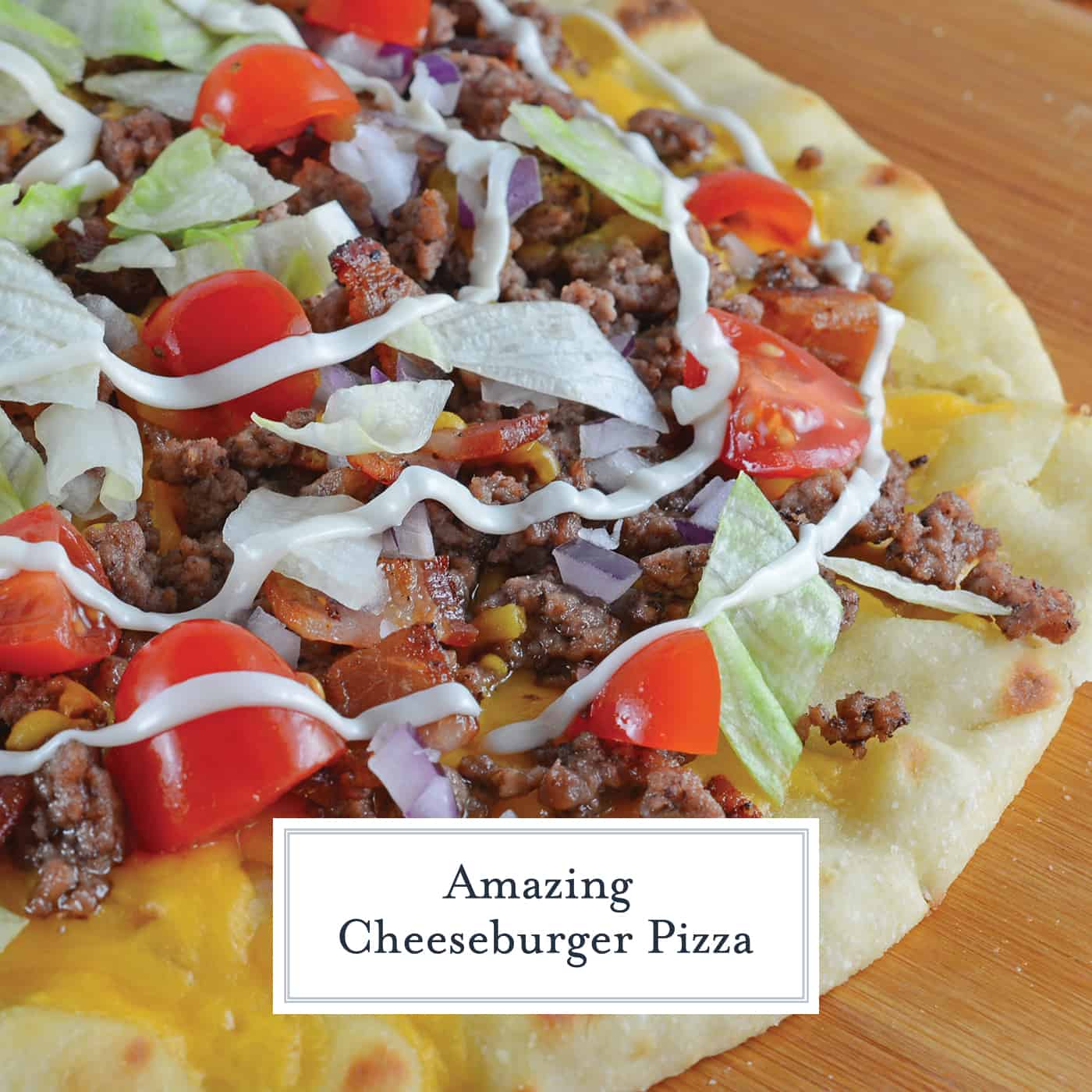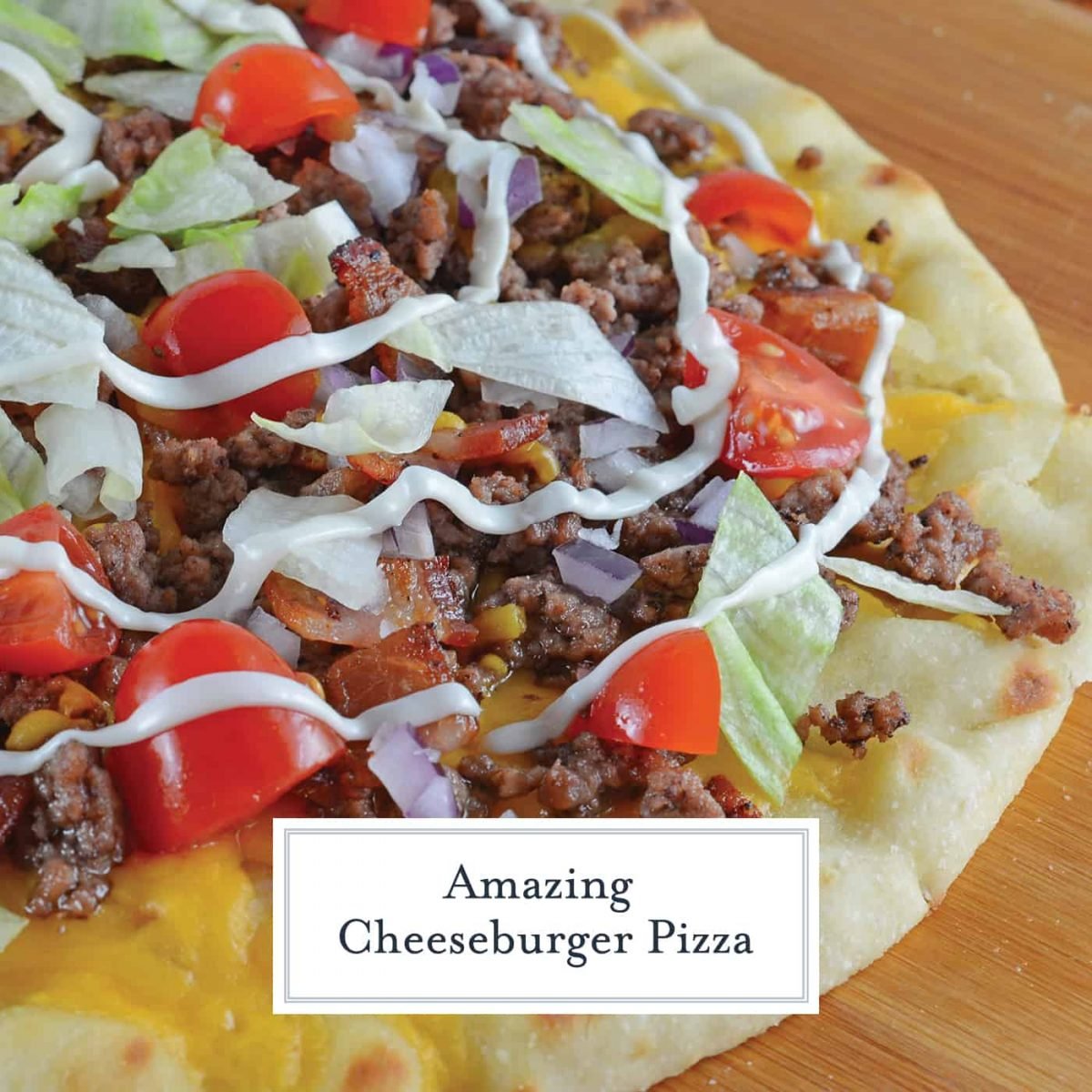 What happens when you take two favorites and mash them together? The best pizza ever! Cheeseburger Pizza!
Perhaps a cowboy burger with crispy onion straws, BBQ sauce, cheese, and honey habanero pickles. Or maybe even a Taco Burger with traditional Mexican fixings.
For pizza, there is nothing quite like a Fiery Hawaiian or Caribbean Jerk Chicken with a sweet honey finish.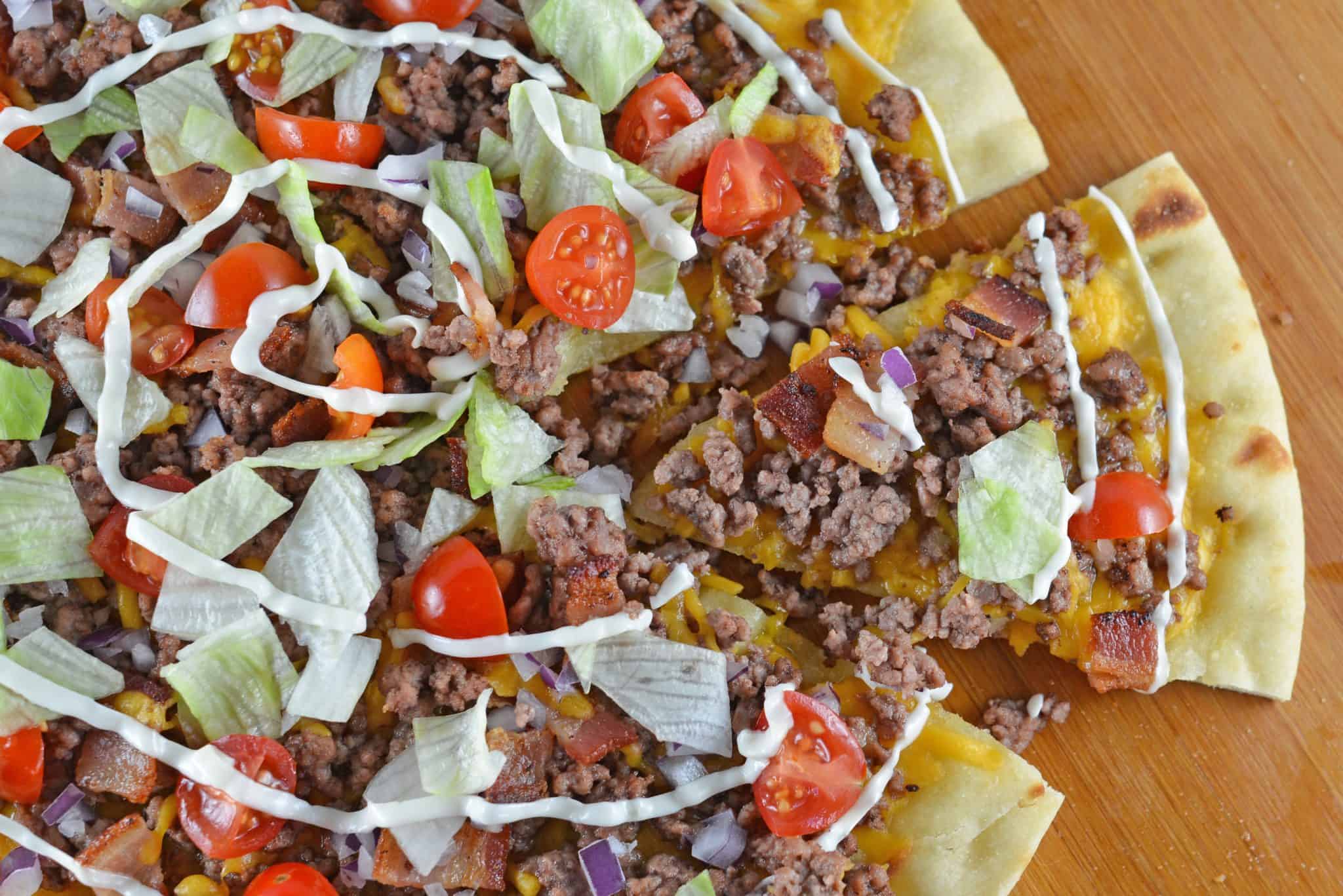 And while all those new-fangled, fancy pants burgers are absolutely amazing and delicious, there is nothing quite like a classic cheeseburger. Or a classic pizza, for that matter.
They are classics for a reason. So what would happen if you took the two and mashed them together? One word: amazingness.
This recipe is like one of those silly commercials where two ingredients go running at each full force and meld to become one new and magical flavor. Cheeseburger Pizza is going to be your new favorite classic comfort food just like that.
I like to think about the Jimmy Buffet song, Cheeseburger in Paradise. "I like mine with lettuce and tomato, Heinz 57, and french-fried potatoes."
Lettuce and tomato it is are also included in that list even though he may have left them out of the lyrics for the song. Along with some other classic condiments like mustard, mayonnaise, and red onion.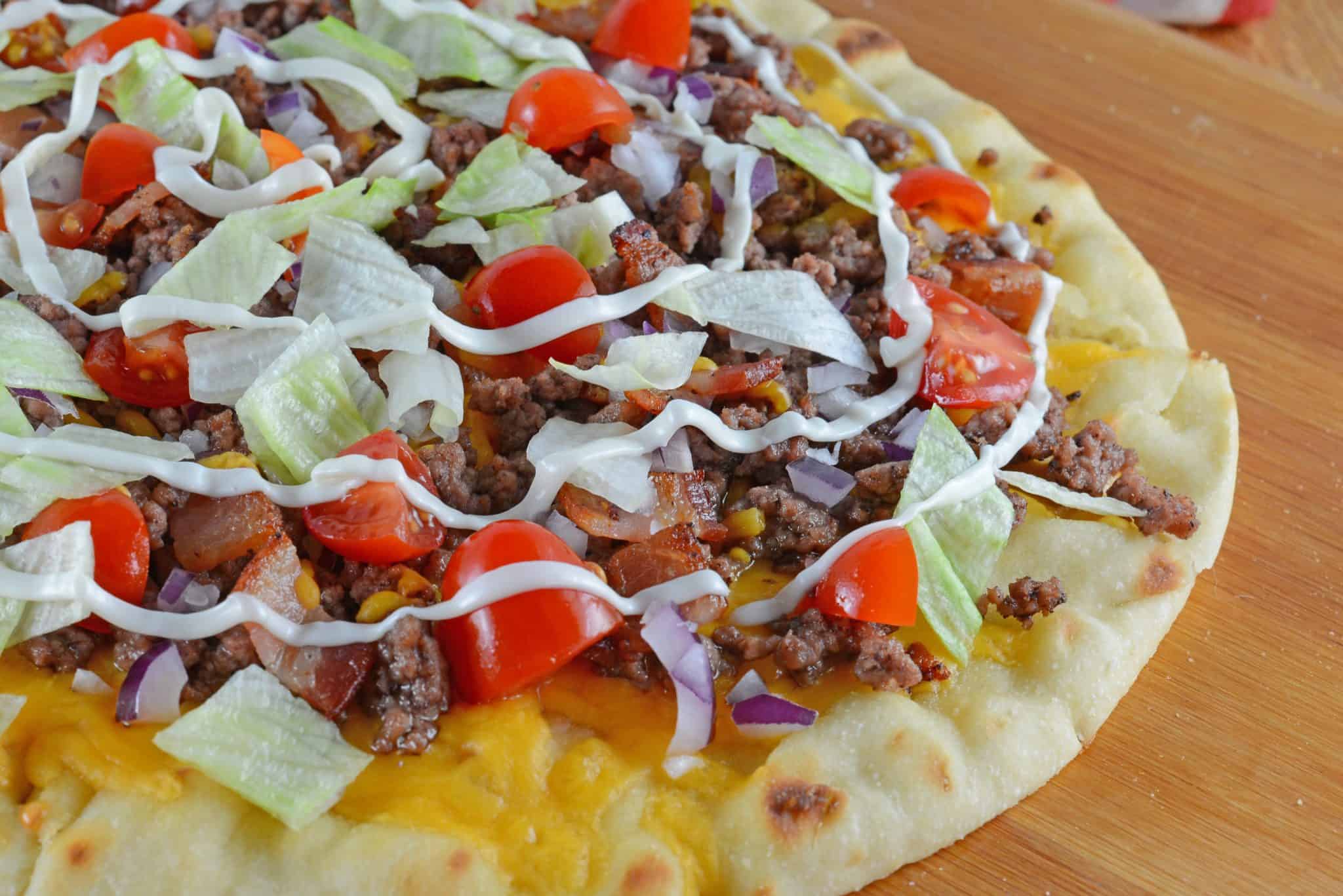 And because we all know I have a serious bacon problem, I added bacon as well.
This rendition is my perfect burger, but if yours looks and tastes different, roll up your sleeves and get to work! The possibilities are endless. Roll up your sleeves and get to work.
If you really want to get creative, you can do half the pizza one way and half the pizza the other way. A family of four with very different tastes? Divide that bad boy into four quadrants and make everyone happy! It is also a super-easy way to get the kiddos involved.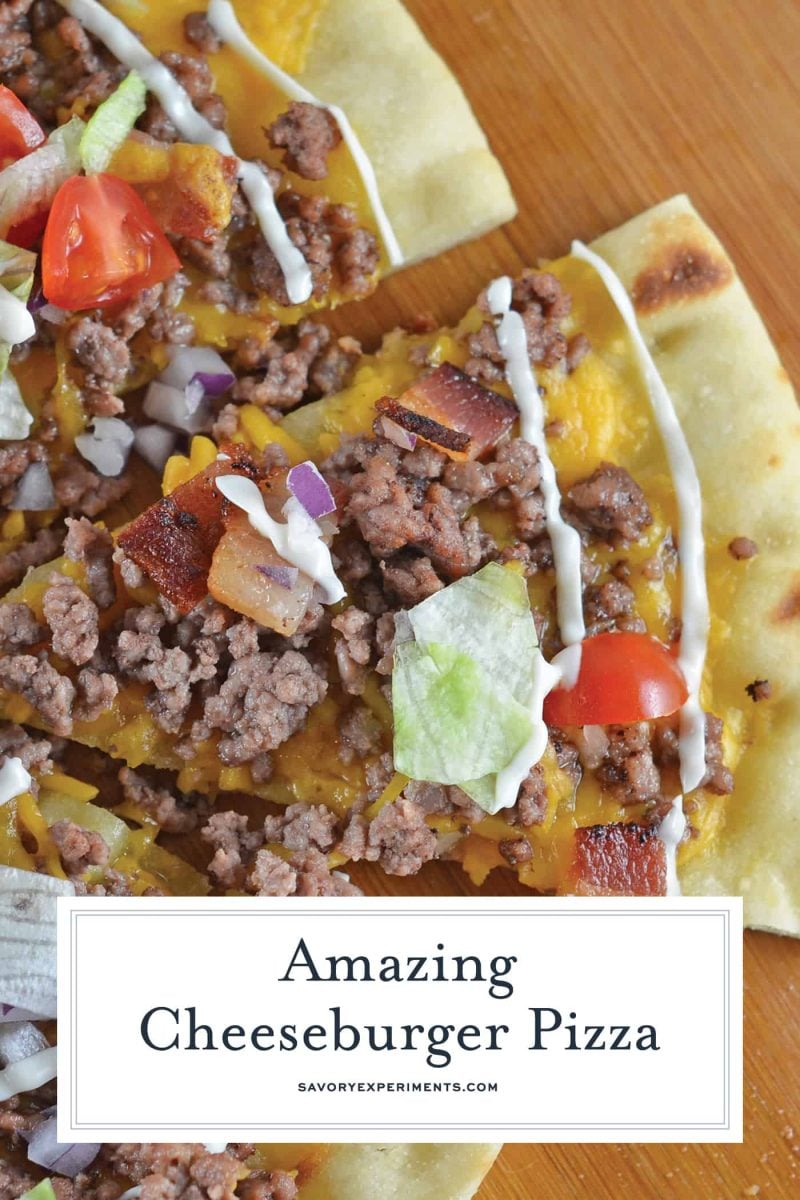 This recipe is ideal for an easy weeknight meal. Head to the store and buy an already baked flatbread or pizza crust. If you want something a little different, bake or par-bake a frozen crust. If you are gluten-free there are tons of options in the freezer section for you.
Choose your own adventure with this simple and easy recipe!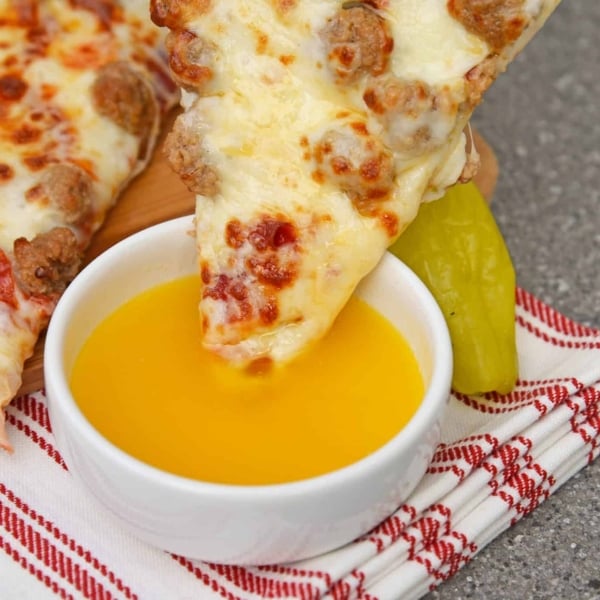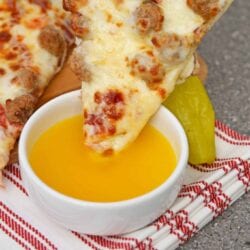 Garlic Sauce for Pizza
If you've ever wondered how to make garlic butter sauce for pizza, wonder no more. This recipe is just like the Papa John's dipping sauce for pizza or breadsticks!
See The Recipe!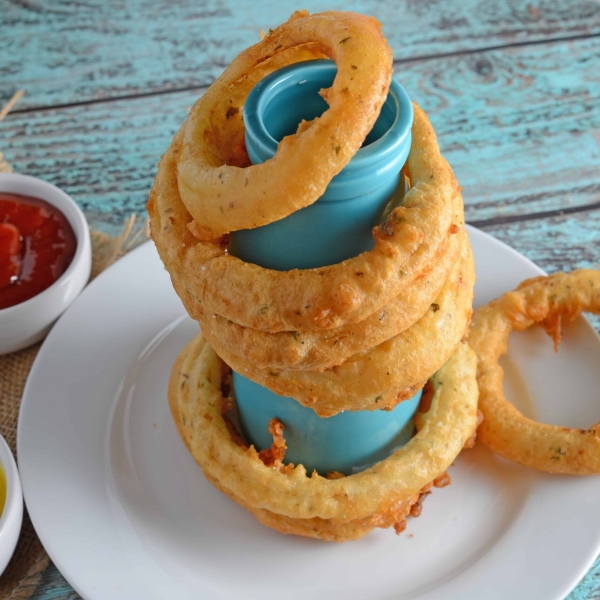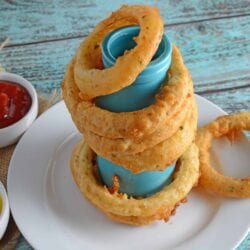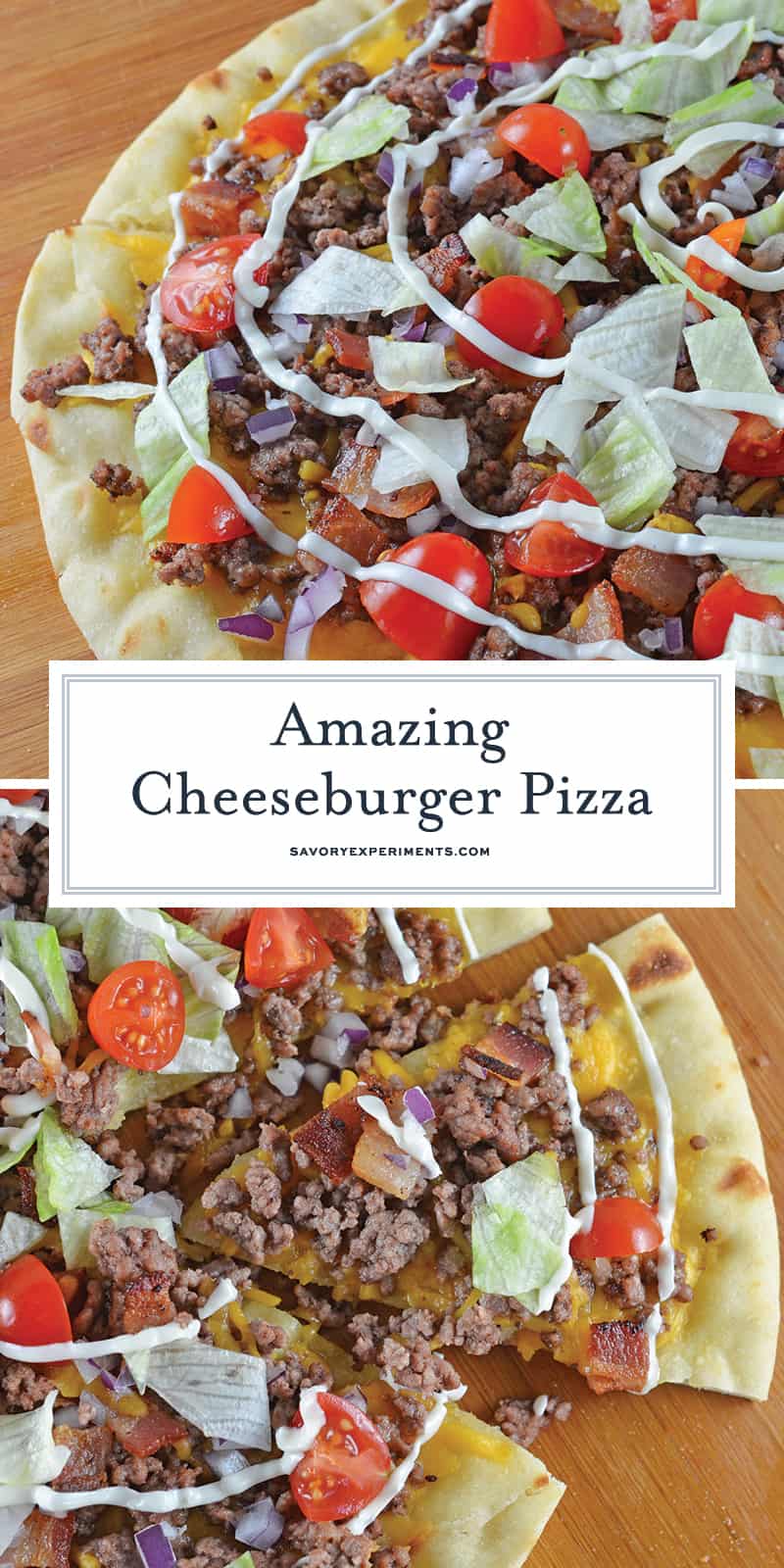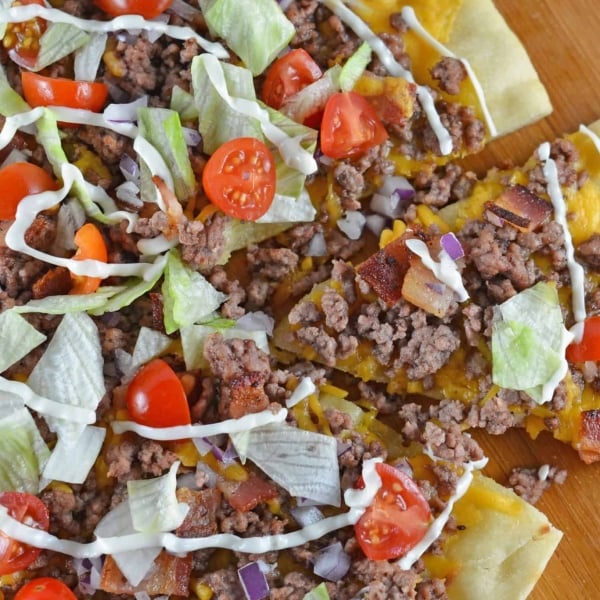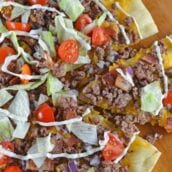 Cheeseburger Pizza
What happens when you take two favorites and mash them together? The best pizza ever! Cheeseburger Pizza!
Instructions
Preheat oven according to package directions for flatbread or pizza crust.

Spread cheese evenly over crust, topped by cooked ground beef and bacon.

Cook according to package directions.

While still hot, top with tomatoes, lettuce and red onion (or other desired condiments and toppings). Finish with mayonnaise, mustard and ketchup! To get the fun swirl or to make your own design, put mayo in an airtight plastic bag and snip the corner, resulting in a makeshift piping bag.

Cut into slices or squares and enjoy!

If you've tried this recipe, come back and let us know how it was!
Nutrition
Calories:
668
kcal
,
Carbohydrates:
221
g
,
Protein:
50
g
,
Fat:
34
g
,
Saturated Fat:
15
g
,
Cholesterol:
39
mg
,
Sodium:
2563
mg
,
Potassium:
157
mg
,
Fiber:
7
g
,
Sugar:
8
g
,
Vitamin A:
240
IU
,
Vitamin C:
2.1
mg
,
Calcium:
486
mg
,
Iron:
13.2
mg