Have you heard the raving reviews about PF Changs Mongolian Beef? Well this tried and true Mongolian Beef recipe is even better, plus it's easy to make right at home!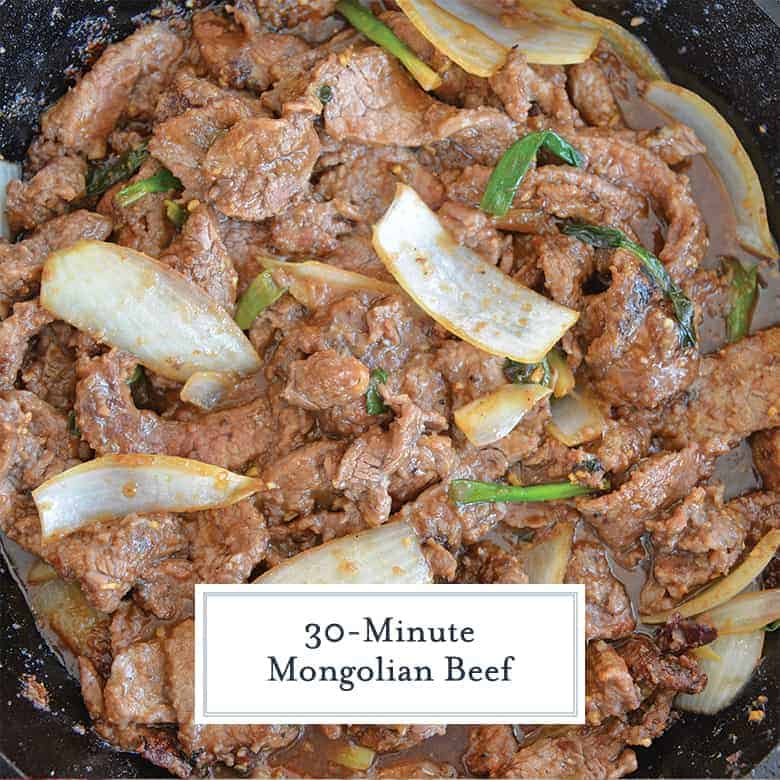 Skip the takeout and make this homemade Mongolian Beef recipe instead! It tastes even better than the PF Chang's recipe!
Is there a restaurant that you and your family frequent? Before we had kids, we made our way to quite a few restaurants. Unfortunately, we don't have a PF Chang's close to us, so that restaurant was not one of them.
From what I have heard, PF Chang's Mongolian Beef stir fry is pretty good. But to be honest, I've never had it.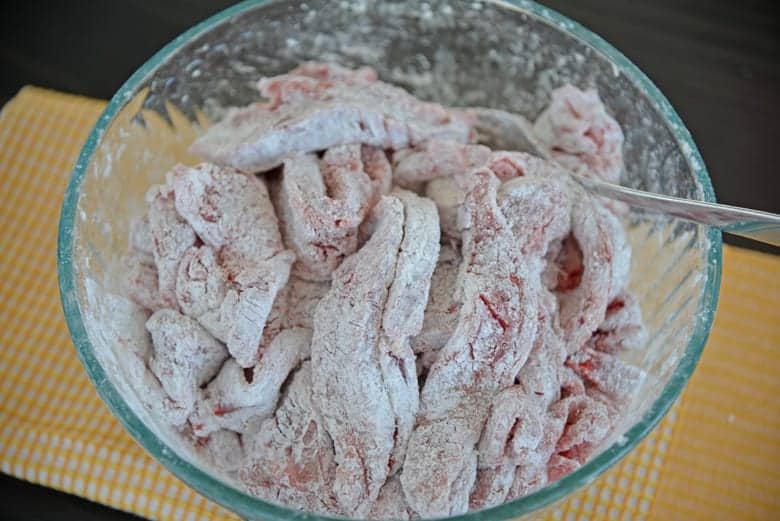 I have wanted to try it, but with two little ones at home, going out to dinner is not always the easiest option. So I set about to making my own recipe for Mongolian beef.
What is Mongolian Beef?
The practice of cooking vegetables and meats together in a stir fry is one that is common in China. And although from the name you would think this dish came from Mongolia, it actually originated from China.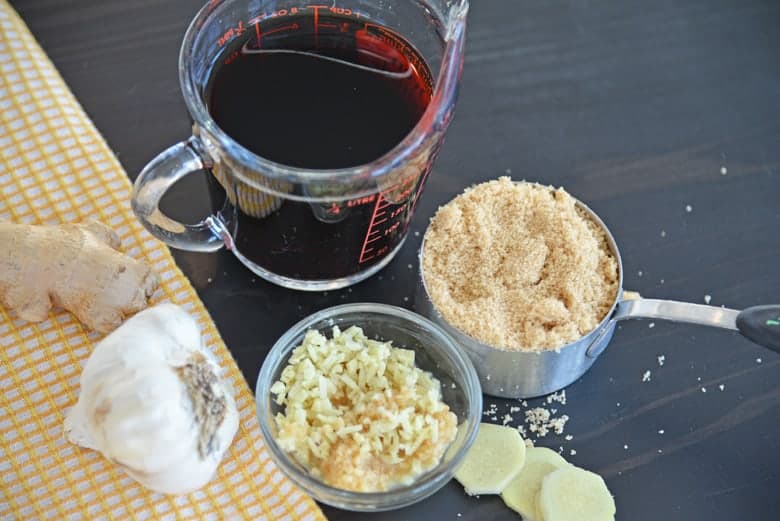 Mongolian beef is a fairly standard dish on any Chinese food carry out menu. The thing that makes it really stand out from other dishes is the sweet and salty sauce.
The salty comes from the soy sauce. And the sweet comes from the brown sugar. Garlic and ginger also flavor the delicious sauce.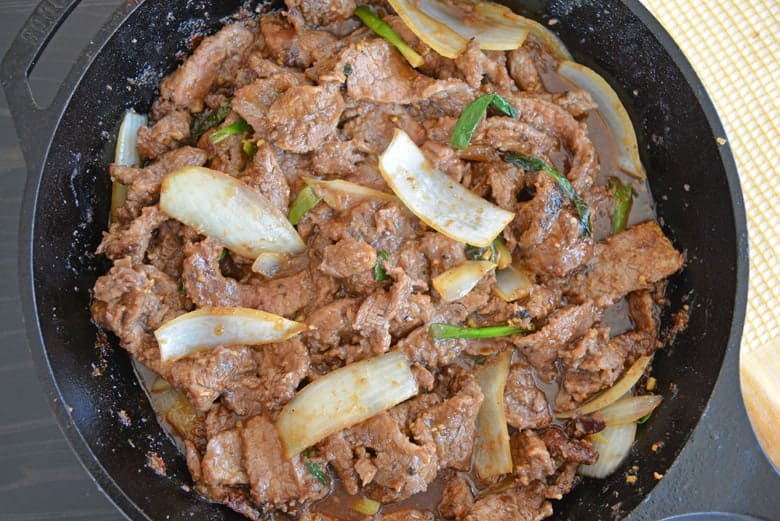 How to cut flank steak for Mongolian beef
Traditionally flank steak is used an authentic Mongolian beef recipe, but you can also use skirt steak or another cut of beef. To make it as tender as possible since this is a quick sear and not a long simmer, you want to cut against the grain.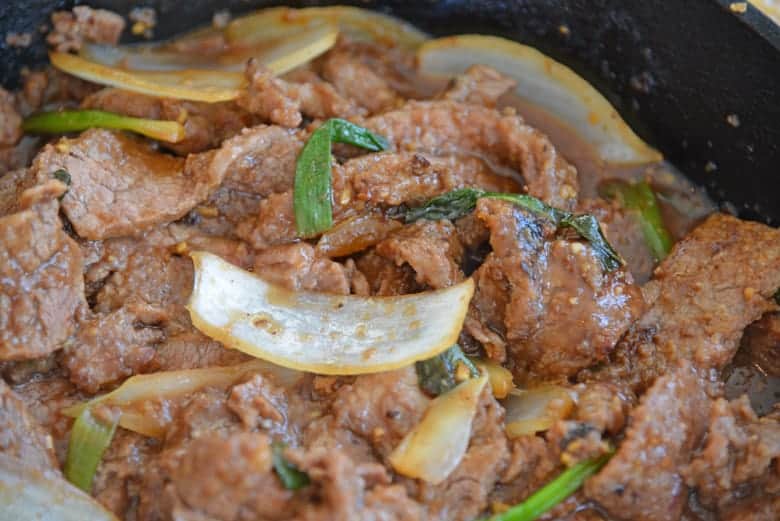 Cutting against the grain of any kind of protein or meat helps shorten the fibers, making it easier to chew.
How to make Mongolian beef sauce
I like to add both white onions and scallions (or green onions) to my Mongolian beef sauce to add variety, but if you are an onion hater, just omit them both. You can also add more flavors and textures.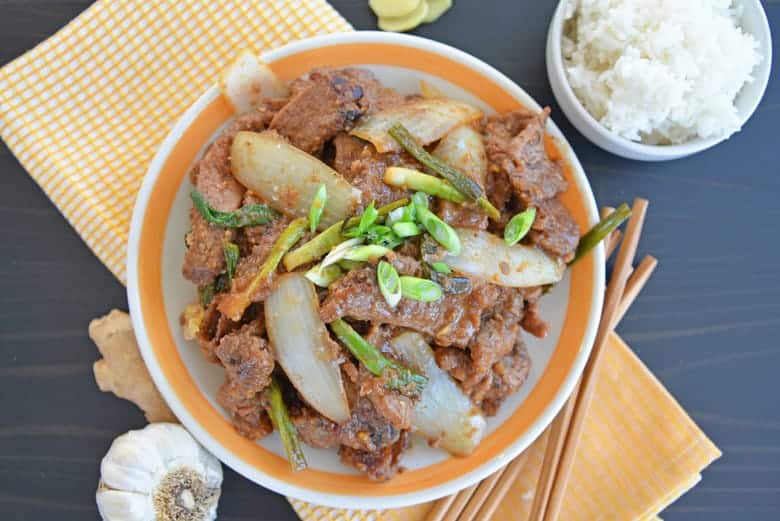 Other add-ins include:
Bamboo shoots or water chestnuts.
Some people like a little crunch so you can add slivered almonds.
Sautéed leeks and additional onion or shallot is also the way to go.
Baby corns are also a favorite in my house.
So next time the question "what's for dinner?" is asked, check out this Mongolian Beef!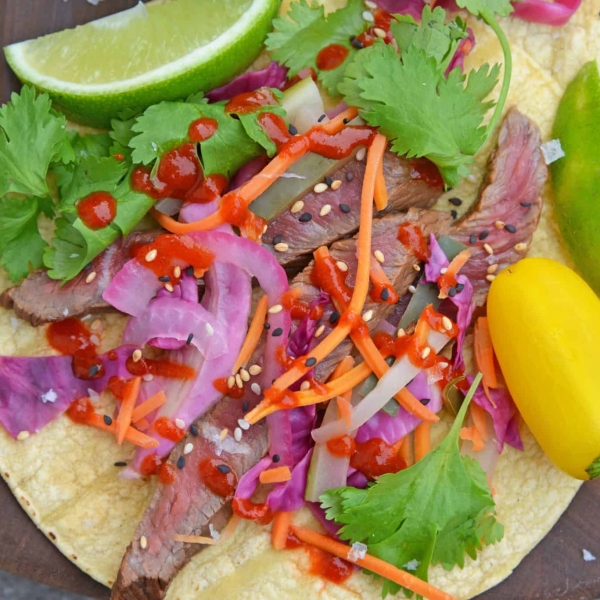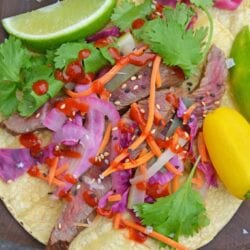 Korean Beef Tacos
Korean Beef Tacos are stuffed with seasoned bulgogi beef, fresh veggies, and spicy sauce! These are the best Korean tacos you will ever eat!
View this recipe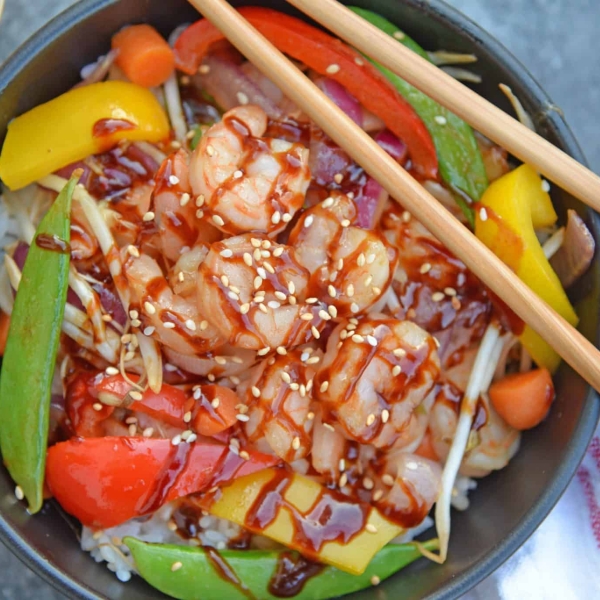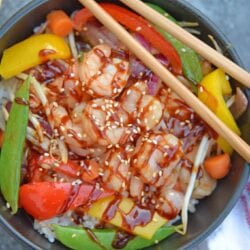 Teriyaki Shrimp Stir Fry
Skip the takeout and make this easy Teriyaki Shrimp Stir Fry in only 30 minutes! This Shrimp Stir Fry is an easy weeknight meal that the whole family will love!
View this recipe
Questions you might have about how to make Mongolian beef:
What goes with Mongolian beef barbecue?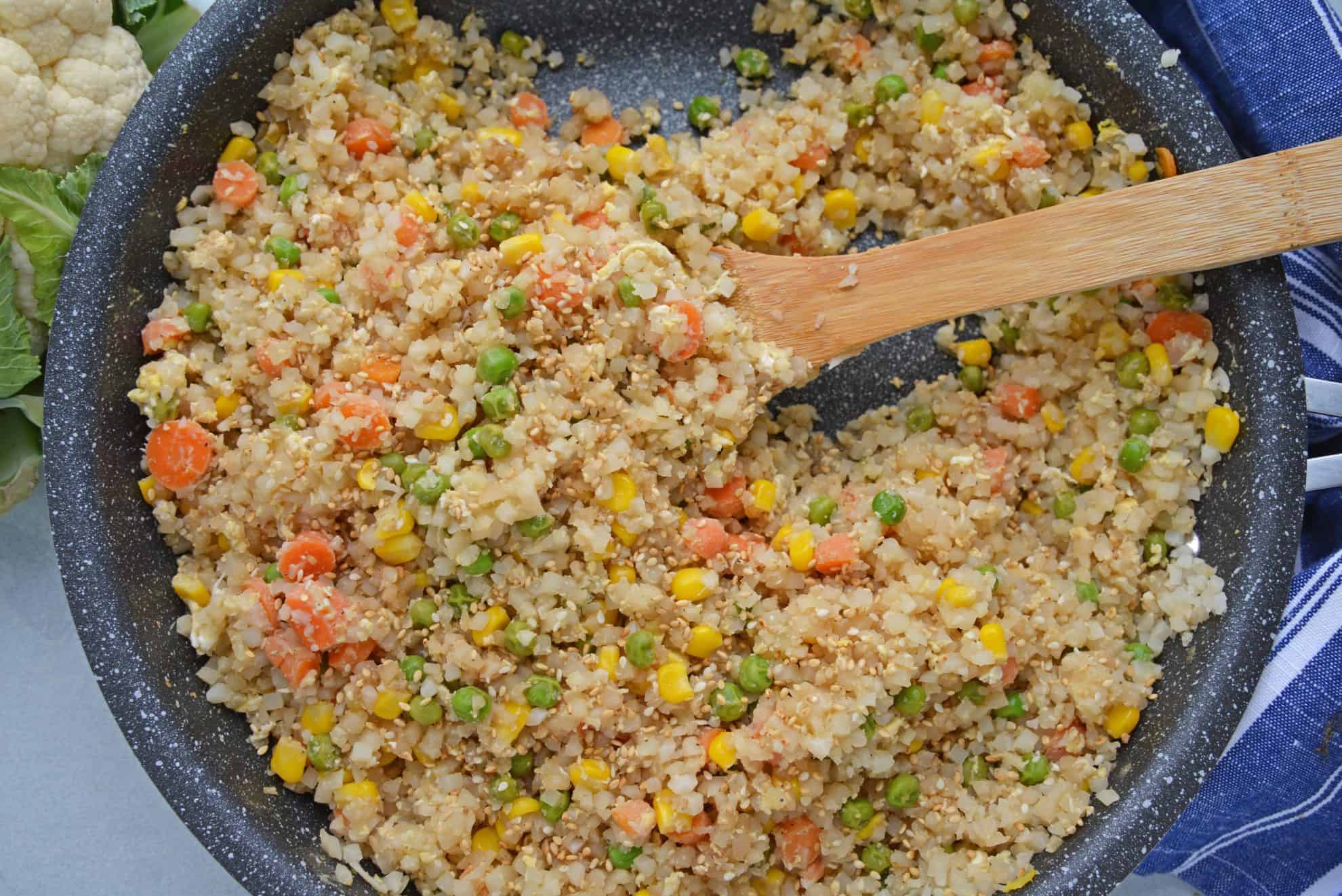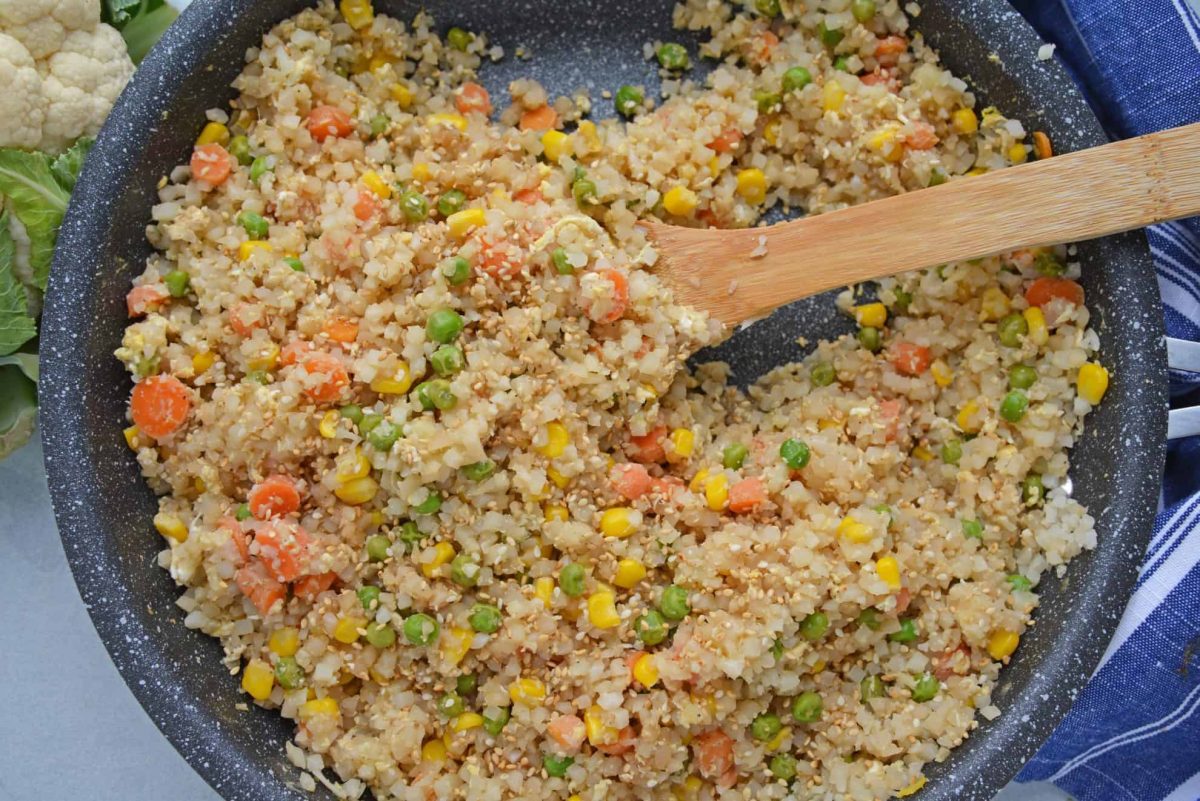 Do I have to use flour?
You can use arrowroot or cornstarch. But I do suggest using one of them. It can be done plain, but it does help to thicken the sauce. They also help to brown the meat and get a nice sear.
Does Mongolian beef have gluten?
Because this recipe is made with flour, it does contain gluten. And as stated above, I do recommend using some sort of flour substitute if not using flour. Just check the labels before using.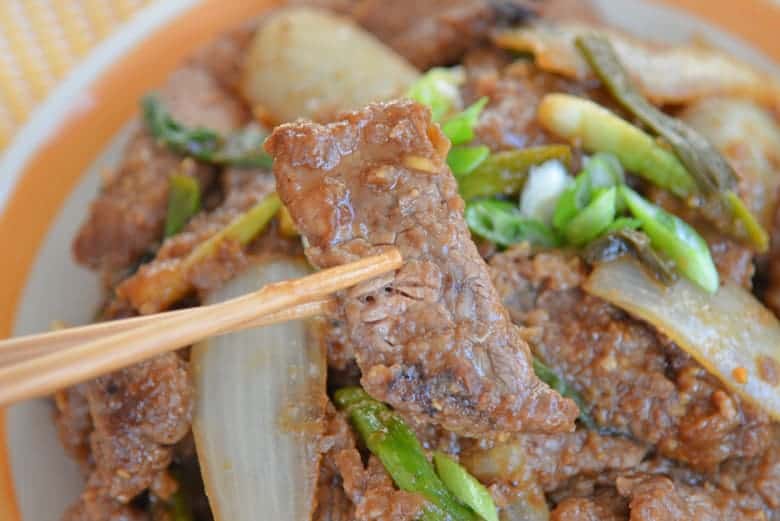 Is Mongolian beef low carb?
Generally speaking, meat and vegetable dishes are considered to be low carb, and this dish is almost complete comprised of meat and vegetables. However if you serve this dish with rice, that would bring up the carb count.
If you are trying to stick to a low carb diet, I would suggest serving this with steamed vegetables rather than rice or noodles.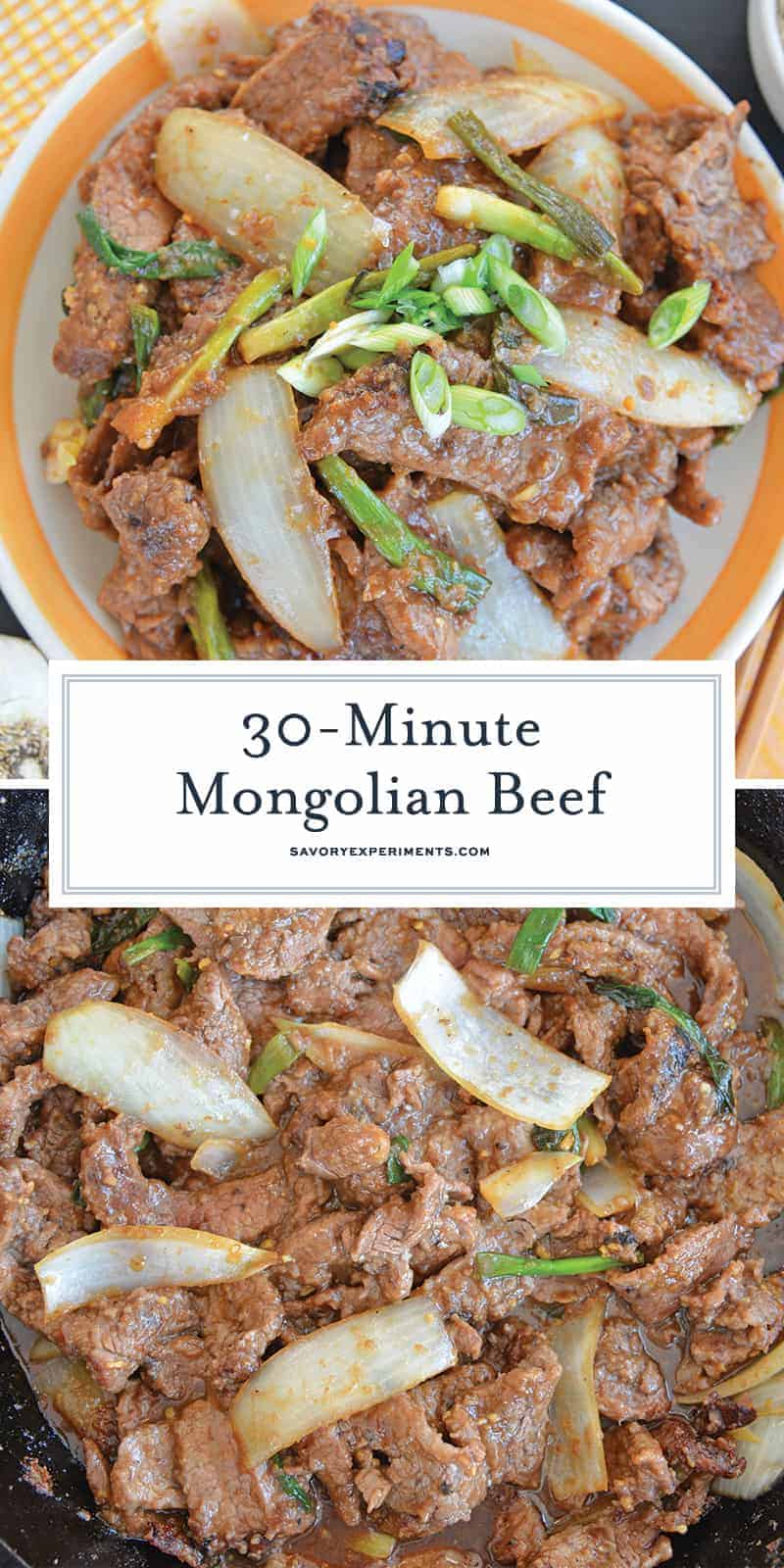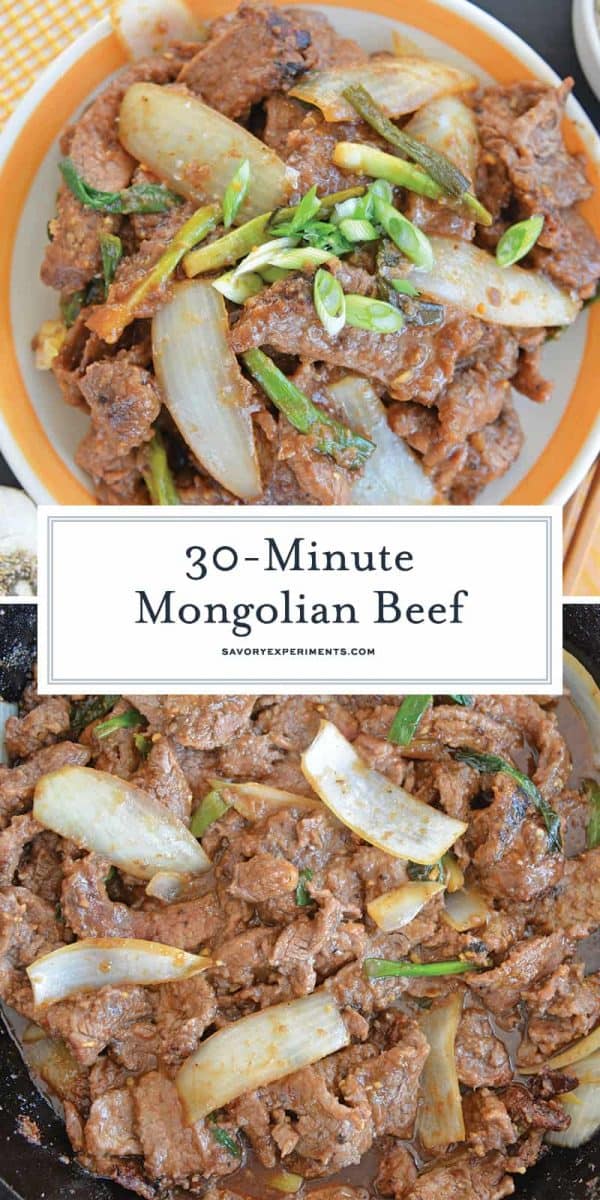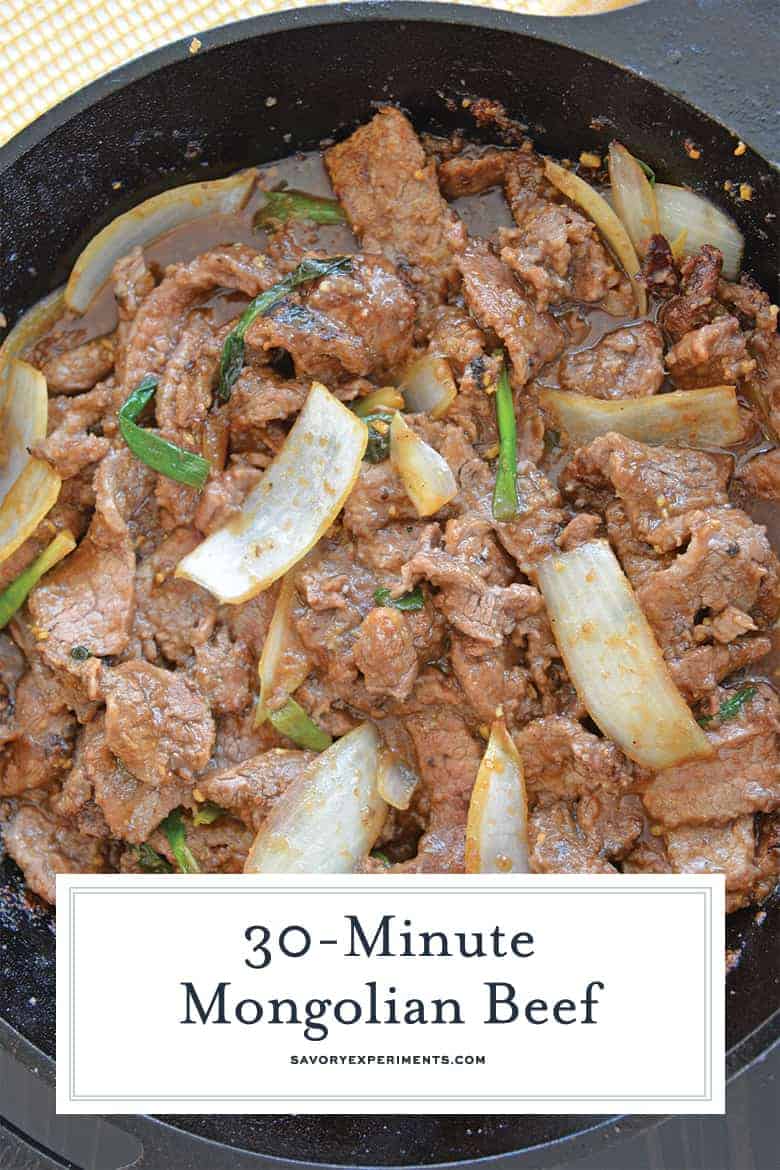 So give this Mongolian Beef Recipe a try. I guarantee it will be a winning dinner idea at your house just as much as it is at mine!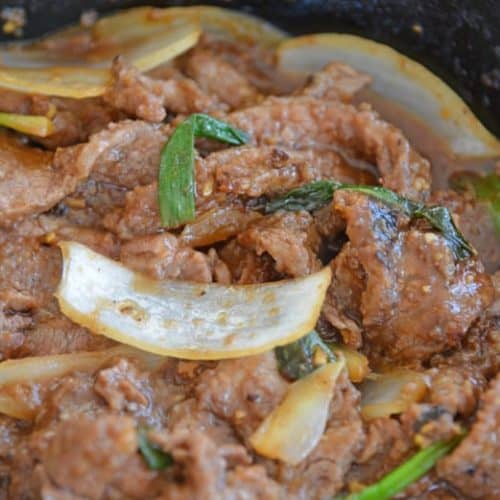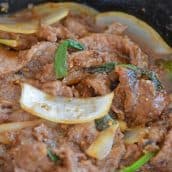 30-Minute Mongolian Beef
Skip the takeout and make this homemade Mongolian Beef recipe instead! It tastes even better than the PF Chang's recipe!
Instructions
Cut beef thinly against the grain. Slices should be about 1/4 inch thick. Trim any large pieces of fat. Dab dry with paper towels. Set aside.

In a small bowl, whisk together flour, garlic powder, onion powder and fine sea salt.

Dredge beef slices in flour mixture, shaking off excess flour.

Heat vegetable oil in a large skillet. Working in batches so meat doesn't touch. Cook for 4-5 minutes or until strips are fully cooked and browned on all sides. Remove to a plate and continue with remaining beef.

In the same skillet, add white onion minced garlic and grated ginger, softening for 1-2 minutes.

Add water, soy sauce and brown sugar, stirring until combined and sugar has dissolved. Bring to a low simmer.

Add cooked beef back to the sauce, lowering heat to low. Toss in sauce until it starts to thicken. Add scallions before serving.

If you've tried this recipe, come back and let us know how it was!
Nutrition
Calories:
681
kcal
,
Carbohydrates:
58
g
,
Protein:
54
g
,
Fat:
25
g
,
Saturated Fat:
16
g
,
Cholesterol:
136
mg
,
Sodium:
1487
mg
,
Potassium:
974
mg
,
Fiber:
2
g
,
Sugar:
29
g
,
Vitamin A:
120
IU
,
Vitamin C:
4
mg
,
Calcium:
96
mg
,
Iron:
6
mg