Creamy Apple Pork Chops really bring me back to my childhood. My mother used to make a variation on this classic dinner dish and now I make my own own version for my family.
A quick dinner idea, it is perfect for a fast weeknight meal.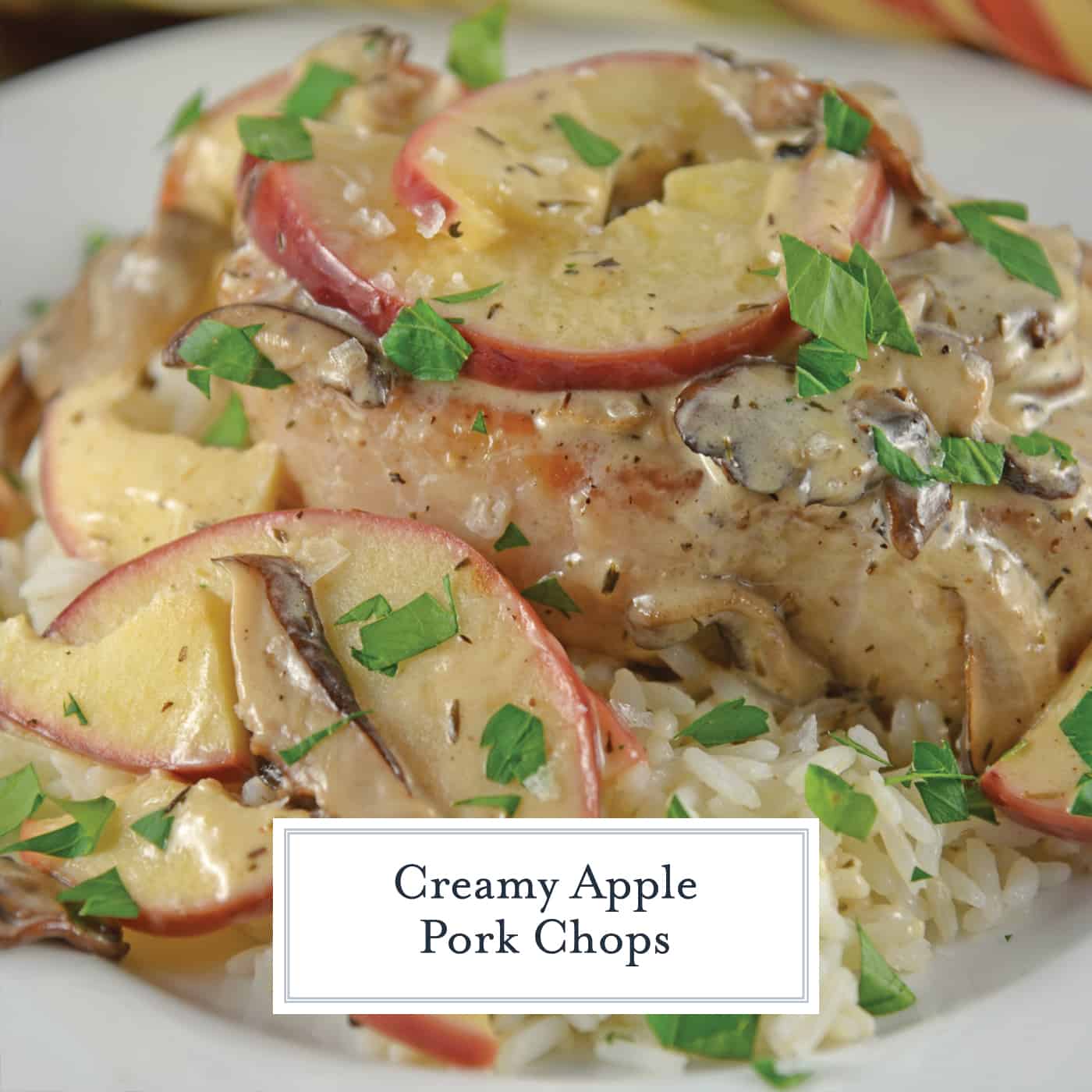 Creamy Apple Pork Chops are a wholesome meal your whole family will enjoy. Mushrooms, apples, juicy pork chops in a savory cream sauce.
I can't think of pork chops and not associate them with"the other white meat" campaign. Isn't that funny? They continue to be one of my favorite go-to meals for busy weeknights.
Easy pork chop recipes often get overlooked, but my Creamy Apple Pork Chops are bringing them back in style!
Did you know that in 2011 the USDA lowered the ideal internal temperture for pork to 145 degrees? They didn't make a big announcement, but lowering the safe temperture makes pork so much more juicy and tender.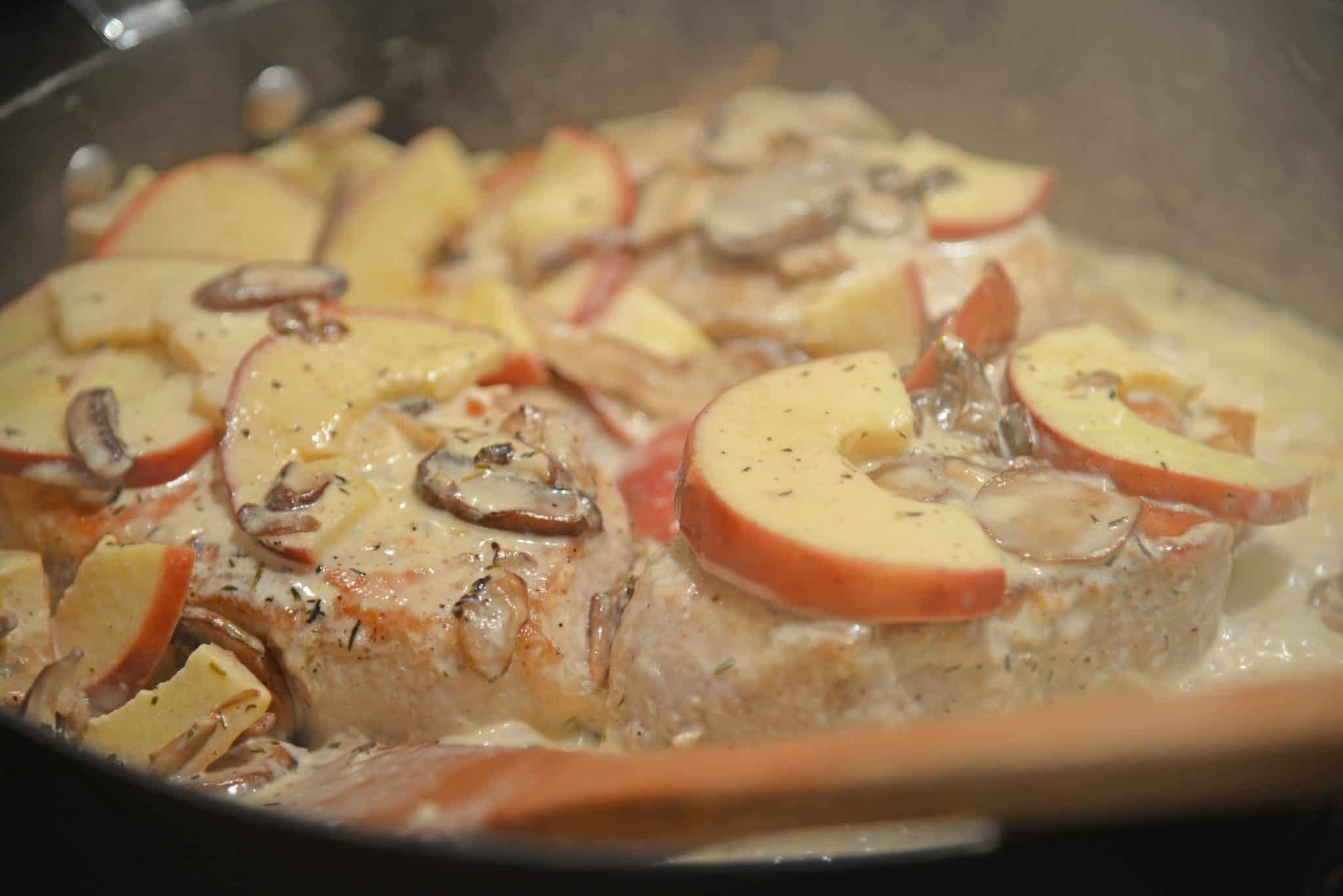 In fact, most restaurants cook their pork to 140 degrees! When people ask me why their pork is dry, the most obvious reason is because it was over cooked!
Another bonus, it takes less time to fully cook your pork. Make sure you have a good meat thermometer (link to one below).
Creamy Apple Pork Chops use an easy pork recipe I inherited from my mother. I've made a few changes through the years, like adding mushrooms and sometimes even onion, but otherwise, the basics stay the same.
You can even use a different cut of pork if you like. Use a thick-cut, bone-in in chop for a fancy dinner, or sear up a pork tenderloin. The creamy apple sauce can even be paired with chicken, if you prefer.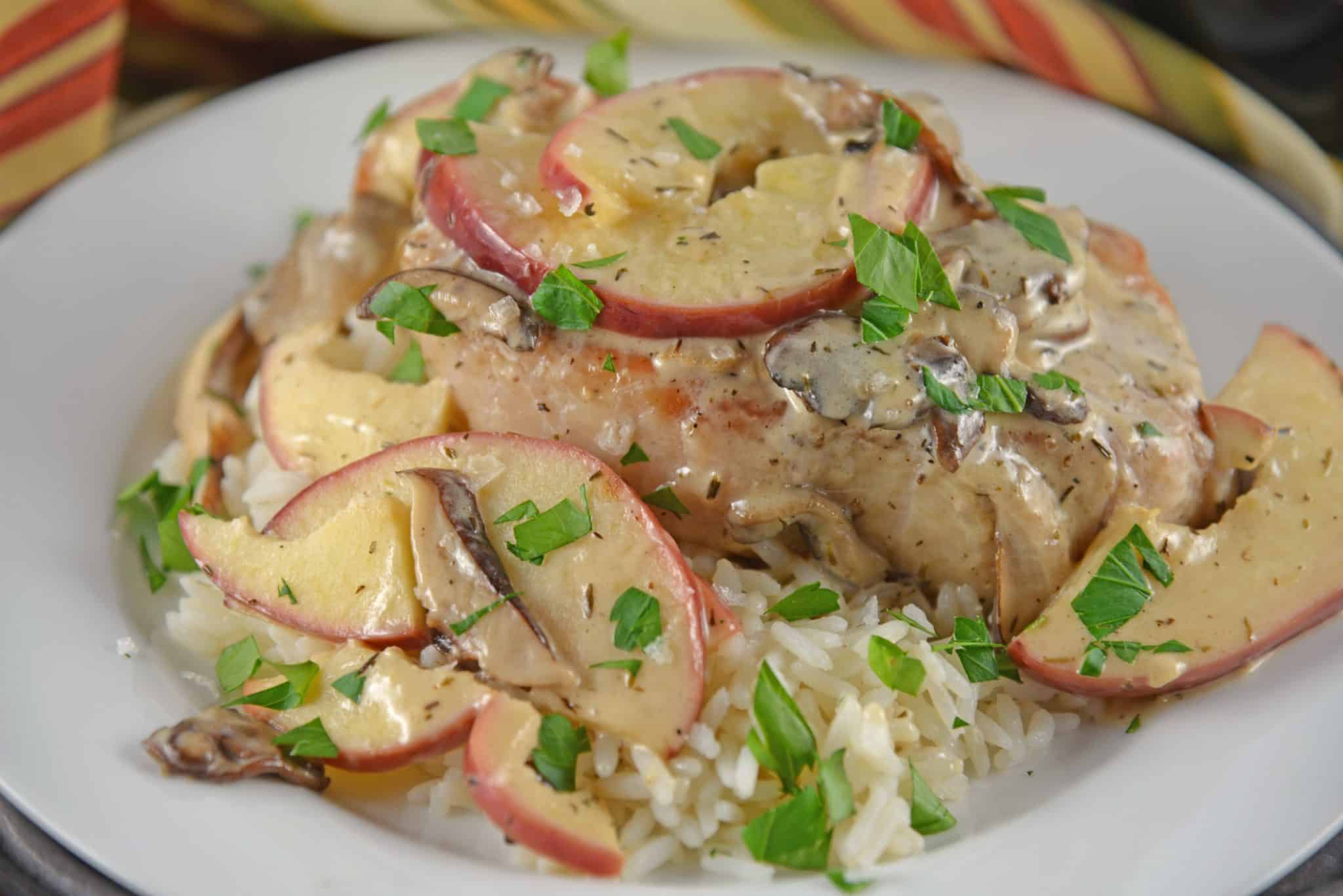 A creamy sauce thickened slightly by breaded pork chops and brightened with a dash of lemon juice, salt, pepper and fresh herbs. Pretty basic!
I like to serve my Creamy Apple Pork Chops over Toasted Couscous, Almond Rice Pilaf or even egg noodles. All personal preference.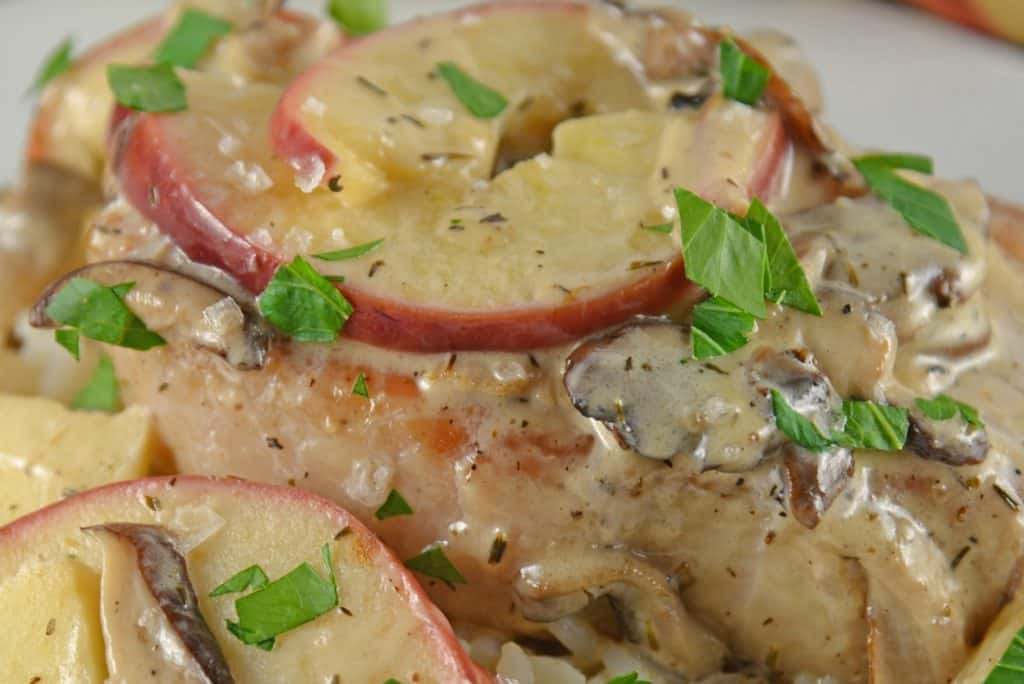 Tools for making pork chop recipes:
Meat Thermometer– Every home kitchen should have a meat thermometer. Never take a guess as to if something is done again!
Heavy Bottom Frying Pan– this will be one of your most used kitchen tools. Having something that is heavy bottom will distribute heat better and prevent burning whether you are using an electric or gas range.
Pie Plates– I think every kitchen should have at least three shallow dishes or pie plates for the process of breading or marinating. You can also bake pies in them! Hehe.
Apple Corer– Another kitchen utensil I used to think was silly. Well, no more. I love mine and can't imagine not having it.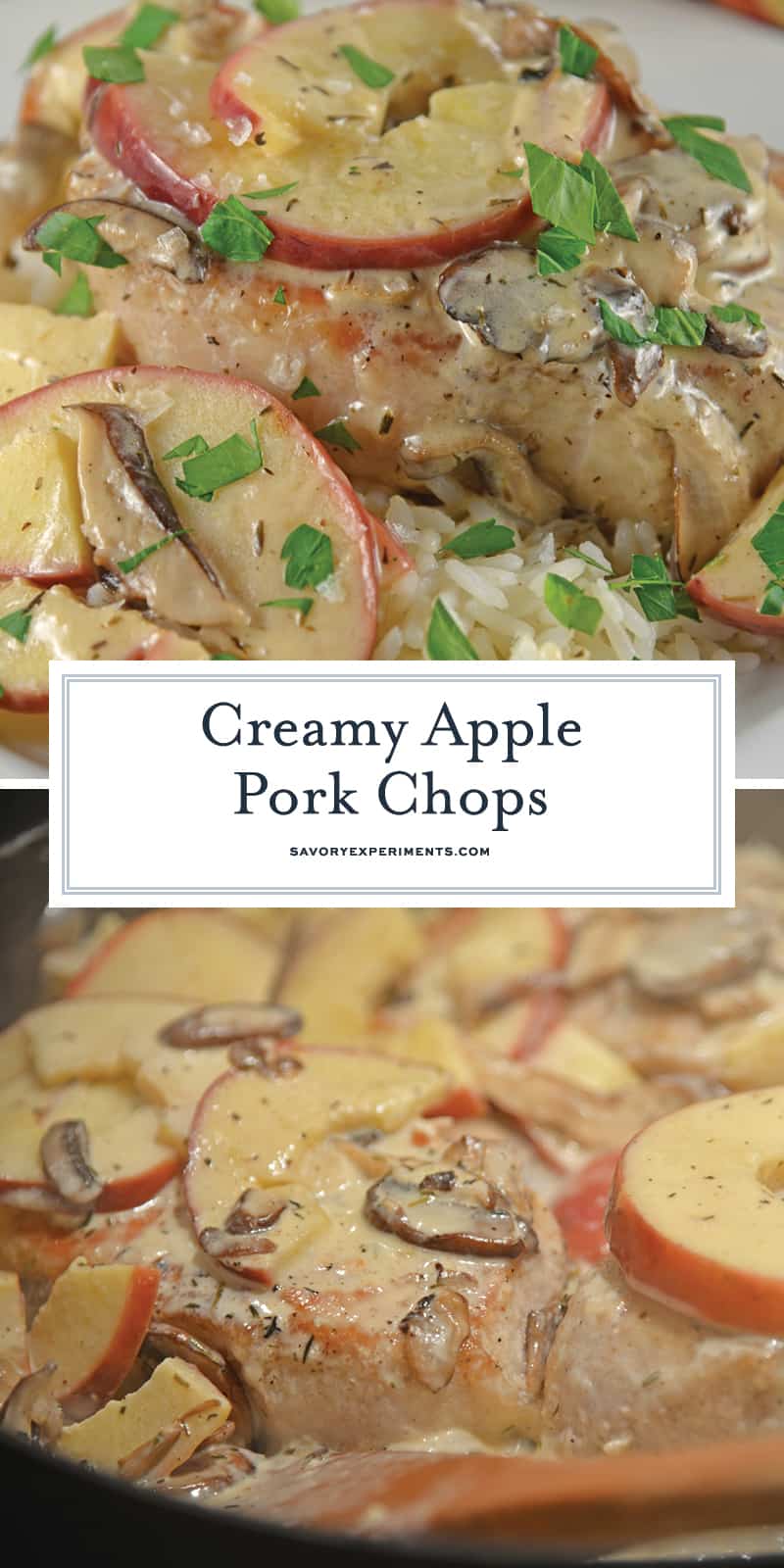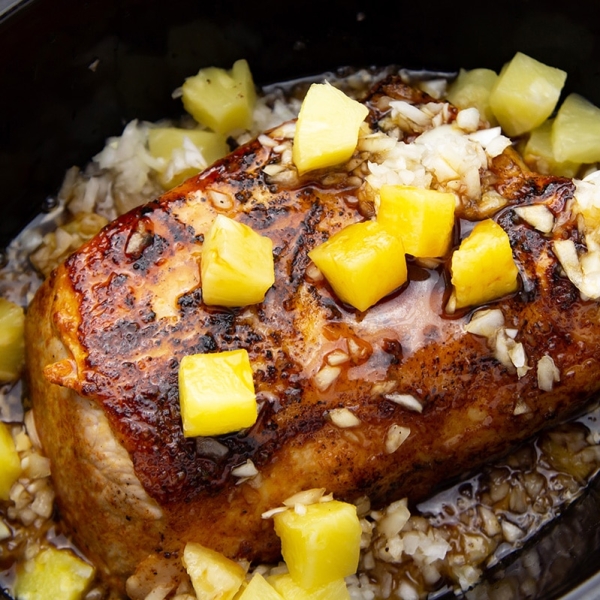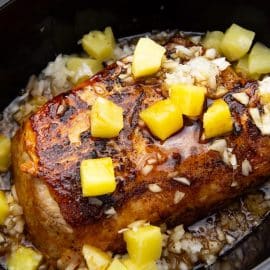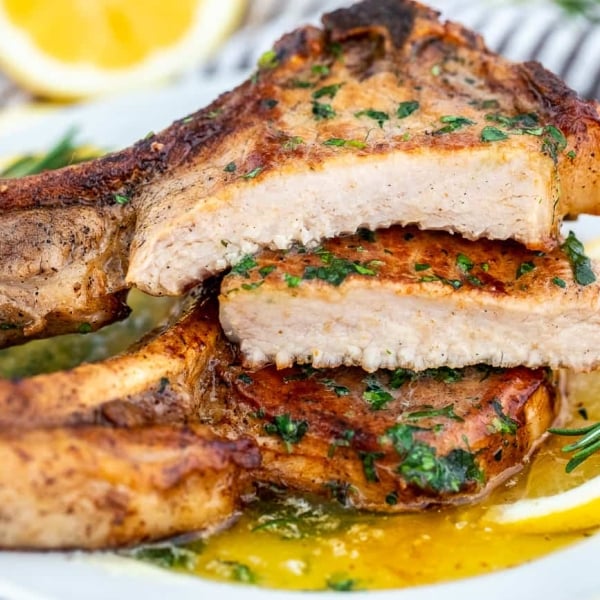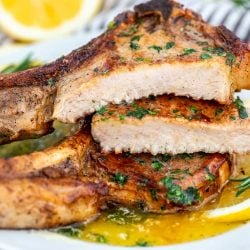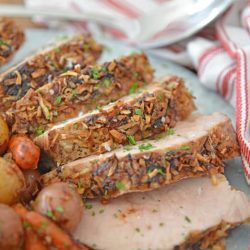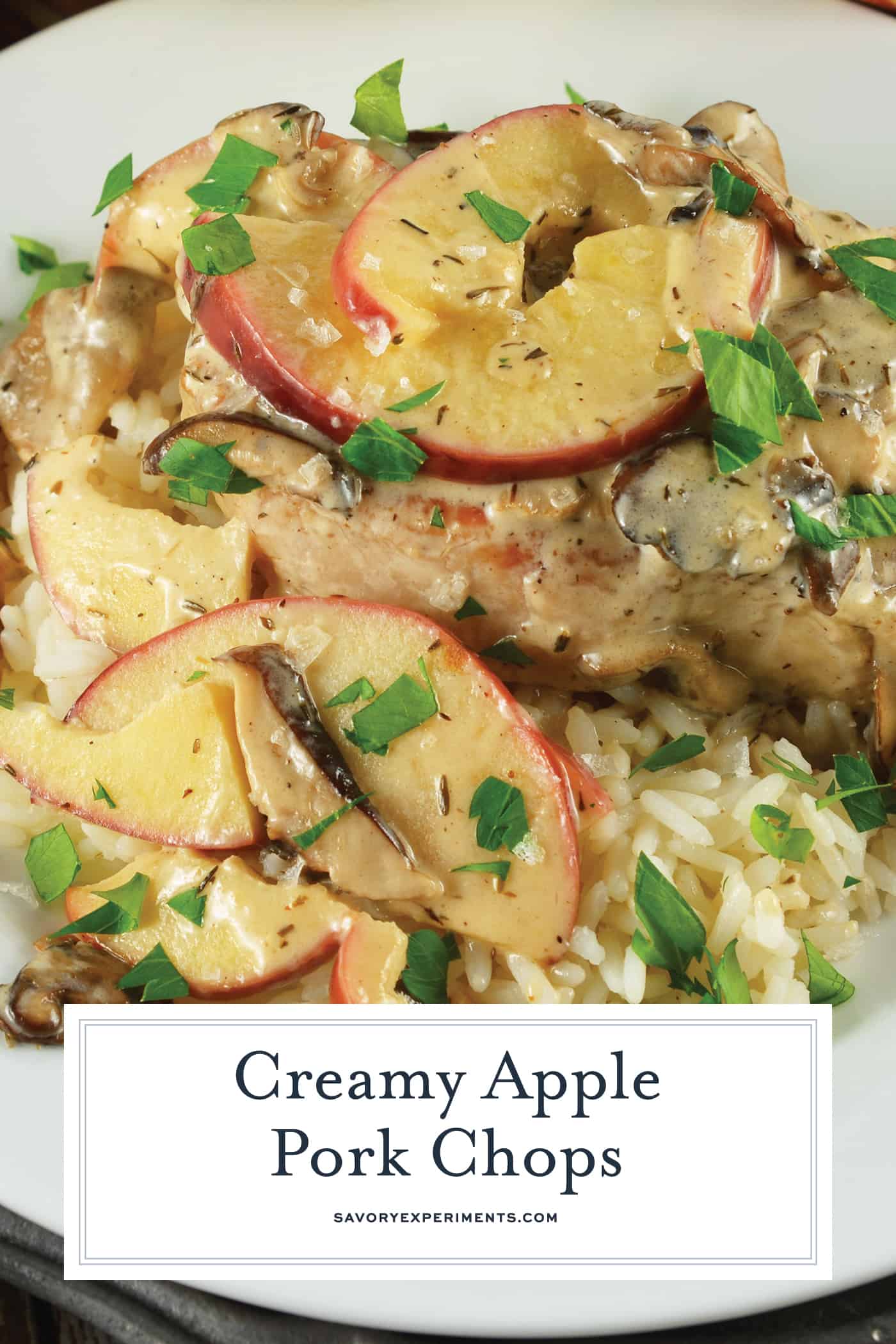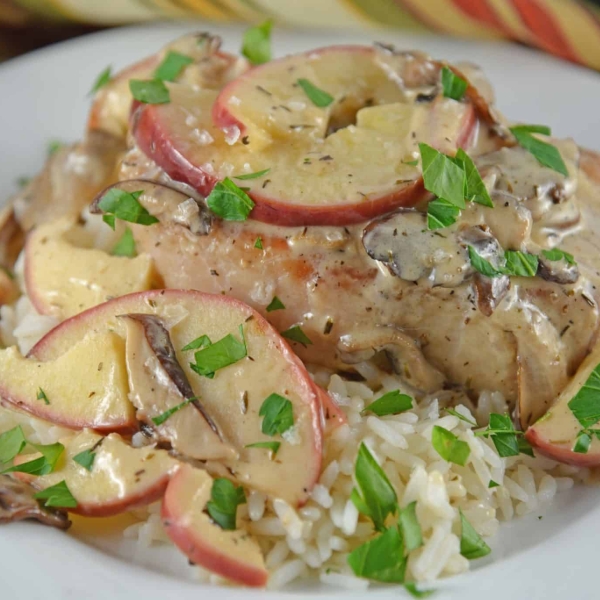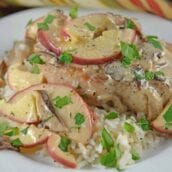 Creamy Apple Pork Chops
Creamy Apple Pork Chops are a wholesome meal your whole family will enjoy. Mushrooms, apples, juicy pork chops in a savory cream sauce.
Instructions
Place flour in a shallow dish, season well with fine sea salt and freshly ground pepper. Dredge pork chops in flour.

Heat olive oil in a large skillet over medium-high heat. Brown pork chops on both sides for approximately 5 minutes or until the internal temperature reaches 145 degrees.

Remove from skillet, place on the side or in a warm oven.

In the same skillet, add butter and mushrooms, sauteing until they start to shrink in size. Add apple slices, continuing to saute for 2 minutes.

Pour in cream and lemon juice, stirring well and bringing to a low simmer. Add cooked pork chops and cover with sauce. Sauce will start to thicken. Add minced parsley or thyme.

Serve immediately over rice, couscous or egg noodles.
Nutrition
Calories:
541
kcal
,
Carbohydrates:
16
g
,
Protein:
33
g
,
Fat:
38
g
,
Saturated Fat:
19
g
,
Cholesterol:
178
mg
,
Sodium:
115
mg
,
Potassium:
752
mg
,
Fiber:
1
g
,
Sugar:
1
g
,
Vitamin A:
1045
IU
,
Vitamin C:
5.8
mg
,
Calcium:
55
mg
,
Iron:
2
mg