Easy dinner recipes are the name of the game in our house. Hubby and I love some heat, but the kiddos can't handle it quite yet, so making an easy, one-dish meal that includes a zesty sauce lets them eat a milder version while we heat it up.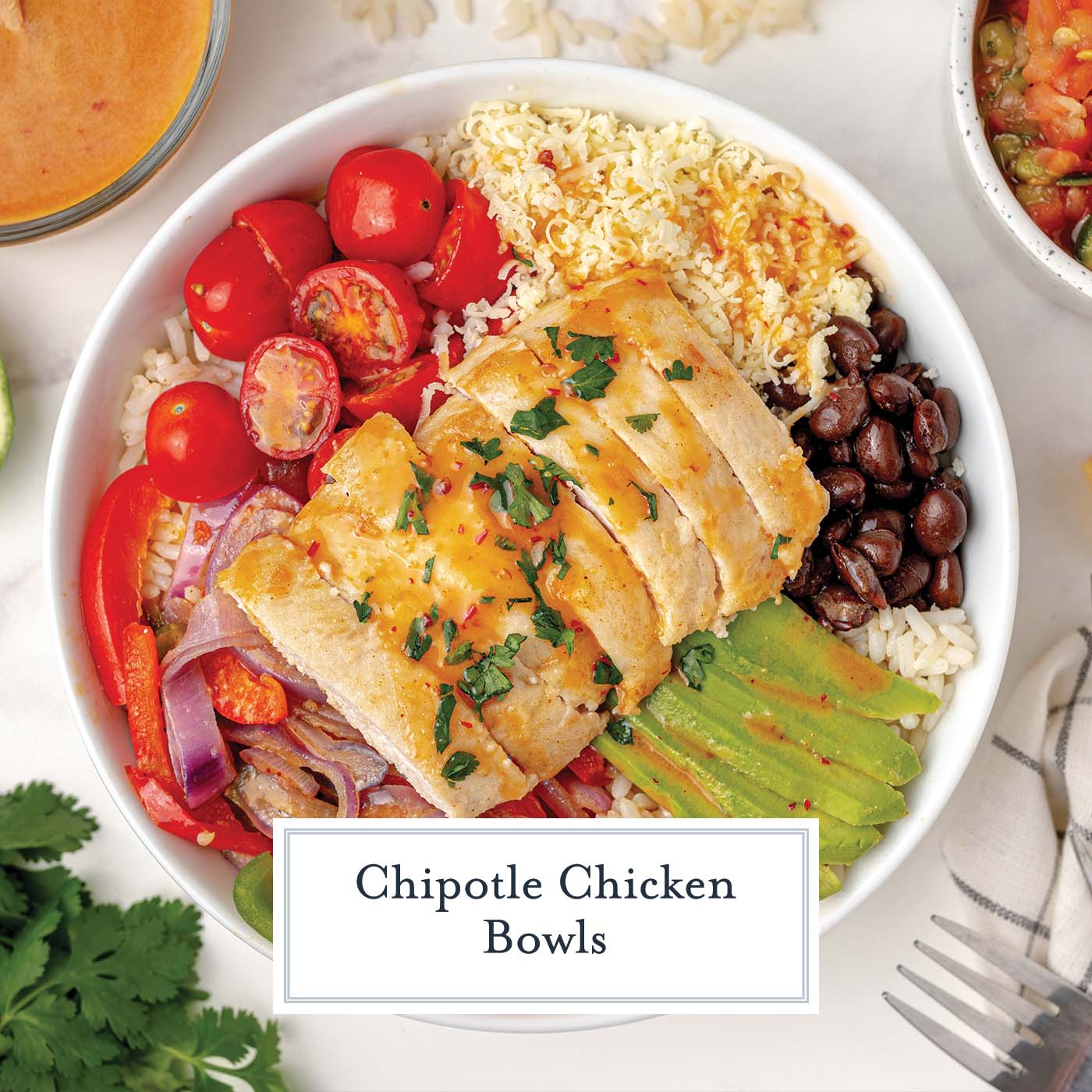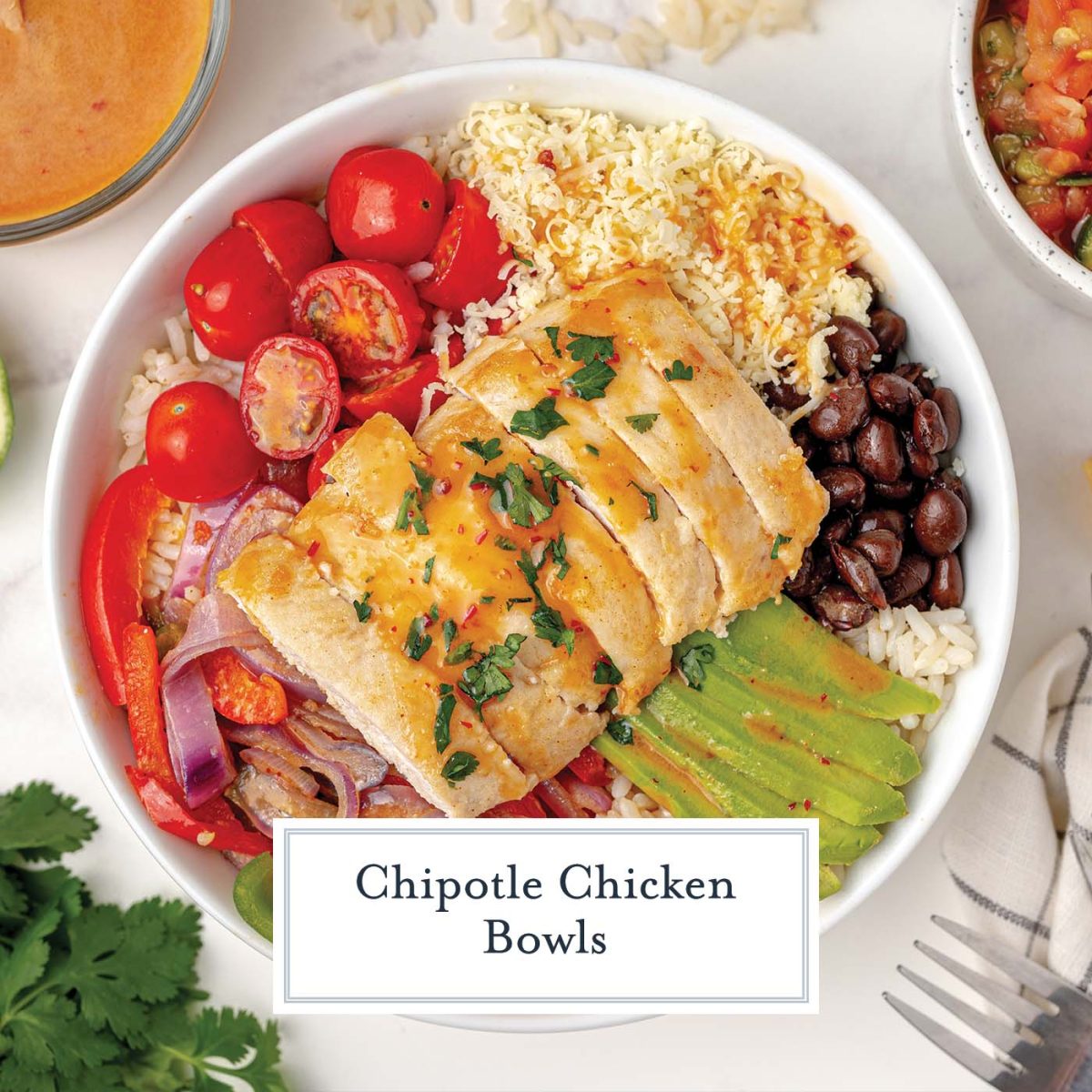 I personally prefer a bowl any day of the week. It's like a disassembled burrito that is less messy.
Make Ahead & Meal Prep
Chipotle chicken bowls, sometimes called burrito bowls or rice bowls, are also perfect for make ahead and meal prep. They can be served hot or chilled. Store in an airtight container in the refrigerator for up to 5 days. Perfect for busy weeknights!
Consider swapping out the rice base for cauliflower rice or a leafy green like massaged kale, romaine lettuce or iceberg lettuce.
Store the dressing in a separate container so it doesn't sog up the rice and other veggies.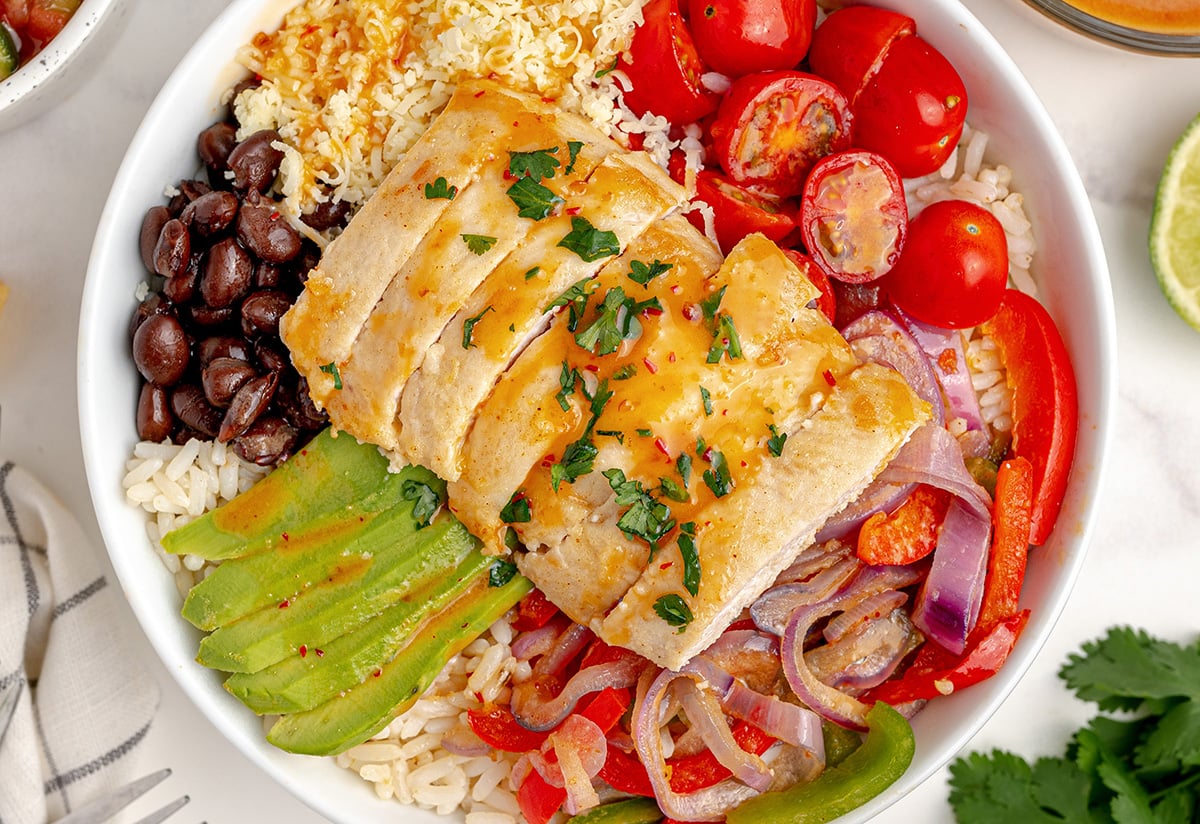 What You'll Need
The ingredient list looks long, but I assure you, it is mostly kitchen staples.
For the Chicken:
Flour– All purpose does the job of providing just enough coverage to get a little crisp on the chicken. This also aids in browning and having the chili powder adhere. This step can be skipped, but will reduce the flavor a tad.
Chipotle chile powder– Chipotle chilies have a unique flavor profile that is not only a little hot, but also smokey. Any other chile powder can also be used, but will also change the taste. Use more if you like it hot!
Fine sea salt & black pepper– for seasoning. We do use a fine salt here so it adheres to the chicken, but not in large pieces.
Boneless skinless chicken breasts– Trim them up and if super big, cut into smaller, more manageable pieces. I also like to tenderize the chicken to a uniform thickness. This manual process will make the chicken taste like it has been marinating for hours, but also helps to cook it evenly and to the correct temperature. Chicken thighs are another good option.
Vegetable oil– Or any other neutral oil.
Fun Fast: Chili powder is a blend of multiple types of chile peppers and meant to be added to chili, while other specific flavors are chile (with an e) and just a powder of one variety.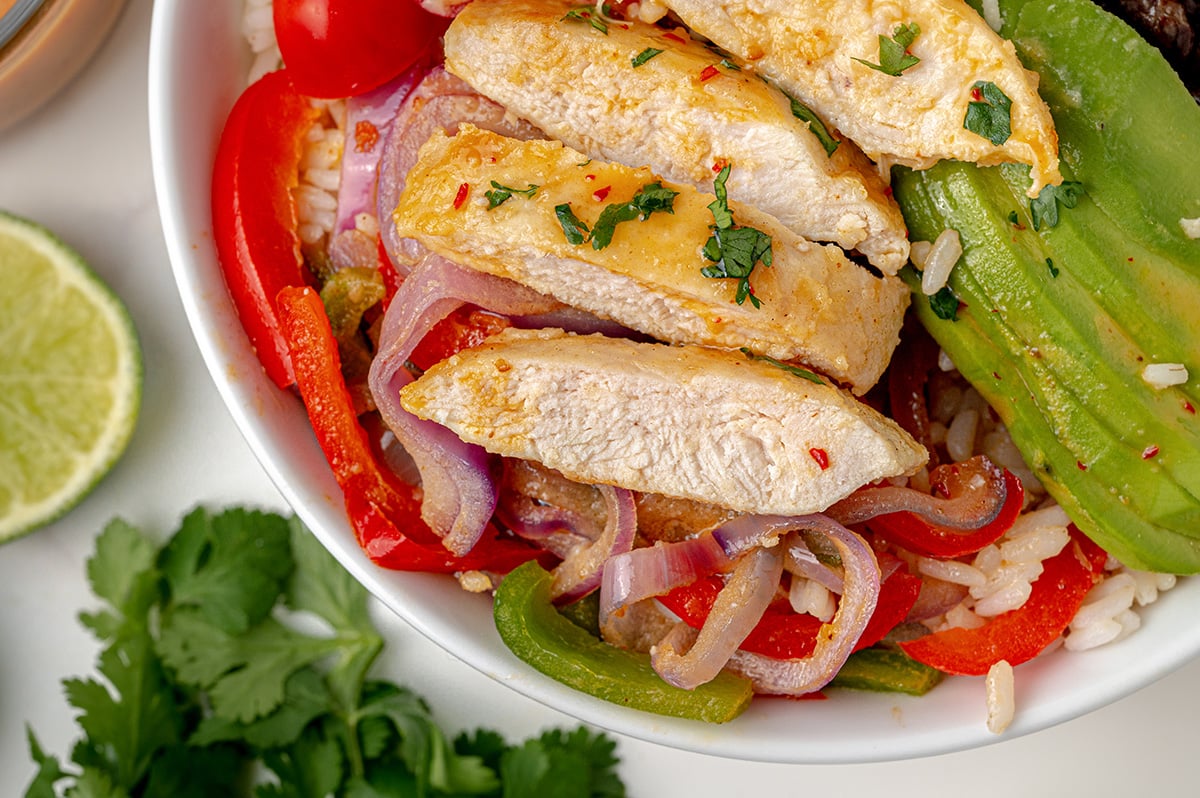 For the Bowl:
Vegetable Oil- Or any neutral oil.
Red onion– My personal preference is red onion, I love the color pop it adds to the bowl, but use a sweet or yellow onion.
Bell peppers– Red and green give such different profiles, so we opted for these two, but use any variety or just one.
Garlic– This garlic is thinly sliced, so while it seems like large chunks will be overwhelming, it actually won't give as much garlicky flavor. Make sure to use fresh, not the bottle stuff, which is often sweet.
Rice- White rice or brown rice is fine, also opt for a nice leafy salad base for fresh flavor and crunch.
Avocado– I love any excuse to add avocado to a dish. To get nice even slices, use an egg slicer.
Grape Tomatoes– Sweet and the perfect sized bite!
Fresh cilantro- Cilantro is a polarizing ingredient. If you think it tastes like dish soap, leave it off. If you do care for it, keep those stems and use them to make a cilantro pesto or chop them into a salad.
Chipotle Honey Vinaigrette– This is really what makes the bowl. Don't skip it!
My favorite garnishes are sour cream, fresh jalapeno slices, fresh lime juice spritzes and of coarse, Maldon salt.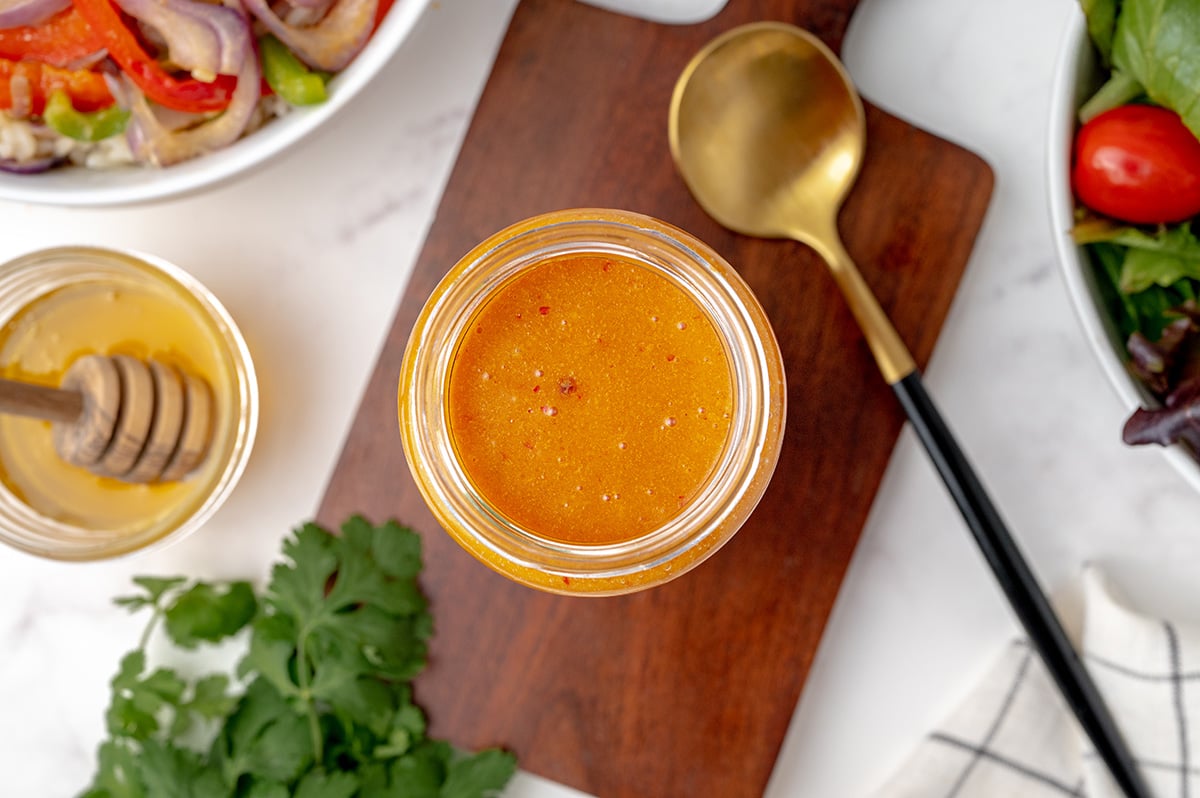 How to Make It
For the chicken:
Combine the flour, salt, pepper and chile powder in a shallow bowl and dredge the chicken well.
Brown the chicken in a medium skillet until it reaches 165°F and then set aside on a plate to rest before slicing. Don't skimp on the resting- it helps the juices reabsorb into the meat keeping it nice and juicy.
Cut against the grain- this shortens the fibers and makes it extra tender.
Rinse the skillet so you can use the same one for the veggies.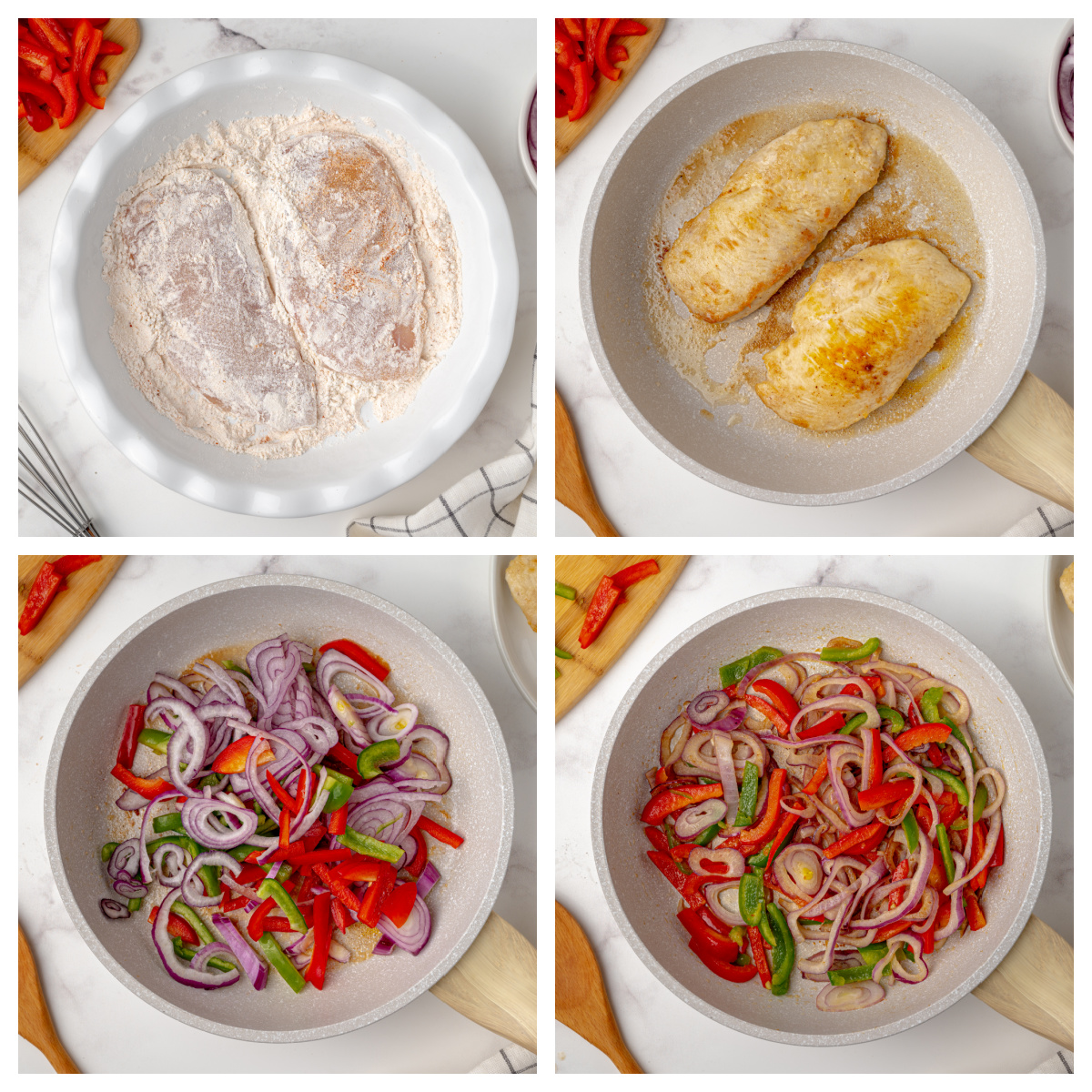 For the bowl:
Saute the the onions, bell peppers and garlic until soft and fragrant, but make sure they still have some body.
Evenly divide the rice, chicken, veggies and other toppings into four bowls.
Make the Chipotle Honey Vinaigrette and dress it generously- this stuff is good! Garnish with anything else you please.

Variations
Customize your bowl with any of these fun variations.
salad base
corn
black beans
kidney beans
scallions (green onions)
mandarin oranges
macadamia nuts
crushed red pepper flakes
almonds
grilled poblano pepper
fresh jalapeno slices
chickpeas
mango
cheese
shredded pork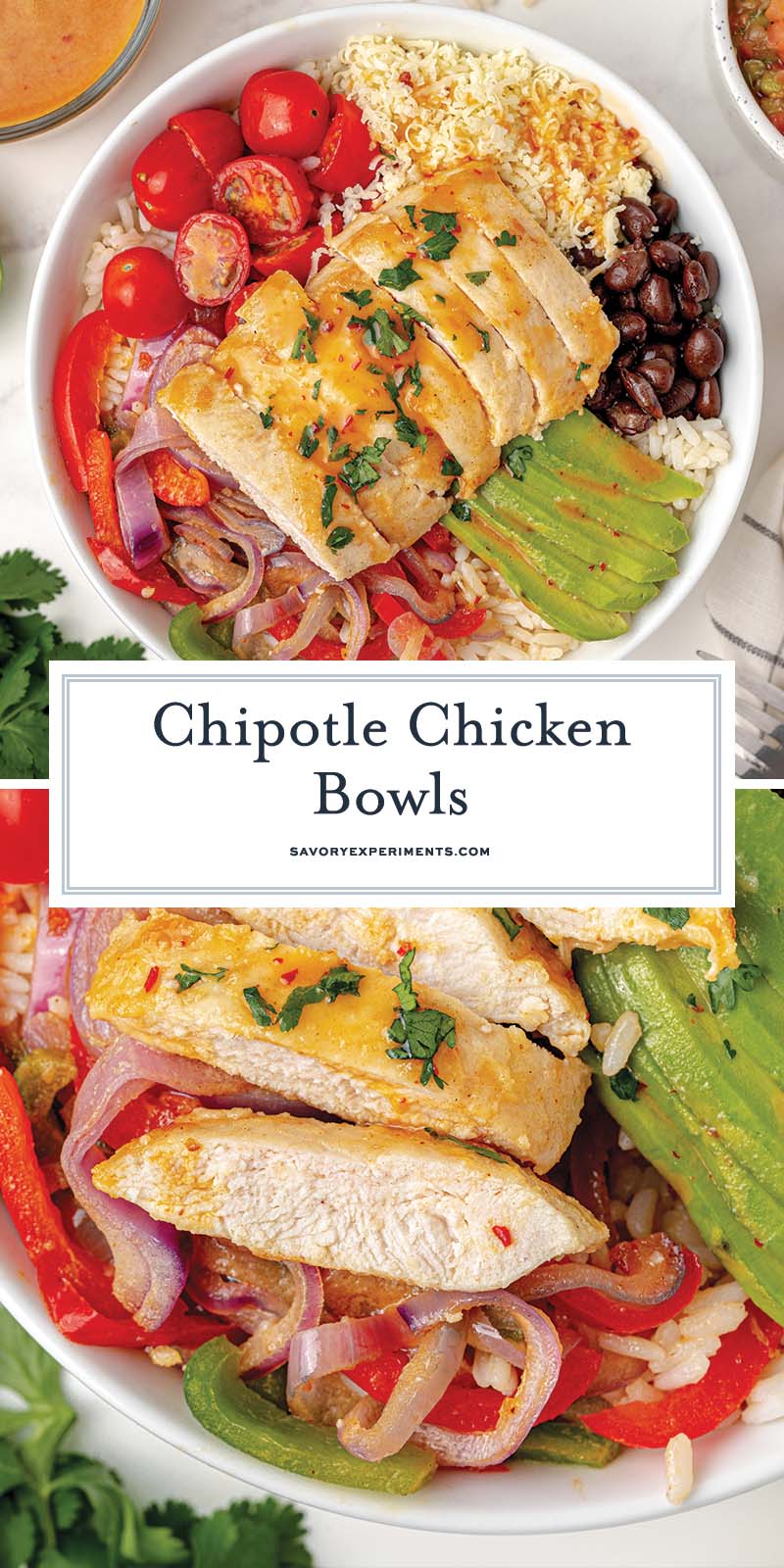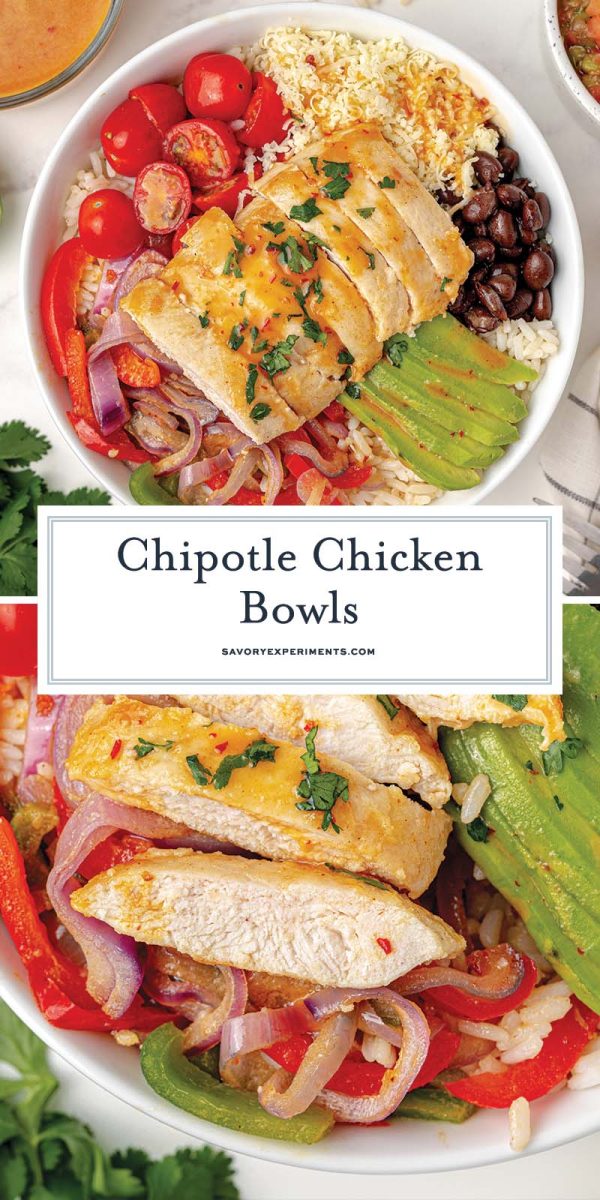 More recipes that use rice: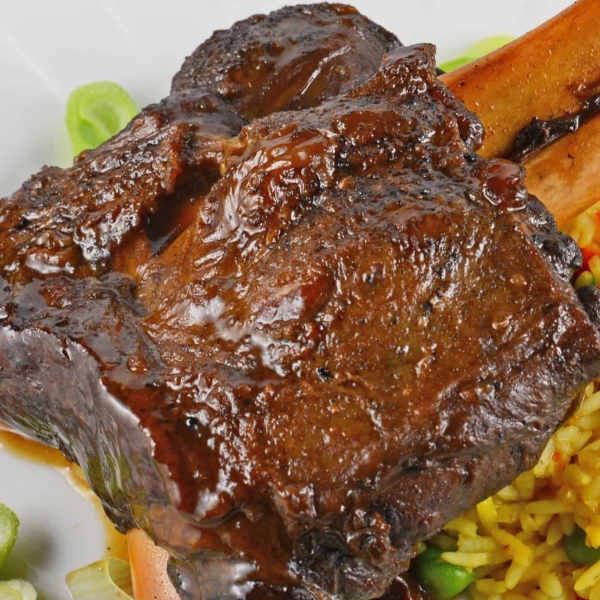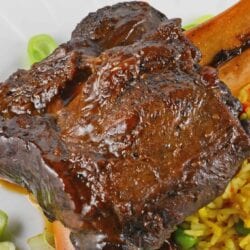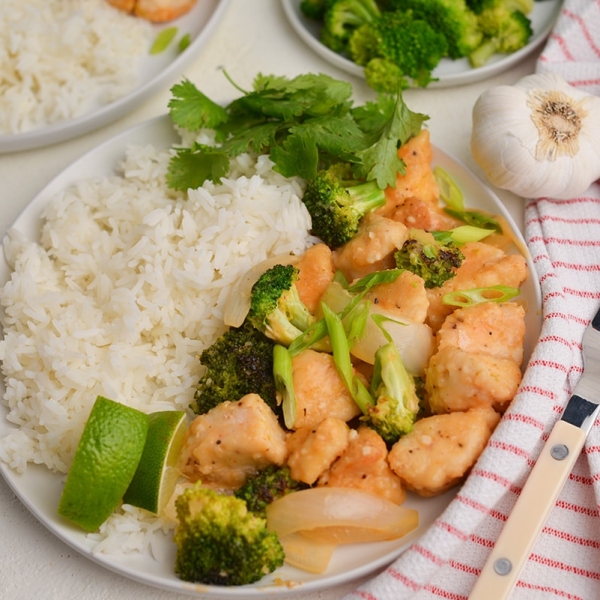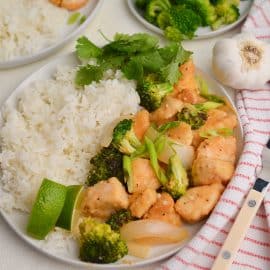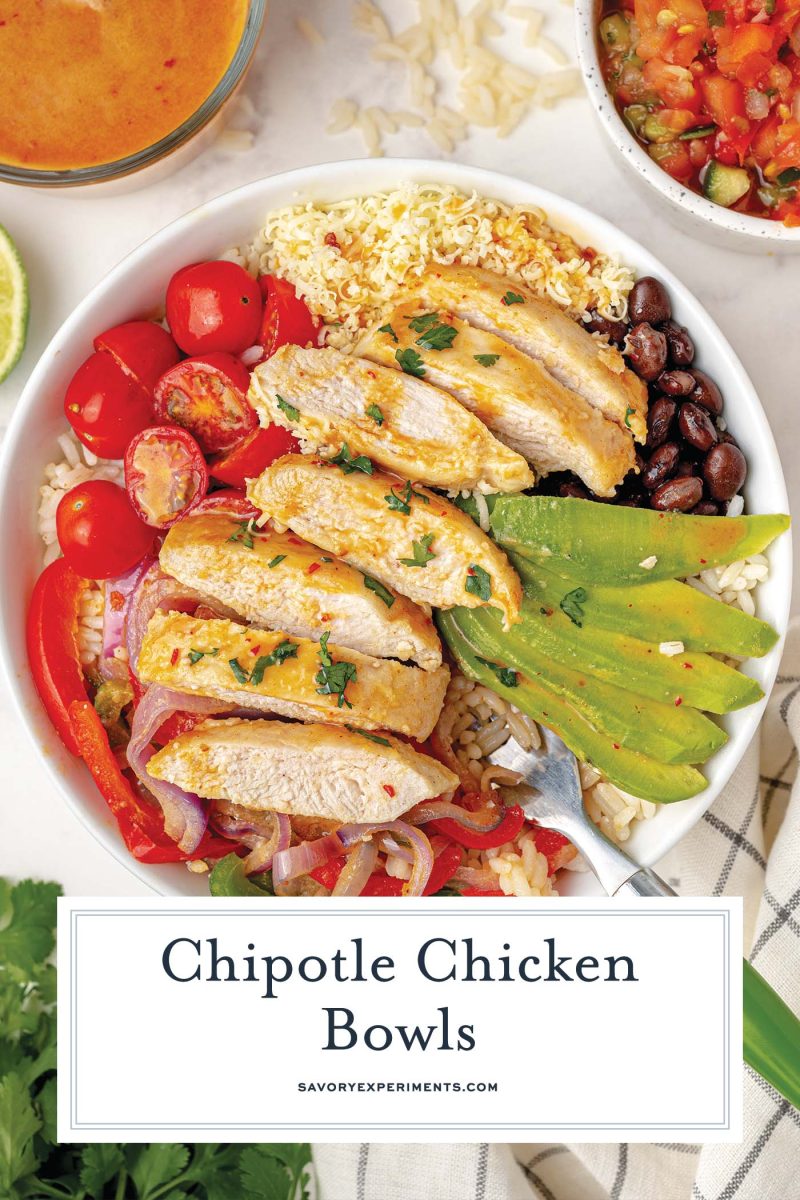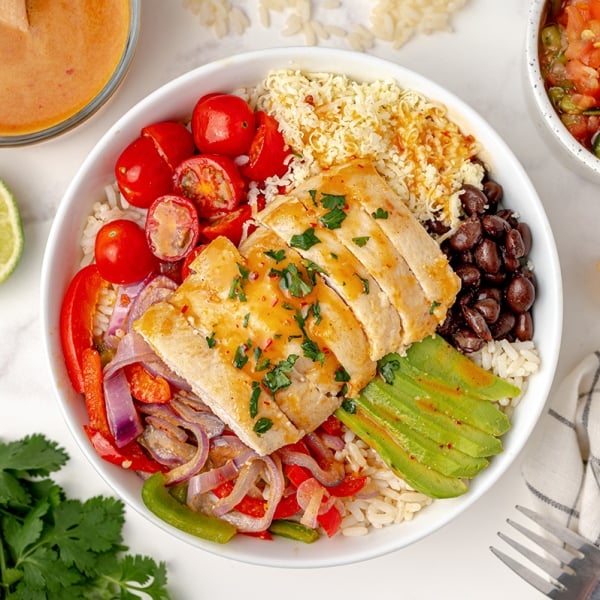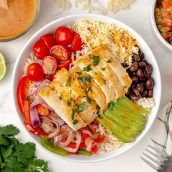 Chipotle Chicken Bowls
Chipotle Chicken Bowls are an easy one dish meals perfect for meal prep or an easy and balanced dinner.
Instructions
For the chicken:
In a shallow bowl or pie plate, combine the flour, salt, pepper and chile powder. Mix well and dredge the chicken breasts in mixture.

In a medium skillet, heat the vegetable oil over medium heat. Add the chicken, cooking for 3-4 minutes on each side or until chicken is done and lightly browned. Remove to plate and allow to rest.

Cut, against the grain, into strips after 5 minutes of resting.
For the bowl:
Heat the vegetable oil over medium heat in the same skillet. Add the onions, bell peppers and garlic. Saute until soft, approximately 5 minutes. Remove from the heat.

Assemble the bowl by evenly dividing the rice into the bowls and then topping with chicken, vegetable mixture, avocado, tomatoes and cilantro.

Garnish with desired ingredients and top with Chipotle Honey Vinaigrette.

If you've tried this recipe, come back and let us know how it was in the comments or star ratings.
Notes
* Other ideas for your bowl: salad base, corn, black beans, kidney beans, scallions, mandarin oranges, almonds, lettuce, grilled poblano pepper, jalapeno, chickpeas, mango, cheese, ground beef and shredded pork.
Nutrition
Calories:
583
kcal
,
Carbohydrates:
93
g
,
Protein:
10
g
,
Fat:
19
g
,
Saturated Fat:
9
g
,
Sodium:
662
mg
,
Potassium:
625
mg
,
Fiber:
7
g
,
Sugar:
3
g
,
Vitamin A:
2360
IU
,
Vitamin C:
43.6
mg
,
Calcium:
57
mg
,
Iron:
2.5
mg
This is a sponsored post written by me on behalf of Minute® Ready to Serve Family Bowls.