Make Homemade Tortilla Chips just like you get in the restaurant! Once you make these, you'll never buy tortilla chips in an air puffed bag again. They're easy to make and will satisfy your snack cravings paired with some salsa, hummus, or dip.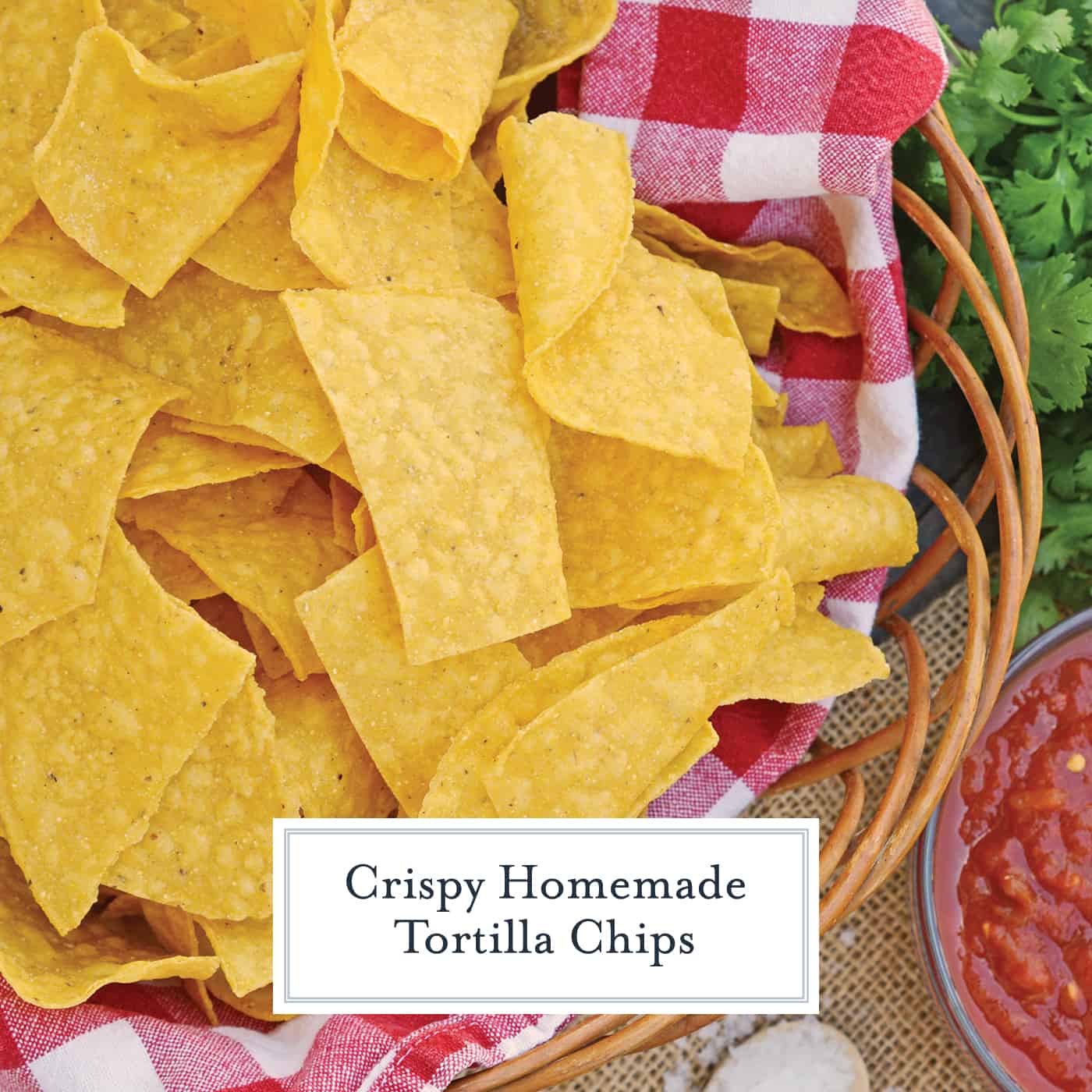 This Homemade Tortilla Chips Recipe will make you think, why buy a bag from the store when you can make your own hot and crispy ones all in the comfort of your own home!?
So you made soft tacos… or some other type of Mexican food. If you are anything like us, we always end up over purchasing tortillas. They don't freeze well, so instead of wasting them, I make Homemade Tortilla Chips!
Do not let them go to waste, fry them up for fresh corn tortilla chips! You will never eat bagged again. The taste of warm, fresh tortilla chips with just the right amount of salt is intoxicating.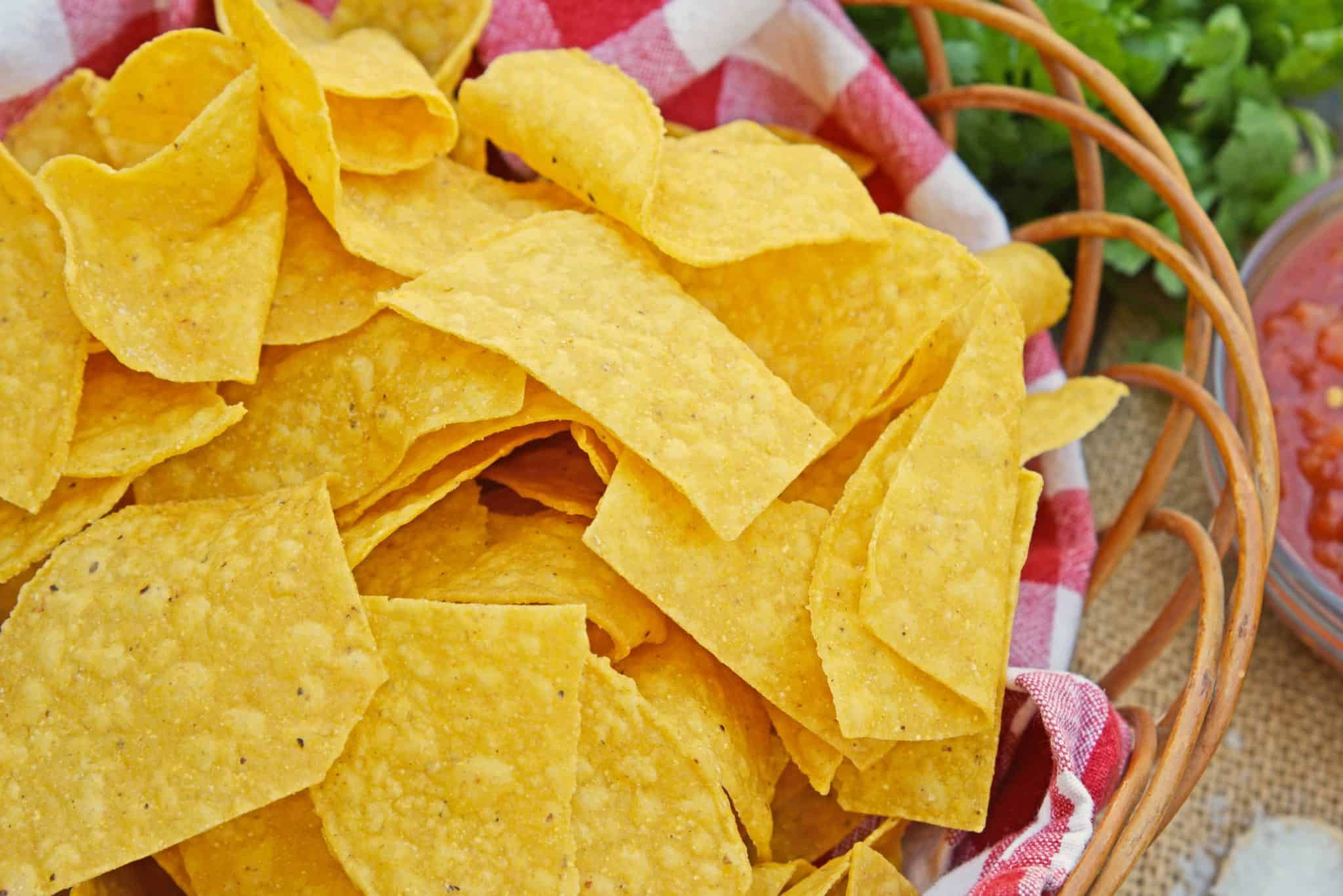 I am getting giddy just thinking about it. There is nothing better than going out to your favorite Mexican joint and receiving a warm basket of chips with homemade salsa, is there? Nope.
Just so you can have the whole experience, you can also make my 3-minute restaurant style salsa! Yes, I said THREE MINUTES! Wowzers!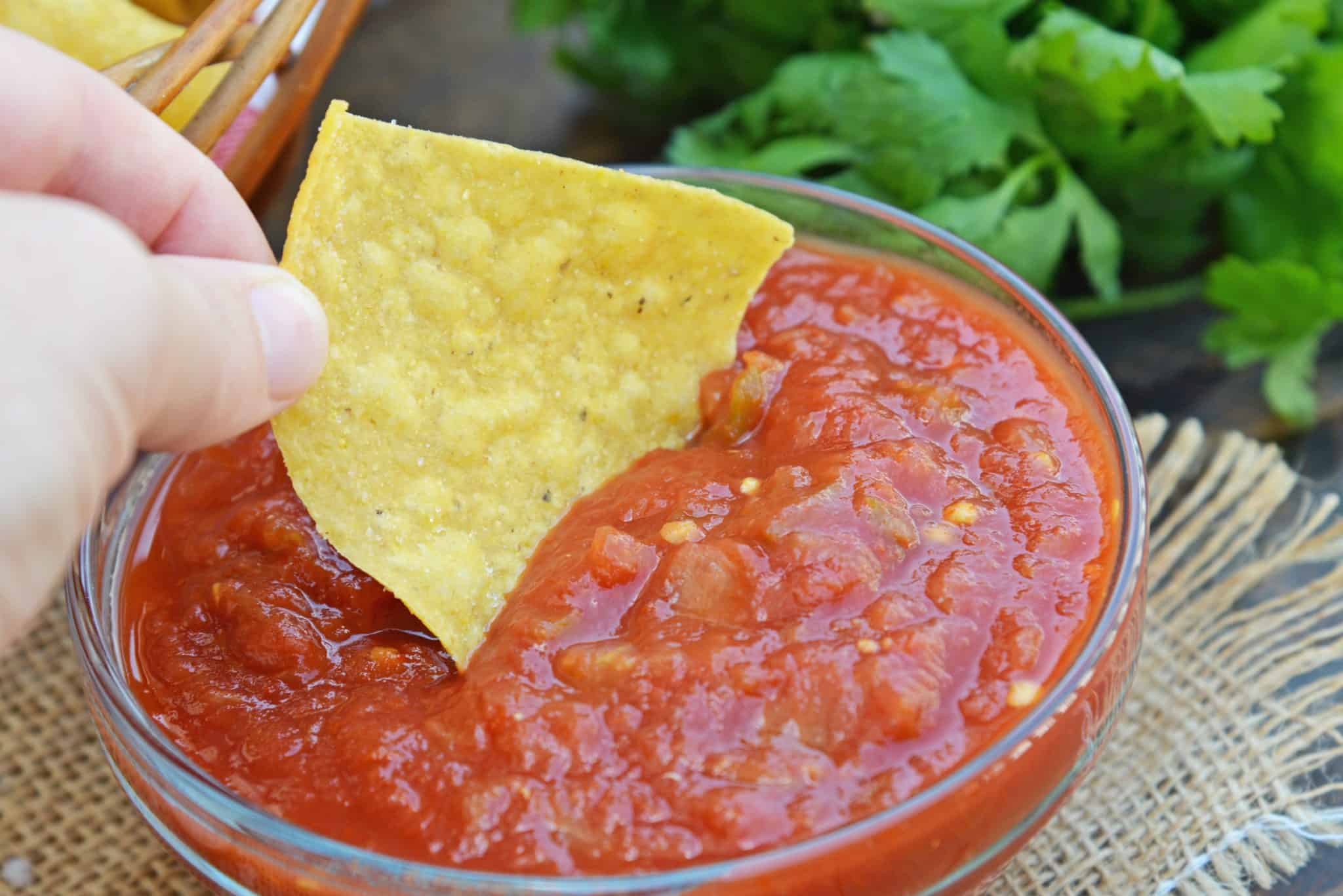 While we are talking about chips and salad, let me tell you a little story. We live in Baltimore City in an area highly populated with Latin individuals, many from Mexico.
Lucky for us, that also means we have some fabulous Mexican food available within walking distance to our house. Lucky for my stomach, not so much for my waistline. Ha!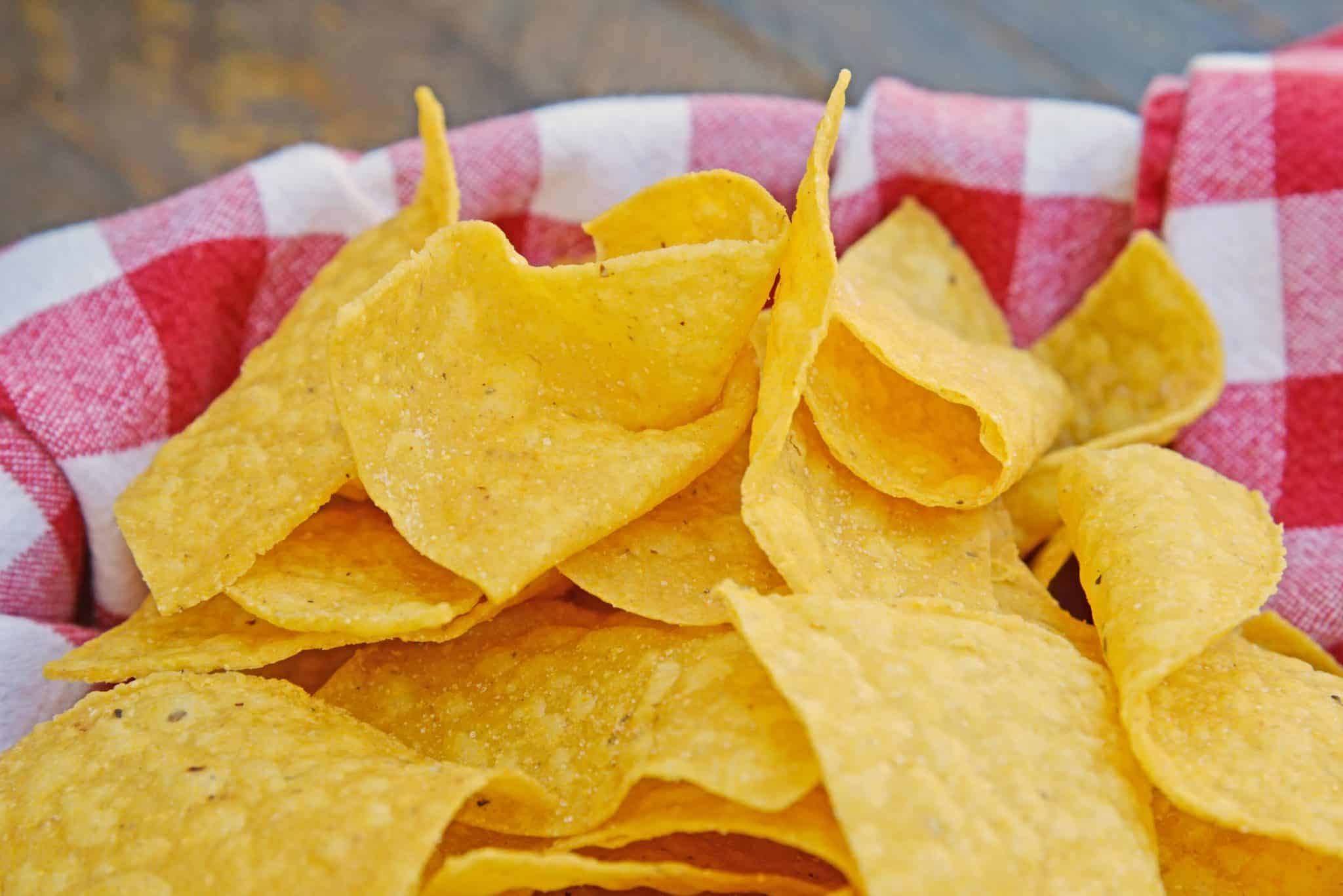 One night we wanted to try a new joint. We went with one of our very close (Mexican) friends. And to all of our surprise, there were no chips and salsa to be had. I'm not sure what I look forward to the most, chips and salsa or the actual meal!
We were so disappointed. The server alerted the owner, who graced our table with his presence and lectured us about being authentic and NOT serving chips and salsa in Mexico. Our Mexican friend politely disagreed. We ate the so-so food and vowed not to return.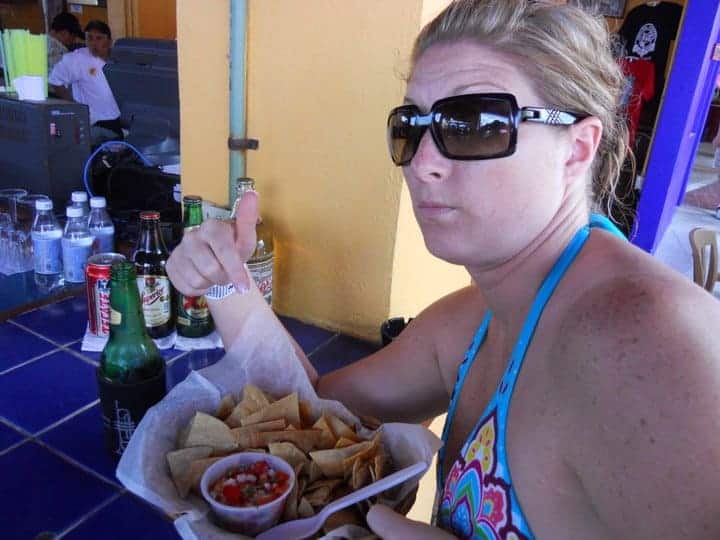 A few months later hubby and I were on vacation in Mexico and you know what we had? Lots and lots of chips and salsa! So I documented the chips and salsa in Mexico.
I'm not the type of person to go show this evidence to the owner, but I feel better knowing I have it and the whole thing has become an ongoing inside joke. And then the place closed and they built houses on it. Presumably because they had no chips and salsa.
Now you can recreate this magical moment in the comfort of your own home over and over and over again. It is a wonder I'm not frying up homemade tortilla chips every night. But seriously, you'll love them.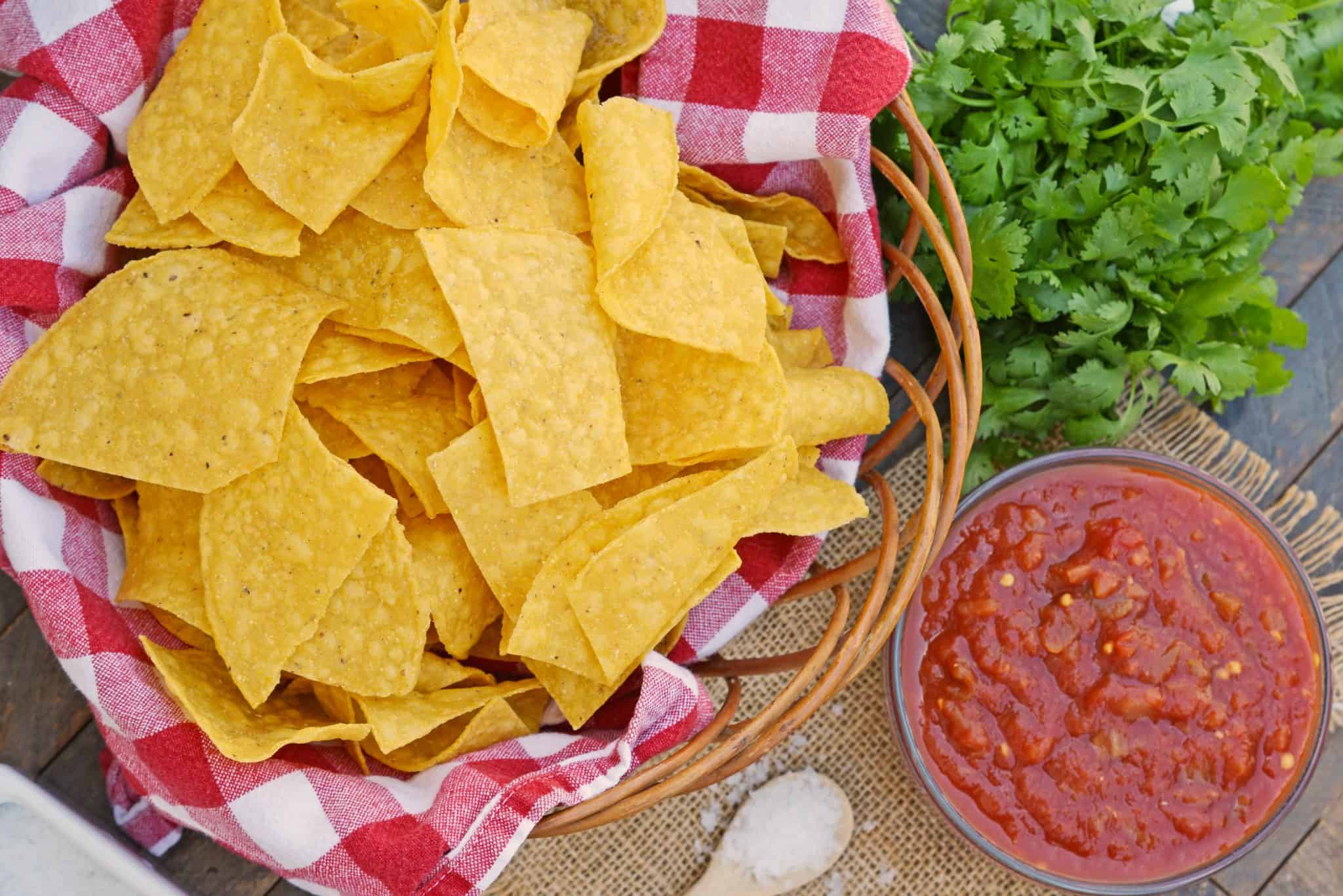 The best part is you can use however many tortillas you have! Only have a few leftover? Just cut them up a little smaller and make a mini-batch.
If you liked this Homemade Tortilla Chips recipe, you'll love these recipes: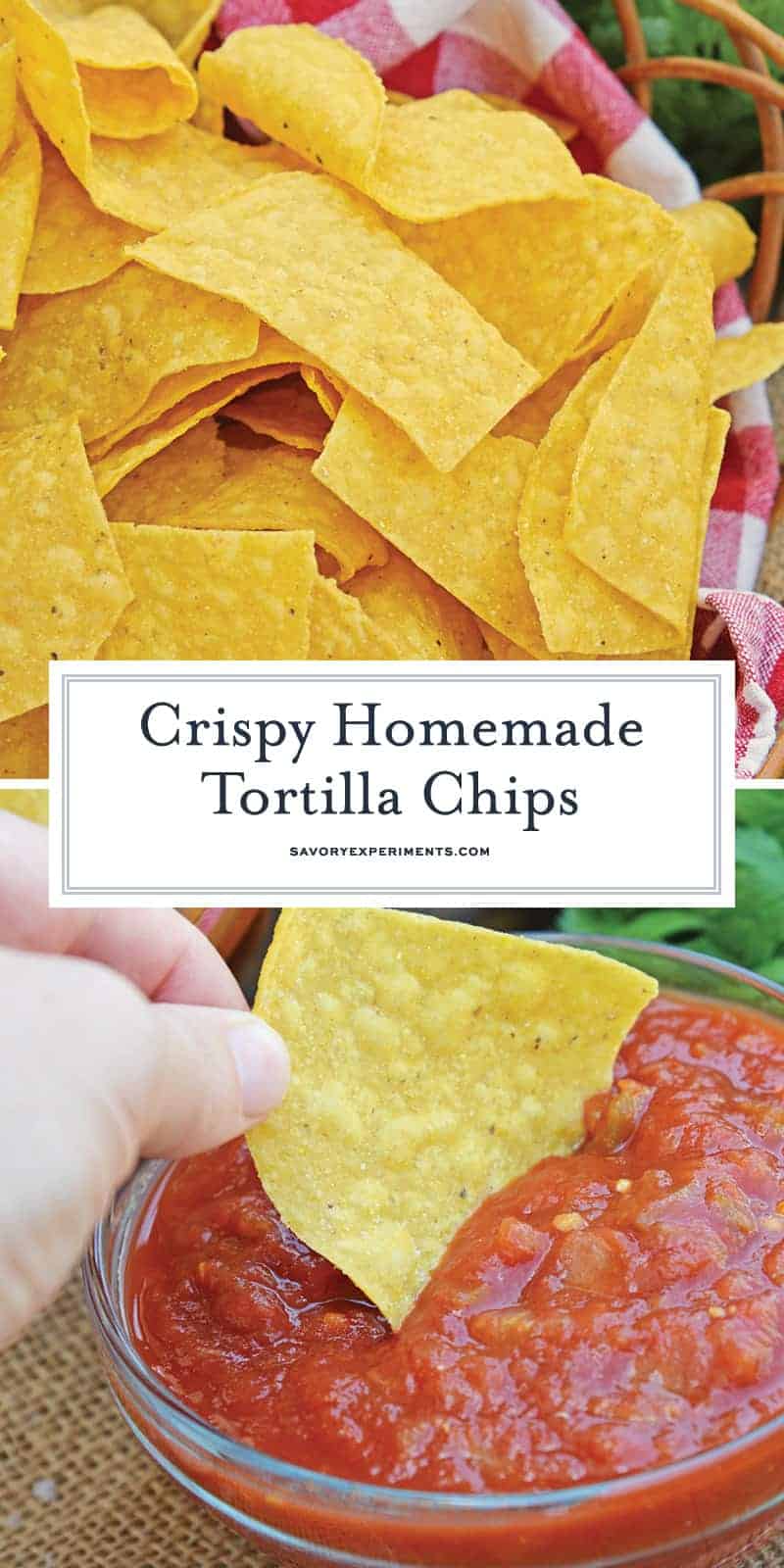 If you are looking for even more fabulous appetizers, snag a copy of my Easy Appetizers Beyond Dips Mini-Cookbook. Available here for only $0.99, one of these fun and festive appetizers sure to be the hit of any gathering!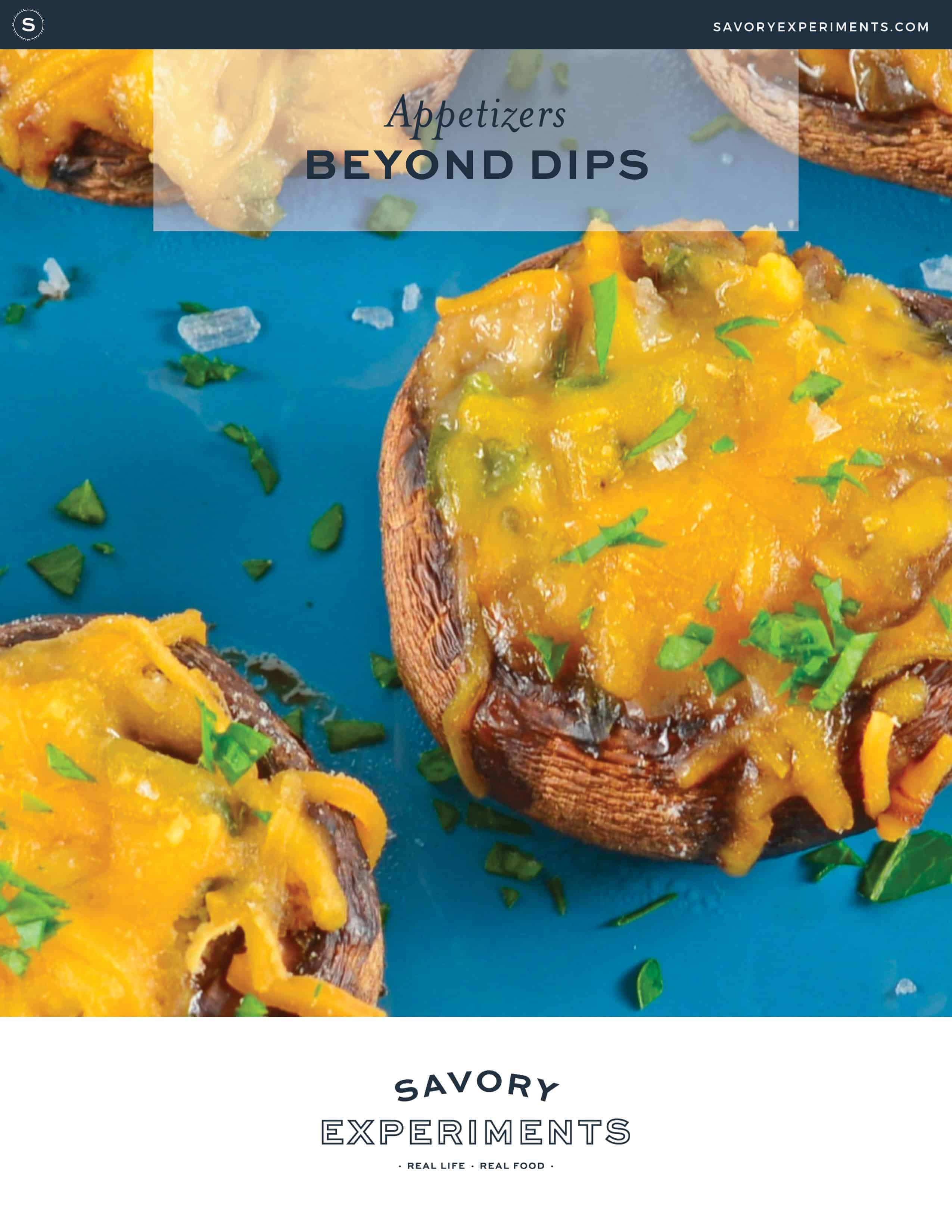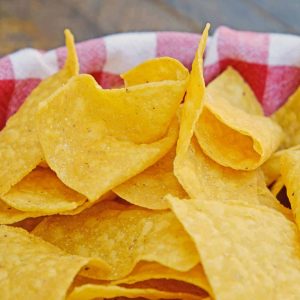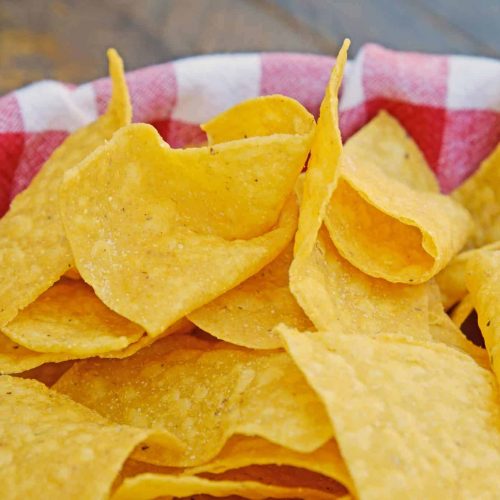 Homemade Tortilla Chips
Homemade Tortilla Chips Recipe: why buy a bag when you can make your own, hot and crispy? You won't believe how easy it is!
Keyword:
homemade tortilla chips
Ingredients
12

corn tortillas

3-4

cups

vegetable/canola/peanut oil

Sea Salt
Instructions
Cut tortillas into quarters.

Heat oil over high heat in a large frying pan for 3-4 minutes.

Working in small batches, add corn tortillas to hot oil. Using a metal slotted spoon gently turn around the tortilla chips until they are evenly browned.

Remove to a paper towel lined baking sheet or plate. The first batch will take the longest- 3-4 minutes, by the time you get to the last it could only take one minute.

Sprinkle with fine sea salt.

Allow to cool completely and then store in an airtight container for up to a week.

Serve with your favorite salsa, hummus, dip or eat them plain!

Tried this recipe out? Come back and leave us a comment!
Nutrition Facts
Homemade Tortilla Chips
Amount Per Serving
Calories 310
Calories from Fat 162
% Daily Value*
Total Fat 18g 28%
Sodium 35mg 1%
Potassium 145mg 4%
Total Carbohydrates 34g 11%
Protein 4g 8%
* Percent Daily Values are based on a 2000 calorie diet.