Garlic Butter Shrimp is one of my favorite easy go-to meals. It only takes 10 minutes to prepare and I can customize the amount, making just one for myself or 4 for the whole family.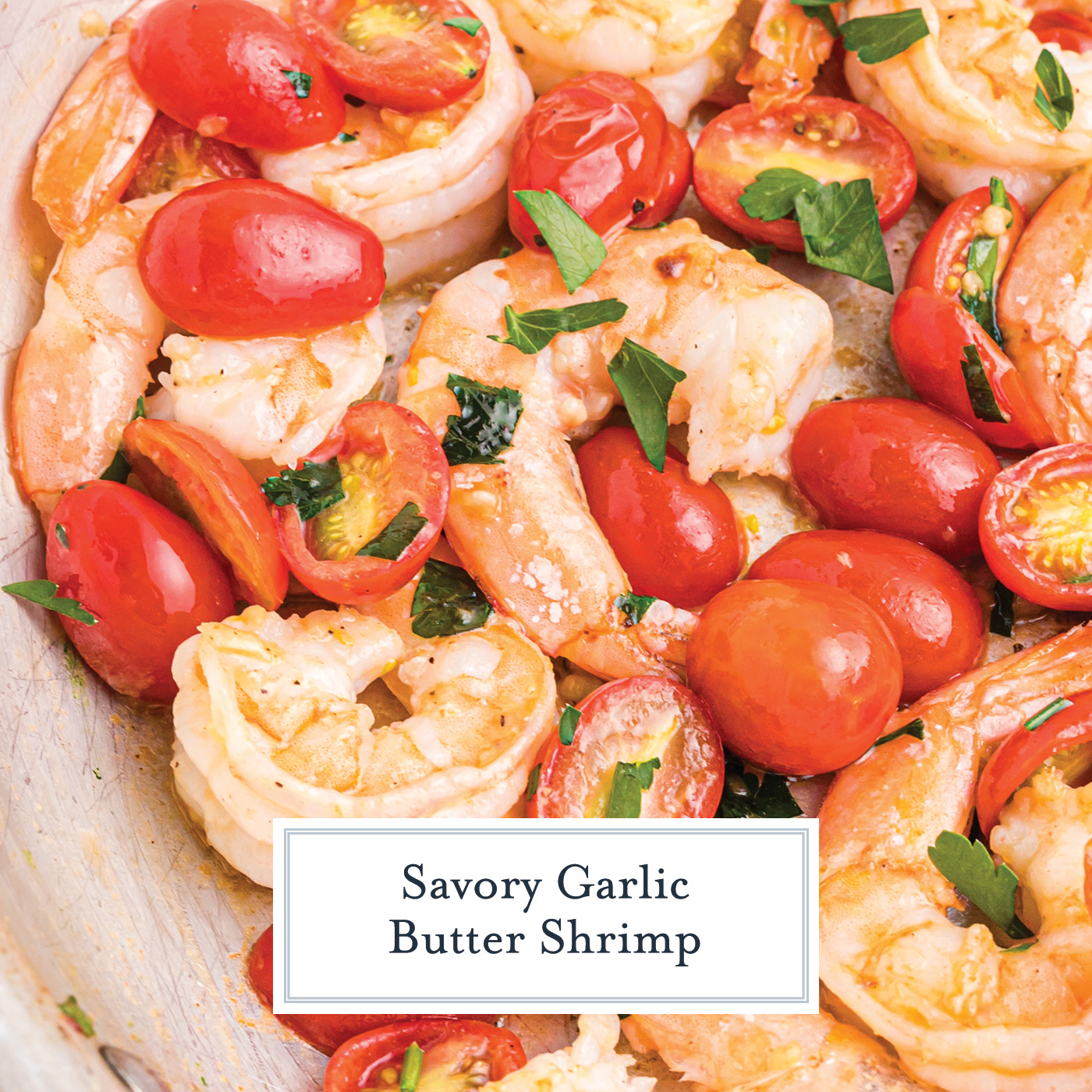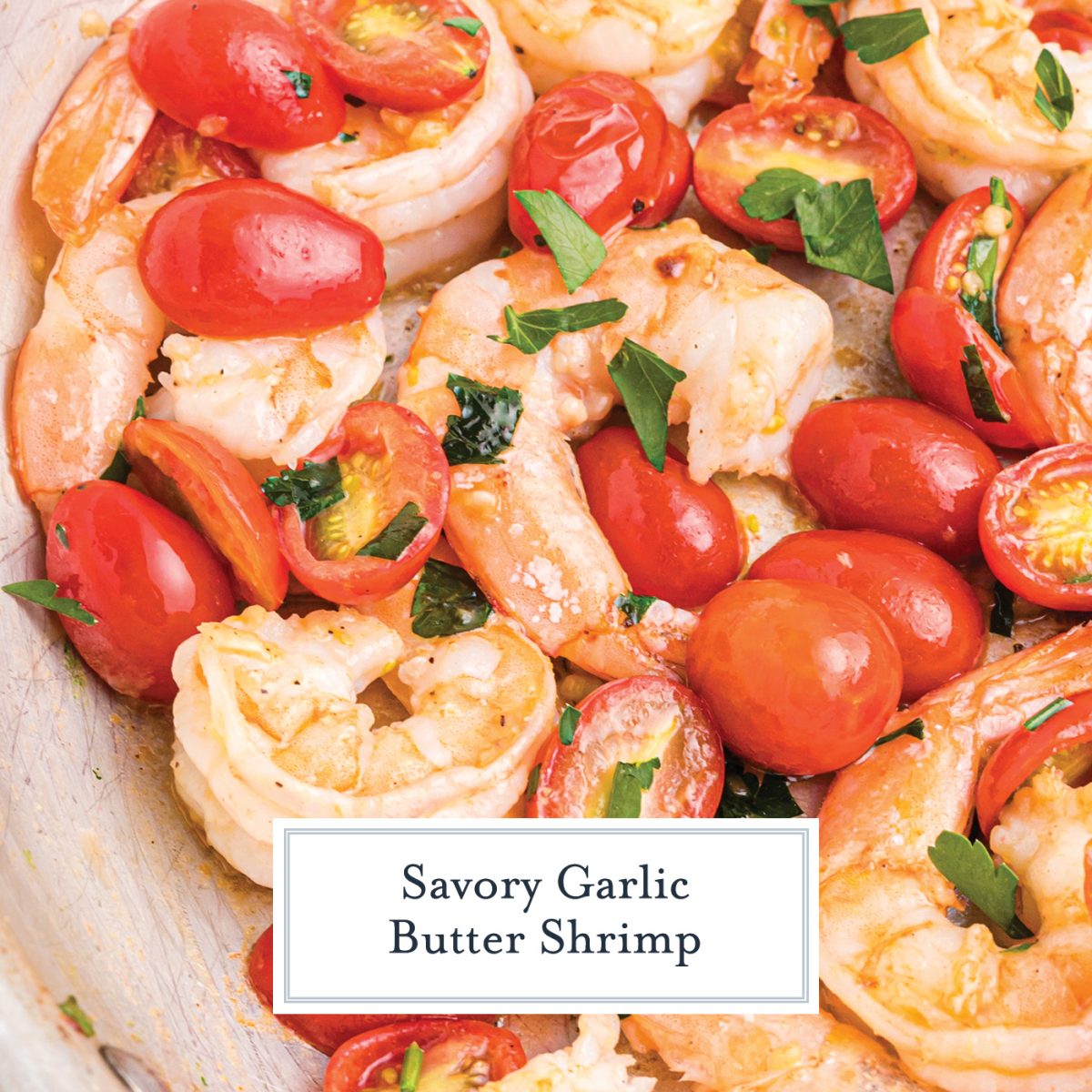 But my garlic butter shrimp recipe is a tad different. You know I love adding color and veggies, so I use an insane amount of garlic and then toss in a few grape tomatoes along with parsley- it's basically salad, right? It can be served as a main meal or without the base as an appetizer.
Why is it Different?
Garlic butter shrimp is just garlic, butter and shrimp, right? Well, yes, but knowing how to properly pan fry shrimp, when to add the butter and other ingredients is crucial to not ruining the dish, so it is a little more complicated.
I add grape tomatoes that soften and pop in your mouth.
Succulent, perfectly cooked shrimp everytime no matter what size shrimp you use.
Easy and ready in just 10 minutes!
Flavorful enough for a fancy dinner party, but easy enough for a weeknight meal solution.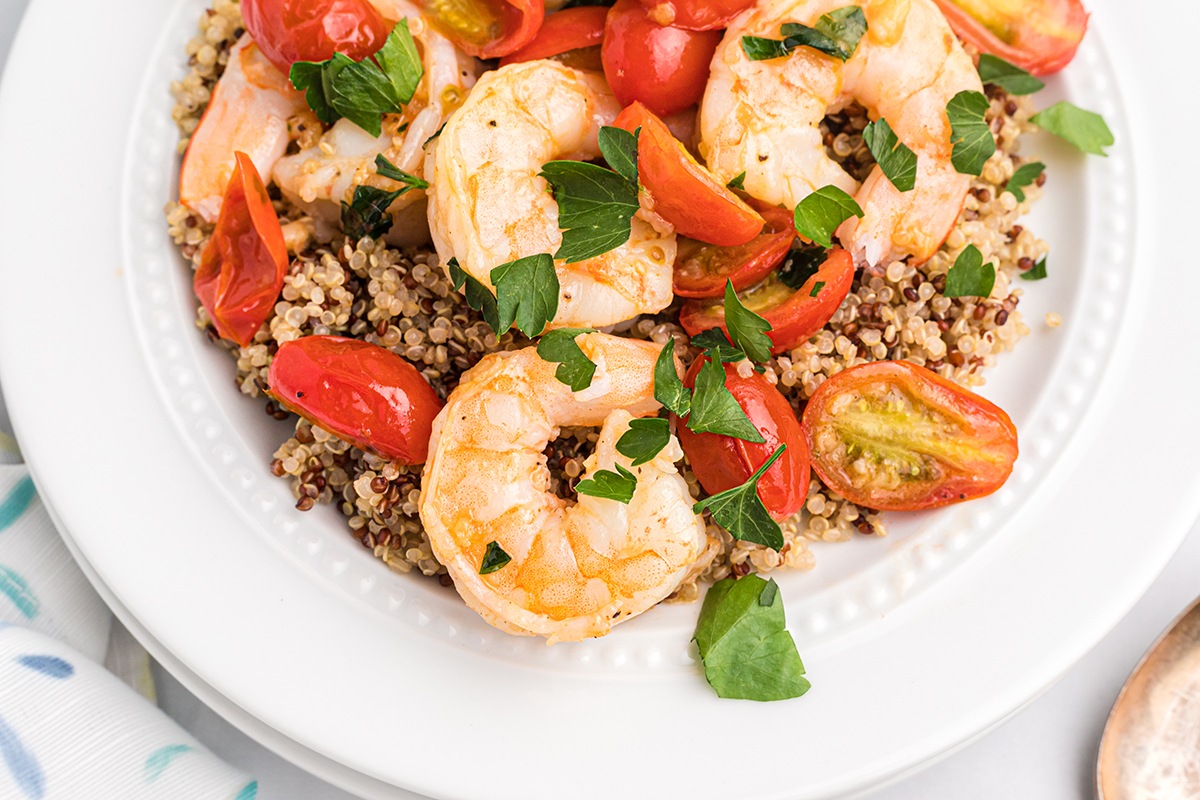 What You'll Need
Garlic Butter Shrimp uses only 6 ingredients, many of which you will already have in your pantry, and takes only 10 minutes from start to finish. Grab these items to get started.
Shrimp- Your biggest concern will be picking shrimp and not all shrimp are created equal. I'll included a handy shrimp section below to help you find the shrimp for you. For dishes like this, I do opt for medium shrimp. You can go bigger, but medium size shrimp are perfect for one-bite.
Unsalted Butter– Pick a good quality butter (not margarine). I am generally drawn to a heady, yellow European butter. Sometimes I've used the yogurt butter for a little tang, it's fun too!
Fresh Garlic Cloves– It is highly, strongly suggested to use fresh garlic cloves (not jarred or bottle minced garlic). It will give you the best garlicky flavor. The jarred stuffed saves times, but it is sweet and lacks flavor. With only 6 ingredients, you want those you are using to be a really good quality.
Coarse Sea Salt & Freshly Ground Black Pepper– Sea salt has the best salt flavor without being too salty. If your butter is already salted, use sparingly and make sure to taste test before adding. Freshly cracked pepper packs the most punch. Opt for a ground white pepper for a milder peppery flavor.
Flat Leaf Parsley– Also labeled Italian parsley, it is the best for cooking. Curly parsley is better suited for garnish.
Grape tomatoes– Little bulbs of juicy deliciousness balance this dish. You can, of course, omit them, but I think they add color.
Fresh Lemon– This is optional, but fresh burst of citrus right before serving can't be beat!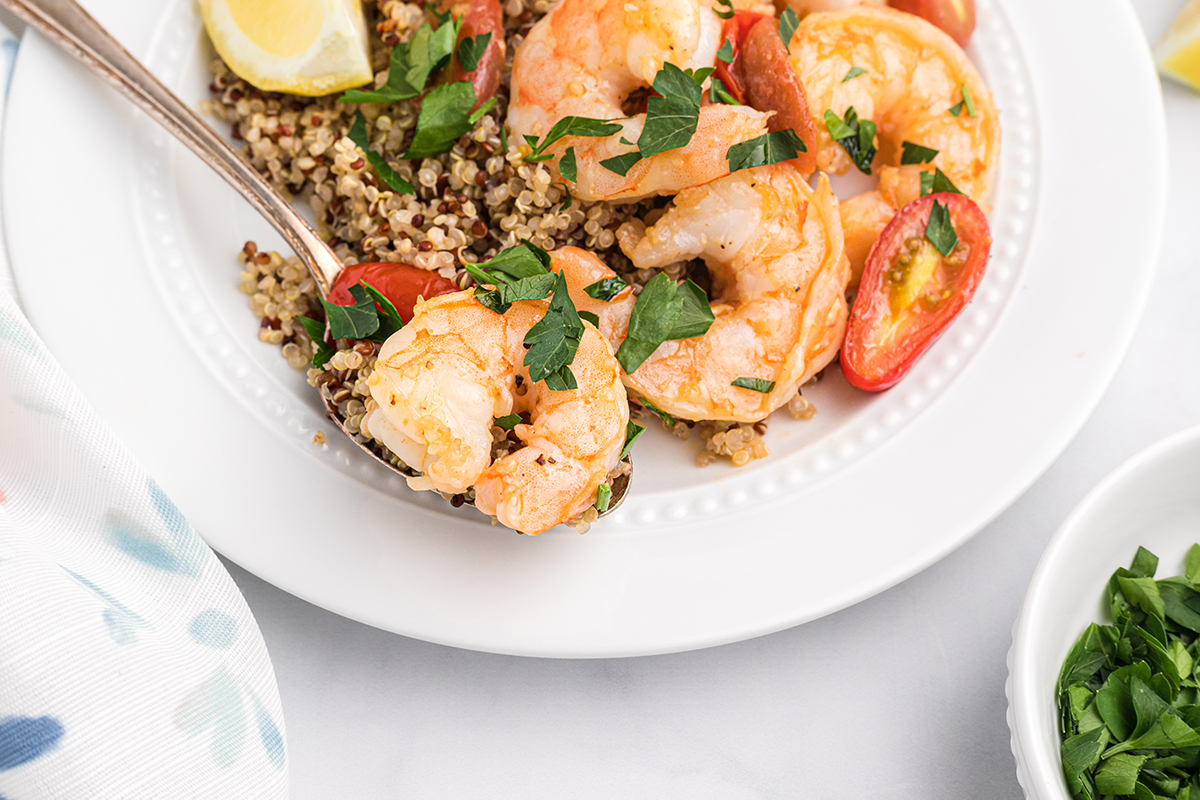 Picking the Shrimp
The flavor, color and texture will be determined by the type of shrimp you select. From there, the size will dictate how long they need to be cooked. Also, if you are using fresh shrimp or frozen shrimp. Frozen shrimp can be thawed in the fridge or run under cold water.
White shrimp: Either caught wild or farmed, white shrimp tend to have less flavor than pink. The flavor they do have has been described as nutty or sweet. They are better with rich and flavor-forward sauces and spices. Their raw shells are a greyish-white and the while the shell turns pink when cooked, the actual shrimp stays white.
Pink shrimp: Most come from the gulf and these have a shrimp-ier flavor. They are mild and sweet and do best with mild and delicate sauces so you can actually taste the shrimp. When raw they have pink shells and both the shell and meat will be even more pink when cooked.
Brown shrimp: Another contender for shrimp flavor, these are sometimes mislabeled as white shrimp because the shells tend to be greyish as well. They are usually smaller and darker because of iodine content. They do turn pink when cooked and do best in hearty sauces because of their firm texture.
Royal red shrimp: They have a bright red shell and often look like little lobsters. They have sweet, tender meat and can be subbed for recipes calling for chopped lobster or langostinos.
Tiger shrimp: These are the big boys of shrimp and are sometimes called prawns. They have sweet, buttery meat and best served by themselves for a shrimp cocktail or with a light sauce. They are also ideal for grilling because they are large enough to not fall through the grates.
Rock shrimp: They have a spiny shell that is rough instead of smooth. The are smaller, but their meat is also comparable to lobster and great as a substitute.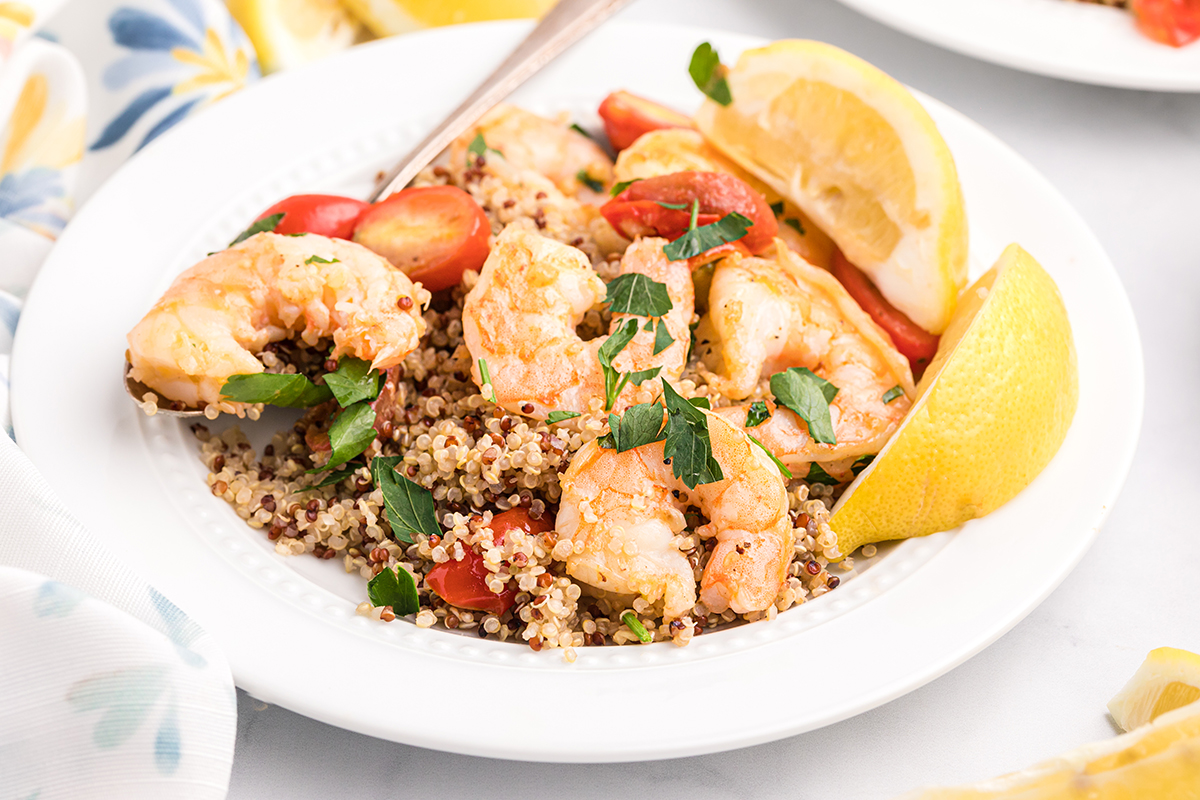 How to Make Garlic Butter Shrimp
This is an easy dish and after you've mastered the basics, you can customize it a million ways.
Pat the shrimp dry with a paper towel. Water will prevent browning and create steam.
Heat a large skillet over medium-high heat. If the skillet isn't cast iron or non-stick, then give it a quick spritz of non-stick cooking spray. The skillet needs to be hot to sear the shrimp. Getting a little brown on the shrimp and fond on the pan will add flavor. Searing the shrimp will ensure they are still juicy inside. Try your hardest for a single layer. This might mean working in batches, but will result in the best evenly cooked shrimp.
Add the raw shrimp, cooking for approximately 2-3 minutes on each side, depending on size. Cook until the shrimp are slightly opaque and the tails curl. The biggest mistake home cooks make is overcooking the shrimp which make them rubbery. The cooking time will vary based on size. Smaller shrimp might take closer to 1-2 minutes, use your best judgement and reduce heat as soon as you suspect they are close to being cooked. Succulent shrimp are cooked over, quick, high heat.
Reduce the heat to low so the butter and garlic don't burn and then add the butter, garlic, parsley and tomatoes. Stir until melted, approximately 2 minutes, just enough to heat them through. Season with salt and pepper according to taste.
For lemon garlic butter shrimp, add a few scrapes of lemon zest or top with fresh lemon juice. Top with more fresh parsley, if desired.

What to Serve it With
This dish is magical because of its versatility. Serve it alone for a low carb meal. But if you want to soak up the buttery sauce, white rice or red quinoa, buttered noodles or a bed of cauliflower rice. I also love almond rice pilaf. Serve over pasta for a shrimp scampi type of meal, it just needs white wine.
Serve alongside a leafy green salad and a good loaf of crusty bread with garlic bread spread or bread dipping oil.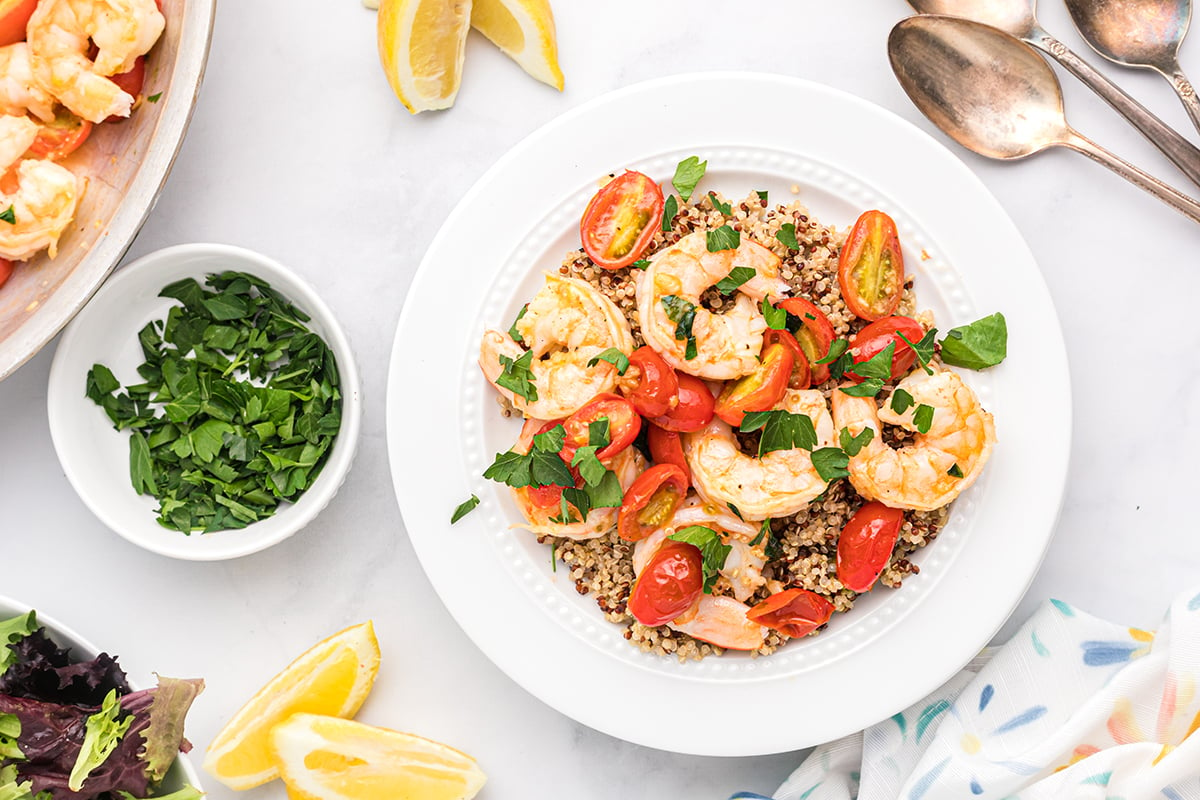 Variations
The ways to make these buttery shrimp your own are vast. Here are some of our favorites. You can also use this garlic butter sauce over steak, chicken, vegetables or other seafood. Sometimes I'll put a few of the seasonings on the dinner table so everyone can make their own.
Crushed red pepper flakes or aleppo pepper
Omit the tomatoes or cooked separately to really blister them
Thinly sliced onion and bell pepper
Lemon zest in the butter sauce
Swap parsley for cilantro, thyme, rosemary or even mint
Swap shrimp for seared scallops
Double the butter for a saucier mix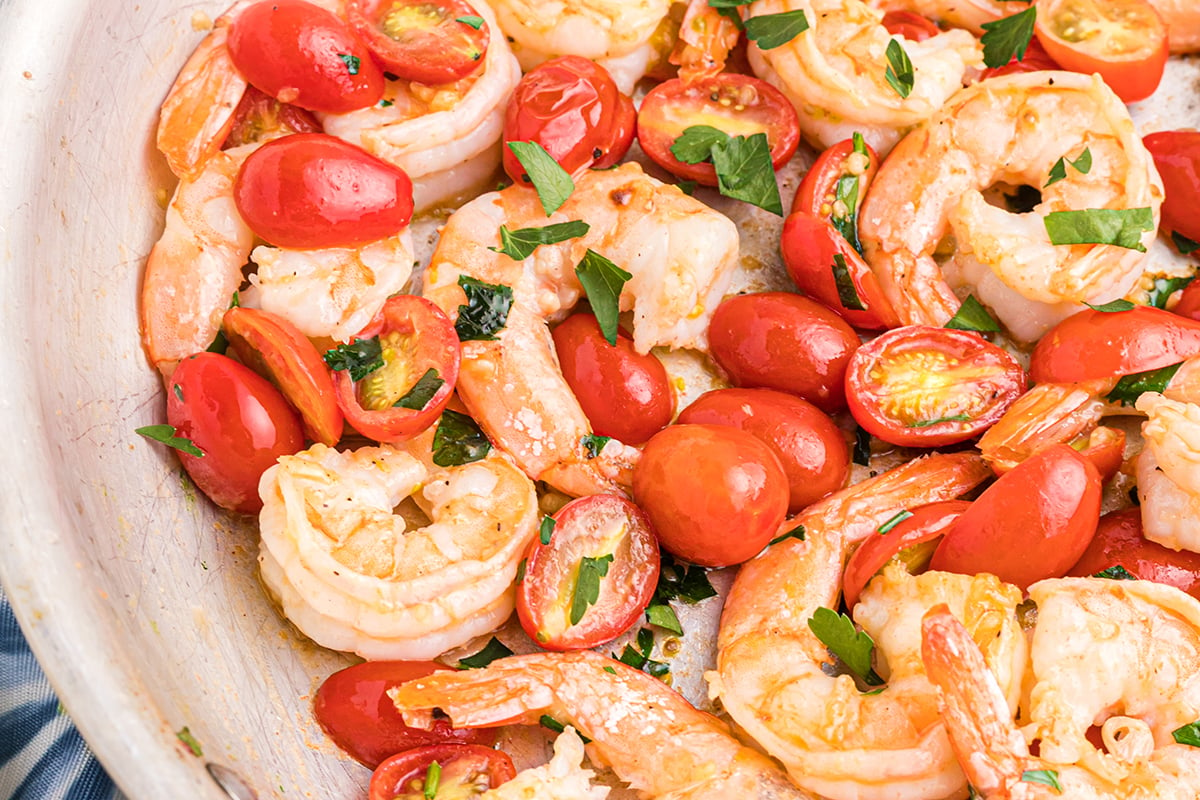 Is It Healthy To Eat Shrimp?
I am not a physician, nor a dietitian. I also think that the term "healthy" means so many different things to different lifestyles.
What I will say when someone asks me about if this dish is healthy is that shrimp, as a whole, are low in calories and fat and high in protein. However, I've just tossed them in a good amount of butter.
But I beleive in moderation, so top it over brown rice, quinoa or cauliflower and the health benefits from the other heart healthy ingredients tart to negate the butter thing. But that is just my personal opinion, you can make up your own.
Leftovers & Freezing
Like most seafood recipes, this easy shrimp recipe is best enjoyed freshly cooked. But since it doesn't take long to prepare, you shouldn't need to do much ahead of time. For best results, juicy sauteed shrimp need to be served pretty quick.
Store any leftovers of this easy recipe in an airtight container for up to 4 days. Reheat in a skillet over low heat until just warmed. It can be reheated in the microwave, but this tends to make shrimp rubbery.
If you were using fresh shrimp, it can be frozen, but even most "fresh shrimp" were previously frozen, so I tend to shy away from doing this.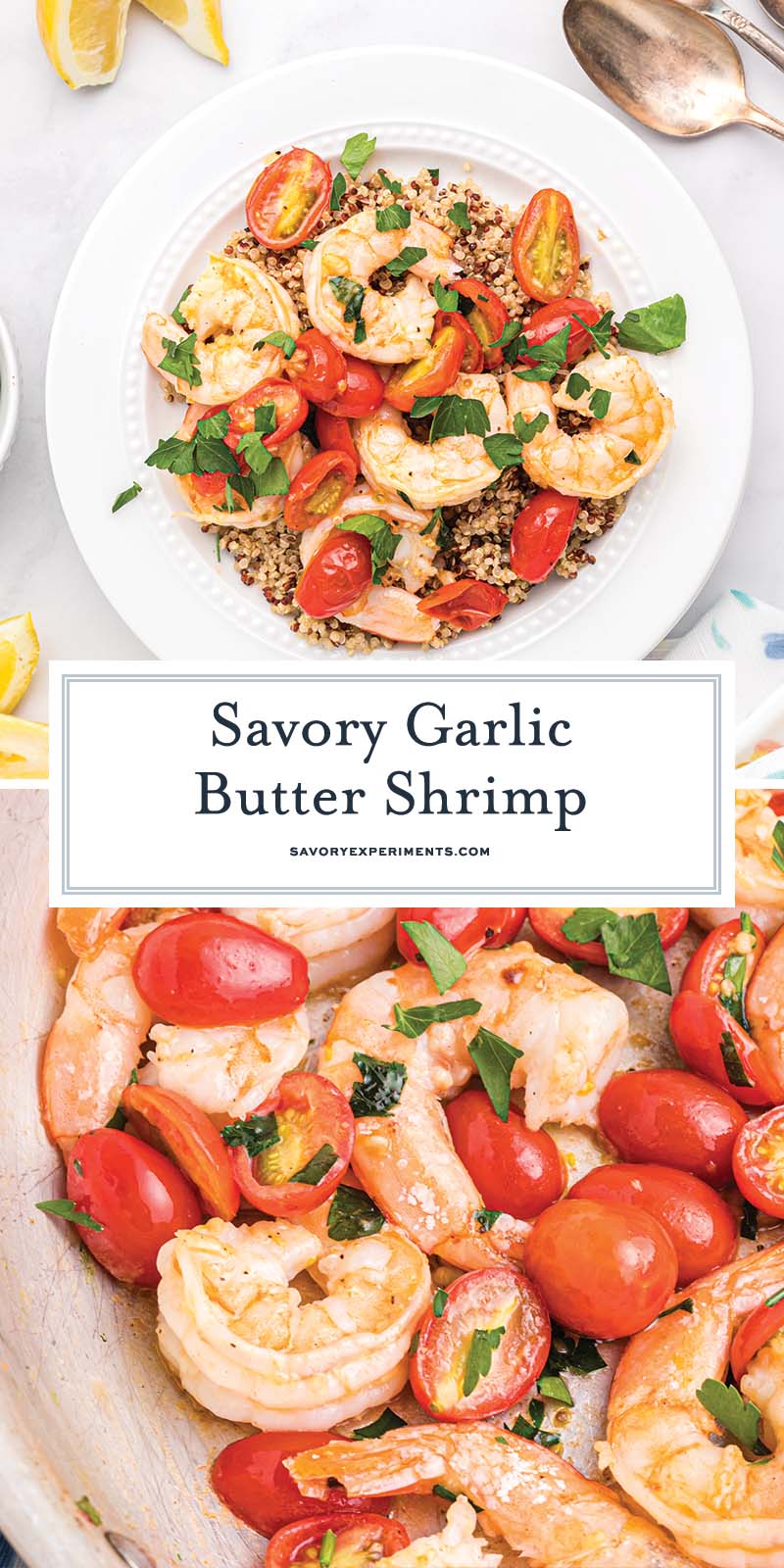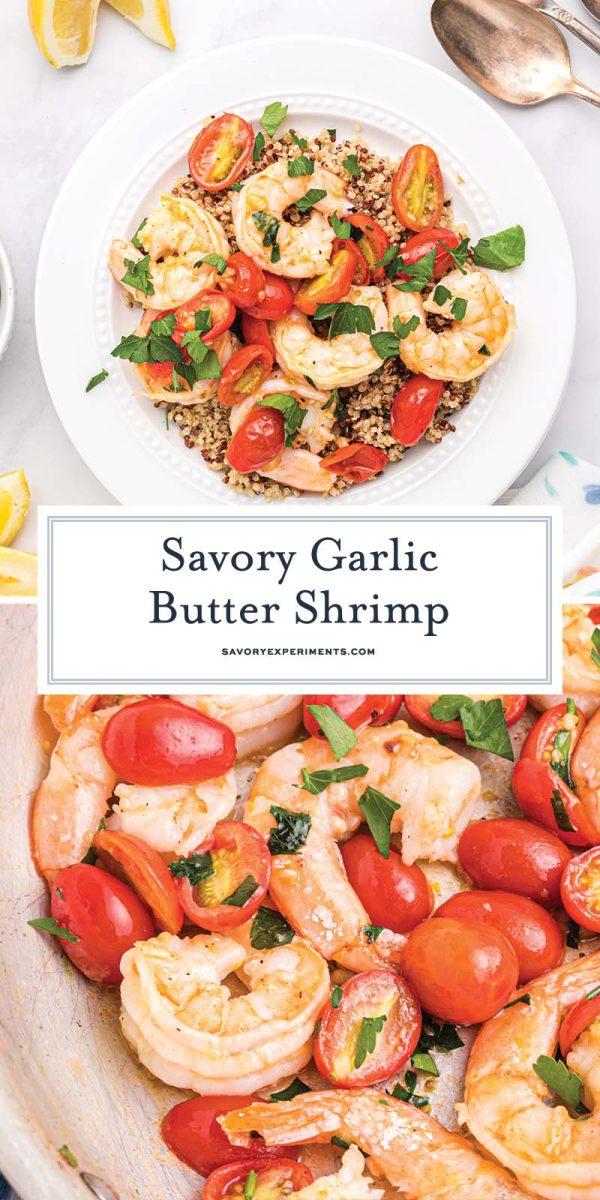 More Great Shrimp Recipes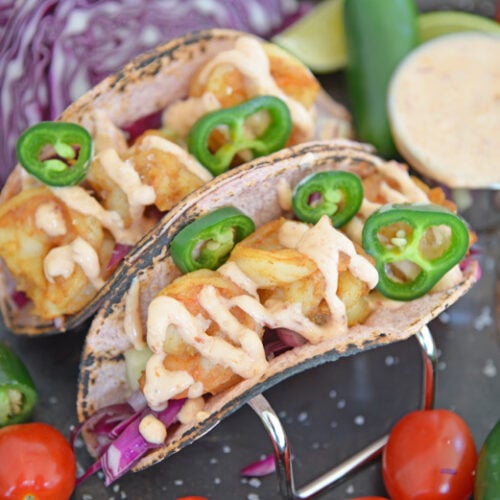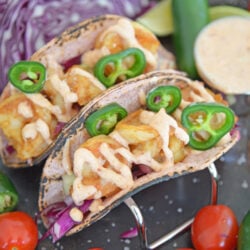 BOMB Shrimp Tacos
Easy shrimp tacos don't get any better than these Shrimp Tacos with Cabbage Slaw! Taco Tuesday will never be the same! Full of fresh flavor and seasoning!
See The Recipe!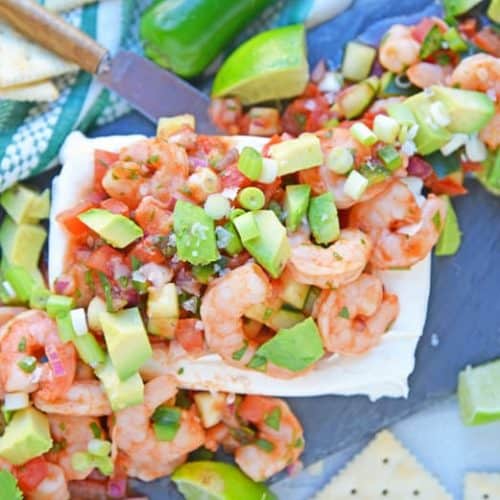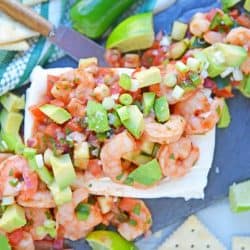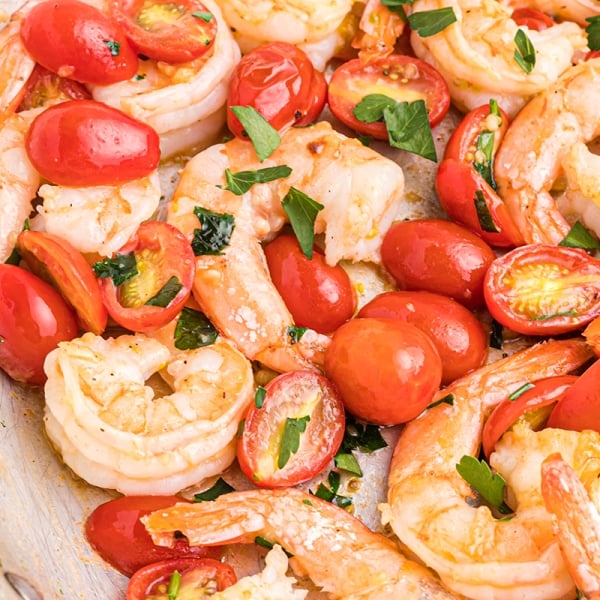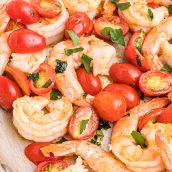 Garlic Butter Shrimp Recipe
Garlic Butter Shrimp is a quick and easy meal solution that takes only 10 minutes to prepare! Top over rice, pasta or quinoa.
Instructions
Heat a large skillet over medium-high heat. If the skillet isn't cast iron or non-stick, then give it a quick spritz of non-stick cooking spray.

Add the raw shrimp, cooking for approximately 2-3 minutes on each side, depending on size. Cook until the shrimp are slightly opaque and the tails curl.

Reduce the heat to low and add the butter, garlic, parsley and tomatoes. Stir until melted, approximately 2 minutes. Season with salt and pepper.

Serve over quinoa, pasta, rice or anything else you love.

If you've tried this recipe, come back and let us know how it was in the comments or star ratings.
Nutrition
Calories:
284
kcal
,
Carbohydrates:
2
g
,
Protein:
1
g
,
Fat:
12
g
,
Saturated Fat:
7
g
,
Polyunsaturated Fat:
0.5
g
,
Monounsaturated Fat:
3
g
,
Trans Fat:
0.5
g
,
Cholesterol:
30
mg
,
Sodium:
4
mg
,
Potassium:
71
mg
,
Fiber:
0.4
g
,
Sugar:
1
g
,
Vitamin A:
674
IU
,
Vitamin C:
6
mg
,
Calcium:
13
mg
,
Iron:
0.2
mg